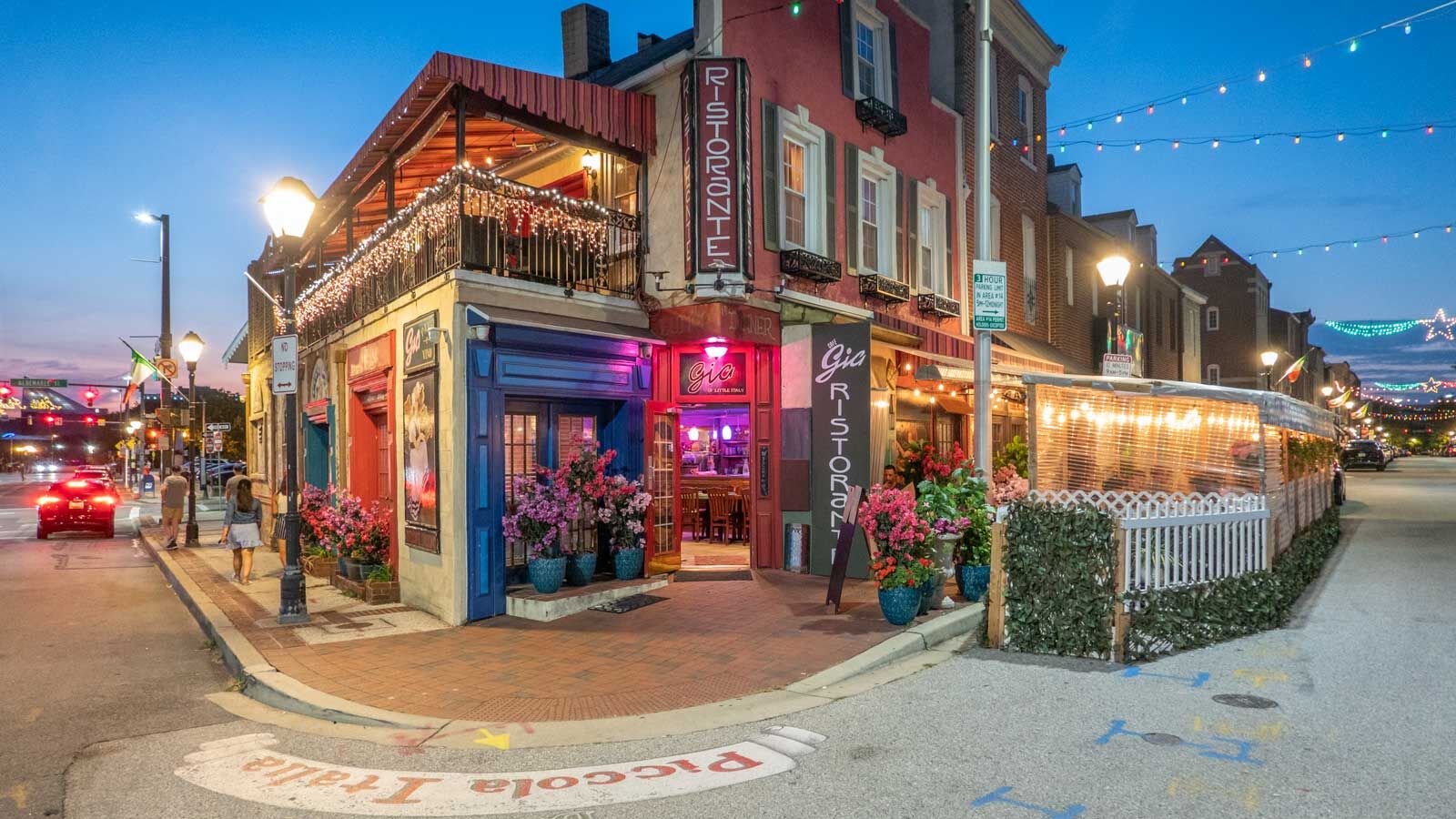 Baltimore's Little Italy is a hexagon-shaped Italian-American enclave east of Inner Harbor. It is the southernmost Little Italy in the eastern United States, and comparable to both Boston and New York City's Little Italy in terms of culture and restaurants. The streets are lined with a mix of old-school Italian restaurants, which easily stand out among the two-to-three story red brick row homes. Most fire hydrants are painted the colors of the Italian flag. You can really get a taste of the culture at Baltimore Little Italy Italian restaurants, favorite hang outs athletes and home to seafood-heavy classic Italian dishes.
Throughout the neighborhood, you'll find a mix of locals and curious tourists. From the Shot Tower subway station, of the most scenic Baltimore metro stops, it's less than a 10-minute walk to the intersection of Pratt and Stiles, where you'll see Casa di Pasta and Vaccaro's, which is the main pastry shop in the area.
The majority of the restaurants and bakeries in the neighborhood are located along Albemarle and High Streets between Fleet and Pratt. In terms of sit-down Baltimore Little Italy Italian restaurants, there are roughly a dozen different options, each with a different twist. Most are well-established and multi-generational.
While Baltimore Little Italy Italian restaurants are worth trying all year round, it's best to visit the neighborhood during one of the local festivals held between June and early October. And thanks to the presence of Hyatt and Tru by Hilton properties in the southeast corner of the neighborhood, it's also an ideal place to stay during your visit.
Here are the seven best old-school Baltimore Little Italy Italian restaurants to try on your next visit.
1. Amiccis of Little Italy
Nothing is small at Amiccis. Named after the Italian word for 'friends,' this 286-seat capacity Little Italy landmark feels like a sports bar in the front and a private home everywhere else. The 100-plus posters and paintings of all sizes throughout the nine indoor dining rooms at Amicci's are enough to open a small art museum. And then there's the wooden Orioles scoreboard behind the bar, as well as the mural listing every Charm City neighborhood to the side.
The pane' rotundo is Amicci's signature appetizer. It's a round Italian loaf brushed with garlic butter and topped with shrimp scampi. While the rotundo is meant for sharing, panino is best for solo diners. Also an appetizer, the baseball-sized all-beef meatballs are available with traditional marinara or with a sweet marsala sauce.
For an entree, Penny's gnocchi is a spicy take on a traditional Italian dish. You can see and taste the red pepper flakes that permeate the potato dumplings and vodka sauce. At Amicci's, you can also create your own pasta.
2. Cafe Gia Ristorante
From the outside, Cafe Gia is by far the most inviting spot in Little Italy. And it only gets better once you enter. This casual yet sophisticated two-level restaurant wraps around the intersection of Eastern and High. It is one of only two restaurants with upper-level outdoor balcony seating in the neighborhood. The urrent owners were able to convert this former diner into an artsy cafe.
Three generations are currently running this 115-seating capacity restaurant on the southwest edge of Little Italy. Chef Gianfranco Fracassetti grew up outside Milan, while his mother-in-law Giovanna is of Sicilian descent. So, you'll see a mix of Southern and Northern Italian dishes on the menu. Osso Buco Milanese is the chef's selection, while casoncelli is from Chef Gian's home city of Bergamo.
If you park in the Little Italy garage, be sure to ask your server to validate your ticket.
3. Chiapparelli's Restaurant
Open since 1940, Chiapparelli's is the oldest restaurant currently operating in Baltimore's Little Italy. Within the interior red brick walls, you'll find a mix of tourists and regulars who have been dining here since the Orioles won their first world series in 1966.
Now in its third generation, the dishes here tend to have stories. The Salmon Caroline is named after Aunt Caroline, while Chicken Louie is named in honor Uncle Louie. Some entrees, like Judge Alberto's Linguine Clam Sauce, are named after regulars who always had their go-to dishes.
Portions tend to be quite sizable. For a dish with a Maryland twist, try the fried calamari sprinkled with Old Bay, which comes stacked nearly 3 inches high on a 10×7 plate. It's tender and can easily be an entree by itself.
But perhaps the star here is the four-ingredient Chip's Salad. The salad comes with every entree and is large enough to be treated as an appetizer, especially if you're dining solo. Each Chip's Salad will be prepared by your server, who is used to being asked why the house dressing is not sold commercially – and for good reason. You'll want to take it home.
4. La Scala Ristorante Italiano
Opened in 1995, La Scala may not be the oldest or most famous Italian restaurant in Little Italy, but this is the neighborhood spot where other chefs eat. The Urban Oyster owner and head chef Jasmine Norton is a fan and recommends the Lobster Regina.
The overall atmosphere here is festive and welcoming. From the friendly bartenders to the bocce court and overall ambiance, even the most jaded diners have to appreciate this place. La Scala even has a communal table, which nowadays is a rarity among Italian restaurants.
Executive Chef and owner Nino Germano is a native of Bafia, Sicily, which is located 50 kilometers inland from Messina. The menu is seafood-centric, and there are always daily specials. If you order the branzino, your server will fillet it at your table. You won't want to skip dessert here, either. The cannoli cream is lighter than you'll find at most Italian restaurants.
5. La Tavola
While most of the Italian-born restaurant owners you'll meet in America's Little Italy neighborhoods come from southern cities like Naples or Sorrento, La Tavola owner and head chef Carlo Vignotto was born in the tourist mecca of Venice. Throughout his two-level 180-capacity restaurant, you'll see paintings of the city of canals. The energetic and self-described perfectionist got his start in the restaurant business working at his grandparents' beachfront restaurant.
La Tavola, or 'the table' in Italian, is known for its Maryland crab-centric pasta dishes. In 2020, the spaghetti neri al granchio received the Daily Meal award for Best Pasta Dish in Maryland.
This is one of those places where you should try to avoid looking at the menu before visiting. Carlo always has a handful of specials. The $65 four-course tasting menu is a good option if you want to try dishes that are not on the regular menu. Much of the produce at La Tavola comes from Carlo's nearby farms. He even has a fig tree in his backyard.
6. Sabatino's Italian Restaurant
Little Italy's most famous old-school Italian restaurant has been a fixture at the corner of Fawn and High since 1955, making it the second-oldest spot currently operating in the neighborhood. Sabatino's has been a gathering place for local athletes since at least the 1980s.
Back when it was open until 4 AM, professional wrestlers like Bruno Sammartino and Andre the Giant used to head directly to Sabatino's after their shows at the then Baltimore Arena. From there, the word got out. Even today, this three-floor family-owned restaurant is a favorite of Baltimore Ravens, Orioles, and especially wrestling legends like Jim Cornette and Ric Flair.
Sabatino's famous garlic bread is as thick as Texas toast with a bit of kick from the crushed red pepper sprinkled on top. For something not available at most Italian restaurants, try the short rib ravioli, which comes deep-fried with a side of au jus for dipping. Inside, it's all meat.
The veal parmesan with eggplant is a mix of Italy and America with delicious results. For dessert, try the homemade cannoli, which goes down easy thanks to the vanilla ricotta filling.
7. Tagliata
Italian for 'cut,' Tagliata in an upscale steakhouse on the southern edge of Little Italy. All pasta is made in-house, and you'll also find an impressive wine selection: Tagliata has claimed the Wine Spectator Best of Award for Excellence for the past five years. At any given time, around 9,000 bottles are stored in the wine cellar, which is located below the main indoor dining room.
While Tagliata is more formal than other restaurants in Little Italy, the menu does not forego local ingredients. The squid ink campanelle, for instance, is elevated with chunks of Maryland crab. The chili adds a bit of spice, while the bread crumbs give the dish some crunch.
The 12-ounce Pennsylvania veal chop is the only cut under $60 and goes well with porcini bone marrow sauce. There are four other sauces you can add to any chop for under $5. The strip, ribeye, and porterhouse are each dry aged for 45 days.Every night at Tagliata, guests are treated to live music performed on a 1926 Steinway piano.
For something less formal but still part of the Atlas Restaurant Group, try the neighboring Italian Disco. It has a retro diner feel, but the menu is straight pizza joint with a cool ice cream parlor-style bar.