How much does an Iceland trip cost? A LOT OF MONEY! Ha. This is a famously expensive destination. But in all seriousness, Iceland gives you quite a bit of value for that money.
Recently my friend Amanda from A Dangerous Business and I took a 13-day road trip to Iceland in August 2022. This is one of the best trips I've taken in a very long time — but holy hell, was it expensive!
We were traveling at peak season, plus it was the biggest travel summer in three years, making it a popular time for travelers (and expensive time for both rental cars and gas).
I know it can be helpful to see what other people paid for trips to Iceland, so here's a detailed Iceland trip budget. I hope this is helpful for you to plan your own Iceland trip!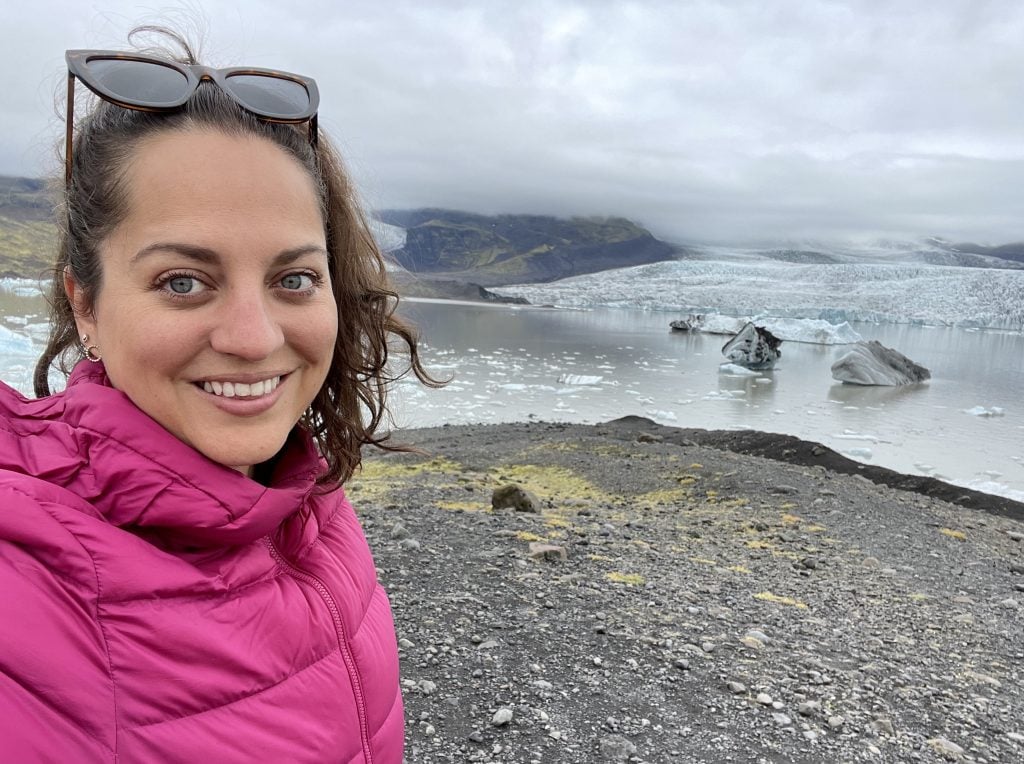 Is Iceland Expensive?
Yes, Iceland is very expensive. It's one of the most expensive countries of the 80+ I've visited, up there with Sweden and Australia, though I think Norway and Switzerland are a TINY BIT more expensive than Iceland.
There are reasons for this. Iceland is an isolated island, and they have to import the vast majority of supplies. Most fresh produce is grown outside Iceland and shipped in.
And like all of the Nordic countries, Iceland has a high cost of living. It's not as jarring for locals, who earn high salaries — thanks in part to more than 90% of Icelandic workers being part of a labor union — and having their taxes pay for healthcare, education, infrastructure, and an excellent quality of life.
The time of year has a huge impact on your costs, too. Summer travel — considered mid-May through August — is much more expensive, and for good reason. Summer is the best time to travel Iceland, as everything is open, weather is at its best, tons of tours are running, and the roads are in much better condition.
Winter can be much cheaper and far less crowded, but keep in mind it can be very cold, very dark, and you may have to deal with winter storms and road closures.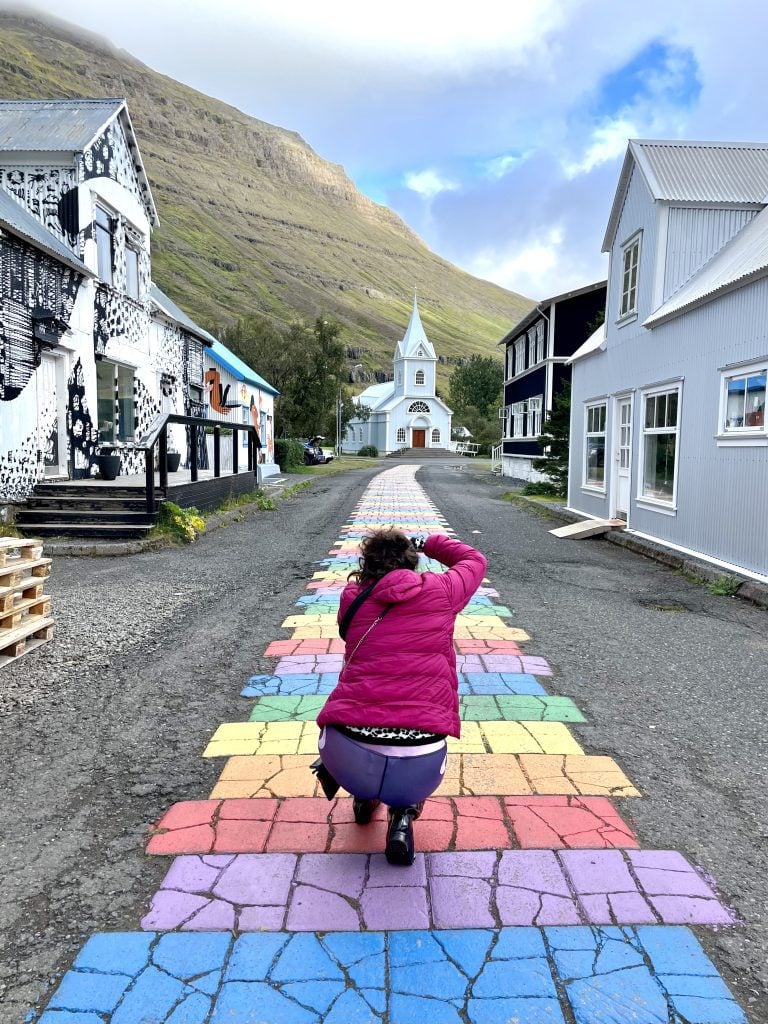 How I Budgeted My Iceland Trip
Tracking travel expenses is a relatively new thing for me. People have often asked me for budget breakdowns, but I haven't kept close track until I started using YNAB (You Need a Budget) software in 2020.
Guys, YNAB is the best thing I have ever done for my finances. It literally changed my life. My finances are so much better than they used to be, and I have a much better system of budgeting for trips and saving up over time!
If you want to try YNAB, you can get a free monthlong trial through my link. (If you sign up, they'll give me a free month of YNAB.)
During your free monthlong trial, join in YNAB's live Zoom tutorial sessions — they have several each week. They're super helpful. And join the YNAB Facebook group and/or subreddit. It takes a bit of time to wrap your head around, so make the effort. I promise you it's so, so worth it.
Since I started YNAB, along with Profit First, I allocate 30% of my travel blogging revenue to operating expenses — 20% to admin and 10% to travel costs. (You can do the same by budgeting a set amount for travel per month or per paycheck.)
Over time I automatically transferred that money directly into my "General Travel" category, then the "Iceland Trip 8/22" category, and as I made expenses before and during the trip, automatically deducted from money set aside for that trip.
As soon as Amanda and I decided to do this trip, we booked flights, our rental car, all accommodation, and several activities. We kept track of Iceland costs on a Google Docs spreadsheet. After arriving in Iceland, we took turns paying for mutual expenses on the road, like gas, but paid other expenses separately, like food. We used credit cards for every single purchase.
After the trip, we went through our credit card bills and added our mutual expenses to the spreadsheet, saw who had paid more, and Venmo'd the difference. Easy!
We kept track of everything in USD, as it was easier for us to just go by our actual credit card statements than go through and convert lots of receipts.
Our Travel Style
In an expensive destination like Iceland, it's smart to drop down a travel level. I usually stay in mid-range hotels with occasional high-end splurges, as does Amanda, but on this trip we stayed in the cheapest budget hotels with non-terrible ratings, often with shared bathrooms.
Food-wise, we mainly ate in restaurants and cafes. A few hotels included breakfast. We bought groceries for breakfast in Akureyri.
Additionally, many accommodation prices were actually charged in Euros, not Icelandic Kroner, and the Euro dropped significantly against the US dollar between when we initially booked (June 2022) and when we traveled (August 2022).
For example, our Akureyri Airbnb was set to charge us in two payments of 334.39 euros. They ended up charging us $359.17 for the first payment and $342.88 for the second payment thanks to the euro dropping.
Finally — if you're traveling with a friend, I can't overstate the importance of being on the same financial page. Have conversations early and often about how you want to spend your money, with specific numbers, before booking anything.
Luckily, Amanda and I were in agreement on our priorities. We cared about spending lots of money on activities and didn't care as much about food or accommodation (save a few cool spots).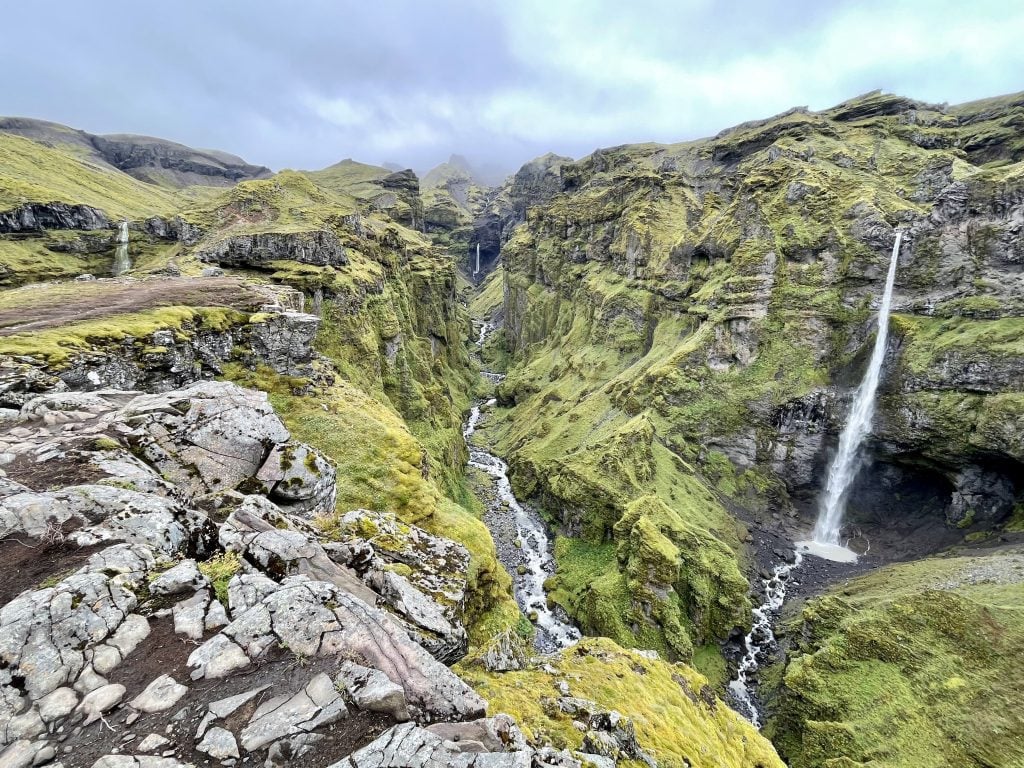 Total Cost of Iceland Trip: $4303.11 each or $8606.21 for two
This is for two people sharing accommodation, car rental, and gas, and paying for their own activities and food.
I tracked every expense except Amanda's airfare and food, but for cost-for-two purposes, let's assume she spent the same amount as me on those two categories.
Airfare: $548.20 for Kate (approximately $1096.40 for two)
Car Rental and Ground Transportation: $2608.04 for two or $1304.02 each
Accommodation: $2371.80 for two or $1185.90 each
Food: $690.60 for Kate (approximately $1381.20 for two)
Activities: $1,141.81 for two or $570.91 each
Restrooms: $6.96 for two or $3.48 each
Souvenirs: $0
Airfare: $548.20 for me
Flixbus, Prague Florenc to Vienna Airport: $50.98
Vienna to Reykjavík on WizzAir: $260.14
Reykjavík to Prague on Play: $237.08
Airfare can depend on a million different factors; this is simply what I spent flying from my home in Prague. Amanda flew from her home in Cleveland via a layover in Boston. These flight prices include checked luggage; I didn't end up using checked luggage, so they could have been cheaper.
There are direct flights from Prague to Reykjavík on Play, but they get in at 12:30 AM and I didn't want to deal with that (especially since that would be 2:30 AM to my Prague body — and then you have to rent a car, drive 45 minutes to Reykjavík, check into the hotel…)
Prague's bus station is an 8-minute walk from my apartment, so sometimes I just book a flight from Vienna and take a 4.5-hour bus directly to the Vienna airport. Vienna's WizzAir flight to Reykjavík gets in at a much more reasonable 6:30 PM, so that worked for me.
How to Make it Cheaper: It's hard to siphon down airfare costs, but you can save by flying carry-on only or planning a trip during the winter. For cheap flights from North America, I recommend booking 3-6 months in advance as soon as you spot a good fare.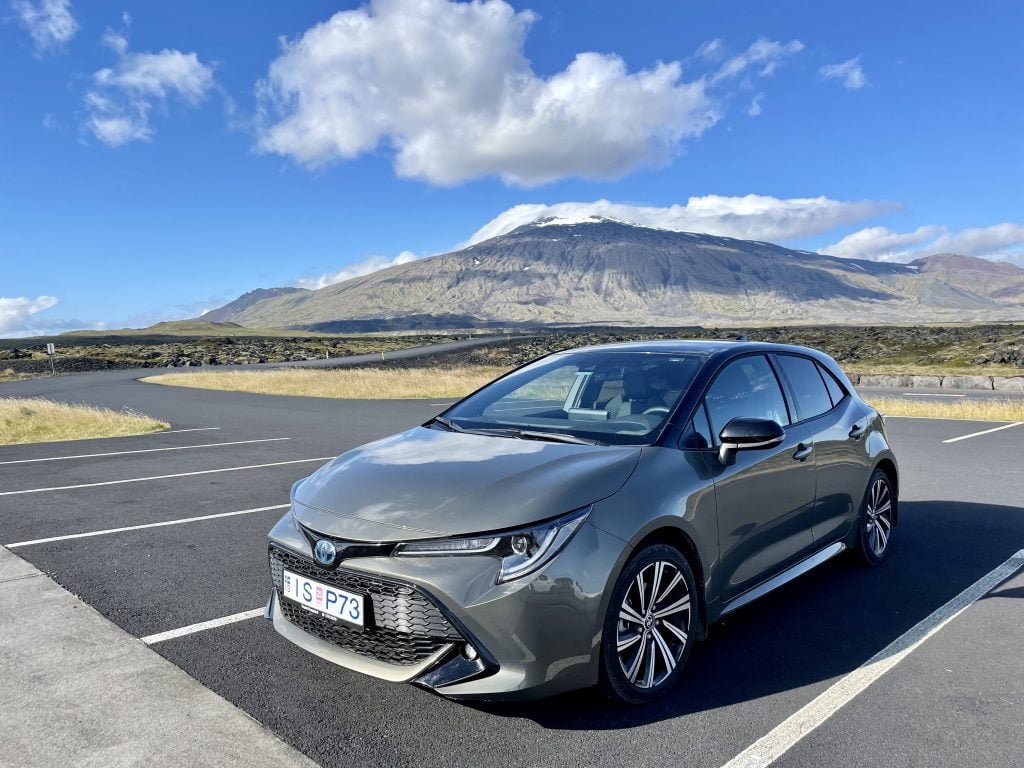 Car Rental and Ground Transportation: $2615.30 for two or $1307.65
Car rental, 12 days: $1991.32
Extra driver fee: $25.65
Gas: $400.71
Tunnels: $54.30
Parking: $40.77
Ferry: $102.55
Car Rental: This was our biggest expense of the trip, not least because there has been a car rental shortage since COVID began. This was the price for an automatic sedan (we got a Toyota Corolla) for 13 days. Our rental was at Europcar, right in the airport terminal; this was a priority for me, as I wanted to get out quickly and many rental companies are located a 15-20-minute drive from the airport.
Gas: We filled up gas most days and tried to fill up frequently, as gas stations are often far apart.
Tunnels: There is only one paid tunnel in Iceland, just east of Akureyri. Many people driving the Ring Road only pass through the tunnel once, but our schedule and itinerary had us going through it five times total for an average of $10.86 each time.
Parking: While free in most locations, we ultimately paid for parking at Fagradalsfjall Volcano ($7.33), Kirkjufellsfoss ($5.13), Hverir ($5.05), Skaftafell for Svartifoss ($7.26), Kvernufoss ($5.33) and Seljalandsfoss/Gljúfrabúi ($10.67).
Ferry: We took the Westman Islands ferry round-trip with our car for $102.55. We could have done it without the car for cheaper, but we both enormously appreciated how much easier having a car made things.
How To Make it Cheaper: Renting a manual car is cheaper than an automatic car, but you need to be willing to drive a manual car. Renting from an off-site car rental spot is a good option for saving a bit more. You can also plan an itinerary that doesn't go through the tunnel five times!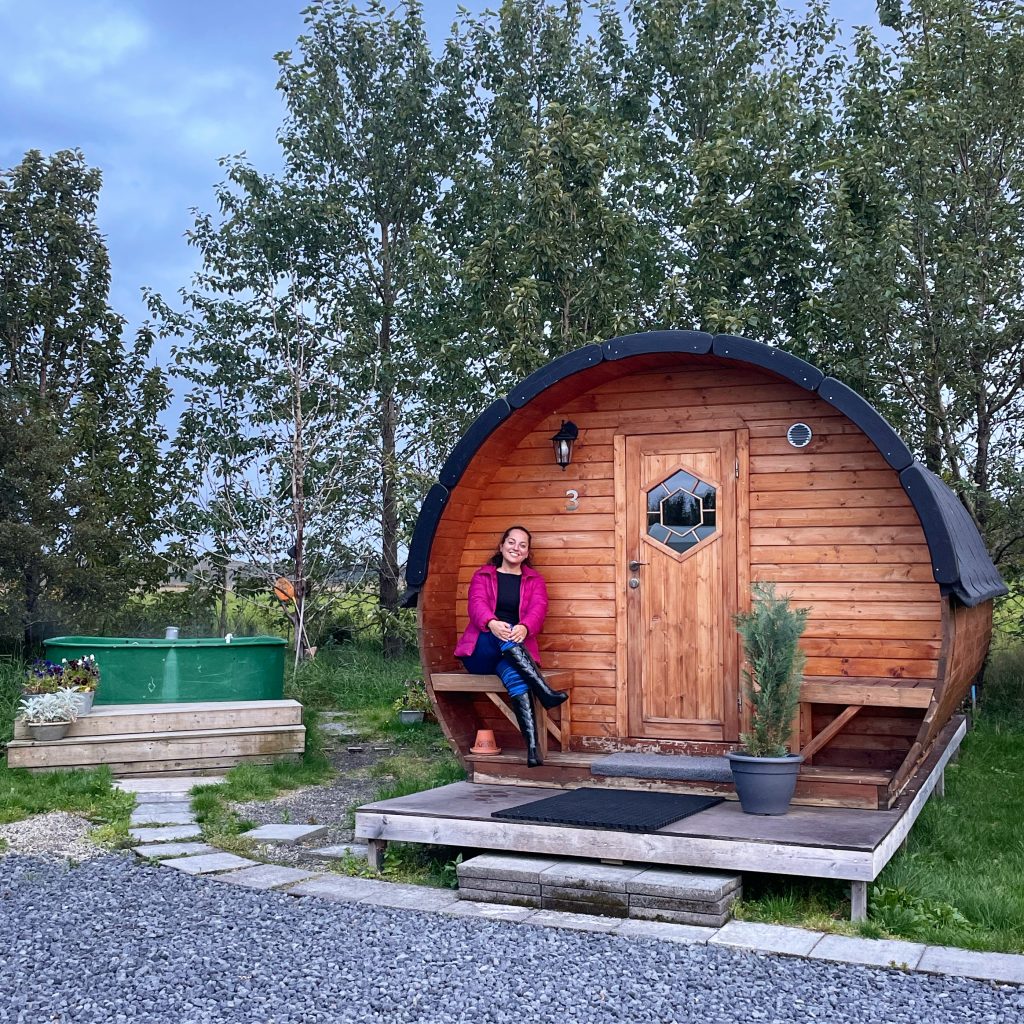 Accommodation: $2371.80 for two or $1185.90 each
As you can see, our search for budget stays led to an enormous range of accommodation costs — from $82.05 to $347.06 per night! Our average cost of accommodation was $182.45 per night.
All of our hotels offered private rooms; some had shared bathrooms. We shared a single room everywhere except the Airbnb apartment in Akureyri, which had two bedrooms.
In terms of value for money, I think that we enjoyed immense value at Asahraun Guesthouse near Selfoss, with our adorable little hobbit house, hot tub on site, and lots of cozy amenities. The shower was shared with two other houses but we had our own toilet and sink, which was great.
And Hvammur 2 Guesthouse near Blönduós was a cheap and cozy place that reminded me how hostels used to be: people hanging out, watching TV together or cooking in the kitchen. We never even got formally checked in; we just got an email with our room number and were told to enjoy ourselves!
The worst value? Sel Hotel in Myvatn, by far, at $347.06 per night for a basic twin hotel room with private bathroom and breakfast included. Yikes!
Lake Myvatn in general was shockingly expensive and super-crowded. I've heard you can save money by staying in Húsavík instead; it's an hour's drive away.
How to Make it Cheaper: These were the cheapest non-terrible hotels we could find during the peak summer months, two months before our trip. You can also stay in hostel dorms or camp for less.
Hiring a camper van sometimes ends up a bit cheaper than a budget hotel, but the difference isn't usually significant. Don't get a camper van to save money; only get a camper van if you want that style of trip.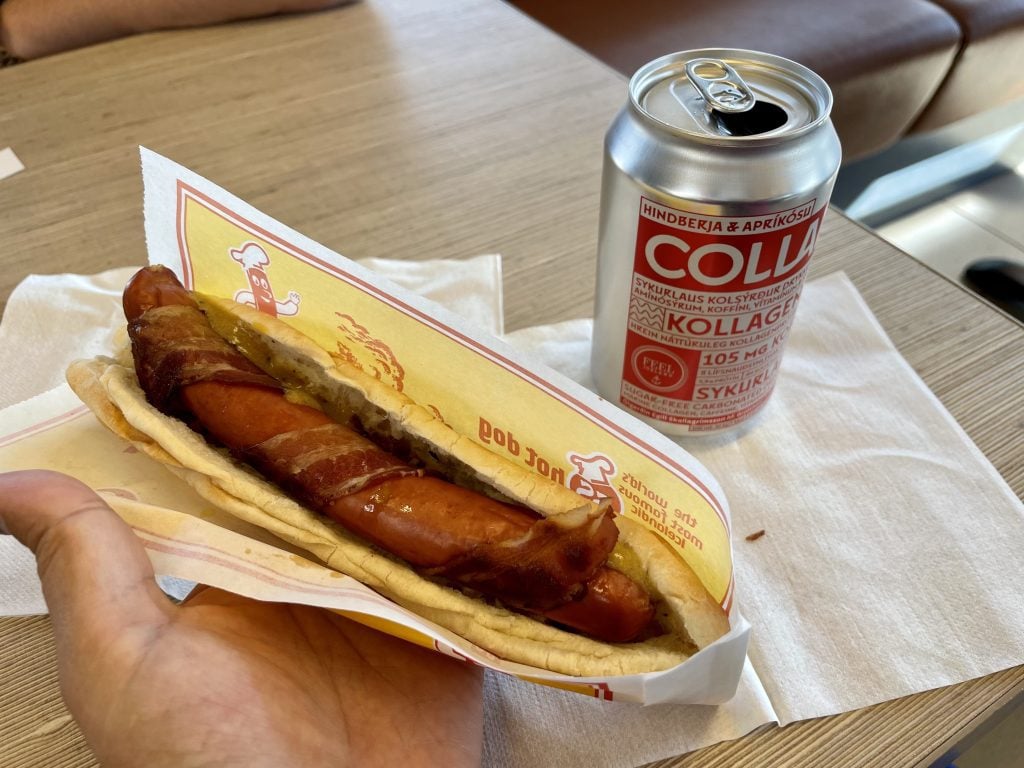 Food: $690.60 for Kate (approximately $1381.20 for two)
Groceries: $20.32
Lunch Kate bought for 2 at Godafoss: $11.24
Kate's restaurant expenses: $674.82
Iceland is not a place you go to for the food. The food isn't terrible, but it isn't special, either, and I don't think there's much of a need to splurge.
We mainly ate at restaurants and cafes throughout our trip. Though we generally kept things cheap, we did have the occasional splurge (Gott in the Westman Islands was lovely, as was Naustið in Húsavík, and we enjoyed langoustine sandwiches at Z Bistro in Höfn). We only had a few alcoholic beverages throughout the trip: a fancy cocktail each at Gott, and I sampled a few local craft beers throughout the trip.
We bought groceries to cover our three breakfasts in Akureyri (yogurt, fruit, bread and butter).
How to Make it Cheaper: Self-cater all the way. Shopping at the grocery store is one of the easiest ways to save money in Iceland. If you do eat out, usually the cheapest thing on the menu is a hot dog, whether at a restaurant or gas station.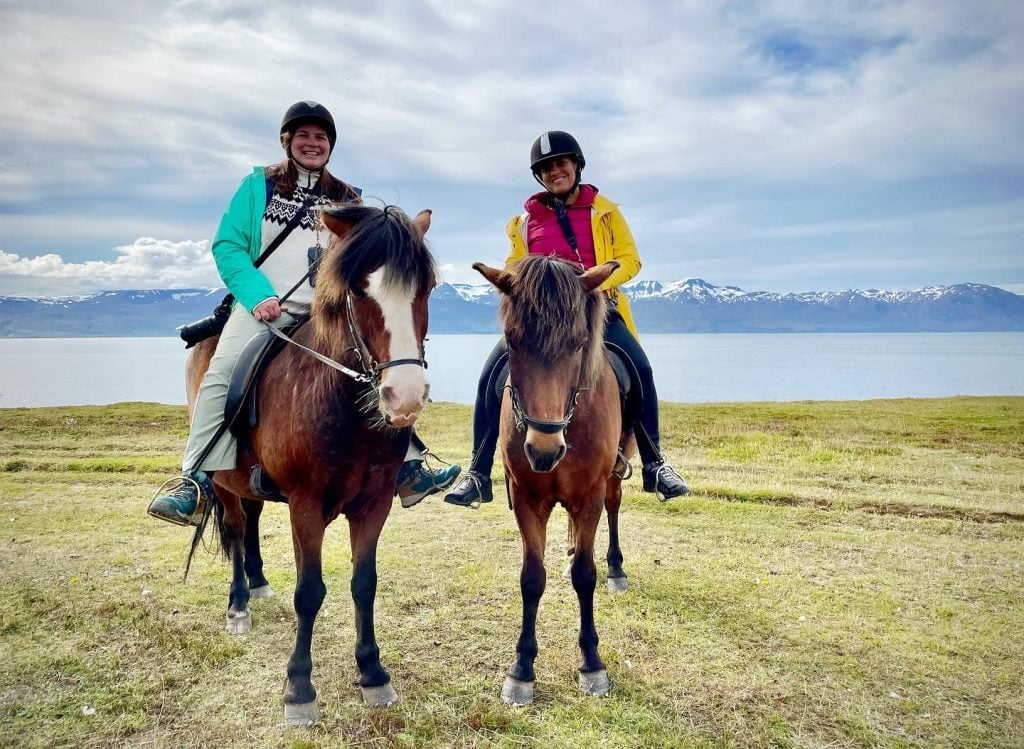 Activities: $1,141.81 for two or $570.91 each
Activities are where we went nuts. Keep in mind that this trip was for work reasons, though. We had a lot we wanted to write about!
Paid Activities
Thermal Baths: $427.04 for two or $213.52 each
Tours and Activities: $541.20 for two or $270.60 each
Museums: $155 for two or $77.50 each
Outdoor Attractions: $18.57 for two or $9.29 each
Thermal baths included Krauma in Reykholt ($71.82 for two or $35.91 each), the Forest Lagoon in Akureyri ($87.17 for two or $43.59 each), GeoSea in Húsavík ($80.04 for two or $40.02 each), Myvatn Nature Baths in Myvatn ($86.62 for two or $43.31 each), Vök Baths in Egilsstadir ($87.17 for two or $43.59 each), and Vestmannaeyjar Swimming Pool in the Westman Islands ($14.22 for two or $7.11 each).
Tours and activities included whale watching in Húsavík ($157.02 for two or $78.51 each), horseback riding in Húsavík ($167.35 for two or $83.68 each), and a RIB boat trip in the Westman Islands ($216.83 for two or $108.42 each).
Museums included the Bjarnarhöfn Shark Museum in Bjarnarhöfn ($20.52 for two or $10.26 each), Herring Era Museum in Siglufjördur ($32.02 for two or $16.01 each), Whale Museum in Húsavík ($25.34 for two or $12.67 each — included a small discount from our whale watch), Jaja Ding Dong Eurovision Museum in Húsavík ($14.44 for two or $7.22 each), Petra's Stone Collection in Stöðvarfjörður ($21.46 for two or $10.73 each), and Eldheimar in the Westman Islands ($41.22 for two or $20.61 each).
Outdoor attractions included Stokksnes, including Viking Village ($12.88 for two or $6.33 each), and Kerid Crater ($5.69 for two or $2.85 each).
Free Activities
And a nice thing about Iceland is that lots of outdoor activities are free!
Hiking to the volcano (paid parking)
Free waterfalls: Svodufoss, Bjarnarfoss, Glanni, Reykjafoss, Goðafoss, Dettifoss, Gufufoss, Folaldafoss, Nykurhylsfoss (Sveinsstekksfoss), Skógafoss, Hestavadsfoss, Gluggafoss
Free waterfalls that charged for parking: Kirkjufellsfoss, Hundafoss/Svartifoss, Kvernufoss, Seljalandsfoss/Gljúfrabúi
Free canyons: Rauðfeldsgjá Gorge, Kolugljúfur Canyon, Stuðlagil Canyon, Múlagljúfur Canyon, Fjaðrárgljúfur Canyon
Free lagoons and beaches: Skarðsvík, Djúpalónssandur, Jökulsárlon, Fjallsárlón, Diamond Beach, Reynisfjara Beach
Free outdoor sites: Saxhóll Crater, Hvitserkur, Hofsós basalt columns, Skútustaðagígar, Dimmuborgir Lava Field, Grjótagjá Cave, Hverir, Seydisfjördur Rainbow Street, Eggin í Gleðivík
Free churches: Ingjaldshólskirkja, Búðakirkja, Stykkishólmskirkja Víðimýrikirkja, Grafarkirkja, Hofskirkja
Free indoor sites: Akureyri Christmas House
Free viewpoints: TOO MANY TO COUNT.
Comped Activities
As travel bloggers, Amanda and I wanted to pay for things on this trip ourselves and have full editorial freedom, rather than get free stuff and feel indebted to companies.
Still, thanks to our connections, we were kindly offered comped entry for two hot springs that we planned to cover anyway (and one I had previously covered two months earlier): the Sky Lagoon and Hvammsvik.
Sky Lagoon: $143.82 for two or $71.91 each (Pure Package, which I think is the package most worth it)
Hvammsvik: $100.24 for two or $50.12 each
Best Activities Overall
Almost everything we did was excellent and I would happily do again. At the same time, I understand that most travelers are going for fun, not work, and need to pick and choose their spending more carefully than we did.
For thermal baths, I absolutely adored the modern, funky Vök Baths in Egilsstadir, with the gorgeous natural facilities of Hvammsvik second. GeoSea is a great place with spectacular views on a nice day, and if you're basing in Reykjavík, the Sky Lagoon is worth it if you include the Seven-Step Ritual.
For paid activities, one of the best things we did was our RIB boat trip in the Westman Islands. It was so fun, we immediately regretted doing the one-hour trip instead of the two-hour trip!
Also, if you want to go whale watching in Iceland, do it in Húsavík if you can, not Reykjavík. The whale watching is significantly better there, and I know too many people who saw nothing on their Reykjavík whale watches.
And for museums, I LOVED THEM ALL. But I was deeply moved by Eldheimar, which tells the story of the 1973 volcanic eruption in the Westman Islands, and the Herring Era Museum in Siglufjördur is outstanding, especially its final building. Petra's Stone Collection was an unexpected delight.
What to skip? The only thing I would skip would be the Myvatn Nature Baths; it felt a bit ramshackle in comparison to the other baths.
How to Make it Cheaper: Go to local swimming pools instead of fancy baths; every town has them and they're a great option for a cultural experience (especially with kids). Go all in on free outdoor activities; you'll always have plenty to do.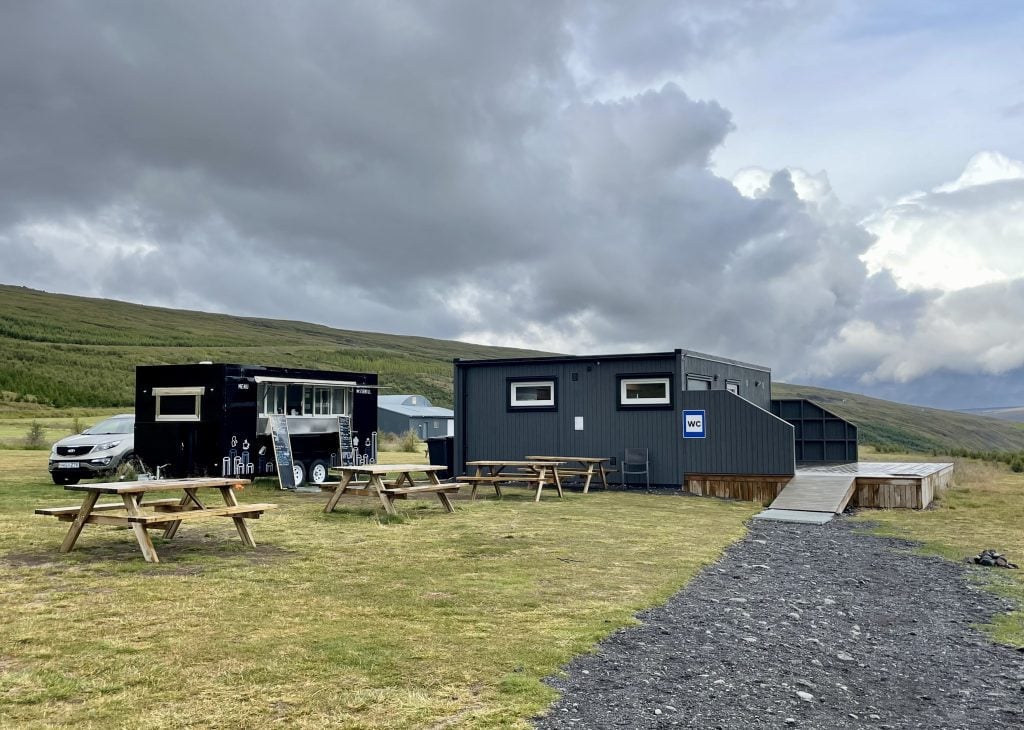 Restrooms: $6.96 for two or $3.48 each
Restroom near Hvitserkur: $3.66 (we held the door so we only had to pay once)
Restroom at Studlagil Canyon: $1.15 each or $3.30 for two
I was going to call this category "miscellaneous," but literally the only thing left was restrooms.
(Let me add that it's helpful to have Apple Pay if you have an iPhone — that way you can just scan it and run in if you sprinted to the bathroom from your car and left your wallet behind. Hehehe.)
How to Make it Cheaper: Lose your shame and just pee out in the open, man.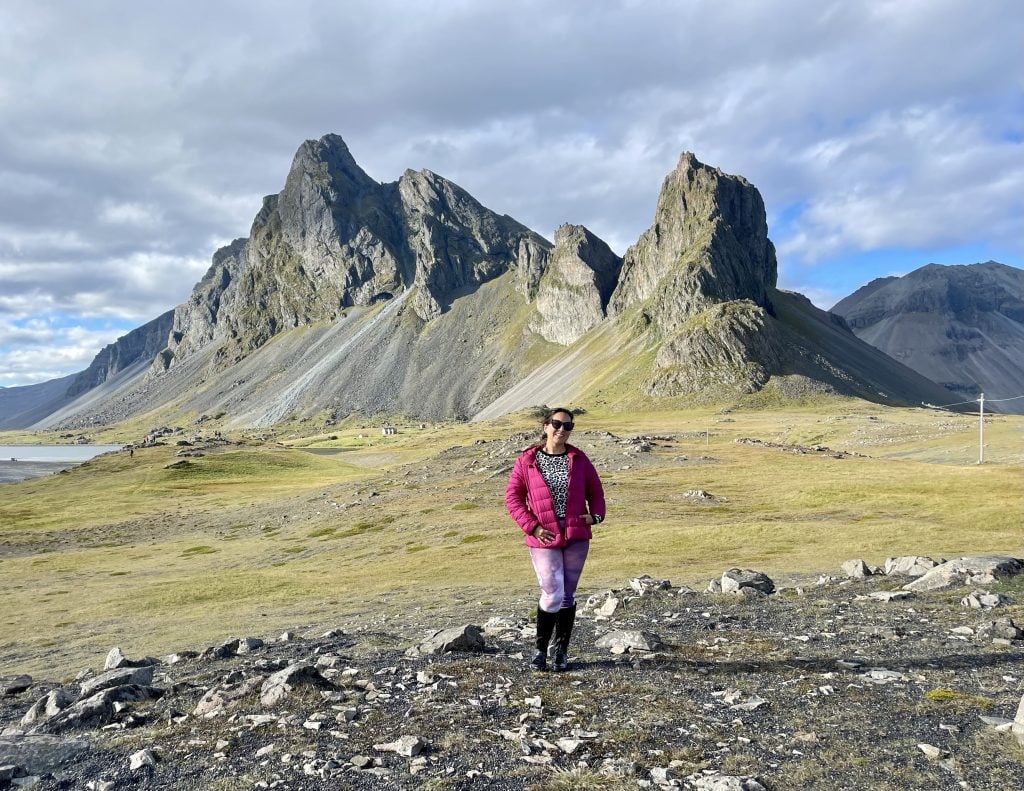 Souvenirs: $0
Yes, zero! I had actually been in Iceland in May and bought a small lava sculpture for my living room (around $35) and a gift for my fiancé Charlie (around $15), but I didn't feel the need to buy anything on this trip.
Spending is purely discretionary, but I know a lot of people who like to buy Icelandic sweaters (they're called lopapeysa), yarn, and jewelry.
For me, my photos are my souvenirs. These are what I truly treasure.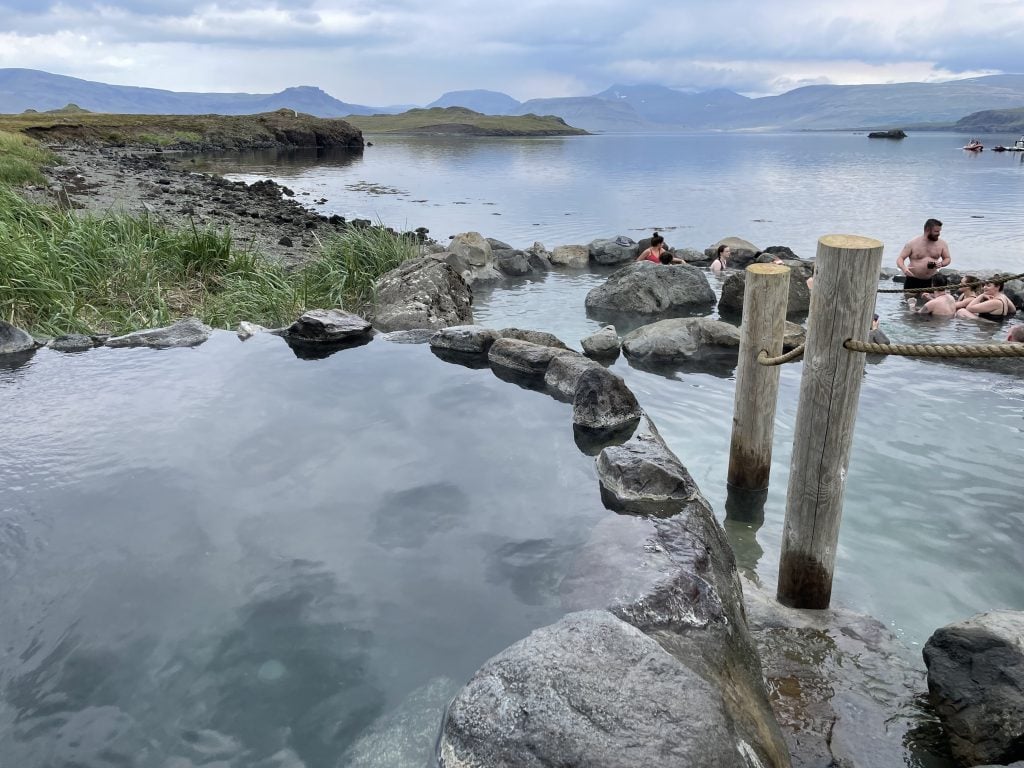 Travel Insurance: Already Paid For
I am not buying travel insurance anyore because I get it for free. My bank account in the Czech Republic comes with free travel insurance as long as I deposit a significant amount of cash per month. A great benefit.
If you don't already have travel insurance — and trust me, you need it — I recommend World Nomads for most travelers, which I used for years before moving to the EU.
How to Save Money in Iceland
In such an expensive country, you want to cut costs wherever you can. Here are my top tips for saving money:
Travel in the winter (October to April). It's a completely different experience from summer travel, which is high season, but airfare, accommodation, and car rental — three of your biggest expenses — tend to be much lower. Plus, you can see the Northern Lights.
Travel with a friend. As much as I love traveling solo in Iceland, I saved SO much money by splitting accommodation, gas, and car rental with Amanda!
Book your trip super-early. The good accommodation — especially the good CHEAP accommodation — tends to sell out first.
Spend limited or no time in the most expensive destinations. I found the most expensive destinations to be the capital city of Reykjavík, Lake Myvatn, the Golden Circle, and the South Coast. Places like Snaefellsnes and the rural north were much cheaper by comparison.
Book guesthouses with shared bathrooms. These are common in Iceland. Shared bathrooms usually lower the price of an equivalent room with ensuite bathrooms, and most of the time it's not a nuisance whatsoever.
Consider non-hotels: hostels or Airbnb rentals. Hostels with shared dorms will always save you money; Airbnbs can go either way.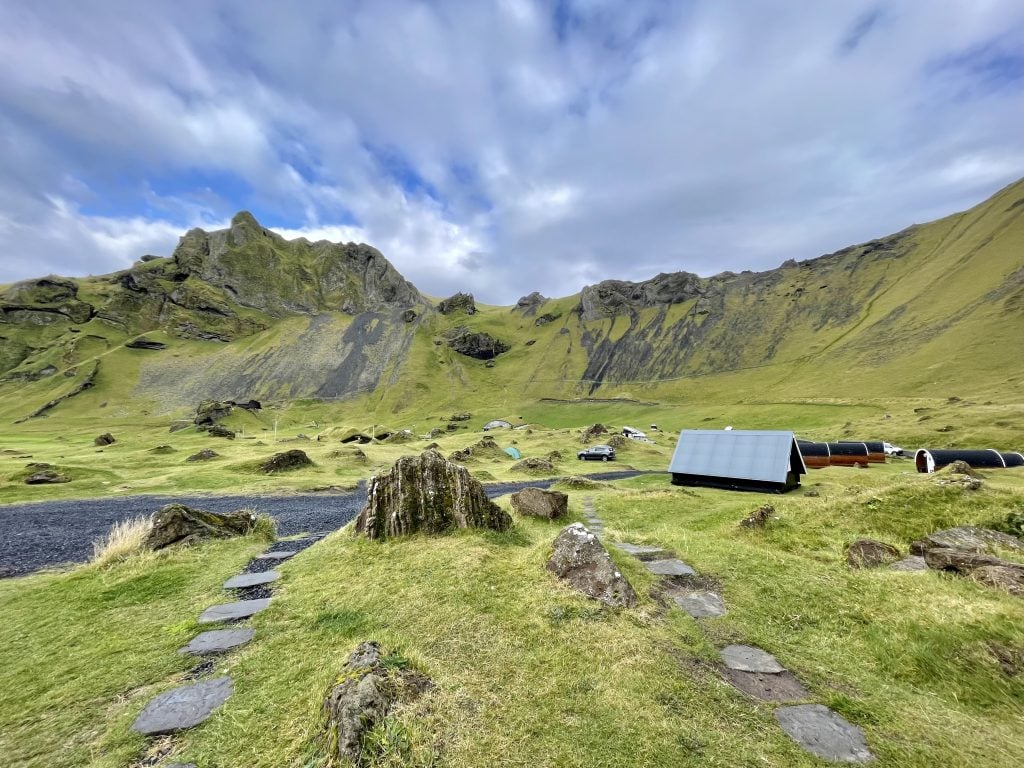 Consider camping. It's a different kind of trip, but it's much cheaper than staying in the cheapest hostels or guesthouses! But if you don't already have equipment, you'll need to pay to rent it.
Use a credit card that covers car insurance. I haven't paid for supplemental car rental insurance ANYWHERE since I got my Chase Sapphire Preferred card. This and several other credit cards provide a car insurance benefit.
Rent a car with a manual transmission. ONLY if you can drive one and are willing to drive one in Iceland.
Consider taking the bus. You can take buses along the Ring Road, though keep in mind stops are limited and this won't get you to most places without supplemental hitchhiking. Many public transportation routes shut down in the winter.
Consider hitchhiking. Iceland is one of VERY few countries where I would ever consider hitchhiking, as it's extremely safe. Please do your research beforehand.
Don't take Icelandic króna out at the ATM. In our 13-day trip, we didn't use cash ONCE. So we always got a good rate with our credit cards, and there was no extra cash at the end of our trip! (You may want to take out a small amount — think under $50 — in case you come across any donation-only attractions.)
Pack carry-on only. It will save you luggage fees. You can book accommodation with on-site laundry halfway through your trip (which we did in Akureyri), or pack fabrics like merino wool that you can wear several times without smelling.
Self-cater your meals. Shopping at grocery stores will save you so much money over going to restaurants. Look for Bónus, the cheap grocery store chain in Iceland.
Eat at gas stations. It's not THAT gross, I swear. Many gas stations serve decent cheap meals. This is the closest thing you have to McDonald's in Iceland.
Get into hot dogs. Wherever you go, hot dogs are usually the cheapest thing on the menu. Often even cheaper than a little bowl of soup!
Bring a water bottle and refill it everywhere. Iceland has excellent tap water. There is zero reason to buy bottled water.
Skip the alcohol. Alcoholic drinks tend to be very expensive in Iceland. If you want something nicer to drink than water, I suggest Collab — an Icelandic soda with collagen and caffeine. It comes in several fun fruity flavors and I tried to try them all!
Spend your time visiting free natural attractions. You saw how many waterfalls and canyons and cool outdoor sites we saw, all for free!
Hike, hike, hike. You might occasionally need to pay for parking, but for the most part, you can hike for hours for free.
Go to swimming pools instead of fancy hot springs. They're a cultural experience and super fun. And if you have kids, THIS is where you should go instead of the fancy spots.
More on Iceland:
My Favorite Places in Iceland: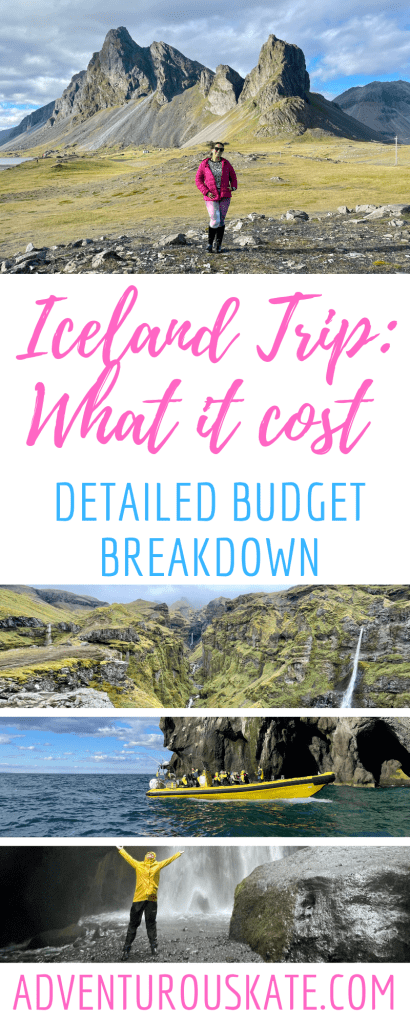 How much did your Iceland trip cost? Share away!
The post My Actual Iceland Trip Cost: Detailed Budget Breakdown appeared first on Adventurous Kate.