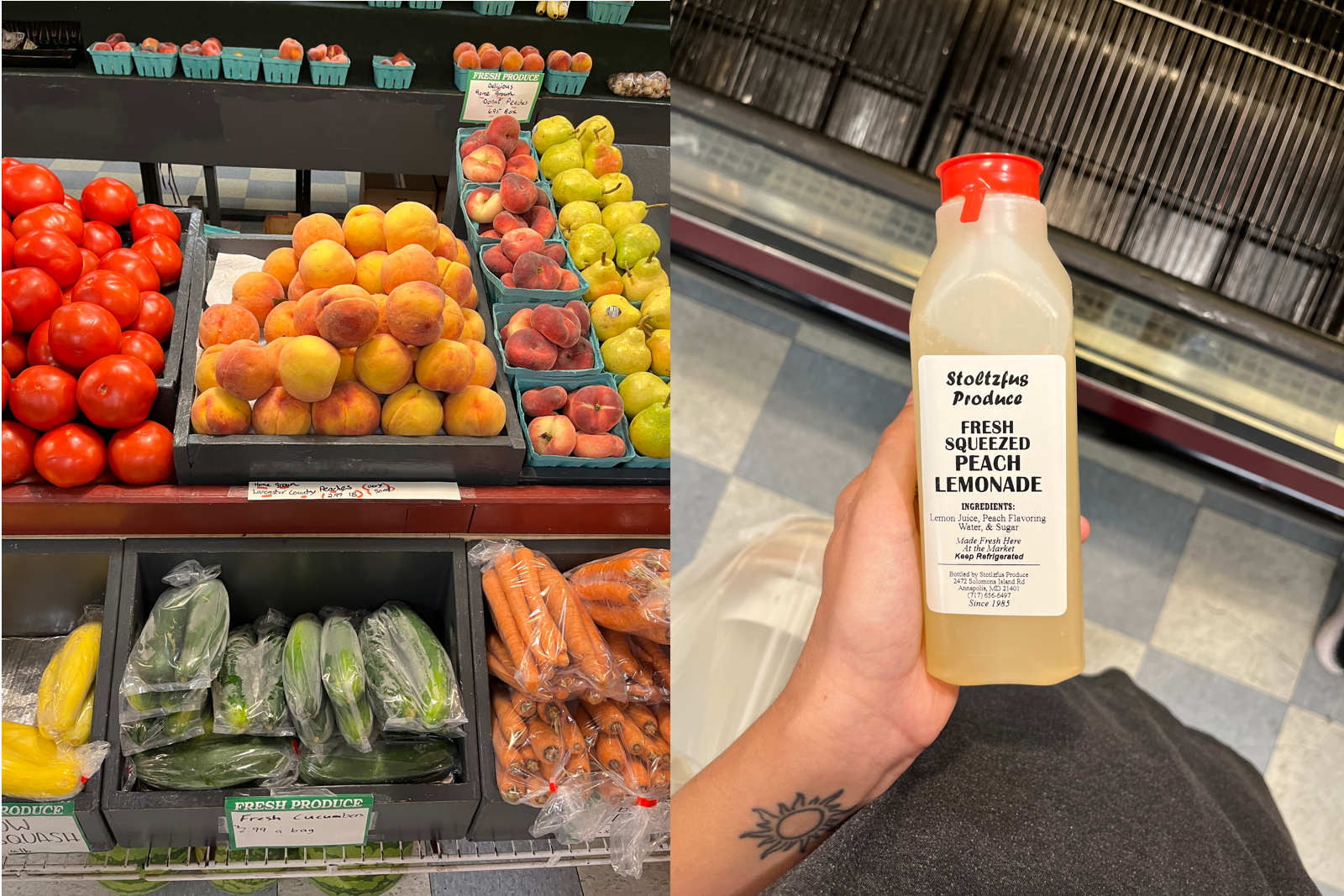 The Pennsylvania Dutch Farmer's Market attracts locals and visitors alike to a 290,000 square foot center close to historic Annapolis, Maryland. Inside, vendors expertly knead bread dough, smoke locally-grown meats, and offer wares ranging from handcrafted chocolates to packaged homemade pastas ready to go home with visitors. There are a plethora of food options at the Annapolis Amish market for immediate eats, dinners at home, and snacks for later that won't last past the car ride home.
When I stopped by the Pennsylvania Dutch Farmer's Market on a recent Saturday, I discovered a delightful assortment of foods (including full breakfast, lunch, and dinner options) crafted from flavorful and homegrown ingredients. Offerings at this farmers market include organic produce, salads, a candy store, homemade snacks, desserts, cheeses, meats, barbecued and fried chicken, bulk foods, and even ice cream. Most of the wares are made close by in Lancaster, Pennsylvania, using Dutch methods that have been passed down through many generations.
To start your own journey through the Annapolis Amish market, head to the Annapolis Harbour Center, the outdoor mall which houses the market and enter through the doors on the side closest to Solomons Island Road. Make note of the colorful Adirondack chairs outside — you'll want to claim some to chow down at once you grab your food. At the doorway, you'll take a right; the left turn leads you to a room containing thoughtfully crafted vintage furniture which, while beautiful, is unfortunately not edible.
Upon entering the Annapolis Amish market, you'll first encounter the bulk section, which has prepackaged items like popcorn, soups, teas, pastas, and more, in appealing uniform rows. While you could pour over these goods for ages, you'll first want to get your bearings and hop in line before the market starts to fill.
Since it's all indoors, the space itself gets quickly crowded. Routine visitors have their favorite routines and stalls – picking up a quiche for Sunday dinner, or grabbing a croissant for a hungover breakfast – so expect long lines.
Many of the stalls appear nameless, advertising only their offerings instead of a brand name. While it fits the spirit of the Amish market's purpose, you'll quickly notice which stalls are famed for which items. The number of stalls might seem overwhelming at first, so this guide to where to eat in the Annapolis Amish market should help.
The best places to eat inside the Annapolis Amish market
1. John F. Martins & Sons
One of the first stalls you'll encounter past the bulk food stall operates as a butcher's counter. This meat stall is renowned for its fine meat products, like naturally hickory wood smoked bacon and beef. Now a popular distributor across the country, the family-owned biz never forgets its roots in rural Amish country.
What to try: Fried mushrooms were the real winners here. The stall's newest hit? Garlic Parmesan Party Wings.
2. Beiler's Bakery And Cheese
If you're a cheese aficionado, you'll have heart eyes for the take-home offerings from the company's dairy branch. Tubs, spreads, wheels, and cubes of cheese are displayed before you like a medieval feast.
What to try: Enjoy the Amish take on a Southern specialty: pimento cheese that has the consistency of mousse. More of a dessert person? Try the strawberry shortcake.
3. Beiler's Coffee & Donuts
Beiler's is another beloved business — especially in the Philly scene. Its Maryland-based offerings live up to their reputation, with humble, memorable baked goods worth dreaming about. We understood why so many stumbled their way into a coffee and donut from Beiler's after a Friday night out at the bars.
What to try: The donuts are made from scratch daily, and they sure taste like it. I had the pleasure of watching a man creating the blueberry donuts directly in front of me while I waited, and could think of little else after.
4. Candy Through The Decades
Staffed by two disciplined ten-year-old boys, the Candy Through The Decades stall has a vast array of candies (and no small amount of charm). There are dozens of different types of chocolate truffles, and many more other confectionary treats. While this is one of the first stalls you'll encounter from the Solomons Island Rd entrance, it should be the last visit on your trip, so that you don't fill up on dessert first.
What to try: It may not be December, but the Homemade milk peppermint mark is melt-in-your-mouth divine. The milk toffee pretzel was also a winner, and the stall's vast assortment of truffles is also tempting.
5. Dutch Market Bakery
Plonked directly in the center of the building is a bakery station with a staggering selection of pastries, pies, breads, quiches, rolls, and more. This is where the market's Lancaster roots really shine:. The stall's whoopie pies were actually featured in an episode of The Best Of on the Food Network.
What to try: When I requested a cinnamon roll with glaze, I was strongly encouraged to opt instead for a cinnamon roll with cream cheese icing — the bakery's specialty. I went with their suggestion and was rewarded with a delightful treat.
6. The Log Stand
While each stall has its value, this one was undoubtedly the hit of the Amish Market. The line for this one remained long all day. Eavesdropped conversations mentioned cravings, and regulars looked forward to their fixes all week. It was clear throughout my experience that people gathered from all over for various types of what the company calls loga, which are essentially stuffed pretzel sandwiches.
What to try: If you're stumbling in first during the early hours, try the Breakfast Log with bacon, egg, and American cheese.
5. Stoltzfus Produce
This stall was where I inhaled an indulgent caramel frappuccino. I must have hit it at the perfect time, because during my next lap, the line snaked around the corner. While I opted for beverages, the stall also sells produce: melons, apples, corn, and peaches.
What to try: Imagine fresh squeezed lemonade from your childhood — an idyllic, delightful treat. The fresh squeezed peach lemonade from Stoltzfus Produce recreates that simple pleasure.