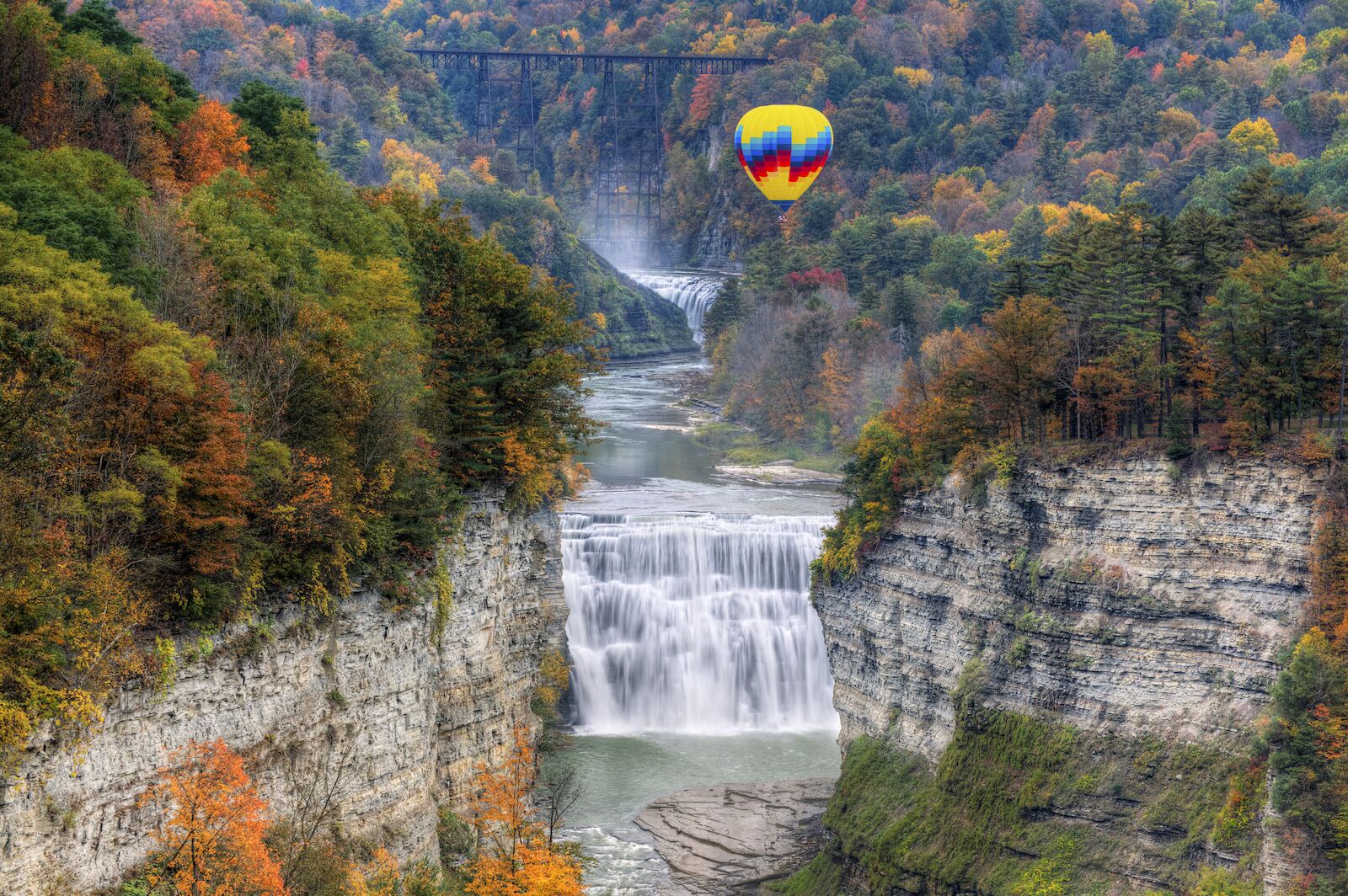 New York might be synonymous with the city that doesn't sleep, but the Empire State is more than crowded subway cars and steely skyscrapers. While NYC covers 193,000 acres, the state's park system covers roughly 350,000 acres – meaning New York's landscape is actually more green-space sanctuary than concrete jungle.
North America's most powerful falls? You'll find them in New York. A miniature Grand Canyon? You'll find that within NY's borders, too. It's no wonder over 78 million people visit New York state parks annually, since the hiking trails, historical sites, geological wonders, and peaceful campgrounds offered in the New York state parks system offer opportunities to beat the urban bustle and connect with the sublime and natural.
Whether it's summer swimming in blue lakes, admiring fall's painter-palette forests, skiing across snow-packed fields, or watching waterfalls roar in spring, there's no wrong time to visit New York's pastoral pleasure zones. But with 180 state parks, choosing the right destination can be tricky.
Here are the 10 most magnificent state parks in New York, stretching from Long Island's Atlantic shores to Canada's gorge-carved border.
Map of the best New York State parks
The best state parks in New York are spread between the state, ranging from a park in the heart of Brooklyn to a park that straddles the US-Canadian border. So no matter where someone is in the state, there's probably an amazing state park not too far away.
Niagara Falls State Park
Best for:Wild waterfalls
It's hard to be humble when listing this natural wonder's attributes. Niagara Falls is the country's oldest state park (established in 1885) and the inspiration for both state and national park systems in the US. Famed landscape architects Federick Law Olmsted and Calvert Vaux (the team behind NYC's Central Park) designed the rambling walkways and overlooks spanning the 400-acre oasis, and it has nine million annual visitors, making it the state's most popular green space.
But there's nothing more impressive than the park's roaring centerpiece. Over 3,000 tons of water rush over Niagara Falls every second, making it the strongest waterfall in North America. Many say the cascade's Canadian side offers better views, but the adventures on the New York side make a stop in this park worthwhile.
To get a closer view, travelers should hop on the electric Maid of the Mist ferry (open April through November) for a wet-and-wild tour on the Niagara River. A piece of advice: be sure to wear the complimentary rain poncho; the waterfall's spray is relentless. Visitors dying to get drenched should scramble outside the Cave of the Winds Pavilion's Hurricane Deck, just an arms-length from the falls. The park's Observation Tower also offers a less-soggy panorama of the Niagara Gorge.
Should the New York side's amenities still fail to impress, Canada's photo-ready views are only a short jaunt away across the Rainbow Bridge — just remember your passport.
Letchworth State Park
Best for: A diverse group of travelers
It's easy to see why Letchworth State Park is called "The Grand Canyon of the East." The New York state park's sheer limestone, sandstone, and shale cliffs shoot 600 feet into the sky from the bottom of the 17-mile-long gorge carved by the relentless Genesee River.
Letchworth is an easy day trip from Rochester or Buffalo (each an hour's drive away), but it's worth spending two days in the thrilling corner of Western New York. The indigenous Seneca, who tended the land long before European colonizers arrived, believed the sun paused over the gorge's falls daily to admire its beauty — a cue that visitors should consider spending serious time here.
The area's hot air ballooning and white-water rafting will appeal to adrenaline junkies, while the Autism Nature Trail caters to folks with developmental and physical disabilities on a mile-long, sensory-friendly excursion. Hikers can choose from over 60 trails, but the most popular is the 7.1-mile Gorge Trail — a one-way trip showing off the park's top sites, including three enthralling cascades. The 60-foot-high Upper Falls, crowned with a 200-foot-high railway bridge, is the most idyllic, followed by the Middle Falls and the Lower Falls, both of which require a 100-step descent. In winter, snowshoes replace hiking boots as visitors take advantage of the icy season.
Book a room at the Glen Iris Inn, the former home of the park's founder, William Pryor Letchworth, for a charming weekend stay. The cozy hotel opened in 1914 and overlooks the Middle Falls.
Minnewaska State Park
Best for: Year-round visits
The Shawangunk Mountains, a 71-mile-long pearly ridge of craggy quartz, cuts into the sky near New Paltz, a quirky college town 90 miles north of NYC. It's where you'll find one of the best New York state parks for year-round adventures: Minnewaska State Park Preserve, a dramatic wilderness covering 24,000 acres with rain-fed sky lakes, fantastic cascades, serpentine paths through pitch pine forests, and rugged cliffs beloved by rock climbers.
In summer, Lake Minnewaska's pine-fringed shoreline becomes a family-friendly swim spot, while Lake Awosting serves as a refreshing (and popular) spot for a quick jump into the lake from rock slabs at the midpoint of the 3.1-mile Upper Awosting Trail.
When autumn arrives, drive to Sam's Point, roughly 30 minutes from Lake Minnewaska, for top-notch leaf-peeping. A one-mile stroll along a well-paved carriage road leads to views of the Wallkill Valley's kaleidoscopic woodlands.
Winter snow makes the park's well-groomed trails ideal for cross-country skiing and snowshoeing. A particularly beautiful route for first-timers is the easy Awosting Falls Connection Trail, which leads to views of cliff-clinging icicles along Awosting Falls' 60-foot plunge.
By late spring, Sam's Point is again the place to be. Water gushes from the 187-foot drop at Verkeerder Kill Falls, and the 3.3-mile Ice Cave Trail leads to cool rock crevices that retain snow well into the hottest days of summer.
Taughannock Falls State Park
Best for: Gorgeous gorges
"Ithaca is gorges," the slogan for upstate New York's hippie Finger Lakes college haven, is more than clever wordplay — it's a fact. Glacier-carved gorges surround Ithaca, and a visit to one of the nearby state parks promises the sight of waterfalls cutting through stone cliffs.
Watkins Glen, Robert H. Treman, and Buttermilk Falls state parks teem with hiking trails and water features. But for the most impressive cascade, head to Taughannock Falls State Park. Its eponymous waterfall plunges 215 feet, making it 33 feet higher than Niagara and the tallest free-falling cascade east of the Mississippi.
A viewing platform near the parking lot leads to exceptional views of the falls, but hikers willing to put in a little leg work can reap serious rewards. For a misty view from the base of the falls, follow the 1.8-mile Gorge Trail, which passes the 20-foot-tall Lower Falls before arriving at the park's pièce de résistance.
For something more strenuous, try the three-mile round-trip hike to the North and South Rims, offering views of the famous waterfall and sparkling Cayuga Lake (the longest of the eleven Finger Lakes) along the way. In summer, the park's Taughannock Beach is a popular spot to refresh with a jump in the water post-hike.
Hudson Highlands State Park
Best for: Hiking near NYC
Covering 8,000 acres of the Hudson River's western banks between the charming towns of Peekskill and Beacon, the expansive Hudson Highlands state park is a hiker's dream come true. It's one of the best New York state parks to explore on foot, with more than 70 miles of paths through forests thick with oak, maple, beech, and elm trees, bridging rocky shores and bald-faced mountain peaks. The scope of wilderness is mind-boggling, considering Manhattan is only a 1.5-hour car or train trip away. Try to go midweek, or be willing to deal with crowds on weekends as NYC's nature-starved urbanites flock to the park's most challenging trails.
Experienced hikers should try their hand at Breakneck Ridge, a breathtaking 3.2-mile scramble with near-vertical climbs and vistas that make it worth the exertion. The trailhead, reachable by train, is a favorite for car-free New Yorkers.
Hikers with more time to spare can take the 5.4-mile loop trail to Bull Hill to see the most diverse landscapes in the park. The trail starts near the Hudson River and climbs to a lookout facing Storm King State Park on the east side of the river. As the trail descends, scrubby trees give way to giant oaks, leading to the Cornish Estate — an abandoned property from 1910, overgrown with shrubs and dusted with leaves.
For an afternoon hike with even better panoramas, take the 3.8-mile climb to Mount Beacon Fire Tower. After scaling a 200-step staircase, hikers will reach the ruins of a 20th-century with views of Beacon (an artsy riverside enclave) just below. But the best views are for hikers who keep climbing to the mountain's rocky peak, from which there are 360-degree views of the Hudson Highlands, the Shawangunks, and the Catskill Mountains.
Saratoga Spa State Park
Best for: Drinking water straight from the tap
Salty and sulfuric with an aftertaste of iron describes the taste of the water from mineral springs gurgling throughout Saratoga Spa State Park, which has attracted taste testers for centuries. Indigenous Iroquois and Mohawk communities considered the springs a source of healing; an idea later stolen by colonizers in the 1700s.
By the mid-1800s, the area boomed with tourists hoping to cure all sorts of maladies, and in the early 19th century, New York State stepped in to conserve the springs from overuse. Today, travelers come to sip mineral water like glasses of fine wine. It makes for a lovely preamble before doing what the relaxing New York state park's name suggests: unwinding at the spa.
The best way to see the famous springs is via the 2.9-mile Geyser Creek Trail. Be sure to have a water bottle handy for the Saratoga Geyser, one of the only active geysers east of the Mississippi. But be careful how much you drink: a full bottle from the Orenda Spring might leave you smelling like eggs, and too much of the Hayes Well Spring (believed to relieve constipation) could induce a trip to the bathroom.
After becoming a Saratoga Springs sommelier, check out the park's multiple museums, outdoor performing arts center, golf course, and the handsome Gideon Putnam Hotel (open since 1935). But of all the jewels crammed into this 2,300-acre expanse, nothing beats the Roosevelt Baths and Spa. It's a Georgian Revival-style bathhouse where current-day guests can soak in the beloved waters, just as visitors have done for hundreds of years.
Harriman State Park
Best for: Roadstrippers
The second-largest of the New York state parks comes with 47,527 acres of first-rate scenery, including more than 30 lakes and ponds, roughly 58 named mountain peaks, and 200 miles of hiking trails connecting two other state parks (Sterling Forest and Bear Mountain).
Unlike many spots on this list, some of Harriman's most stunning landscapes are reachable by car, making it one of the best state parks in New York for road tripping and leisurely drives. Cruise down Seven Lakes Drive to pass (shocking) seven lakes on a winding two-lane road stretching for over 15 miles. Expect to spot bikers huffing and puffing on the road's shoulder as the scenic route is a cyclist's dream.
Near large parking lots are beaches at Lake Tiorati and Lake Welch, which attract swimmers in summer. And a stretch of the Appalachian Trail brings grizzled thru-hikers into the park for 18 miles, offering the rare sight of Manhattan skyline views along a distance trail.
For a satisfying day hike, try the Reeves Brook Loop Trail — a 3.8-mile slog up Chipmunk Mountain featuring a 50-foot rock scramble and vistas overlooking bucolic plateaus.
Should the surroundings inspire more than a few-hour visit, consider pitching a tent. Two public camping areas accommodate overnight stays, and there are no-gear-required rentable tent sites around Silver Mine Lake.
Robert Moses State Park
Best for: Beach bums
There's no shortage of beautiful beaches on Long Island's Atlantic coast. Ditch Plains Beach in Montauk serves up the state's best surfing conditions, Jones Beach attracts summer swarms with seasonal entertainment, and the Fire Island National Seashore captivates with 26 miles of soft sand and windswept dunes. But as for the shore at Robert Moses State Park, well, it delivers a bit of everything.
The park's five-mile beach near the Fire Island National Seashore's western edge is split between several parking fields. Field 2 draws putting pros with its 18-hole golf course, and nearby Democrat Point becomes a surfer magnet during autumn's sea swells. Fields 3 and 4 offer tranquility: both are radio-free, so the only soundtrack you'll hear is the ocean's crashing waves.
But most sun worshippers end up at Field 5, thanks to a nature trail leading to the Fire Island Lighthouse, built in 1858. Visitors willing to climb the 182 steps to the tower's observation deck are rewarded with views of Long Island stretching eastward and, on clear days, NYC gleaming to the west.
To beat the summer crowds, make the 30-minute stroll from Field 5 to Kismet Beach. Though it's technically outside the park boundary, the stretch of sugary sand is a sweet strip of serenity only 90 minutes from Manhattan.
Allegany State Park
Best for: Winter sports
The largest of the New York state parks covers a whopping 65,000 acres of western New York with open meadows, old-growth forests, three lakes, and 18 hiking trails — all of which stand out from other state parks once winter arrives.
The park is in a snow belt created by nearby Lake Erie, so sheets of white cover the park from late fall to early spring. The park service maintains well-groomed snowmobile trails snaking across the landscape, hiking paths become hot spots for cross-country skiing, and dozens of the park's cabins are winterized for cold-weather glamping (which visitors can book online). The park's blanket of white snow creates a contrast that makes it easy to spot wildlife; white-tailed deer frequently hop between trees, and the red coats of foxes spark like fire across the snowy fields.
That said, it's equally lovely in summer. June, July, and August are best for swimming in the park's lakes and exploring the woods. For a perfect Allegany day, take a 4.4-mile trek to see the massive boulders of the Bear Caves, then drive 20 minutes to the Tudor-style Red House Administration Building to peruse a museum dedicated to native flora and fauna. End the day at Red House Lake, where bike and boat rentals make it possible to circle the artificial pool's 2.7-mile shoreline.
Marsha P. Johnson State Park
Best for: Urban explorers and foodies
The seven-acre slab on Brooklyn's East River might not seem like an ideal refuge for Mother Nature. After all, it trades views of rolling mountains for views of Manhattan's skyline, and wild animals for well-heeled hipsters. And rather than native plants poking up from the earth, it's railroad ties dotting the trails (relics of the area's 19th-century industrial past). In fact, the park isn't even the river's most attractive green space — Brooklyn Bridge Park offers more riverside trails and amenities. But the scrappy Marsha P. Johnson State Park is well on its way to becoming one of the state's best new parks.
In 2020, it became New York's first state park named after an LGBTQ+ person: Marsha P. Johnson. She was a Black transgender activist who helped pioneer the modern fight for LGBTQ+ rights. Since renaming the park, the state has been busy making improvements, including a new native-species perennial garden, a floral mound dubbed "Marsha's Hillside," and interpretive panels documenting the life of the late legend. In 2023, construction will begin on a new park entrance, welcoming guests through a gateway made of fabricated flowers, akin to the bouquet Johnson once wore in her hair.
Fortunately, the small area already offers some of the best activities in the New York state parks system. Smorgasburg, a pop-up food fair where local vendors hock tasty treats, takes over the park every Saturday from spring through fall. And world-class shopping and dining are across the street, including Artists and Fleas Williamsburg (a local artisan and craft fair) and Jajaja Mexicana (a plant-based Mexican restaurant). It's a safe park to visit at night, when locals gather at picnic tables to watch the sun set behind Midtown, watching as Manhattan's highrises begin to twinkle like grounded stars.
Camping in New York state parks
When it comes to sleeping under the stars, campers in New York are spoiled for choice. There are more than 8,500 campsites throughout the 180 state parks in New York, many of which have fire pits, picnic tables, restrooms, and RV-friendly amenities like electric, water, and sewer hook-ups.
Nature novices can dip their toe into outdoor living at one of 800 cabins in the state park system, furnished with beds or cots, stoves, and refrigerators. There are also 129 cottages, including sites in Allegany, Harriman, Letchworth, and Taughannock Falls state parks. They're best for nature newbies, as the full kitchens, bathrooms, and beds supplied with linens make the coveted rentals one step away from a hotel.
Travelers can make reservations as early as nine months in advance or as late as the morning of their arrival, but it's best to book the most covered campsites (which include most of the parks on this list) as soon as possible. Waking up with something like New York's largest waterfall in your backyard is a sought-after luxury, particularly in summer.