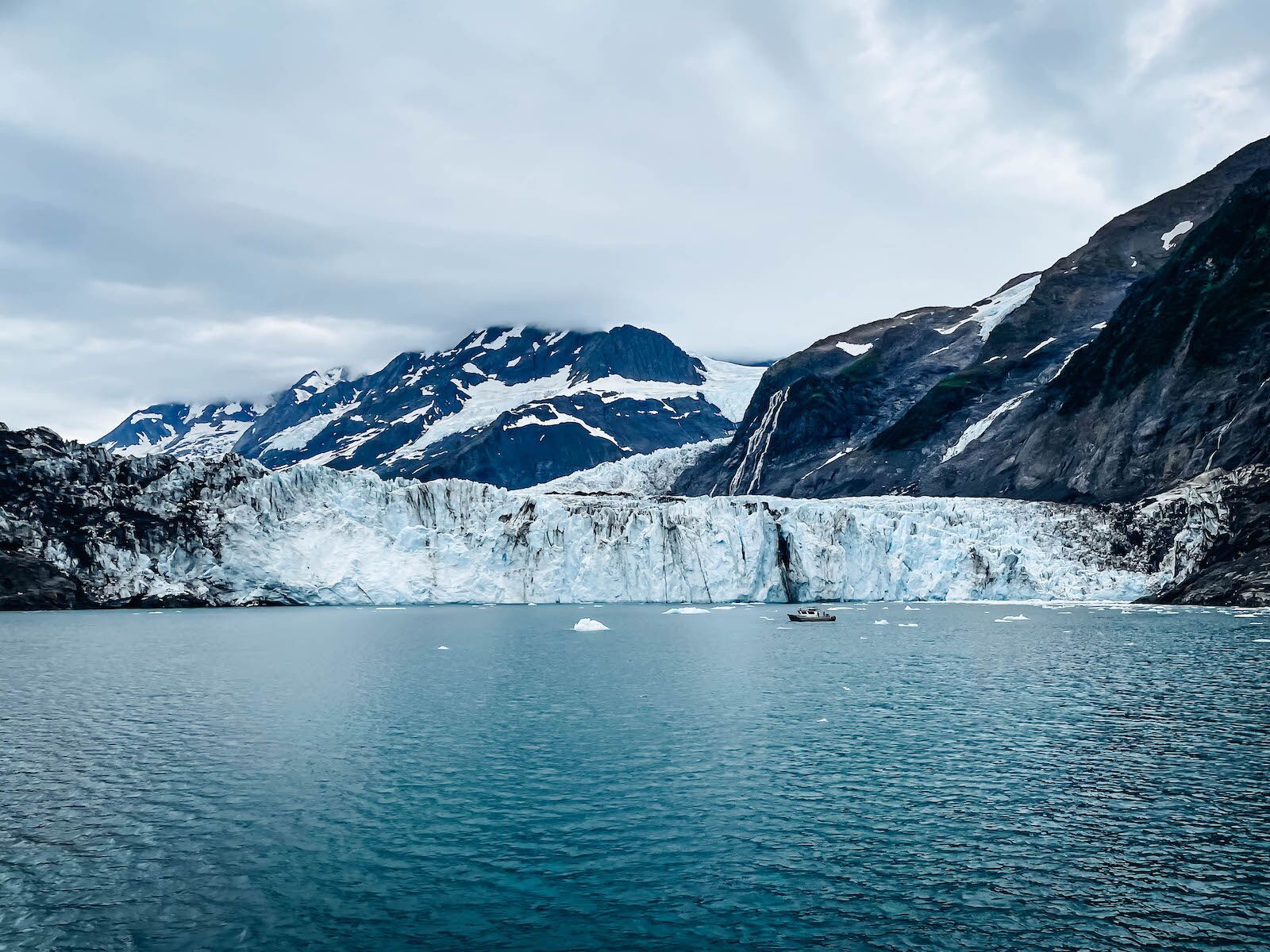 Alaska has no shortage of beautiful places that look like fjords straight out of Norway, but two tend to get the most attention: Glacier Bay National Park near Juneau, and Kenai Fjords National Park, near Seward.
Unfortunately for visitors to Anchorage, Alaska, both of those places are really far away. It's a two-hour flight to reach Juneau from Anchorage, followed by a four-to-six-hour ferry to Glacier Bay. Kenai Fjords is a bit closer, requiring a three-hour drive to Seward, followed by a ferry along the park's coast.
But travelers with only one day to spare — or even half a day — have an equally beautiful and far less crowded alternative to the coastal parks: the Prince William Sound.
The body of water is named for English King Charles III's son Prince William IV, who later became king in the mid-1800. Travelers access the Sound from the town of Whittier, just over an hour from Anchorage (or from Valdez, about five hours north of Anchorage).
With multiple options for wildlife cruises and more than 150 named glaciers along its 3,800 miles of coastline, the Prince William Sound is a stunning alternative to Alaska's more oft-photographed coastlines. Here's everything to know to plan your trip.
Where is the Prince William Sound?

The Prince William Sound is on Alaska's central coast east of Anchorage, roughly even with the Canadian/US border. The Sound is huge, but the two main towns that provide easy access are Whittier and Valdez. Whittier is easiest for most visitors to reach as Valdez is a mountainous five-hour drive from Anchorage.
The closest commercial airport is Anchorage, though there are small airports in Valdez and further south in Cordova. Visitors without cars can take the Alaska Railroad's 2.5-hour Glacier Discovery route from Anchorage to Whittier (daily in summer), but there are no public transportation option for getting to Valdez.
Using the Whittier train tunnel
Whittier sits at the shoreline surrounded by mountains (or water) on all sides, which means it's impossible to build new auto roads into town. The only way to reach Whittier is through a 2.5-mile long railroad tunnel. But since cars do need to reach Whittier, there's only one solution: share the tunnel.
It's actually safer than it sounds. Cars headed to or from Whittier line up on either side of the tunnel. The tunnel opens to cars going to Whittier on the half-hour (10:30, 11:30, and so on) and open to cars leaving Whittier on the hour. Drivers have about a 10-minute window to make the tunnel, so if you plan to drive to Whittier through the tunnel at 10:30 AM, you'll lose your chance by 10:40 AM. So it's best to plan to arrive a little early.
Depending on the season, traffic is allowed through the tunnel from 5:30 or 7:30 AM to 10 or 11 PM. There's a $13 fee to drive through the tunnel, which is open only to trains during all other times.
History of the Prince William Sound
The Prince William Sound was formed by the very same thing that draws visitors to the area today: glaciers. Eons ago, the glaciers once topped these mountains, which mostly lacked valleys between them. Over time, their movement — and the accompanied movement of rocks, water, and earth — slowly eroded the mountains, forming the Sound as we know it today.
Several European expeditions entered the Sound between the 1700s and early 1900s, but it's probably most famous for the 1964 tsunami that flooded the town of Whittier (as well as most of the US and Canadian West Coast). Now, all residents of Whittier live in one apartment building in the center of town.
Today, the Prince William Sound is one of the most stunning day trips to take from Anchorage and home to an amazing array of wildlife (including seal and bird rookeries), as well as world-class fishing opportunities. And the Lazy Otter Cafe makes pretty tasty pastries.
Prince William Sound boat tours
Three major companies offer boat tours of the Prince William Sound from Whittier: Phillips Cruises, Lazy Otter Charters, Saltwater Excursions (primarily fishing tours, but they'll do custom sightseeing cruises), and Alaska Sea Kayakers (kayaking tours).
By a long shot, the cruises from Phillips Cruises are the most popular. The company's multi-level boats are large and stable, complete with an on-board bar, comfortable bathrooms, and indoor and outdoor viewing areas.. The company's aptly named "26 Glaciers" cruise is a five-hour tour passing the glaciers closest to Whittier in the Sound, while the "Glacier Quest" cruise is a shorter 3.75-hour version. Both include lunch (including a shockingly tasting seafood chowder) and narration from an on-board naturalist. The boats can hold 200 people each, though with assigned seats at the indoor dining tables, it rarely feels like you're competing for space.
Lazy Otter and Saltwater Excursions offer smaller custom charters on boats that usually hold no more than 20 people. The boats are much smaller and far more subject to swells and rough water, though the Sound is fairly well-protected by their inland location. Operating out of the Lazy Otter Cafe, Lazy Otter Charters offers semi-regular trips, several boats available for charter, and guided summer kayak tours, complete with gear, guides, and lunch and snacks.
From Valdez, visitors can tour the northern parts of the Sound, including the Port of Valdez, with Stephen's Cruises to the Columbia or Meares glaciers (similar to Phillips Cruises), or take combination kayak, glacier, and hiking day tours with Anadyr Adventures, though they don't go as far into the actual Sound.
Wildlife
The Prince William Sound is teeming with wildlife. But since it's a heck of a huge body of water, covering 10,000 square miles, there's still no guarantee that you'll see anything.
There's a chance of spitting orcas year-round in the water as several pods live in the Sound. But more common are humpback whales, which pass through the Sound while migrating in May, June, and July. Harbor seals and stellar sea lions like to hang out on the Sound's iceberg floats and rocky islands, respectively, and sightings of otters floating around the shorelines are quite common.
Alaska's Prince William Sound is also home to more than 220 species of birds, including arctic terms, bald eagles, and puffins. And species visitors may see traveling along the shorelines include black bears, moose, or dall sheep.
Glaciers and mountains
The Chugach Mountains surround the Prince William Sound to the north and East and the Kenai Mountains to the west. And Mount Marcus Baker is the highest point in the Chugach Mountains at more than 13,000 feet above sea level, just north of the Harvard Glacier. As the Prince William Sound sits at sea level, that's a pretty significant vertical drop to see from the deck of a relatively tiny boat.
The Prince William Sound has more than 150 named glaciers, 17 of which are tidewater glaciers, which means they touch the water. These tidewater glaciers, which are the ones the boat tours can get closest to, are generally the most exciting for travelers as they offer the chance to see calving: huge pieces of ice falling from the glacier into the water, usually accompanied by an extremely loud cracking sound just a second or two before.
The Prince William Sound has more glaciers than any other region of Alaska, and the largest is the Columbia Glacier at roughly 32 miles long and 1800 feet thick. Glaciers may expand or retreat annually based on snowfall and temperatures, but climate change hasn't spared any of the Prince William Sound glaciers, and the Columbia Glacier has shrunk by 400 to 1000 feet on both ends. Interestingly, the Sound's Meares Glacier is advancing. However, that means it's shifting, not growing.
On most boat tours from Whittier, the highlight of the trip is a visit to the College Fjord, home to five tidewater glaciers and many more alpine glaciers. The Harvard Glacier is one of the largest, but all the fjord's glaciers are named for colleges. That's because the Harriman Expedition that first explored the region (co-led by naturalist John Muir) was funded by a collection of East Coast colleges. Now, the massive glaciers bear names like "Yale" and "Smith." Cruisers into the College Fjord will likely see seals and otters drifting on small pieces of ice as they near the shoreline.
It's also possible to reach the College Fjord from Valdez, though it's a slightly longer trip. However, Valdez is closest to the Columbia and Meares glaciers, as well as the Valdez Glacier.
Weather and seasonality
As with most places in Alaska, the main tourist season is summer, and it's rather short. However, because Whittier is a relatively easy drive from Anchorage, even in poor weather, the season in Whittier is a bit longer. Rather than closing in mid-Sept, many businesses in Whittier are open until very early October, including Phillips Cruises. Most tours and businesses around the Prince William Sound open in late May.
Whittier is a year-round town, but with a population of just 300, it doesn't offer much to do in the winter, when many businesses have shortened hours. However, Lazy Otter does offer shorter cruises in March, April, and May.
In Valdez, Valdez Outfitters offers winter sightseeing and fishing tours, with schedules based on demand. Even on summer tours, guests will want insulated jackets and beanies, so be sure to bring multiple warm layers on winter boat tours.
Lodging and dining
Because of its proximity to Anchorage and Girdwood (home of Alyeska Resort), the lodging options for people visiting the Prince William Sound aren't limited to just Whittier. But travelers staying in Whittier will be able to walk everywhere they need to go.
Camping in Whittier
There are two campgrounds in Whittier: Whittier Parking and Camping (no reservations, open mid-May to early October) and the City of Whittier Campground (no reservations, with a maximum stay of seven nights).
The Inn at Whittier
The Inn at Whittier is the only hotel option in Whittier, the rest of the options are home/cabin rentals or bed and breakfasts. The hotel isn't akin to a five-star experience, but it's comfortable and has a great waterfront location. There's an on-site restaurant and tavern and staff can help arrange any type of area activity for guests.
Camping in Valdez
There are plenty of places to pitch a tent or park an RV in Valdez, though most will be closed outside of the tourist season. Eagle's Rest RV Park and Cabins is the closest to downtown and offers rental cabins and basic safari-style glamping tents, plus a first-come, first-served area for tent campers.
Hotels in Valdez
Valdez has a wider range of options. There are four hotel options (Best Western, Totem Hotel and Suites, Keystone Hotel, and Mountain Sky Hotel), plus three more Alaskan-style lodges (Robe Lake Lodge, Ravencroft Lodge, and the Prince William Sound Lodge). Beyond that, the options are primarily bed and breakfasts or cabin rentals. Any hotel in the downtown area will be walkable to the various boat tours (as well as restaurants and other services).

More like this