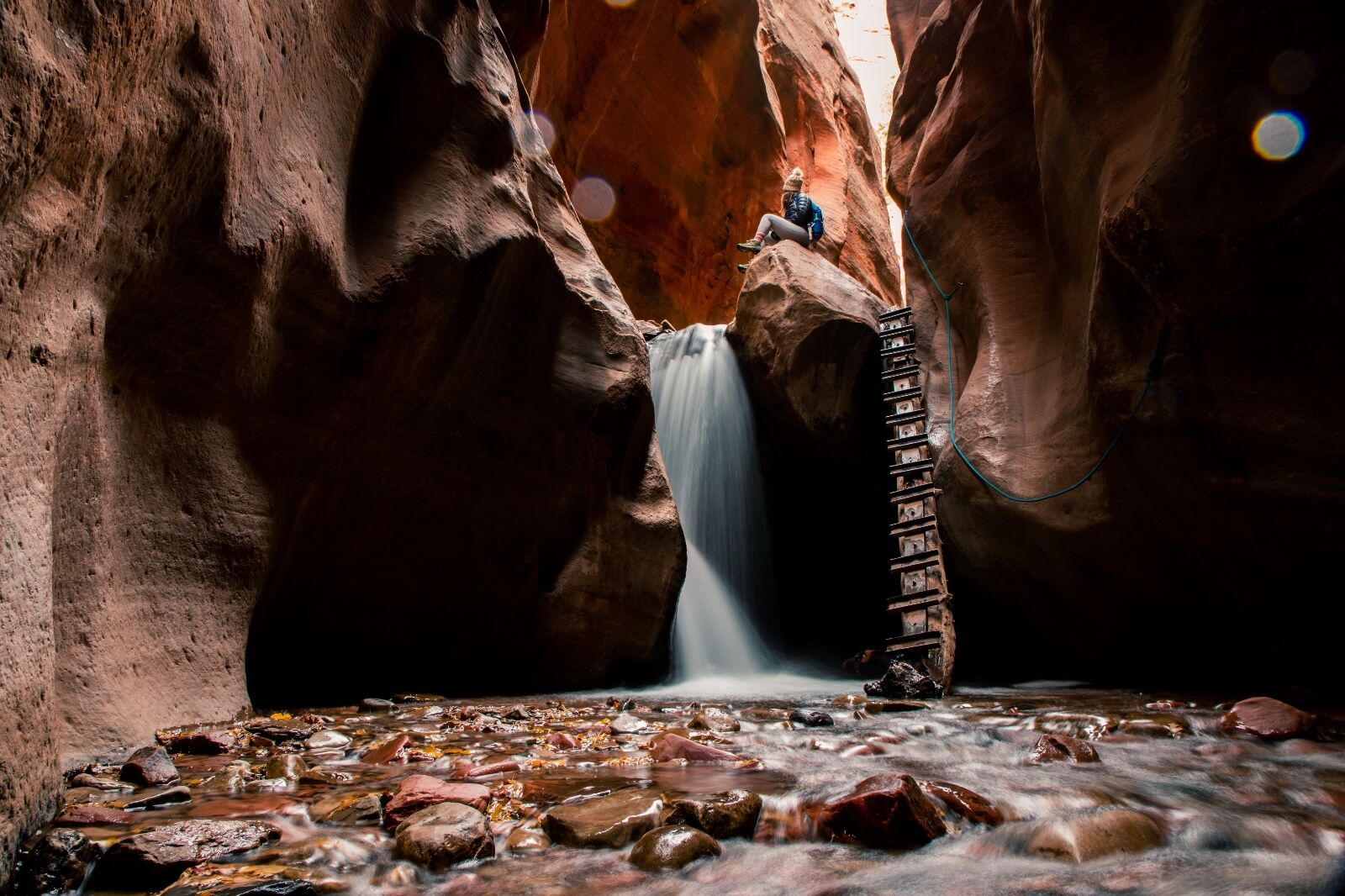 It's easy to picture vast deserts, red canyons, and snowy peaks when thinking about Utah. However, Utah has a surprising number of waterfalls. There are 600-foot cataracts, waterfalls in caves, slot canyon cascades you can raft, and falls with hot springs beside them. With all these choices, you might need some help narrowing down where to go first. These are the 12 best waterfalls in Utah for you to visit. 
Faux Falls in Spanish Valley
Faux Falls gets its name because it was man-made when water was diverted from Mill Creek in 1981 as part of a water-storage plan that created Ken's Lake, a reservoir used for irrigation in Spanish Valley. Despite its non-natural origins, the waterfall is no less beautiful and well worth the short, half-mile hike. The fall tumbles through sandstone into a swimming hole that is shockingly green against the red cliffs. Enjoy a shallow swim and explore the area up above the falls. Camping is also available on a first-come, first-served basis at Ken's Lake near the trailhead.
Bullion Falls in Fishlake National Forest
Bullion Falls is a 74-foot waterfall fed by snowmelt in Fishlake National Forest. While it's only a two miles hike, the terrain is very rocky and includes some scrambling, so make sure to wear proper footwear. Along the trail, you'll see old miners' cabins and a viewpoint of the nearby Cascade Falls. The route is also open to horses and ATVs and can make for a beautiful winter hike when the falls are frozen over.
Fifth Water Hot Springs Waterfall in Provo, Uinta-Wasatch-Cache National Forest
If you love hot springs, Fifth Water Hot Springs Waterfall is the perfect waterfall for you. Just one hour outside Salt Lake City, a hilly, four-mile trail leads to a series of waterfalls and milky blue hot springs. A main soaking pool is beside the lower falls, while other pools are dispersed along the stream leading up to a multi-tiered waterfall. The pools are of various temperatures, so find one that suits you and enjoy an afternoon of soaking between the canyon walls. The springs are very popular with locals and visitors, so pick a weekday to avoid the crowds. If you plan to go in the winter, be prepared for a longer hike as the road often closes due to snow.
Donut Falls in Big Cottonwood Canyon, Wasatch National Forest
Donut Falls gets its name from the unusual donut-shaped hole in the mountain that the 100-foot waterfall pours through. The falls are accessed by a shaded, rocky one-and-a-half-mile round-trip hike outside Salt Lake City. Prepare for a slippery, wet climb over the rocks to get out there, but the scrambling is well worth it to see sunlight and water pouring through the hole in the cave roof.
Battle Creek Falls in Pleasant Grove, Uinta-Wasatch-Cache National Forest
Battle Creek Falls is a 50-foot waterfall fed by a natural spring and snowmelt from Mount Timpanogos. The one-mile round-trip trail to the falls is wide, graveled, and follows the stream into the canyon, with beautiful views of Utah Lake in the distance. The waterfall earned its name from a battle between Mormon settlers and Timpanogos Native Americans. The Kiwanis Park near the trailhead has a historical marker in memory of the skirmish, the first armed engagement between Mormons and Native Americans in the Utah valley.
Stewart Falls in Provo Canyon, Uinta-Wasatch-Cache National Forest
Stewart Falls, falling 200 feet to the ground in two tiers, is the most beautiful and photogenic waterfall in northern Utah. A three-mile shaded trail meanders to a ridge above the falls with incredible viewpoints along the way. Another steep trail picks its way down to the base of the falls, where you can stand in the spray. Stewart Falls is one of Utah's most popular hiking destinations. To avoid the crowds, plan a winter snowshoe trip to see the frozen falls. If you're looking for a much longer hike, veer off the Stewart Falls trail onto the Mount Timpanogos Trail, which heads to the 11,749-foot summit of Mount Timpanogos.
Bridal Veil Falls in Provo Canyon, Uinta-Wasatch-Cache National Forest
Bridal Veil Falls, at 607 feet, is by far the tallest waterfall on this list. A gorgeous double cataract waterfall, Bridal Veil tumbles down to a shallow pool that streams into the Provo River. A short, paved, flat trail leads to the falls, making this an accessible adventure for families and people in wheelchairs. There's also a man-made pool near the trailhead stocked with rainbow trout. Although fishing isn't allowed, you can feed the fish pellets from the vending machines nearby.
Kanarra Falls in Kanarraville
Kanarra Falls, located just north of Zion National Park, combines all the best that southern Utah offers: red sandstone, slot canyons, and waterfalls. The six-mile round-trip trail starts in Kanarraville, through the Hurricane Cliffs, before entering the narrow slot canyon. Be prepared to get your feet wet as you work through the darkest part of the canyon to where Kanarra Falls tumbles 15 feet down from a rock jam. Visitors can climb above the falls with the help of the ladder and continue onwards, wading through waist-deep water and scrambling over boulders. A second, smaller waterfall can also be climbed with the help of a ladder. 
A permitting system is in place to limit daily visitors and help protect the fragile canyon. Permits are $12 and can be purchased online or at the trailhead. Check the weather before heading out, as rainstorms can quickly cause dangerous flash-flooding in slot canyons.
Lower and Upper Calf Creek Falls in Boulder, Grand Staircase-Escalante National Monument
Lower and Upper Calf Creek Falls are two waterfalls south of Boulder in the remote Grand Staircase-Escalate National Monument. Though the waterfalls can't be accessed by the same trail, the trailheads are only a few miles from each other, and both are worth the hike. Lower Calf Creek is the more popular, featuring a massive 126-foot waterfall and a pool you can swim in. The hike meanders along Calf Creek for six miles, where you can spot trout, deer, and turkeys.
Upper Calf Creek Falls, though smaller, sees far fewer visitors, making it the perfect pick for a quiet hike and swim. A steep two-mile round-trip trail ends at a beautiful 88-foot waterfall, with the option to climb up above the falls to a small pool.
Archangel Falls in Zion National Park
Archangel Falls, in the heart of Zion National Park, is a series of tiny waterfalls cascading down dark red sandstone and is a part of the longer Subway hike. Along the nine-mile round-trip trail, you'll see sandstone cliffs, numerous waterfalls, including Archangel, and dinosaur tracks. The trail culminates in the impressive Subway, a tunnel-like formation in the slot canyon, which ends in another small waterfall.
Permits are required to hike the Subway and see Archangel Falls. These can be reserved online in advance through a lottery system. Some walk-in permits are available the day of. 
Emerald Pools in Zion National Park
Emerald Pools is a series of three waterfalls along a three-mile round-trip trail that follows a small stream in Zion National Park. The trail crosses over the Virgin River and heads back into a sandstone amphitheater to a series of three pools and waterfalls that form their own green oasis in the red sandstone. 
The trail to the first pool is accessible to strollers and people in wheelchairs if they have assistance. Make sure you plan your visit in the spring after recent rain storms, as in drier months, the Emerald Pools often dry up to a trickle. No permits are needed, though visitors will have to pay for entrance to the national park.
Toquerville Falls in La Verkin
Toquerville Falls is a desert oasis outside of St. George that is best accessed by a high-clearance 4WD vehicle. However, it is possible to hike the 11-mile road. After a rocky ride in, the route ends in a beautiful waterfall that cascades in two pour-offs into a swimming hole. With views of the nearby mountains and free dispersed camping, Toquerville Falls is the perfect place to spend a quiet night.