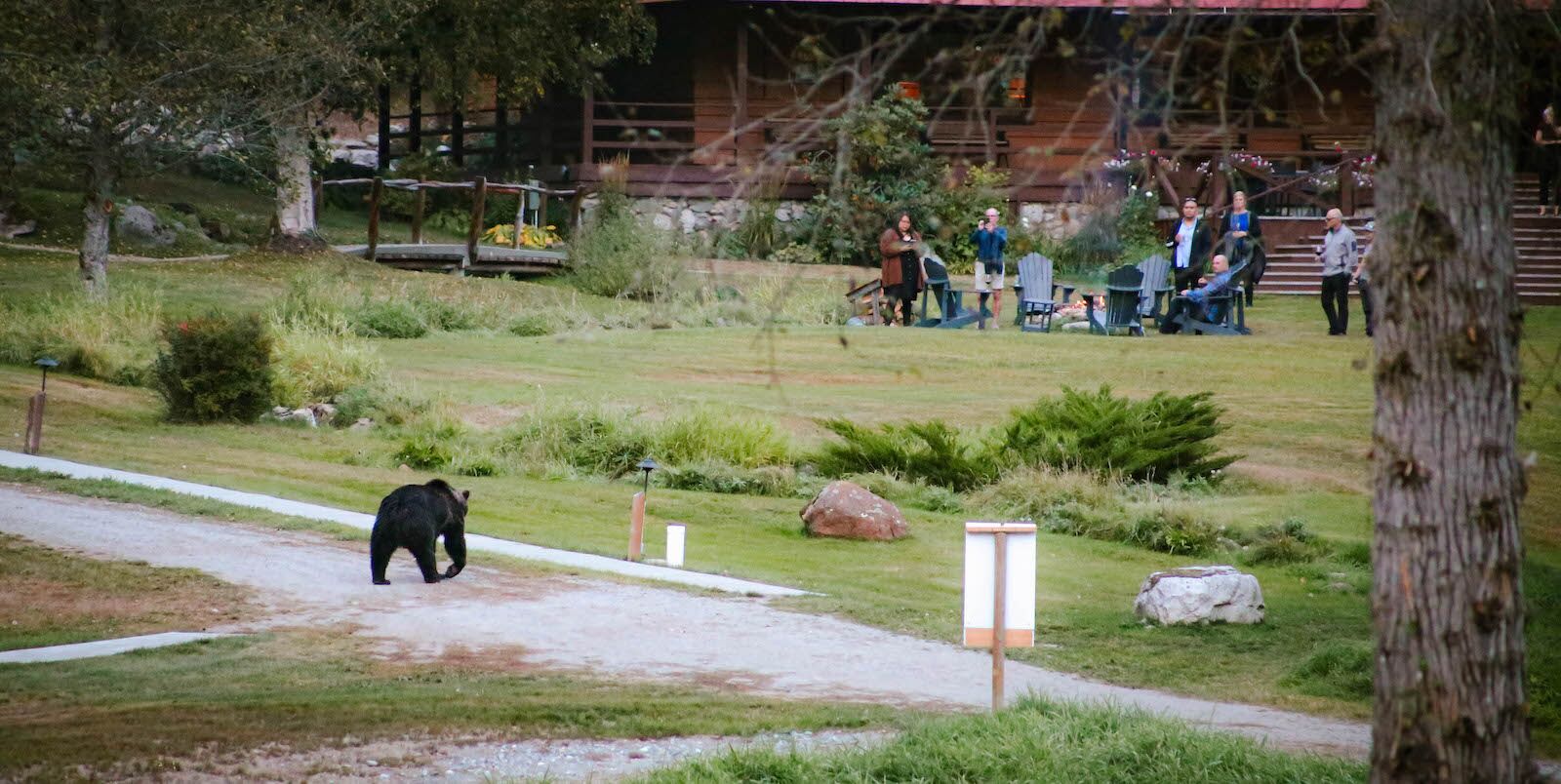 Good things come to those who wait at Tweedsmuir Park Lodge — and by "good things," I mean epic grizzly bear encounters.
Tweedsmuir Park Lodge, near Bella Coola in northern British Columbia, isn't especially hard to reach: it's a one-hour flight to Bella Coola from Vancouver, then about a 45-minute drive to the lodge (in a shuttle service the hotel provides).
View this post on Instagram
Spread out on a grassy lawn along the Atnarko River, all rooms and cabins at the lodge are just a four-minute walk to the lodge's raised viewing platform, which provides a shaded (and safer) area from which to hang out and look for Ursus arctos, the largest terrestrial predator in North America.
Of course, the operative word is look, and you really do have to wait patiently for the best encounters. Unlike some grizzly bear viewing platforms in Alaska or wildlife centers in the lower 48, these grizzlies aren't always in the same spot. During my four-day stay, I saw absolutely no bears one day, while the next day provided several hours of bear-viewing of a mother and cubs.
This is not a detractor, but rather, a selling point: the whole time you're there, you'll need to keep your eyes open as sightings could appear at any time. It almost feels like a game, with the constant thrill of knowing you could have a sudden encounter with one of the deceptively cute bears at any given moment.
Grizzly bear viewing activities
View this post on Instagram
Most activities at Tweedsmuir Park Lodge are included with the cost of a stay, and depending on occupancy, you may end up having a private guide most days. Available activities include guided grizzly hikes to learn how to spot signs of grizzly activity, extended hikes along sub-alpine ridgelines for beautiful views of northern BC, a via ferrata, and nature walks and cultural tours.
But my favorite was the river float, where a guide slowly leads a six-person zodiac boat down the Atnarko River, stopping to observe bears (or other wildlife) whenever possible along the way. The boats have swivel seats so you can scope both sides of the river, and it feels akin to an African safari. I highly advise bringing binoculars, so when you spot a grizzly, you'll have plenty of time to ready your camera before getting close enough to start shooting.
Floaters may see half a dozen bears or none at all. The floats can be as leisurely as you'd like, but the hours fly by, even if you're moving slowly: it's a high-adrenaline adventure. That's not because of the boat's speed, but because a grizzly could step in front of you at any moment. You need to constantly look for movement along the riverbanks and around every river bend.
Wildlife photography
Nearly everyone at Tweedsmuir Park Lodge in the fall carries a quality DLSR all day, and it's for a good reason. Obviously, getting close to the bears isn't an option. And when you take into account shadows, sun, mist, and the fact that bears are a similar shade of brown as a tree trunk, it becomes hard (though not impossible) to take great photos with a cell phone.
Fortunately, all the guides at the lodge know this, and every activity has the underlying goal of photographing bears, whether you're hiking, river floating, or just taking a quick tour of the forested parts of the property. Travelers can even book private guides for a morning, afternoon, or their entire stay to focus exclusively on grizzly and wildlife photography — though seeing bears is mostly a matter of luck, so there's no guarantee that having a long lens will get you the perfect shot.
I took my older, sometimes finicky DSLR with a 300 mm lens — not really long enough for shooting wildlife from a distance — with me to the lodge, and I still got what I think are some great shots. I recently bought a newer camera with a 500 mm lens, and I'd love to go back to shoot more photos. Because the bears are always on the move, every visit will offer different photography opportunities.
Non-bear activities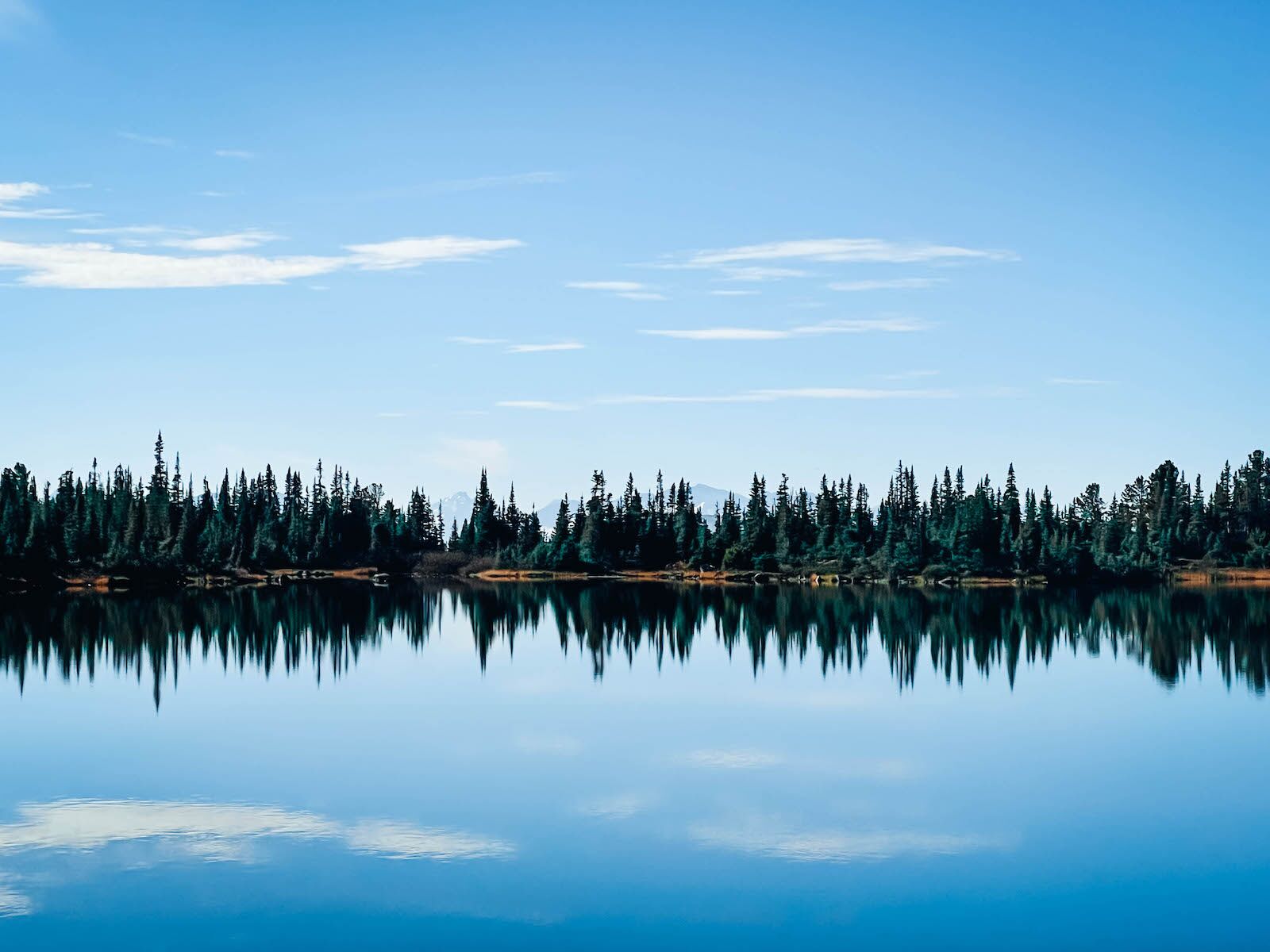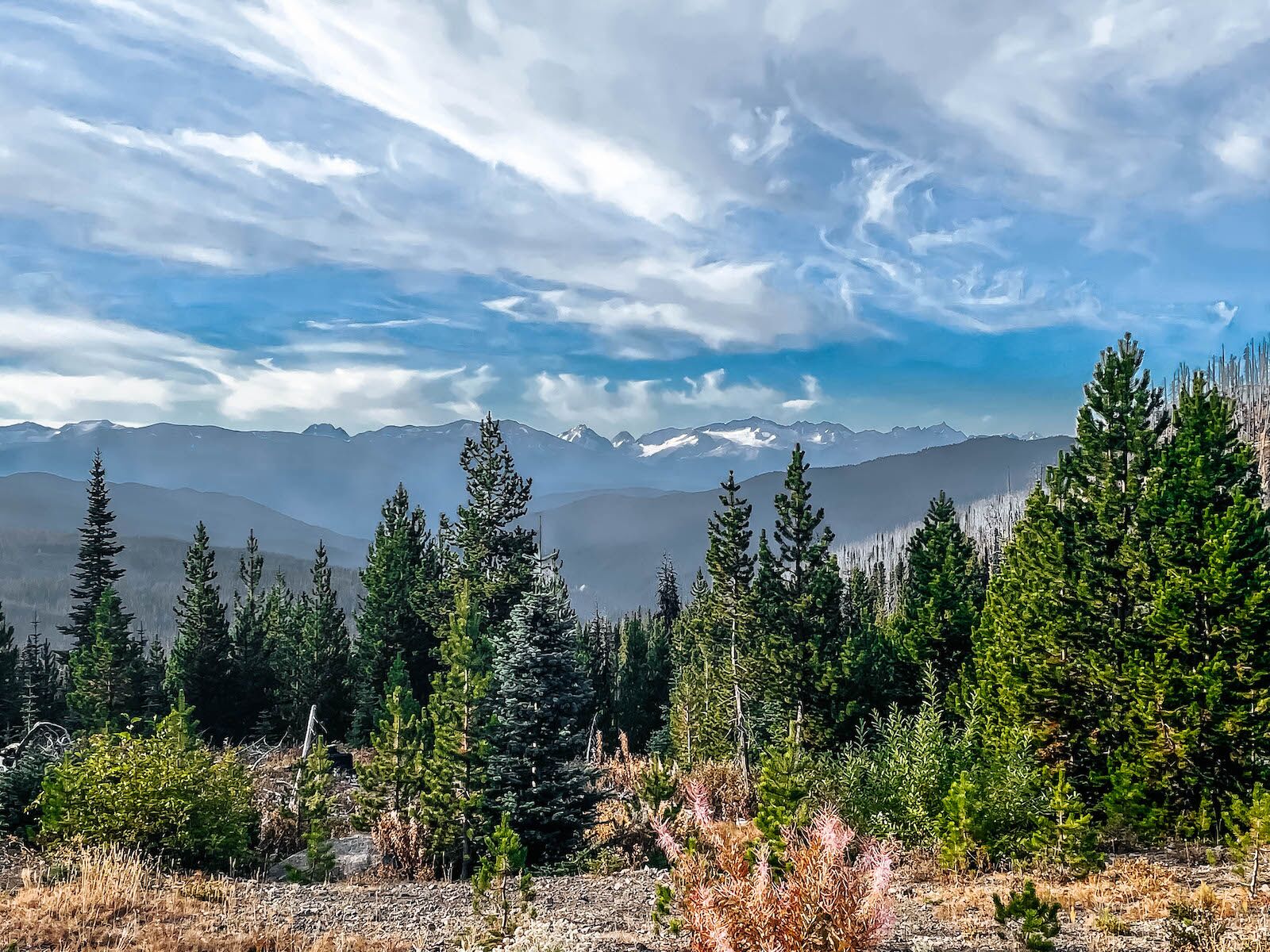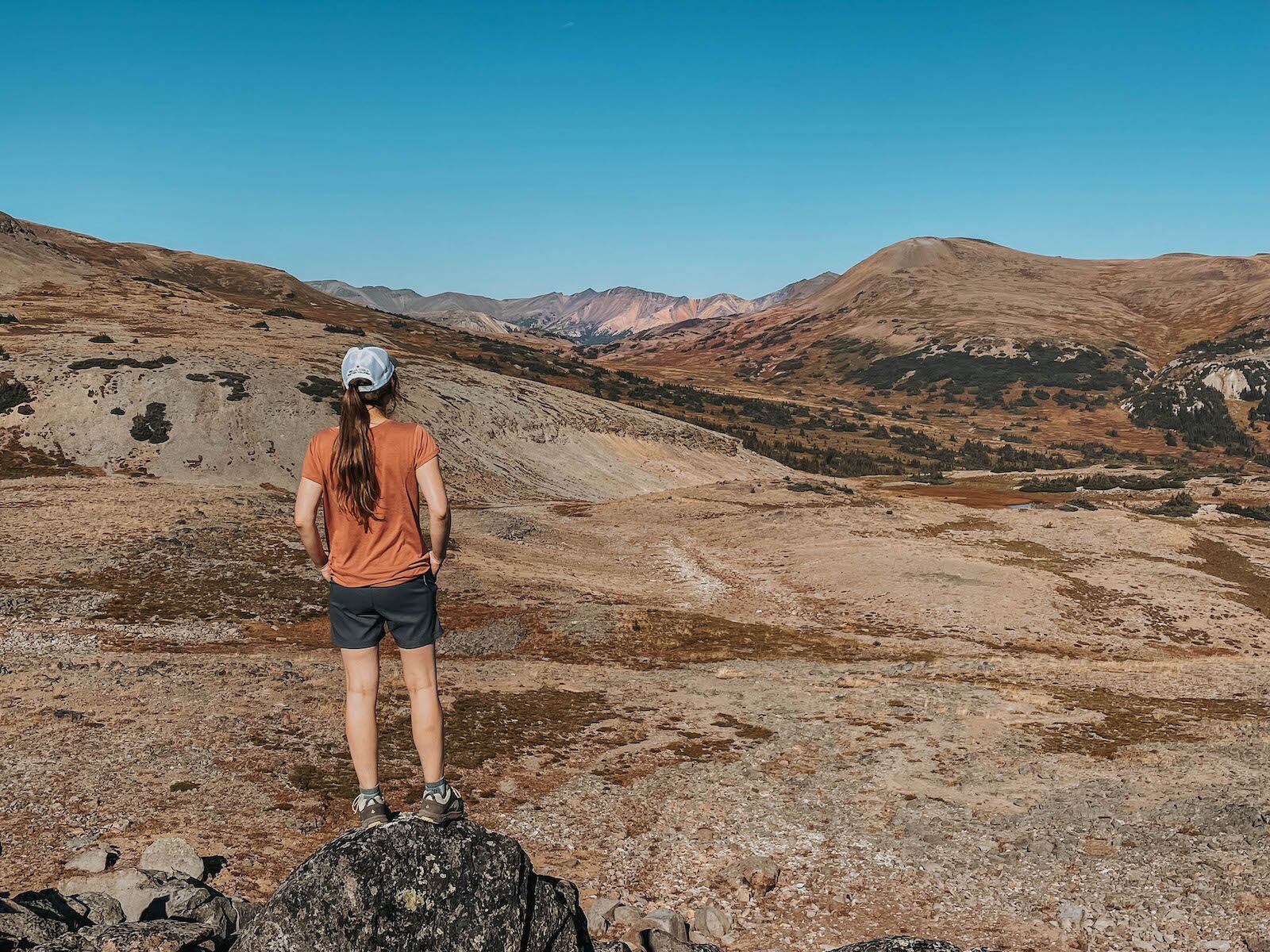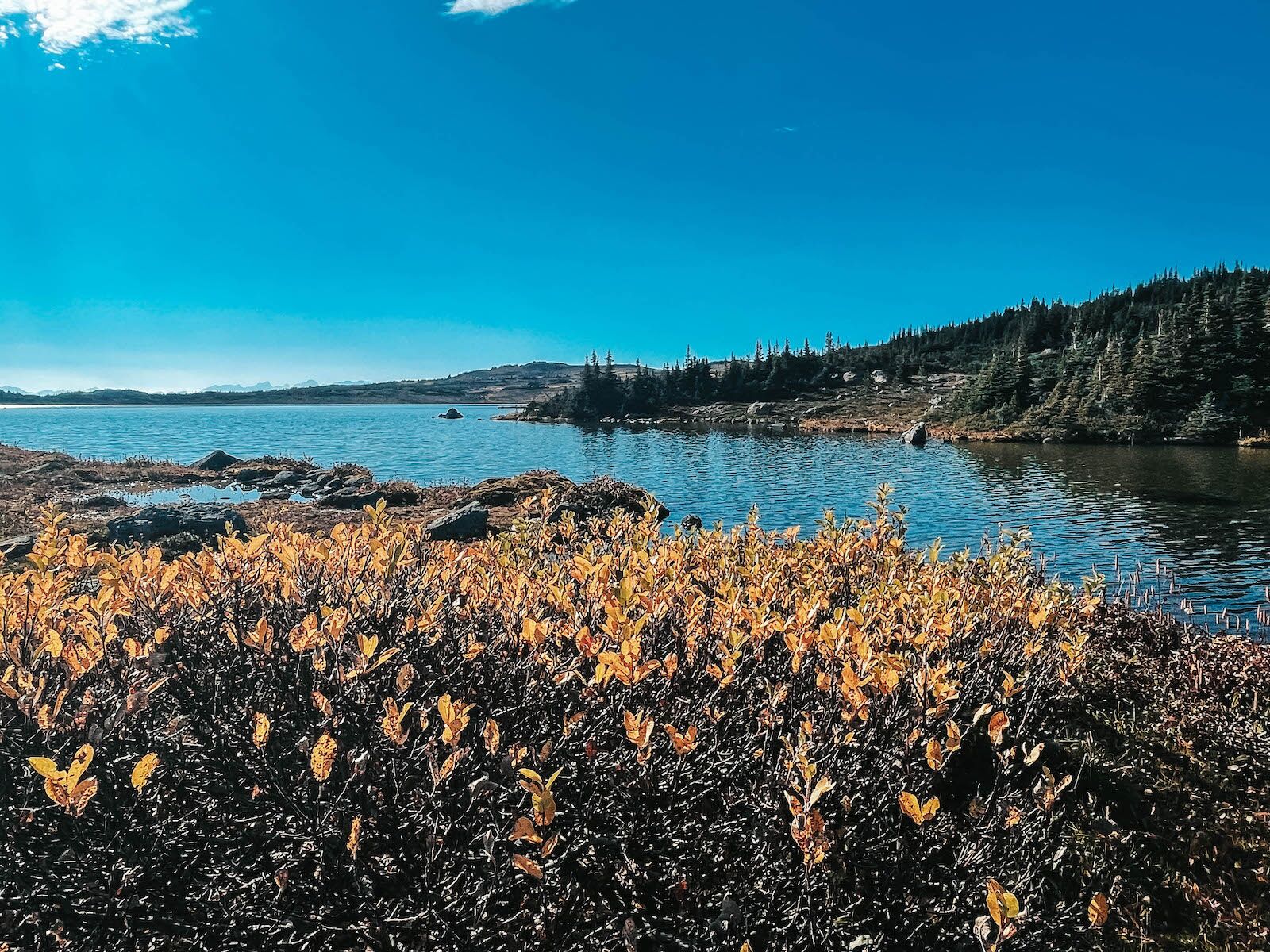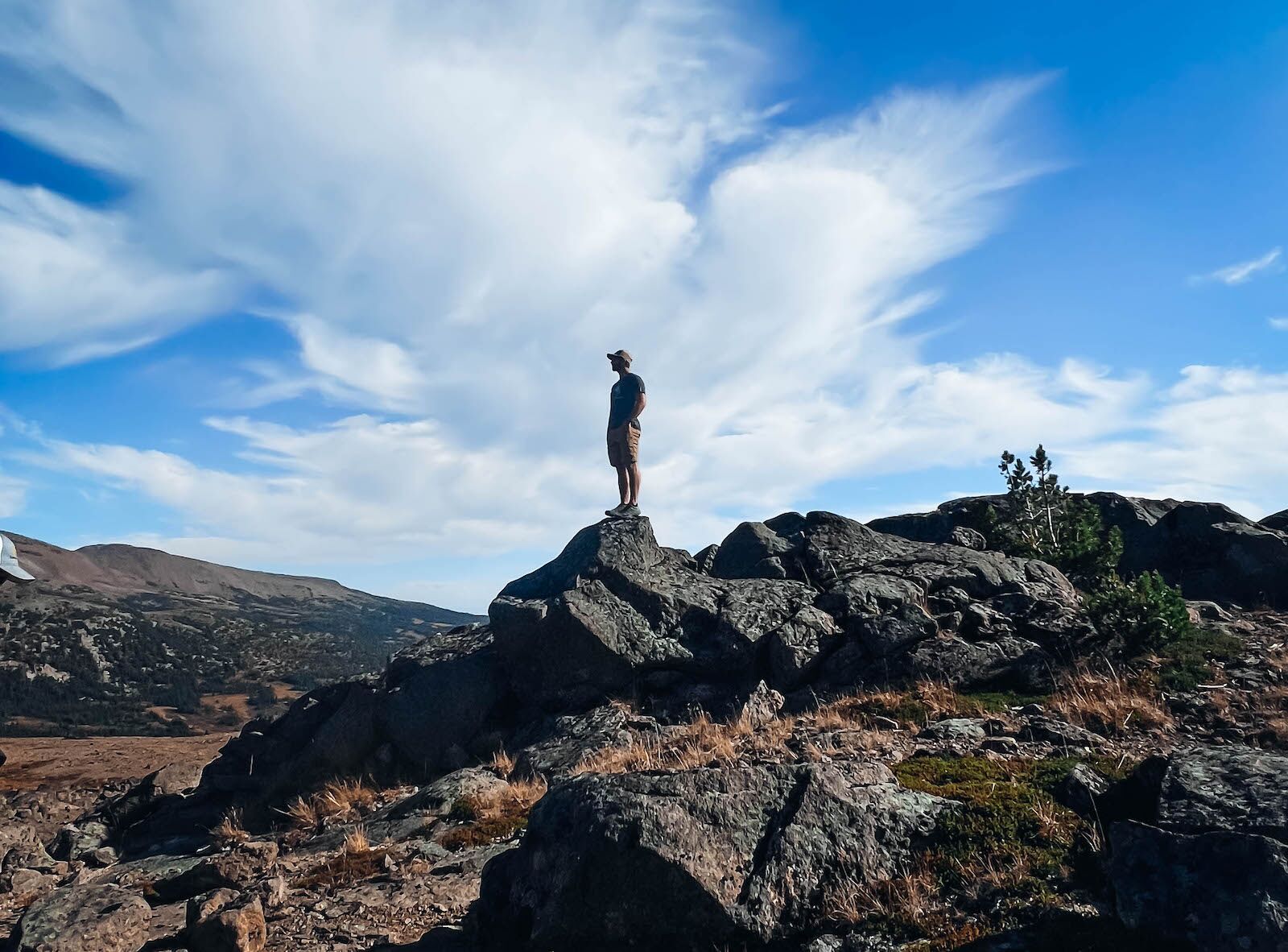 Given that grizzlies come and go at their leisure, almost any activity could be a non-bear activity. But there are a few specific things to do where the gist is about adventure, not wildlife.
One of the most popular with families is the lodge via ferrata. And while most via ferratae are a bit tame for the average adventure traveler, the one at Tweedsmuir Park Lodge is relatively high, quite exposed, and offers two routes; the more challenging one involves what essentially amounts to a high-wire cross. And visitors 19 or older can take advantage of an optional charcuterie-and-sparkling-wine when they reach the top. It's an add-on, but at $25, it seems like a no-brainer.
But for active travelers, a must-do activity not focused on wildlife is a hike to the "rainbow ridge," so named for the red, orange, and pink hues of the ridgeline's mineral-rich soil.
Tweedsmuir Park Lodge facilities
The lodge is comfortable and not over the top, but that's not to say it isn't without its touches of luxury. Cabins (or rooms) are large and furnished with cozy beds, faux-fur covered chairs, large bathrooms, and roomy front decks that view the bear viewing platform –making it easy to see if there's any activity in the area based on how the people on the platform are acting.
In the evenings, the silence is noticeable and should be a welcome respite for anyone who needs a break from the sounds of the city for a few days. And if bear viewing and hiking aren't enough to tire you out, there's a gym, axe-throwing, a small fishing pond, a pool table in the game room, plus hiking paths circling the property. Of course, since wildlife tend to be most active in the morning (one guest saw a grey wolf the day I arrived), a good way to tire yourself out is probably to wake up early and sit in the bear-viewing platform, peering through the mist for signs of movement.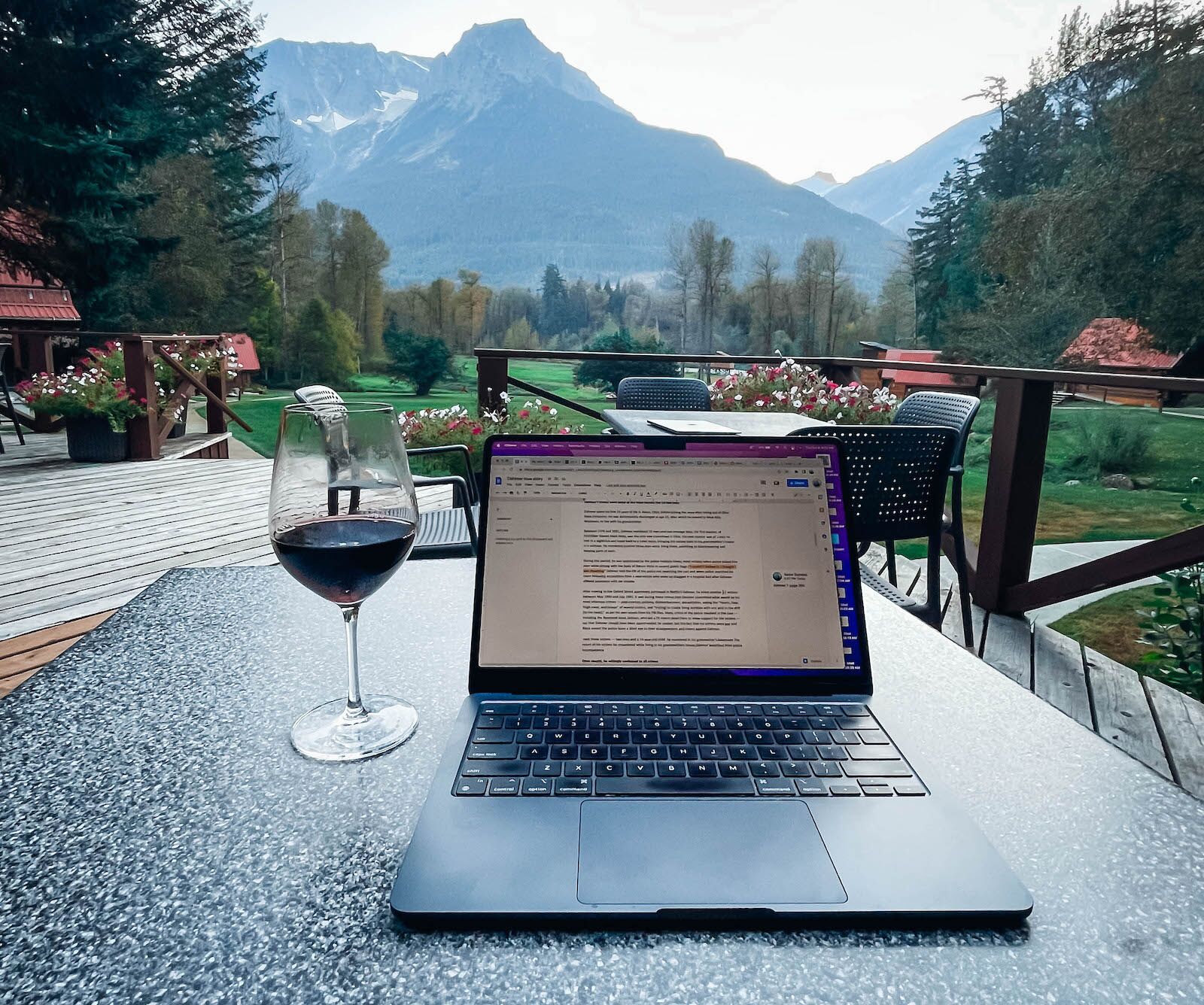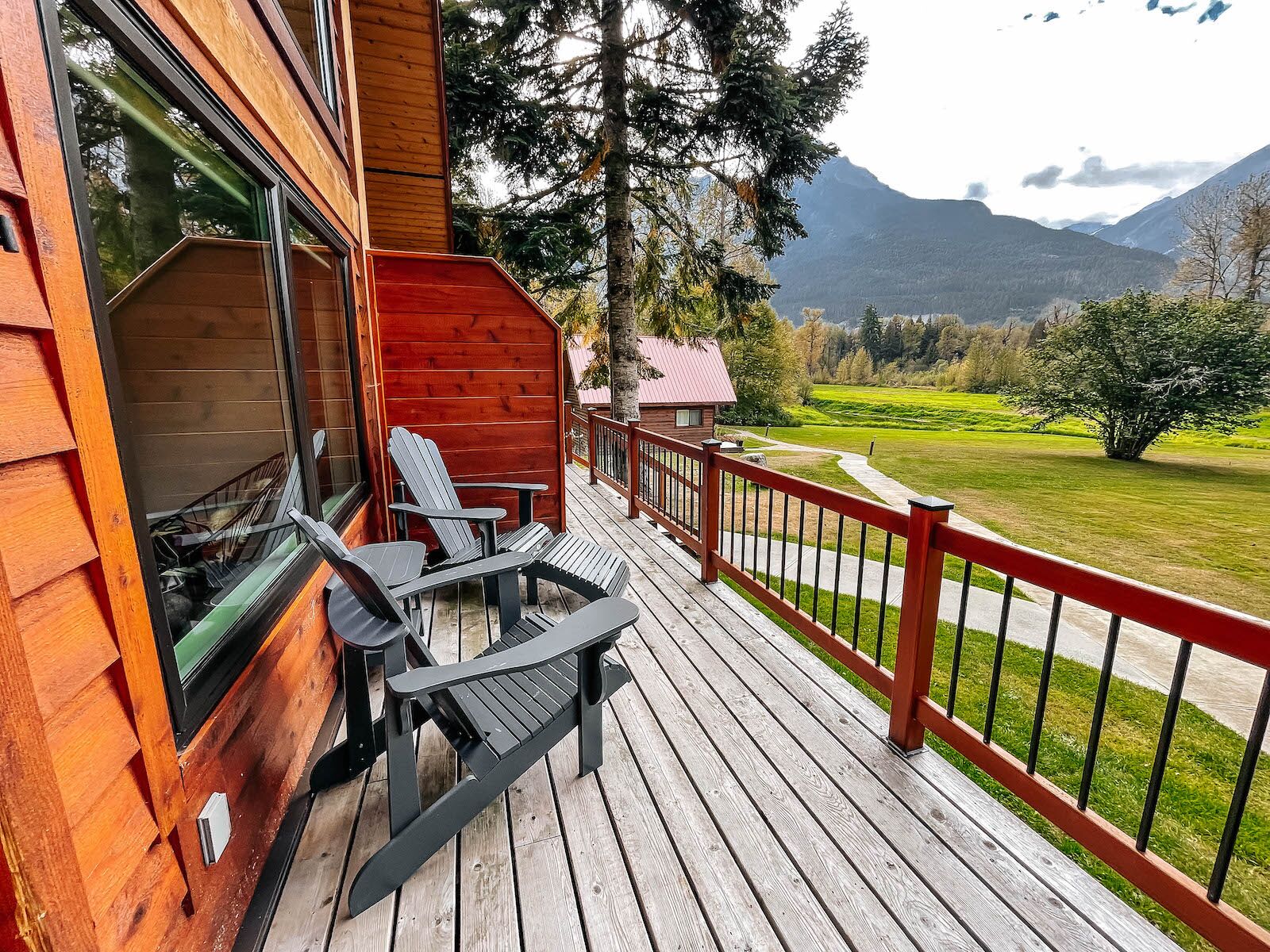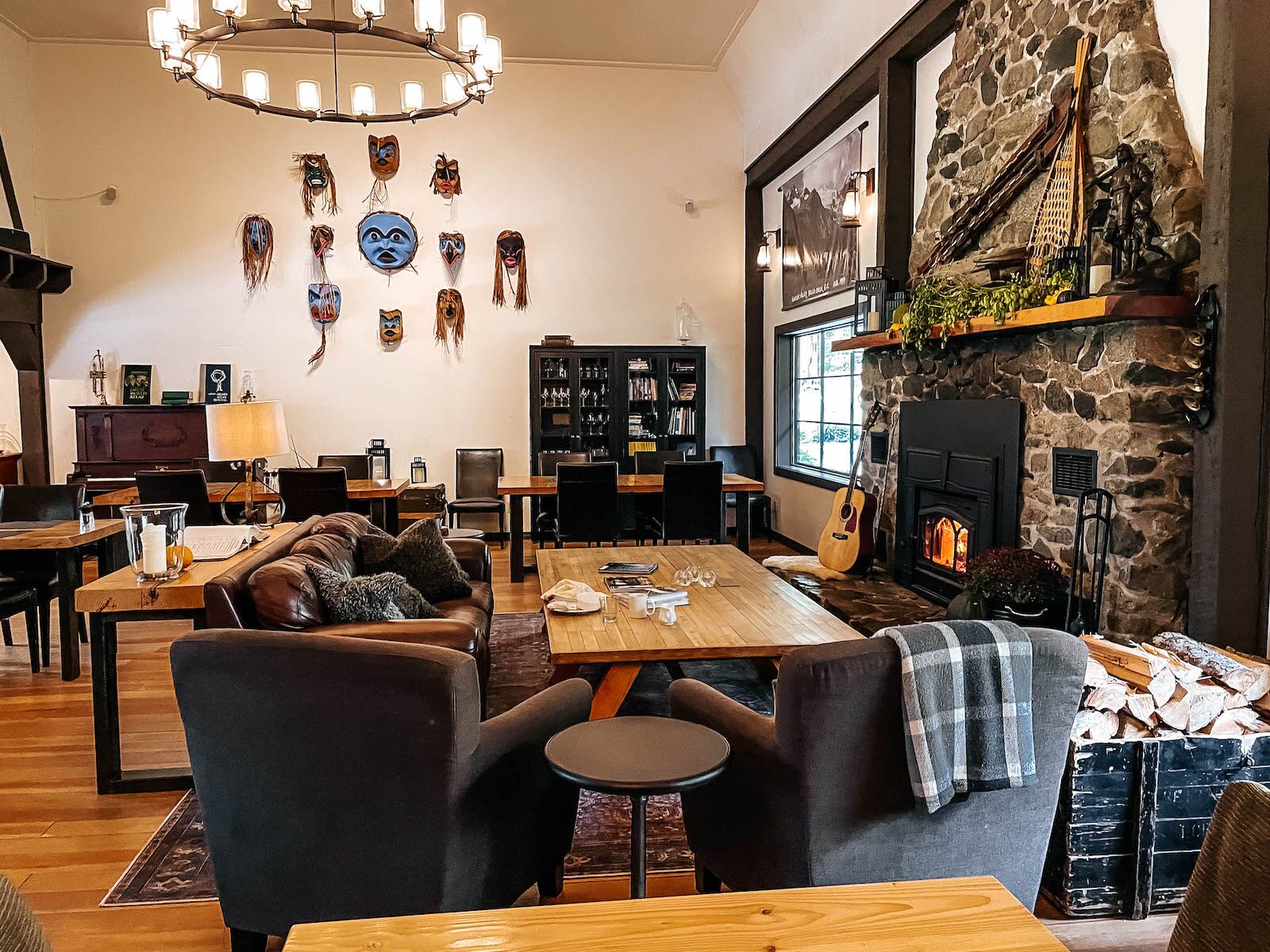 All visits to Tweedsmuir Park Lodge include meals available in the shared dining space, in your room, or out on the large patio — the only place you can't have food is the bear-viewing platform, for obvious reasons. Most days, lunch is a sizable packed lunch complete with homemade cookies, and dinners are three-course meals made with local ingredients. In British Columbia, it's easy to find fantastic fresh ingredients, and the food reflects that. I was pleasantly surprised by how tasty all the dishes were, considering the main draw to the lodge is the bears, not the breakfasts.
One of the few things not included with the rate are beer, wine, and spirits, but the prices were in line with what you'd expect (starting around $12 CAN or so for a glass of wine) and leaned heavily on options from BC.
The Price
Most experiences like this are extremely expensive, especially if they include five-star amenities. While Tweedsmuir Park Lodge is closer to being between a three- and four-star lodge, the price is far lower than I expected. While it's not cheap, it's doable as a "splurge" item for many international travelers.
Guests who visit in the summer outside of grizzly bear viewing season will find rates starting at $995 Canadian dollars per night. In summer, grizzly bear sightings are possible, but most of the bears are still higher in the mountains, so the focus is more on general outdoor adventure.
Grizzly activity season starts September 1, and a three-night package with two full days of grizzly bear activities stars at $3,900 per person (total, not per night) in Canadian dollars. That's about $2,800 USD per person for the whole stay. It'd make a fabulous special occasion trip for an anniversary or quick honeymoon.
When to go
Travelers familiar with Bella Coola may recognize the name Tweedsmuir Park Lodge for a winter pursuit: it's one of four lodges owned by Bella Coola Heli Sports, a heli-ski operation with exclusive rights to more than 3.5 million acres of the Coast Mountain Range. But from late spring to autumn, it becomes a wilderness lodge focused on outdoor mountain adventures (and grizzly bear viewing in the fall).
Grizzly bear season in the region matches salmon-spawning season, and bear viewing is likely (but never guaranteed) between early August and early October. Note that salmon are the main food source for bears, and salmon carcasses that have been torn apart by bears tend, understandably, not to smell very good. So peak salmon season (which is peak grizzly season) will also be the peak of the fish-smell season. But it's only noticeable when you're near the water (not near the lodge itself), and a fair trade-off for the chance to take epic grizzly pics.
By mid-October, most salmon reach the end of their lifespans, and the bears, ideally having eaten enough to survive the winter hibernation, make their way into their dens for the next three-to-five months.

More like this