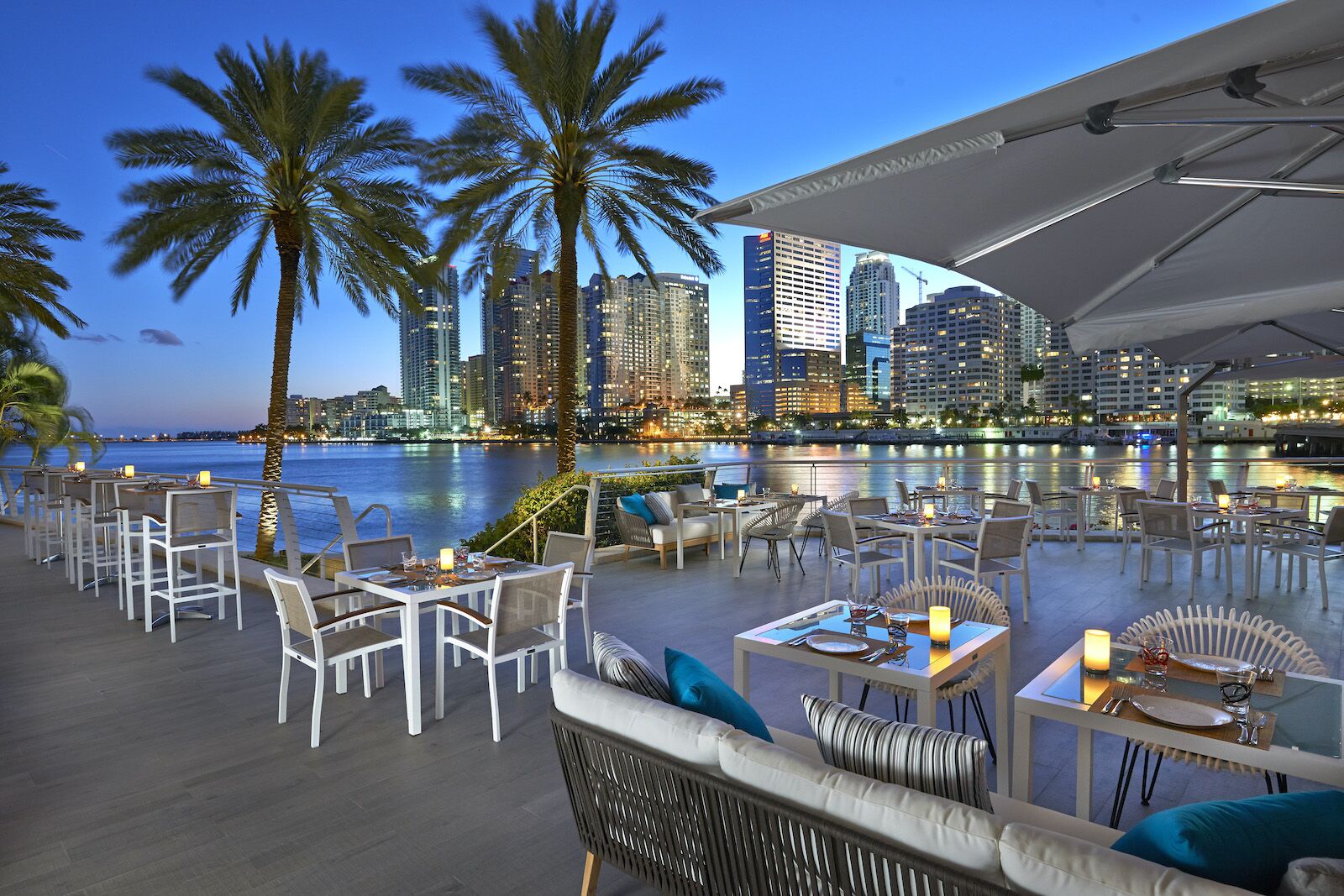 Dubbed the Capital of Latin America, Miami boasts a foodie scene that reflects the melting pot of cultures and culinary traditions that have taken root here. From Cuba to Colombia, to Venezuela, Brazil, and beyond, the food in Miami represents the diversity of its people. There are now more Latin American and Latin-fusion restaurants in Miami than you can shake a steak at, gaucho-style. Here's a pick of the best restaurants in Miami for the cuisines of eight different countries in Latin America, from Peru to Nicaragua.
The Latin restaurants in Miami everyone should try
Peru: La Mar by Gastón Acurio
The fabulous Mandarin Oriental lords over Biscayne Bay and the Miami skyline from its perch on Brickell Key, but the hotel's crowning jewel might well be its terrace restaurant, La Mar, where the dishes somehow upstage the view.
With cuisine coming from visionary Peruvian chef Gastón Acurio, the flavors taste like his home country – where else in Miami could you order fish sustainably caught from an Andean mountain lake? – and the influence of Asian cooking techniques is a loving nod to Lima's cosmopolitan profile.
Start with some luxurious offerings from the cebiche bar, where catches of tuna, octopus and shrimp are combined with tangy tiger's milk and trimmed with torched avocado or crunchy marble potato.
Where: 500 Brickell Key Dr, Miami, FL 33131
Colombia: Elcielo
At the Michelin-Starred Elcielo, Medellín-born Juan Manuel Barriento dishes up Colombian cuisine with a side plate of some serious flair. You're not doing dinner properly here if you don't opt for the "The Experience," a tasting menu and culinary tour-de-force which consists of twenty-two "moments", not courses, designed to activate all five senses. The highlight? The "chocola-therapy" treatment, in which diners are invited to wash their hands in a bath of liquid chocolate.
Where: 31 SE 5th St, Miami, FL 33131
Argentina: Los Fuegos by Francis Mallmann
Argentine grill master Francis Mallmann chose Miami Beach as the location for his first restaurant outside of South America and it's easy to see why. Looking good is the currency here and Los Fuegos, the swankiest steakhouse in town, with an interior from Oscar-winning production designer Catherine Martin and a celebrity crowd to match, fits in perfectly.
For a total meat feast, bring your friends on a Sunday and share the meat parrillada, a curated offering of prime steak, blood sausage, and lamb lovingly prepared with traditional open-fire cooking methods straight from the South American pampas.
Where: 3201 Collins Ave, Miami Beach, FL 33140
Venezuela: Doggi's Arepa Bar
Venezuela is one of the few South American nations not represented in Miami's fine-dining scene. However, there's still great food to be found at casual spot Doggi's. This family-run specialty sandwich bar started life as a food truck but now has three locations across Florida, including its original flagship in Coral Way. The stars of the menu are the signature arepas – cornmeal patties generously stuffed with shredded meat, veg or fried plantain and slathered with melted cheese or creamy cashew sauce.
Where: 1246 SW 22nd St Miami, FL 33145
Mexico: Cantina La Veinte
At Cantina La Veinte enjoy a classy atmosphere and waterfront views. Dreamy dishes from the menu include the melt-in-your-mouth wagyu drizzled with crema and salsa verde cruda, and the striking huachinango, a whole red snapper dish. Enjoy it fried or marinated with a garlic lime sauce. Home-made tortillas and potent margaritas keep the menu grounded and, naturally, a Mariachi band swings by the tables in the evening.
Where: 495 Brickell Ave, Miami, FL 33131
Cuba: Versailles
In a way, it makes sense that the world's most famous Cuban restaurant (at least that's what is says on the website) isn't actually in Cuba, but Miami. Decades of immigration have brought a uniquely Cuban flavor to Miami. Versailles, named after the French palace, has been a Little Havana favorite since 1971. As much a hit with locals from the Cuban community as with tourists, this is the place to grab a cubano, a mouth-watering sandwich stuffed with Swiss cheese, roast ham and pork marinated in mojo sauce.
Where: 3555 Southwest 8th Street Miami, Florida
Brazil: Fogo de Chão
The first Fogo de Chão was founded in the south of Brazil by gauchos who had perfected the art of churrasco (Brazilian-style barbecue) and the South Beach restaurant continues the churrascaria tradition. Waiters bring huge cuts of fire-roasted steak, chicken, and pork tableside to carve onto your plate at your discretion.
Don't say no to the picanha, a prized cut of beef from the top of the sirloin and a national favorite in Brazil. Vegetarians might take some comfort from the bountiful salad and vegetable offerings at the restaurant's Market Table.
Where: 836 1st St, Miami Beach, FL 33139
Nicaragua: El Novillo
More beef abounds at El Novillo, a laid-back eatery established in the 1980s by a group of Nicaraguan amigos. Sure, El Novillo is yet another Latin American steakhouse in a crowded market, but whilst it lacks the upscale polish of some of its finer-dining alternatives, with steaks priced around the $25 mark it's going to be kinder on your wallet if not your waistline. It's also worth a visit just for those tasty side plates exclusive to the Central Americas like gallo pinto (rice with beans) and vigorón (casava with pork cracklings and a cabbage and tomato slaw).
Where: 6830 SW 40th St, Miami, FL 33155