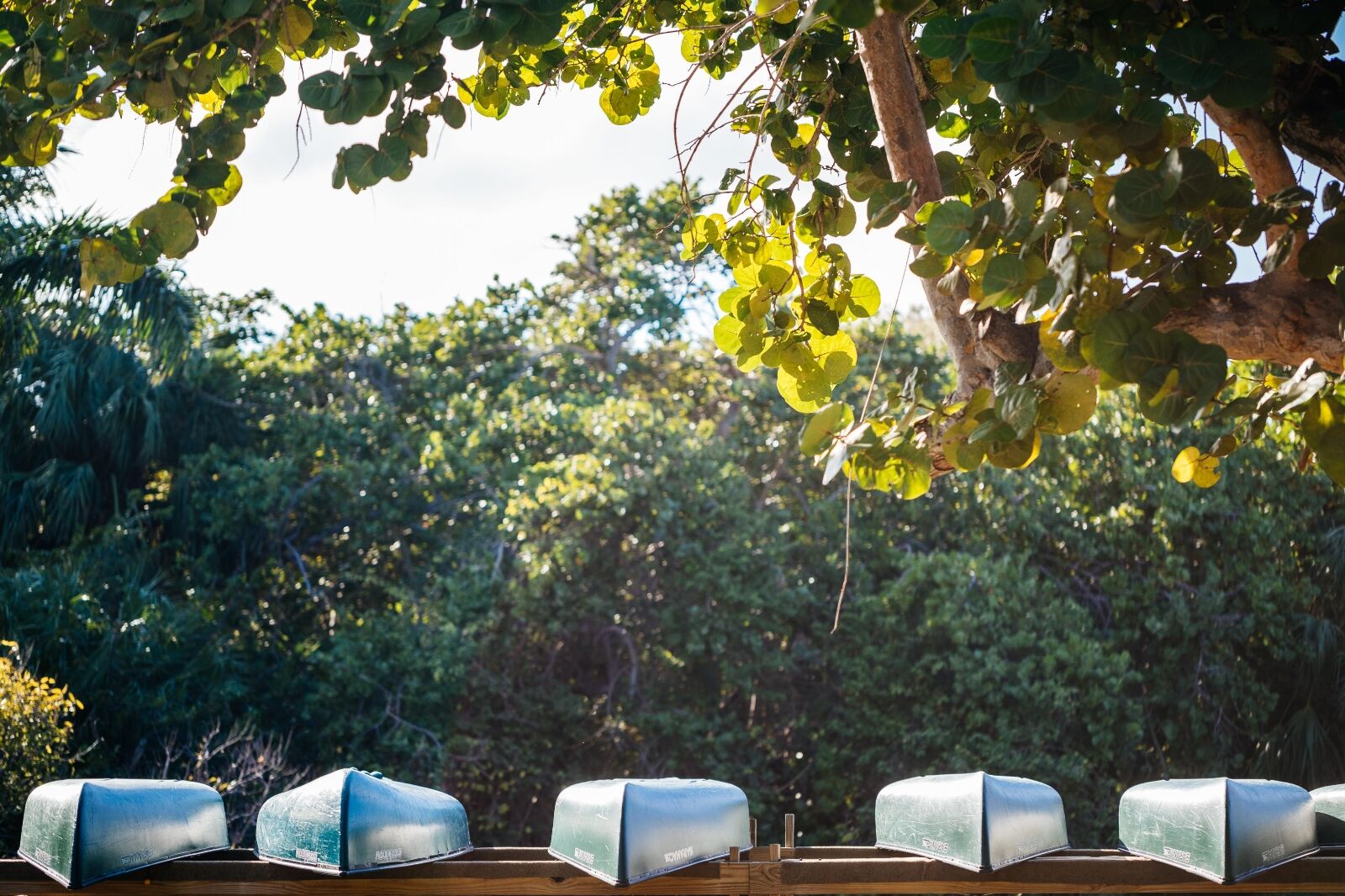 Fort Lauderdale has been dubbed the "Venice of the Americas," and not just because tourists flock here for half the year and the pizza's pretty good. It's because Fort Lauderdale has over 165 miles of canals, running past stately Mediterranean revival mansions and some of the biggest yachts in the world. That makes the city ripe for exploring via kayak, whether you're perusing the canals, the Intracoastal Waterway, or the Atlantic Ocean. Find the right spots, and you can also escape into mangrove tunnels full of native birds. Even if you don't have a kayak, the city has no shortage of places that'll rent you one right onsite, making kayaking Fort Lauderdale a breeze.
We hope you love the kayaking Fort Lauderdale experience we recommend. Just so you know, Matador may collect a small commission from the links on this page if you decide to book.
Dr. Von D. Mizell — Eula Johnson State Park
This is the last undisturbed stretch of coastal wetland in the county. It is located just east of the Fort Lauderdale Airport and Port Everglades. The best place for kayaking is shallow Whiskey Creek, a channel lined with mangroves that run through most of the park and out into the Stranahan River. It also passes by the Whiskey Creek Hideout, a breezy outdoor bar and café where you can reward yourself with a cold beer once you're paddling is through. Rentals are available inside the park.
New River — Cooley's Landing
Plenty of motorized boat tours will take you through the glamorous islands near downtown Fort Lauderdale. But if you'd like to paddle it yourself, jump in just across from the Broward Center for Performing Arts at Cooley's Landing. As urban kayaking goes, the city has some of the best in the US. From launching, you'll travel down the New River, through the bustling shops and restaurants of Las Olas Boulevard, and out into Las Olas Isles.
On the way back, you may face some current, but you'll be treated to a magnificent view of the Fort Lauderdale skyline and the bridges over the river. Just be prepared, this route is also popular among pleasure boaters who aren't always paying close attention, so paddle with caution. If Cooley's Landing is too busy, you can also put your kayak in at Riverland Wood Park, Lewis Landing, and Coontie Hatchee Landing, all of which are within a couple of miles.
Tarpon River
Another route you can take from Cooley's Landing brings you south and west down the Tarpon River. This smaller, far calmer channel runs through residential areas south of downtown, much of it shaded in tropical foliage. It feels a bit like a trip down the Amazon — albeit with million dollar boats and five-bedroom houses — and ends at a swinging bridge into the Sailboat Bend neighborhood. Find a spot to tie up and stop for a beer at Riverside Market, an old convenience store-turned-craft-beer-bar, where you'll find an incredible selection of beers.
Victoria Park and Anne Beck Park
If you've got your own kayak and a way to transport it, take it to either Victoria Park or Anne Beck Park — in the Victoria Park neighborhood. Both give you instant access to the canals around Nurmi Isles and Sunrise Key and will bring you out to the Intracoastal if you're up for braving those busy waters. Along the way you'll see everything from celebrity mansions to eight-figure mega-yachts, a calming way to observe the tropical lives of the rich and famous.
Hugh Taylor Birch State Park
For beginning kayakers — especially those staying in Fort Lauderdale Beach — the best spot in Broward County is at this park just north of Sunrise Boulevard on A1A. The lush wilderness offers kayak rentals through its calm waters to Long Lake, and also provides easy access to the Intracoastal Waterway if you're looking for something a little more challenging. For those who want to give back during their vacation, Friends of Hugh Taylor Birch offers regular clean-ups, where you'll help clear trash from Long Lake as you paddle along.
Middle River
Fort Lauderdale's suburb of Wilton Manors is surrounded by water, and you can kayak the entire seven-mile circle along the New River. The easiest place to begin and end your journey is the Colohatchee Park Boat Ramp, and while the scenery isn't exactly time-traveling to Old Florida (the bulk of your views will be of people's backyards and swimming pools) locals are friendly, greeting you with a wave and if you're lucky, a cold beer. The route is lightly trafficked by other kayakers and paddleboards so that you won't be contending with an armada of speedboats like you might in other parts of Fort Lauderdale.
Loggerhead Park
Ocean kayaking can be much easier in the calm Atlantic waters off South Florida than in, say, the Pacific Ocean. And though the turquoise waters are inviting, always remember kayaking in these currents is a different skill set than what you'll find inland. That said if you catch a quiet day and want to get out on the ocean, bring your kayak to Loggerhead Park. Though it's mostly known for shore dives, it also has easy access for kayaks and about a dozen parking spaces.
West Lake Park
A little south of the canals and yachts of Fort Lauderdale, you'll find an odd slice of natural Florida in the middle of Hollywood's sea of subdivisions. This is West Lake Park, saved in the 1970s from rampant development. Today, you can rent a kayak and paddle through one of three well-marked mangrove trails, which take you under spidery canopies and out to the expansive lake. Marked Red, White, and Blue, the trails all feel far removed from the surrounding city, totaling about three miles of untamed wilderness. Two miles into your paddle, you'll have the option of parking your kayak and exploring the boardwalks around the Anne Kolb Nature Center. Along the way, you'll see herons, ibis, and even raccoons in their rare natural habitat.
Pond Apple Slough
Another far-flung swath of old Florida nature sits just south of Interstate 595 at Pond Apple Slough. While you can't really access the slough by land, you can start at the Bill Keith Preserve near Davie Boulevard and head away from the ocean. You'll pass through a sea of over-the-top yachts as you paddle around Marina Mile, a sight that's both impressive and quintessentially Fort Lauderdale. Continue upriver until you pass the Secret Woods Nature Center, then turn left under 595 at the Bradford Marine Boat Yard.
Once you've cleared the expressway, it'll seem as if you were magically transported to a 19th-century Florida mangrove forest, where pristine wetland, birds, and lush vegetation provide an instant oasis. It's not a quick trip, but certainly, the road — or canal — is less traveled, so like many places that take a lot of work to reach, you'll rarely share it with others.
Glow Night Kayak
For something a little more adventurous, you might want to consider kayaking Fort Lauderdale at night with Glow Night Kayak. This experienced tour will take you through the basics of kayaking before launching and exploring the water and city in lights down the New River Canal and along Downtown Las Olas. Local kayaker, Carlos, leads the group and has superb knowledge of the waterways.

More like this