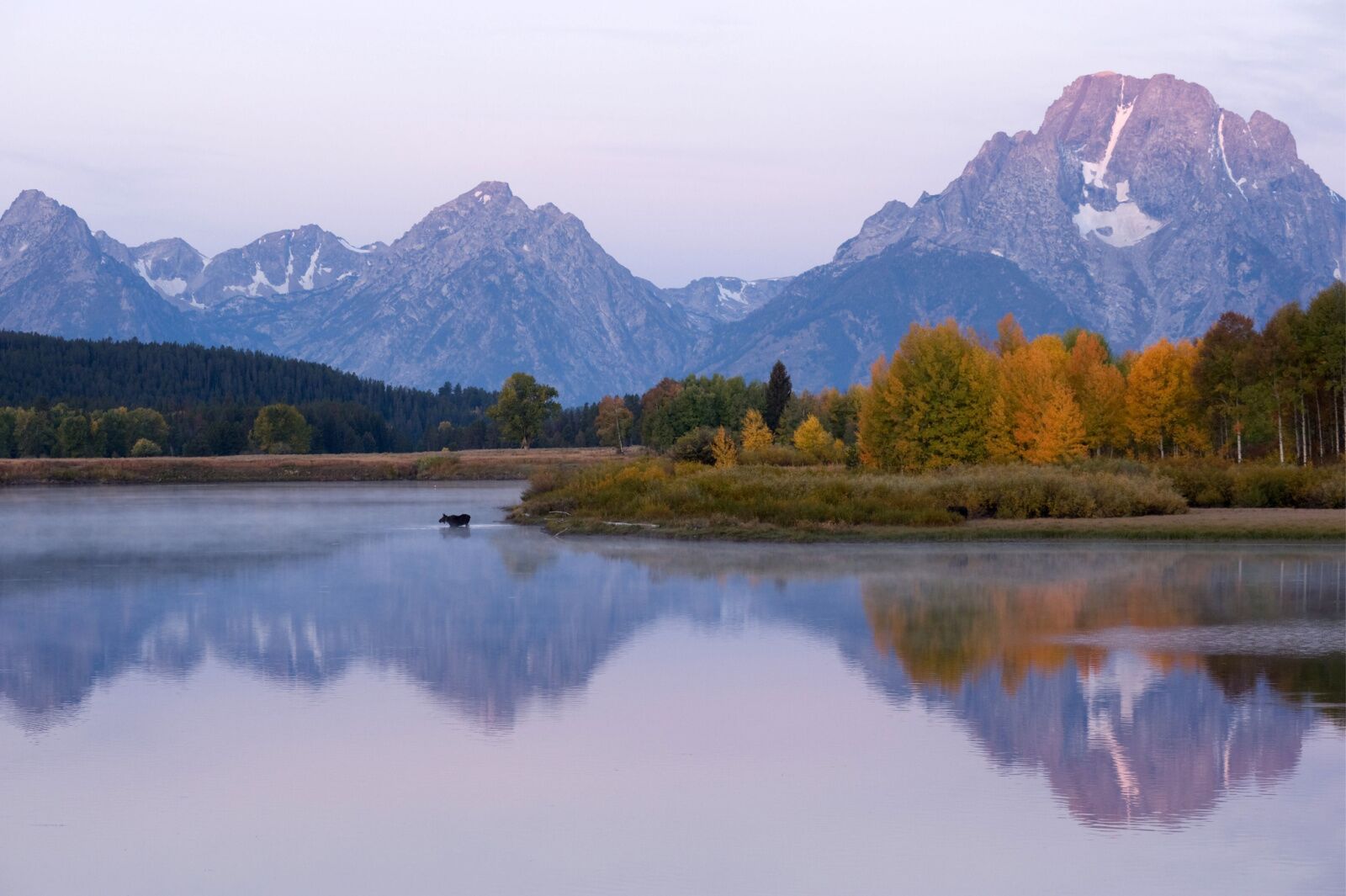 With more than 4,000 lakes and reservoirs, Wyoming is one of the best states for a classic lakes getaway in outdoorsy surrounds. Whether you'd love to go stand-up paddle boarding on flat waters, fishing, kayaking, boating, or just bird- and wildlife-watch with binoculars from shore, you'll find plenty of lakes in Wyoming to choose from.
Water levels can vary, so be sure to check before making plans, as high (or low) levels can impact everything from boat ramp access to water clarity. And be sure to take appropriate precautions near the water: be prepared for weather and conditions, always wear a life jacket or PFD as required by Wyoming law, follow recommended water safety practices, and check with land managers at each location to learn important safety information when you arrive. Different counties and lakes in Wyoming have different rules about bear and wildlife safety, and may have advisories about harmful algae blooms.
Where to find the best lakes in Wyoming
Wyoming is a fairly large state, and the best lakes in Wyoming detailed below are scattered across the state. But since the state is generally so rural (and so outdoorsy), you can probably find a lovely lake near wherever you are in town.
Know that weather and seasonality mean some of the best lakes in Wyoming are frozen over come winter, and the parks inside the state's national parks can be extremely crowded on summer weekends. If you're visited a lake that isn't on this list, do a bit of Googling in advance to find out the best times to visit, as well as what amenities (like kayak rentals or campgrounds) will be available nearby during your visit.
Paddleboarding: String Lake, Grand Teton National Park
String Lake is about as picturesque a spot for paddle boarding as you can find. Inside Grand Teton National Park, this lake is fairly shallow, and a popular place to spend some time on the water with views of the incredible scenery. Be sure to follow the park's rules about watercraft (which includes paddleboards), including permits and the required aquatic invasive species inspection. Know about the park's bear safety information and be prepared if you encounter wildlife.
Speaking of wildlife: go early in the morning for the best chance of spotting the park's resident mammals, like moose and elk. Early mornings usually offer the calmest water, too, since the wind usually picks up in the afternoon. If you don't have your own paddleboard, rent an inflatable one from a store in Jackson Hole, like Rendezvous Sports.
Kayaking: Alcova Reservoir, near Casper
About half an hour from Casper, Alcova Reservoir is a favorite getaway and a convenient place to get out on the water for beginner and experienced kayakers alike.
Fremont Canyon is at the southwest end of the reservoir, and Alcova Resort offers rentals plus a seasonal shuttle service to transport kayakers up the canyon. Boaters can select whether to start paddling at the beginner, intermediate, or advanced drop-off points before making a self-guided journey back to the resort. It's an ideal lake for paddling in Wyoming if you're from out of town and don't have multiple cars to carry kayaks or run your own shuttle. And the views aren't too bad, especially in Fremont Canyon, which has sky-high rock walls hugging the narrow waterway.
Keeping everyone entertained: Fremont Lake, near Pinedale
If you want to try something new like windsurfing, or are with a group where everyone wants to get out on the water but can't decide how to do it, Fremont Lake, near Pinedale, is just the spot to go.
As the second-largest natural lake in Wyoming, it provides opportunities for recreationists to enjoy a wide range of activities, including boating, sailing, windsurfing, kayaking, and fishing, and it's also near numerous hiking and camping options in Bridger-Teton National Forest. Wildlife watchers also love the lake for its abundance of animals, including moose, pronghorn, bears, and many different bird species, including ospreys and eagles (be sure to pack your binoculars). Download a birding app in advance if you think you'll need help identifying the various calls, tweets, and hoots.
Wildlife viewing: Oxbow Bend, Grand Teton National Park
While technically not a lake, Oxbow Bend in Grand Teton National Park is an iconic place to watch for wildlife by the water. If you're lucky (and patient), you'll have a chance to snap an iconic shot of moose and other wildlife with the dramatic Teton Range in the distance. It's near one of the most photographed lakes in Wyoming (Jackson Lake), and it's a pleasant walk between the two (as well as between other nearby scenic spots, like the Willow Flats or Jackson Lake overlooks).
Scenic Oxbow Bend is an ideal place to watch the sun rise or set, and on a calm morning, photograph the mountains' reflections in the water. Keep an eye out for moose, bears, otters, an array of birds, and other wildlife along the shoreline.
Geyser gazing: Yellowstone Lake, Yellowstone National Park
Yellowstone National Park is well-known for having more than 10,000 hydrothermal features, and its West Thumb Geyser Basin is a great place to see some of these wonders along the shores of Yellowstone Lake. Stroll along the boardwalks and marked paths for a peek at Big Cone Geyser, Lakeshore Geyser, Fishing Cone Geyser, and many others.
Interpretive signs provide information on the area's fascinating geology, and the walkways are flat and friendly for visitors with limited mobility. The walkway is a .6-mile loop, and be sure to stay on it the whole time (and also follow the park's rules, regulations, and recommendations for staying safe around the boiling-hot water).
The best lakes in Wyoming for boating and multi-day trips
If you're planning to put your own craft into the water at any lakes in Wyoming, read up on the state regulations around licenses, permits, invasive species inspections, and laws around safety (hint: you need a PDF for each person). It's not highly regulated, though some state and national parks require additional permits or registrations.
Jackson Lake, Grand Teton National Park
Jackson Lake is a favorite among boaters as it's the park's largest lake and the only place where water skiing is permitted. It has beautiful views of the Tetons and amenities nearby for boaters, like restaurants, a marina, a general store, and boat parking.
If you aren't bringing your own boat, you can rent kayaks, pontoons, and small fishing boats from the lake's Signal Mountain Marina. Be sure to get your boating permit in advance on recreation.gov and stop for the invasive species inspection before getting on the water.
Flaming Gorge National Recreation Area & Reservoir, near Rock Springs
Flaming Gorge Reservoir is 91 miles long and in both Wyoming and Utah. With such a large area to explore, a boat is a great way to get around, and it opens up opportunities to do everything from fishing to water skiing to multi-day kayak camping trips.
Lucerne Valley Marina, just a few miles over the state line into Utah, offers everything from paddleboards to houseboats available to rent, plus has a few rustic floating cabins for longer stays. Companies nearby offer multi-day packrafting and whitewater trips, and it's also home to some of the best fishing in Wyoming. Nearby Two Rivers Fishing Co. in Pinedale is an Orvis-endorsed fishing trip outfitter, so you can count on a world-class fishing experience.
The best lakes for fishing in Wyoming
Fishing is big business in Wyoming, a state known for some of the cleanest and healthiest rivers and lakes in the country. The state has an excellent brochure with all the information you could ever need about fishing, and you can buy fishing permits one of two ways. Either buy it online and print it yourself, or buy one in person at one of the many licensed retailers throughout the state. Anyone planning to fish at any of the parks, rivers, or lakes in Wyoming needs a fishing license, whether you're a resident of the state or not.
Mirror Lake, Medicine Bow-Routt National Forests
Enjoy lakeside fishing and stunning views at Mirror Lake, in the Medicine Bow-Routt National Forests. A picnic area offers 15 tables, and a number of hiking trails are nearby, as well as an abundance of other recreational activities in the area.
Mirror Lake is one of five lakes in a very small area, lending itself well to fly fishing in the connected rivers. In Mirror Lake, expect to catch several varieties of trout, including brook, cutthroat, and rainbow; the Wyoming Game and Fish Department stocks both lakes yearly.
Glendo Reservoir, near Glendo
At 12,000 acres, Glendo State Park is a hot spot for fishing and boating. The Platte County state park is centered around Glendo Reservoir, which has several boat ramps, an incredible walleye fishery, and opportunities to fish for bass, catfish, perch, and other species. Land lovers can also find hiking and biking opportunities, plus campgrounds with around 550 campsites.
Most people fish from boats, available to rent from Rooch's Marina or Bellwood Boats. There's also a fish-cleaning station in the summer at Bennett Hill. According to the park website, the best fishing is late spring through September, but you'll find anglers out there most weekends outside of winter.
Boysen Reservoir, near Shoshoni
Anglers know Boysen State Park is a great spot for fishing, and more than a few of the largest fish ever came from this reservoir. Expect to catch walleye, perch, ling, largemouth bass, and a variety of trout, among other species. It's one of the best lakes in Wyoming for year-round fishing, and ice fishing is usually possible between mid-December and late March, depending on the weather.
If you don't have your own supplies, stop by Boysen Marina on the lake's northeastern side. It offers a restaurant, campground, and general store with everything from bait and tackle to boat repair, cold local beer, and inflatable tubes for lazy summer days.