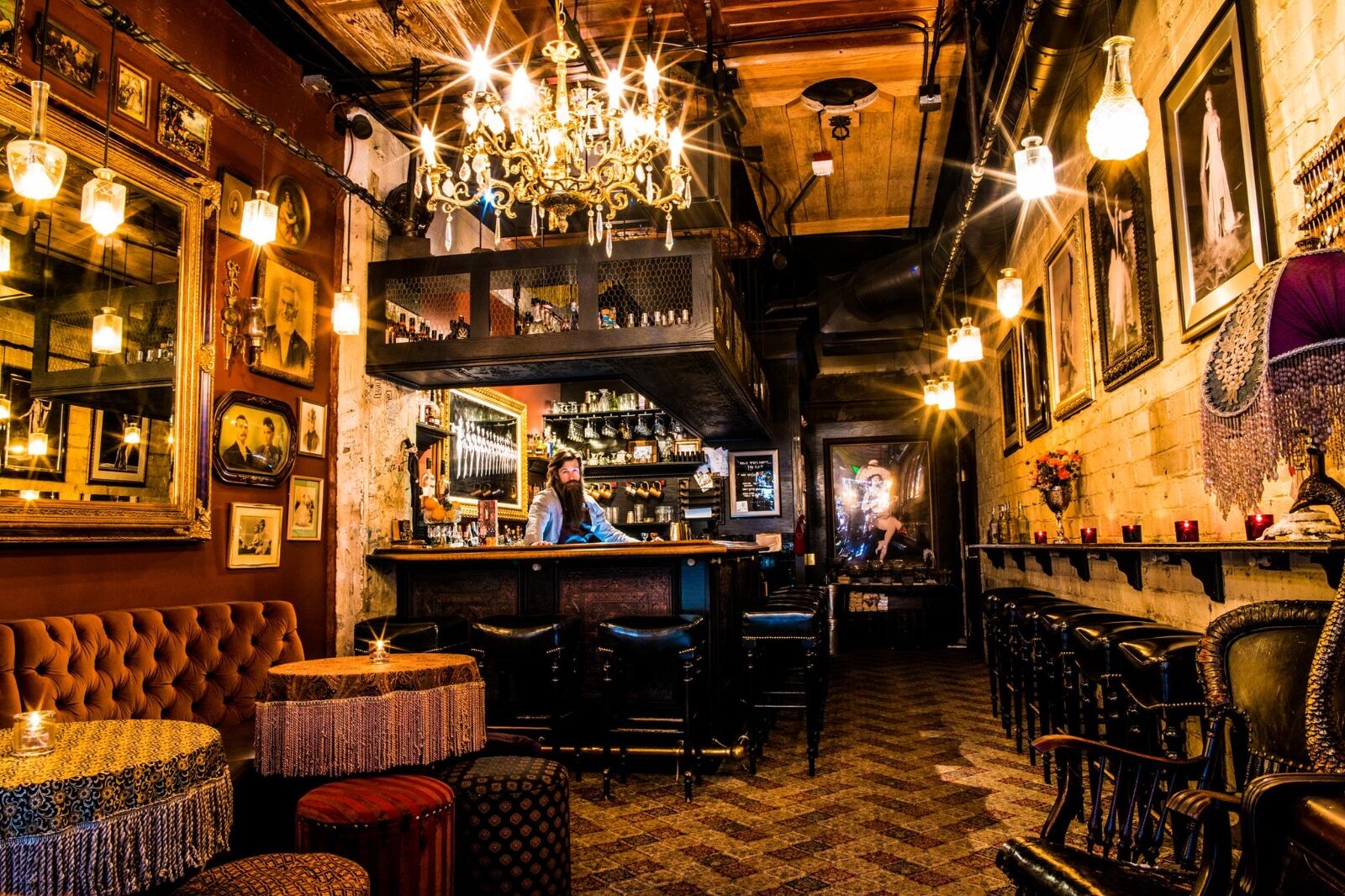 The marketing says "What happens in Vegas, stays in Vegas," but it's pretty damn hard to keep a secret in this city. And that's just as true for the hyped spots as it is the Las Vegas speakeasies and hidden bars. 
To be clear from the start, any bar with a license isn't technically a speakeasy. These clandestine venues are modeled after the illicit drinking establishments of the Prohibition era, where operators ordered patrons to keep the noise down or "speak easy." Today, speakeasy style bars are known for top-notch cocktails and hush-hush locations. 
To find a few of these hidden bars, you'll need to do some sleuthing. Many don't advertise the location, and you may need to know a password to get in. But once you step through the door, you'll be transported back to a different era (but with significantly better cocktails).
Here Kitty Kitty Vice Den
The shiniest new venue on the Strip has a grungy secret. Beyond the glitz and glamour of Resorts World is a darkly lit, devilishly fun Las Vegas speakeasy that's hard to find but easy on the rules. 
Kitty Kitty Vice Den is an entertaining and flirty speakeasy with a Singaporean twist to its decor and drinks menu. It's equal parts elegant and laid back, offering visitors top-shelf cocktails while inviting them to leave their troubles at the (hidden) door. It's an intimate setting with limited seating, so you may have to wait for a spot to open up, but once you're invited in, you'll find an incredibly dope spot to hide from the sun while you're playing tourist in Vegas, or a perfect after-hours meet-up location for those that call Sin City home.
The drink you'll want to try twice is called Pancakes and Dopamine. It's a perfect mix of Havana Club Anejo Clasico Rum, banana, lime, and golden brown sugar. 
How to get in: No password needed at Here Kitty Kitty Vice Den — simply locate the Famous Food Street Eats food court and look for the blue shelving unit near Ms. Meow's Mamak Stall with three lucky cats waving you in. That's the door. Locate the host and get ready for fun. 
Where: Resorts World Las Vegas, 3000 S Las Vegas Blvd, Las Vegas, NV 89109
1923 Prohibition Bar
If you're longing for the finer things in life — such as an extensive list of high-end whiskey, extravagant live entertainment, and a private room for premium cigars — then head to 1923 Prohibition Bar. It's located under a set of escalators inside Mandalay Bay, and that's the only unassuming thing about this stunning lounge. The bar takes visitors back to what it must have been like in 1920s New Orleans with deep oak finishes, high back lounge seating, dark lighting, and soul-infused music.  
Weekends are when the bar really springs to life with NOLA nights that pay homage to the French Quarter with lively musical numbers and sultry burlesque dancing. There's no reservations (except for VIP experiences) so it's first-come, first-serve. 
Whiskey is the star of the 1923 Prohibition Bar with popular selections like Bulleit, Four Roses, and Whistle Pig. The luxury choices such as Yamazaki 18, Smoke Wagon, and Pappy Van Winkle 23 will separate the true players from the weekend warriors, though. Mix them in with fun selections like the P.B. & J Old Fashioned (Skrewball Peanut Butter Whiskey, seasonal preserves, with a graham cracker rim) for a delightful change of pace, or sip the drinks neat slowly throughout the night. 
How to get in: Inside Mandalay Bay you'll find a set of escalators that lead up to a variety of shops. Under these escalators, locate the bookcase. Push it open, and you're in. No password is needed.
Where: Mandalay Bay, 3930 Las Vegas Blvd S STE 101, Las Vegas, NV 89119
Ghost Donkey
Ghost Donkey is a bit hard to find, but its drinks pack quite a kick. Once you find your way into this sleek lounge, you'll note that it's less Gatsby and more Mexico, which is a welcomed change of pace in Vegas.
Don't visit Ghost Donkey looking for a wide variety of beers. This is a mezcal and tequila hot spot with daring drinks and inspired food choices. Want a spicy kick? The Mezcal Sun-Risa is a blend of Codigo Blanco Tequila, Montelobos Mezcal, bitter orange, habanero, and hibiscus. It's not for the faint of taste but will leave you with a story to tell your friends back home. 
Ghost Donkey also serves platters of nachos, the most popular being those with black truffles. Make sure you carry some bail money because these nachos are so good you may just smack someone over it.
Mezcal and tequila worshippers, your Las Vegas speakeasy is waiting.
How to get in: Head to The Cosmopolitan of Las Vegas Block 16 Urban Food Hall. Locate the door with a pink donkey painted on the front and you will have found the entrance. It's first-come, first-served, and it's open late.
Where: The Cosmopolitan of Las Vegas, 3708 Las Vegas Blvd S, Las Vegas, NV 89109
The Barbershop
In Las Vegas, style and substance are often at a crossroads. Some bars are all looks and cheap beer served at premium prices. Other are quietly unassuming before they knock your socks off with cold drinks and hot music. The Barbershop is an impeccable blend of design and that "wow" factor that makes Las Vegas speakeasies on bucket lists. First, it's a real, working barbershop, so you can sip on a meticulously crafted cocktail while your hair gets styled and your beard gets a clean, straight razor shave.
In the evening, the Barbershop transforms into a live entertainment venue with soul vibrating bands rocking the joint, turning the concept of "speakeasy" on its head. 
When visiting, try the Oak and Smoke which blends Remy Martin, rye whiskey, vanilla orgeat, Angostura bitters, Peychaud's bitters, and smoked clove with an oak chip garnish. It'll make your new cut tingle. If you want to high-end it, buy the bottle of Remy Martin Louis XIII which will set you back a cool $10,000. What happens in Vegas, right?   
How to get in: After you enter the Barbershop, find the janitor's door. Walk right in and get ready to be transported to a killer parlor with heart-thumping live music. 
Where: The Cosmopolitan of Las Vegas, Boulevard Tower, 3708 Las Vegas Blvd S Level 1, Las Vegas, NV 89109
The Laundry Room
Downtown Las Vegas can be chaotic and downright hectic. Over the years, Fremont Street has been transformed from an iconic oddity to a tourist trap full of tight slot machines, overpriced drinks, and corporate-approved "authentic" experiences. 
Inside Commonwealth is where locals and tourists alike can find a great neighborhood bar that serves enough trendy drink concoctions to keep sightseers happy while being sufficiently low-key enough for folks looking to grab a quick libation after work. And while the confines of Commonwealth are where most visitors stop, true spirit seekers need to search for The Laundry Room. 
The Laundry Room is a diminutive Las Vegas speakeasy found behind a hidden door within the Commonwealth. Once you've found your way in, a world of gilded opulence becomes accessible with walls decorated by sepia-toned photos, gold-trimmed metal work, fun cocktail names, and the welcoming nod of a bartender who will guide you on a flavor odyssey. 
On a warmer evening, you'll want to ask for a Back in Kokomo. It's a frothy and fuzzy tropical creation of gin (or whiskey), falernum, lemon, and passion fruit that instantly reminds you of that island bar memory you keep tucked away in the happy place of your mind. For mezcal lovers, the I Remember Forgetting This blends rye, mezcal, allspice, lime, and maple that leaves you with a rich, warm smoke sensation. You'll be motioning for another round before reaching the bottom of the glass. 
It's strictly reservation-only, with room for 22 guests, and if you're lucky, the piano ivories with be tickled by the in-house maestro. 
How to get in: Make reservations and find the host; they'll guide you in through the secret door.
Where: Commonwealth, 525 E Fremont St, Las Vegas, NV 89101
Màs Por Favor Taqueria y Tequila
Ready to enjoy your tacos with a side order of adventure? Más Por Favor has quickly earned high praise for traditional street taco favorites while introducing a bit of variety to the already crowded food scene. 
At the front of the house is a traditional taqueria serving delicious tacos with combinations such as Muy Caliente, which takes chipotle, Flamin' Hot Snacks, sour cream, and white cheddar and combines it with your pick of protein to create a spicy delicacy you rarely find in the world of tacos. These offerings make Más Por Favor a local favorite, but there's more to this unpretentious taco shop.
What separates Más Por Favor from the competition is the distinctive vibe once you find its hidden backroom speakeasy. Once you finish dinner, head to the cashier, pay your tab, then ask about "tonight's delight" and you'll be given directions to a secret tunnel. To repeat: Secret. Tunnel. 
In the tunnel, you'll swear you've just been transported into an Indiana Jones movie as you guide yourself to a door that opens to a vibrant, ultra cool parlor where fresh fruit and ingredients made in-house are combined with the very best tequila for after dinner cocktails. 
Try the popular Dragonfly, a blend of vodka, lemon, cilantro, and house-made sunflower seed syrup. It's not only tasty but beautiful to look at, so have all 27 of your Instagram followers on stand-by for some great content. 
How to get in: The speakeasy is at the back of the restaurant. Ask the cashier about "tonight's delights" and you'll be directed to the tunnel. Bring a torch (just kidding). 
Where: 3879 Spring Mountain Rd, Las Vegas, NV 89102
The Underground
In the basement of The Mob Museum near downtown Las Vegas, you'll find the godfather of the Las Vegas speakeasy. The Underground is a speakeasy and distillery where you can sip on ice cold gin while also learning how moonshine is created and why you don't go snitching to the FBI about the process.
Prohibition era exhibits surround you in the speakeasy, so you'll learn about important figures in the rise of the illicit alcohol trade, including iconic women like Mary Louise Cecilia "Texas" Guinan and Belle Livingstone, who chose to buck the tiger when it came to the male-dominated business.
History buffs will want to sip on a Bathtub Fizz, which mixes gin, sloe gin, Aperol, sugar, lemon, egg white, and bitters and is served in a small bathtub. It reflects a time when bootleggers leased small stills to individuals so they could make booze at home, giving way to the term "bathtub gin."
The very real working distillery in the next room allows you to sample and take home a few bottles of local favorites like Cinn-City Moonshine or Ginger Jake Moonshine.
How to get in: If you want to experience The Mob Museum, purchase a ticket and you'll get access to The Underground as well. But if you want to skip the artifacts and head straight to the liquor, then find the secret door down a flight of steps outside the building off of Stewart Avenue. Knock on the door, speak the password (found on the website), and you're good to go.
Where: The Mob Museum, 300 Stewart Ave, Las Vegas, NV 89101
Mike Morey's Sip'N'Tip
It's fair to say that people love more than one Las Vegas speakeasy, but there might be one that's more beloved than the rest. Mike Morey's Sip'N'Tip is the quintessential hidden bar that views itself more of a "speak-UP" rather than a speakeasy. The Sip'N'Tip is a haven for those locals in the service industry as well as travelers in the know. It's located in the back half of the Downtown Cocktail Room, which is just steps away from the world famous Fremont Street Experience.
Both places are locally renowned, so you can't go wrong with either, but Sip'N'Tip has its own menu, which changes regularly and is always offering something unique. When you make your way in, put some old rock on the jukebox and try the namesake drink The Morey, which blends old Tom gin, dry vermouth, and orange bitters. The happy hour also can't be beat, so you'll want to check out times frequently to plan your visit accordingly for incredible prices on cocktails, especially in the tourist trap Fremont district.
Just remember, after you sip vigorously, you need to tip generously.
How to get in: You can enter the Downtown Cocktail Room and make your way to the back, or skip the front entrance and head down the ART Alleyway and see the big glowing "Mike Morey's Sip'N'Tip" sign and there's your entrance.
Where: Behind Downtown Cocktail Room, 111 S Las Vegas Blvd, Las Vegas, NV 89101
The Cabinet of Curiosities and The Lock
The Cabinet of Curiosities is a refreshing oddity in the Las Vegas world of posh lounges and over-priced cocktails. Its unusual take on the Vegas lounge scene is one part peculiar and one part right at home in Sin City. 
It calls Bally's Las Vegas Hotel and Casino home and instantly sets itself apart from the low-key casino, which was once home to the Jubilee showgirls, which are an icon of old Vegas. That doesn't make it bad. In fact, the juxtaposition makes it that much more fun. 
Inside The Cabinet of Curiosities, not only will you get excellently crafted drinks such as the Festival of Lights — a blend of bourbon, vermouth, Caravella Orangecello, lime juice, honey syrup — but you can sit and do your best to solve a mind bending puzzle or examine the world of artifacts throughout the space while you pass time with friends. 
And then there is The Lock, which is a hidden Las Vegas speakeasy inside this curious bar. Inside this secret area the expert mixologists have a fun-filled variety of choices to choose from, including classic cocktails and new takes on old favorites, but to really set things in motion you'll want to order a custom creation. This is when the mad scientists behind the bar will hand you a secret menu order form in which you'll mark down your favorite destination, zodiac element, and style. From these answers, they will personalize a drink for you.
How to get in: You have a better chance of getting into The Cabinet of Curiosities if you make a reservation. Once inside, the locksmith will help you crack the codes to gain entrance into The Lock.
Where: Bally's Las Vegas Hotel & Casino, 3645 S Las Vegas Blvd, Las Vegas, NV 89109
Datamosh
Everything about Omega Mart at AREA15 is immersive and eccentric. It's filled to the brim with hidden passages, optical illusions that test your senses, and interactive artwork designed to fool the mind while sparking your curiosity. 
This includes the hidden bar Datamosh and its handful of odd cocktails. It's every bit secret bar meets art exhibit. It's bizarre and fun, peculiar and marvelous, and is easily one of the best experiences you can have in Las Vegas.  
More timid guests can play it safe with an Omegarita (tequila blanco, mezcal, ginger, agave, citrus, bitter blend, and fire water) and that's totally acceptable. But you're not visiting Datamosh because you like ordinary things. Go with The Source, a blend of mezcal, Lillet Blanc, shiso, tarragon syrup, citrus, and rosemary for a drink that not only tastes great but foams up, giving you reason to break out the camera and continue with Vegas-induced memories. Or maybe test the norms by sampling an Old Fashioned Spray which may or may not look like it came straight out of a bottle of Windex cleaning solution.
How to get in: This secret bar is in the north end of the Omega Mart grocery store section. 
Where: AREA15, 3215 S Rancho Dr, Las Vegas, NV 89102