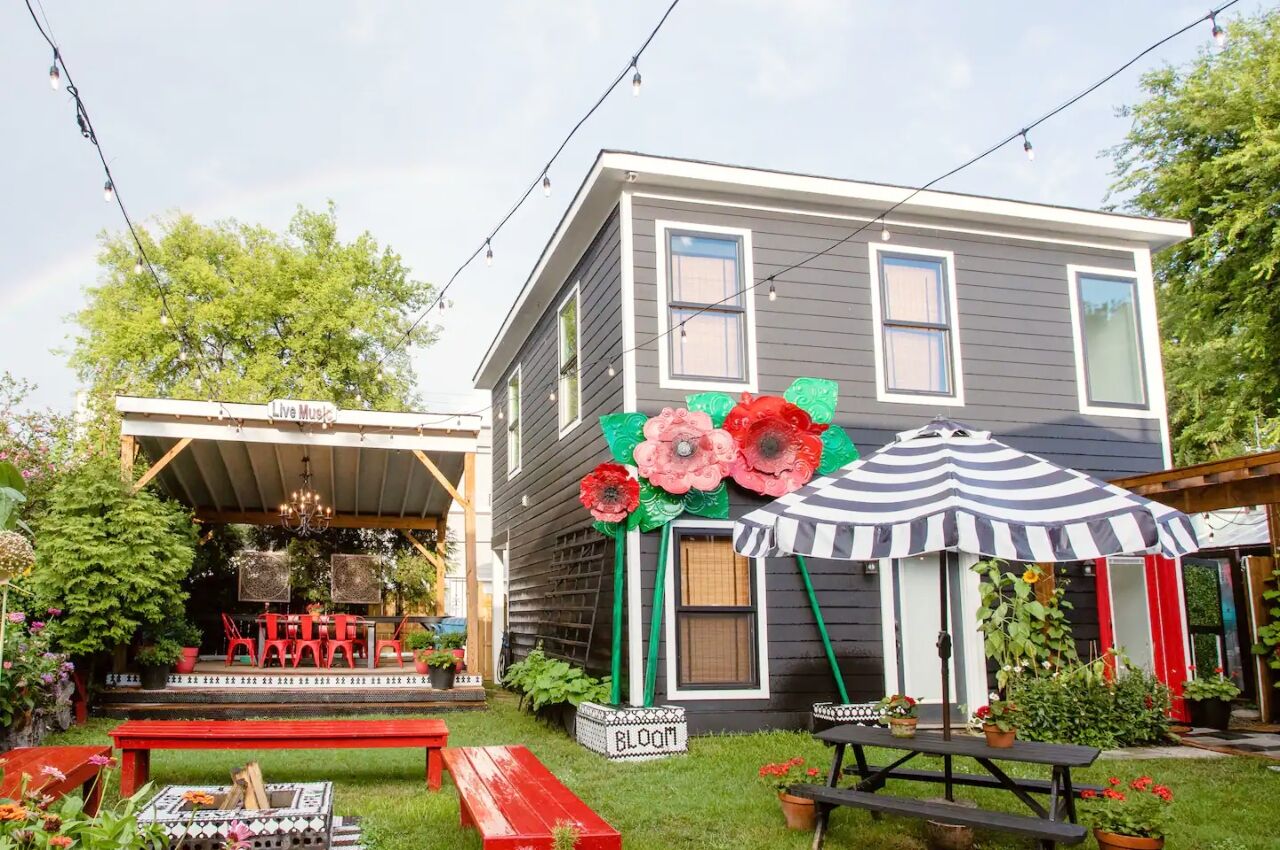 The city of Nashville, commonly known as Music City, is truly the place that gives guests the best of both worlds. Experience the city's magic with colorful flashing lights, lively music and hotspots, and the calming countryside of the Tennessee Hills. Nashville is undoubtedly a perfect place for a celebration, getaway, or relaxing vacation. Take in all of what Nashville offers by visiting downtown, the historic Five Points, and other prominent and historical landmarks. Want to be right in the middle of it all? Then here are the best Airbnbs in Nashville that will put you right in the middle of everything.
Traveling to Tennessee? Check out Matador's top Tennessee accommodation guides:
We hope you love the Airbnb Nashville rentals we recommend! Just so you know, Matador may collect a small commission from the links on this page if you decide to book a stay. Listed prices are accurate as of the time of publication.
Airbnbs in downtown Nashville
Downtown Nashville is home to some of the world's best nightlife and entertainment. If visiting for nightlife, a conference, or a sporting event, these Airbnbs put you close to your itinerary.
The Music City's getaway suite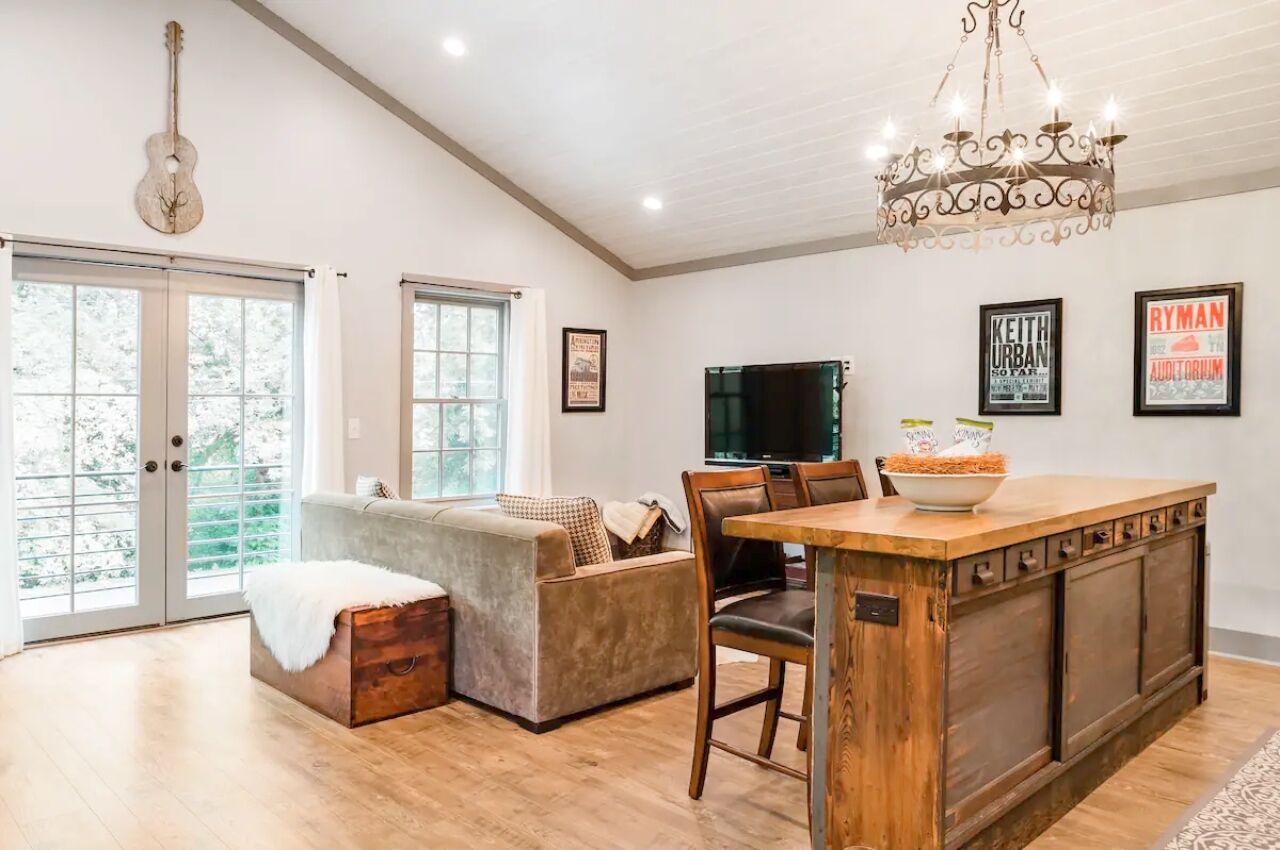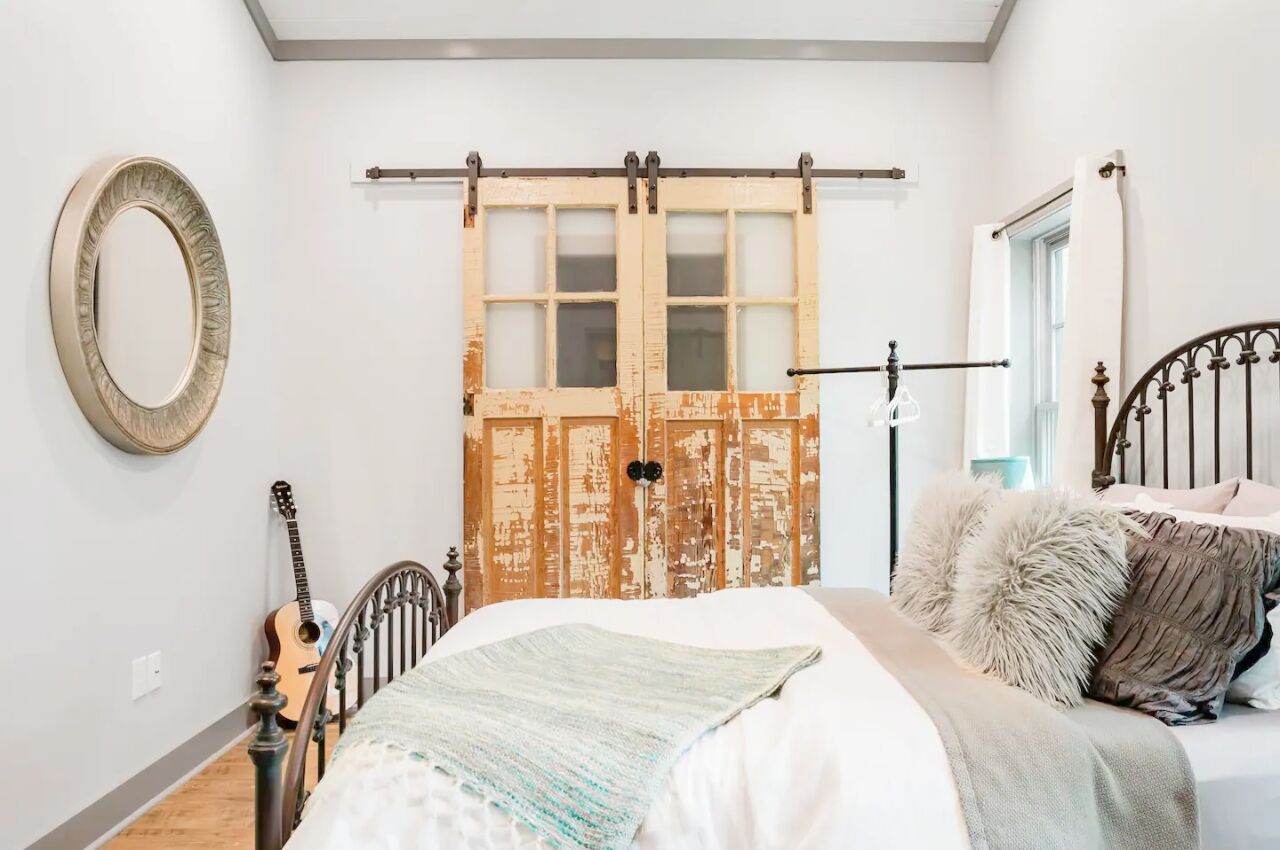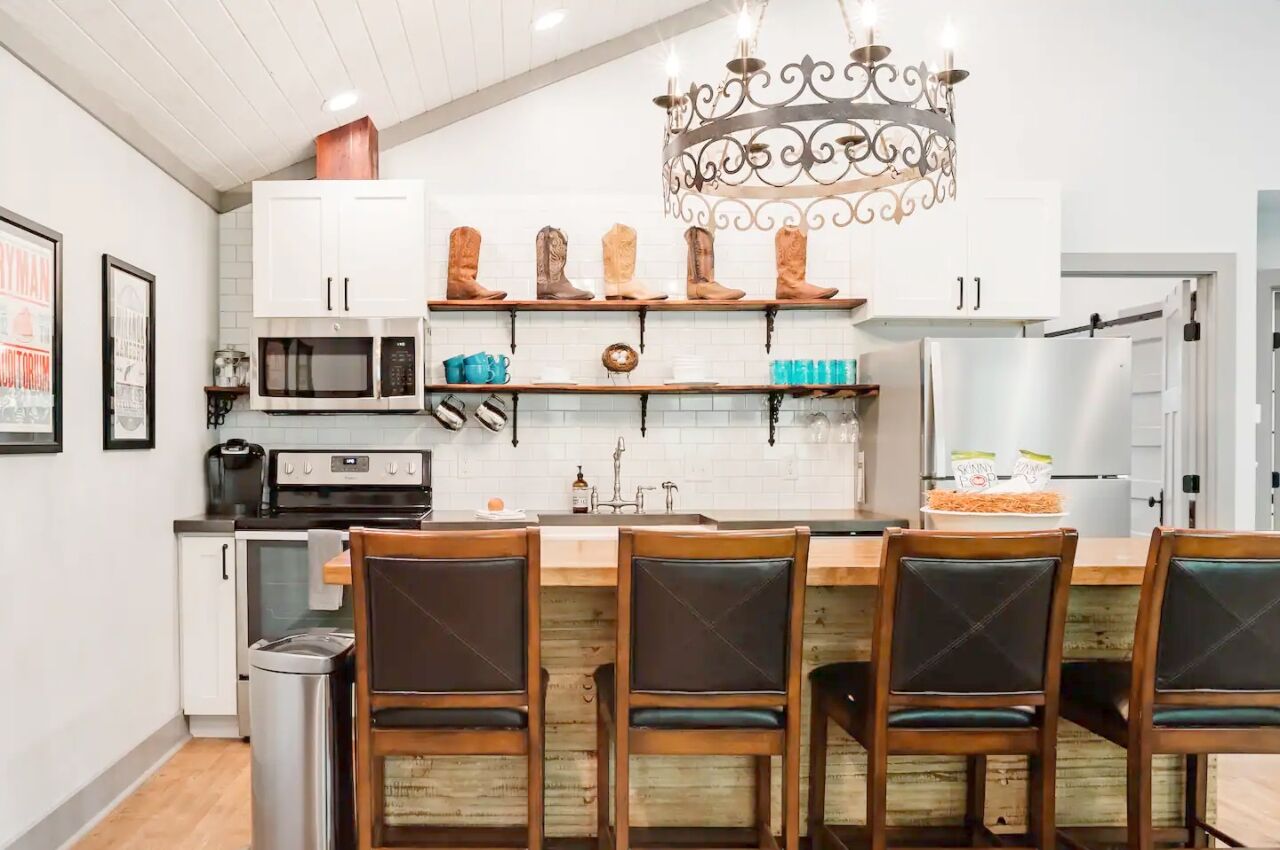 Check out this cowboy music-themed suite just minutes away from Downtown Nashville. This music-themed suite has an open floor plan with a spacious kitchen and living room area. This getaway is a newly renovated space with vintage accents within the West End and Green Hills area.
Four guests, one bedroom
Price: $126 per night
Musician's bungalow minutes away from downtown and other attractions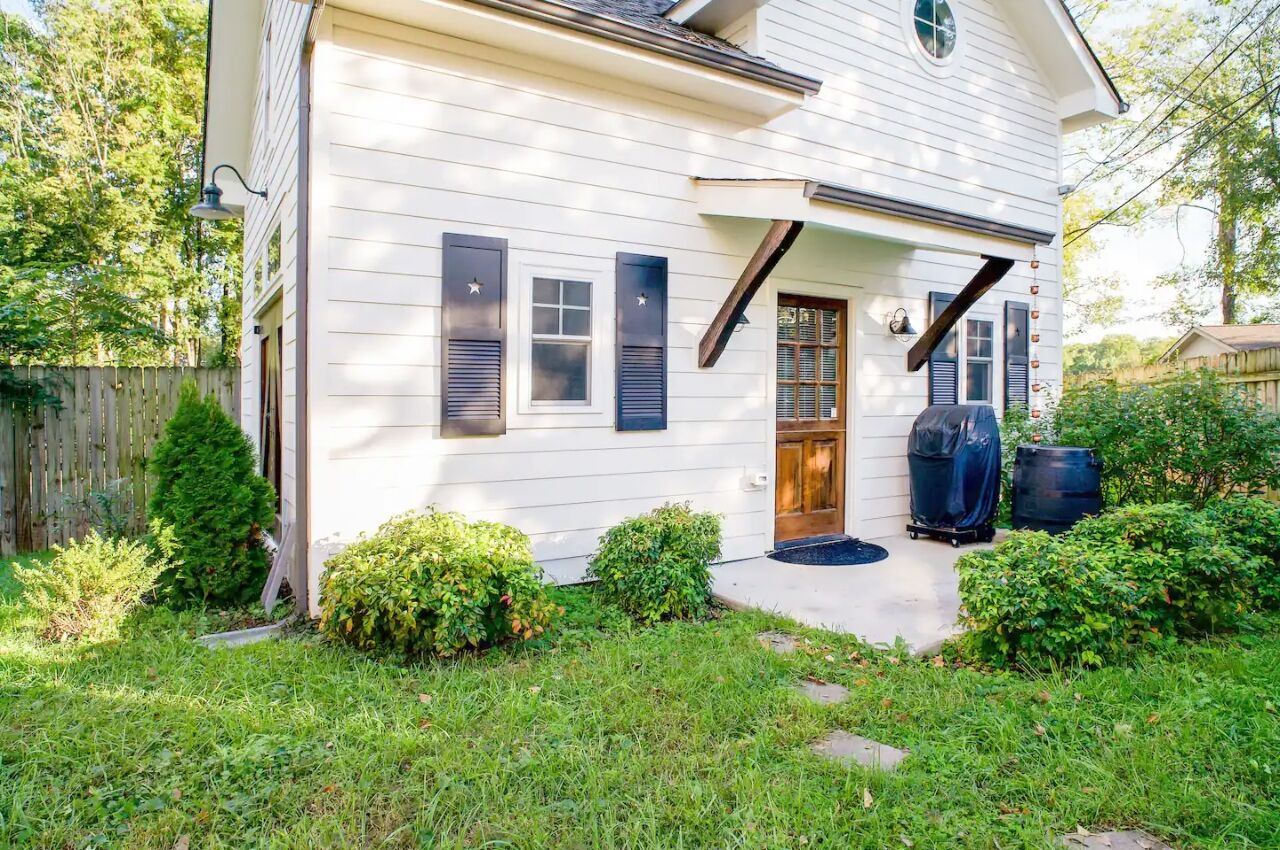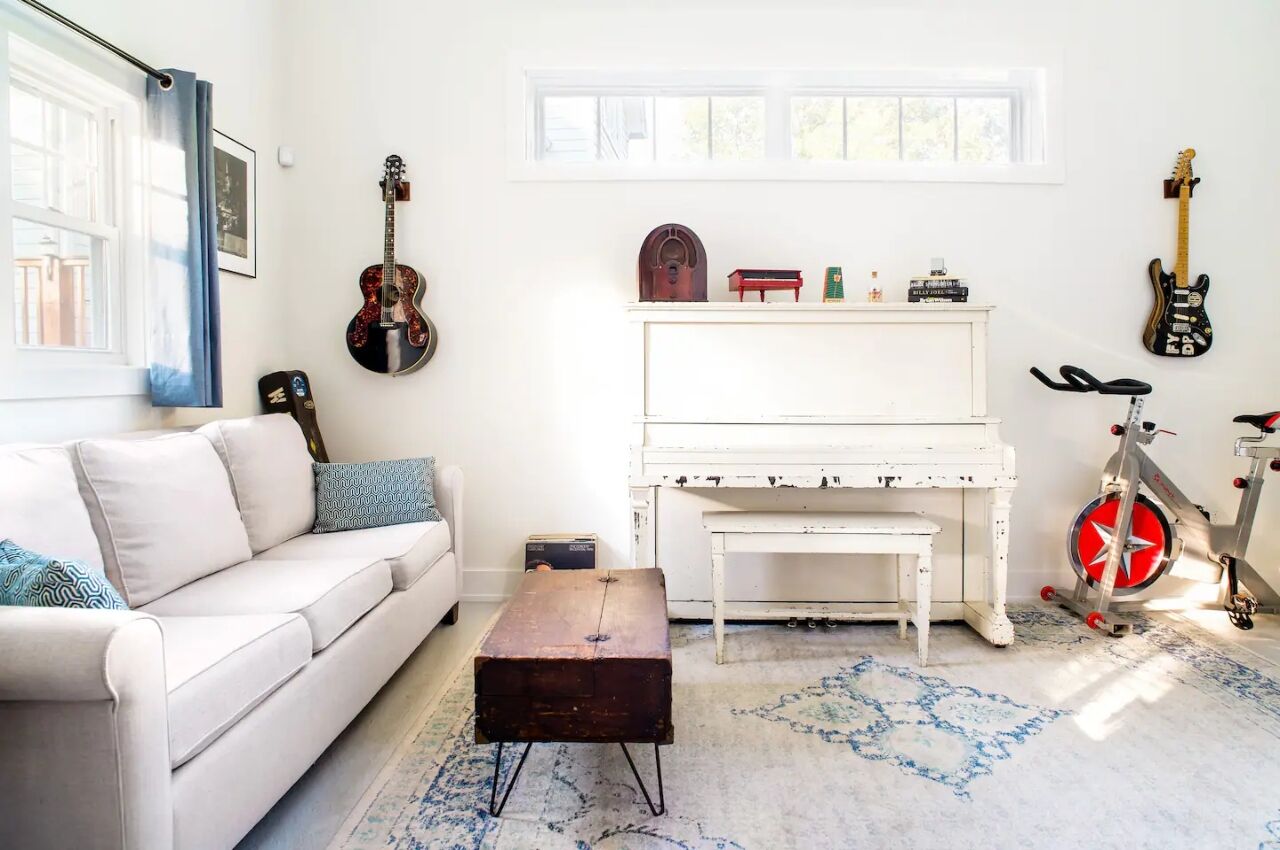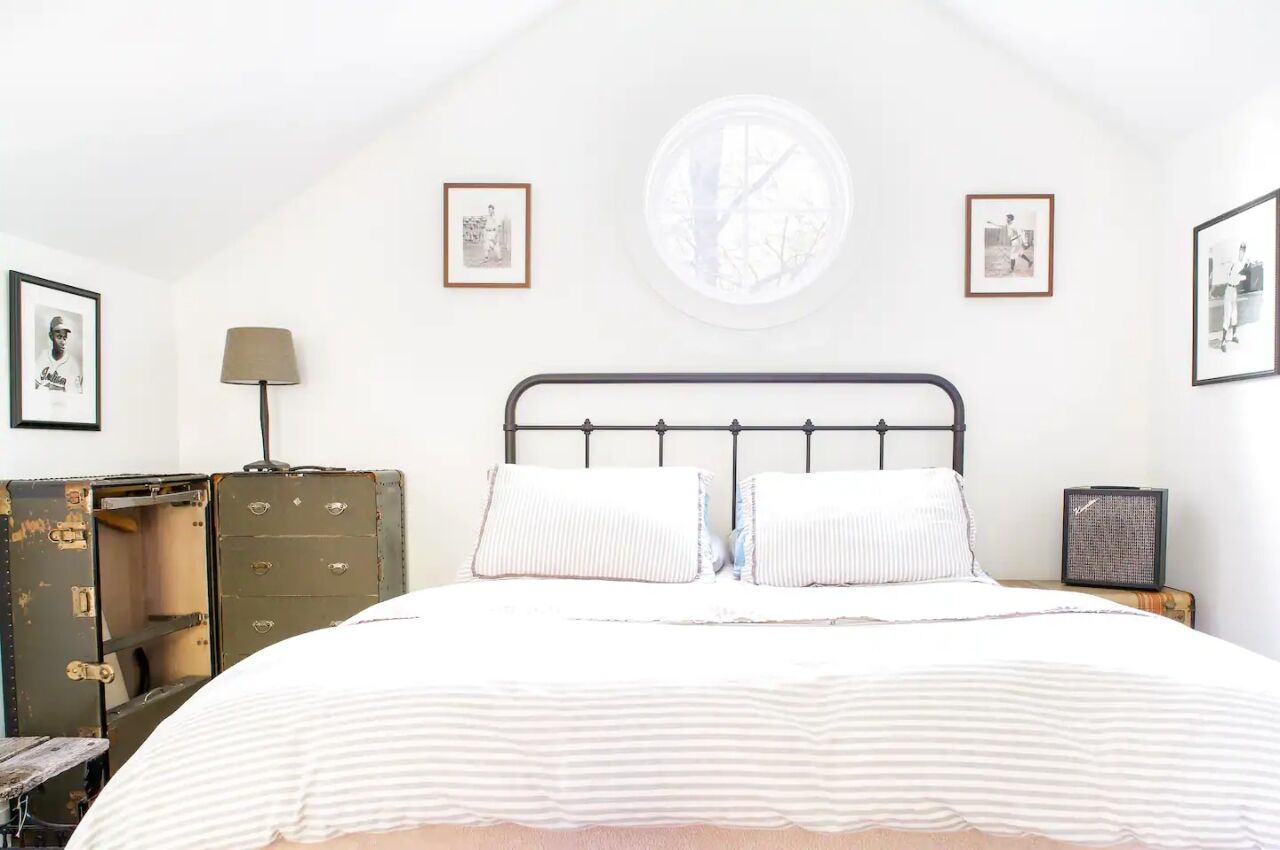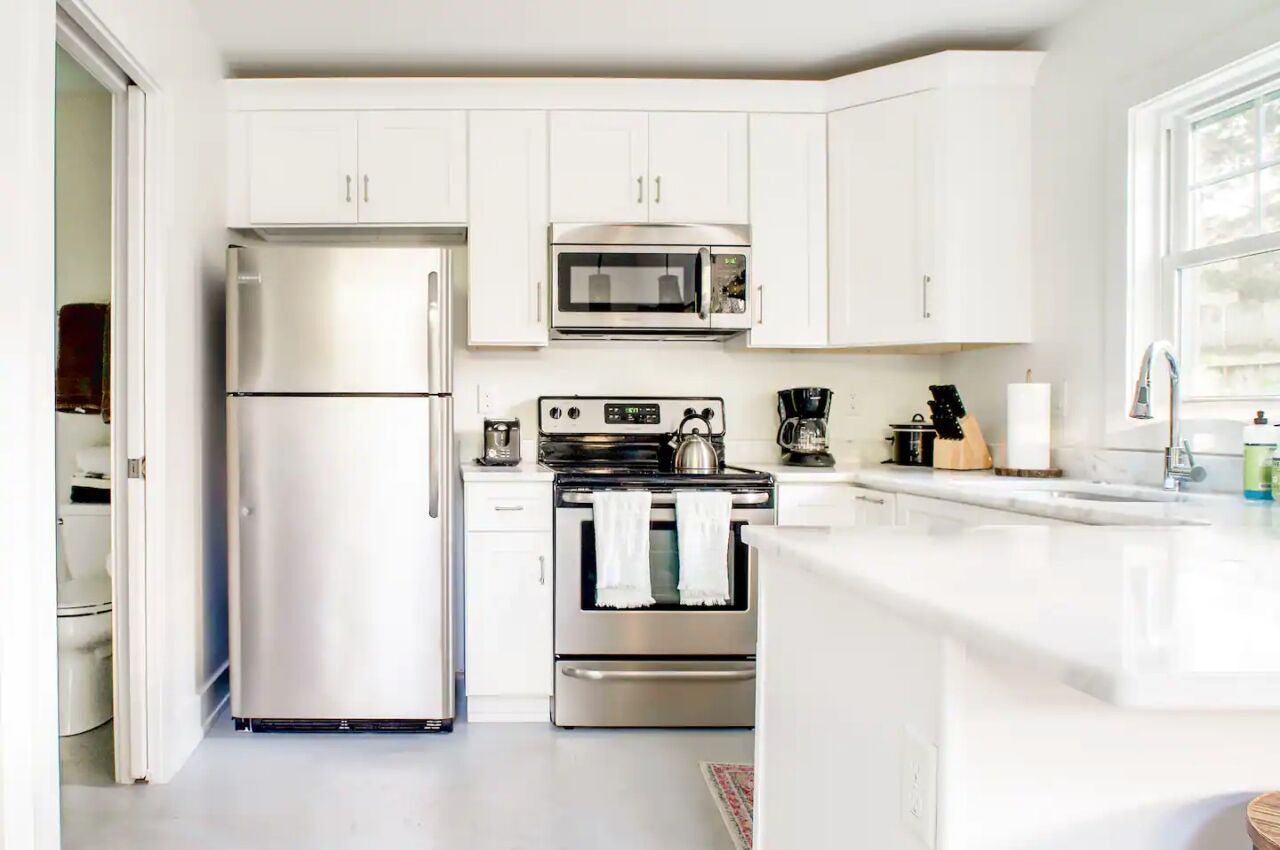 Set in one of Nashville's best areas is this modern guesthouse suite. The suite belongs to a songwriter, so it's full of musical instruments that guests can use. There is a full kitchen and open living room with a piano, guitar, and other playing instruments. The home is just off Route 65 and just minutes from downtown and blocks away from the 12 South neighborhood, Vanderbilt, Belmont, and Music Row.

Two guests, one bedroom
Price: $103 per night
Mid-century modern Nashville residence just west of downtown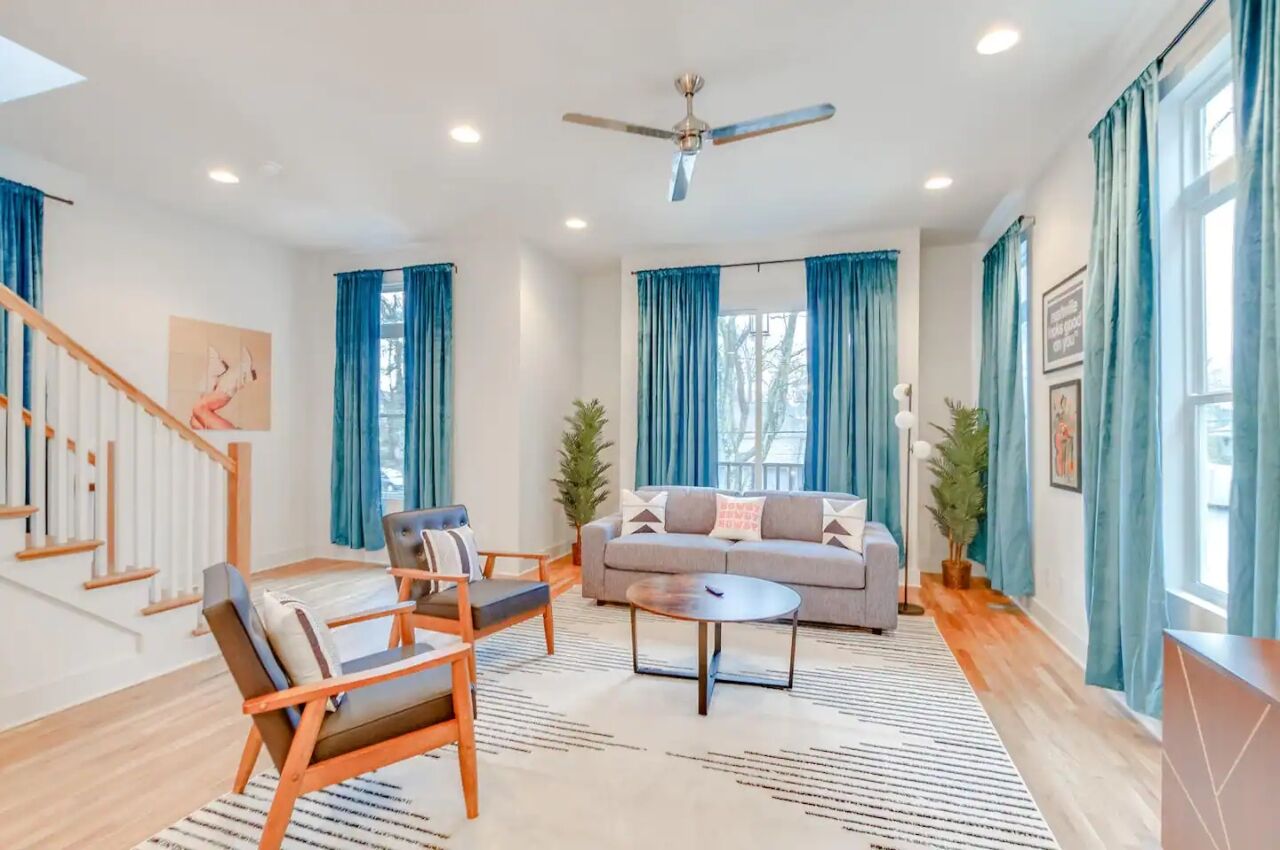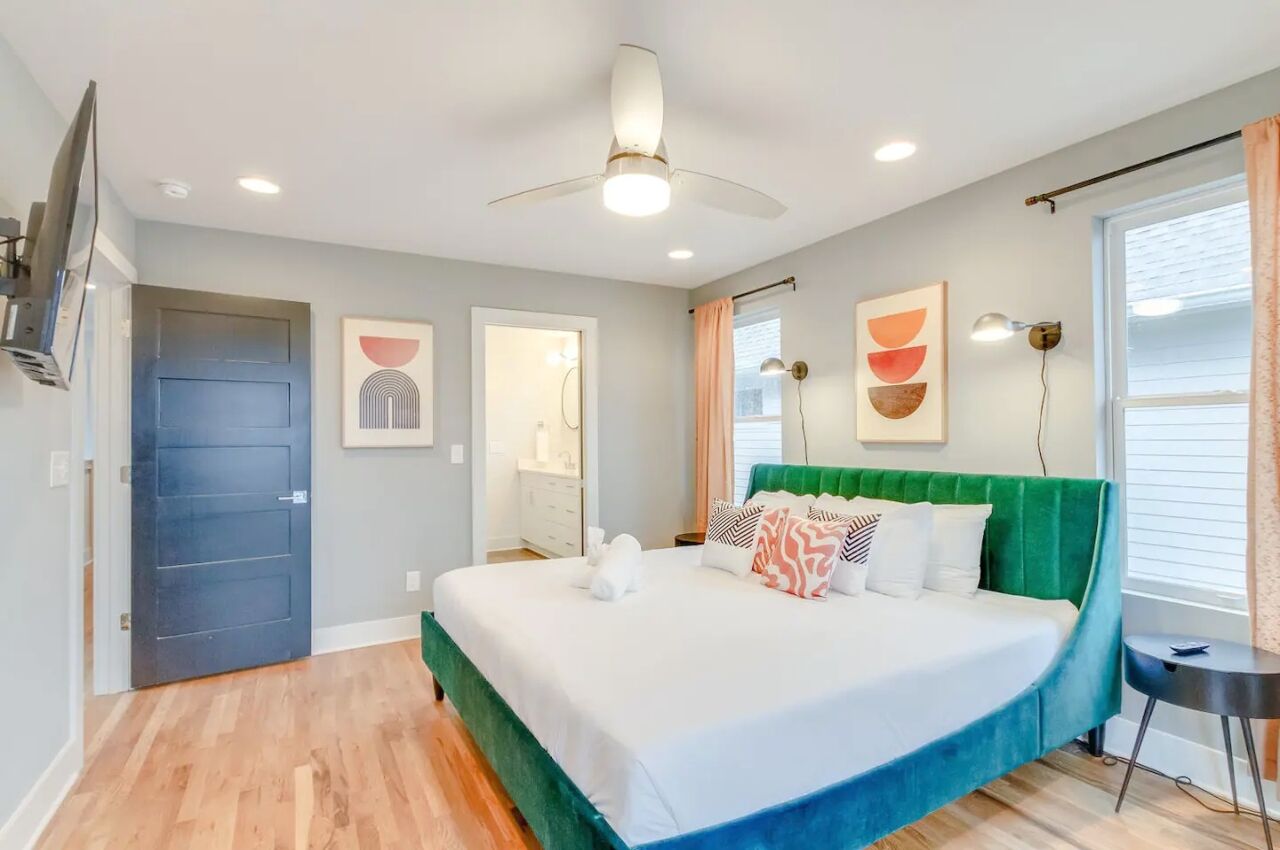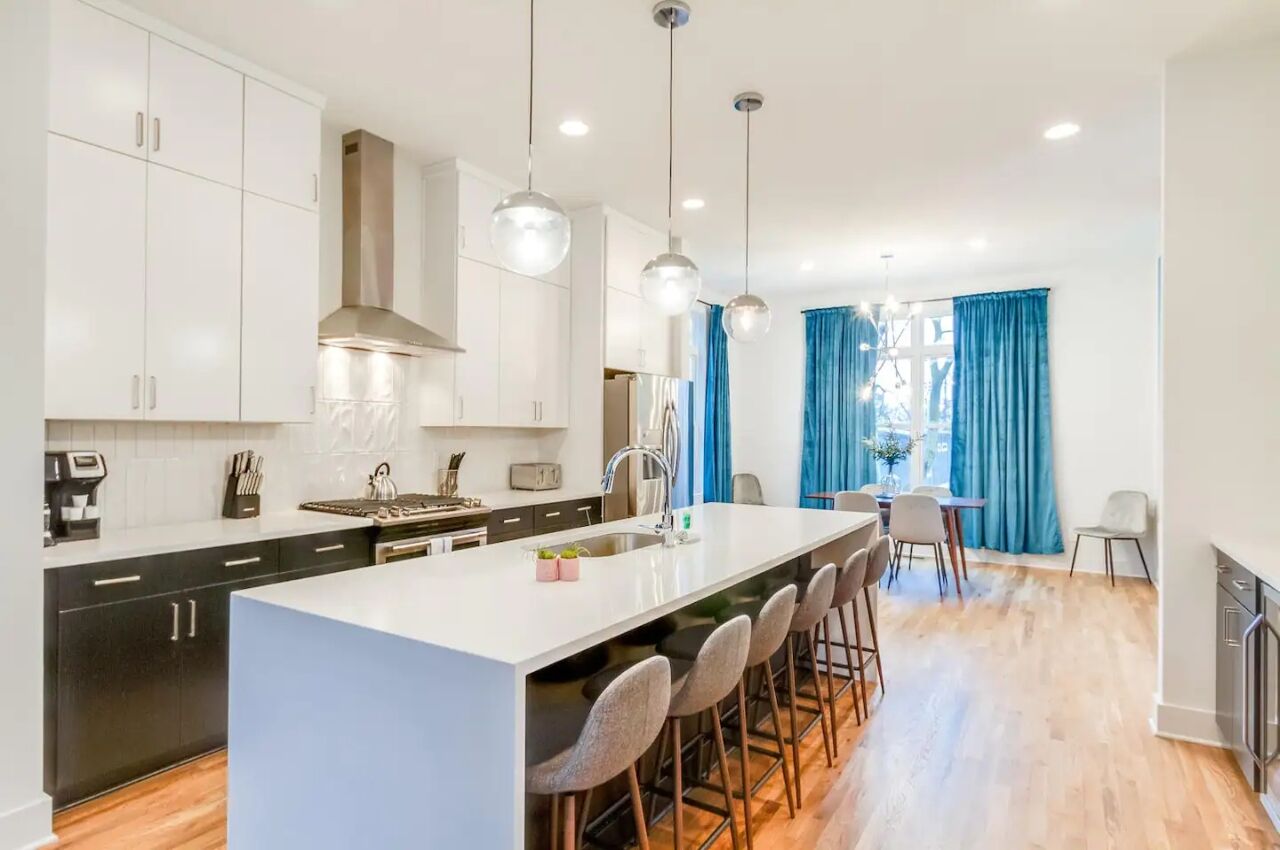 This bright and mid-century modern home offers guests a place to relax throughout all the Nashville adventures. This Airbnb Nashville property features a large, fully equipped kitchen that leads directly to the open living room. This space is ideal for a family or group of friends with plenty of hang-out spots throughout the home. The residence is just s short drive to downtown and seven minutes to The Nations.
Ten guests, three bedrooms
Price: $131 per night
Airbnbs in East Nashville
East Nashville is a hip part of town with party vibes and friendly people. These Airbnbs are right in the heart of the action.
East Nashville retreat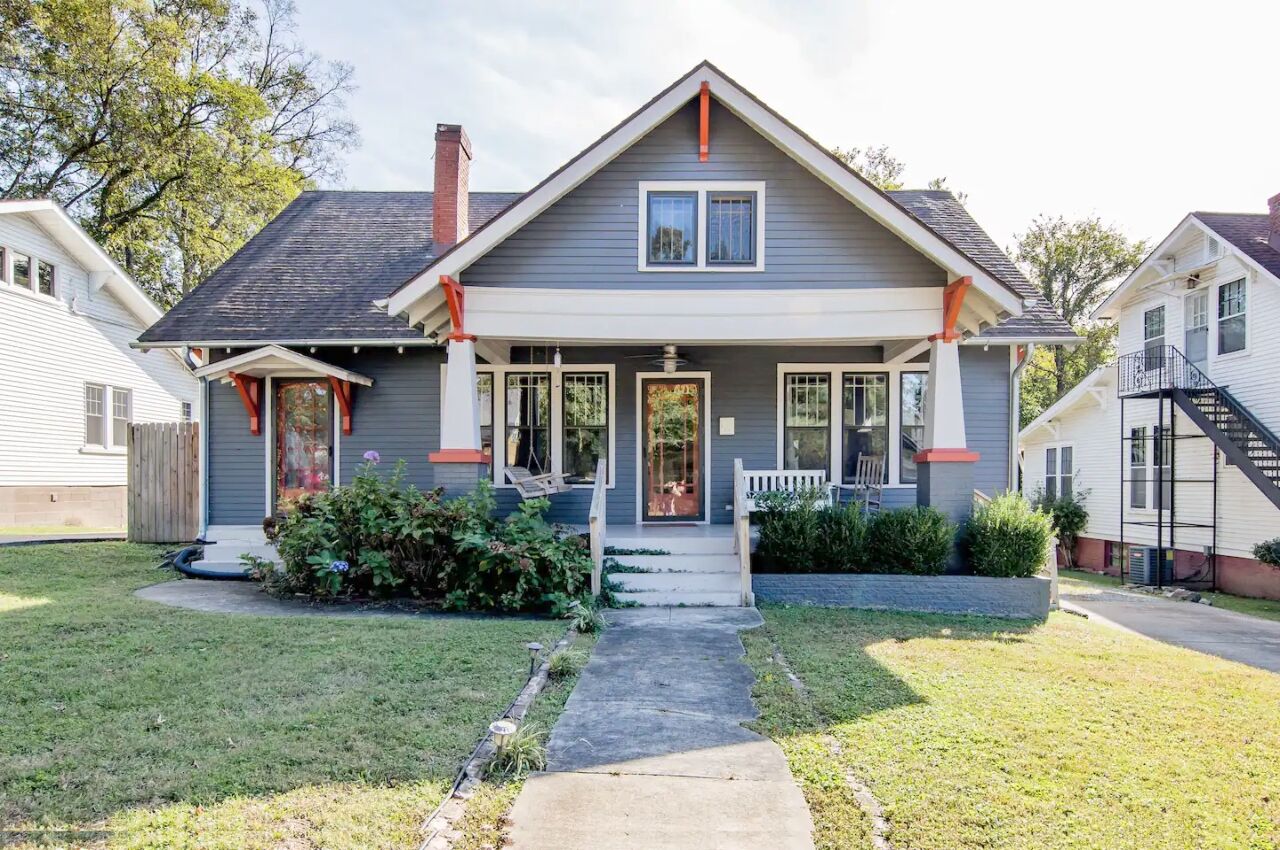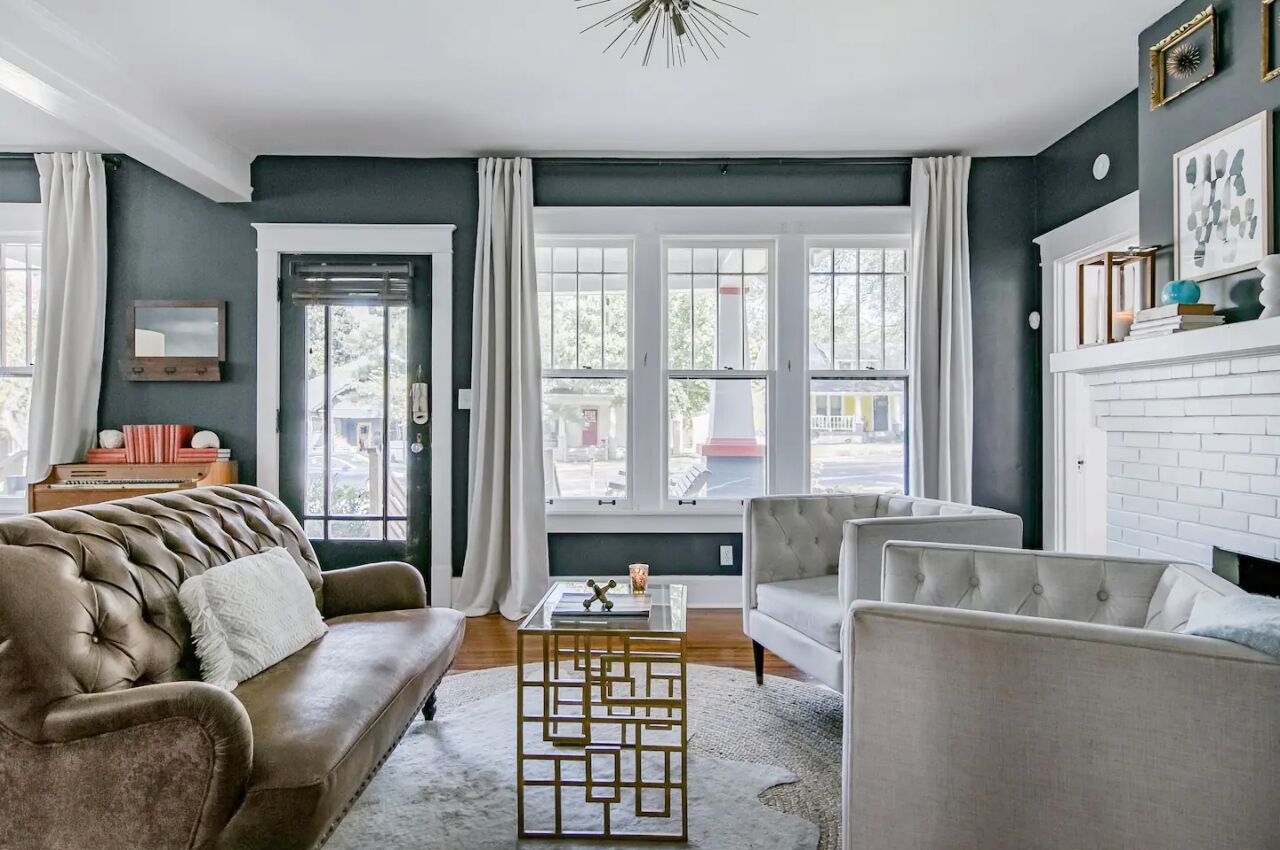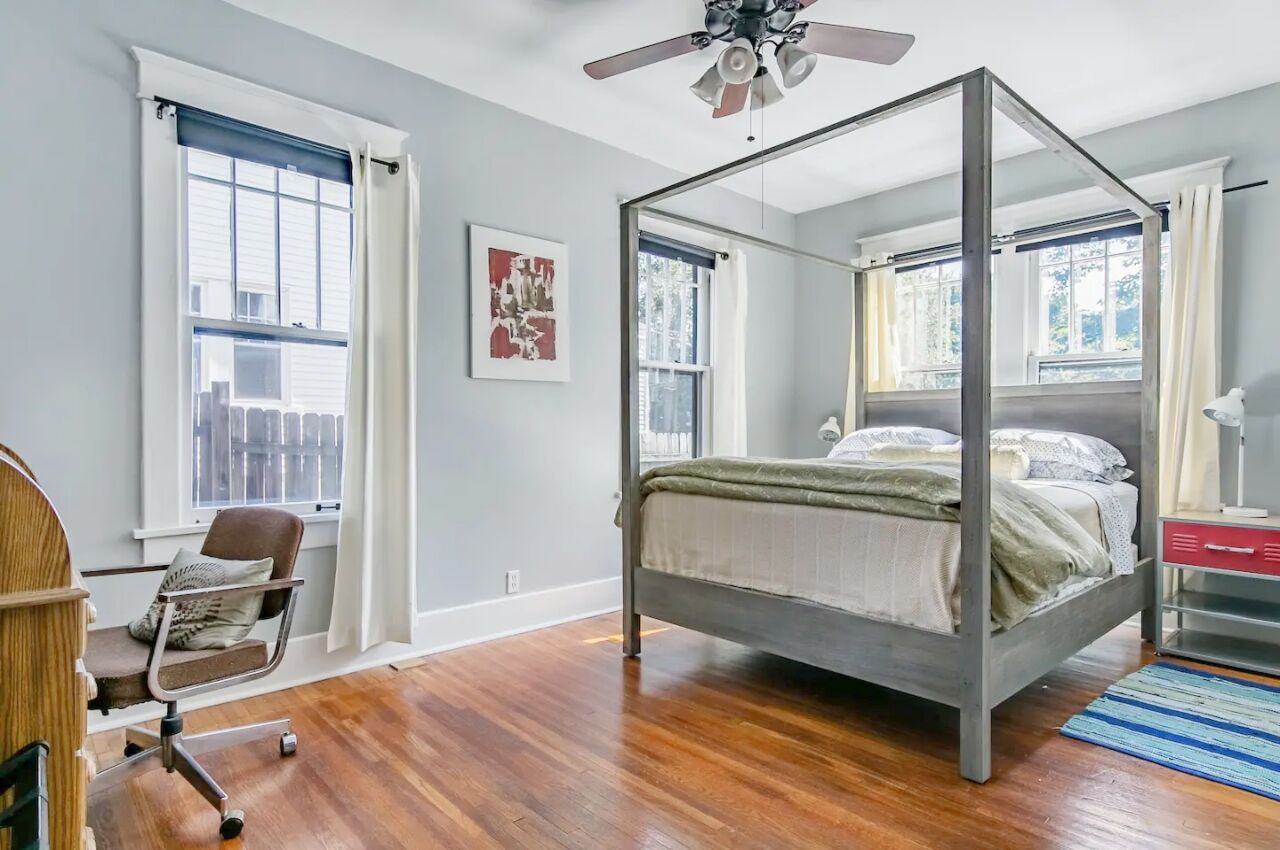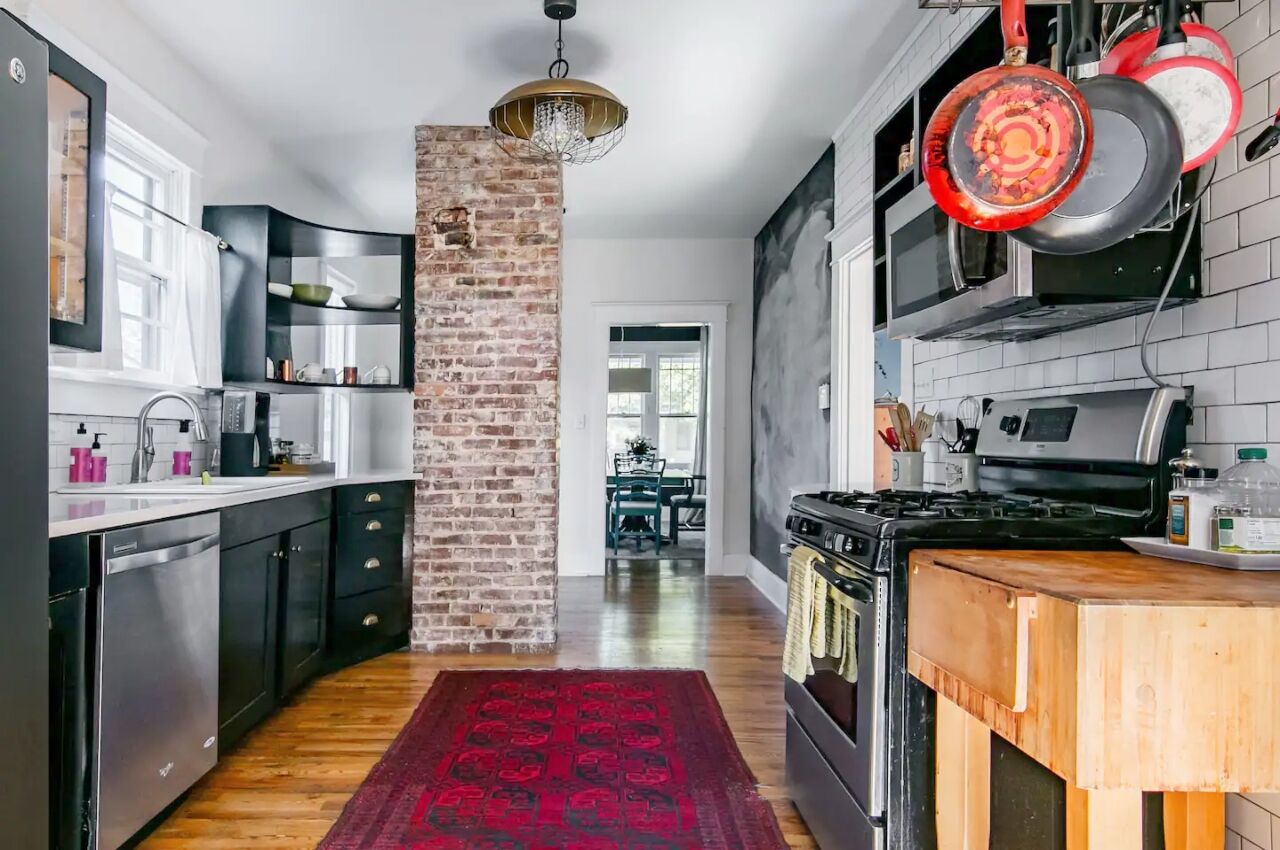 Escape the everyday duties with this Airbnb Nashville retreat with its exposed brick, brick fireplace, and spacious front porch to lounge on after a day out in town. The home has a fully equipped kitchen and vintage-like living room that transports you back in time. The house is steps away from restaurants, boutique shops, and more of Downtown's iconic spots and events.
Eight guests, four bedrooms
Price: $580 per night
Quaint remodeled guest suite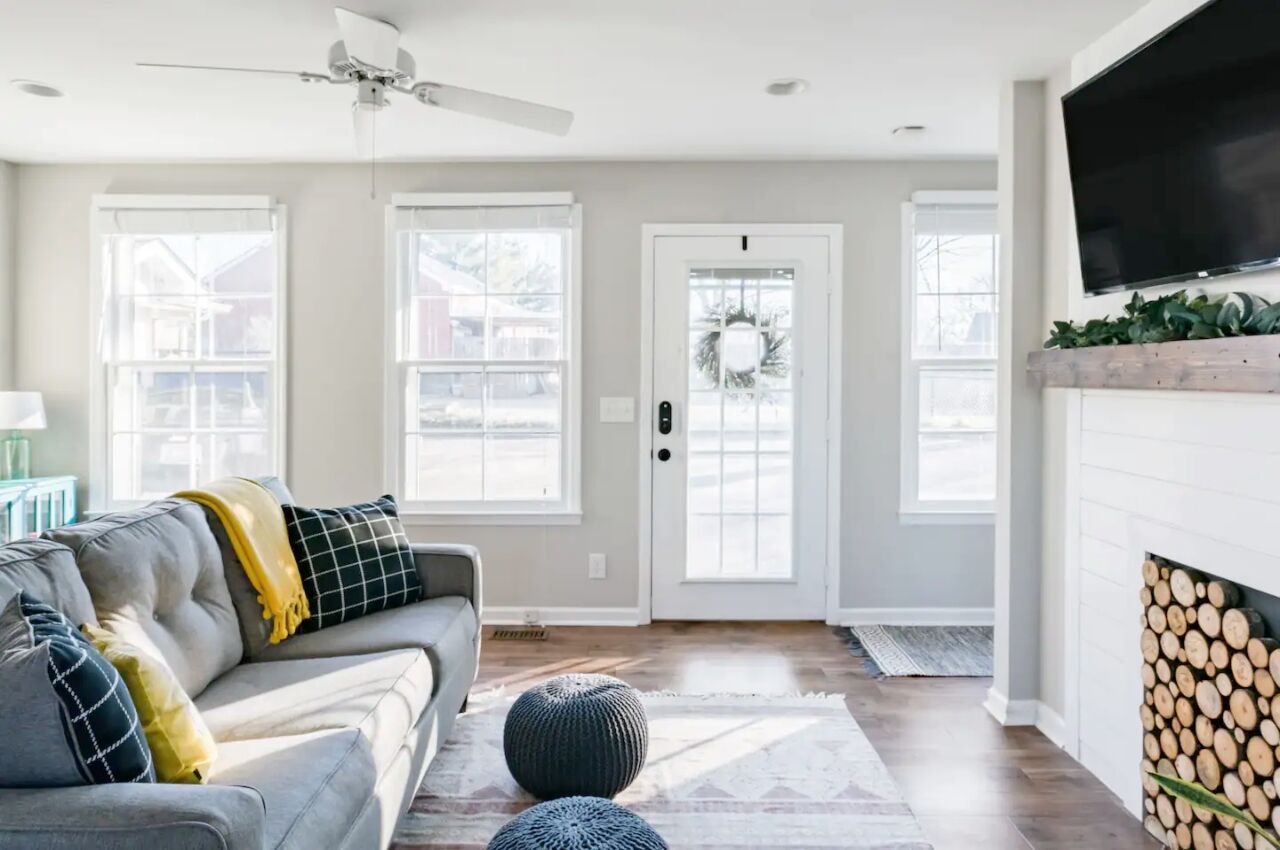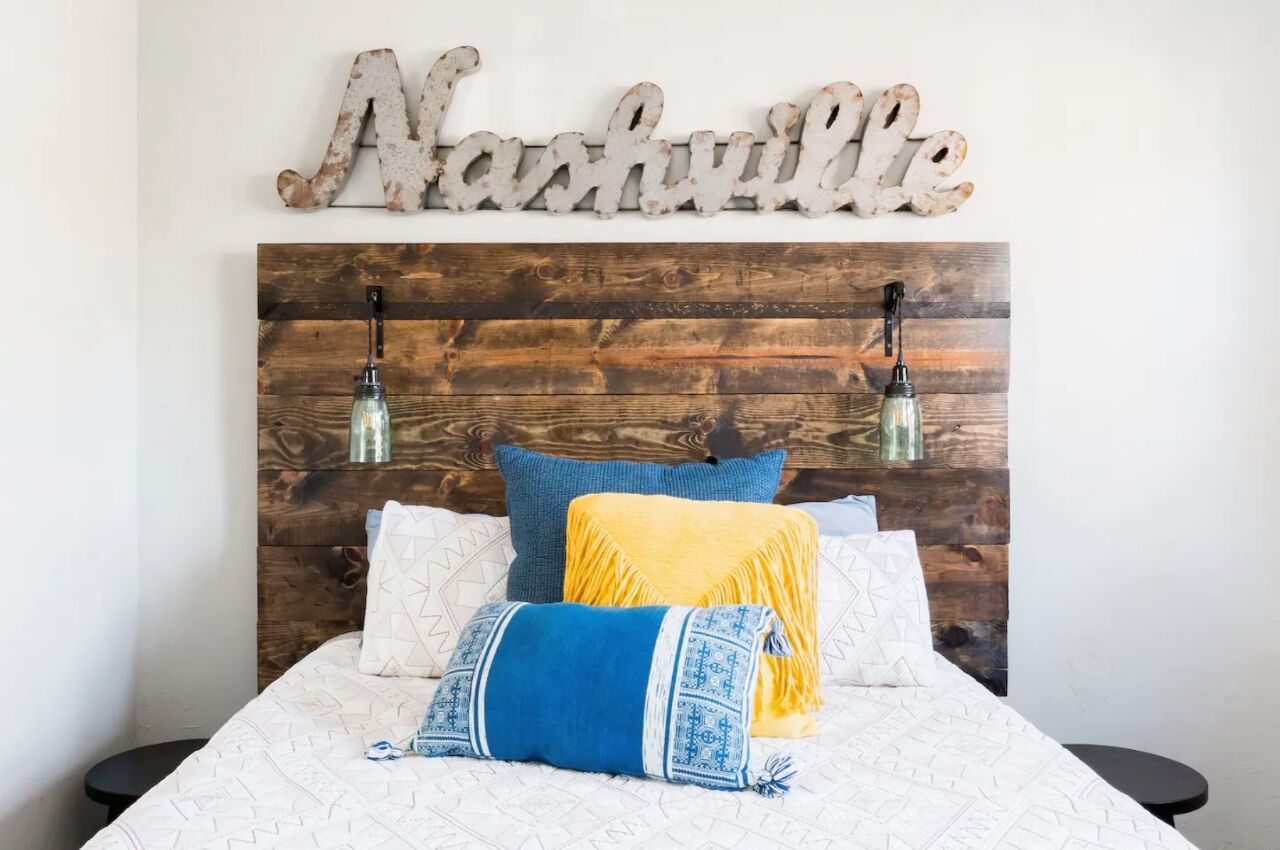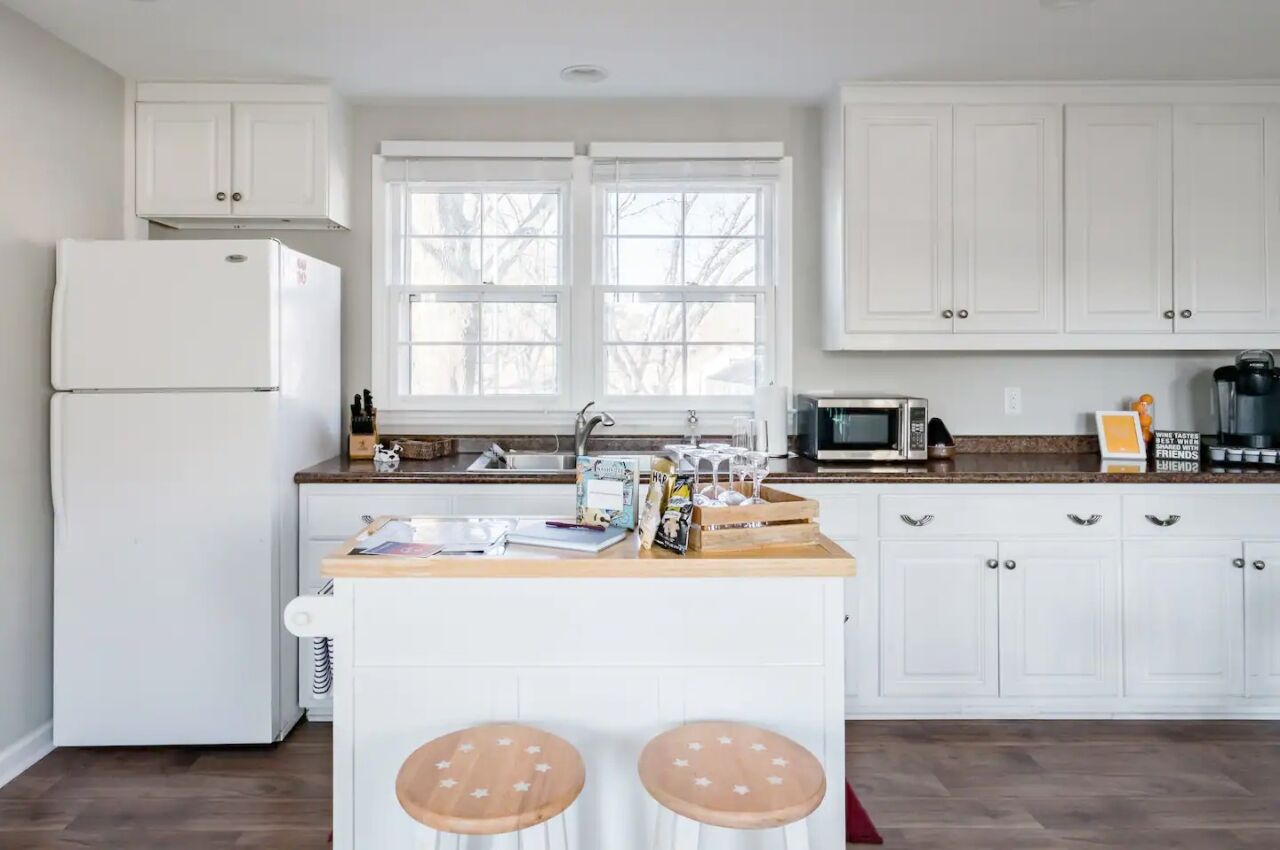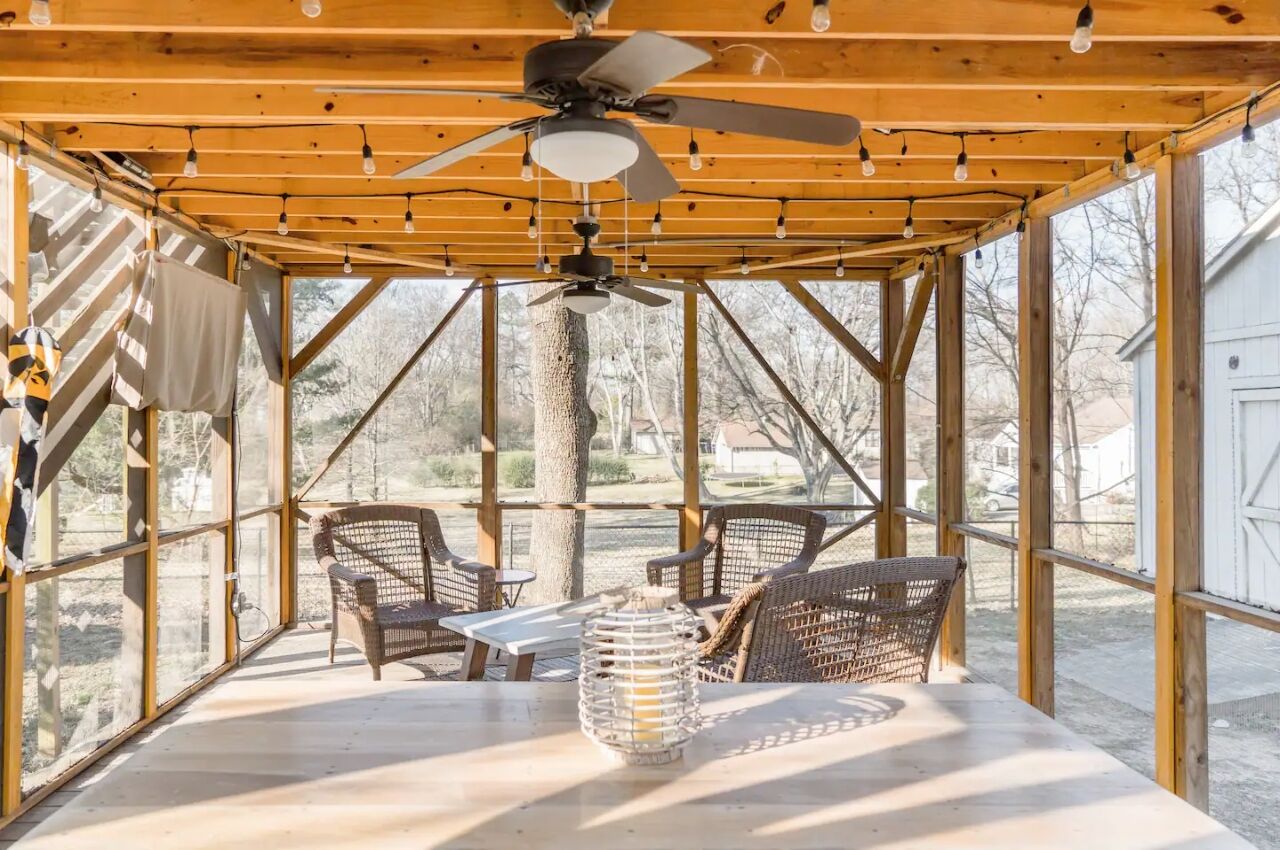 This renovated guest suite has an open concept layout and features urban chic, decor color, and furnishings. This modern suite is in a quiet and established neighborhood about six miles east of Downtown Nashville. The suite also has a shared backyard with a screened patio.
Four guests, one bedroom
Price: $119 per night
1919 two-story Craftsman home in East Nashville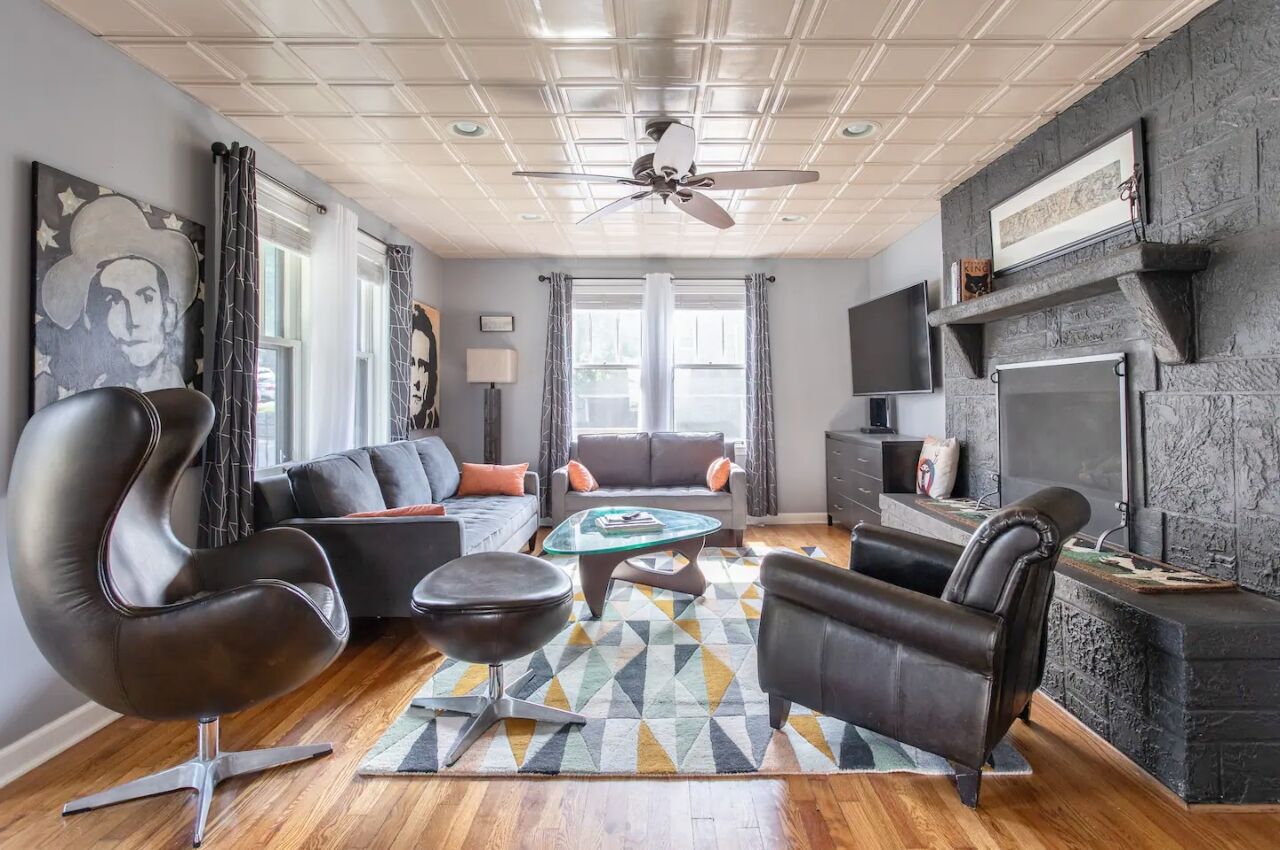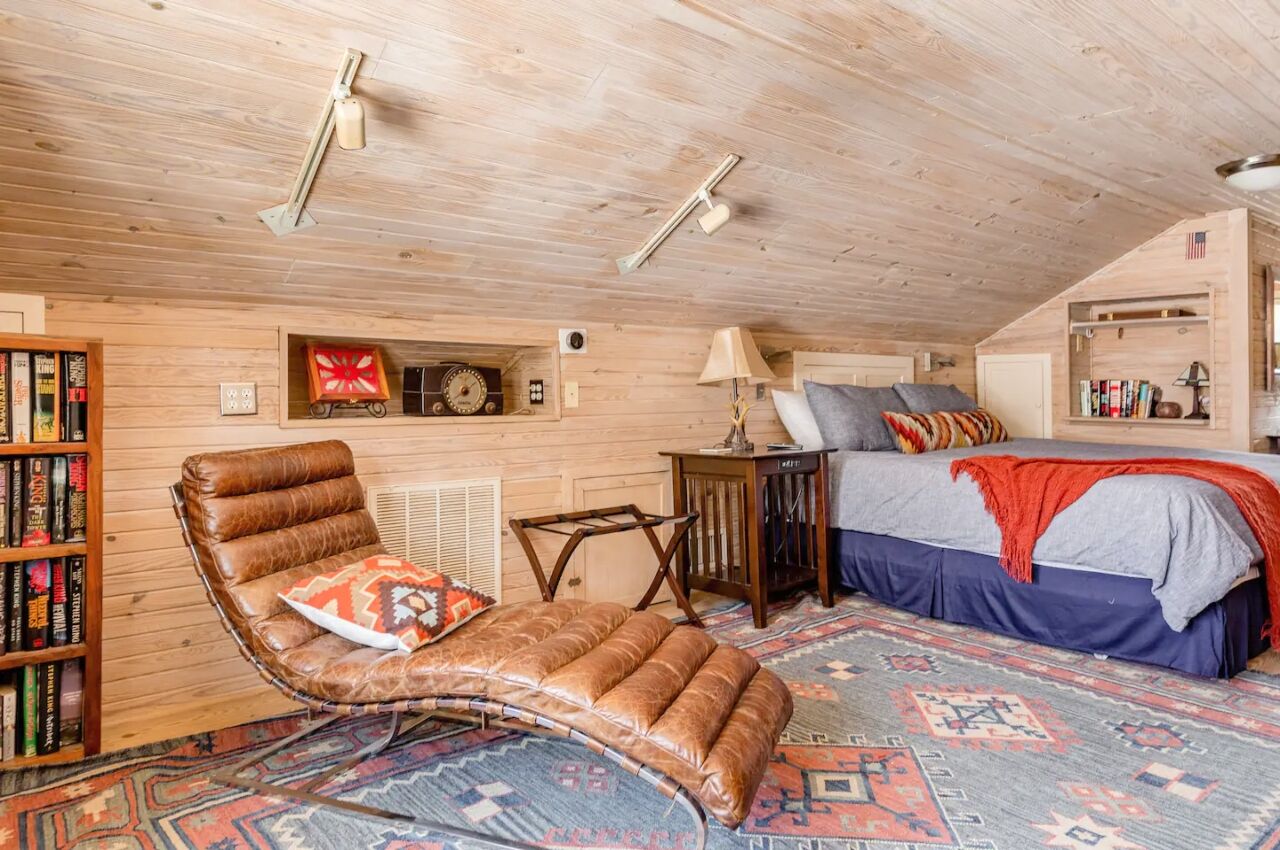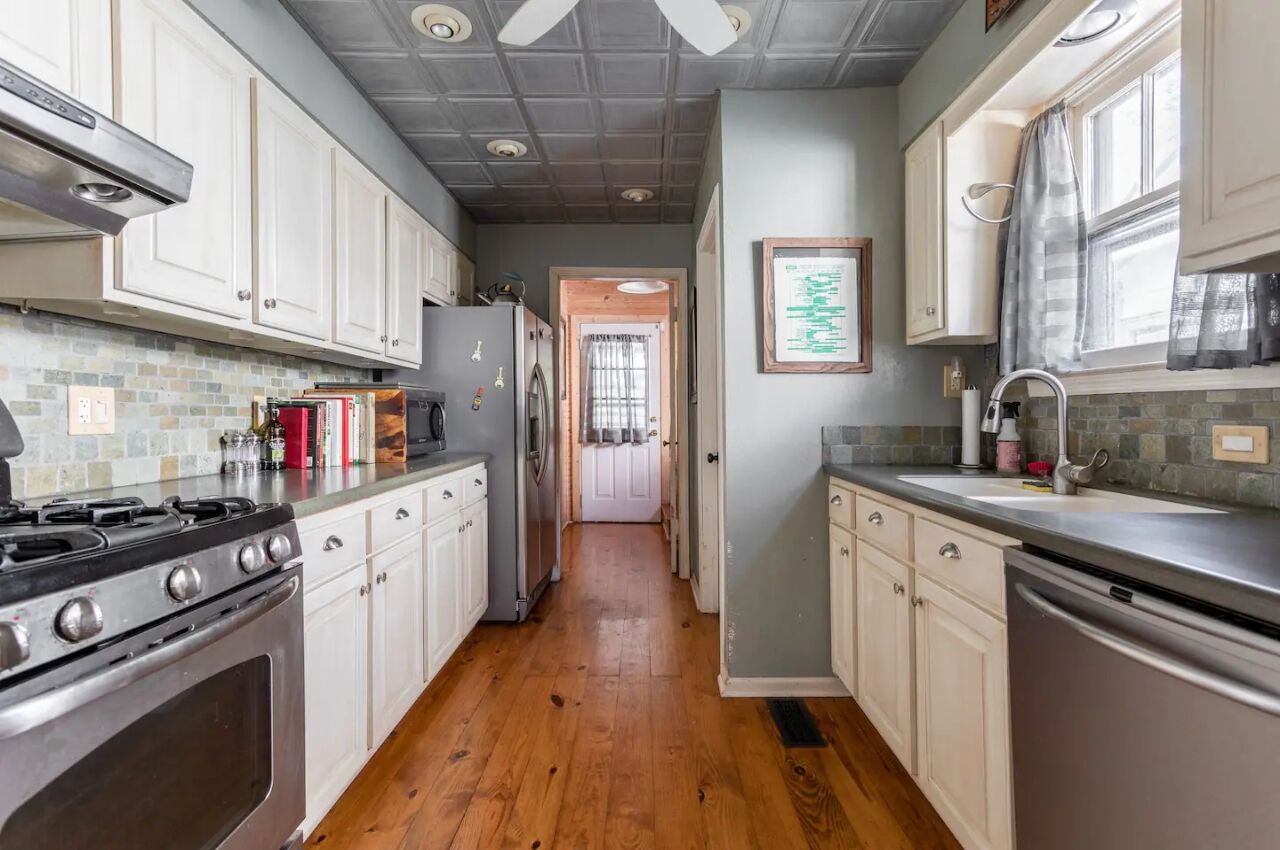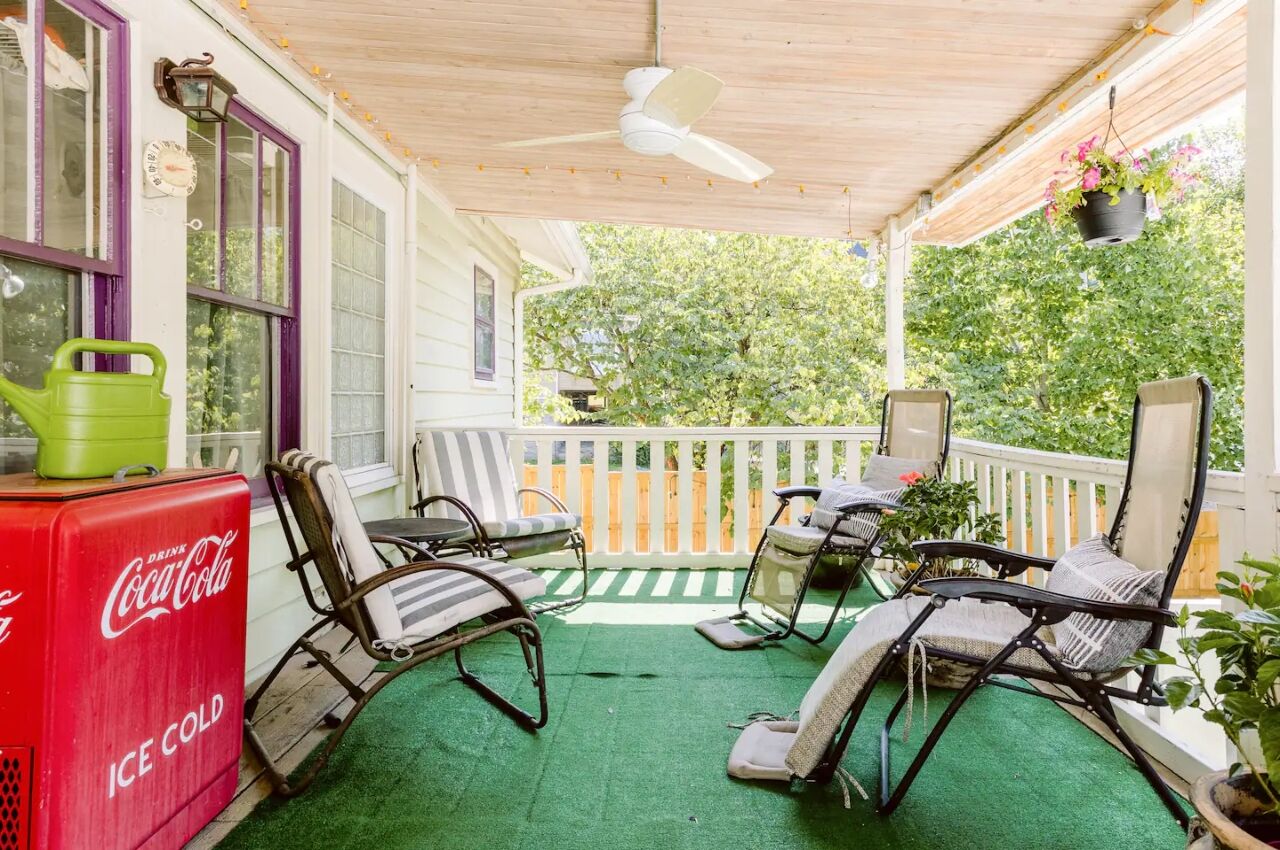 Sitting on East Nashville's best street in the prime is this remodeled 1919 two-story Craftsman home. This Craftsman home is full of character and features a full kitchen and decorative living room space. There is also an outdoor patio with a BBQ grill and furniture for enjoying those perfect Nashville night-ins. If a night out on the town is more your style, the home is near Five Points and restaurants, shops, and bars.
Six guests, two bedrooms
Price: $164 per night
Rustic Nashville basement suite with backyard river view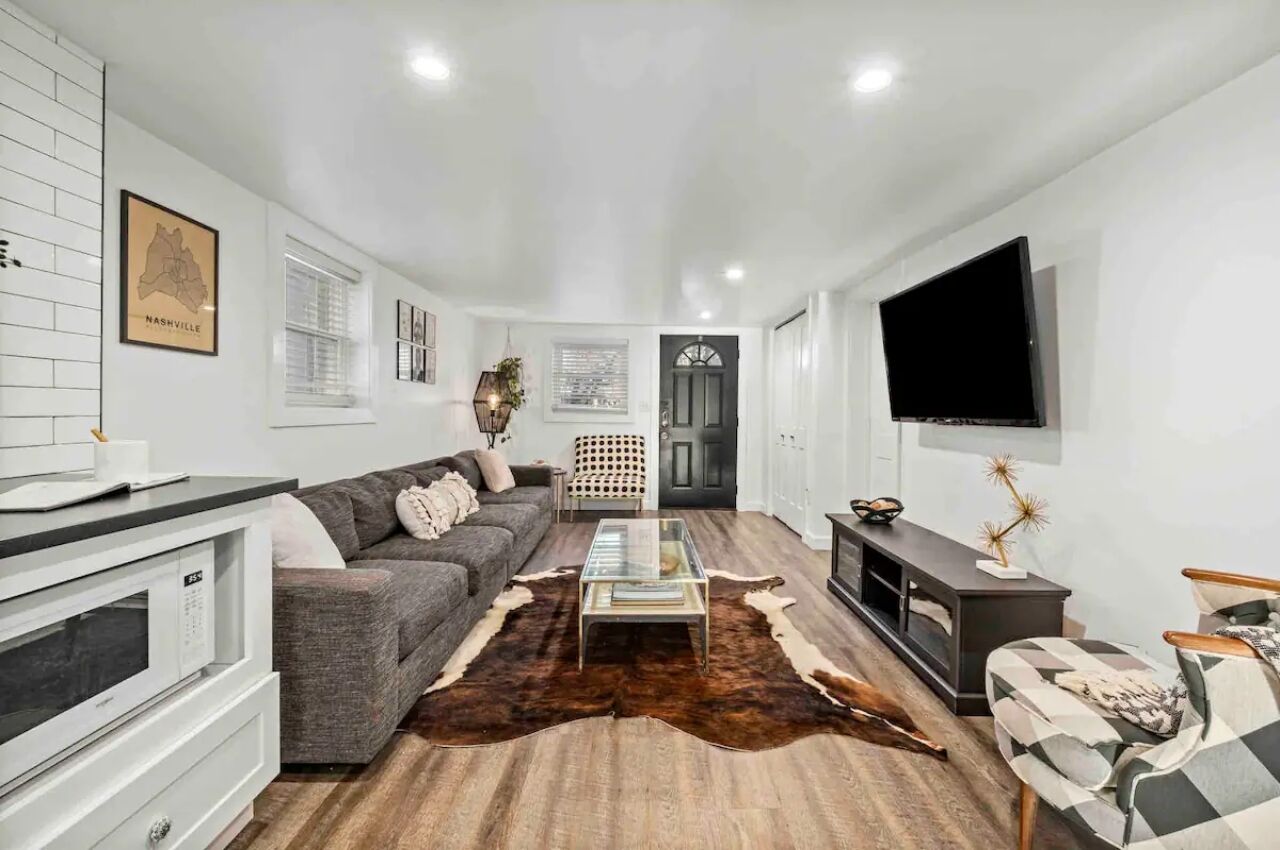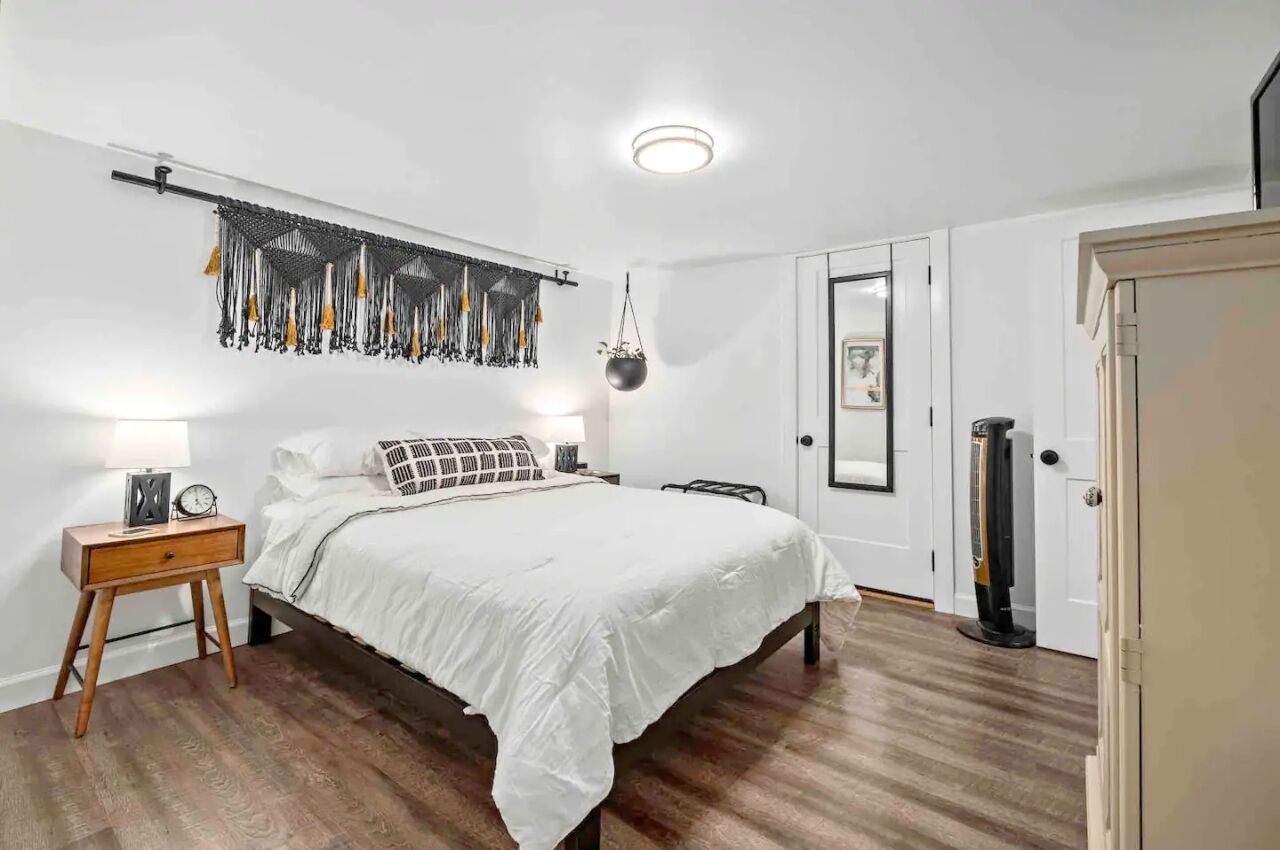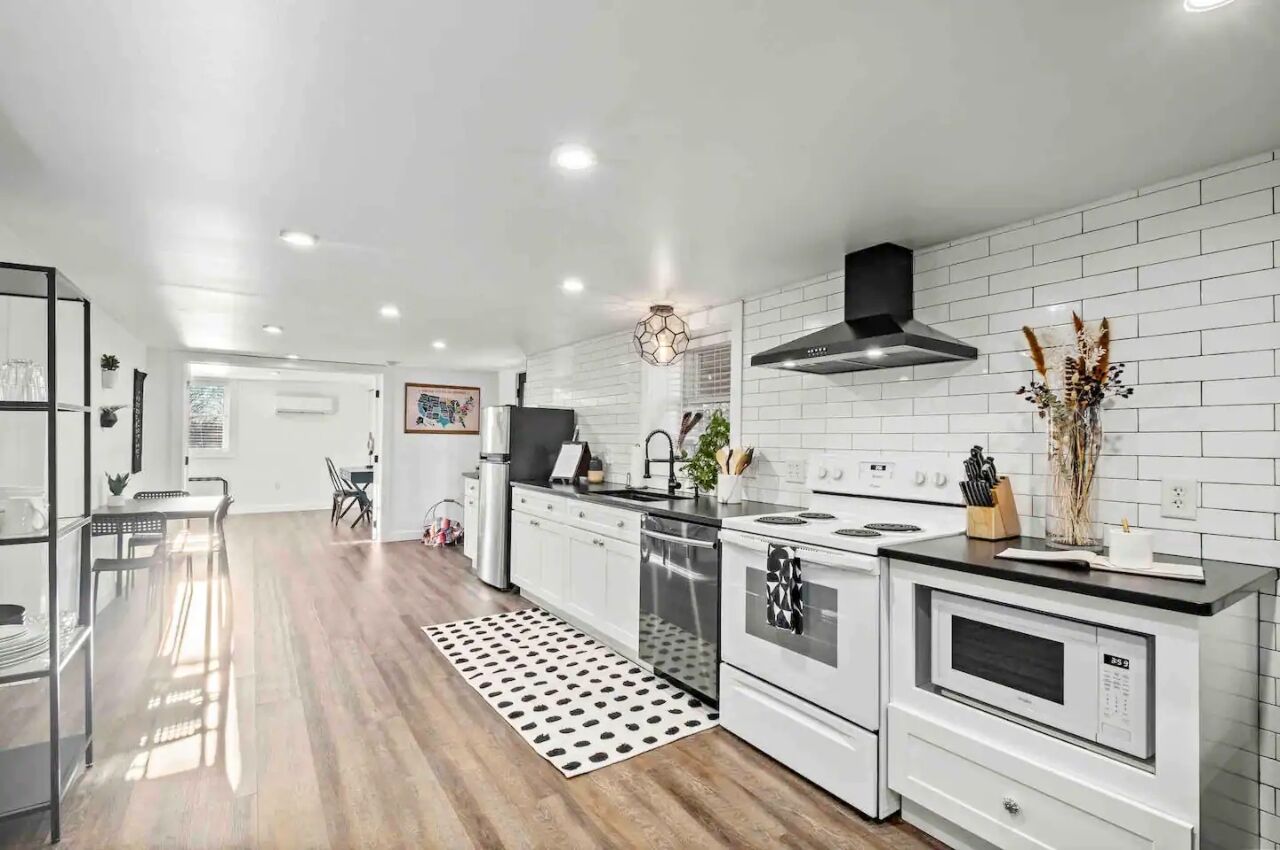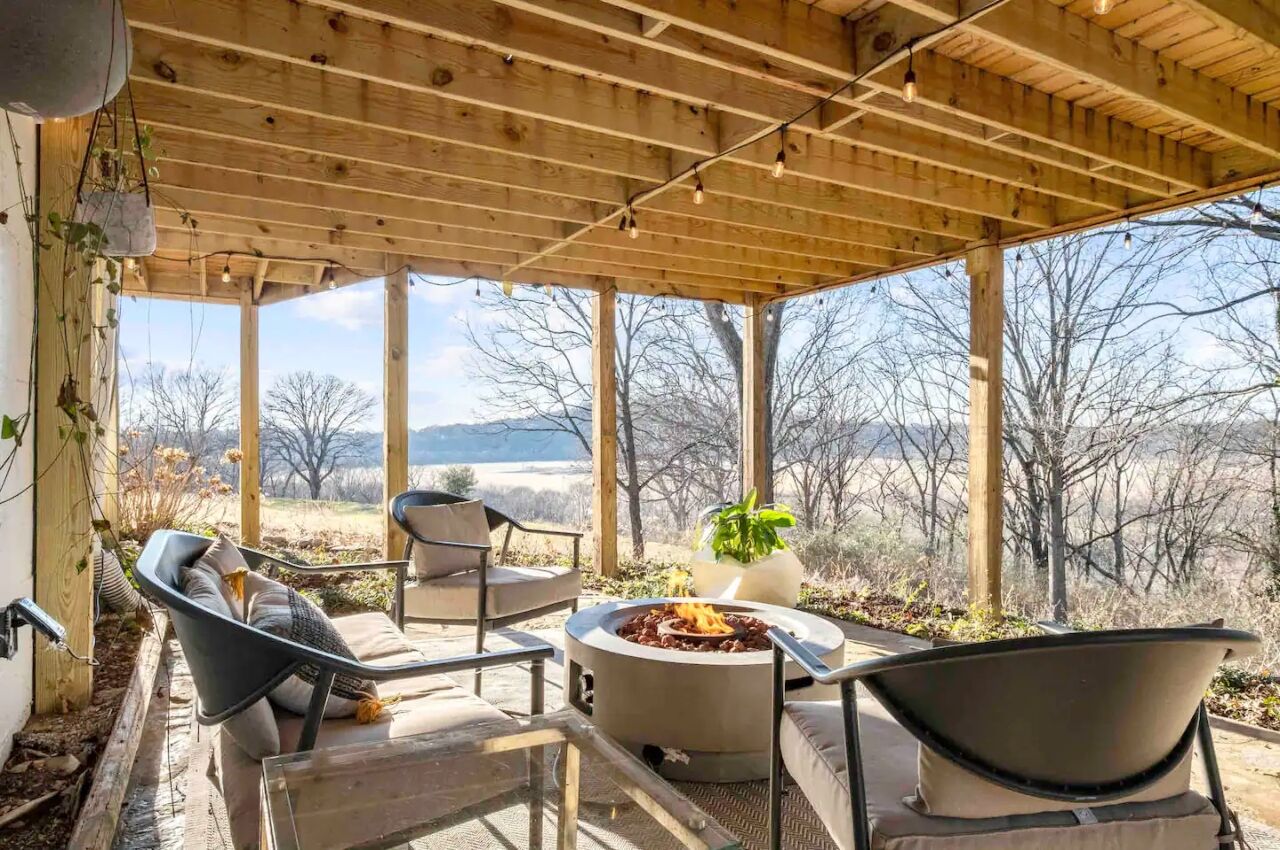 Enjoy Nashville from a whole new perspective with this newly remodeled downstairs basement suite. This basement apartment has an open floor plan with a kitchen, living room, and two blocked-off spacious bedrooms. The suite also features a private backyard patio where guests can enjoy a river view, with unique visits from turkeys' deer, rabbits, and occasionally a pair of bald eagles.
Six guests, two bedrooms
Price: $198 per night
Airbnbs in Nashville's Music Row
Music Row is home to some of the world's most renowned music venues. Many artists got their start here, and strolling through a venue crawl is akin to walking through music history. These Airbnbs make it easy to do so.
Colorful and charming two-story villa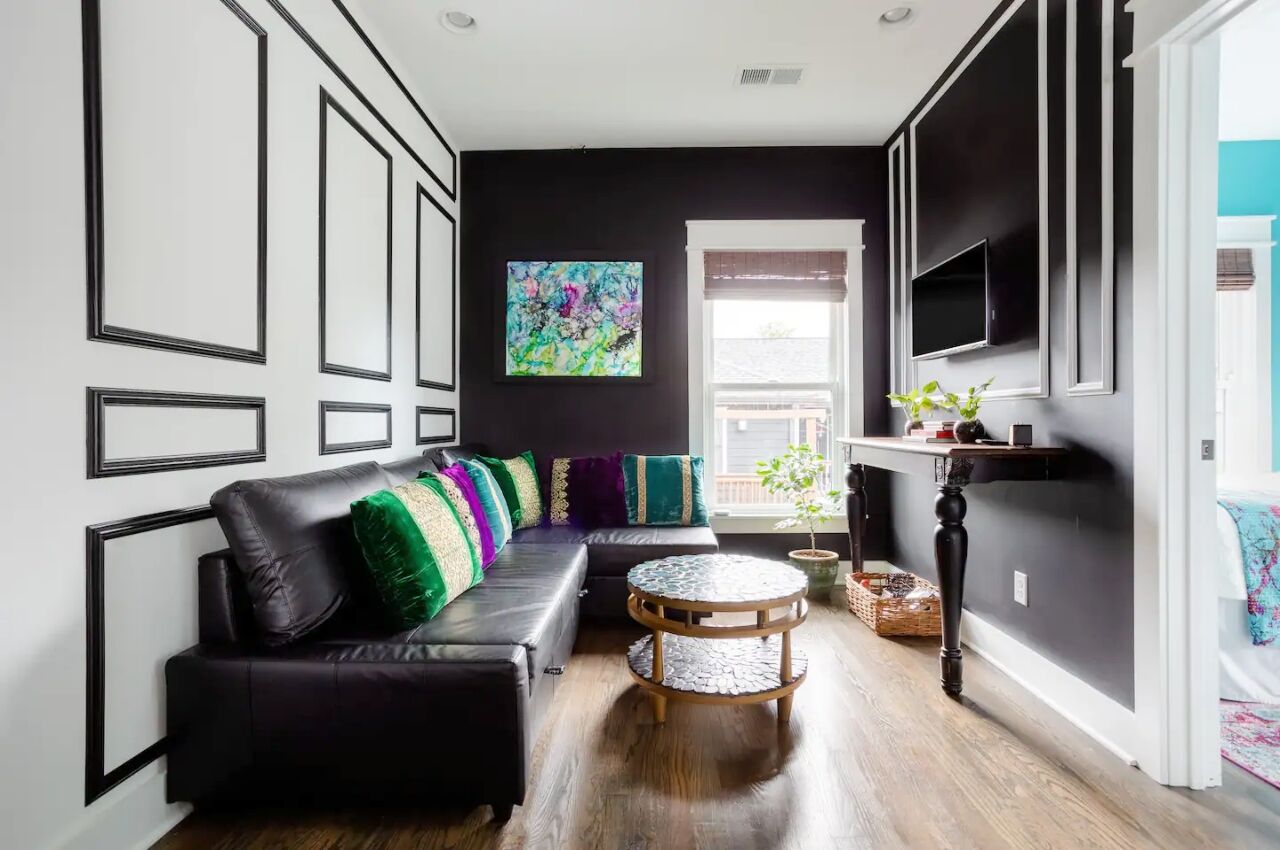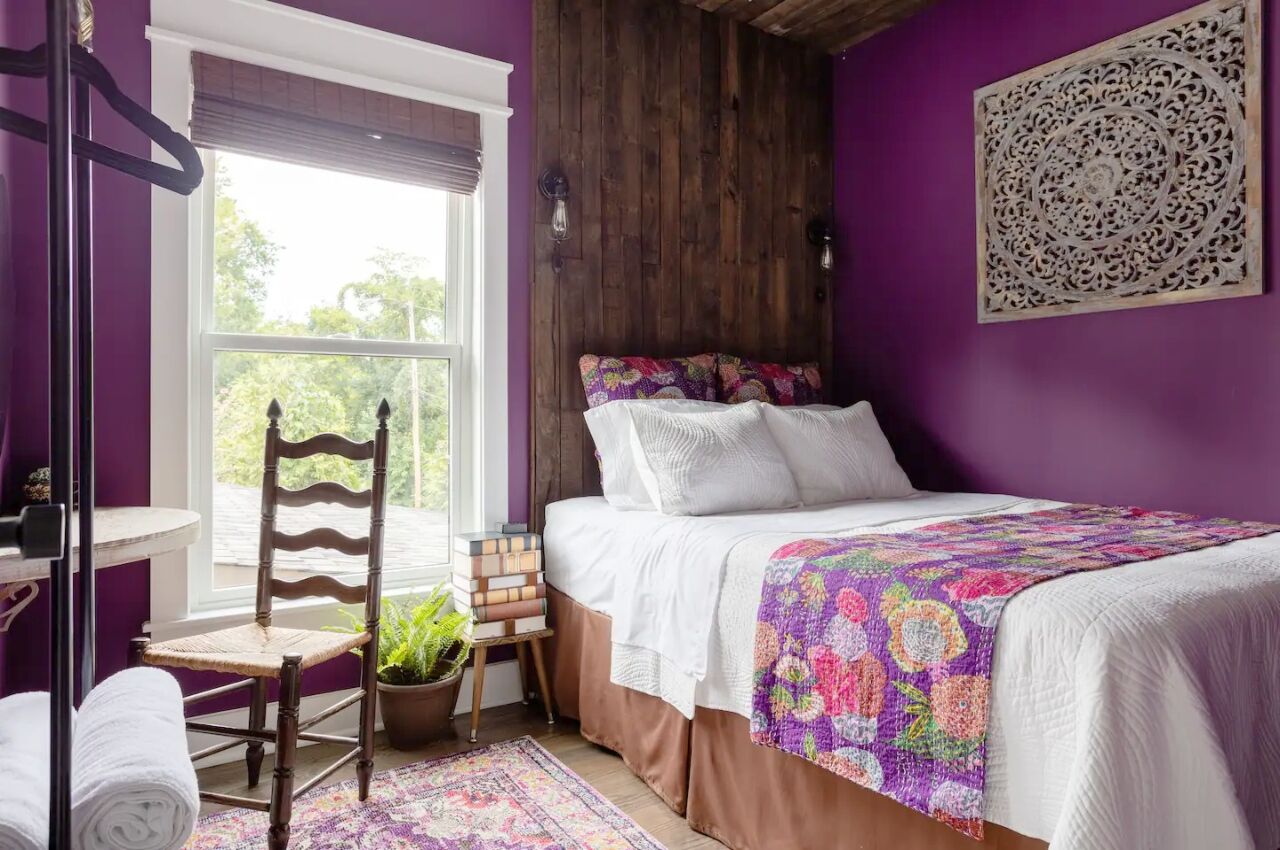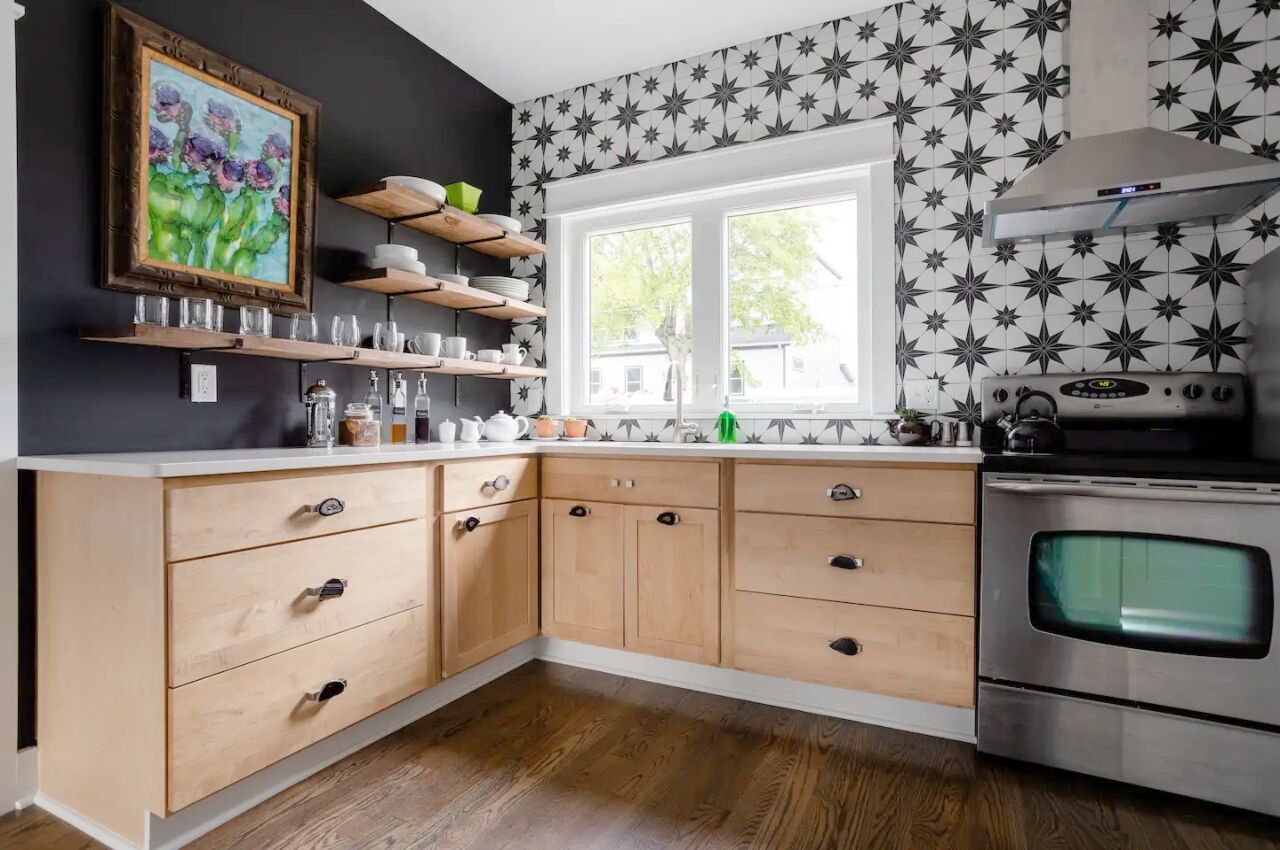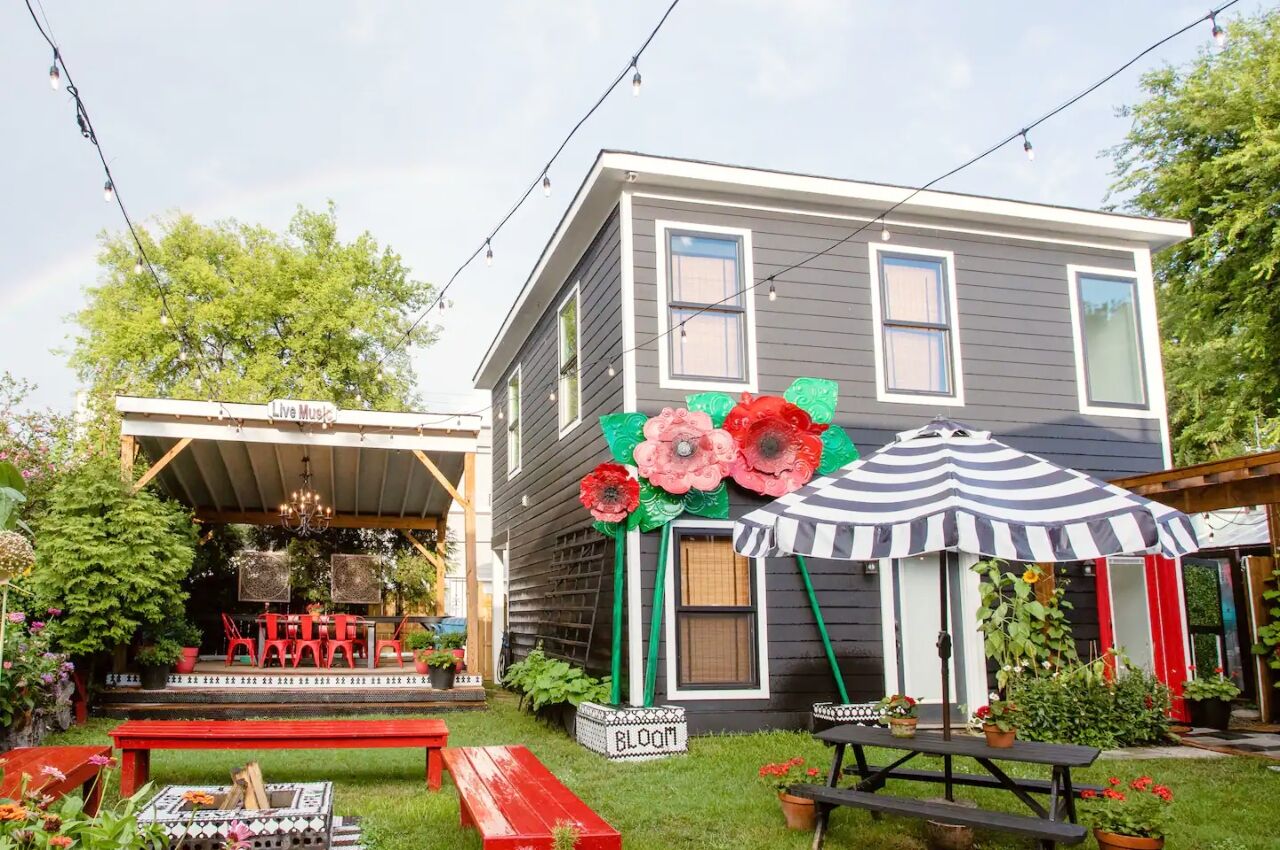 This charming villa will surely set you in the mood for a Nashville getaway. This sophisticated and relaxed villa has a full kitchen and spacious living room with a splash of colorful decor throughout. The home is full of natural light, has high ceilings, and it's filled with various amounts of creative art. The villa also features a backyard patio space that truly transports guests into another dimension.
Five guests, two bedrooms
Price: $400 per night
The Nash Villa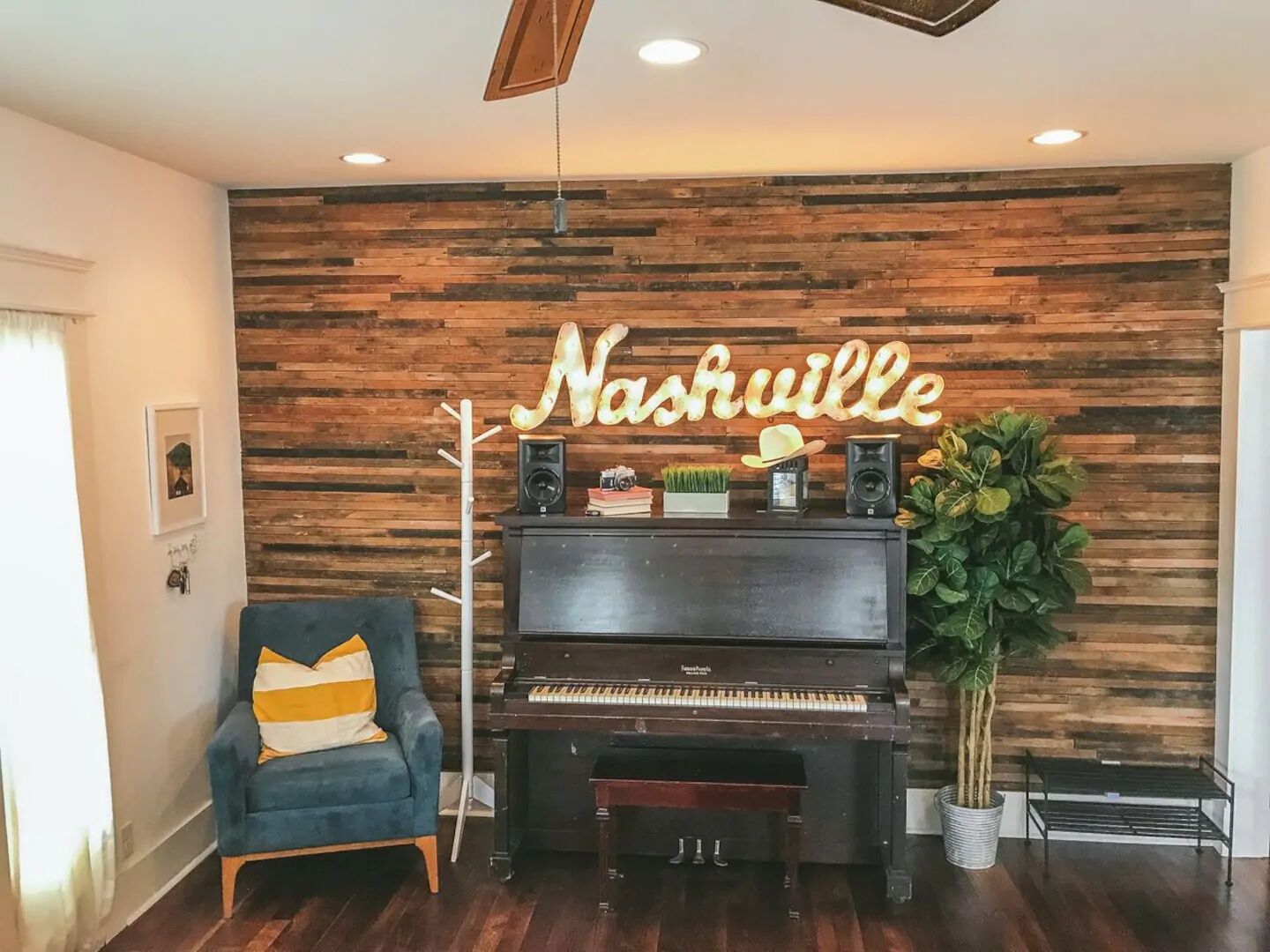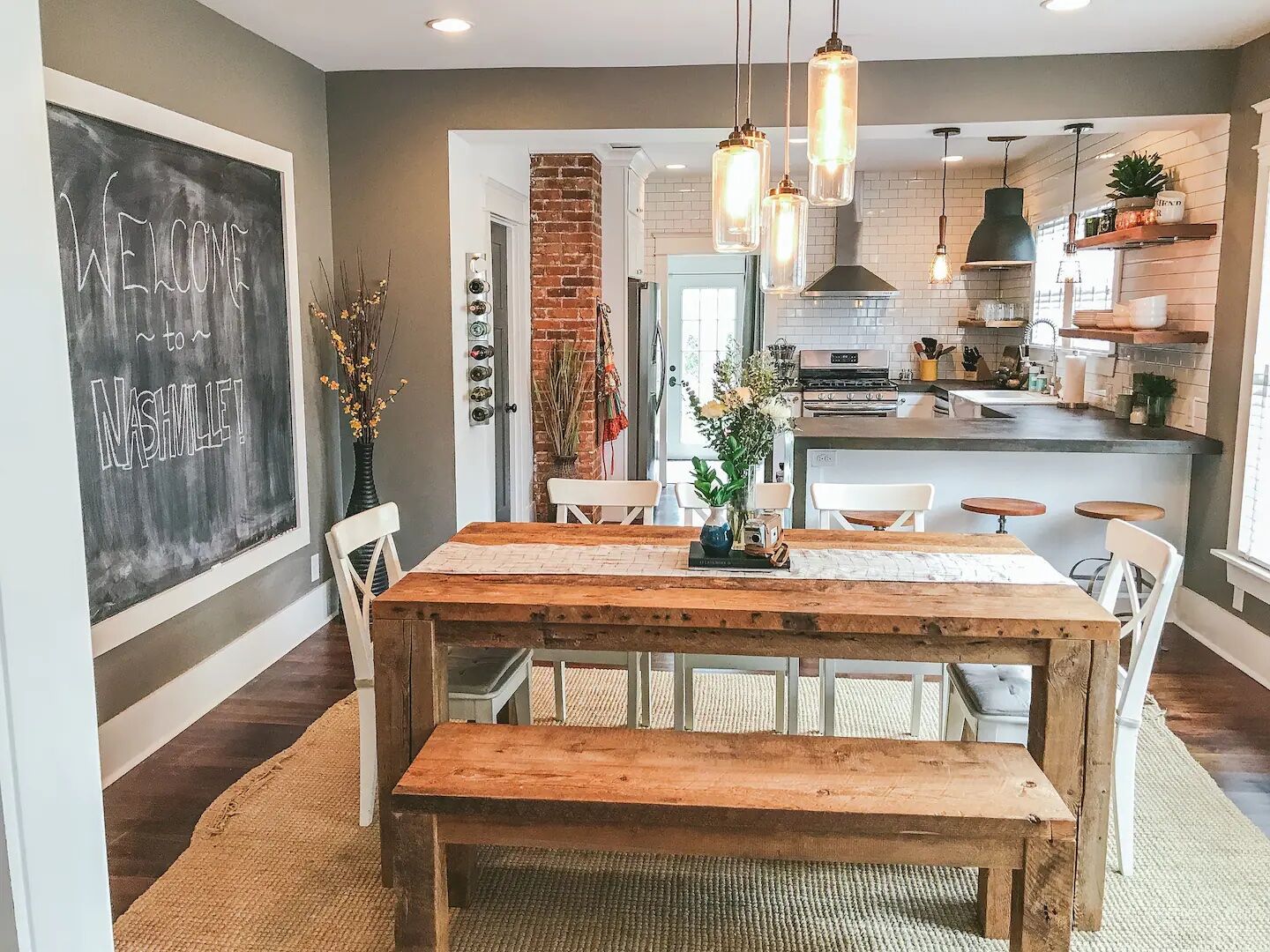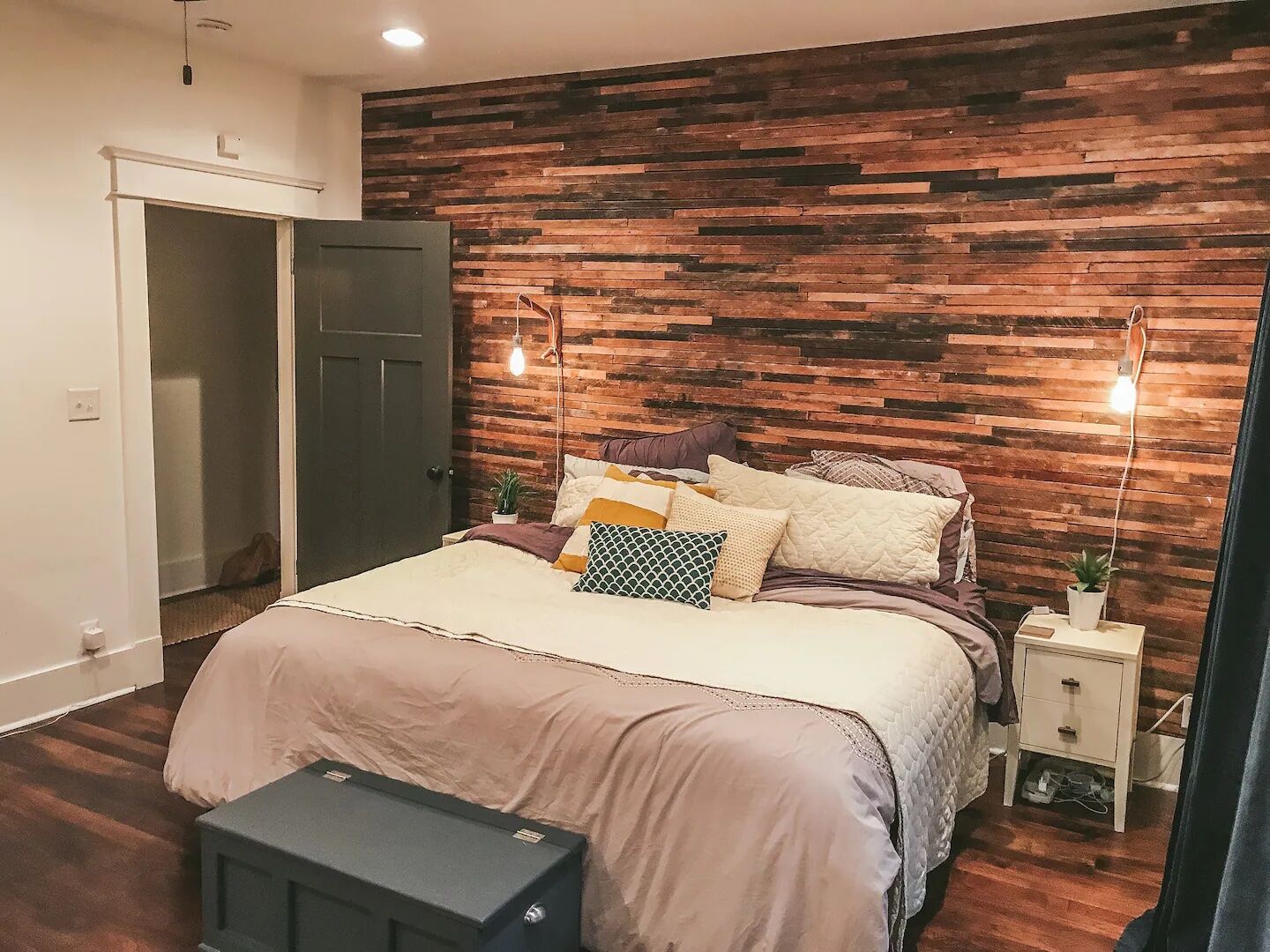 Specifically designed for those visiting Nashville to see live music, The Nash Villa boasts an epic pregame space with a piano, plenty of yard room to lounge, and a kitchen to prepare a meal before heading out for the night. Located in Edgehill Village, coffeeshops and dining are right up the street.
Four guests, two bedrooms
Price: $199 per night
Acoustic retreat #7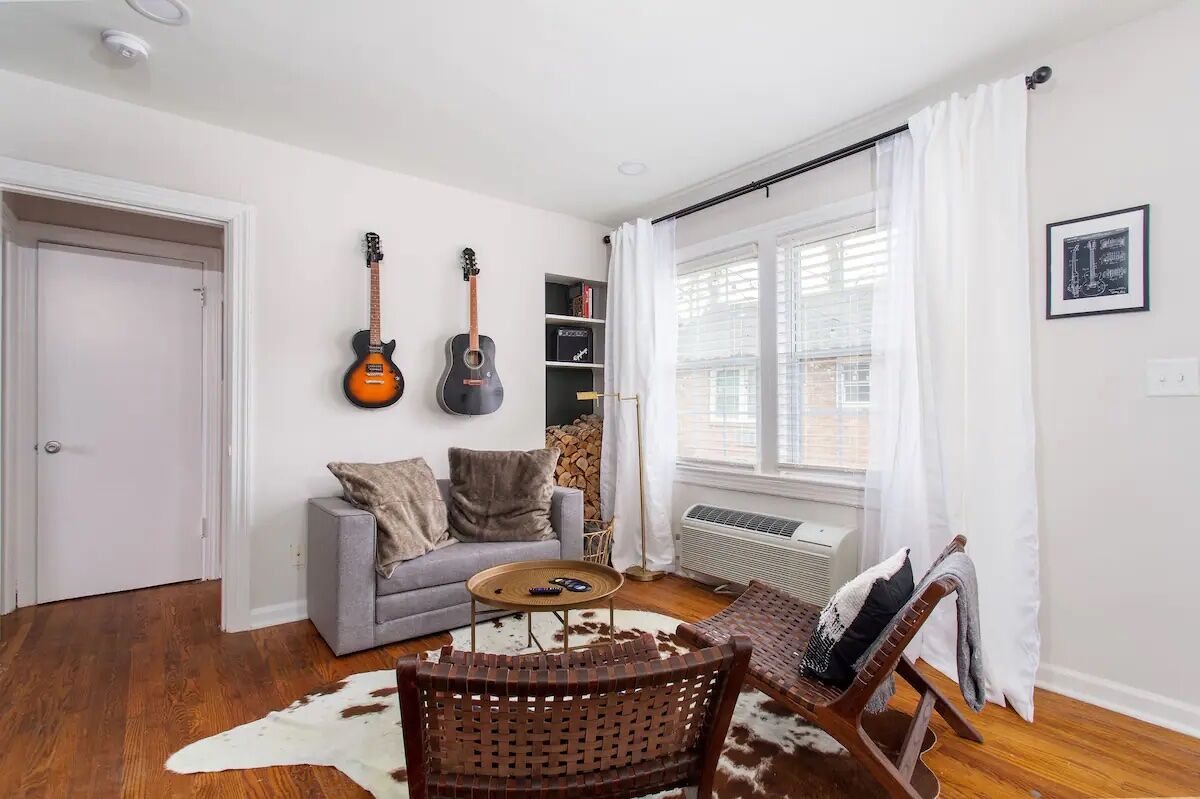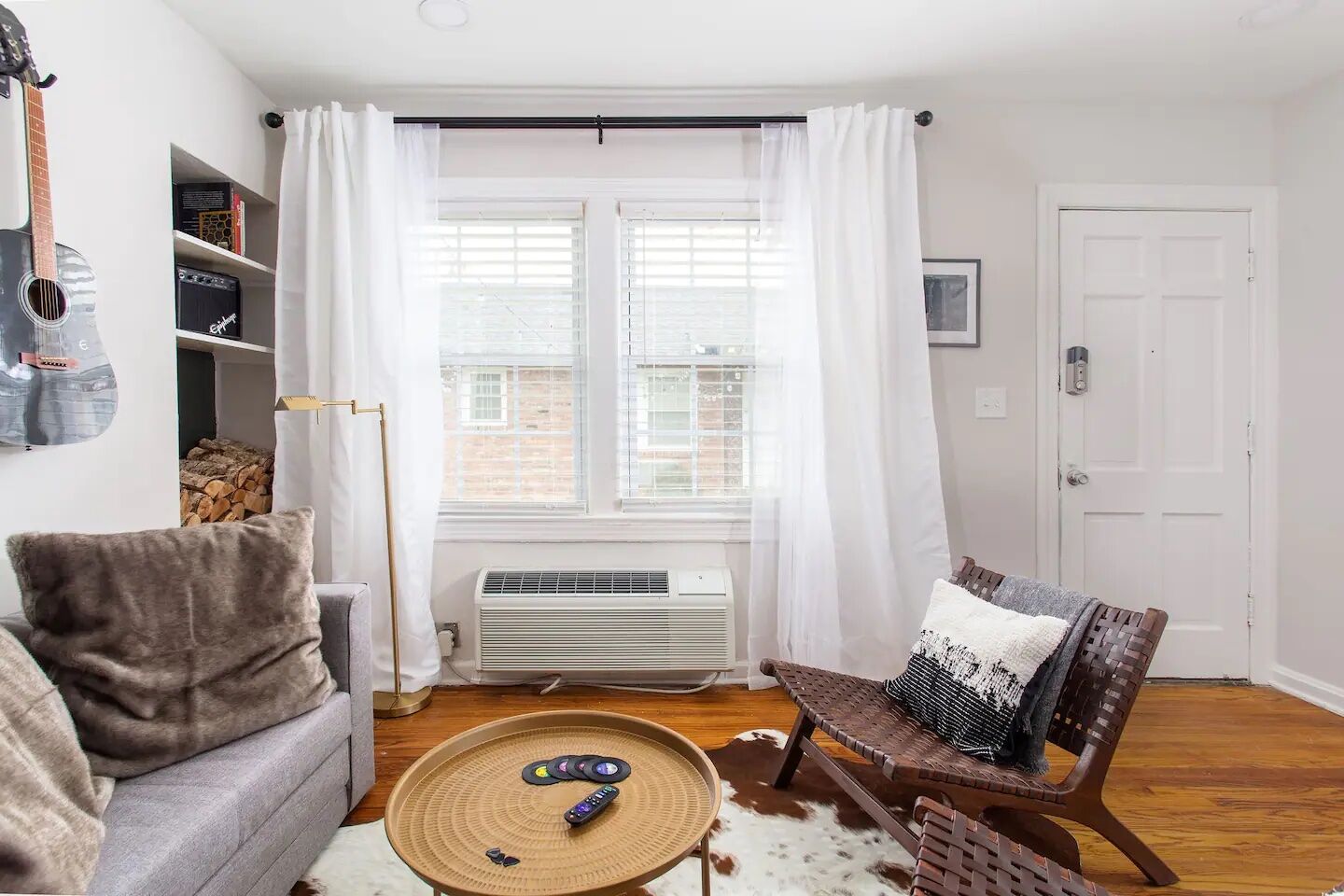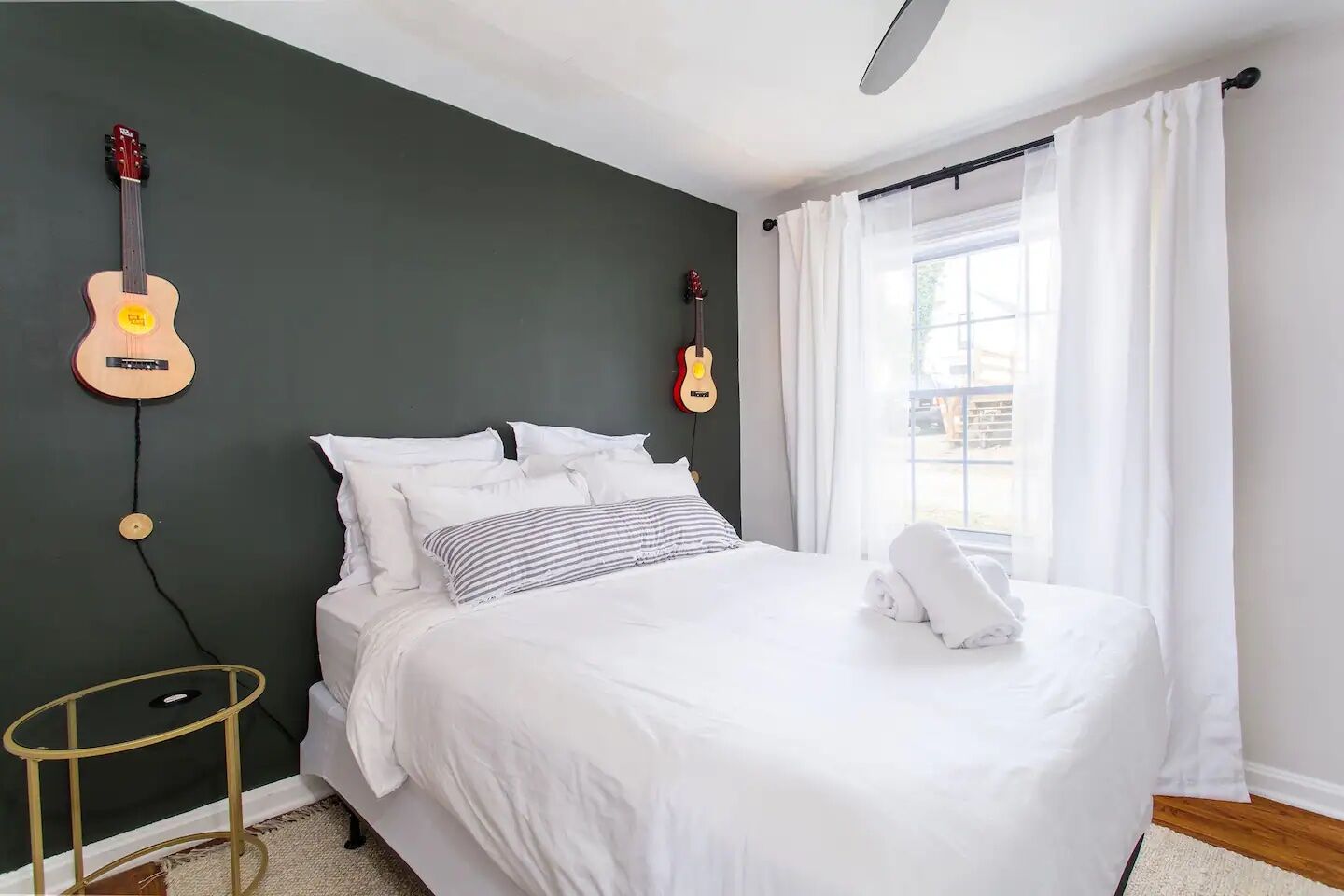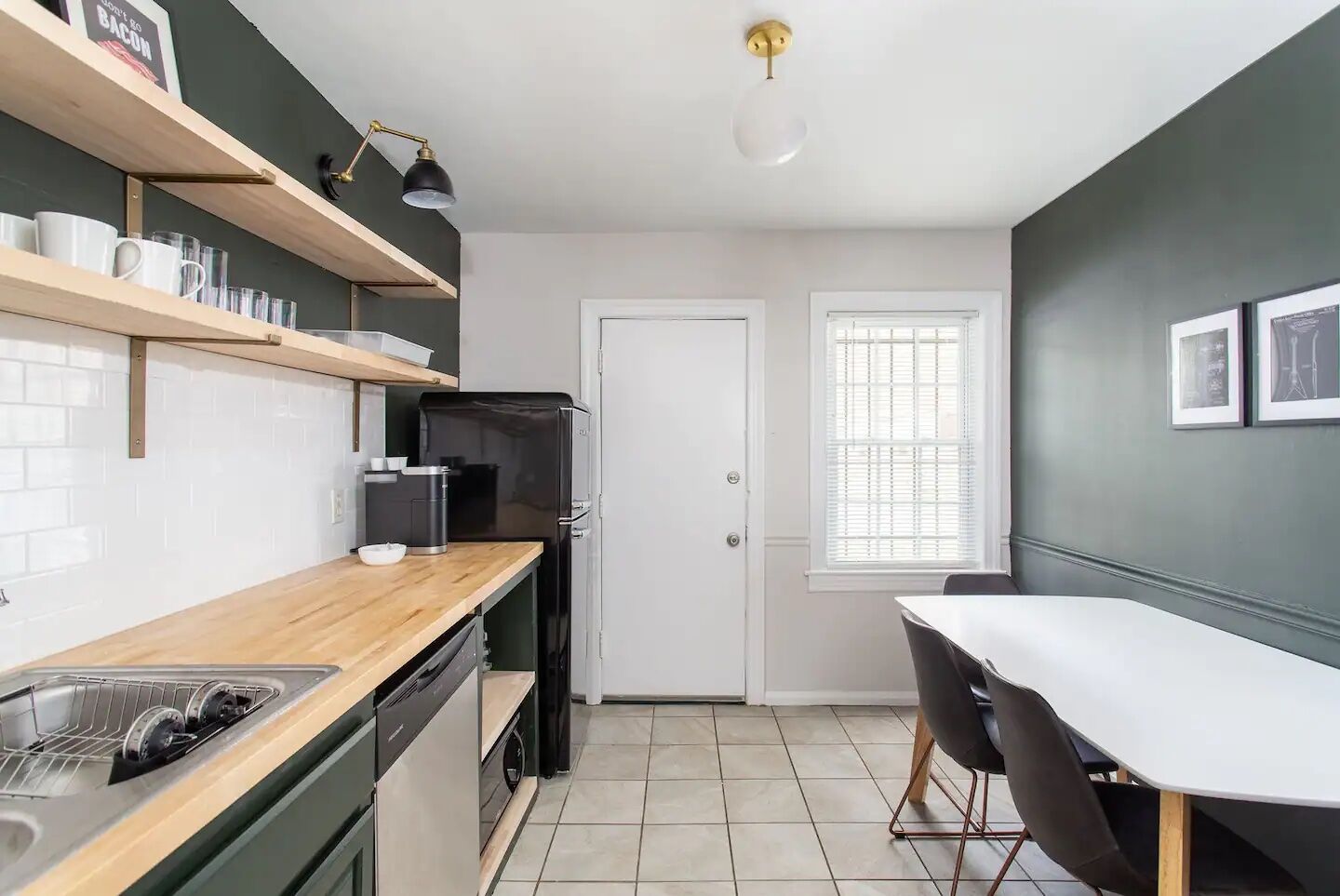 Embrace the vibe of Music City at Acoustic Retreat #7, complete with guitars and easy access to the best venues in town. Close enough to walk or Uber but secluded so that it's quiet and serene, this apartment is great for couples or buddies coming to experience to best of Nashville's music scene, without having worry about driving or logistics.
Four guests, one bedroom
Price: $108 per night
Airbnbs in Nashville with a pool
If you're going to experience the best of Nashville, you might as well be able to cool off afterward, right? These Airbnbs with a pool make that easy.
Stylish newly renovated studio near popular destinations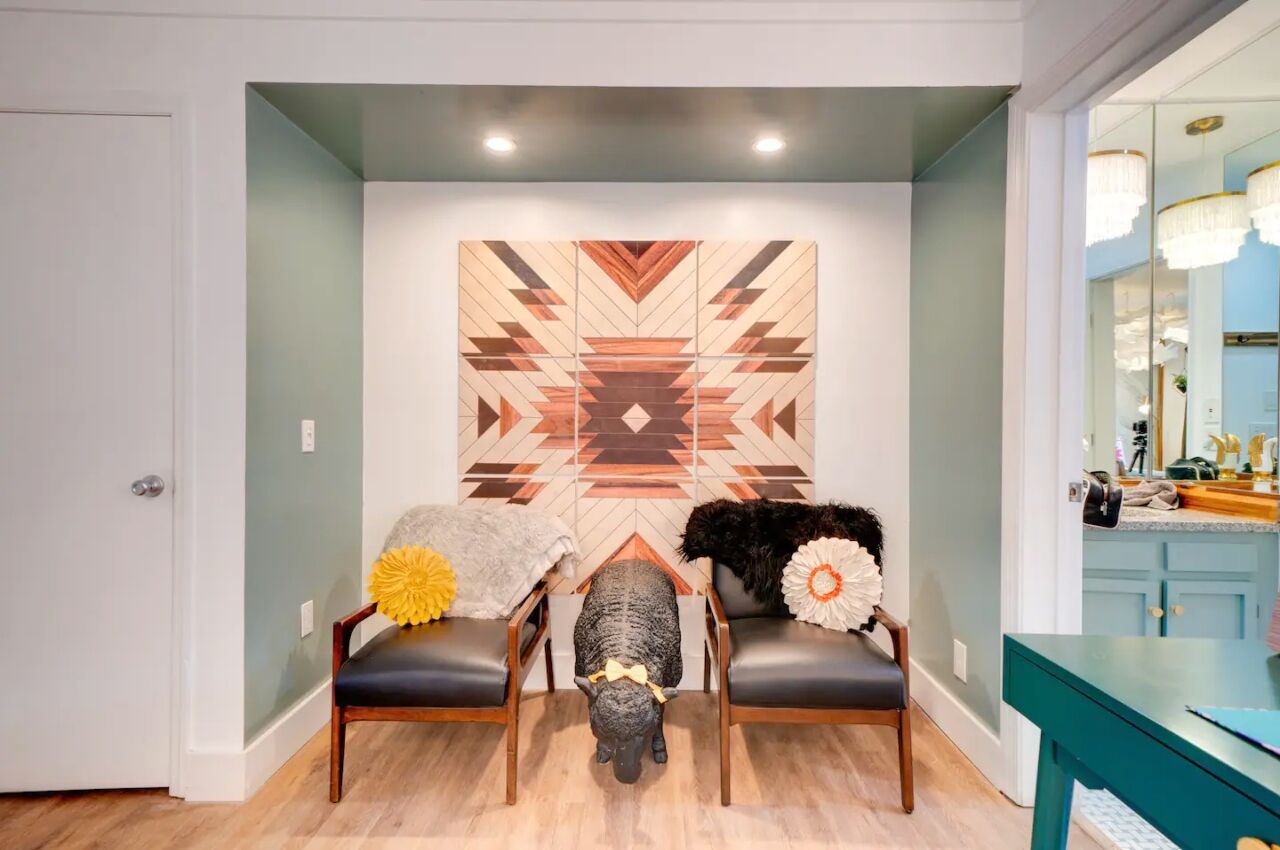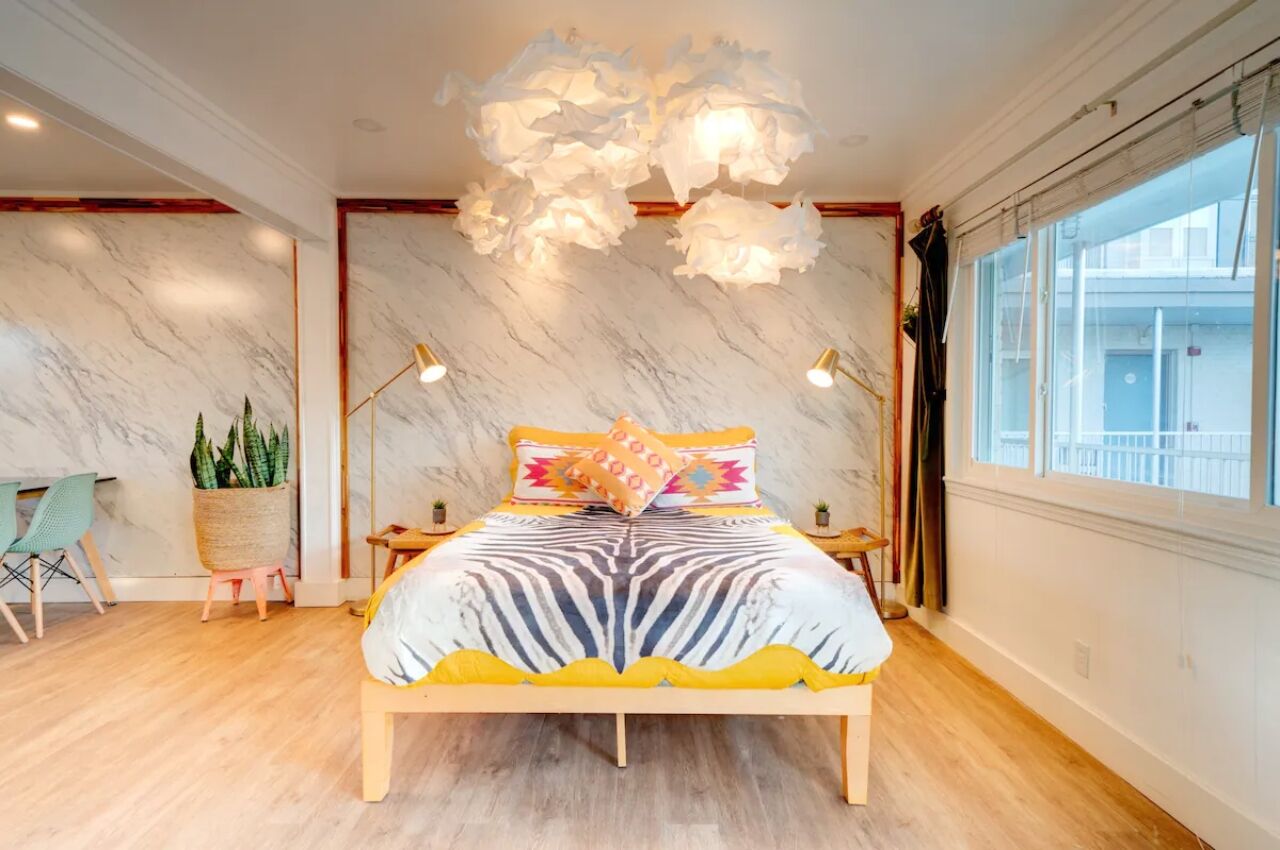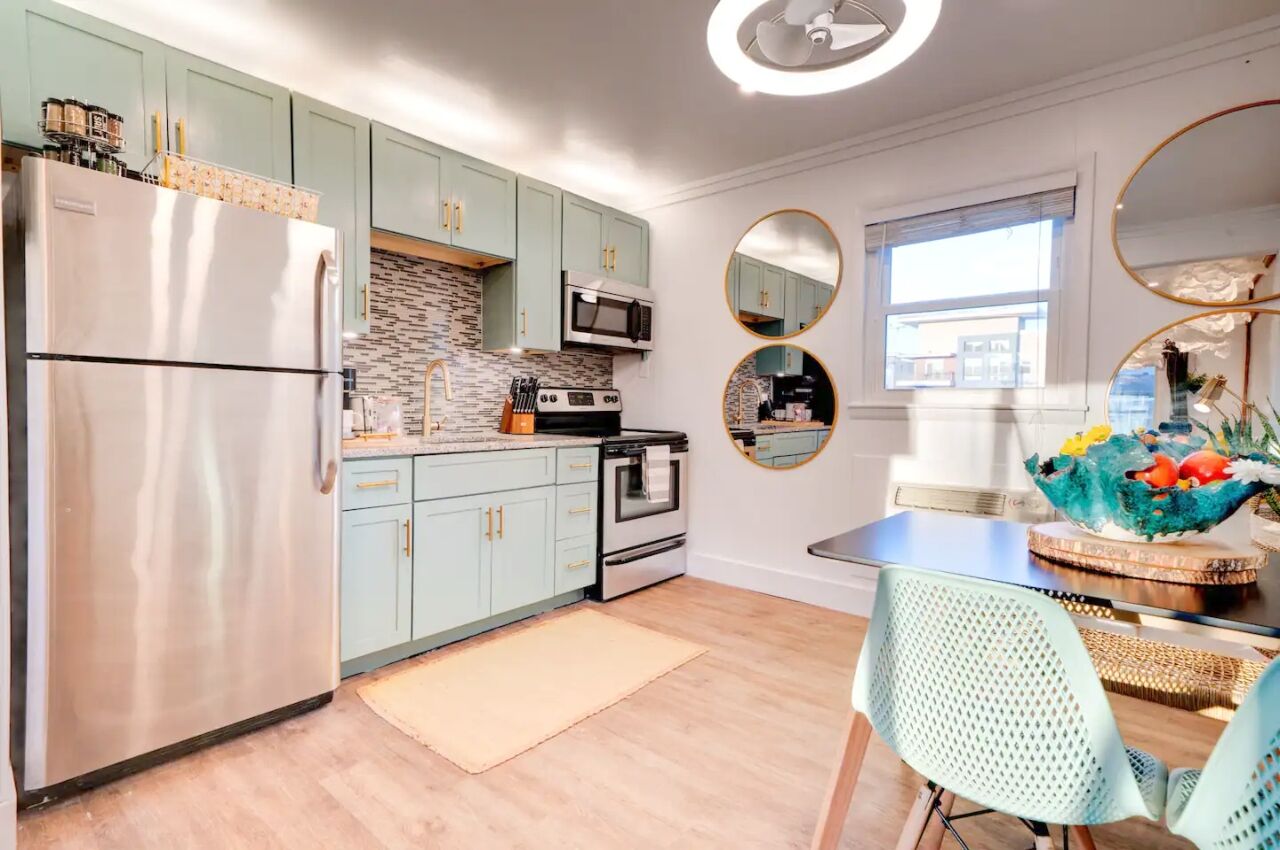 This newly renovated and vibrant studio is the perfect base for a Nashville getaway. This dynamic studio has a full-size equipped studio kitchen, cozy queen-sized bed, and an outdoor pool to cool off on those hot summer Nashville days. The studio is within walking distance or just minutes away from popular destinations like Downtown Nashville, Vanderbilt/Belmont, and many shops and restaurants.
Two guests, one bedroom
Price: $100 per night
Sleek guesthouse in Five Points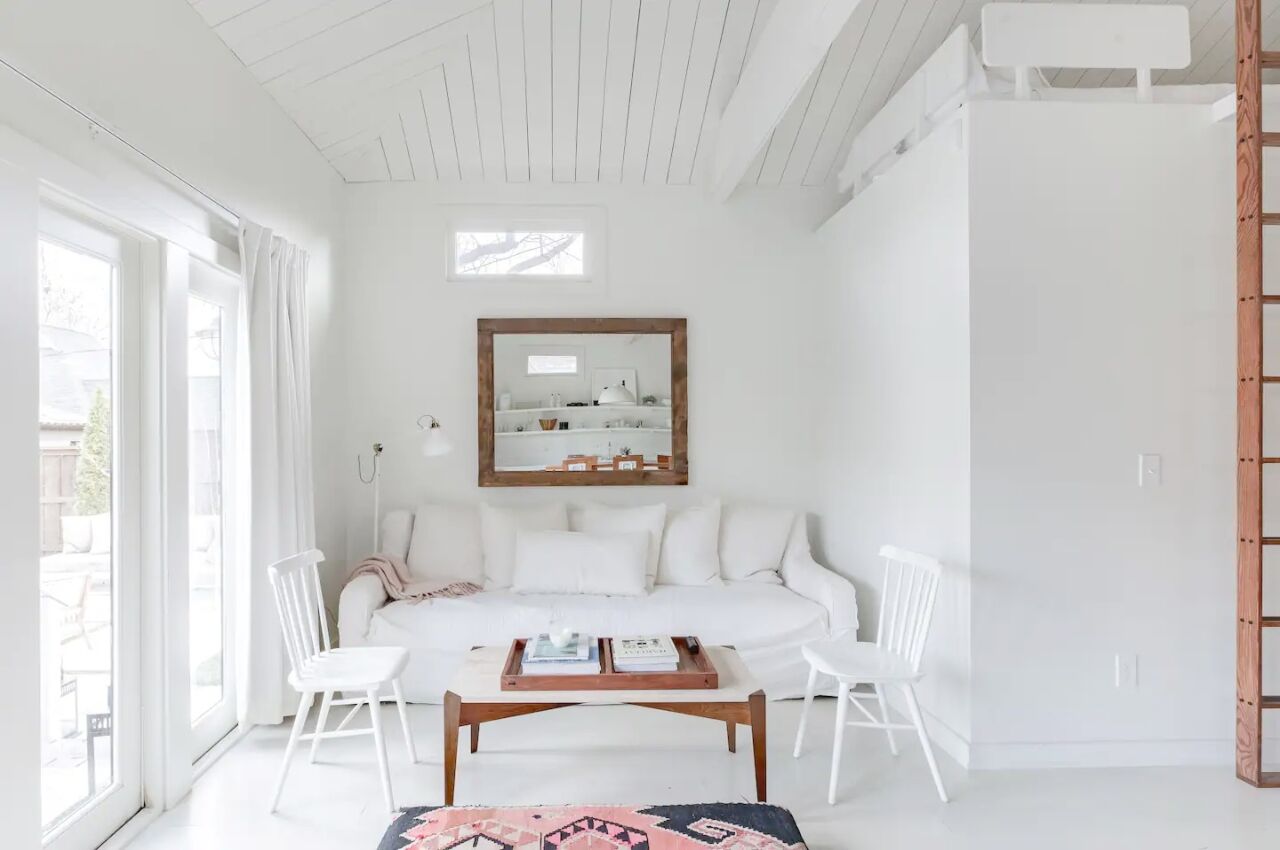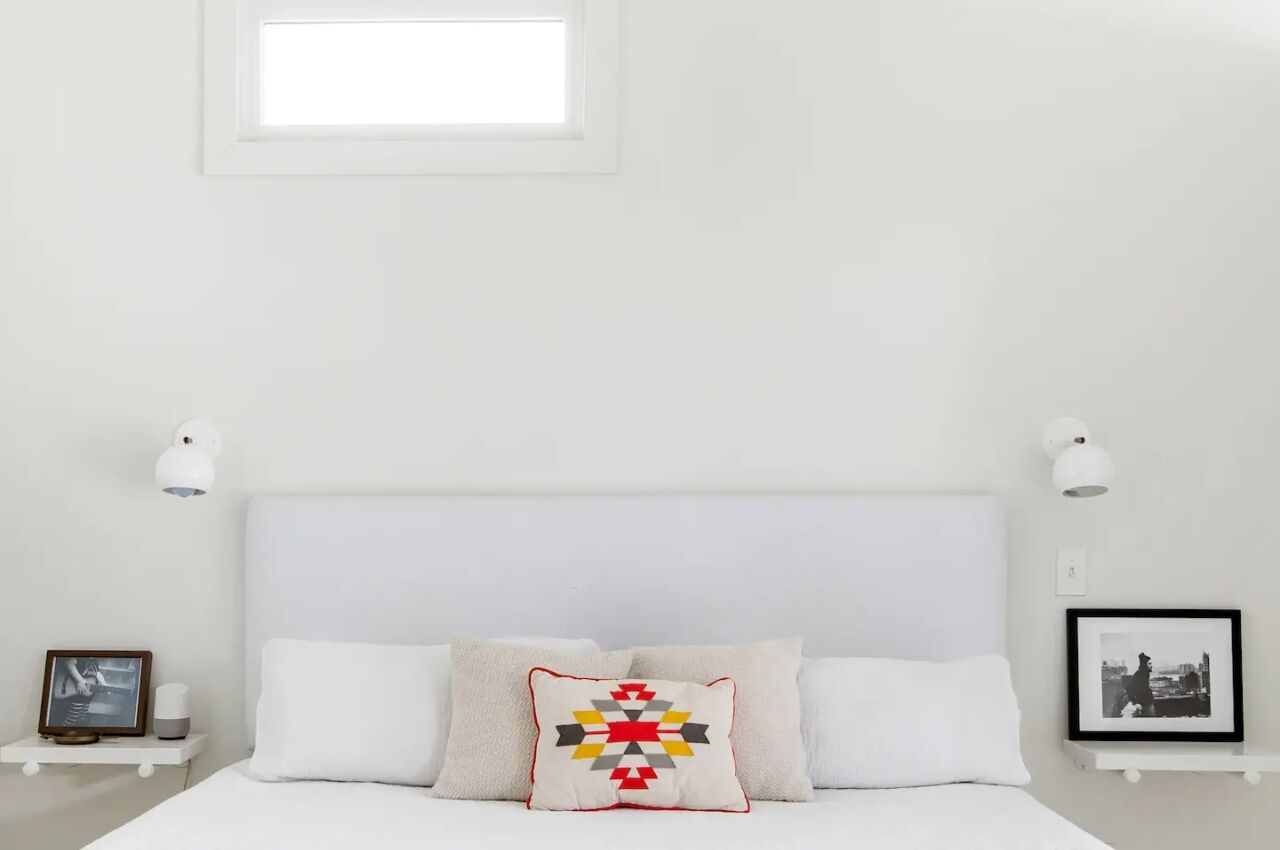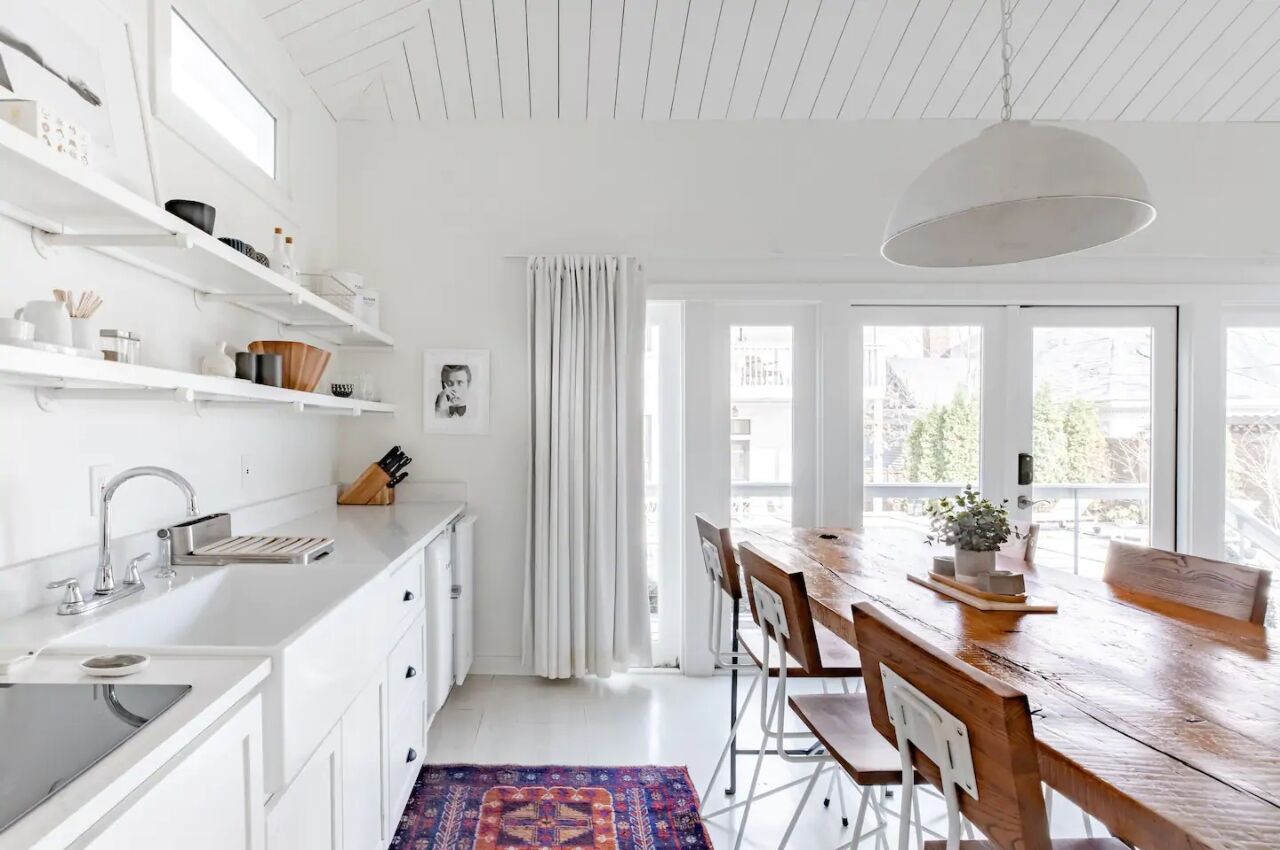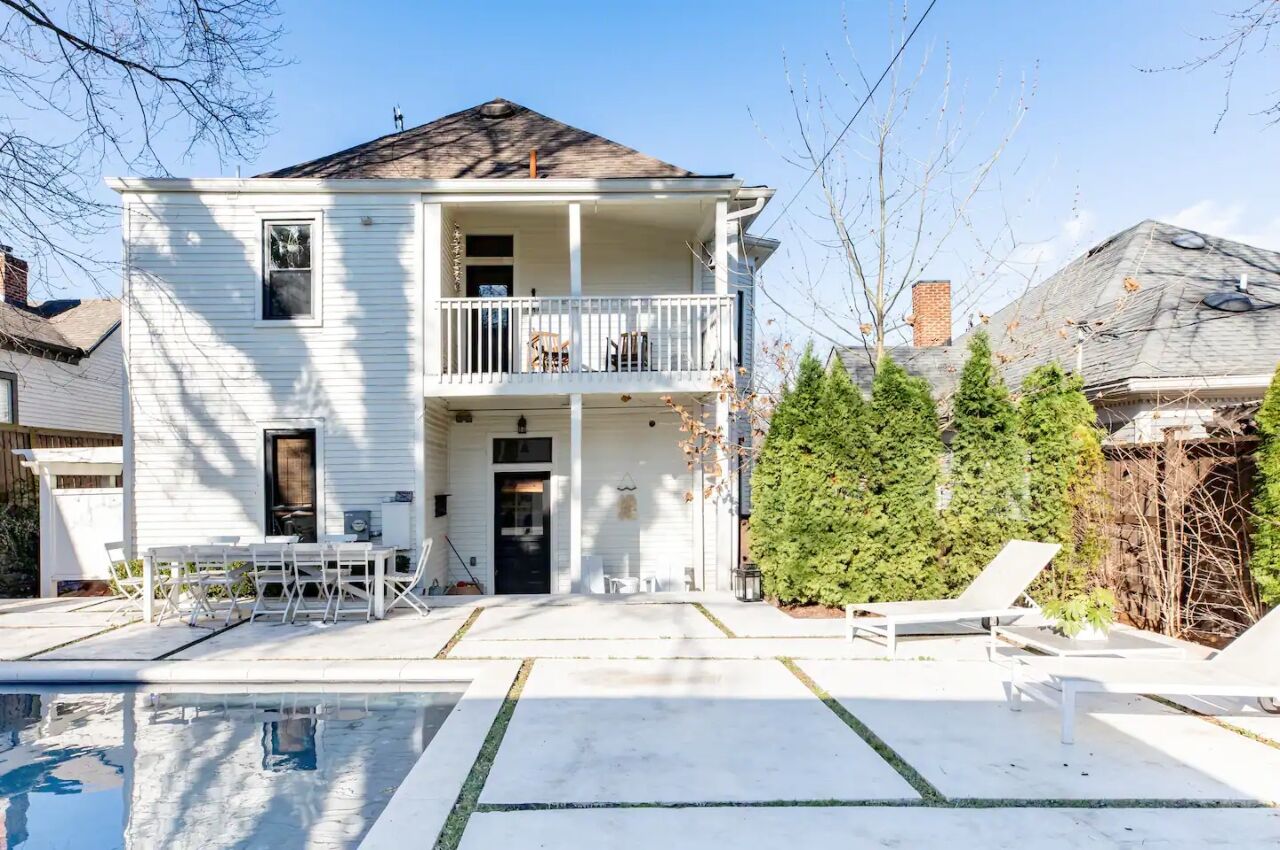 This stunning Airbnb Nashville property is another relaxing and inviting property in the heart of the Five Points area. This remodeled 1928 guesthouse features an all-white sleek interior and theme with a pop of color splashed throughout the home. The suite features an open floor plan with a kitchen area and a bright and airy living room area with doors that lead to the outdoor common area with a pool.
Four guests, one bedroom
Price: $149 per night
Airbnbs in Nashville with a hot tub
Here's a little secret — whether or not it's cool at night (which it can be in Nashville), soaking in a hot tub is a great way to relax after a night out on the town. These Airbnbs have a hot tub and an extra dose of class.
Large luxury home with rooftop hot tub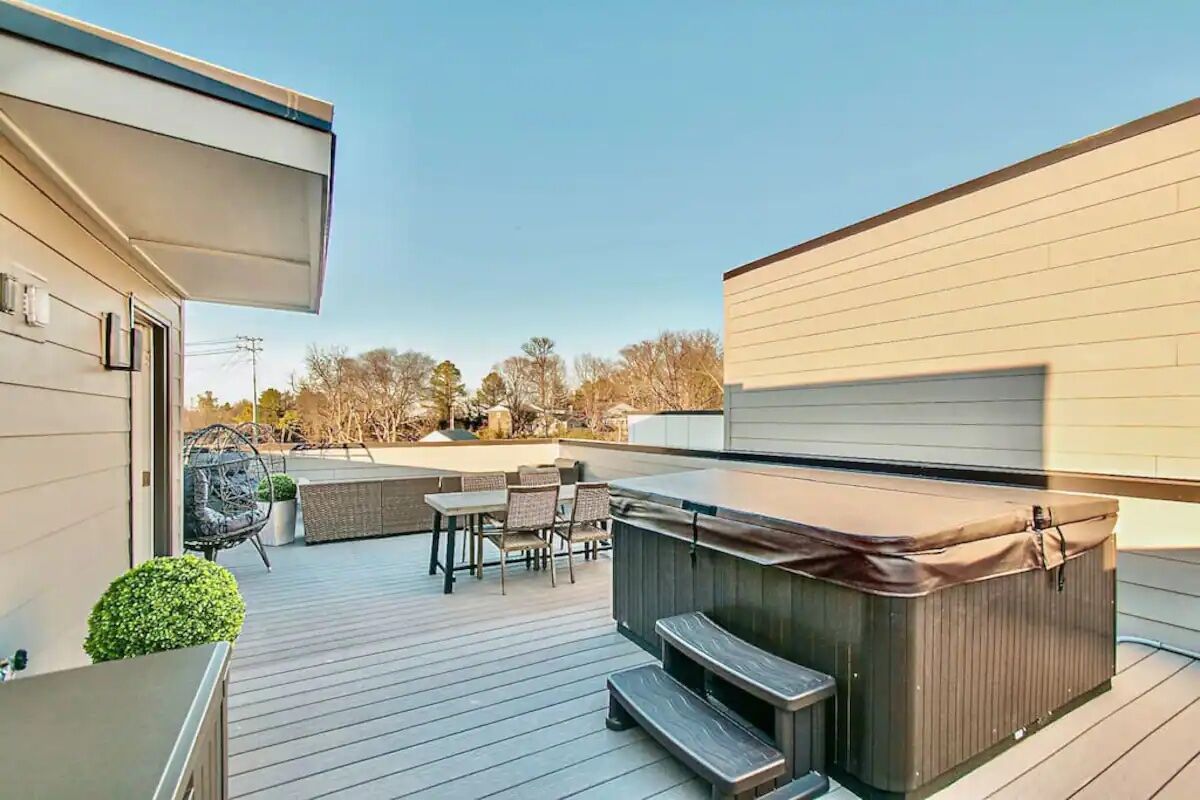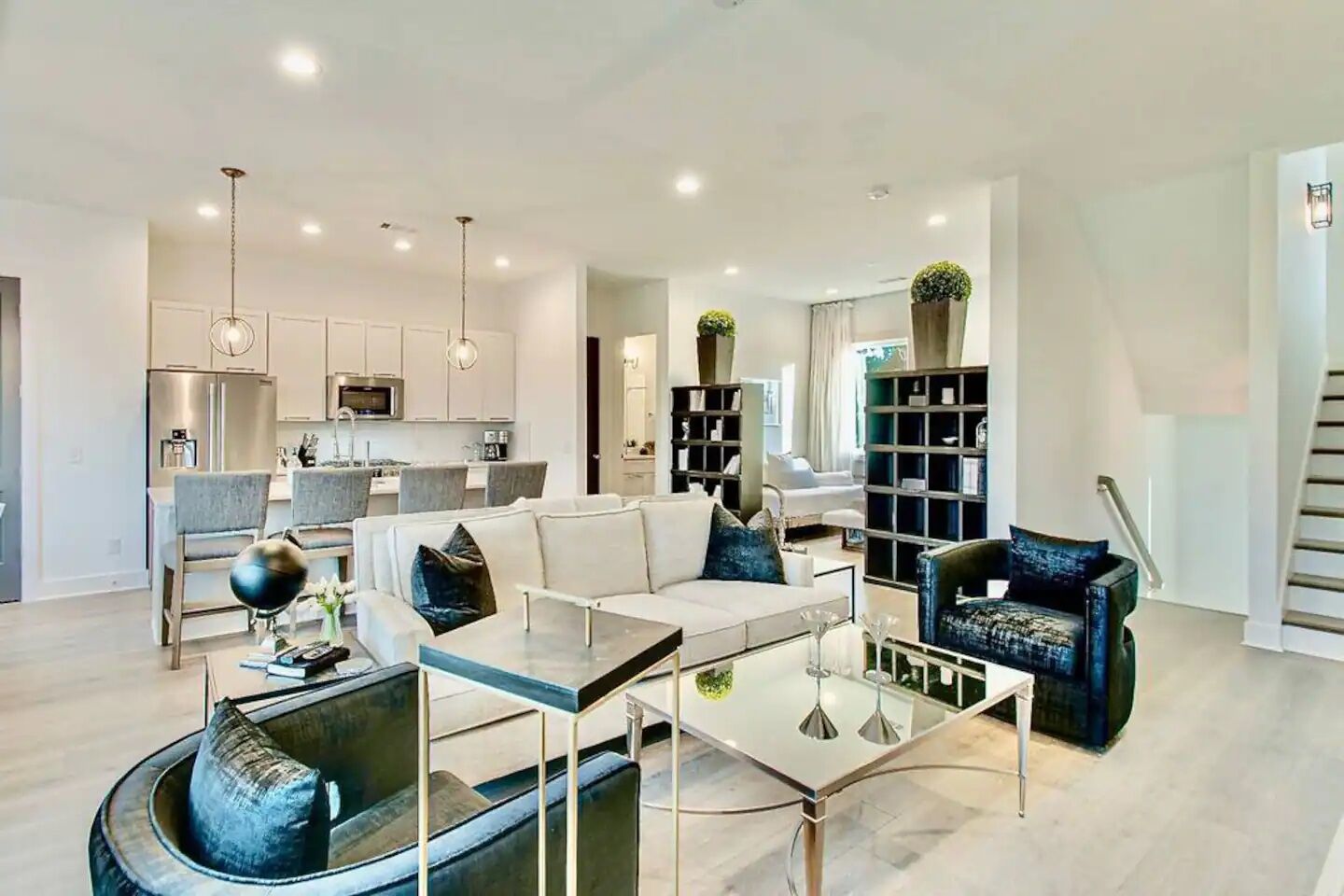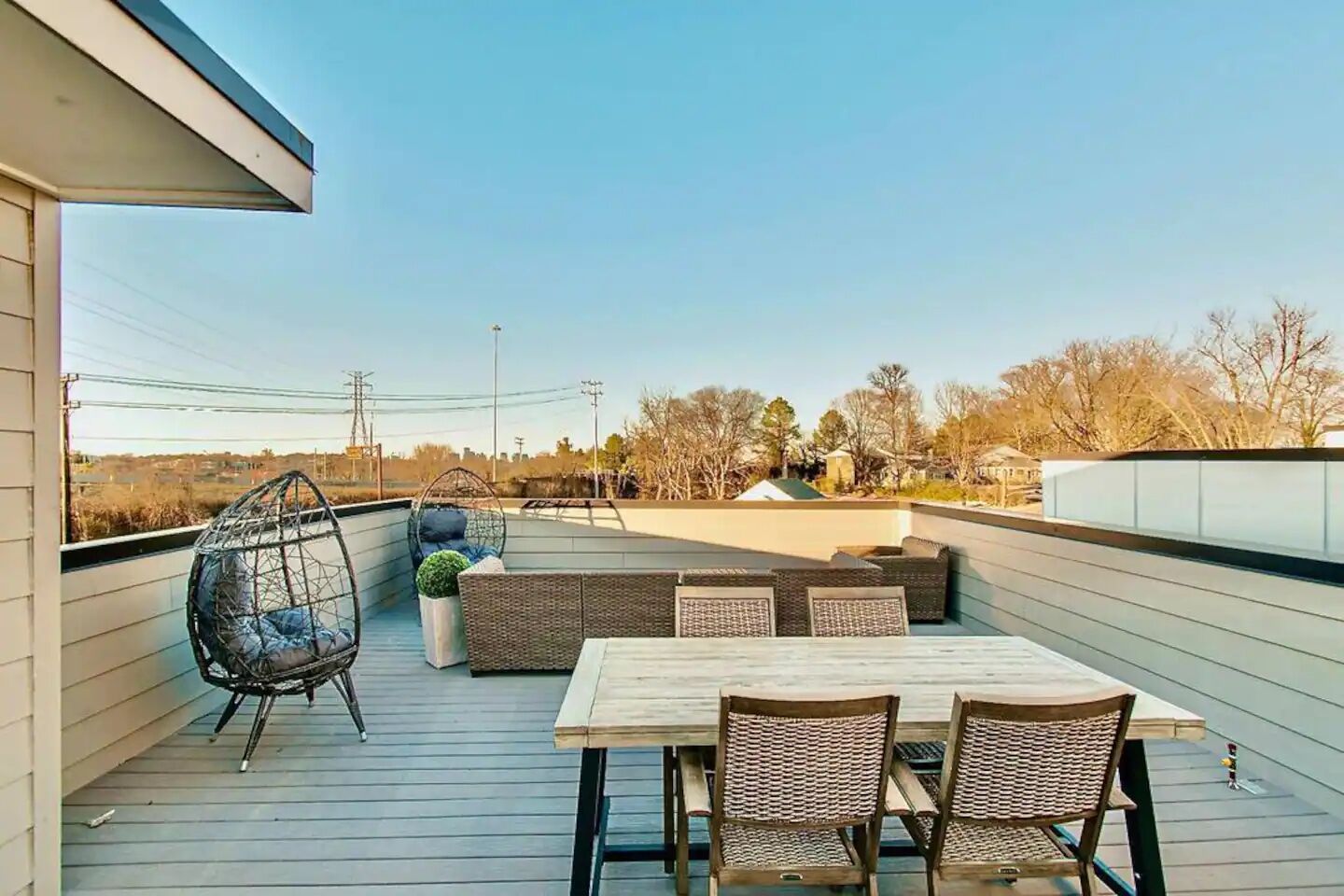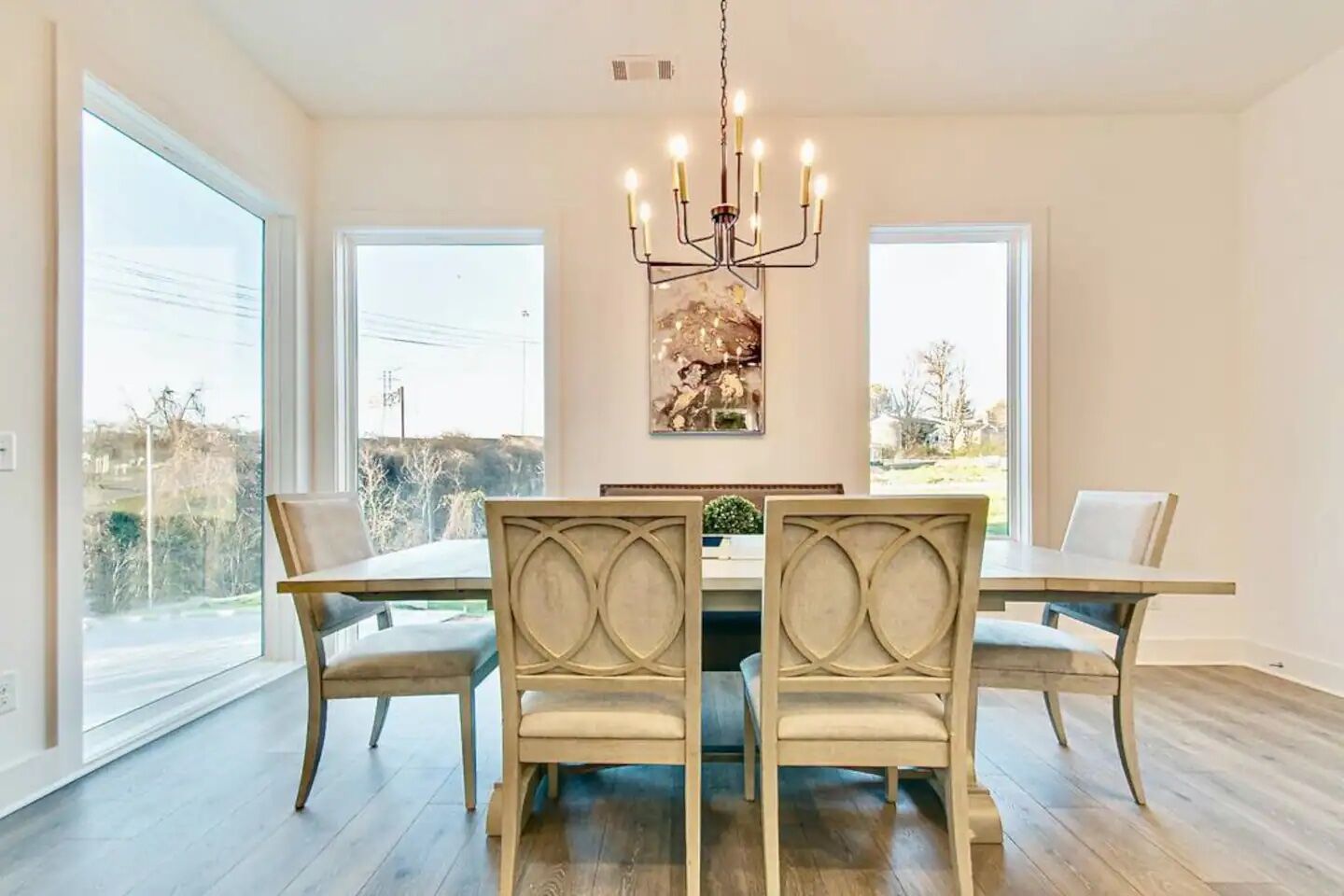 This unique property combines the best of hip urban living with Nashville's quaint country charm. Chill on the rooftop with a drink while soaking your cares away. The home has a large, spacious interior that is great for capturing Nashville's classier side, a key component if you plan to tour the city's dining and nightlife scenes.
Twelve guests, three bedrooms
Price: $301 per night
Greenwood guesthouse with hot tub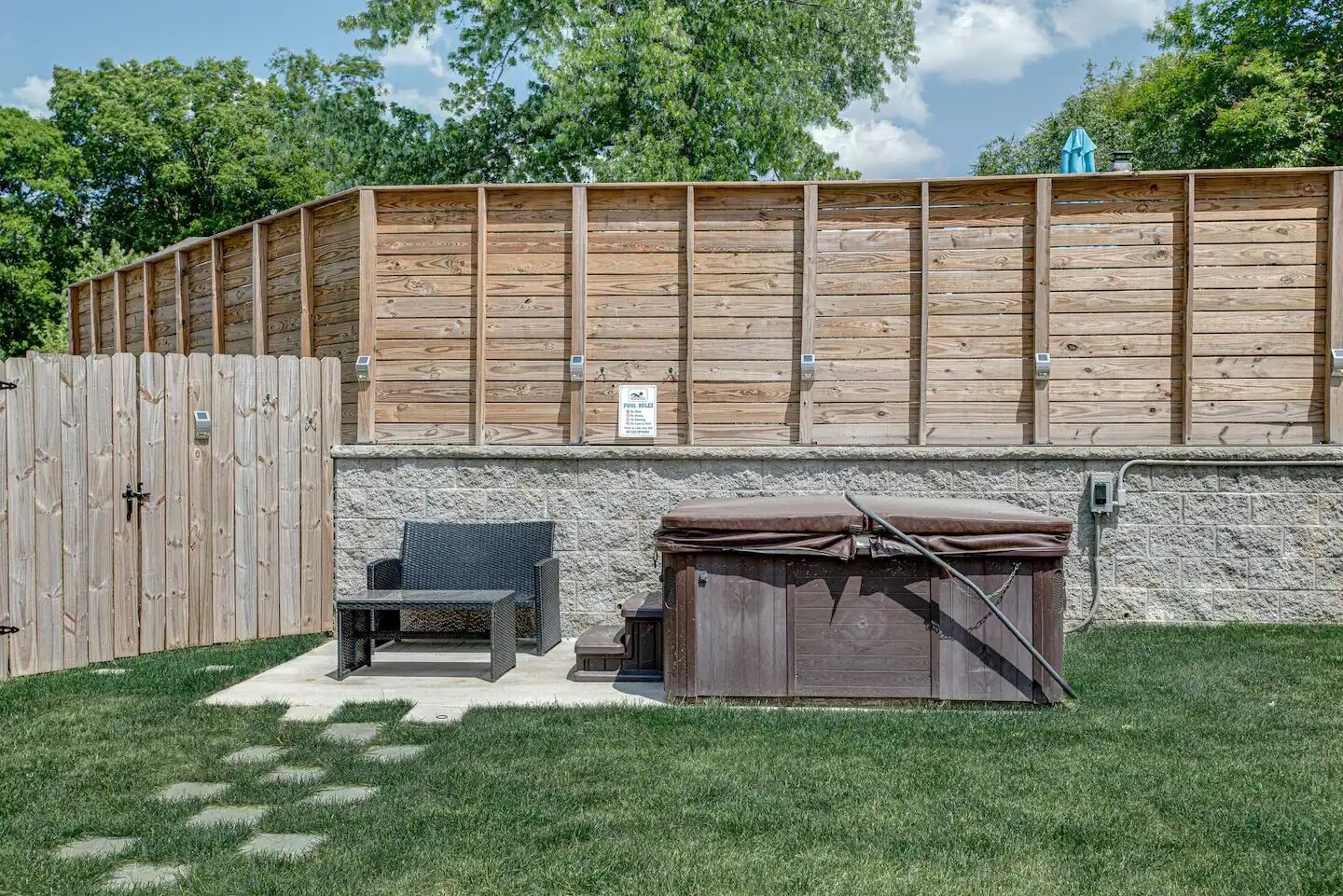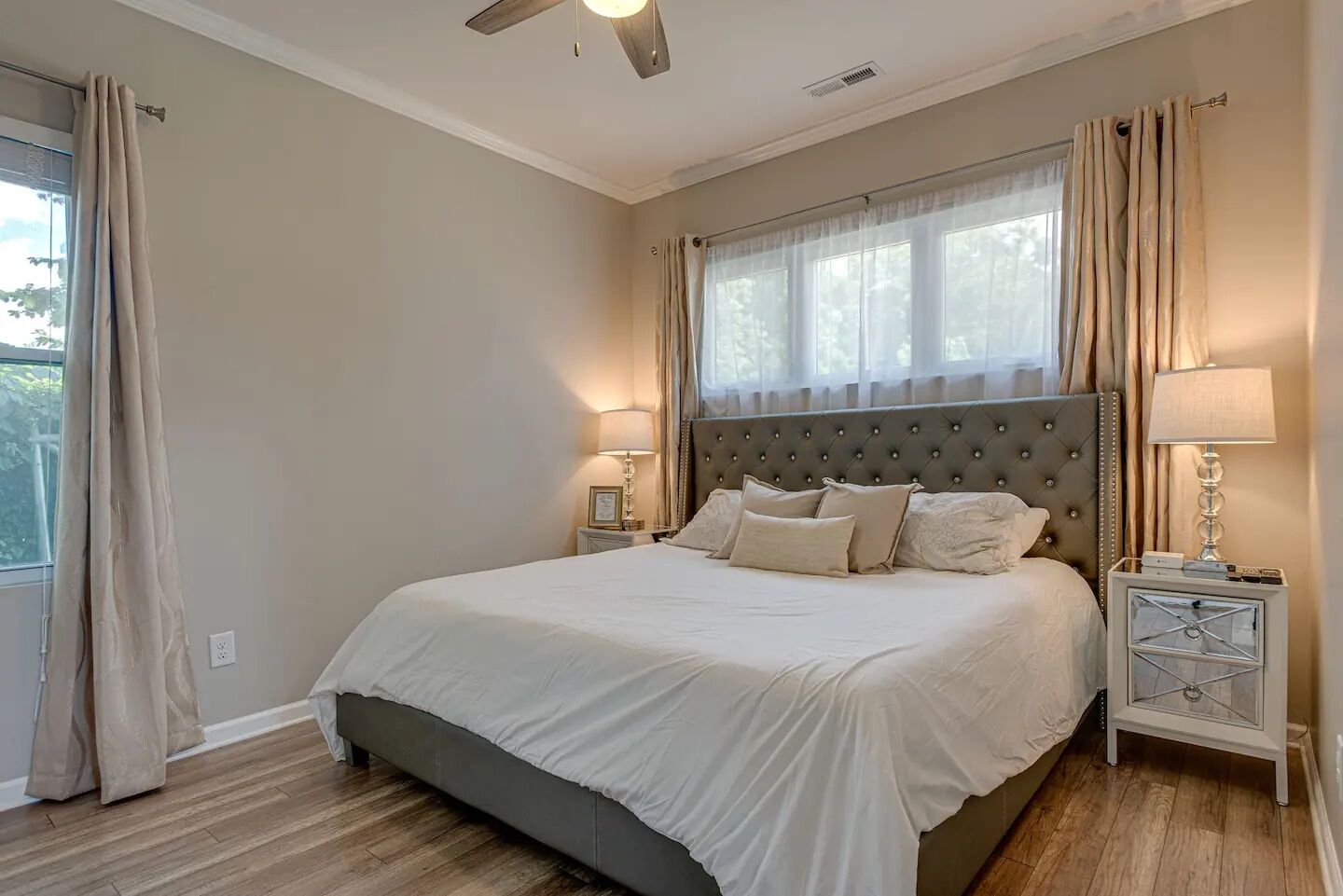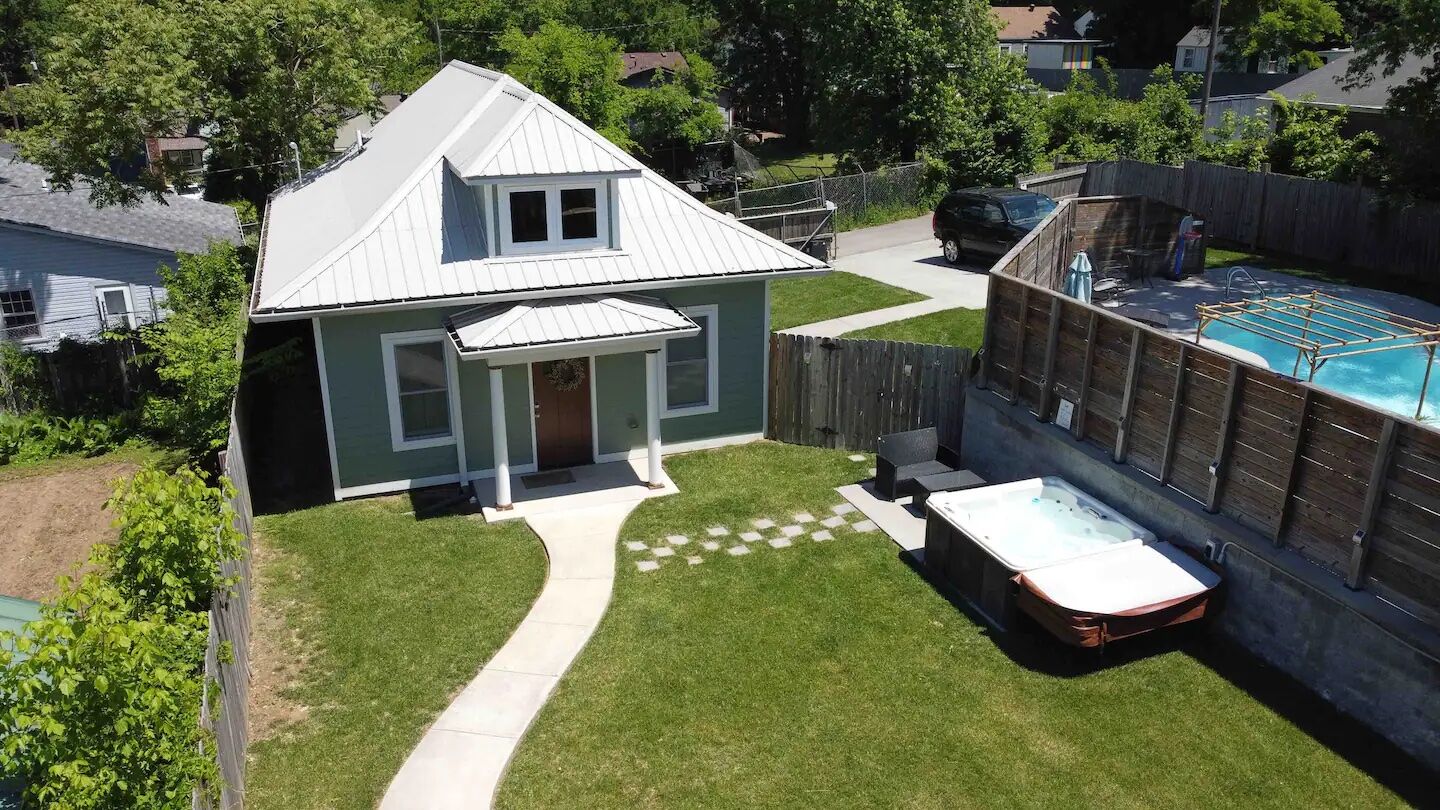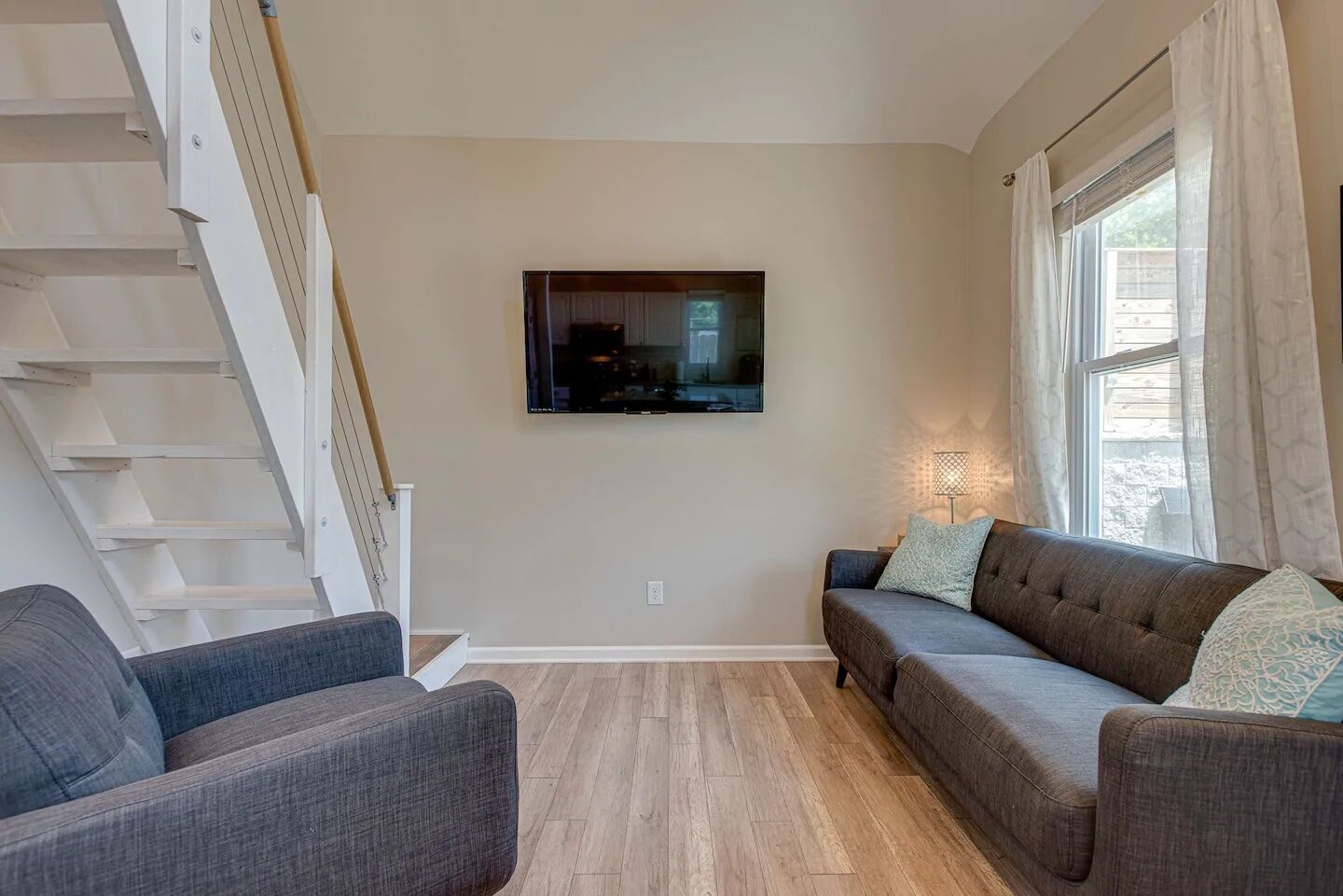 This home uniquely capture Nashville like few others do. It its a classic house that has been remodeled to include modern fixings and amenities, including a hot tub, and offers a quiet location that gives you a chance to chill out from before or after exploring the city. The home is close to all the action, but comfortably removed.
Six guests, one bedroom
Price: $193 per night