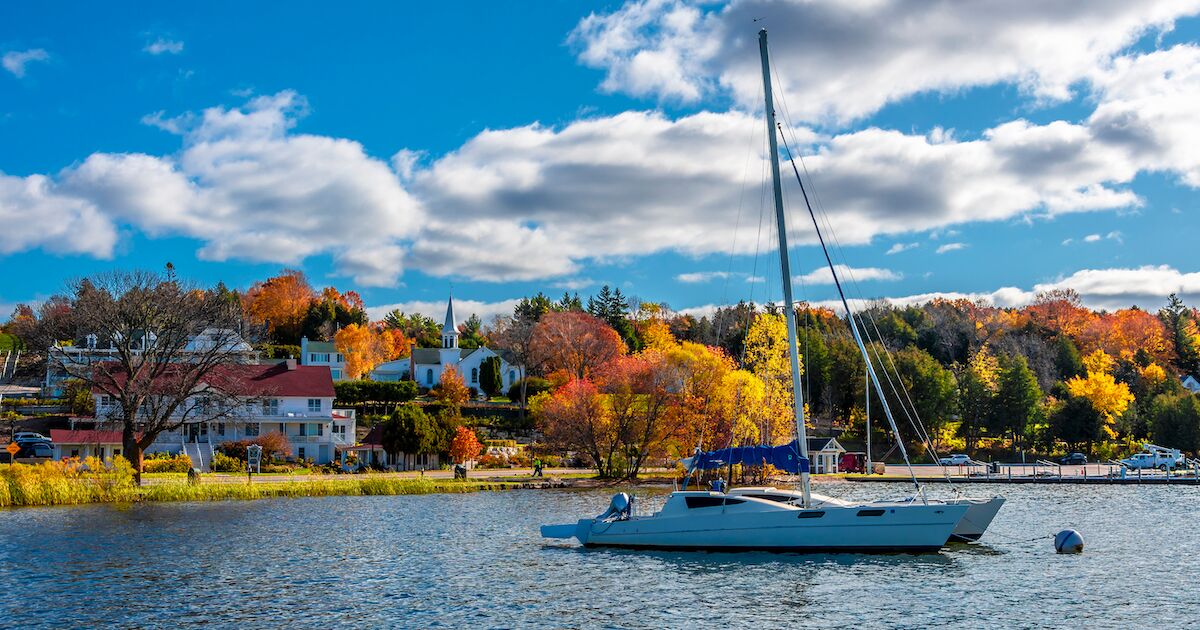 Only about 30,000 people live in Door County Wisconsin, yet more than two million visitors a year typically journey to this spot on the peninsula between Lake Michigan and Green Bay. Some come in as part of a road trip from Chicago, while others travel from farther away to see what's become known as the "Cape Cod of the Midwest." Attracted to the region's many parks, outdoor activities, beautiful shorelines, art scene, and local food culture, most tourists make their way to Door County in the late summer and early fall.
I typically wouldn't recommend visiting a destination during peak season, but Door County is an exception. The area has an incredible array of outdoor activities, and the milder temperatures and drier days in May through October more than make up for the additional crowds. These are the best things to do on a Door County vacation for idyllic days filled with fish boils, local parks, ziplining and cycling adventures, local fruits and vegetables, and so much more.
What to do in Door County
Visit local parks: Door County is known for its variety of parks. Visit Cave Point County Park to see dramatic water sprays off the rocky shoreline and experience the booming sound of the waves crashing as you take in views of Lake Michigan. You can also take a kayak tour of Cave Point with numerous local companies. Check out Whitefish Dunes State Park, founded in the sixties to preserve the fragile sand dunes there (know that it's a $176 fine for climbing on the dunes). There's a shipwreck station there where you can learn about maritime history — be sure to pay attention to signage about the rip current if you plan to swim.
Explore The Ridges Sanctuary: This private, nonprofit nature reserve works to preserve the region's ridges and swales (distinct landscape formations created by the movement of Lake Michigan). The Ridges Sanctuary owns more than 1,600 acres of land in and around Bailey's Harbor where the organization protects studies the area's biodiversity. Take a walk (or run) on the sanctuary's half-mile of boardwalk and 5 miles of trails. You can also check out the Bailey's Harbor Range Lights, which is a lighthouse system built in 1869 to bring ships safely to shore. Monday through Saturday from May to October, The Ridges Sanctuary also offers guided hikes for $5 for members or $8 for non-members.
Bike in Peninsula State Park: Enjoy the 10-mile sunset bike path or check out the 12 miles of off-road trails in the park. The park runs along eight miles of shoreline, so you can bike along the water and get a breeze off the bay during your ride. I rented a bike from Nor-Door Spots & Cyclery in Fish Creek and was able to hop on trails and enter the park just a block away
Zipline With Lakeshore Adventures: This zipline adventure offers great views of The Ridges Sanctuary and Moonlight Bay as you zip through the canopy. The ziplines are equipped with magnetic brakes so you don't have to worry about manual braking. This tour ends with two side-by-side racing lines so you can enjoy a bit of friendly rivalry to finish it off.
Enjoy a Door County Fish Boil: Fish boils are one of the most popular local attractions, and for good reason. Part historical storytelling, part dining experience, you don't want miss a chance to try out this tradition brought to the area by Scandinavian settlers. I loved my fish boil experience at the Old Post Office in Ephraim. The waterfront location is idyllic, and afterward you can walk over to Anderson Dock to check out the graffiti and catch the sunset if the timing is right.
See a show at the Peninsula Players Theater: This theater in a garden opened its first show in 1935 and continues to impress. Be sure to head to this theater well in advance of showtime. Take advantage of the gorgeous picnic area on the shores of Green Bay with tables and a bar with drinks available for purchase. Bring a picnic, watch the sun over the water, and then make your way into the show.
Where to eat and drink in Door County
Wilson's Restaurant & Ice Cream Parlor: Step back in time at this Ephraim restaurant that originally opened in 1906. Known for its ice cream and old-fashioned soda, Wilson's is a popular spot for families and visitors. Be sure to try the home-brewed root beer.
Where: 9990 Water St S, Ephraim, WI 54211
Grandma's Swedish Bakery: Located in Rowley's Bay Resort, Grandma's Swedish bakery is a must-visit during your time in Door County. Known for its half-pound pecan rolls and cinnamon rolls, the cardamom coffee cake is also exceptional. All of the baked goods are made from scratch based on family recipes.
Where: 1041 Co Rd Zz, Ellison Bay, WI 54210
Al Johnson's Swedish Restaurant & Butik: Open since 1949, this popular restaurant in Sister Bay offers a surprise for visitors: goats can often be seen grazing on the sod roof. Originally placed on the roof as a joke, the goats are now a local fixture and guests come from far and wide to see them and try out the pickled herring, beets, meatballs, and Swedish pancakes. You can also check out the goat cam to get a digital view of the goats grazing on the roof.
Where: 10698 N Bay Shore Dr, Sister Bay, WI 54234
Clover & Zot: This craft kitchen hangout on the waterfront of Bailey's Harbor has beer, wine, and an eclectic but delicious European menu. Don't skip the curried tempura artichoke hearts on the appetizer menu.
Where: 8054 WI-57, Baileys Harbor, WI 54202
Melt Bistro by Renard's Cheese: Renaurd's is known far and wide for its artisan cheeses that are made from fresh milk picked up daily from local dairy farmers. There are multiple locations in Door County. Stop in to shop a variety of cheeses, pick up fresh cheese curds and shop for goodies from local producers. For lunch, head to the Sturgeon Bay location to try out Melt, a full-service cafe and deli that sells pizzas, melts, macaroni and cheese, and more featuring Renard's artisan cheeses.
Where: 2189 County Rd DK, Sturgeon Bay, WI 54235
Sip: This Ephraim cafe has excellent coffee and a full food menu, indoor and outdoor seating, incredibly cute decor, and perfect nooks to read or relax for a bit. Don't skip the brioche French toast.
Where: 10326 N Water St, Ephraim, WI 54234
Where to stay in Door County
For a budget-friendly lodging option, the High Point Inn in Ephraim is clean, quiet, and located close to numerous activities and restaurants. The High Point Inn also has indoor and outdoor pools that are perfect for families with kids. For more modern accommodations, the new Dörr Hotel in Sister Bay offers a lobby bar in addition to rooms and suites with balconies and fireplaces.
How to get to and around Door County
You can get to Door County via one of three nearby airports. Austin Straubel Airport in Green Bay (GRB) is about an hour's drive from Sturgeon Bay, the largest city in Door County. Appleton Airport (ATW) is an hour and twenty minutes from Sturgeon Bay. Farther out is General Mitchell Airport (MKE) in Milwaukee, about two and a half hours from Sturgeon Bay.
If you don't drive your own, you'll need to rent a car to explore the numerous towns and activities across the peninsula. Ridesharing apps such as Uber or Lyft are generally not available in Door County, and local taxi service is limited.