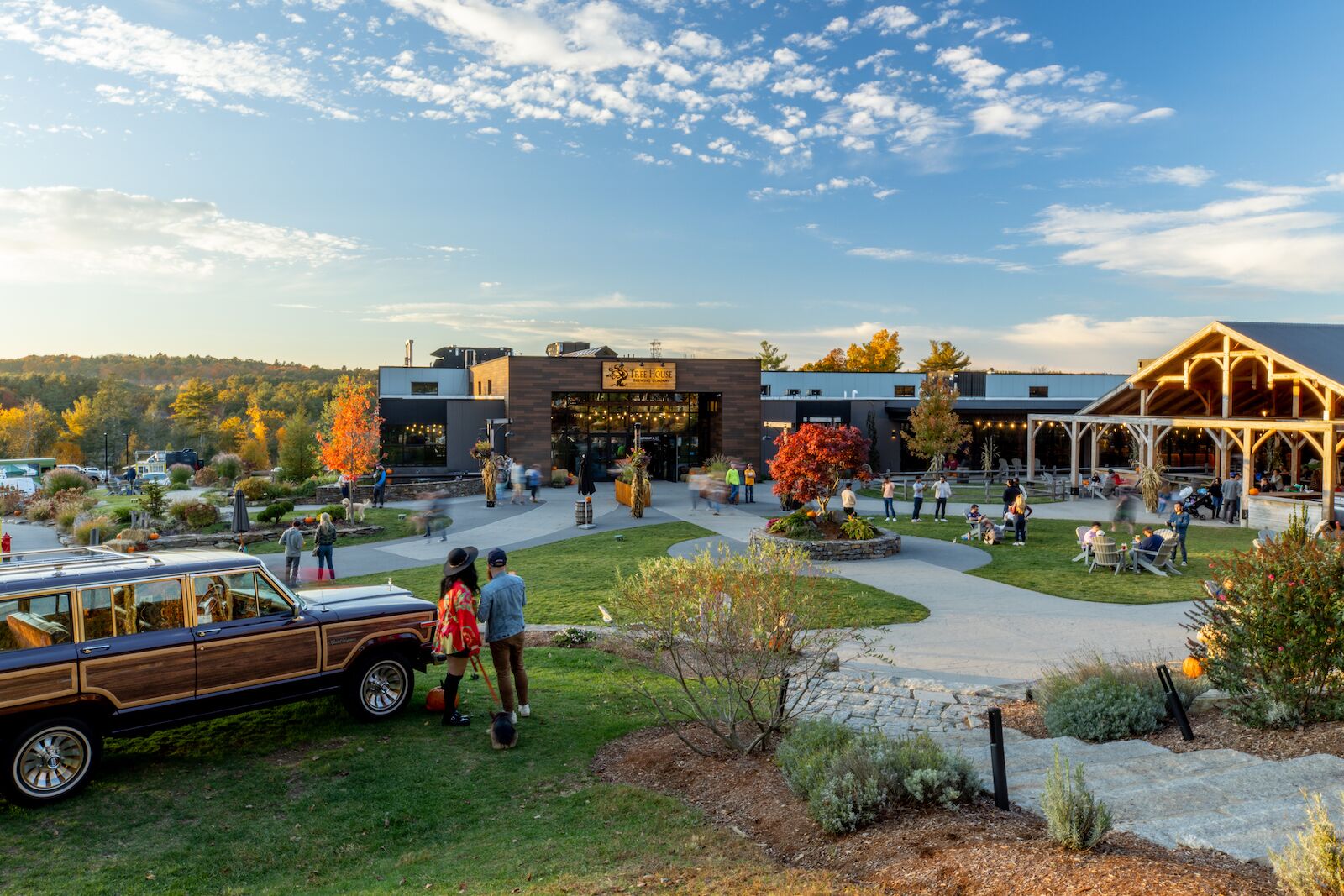 Massachusetts residents consider beer a lifestyle and a hobby: People here don't just drink beer, they explore breweries, and brew their own beers. It's a family affair, too: When you take a trip to Massachusetts, you might find it surprising that so many breweries have mini playgrounds for kids, dog parks, and yard games to make for a full day outing. Maybe us residents are a bit overzealous, but beer is in our history. Just like Michigan breweries, the breweries in Massachusetts are some of the best in the United States.
Though hotly debated by historians, some suspect the Mayflower docked at Plymouth Rock (rather than travel further) due to depleted beer reserves. A diarist aboard the ship wrote, "We could not now take time for further search or consideration, our victuals being much spent, especially our beere."
The passengers' sixty day journey across the Atlantic offered plenty of opportunity for bacteria to grow and contaminate the stored drinking water. Available water was unfit for consumption, if not potentially life-threatening. Pilgrims kept ship's beer, a type of low-alcohol brew, as an alternative method of hydration. So yes, that beer was completely necessary.
Since the Mayflower's sailing, beer has continued to play an important role in America's history. During the 1700's, war raged on throughout the east coast of what would become the United States. Men went off to fight the war, leaving women to fend for themselves both in the home with family and in enterprise. Many women who managed economical operations went into beer production for local taverns and shipment to soldiers. The name "Alewife" was born from the women who held a significant role in brewing, distribution, and management.
Present day Massachusetts breweries are a far cry from the stone-walled, cauldon-warmed taverns of the pre-revolution (though, you can find a few places to match that ambiance). You can expect open air seating spaces, which host a wide range of lawn games, picnic benches, and typically an array of crafted food pairings to enjoy alongside your brew.
Each of the Massachusetts breweries on this list has a different offering when it comes to aesthetics and what's on tap, though you can almost always expect a friendly face and easy conversation. If you're planning to make a trip up to Massachusetts, make a beer tour part of your itinerary. Here are the six best Massachusetts breweries that aren't Sam Adams.
1. Tree House Brewing Company
Brimfield is notable as home to one of the oldest U.S. (and one of the largest) antique markets, but it's also the hometown of a highly rated brewery in western Massachusetts. Treehouse began in a petite, red barn and today its ambience is whimsical and cozy. Warm string lights illuminate the communal rows of picnic table seating throughout each of the brewery locations. Even as the brewery expanded, charm remained their defining feature.
Where: 129 Sturbridge Rd, Charlton, MA 01507
2. Shovel Town Brewery
North Easton was a booming industrial hubspot back in the 19th century when Ames Shovel Company became the standard issue for American Troops. After the company ceased production, North Easton was left with a selection of mansions owned by the Ames family, plus several manufacturing factories made of sleek granite rock. Developers since repurposed these buildings into apartments and small businesses, each with factory-worn features, a chic patina to the modern consumer. Within one of the many stone buildings is Shovel Town Brewery, serving up cannabis-infused beer to spiked seltzer on tap. After you're satisfied, take a walk around back to explore the historic buildings, garden courtyard and museum train station all still intact.
Where: 50 Oliver St, North Easton, MA 02356
3. Cisco Brewers
One of the more scenic brewery offerings in Massachusetts will require a ferry ride to Nantucket. On the island known for celebrity sightings, scrimshaw and its whaling history, the Cisco Brewers flagship experience gives the full breadth of coastal living. A delight for artisan beer lovers, you can sip brews on the lawn and sample oysters dug up from shores less than a mile away. The brewery also has locations in New Bedford and Boston.
Where: 5 Bartlett Farm Rd, Nantucket, MA 02554
4. Trillium Brewing Company
If you could sum up Trillium in one word, it would be artisanal. Each new release comes from the same painstaking detail as a painter who may fret over four different shades of a primary color. The depth and flavor complexities mirror that of a trained chef working with premium ingredients. Entering one of Trillium's many breweries is like coming home from a long trip, all smiles and good cheer. Exquisite detail meets non-pretentious hospitality; Trillium captures the essence of New England farmhouse-style brews.
Where: 100 Royall St, Canton, MA 02021
5. Aeronaut Brewing Company
Born in a living room brewery, Aeronaut was the brainchild of two MIT and Cornell graduates who share a passion for experimental brewing. But it's not just the pairing between science and fermentation that makes Aeronaut exceptional. It's also Somerville's first brewery in over a hundred years. The brewery's notoriety comes from its collaborative projects with local entrepreneurs and artists. Make sure to buy beer to-go displaying your favorite can artwork; some of the designs fit for a collector.
Where: 14 Tyler St, Somerville, MA 02143
6. Timberyard Brewing Company
As you might expect from the name, Timberyard Brewing Company encapsulates the historical prominence of forestry in New England. Set on a once-operating lumberyard, guests still get the woodsy experience with the long polished wood tables and indoor bar decorated with weathered shingles. Dog-friendly, and kid-friendly, there are plenty of lawn games, live music performances beside a rusted Chevy pick-up on the lawn, and an outstanding selection of food. Try the brewery's flight of dry-hopped pickles made in-house alongside your favorite style of beer.
Where: 555 East Main Street, Route, 9, East Brookfield, MA 01515

More like this