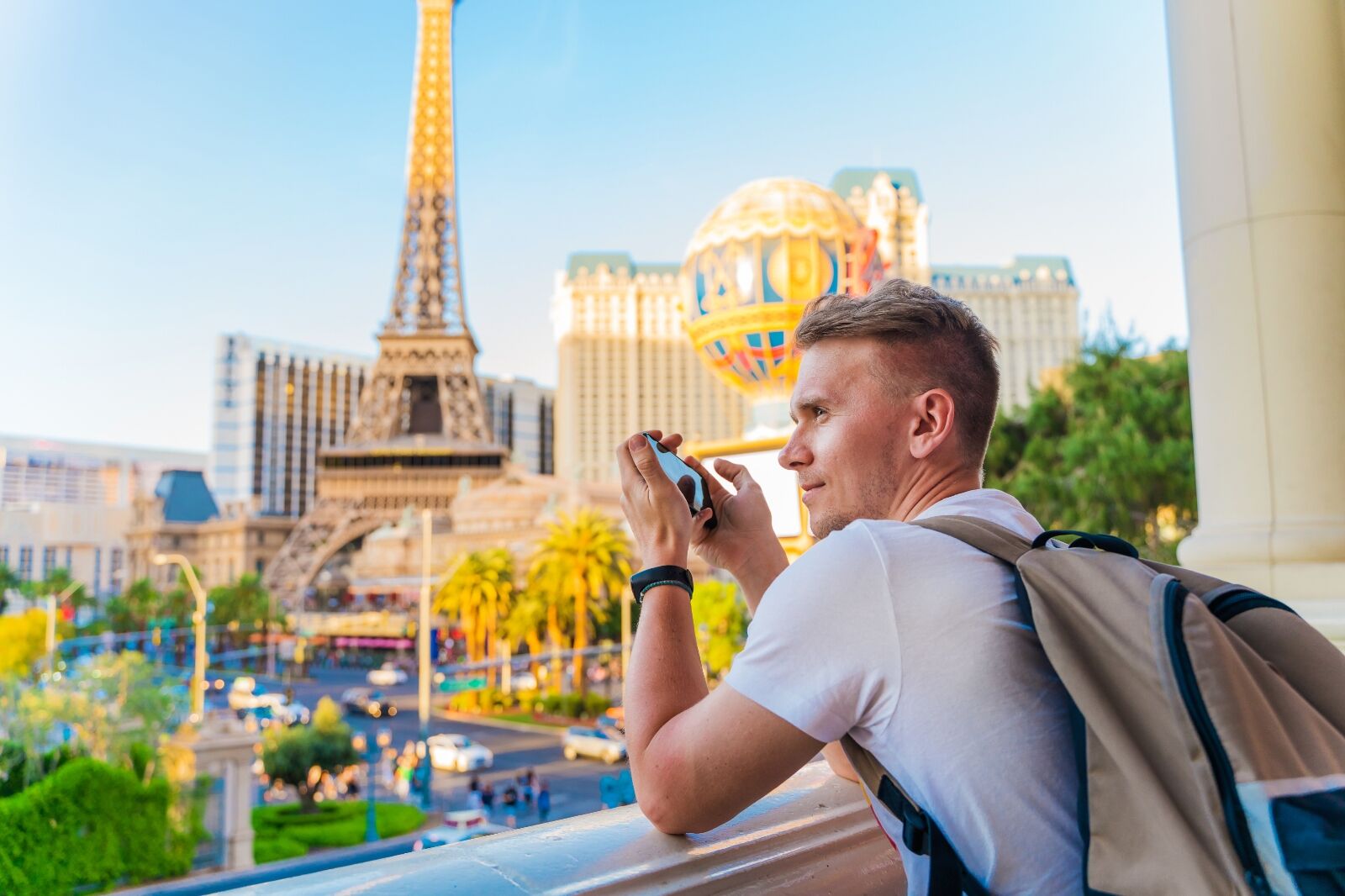 Las Vegas is known as the "Entertainment Capital of the World" for its high-profile shows, engaging museums, and outdoor adventures you can have away from the busier parts of the Strip. While some visitors may be content to sip overpriced drinks poolside, there is nothing like venturing out into the city to experience everything it has to offer. Not only do you get to enjoy live performances, you can't find anywhere else in the world, but you also get to take in the sights and sounds of one of the most exciting cities in the US. As there are so many things to do in Las Vegas, squeezing it all into one trip is impossible. Instead, follow this list which will help you plan a perfect getaway to Sin City.
We hope you love the spaces and stays we recommend. Just so you know, Matador may collect a small commission from the links on this page if you decide to book a stay.
---
---
How to get around Las Vegas
Las Vegas is a city that strides hand-in-hand with illusion and that goes for getting around town as well. The casino buildings are big and look relatively close in proximity to one another, but the properties are enormous and can be deceivingly far away.
If you're staying at MGM Grand and want to visit Bellagio, it may look close but it's a 20-minute walk. Add in the heat, sidewalks packed with tourists and you could find yourself on a half-hour trek, so plan accordingly.
Visitors also have access to the Las Vegas Monorail, which runs on the east side of the Strip from MGM Grand to Sahara Las Vegas with multiple stops along the way. It saves you time, a bit of stress, and only costs a few bucks for unlimited rides during your stay.
But Vegas is more than the Strip, right? You will, of course, want to head downtown to visit the world-famous Fremont Street Entertainment District. Each casino has a designated area for taxis and rideshares, so go to the transportation zones near the hotel lobby registration areas. Be mindful of the time of the day, though. On Friday and Saturday evenings (or when big events are in town), the Strip can come to a virtual standstill with traffic. Leave for your destination early or bring your gym shoes.
Best shows in Las Vegas
Absinthe
Set in a big top-style tent, Absinthe features a mix of outrageous comedy and jaw-dropping acrobatics. The brazen show (even by Vegas standards) is led by The Gazillionaire, a fast-talking ringmaster, and his assistant, Penny. Together, they take the audience on a wild ride that is part vaudeville, part burlesque, and all side-splitting fun. With a cast of truly talented performers, Absinthe is a must-see show when you're in Las Vegas.
Thunder from Down Under
What happens in Vegas stays in Vegas? Not when it comes to the Thunder from Down Under. You'll be gushing to all of your friends about the hottest show Vegas has ever offered. This world-famous Australian male revue is the perfect way to add a little excitement to your trip to Sin City. The toned-and-tanned dancers are sure to get your heart racing, and with a group of your best friends by your side, you're guaranteed to have a night you'll never forget. After all, your friends will have the evidence on their phones.
David Copperfield
For over 30 years, illusionist David Copperfield has been delighting audiences with his jaw-dropping illusions. From making the Statue of Liberty disappear to levitating over the Grand Canyon, he continuously amazes the crowds that line up for the over 500 shows he performs each year. Seeing Copperfield in person is an unforgettable experience and one that any fan of magic will treasure for a lifetime.
Best museums in Las Vegas
The Mob Museum
Located in the heart of downtown, The Mob Museum offers a fascinating look at the history of organized crime in the US. Through interactive exhibits and original artifacts, visitors can learn about famous gangsters like Al Capone and John Gotti, as well as the law enforcement officers who brought them to justice. The museum also explores the role of the mob in popular culture, from films like The Godfather to television shows like The Sopranos. Plus, you'll have an opportunity to visit The Underground, a real working distillery and speakeasy in the museum's basement.
Where: 300 Stewart Ave, Las Vegas, NV 89101
Pinball Hall of Fame
The Pinball Hall of Fame is home to over 400 pinball machines, ranging from early 20th-century classics to modern-day beauties. Visitors can spend hours playing their favorite games for just a few quarters, and the knowledgeable staff is always on hand to offer tips and tricks. Best of all, the proceeds from the Pinball Hall of Fame go towards supporting the local Salvation Army. So not only will you have a great time, but you'll also be supporting a good cause.
Where: 4925 Las Vegas Blvd South, Las Vegas NV 89119
Zak Bagan's The Haunted Museum
This one-of-a-kind museum is home to a collection of bizarre and macabre artifacts, all with a dark history. Among the exhibits at Zak Bagan's The Haunted Museum are Peggy the haunted doll, the Devil's Rocking Chair, and the "World's Most-Haunted Object", the Dybbuk Box. The museum also features incredibly spooky interactive experiences, such as a flashlight ghost tour where the lights go out and you're left on your own to explore.
Where: 600 E Charleston Blvd, Las Vegas, NV 89104
Best adventures off the Strip
Valley of Fire
Valley of Fire State Park is one of the most unique and beautiful places in the world. The red sandstone formations seem almost alien to our planet, and the views are simply breathtaking. There are miles of hiking trails to explore, and the visitors' center has a great exhibit on the history of the surrounding area and how the valley was created. Valley of Fire is a truly special place, and it is definitely worth a visit while you're in Las Vegas.
Hoover Dam
Located a quick 30-minute drive from the Strip, Hoover Dam is an amazing feat of engineering, and it's definitely worth your time when looking for adventures off the Strip. There are a few different ways to tour the dam, but the most popular is the self-guided tour. This allows you to explore at your own pace, and it's a great way to learn about its history and how the dam works. For a small fee, you can take a guided tour, which typically lasts about an hour. Either way, visiting Hoover Dam is a great way to take a break from the casinos and see a true marvel of human achievement.
Death Valley
Death Valley is one of the hottest, driest places on Earth. Despite its name, Death Valley is home to a wide variety of vegetation and animals, including massive Joshua tree forests. Visitors can explore miles of canyons, mountains, and sand dunes, and even take a dip in one of the many warm springs that dot the arid landscape. In addition, Death Valley offers a great opportunity to see the night sky. The valley is located in a dark zone, which means that light pollution is at a bare minimum. As a result, stargazers can see an incredible number of constellations on clear nights.
Where to eat and drink in Las Vegas
Whether you're looking for a quick bite or a Michelin Star experience, there's a restaurant to suit your needs. And with so many options available, you will find something to please even the pickiest of eaters. For those who like to gamble, there are plenty of restaurants located inside casinos, so you can try your luck while satisfying your hunger. Or if you prefer to avoid the crowds, there are also many excellent restaurants located off the Strip. No matter what your taste or budget, you'll be able to find a great meal in Las Vegas.
 Bazaar Meat By José Andrés
Apologies in advance to our vegan-friendly readers. Bazaar Meat By José Andrés is like a love letter to carnivores. The restaurant is divided into several sections: the bar, the fine dining room, and the open-air meat bazaar. In the open-air space, you'll encounter some of the finest cuts of Wagyu, Black Angus, and Washugyu. You and your group can take culinary adventures to the four corners of the globe with their famed tasting experiences as well. With such a wide variety of meats on offer, Bazaar Meat is the perfect place for carnivores to indulge.
Where: Sahara Las Vegas, 2535 S Las Vegas Blvd, Las Vegas, NV 89109
 Tacos & Beer
Tacos & Beer is the perfect place to go when you're looking for a fun and casual dining experience while being close enough to the Strip to keep the party going all night. Although the restaurant has expanded its menu to include more Mexican-inspired plates, the tacos are definitely the star of the show, and they come in a variety of different flavors. Grab a puerco verde, a chicken tinga, and a beer-battered avocado taco, then pair it with an extensive selection of local and craft brews to make your dinner complete. If you're wanting a low-key dining experience without sacrificing flavor, then Tacos & Beer has you covered.
Where: 3900 Paradise Rd A, Las Vegas, NV 89169
Golden Steer Steakhouse
The Golden Steer Steakhouse is a Las Vegas institution. Founded in 1958, "The Steer" as locals call it, has been a favorite of celebrities and ordinary people alike, and it has been featured in many movies and TV shows over the years. The Golden Steer is best known for its steaks, which are hand-cut and cooked to perfection. The restaurant also has an extensive wine list, and its waitstaff is highly knowledgeable about food and wine pairing. If you want a true taste of "old Vegas", where heavyweights such as Elvis, Sinatra, and gangsters galore were regulars, then the Golden Steer Steakhouse should be at the top of your list.
Where: 308 W Sahara Ave, Las Vegas, NV 89102
Stadium Swim
Stadium Swim at Circa Resort in downtown Las Vegas is a palatial blend of swimming, sports, gambling, and a day club vibe. Basically, everything that makes Vegas, "Vegas." We dare you to try to take your eyes off of the 40-foot, 14-million-pixel high-definition screen that always has the biggest games playing and a non-stop stream of the latest betting props. Live DJs, poolside gaming tables, a surprisingly great food menu, and swim-up bars mean you'll occasionally ask your friends through the fog of bottle service if you have indeed died and gone to Las Vegas heaven.
Where: Circa Resort and Casino, 8 E Fremont St, Las Vegas, NV 89101
The Barbershop
Las Vegas has gone all in on speakeasies and hidden bars, but the one that always stands out to locals and tourists alike is The Barbershop. It's more than just a place to get a carefully crafted cocktail. It's also a real working barbershop. So before you order a classic whiskey Highball, you'll want to get your look freshened up to head out for the night. But there's the other curveball to The Barbershop. Hidden behind a secret door is the entrance to a high-octane music venue where chest-thumping concerts are held. This is one Vegas spot that is an entire evening in itself.
Where: Cosmopolitan of Las Vegas, Boulevard Tower, 3708 Las Vegas Blvd S Level 1, Las Vegas, NV 89109
Atomic Liquors
Atomic Liquors is one of the most iconic bars in Las Vegas. It's been serving up drinks since the 1940s, and it's seen a lot of history since then. The bar was a popular hangout for celebrities such as the Rat Pack, Clint Eastwood, and Barbara Streisand, who loved a place to go away from the tourists on the Strip. It's been featured in Hollywood classics such as The Twilight Zone, Casino, and The Hangover. These days, Atomic Liquors is still a popular spot for locals and tourists alike. The vibe is casual and relaxed, and the drinks are strong and reasonably priced. If you're looking for a taste of old-school Las Vegas, Atomic Liquors is definitely worth a visit.
Where: 917 E Fremont St, Las Vegas, NV 89101
Where to stay in Las Vegas
The Venetian Resort Las Vegas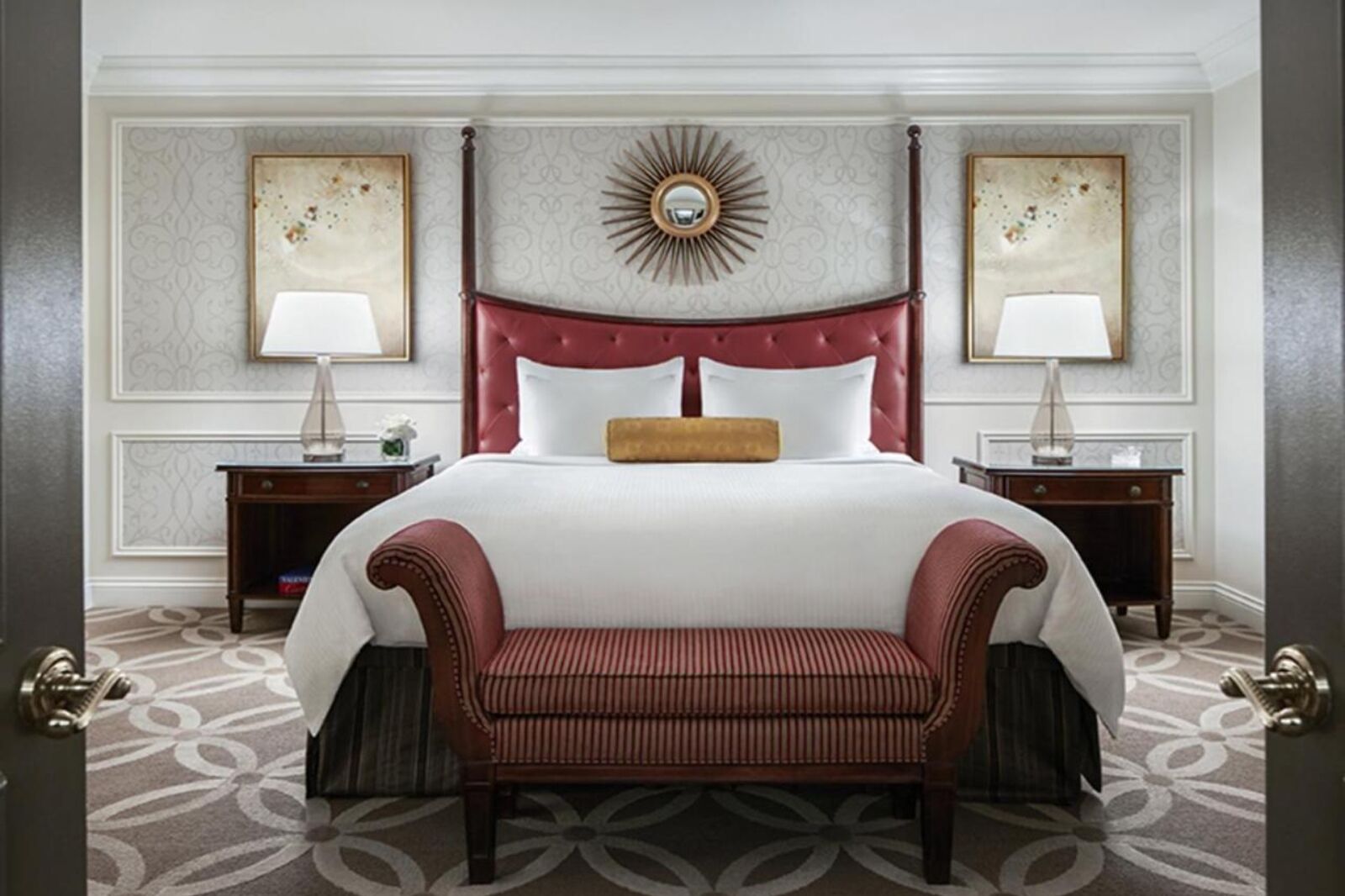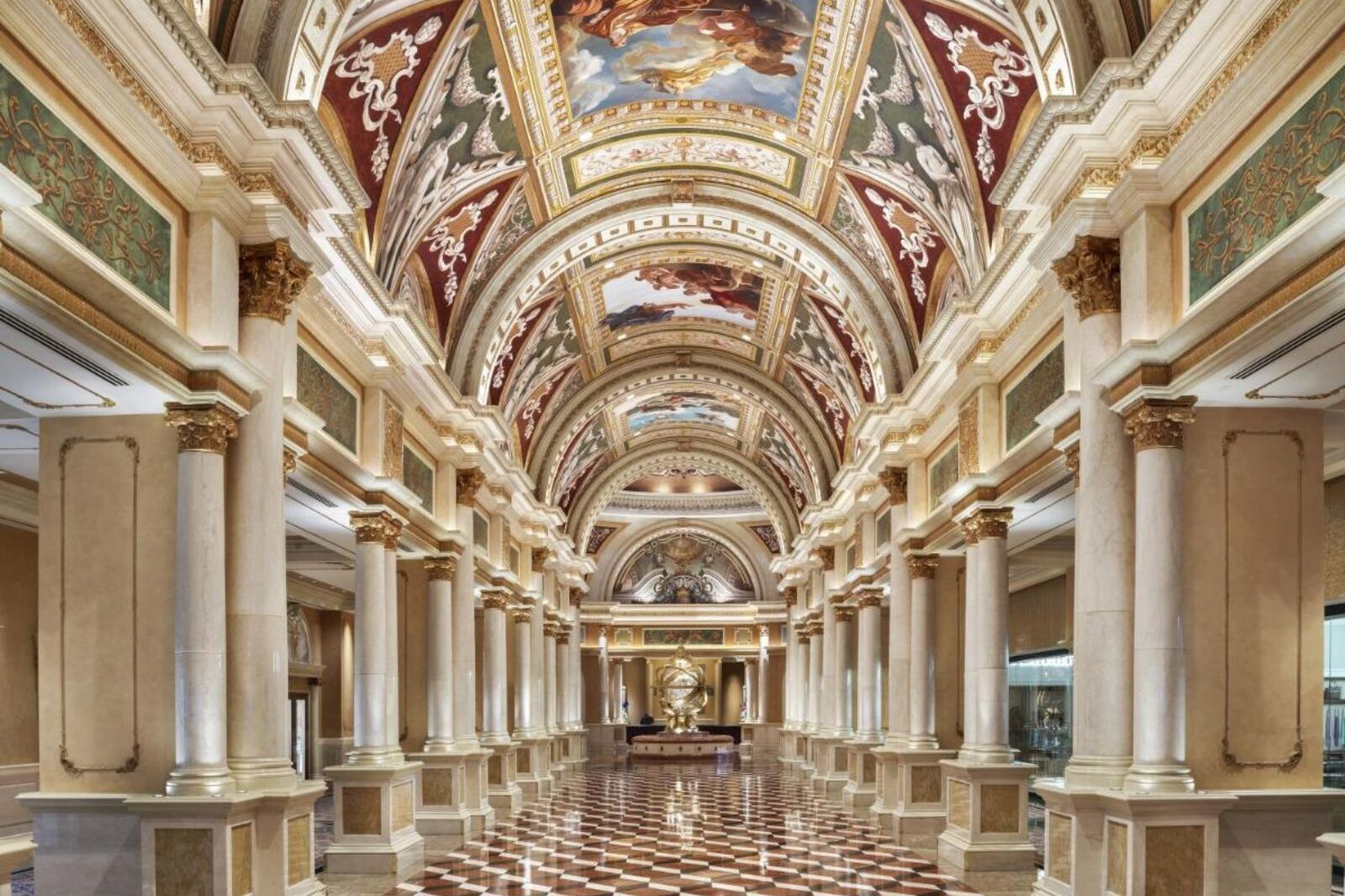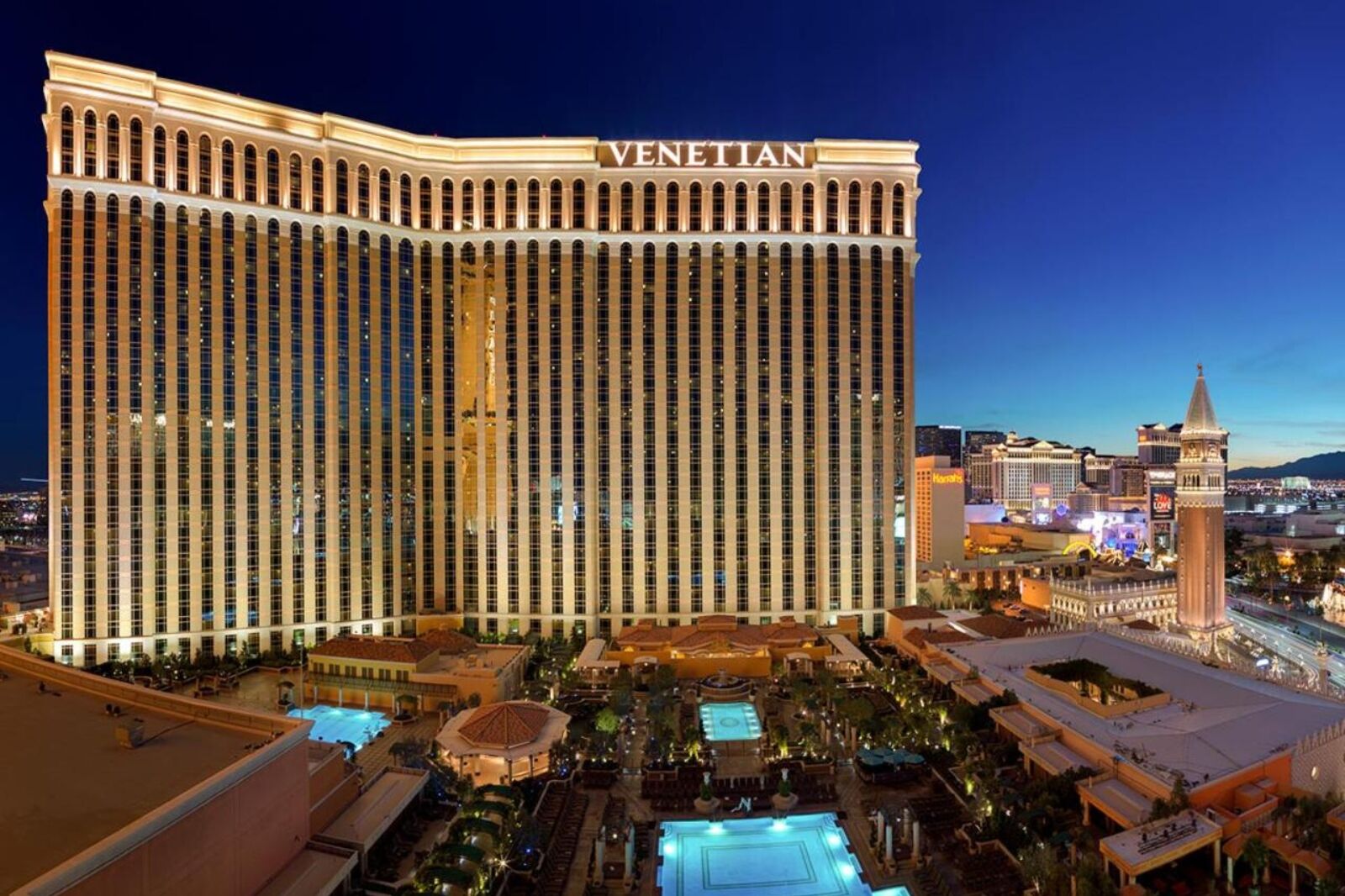 From the moment you step inside The Venetian, you're transported to a world of luxury and opulence. The soaring ceilings and grandiose architecture are a sight to behold, and the marble floors and intricately detailed sculptures add an air of sophistication. But it's not all about looks — the Venetian also offers a unique experience with its gondola rides through canals lined with shops and restaurants. Of course, for those who like to risk it all, the Venetian houses a beautiful casino that dazzles with brilliant lighting and non-stop action. One visit to the Venetian will help you realize why it's one of the most popular hotels on the strip.
Where: 3355 S Las Vegas Blvd, Las Vegas, NV 89109
The Cosmopolitan of Las Vegas
The Cosmopolitan features stunning views of the city, an eclectic mix of dining and nightlife options, and a central location that keeps you in the middle of the city's energy. It features The Barbershop and Ghost Donkey, two famed Las Vegas speakeasies, as well as one of the best restaurants in the city in Momofuku. And for those looking for a night out on the town, the Cosmopolitan has its own nightclub, Marquee, which is one of the most popular clubs in Las Vegas.
Where: 3708 Las Vegas Blvd S, Las Vegas, NV 89109
Las Vegas Airbnbs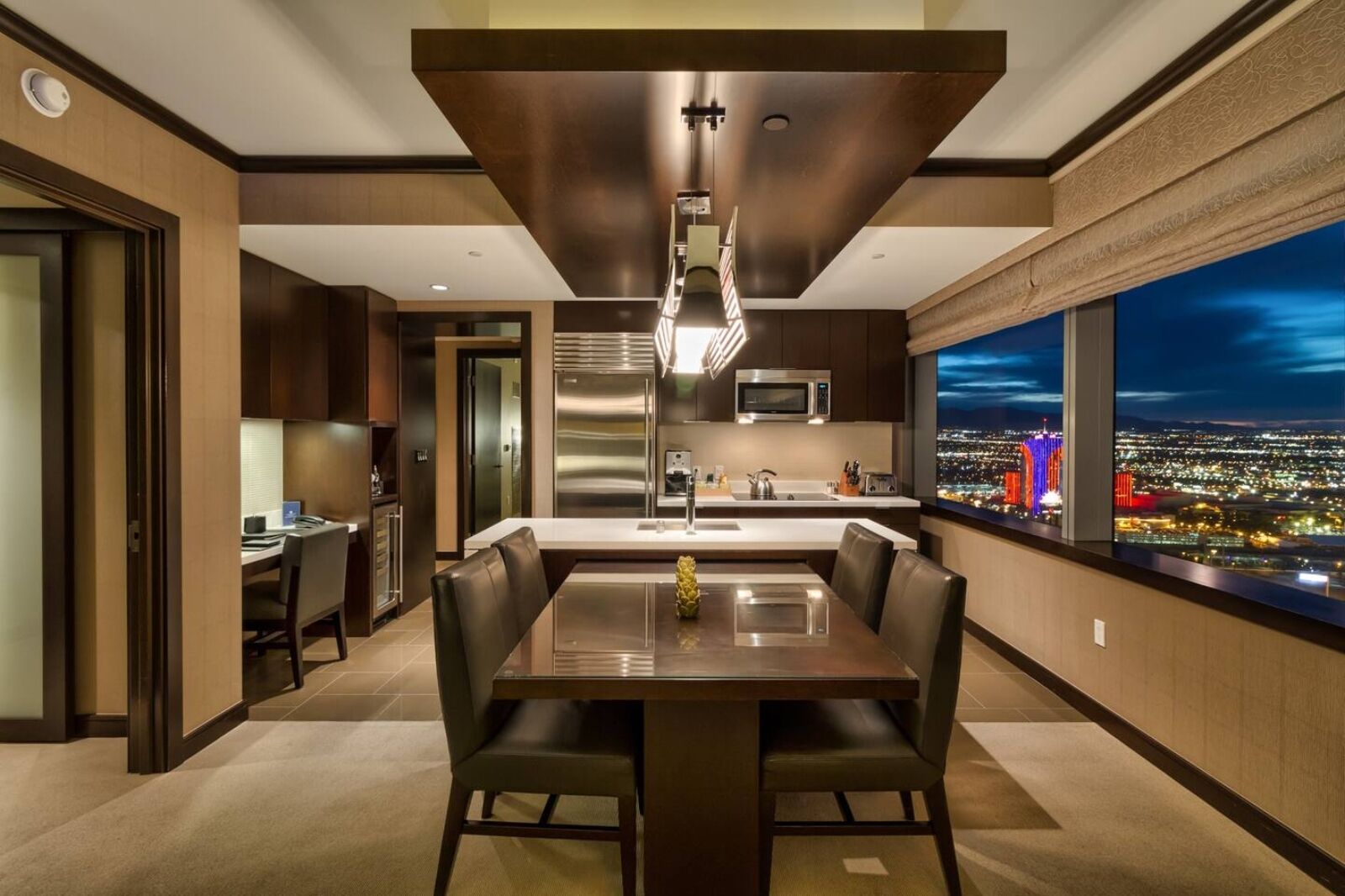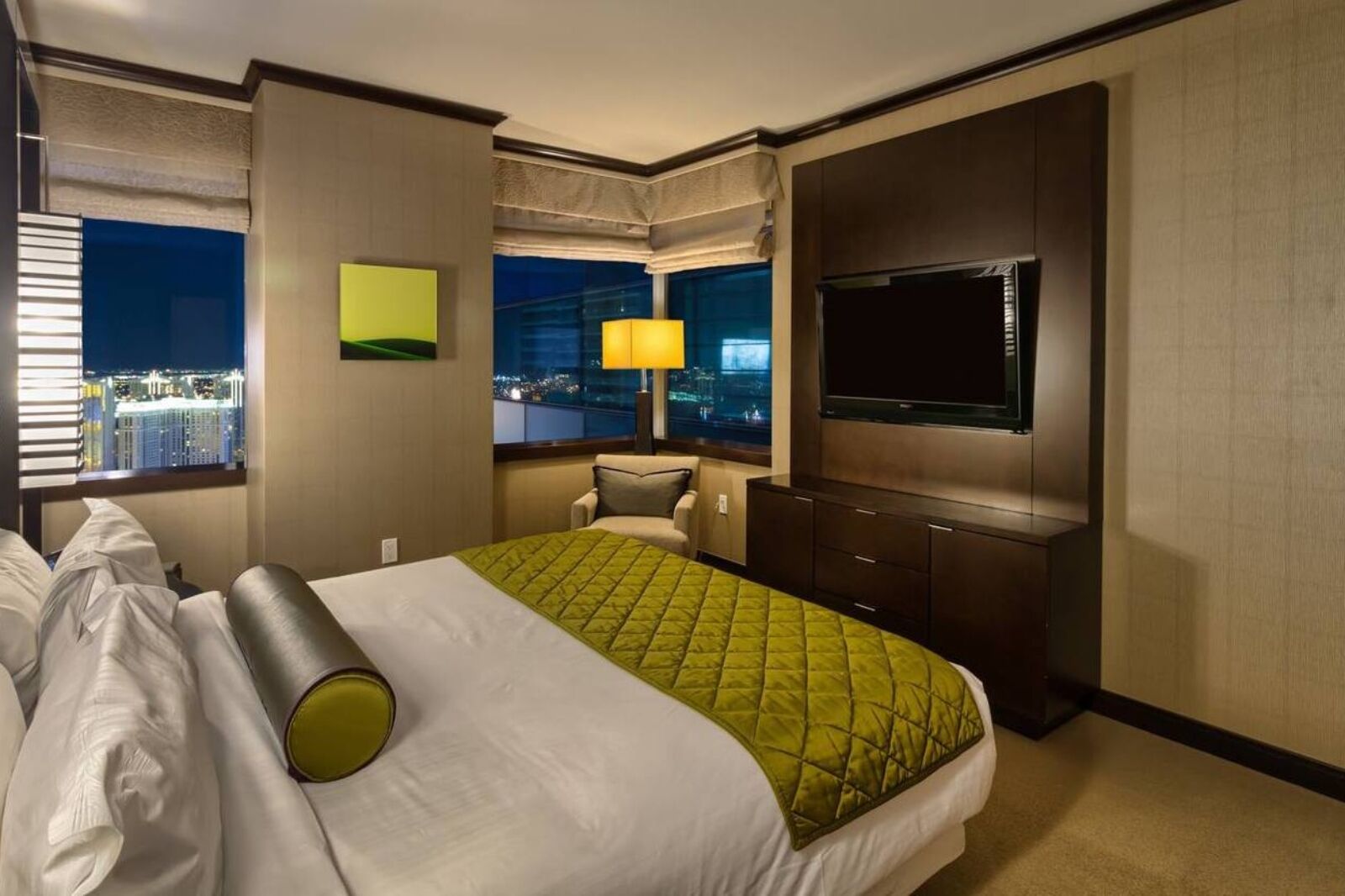 Not every trip to Las Vegas requires a stay in one of the city's gaudy resorts. Sometimes visits to the desert require the simple touches of home to make travels complete. Of course, this is Vegas, so the Airbnbs are not exactly low-key, but they sure are fabulous.
If you have a feisty bachelorette party planned, then you'll want to consider this tropical retreat that's only a few minutes from the Strip. It's an oasis with a 52-foot pool and six large bedrooms. It sleeps up to 16 guests and at over 5,000 square feet of living space, you'll have plenty of room to do whatever happens during bachelorette weekends that we don't talk about here.
For the groups of guys that like to do Vegas in style screaming that "this city isn't ready for us" while high-fiving down the escalator at Circus Circus, grab this penthouse at Vdara on the Strip. It overlooks the Bellagio Fountains and is spacious enough for up to six guests. It has two enormous bedrooms and is the ritziest place you'll probably ever stay, knowing damn well that one of you is going to wake up in the bathtub with a hangover. 

More like this