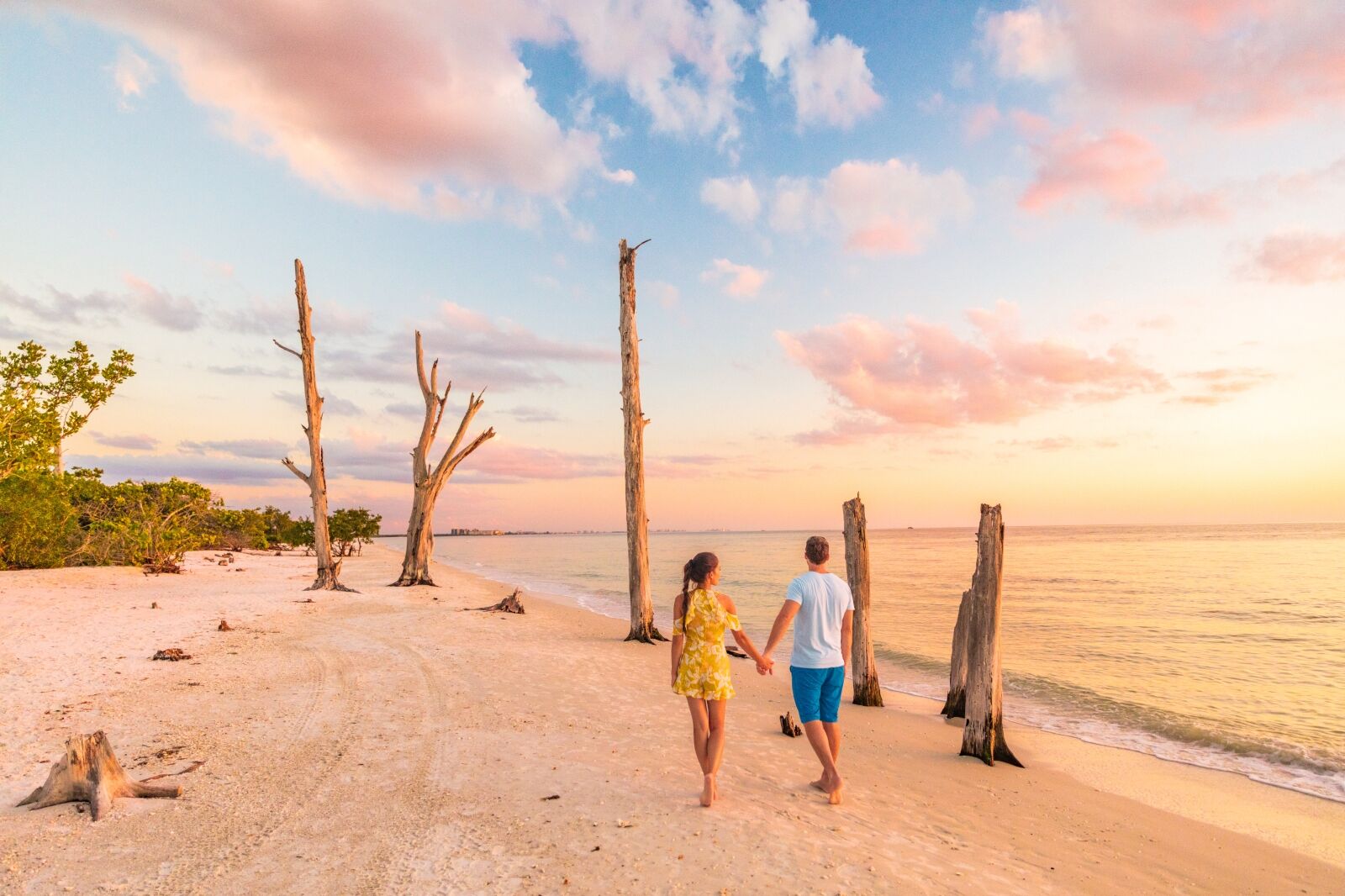 You don't need a specific occasion to take a romantic vacation with your partner. In fact, planning a long weekend trip for no reason can be a wonderful way to show your special someone how much you appreciate having him or her in your life.
Fortunately, if you live in the United States, it's probably fairly easy for you to fly (or perhaps even drive) to Mexico. And since it's a huge country — the 13th largest in the world, actually — there are no shortage of places to go. The best places for couples in Mexico range from small town "pueblos magicos" (magic towns) to beachy destinations to rural escapes where you can tour wineries or go horseback riding through the mountains. There are so many places to go and varied experiences to have in Mexico that it's almost impossible to feel like you've seen everything, even if you planned a dozen romantic getaways.
Check out these six suggestions for the best places in Mexico for couples, along with recommendations for what to see and do and where to stay.
Puerto Vallarta
Closest major airport: Licenciado Gustavo Díaz Ordaz International Airport
Go for: LGBTQ+-friendly travel, street art, whale watching, tequila tours
Beautiful resorts, scenic beaches, and an endless list of romantic excursions and day trips make Puerto Vallarta one of the best places in Mexico for couples. In fact, the old town of Puerto Vallarta is called the "romantic zone," probably due to the cobblestone streets, colorful buildings, artsy street murals, and cute alleys and restaurants adorned with colorful baskets of hanging flowers.
Directly next to the Romantic Zone is the Malecon (boardwalk), which extends for 12 blocks from El Centro all the way down Zona Romantica. It's dotted in sculptures and as you walk along during the day, you'll see everyone from street performers to artisans and vendors to locals enjoying the sun — but it's not a place where you need to worry about vendors being pushy, as that's not the culture here.
One of the more popular is the ever-romantic Rhythms of the Night show, which includes a bay cruise, dinner, and show on the private Las Caletas Beach, located at the south end of the bay. From PV, you can go whale watching on the Bay of Banderas, take a day tour to nearby farms in the state of Jalisco (known for tequila), or have dinner at La Cappella, possibly the most romantic restaurant in the city. Of course, PV is covered with bars and restaurants, so you can always opt for a sidewalk dinner next to one of the town's colorfully tiled plazas.
Puerto Vallarta is known for being one of the most gay-friendly destinations in Mexico, so its a good choice if you're a same-sex couple looking for a quick getaway. That's especially true if you like nightlife as PV has some of the best gay bars and nightclubs in the country.
Stay: Stay at Casa Velas, an adults-only all-inclusive; all rooms have private hot tubs or plunge pools. Or if you want something very local and traditional, stay at Casa Kimberly. It's a boutique hotel inside a home once owned by Elizabeth Taylor, and within walking distance of the Old Town. There are also plenty of cute Airbnbs.
Cabo San Lucas
Closest major airport: San José del Cabo International Airport
Go for: Romantic luxury, ocean sports, spas, fishing
Cabo is one of the most elegant and posh places for couples in Mexico, and it has a reputation for being a bit pricey and expensive (which it is). But with that comes some of the country's best restaurants and beautiful five-star resorts. If you want to treat your significant other, book a moonlight couple's massage at the Solmar Land's End Spa, as close to the ocean as you can get without getting wet.
But really, Cabo is one of the best places in Mexico for couples because of its access to water. It's one of the most well-known fishing destinations in Mexico, and you'll find dozens of boat tours ranging from dolphin-watching to booze cruises to romantic sunset dinners past el Arco (the Arch). There are also many other water-based activities available such as surfing, kayaking, snorkeling, and paddleboarding. If you're looking for something more active, you can book a couple's horseback riding tour through the surf or hike the Cerró de la Torres trail, which has exceptional views of the peninsula. To really impress your special someone, book a picnic on a private beach or challenge yourself to an introductory scuba dive, which requires no previous experience or knowledge.
Stay: If you're going to spring for a luxurious hotel, Cabo is the spot. Good options include the Corazón Cabo Resort & Spa, the Cape, or Paradisus Los Cabos, all of which epitomize the airy, ocean-view style of architecture Cabo is known for. If you prefer rentals, check out this list of the best Airbnbs in Cabo.
Tulum Beach
Closest major airport: Cancun International Airport
Go for: Jungle activities, Mayan culture, cenotes, and beach clubs
Tulum is a small town in the Mexican state of Quintana Roo. It's on the Caribbean coast, near the border with Belize. The town was once a fishing village but has now grown into a popular tourist destination. The main area of Tulum beach is several blocks long, with beach clubs and trendy restaurants on one side and jungle on the other. The main road is a little tough and could use a re-paving, but most people walk everywhere and it's also easy to explore by bike.
Tulum is the best place in Mexico for couples who want to explore the regions famous cenotes, and you can choose from scuba diving in cenotes, jumping into cenotes on rope swings, or relaxing at a bar that has a secret cenote for guests only. Tulum is also a popular starting point for tours to sites important to the Mayans, like Chichen Itza and sacred caves, which served as a gateway to the Mayan underworld.
Stay: There's no way you haven't see the trendy Encantada hotel on Instagram, and it really is quite beautiful. But if it's too pricey, consider the natural and sustainable La Valise, or rent a beachfront bungalow at the laid-back Nueva Vida , all of which are walking distance to everything in Tulum Beach. Tulum Brach and nearby Tulum town have some of Mexico's coolest hotels, even if they are a little over-Instagrammed.
Valle de Guadalupe
Closest major airport: Tijuana International Airport (or San Diego)
Go for: Wine
Valle de Guadalupe is Mexico's Napa Valley, in so much as its the country's main wine-producing region (and it's got plenty of rolling hills and succulents). Were more than 100 wineries not enough, yet another reason this is one of the best places in Mexico for couples is the convenience: it's only about 45 minutes from Ensenada, which means you can drive there from San Diego in about 90 minutes, pending border traffic.
Bajas Valle de Guadalupe produces 90 percent of all wines from Mexico. Much has been written already about the newly-popular Valle de Guadalupe Wine Country in Baja California, although it has been developing as a legitimate high-quality wine source for some years. The oldest winery in the region (Monte Xanic) began producing wine in the 1980s and offers excellent tours; reservations are a must.
Since the 1990s, the Association of Baja California Winemakers has held the Fiestas de la Vendimia (Wine Harvest Festival) every August, at both Ensenada municipality and Ensenada city, so plan your trip for August if you'd like to attend. But wine tours are offered year-round by ATV or chauffeured vans, and you can also easily drive yourself as there's usually not much traffic. Some wineries require reservations but most don't, and this is still a place where tastings are free or around $5-$10, tops — good luck finding that anywhere in near Napa, California.
Stay: You can stay at several wineries in the area, but most people stay near Ensenada. Bruma Valle de Guadalupe is an eco-conscious lodge on its only small winery. It can also assist with recommending other nearby wineries in the area worthy of a visit.
San Miguel de Allende
Closest major airport: Guanajuato International Airport
Go for: Historical charm, sightseeing, photography, handicrafts
San Miguel de Allende, northwest of Mexico city, is one of the best places in Mexico for couples to explore on foot, and the town is home to gorgeous five-star properties for a romantic weekend. The bright city is known for the colonial old-town area, home to a thriving art scene, colonial architecture, upscale dining scene, and a golden hour that has attracted photographers since last century — photography tours are popular. In the downtown area, expect gorgeous baroque and Neo-Gothic villas built around gardens and surrounded by tiled fountains.
The entire town is a UNESCO World Heritage site, and sites you won't want to miss include the Templo de San Rafael (with its steeple rising tall over an old market filled with flowers), El Charco de Ingenio botanical garden, and Fabrica la Aurora, a historic factory turned into a social area and multi-store artisan market. And after a long day exploring everything San Miguel de Allende has to offer, there's no better way to relax than with cocktails and views from one of the many rooftop bars in town.
Stay: San Miguel de Allende won't leave you hurting for lodging options. Belmond Casa de Sierra Nevada is a romantic, hacienda-style hotel on a piece of land with several historic buildings, and Rosewood San Miguel de Allende offers guests options for private afternoon picnics or romantic dinners overlooking the city from your room's private balcony. Live Aqua San Miguel de Allende Urban Resort is also a popular pick.
Mazatlán
Closest major airport: Mazatlán International Airport
Go for: beaches, perfect weather, 1950's vibes
Mazatlán is a popular tourist destination in Mexico known for its beautiful beaches,  and romantic atmosphere. It used to be known for being a little overrun with tourists, but that's changed in the last decade or so, and now the renovated Old Town has the perfect blend of visitor infrastructure and traditional 1900s-era charm. The old town evokes the 19050s, complete with neon pink buildings, palm-tree dotted sidewalks, and colorful sidewalk cafes where it feels like you may see a famous novelist camped out in the sun with a notebook.
This is one of the best places in Mexico for couples who want their quality time to overlap with their beach time. Some of the best beaches near Mazatlán include the white-sand Malecon Beach (accessible from just about any hotel in the city), and the beaches of Deer Island, which require a quick boat ride to reach. While you could take a 10-minute boat ride from the town harbor, a better option is usually to book a snorkeling tour, which will include snorkeling gear and usually a picnic lunch.
Tequila factory tours are also possible, if you're keen on spending any time away from the shore.
Stay: Instead of staying with a luxury international brand, consider staying somewhere more local, such as the Villa Serena Centro Histórico. It's artsy, hip, historic, and feels more like staying at a friend's luxurious home than a big box hotel.