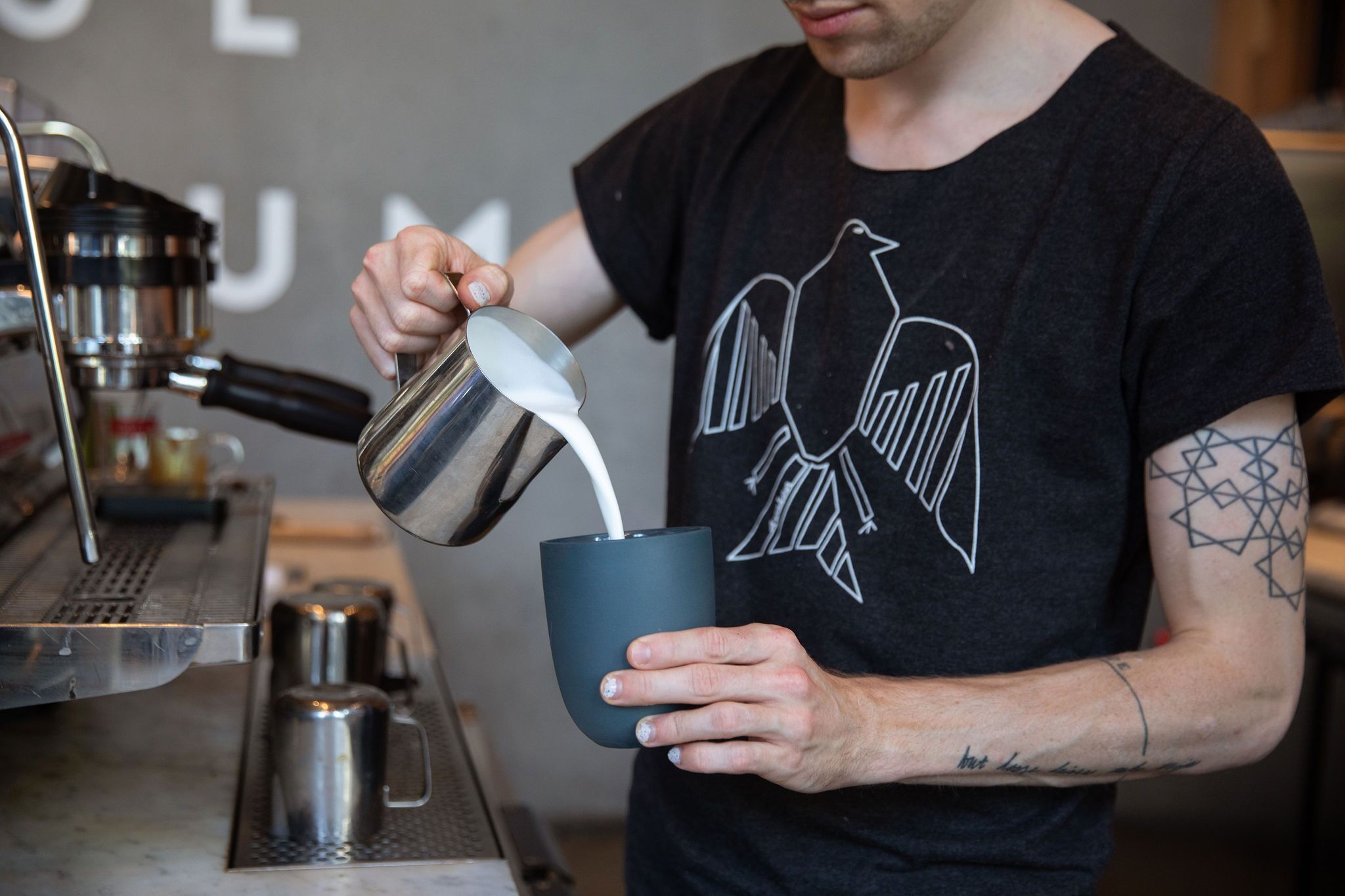 Seattle takes its coffee culture seriously. Often described as the coffee capital of the United States, the coffee houses in Seattle leave nothing on the table when it comes to brewing up a gourmet coffee. And while Starbucks did have its start in Seattle, there are so many other Seattle coffee shops to try during your trip to the Emerald City – that might even have better coffee than Starbucks, no matter how iconic its become all over the world (there's even a Starbucks in Italy now).
The booming coffee culture in Seattle is, in part, due to the often overcast, rainy conditions that settle over the city for the majority of the year. However, the weather isn't the only thing that helped establish Seattle as the hub for coffee enthusiasts across the country.
The emergence of counterculture movements during the 1960s and 1970s also aided in the growing popularity of what we've come to know as the modern day coffee shop–a gathering place where people can collaborate, work, or unwind while sipping a caffeinated beverage.
The presence of Starbucks also inspired waves of local roasters and coffeehouses to materialize throughout the greater Seattle area. These shops and cafes aimed to create something that the larger Starbucks chain couldn't quite tap into as it continued to expand its reach: a sense of locality and community, as well as high-quality coffee beverages crafted with immaculate attention to detail. As a result, Washington is one of the most expensive states in the country to buy a cup of coffee, but the high price tag is worth it.
From drip-coffee to specialty lattes and everything in between, the Seattle coffee scene has something that will appeal to every coffee drinker. Whether you're looking for a cappuccino on the go, or a quiet spot to sip a latte and read a book, this list will help guide you toward finding the right coffee shop for your taste and interests. Skip the Starbucks and sip local.
These are seven of the best Seattle coffee shops that aren't Starbucks to try on your next visit, along with where to find them and what to order.
Seattle coffee shops everyone should try
1. Espresso Vivace
Espresso Vivace is a Seattle-area staple. The flagship cafe is located on Capitol Hill, though there are two other locations around the city where you can indulge in delicious espresso-based beverages. Espresso Vivace's co-founder, David Schomer, is known far and wide for his impact on the gourmet coffee industry. This spot is a must-try for any coffee aficionado visiting Seattle.
What to order: Caffe caramel
Where: Flagship Location on Capitol Hill – 532 Broadway Ave East, Seattle, WA, 98102
2. Monorail Espresso
Another craze in Seattle is the espresso cart, and Monorail Espresso exemplifies all of the best things about this method of serving up caffeinated beverages. Monorail Espresso is credited with kicking off the Seattle coffee cart frenzy in the 1980s. The original cart concept has since transitioned into a walk-up window joint, but the espresso pulls served up at Monorail continue to attract visitors and locals alike.
What to order: Macchiato or white mocha
Where: Famous Pike Street Walk-Up Window – 510 Pike St, Seattle, WA, 98101
3. Fulcrum Coffee
For a delicious specialty coffee, look no further than Fulcrum Coffee. This bright, minimalist cafe is located in Seattle's Belltown neighborhood, not too far from the famed Space Needle. The single-origin coffee is flavorful, but their specialty coffee drinks are part of what makes the menu so popular.
What to order: Cappuccino or any seasonal signature beverage 
Where: 590 Bell St, Seattle, WA, 98121
4. Elm Coffee Roasters
In historic Pioneer Square, you can sip on coffee roasted in-house at Elm Coffee Roasters. Visitors can stop by on Tuesdays, Thursdays, and Sundays to see the coffee bean roasting process in action. Elm Coffee Roasters also offers cupping and brewing classes in-house.
What to order: Drip coffee
Where: 240 2nd Avenue South Seattle, WA, 98104
5. Caffe Vita
With 5 cafe locations around Seattle, Caffe Vita is one of the most popular coffee spots in the Emerald City. Coffee creates a sense of community, and Caffe Vita taps into this ethos with  comforting blends and inviting cafe interiors. The newest location, Vita at KEXP,  is located near Seattle Center.
What to order: Cortado 
Where: Flagship location – 005 E Pike Street, Seattle, WA, 98122
6. Fonté Café
If you're in the Pike Place Market area or visiting the Seattle Art Museum, don't miss out on a latte from Fonté on 1st Avenue. Menu offerings include the Aztec Mocha, Desert Rose Latte, and Sage Latte, among other craft coffee and espresso-based beverages. The cafe also has breakfast, lunch, brunch, and grab-and-go options, making it the perfect spot to grab a brew and a bite.
What to order: Maple cinnamon latte
Where: 1321 1st Ave, Seattle, WA, 98101
7. Anchorhead Coffee
Anchorhead's first cafe opened in Seattle in 2016, and they've built a loyal customer base amongst the local coffee community. Since the first cafe opened, two more Anchorhead cafes have opened throughout Seattle, as well as one in neighboring Bellevue and Nashville, TN.
What to order: Honey Bunches of Cold Brew
Where: Flagship Cafe – CenturyLink Plaza, 1600 7th Ave. Suite 105, Seattle, WA, 98101