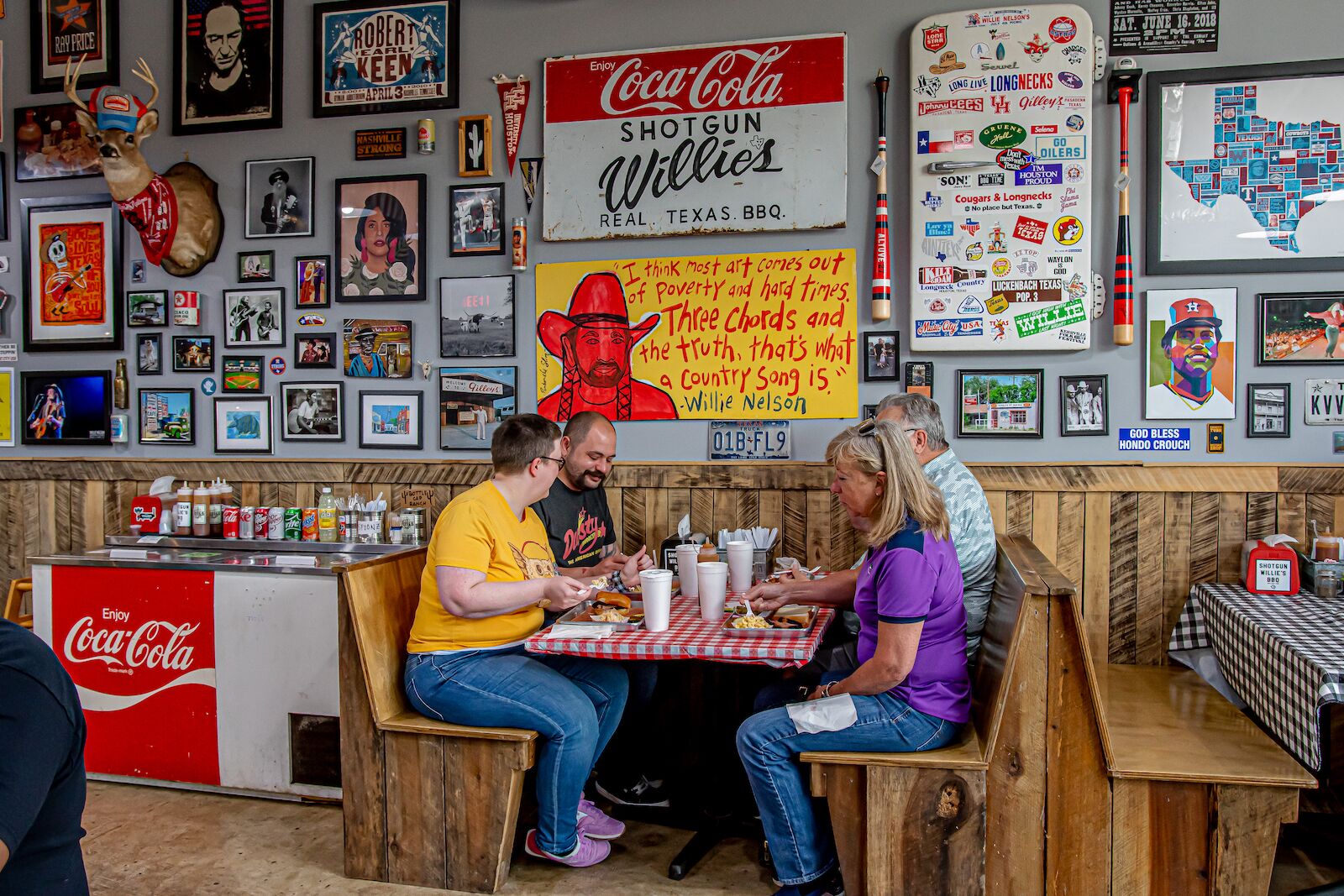 Barbecue isn't a monolith. The styles of this iconic American cuisine vary depending on where you are in the country. Memphis is about smoked pork, hot wings (served with a sweet, sticky sauce), and barbecue spaghetti (the dish was a favorite of local favorite son Elvis Presley). Texas-style barbecue is about cooking low and slow. Texans will throw a variety of meats on the fire, but brisket is the Lone Star specialty. The sauce served on meats smoked in North Carolina barbecue pits is more vinegar-y than sweet. The best BBQ in Nashville rarely shows up on these lists of the best barbecue in America — but maybe that should change.
So what about Nashville barbecue? Well, Nashville doesn't really have its own signature barbecue — although it is already well known as a city with some of the interesting and innovative restaurants and breweries in the country. Yes, Nashville has hot chicken (that's the subject of a different list). But when it comes to barbecue, Nashville is an interpreter, not an inventor. That doesn't mean you should write it off — the best BBQ in Nashville does rival many other places in the country.
That may lead you to think that you shouldn't prioritize eating barbecue in Nashville. In fact, you might be surprised to learn that while Nashville might not be one of the most famous places in the United States for barbecue, there are still barbecue dishes worth trying here. The best BBQ in Nashville is crafted by talented pitmasters who call on traditions from all over the South. So, it's a great place to order a plate and sample the different tastes, from savory to sweet flavors. These are seven of Nashville's best purveyors of smoked meats, and decide for yourself if Nashville should become the United State's next big barbecue city.
Where to eat the best BBQ in Nashville
B & C Market BBQ
B&C Market BBQ's main outpost is in the Nashville Farmers Market (the 'b' and 'c' stand for bacon and caviar, respectively). Even as you wait in line to order (yes, there probably will be a line, this is good stuff), you'll notice how friendly everyone at B&C is. This is a team who remembers your face and your regular order. Get your lunch to go and walk across the street to picnic in Bicentennial Mall or grab one of the communal tables in the farmers market and make some new friends.
What to order: Go with a classic—such as beef brisket or pulled pork—and then experiment with the many different kinds of sauces B&C provides for your sampling pleasure.
Where: 900 Rosa L Parks Blvd., Nashville, TN 37208, United States
Martin's Bar-B-Que Joint
Pat Martin, author of Life of Fire, and owner of nine Martin's Bar-B-Que Joints, perfected his approach to smoked meats in West Tennessee. His particular strength is whole hogs over an open pit, so you can't go wrong with ordering the pulled pork shoulder. But the beef brisket, smoked turkey, and Big Ole Smoked Bologna Sandwich aren't second fiddle in any way.
What to order: barbecue nachos and redneck taco
Where: 410 4th Ave. South, Nashville, TN 37201, United States
Edley's Bar-B-Que
Edley's Bar-B-Que's three locations (in East Nashville, 12 South, and Sylvan Park) mean this barbecue restaurant isn't far from you no matter where you are in town. Edley's is as popular with locals as tourists in part because of its diverse menu, which includes a variety of meats (which includes sausage, pork, brisket, and turkey), hot chicken-style spices, and even salads for those who want some fresh vegetables with their slow-cooked meats. Edley's has a full bar, too.
What to order: Hot chicken sausage links or Nashville-style barbecue hot pork that has been marinated in habanero pepper for 24 hours
Where: 2706 12th Ave. South, Nashville, TN 37204, United States
Peg Leg Porker
Another West Tennessee veteran (and another barbecue book author) Carey Bringle, has been on the barbecue scene for decades. He's won many national awards for his smoked meats and has cooked at the James Beard House. He has so much expertise, in fact, he owns two different barbecue hot spots. Peg Leg Porker in the Gulch, was his first. The unassuming spot has plenty of tables inside and out so you can comfortably sit and eat your ribs with two hands. Peg Leg also produces its own brand of whiskey that pairs well with the meats.
What to order: Dry rubbed ribs (full or half rack, depending on how hungry you are) and Kool-Aid Pickles
Where: 903 Gleaves St., Nashville, TN 37203, United States
Bringle's Smoking Oasis
While Peg Leg Porker is all about the pig, and Bringle's Smoking Oasis in The Nations neighborhood is a mecca for West Texas brisket, Mexican street corn, and other flavors of the Southwest. While there are tables inside, the real beauty of the Oasis is its massive outdoor patio, which has its own bar, plenty of room for dogs and kids, and space to stretch out and relax after you overindulge on smoked meats of all kinds.
What to order:  Brisket, beef rib, smoked prime rib
Where: 4901 Centennial Blvd., Nashville, TN 37209, United States
Shotgun Willie's
Shotgun Willie's hours are listed as "11 a.m. 'till 3 p.m. or sold out," and, well, let's just say this barbecue restaurant almost always sells out. So get to this temple of Texas-style smoked meats early because you don't want to miss out. Owner Bill Laviolette moved to Nashville from Texas and brought his recipes from the Lone Star state with him. Now he makes some of the best BBQ in Nashville. Don't forget to grab a soda from the groovy 1976 Coca-Cola cooler.
What to order: Prime Angus brisket, chopped served on a brioche bun
Where: 4000 Gallatin Ave., Nashville, TN 37216, United States
Loveless Cafe
As delicious as barbecue is (and it is), it isn't everyone's thing. Sometimes you walk out of a barbecue joint smelling like smoke, and sometimes your family has been eating barbecue for days and needs a break. If you have a hankering for barbecue but you're with a crew who wants something else, the tourist-friendly Loveless Cafe is a good option. You can enjoy pit-cooked pork, while your friends and family members choose from a large selection of Southern favorites, which includes classic dishes like country fried steak and cheeseburgers. Whatever you order, don't skip the biscuits.
What to order: Pork barbecue sandwich
Where: 8400 TN-100, Nashville, TN 37221, United States