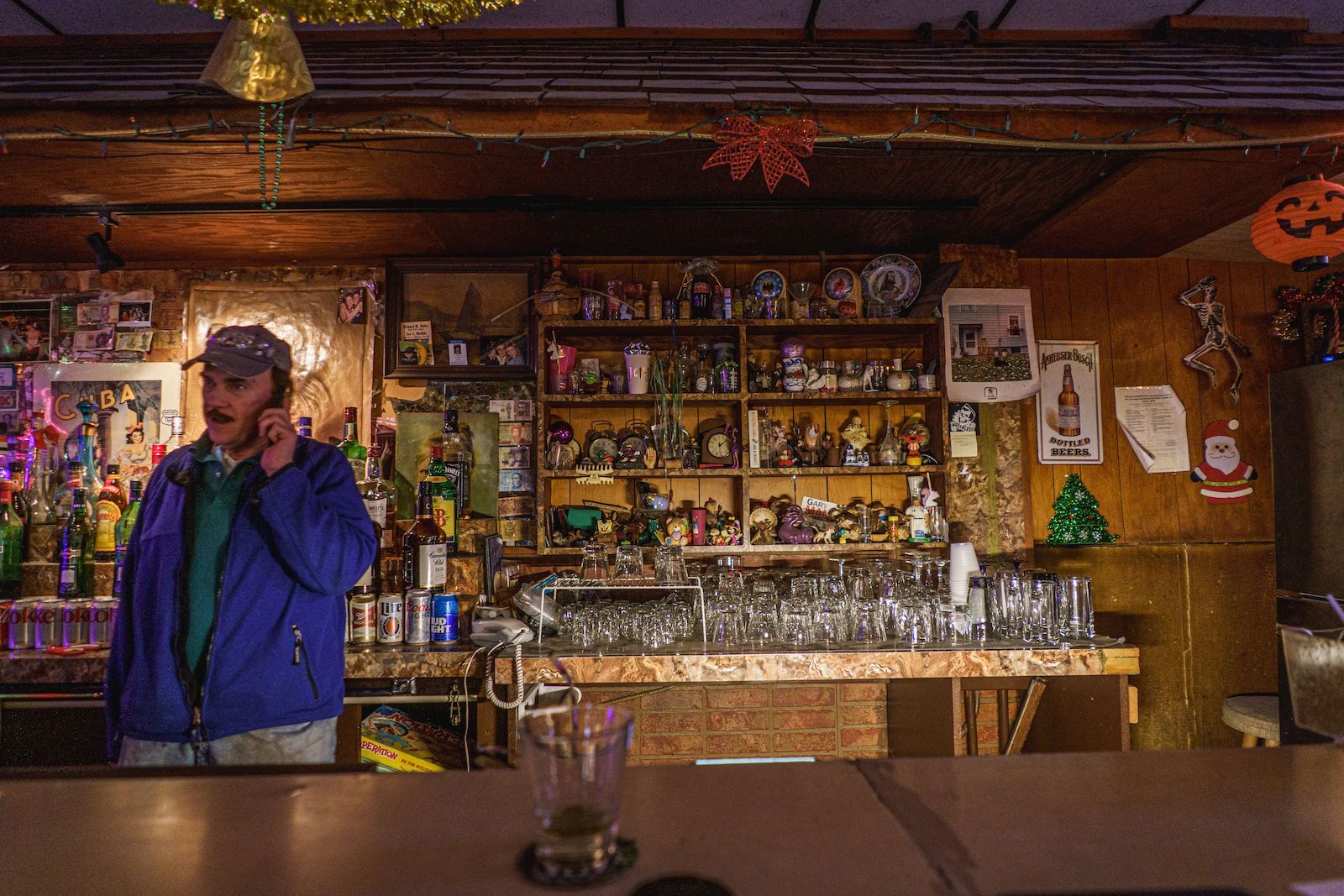 What distinguishes a dive bar from other drinking establishments? After all, every American city has its share of neighborhood tap rooms, corner bars, and taverns. For Chicagoans,the definition of a dive bar is an endless subject of debate. Local industry folk and watering hole regulars use strict guidelines to assess what is and isn't a dive bar. How much is a domestic beer, for instance? It has to be under $5. Are the bathrooms clean, or covered in graffiti? They should be questionable at best. Can you order more than a two pour cocktail? If so, that's not an authentic dive – it's a cocktail bar. Dive bars in Chicago meet all these criteria.
However it ranks, dive bars in Chicago seem to always have a storied past – a few notorious regulars, a past owner called "Lefty" with secrets, a clandestine operation involving a mobster or mafia tie. Usually, multiple versions of said stories remain in perpetual circulation amongst regular patrons and bartenders, with little regard for fact-checking. In fact, improvisational embellishment is encouraged.
Whether these Dive bars in Chicago are known for their lore, their legendary barkeeps, or an ineffable atmosphere you just have to experience for yourself, each one has a following of devoted locals. Here are the dive bars in Chicago that visitors should know, the type of place that can be scrawled on a bar napkin and slid discreetly in your direction. Remember to order a "Chicago Handshake" (domestic beer and a shot of our notorious local bask, Jepsen's Malort) so no one suspects you're from out of town.
Dive bars in Chicago to visit on your next trip
1. Rose's Lounge
The vintage painted facade of this Lincoln Park dive can't even prepare you for the kitsch that awaits. Wood-paneled walls are adorned with Christmas lights all year and dizzying amounts of random ephemera. Against the walls, plaid couches offer up cozy front row seats to the billiards games. Not only has Rose provided the otherwise monotone neighborhood of Lincoln Park with a vibrantly nostalgic oasis for decades, but she also welcomes a late night music scene, like a shift change to a whole new set of characters, for those who stick around toward last call.
Where: 2656 N Lincoln Ave Chicago, IL 60614
2. Hidden Cove
Anyone who closes one bar down and then heads to the Hidden Cove afterward, which is open until 4 am, has an interesting story to tell. This unassuming dive is situated in one of the many low-rise commercial strips that line a far north stretch of Lincoln Avenue, along with dollar stores, gas stations, and sleepy mid-century motels somehow still in operation. The window-front bar could be easily overlooked if it weren't for the 1960s-style palm frond signage out front beckoning patrons inside. The Hidden Cove is the place to go for epic, unforgettable karaoke. On a Saturday night, the bar is open till 5 am. Along with karaoke, patrons can count on cheap food and drinks and a place to solo dance under the party lights all night.
Where: 5336 N Lincoln Ave Chicago, IL 60625
3. Stella's Tap
This small but mighty Ukranian Village dive is run by its equally small but mighty namesake, Stella. She has a dedicated fan base, but takes in new patrons with the same open arms. At Stella's, you'll find cheap drinks, vintage pinball, and a sturdy pool table. Noting the TouchTunes, you might expect this bar to be congested with hipsters as the night rolls on, and it can, sometimes. Somehow, though, Stella's maintains its lack of pretension that makes every kind of drinker feel welcome. Bring a friend from out of town or bring a blind date. The consistency is key at Stella's.
Where: 935 N Western Ave Chicago, IL 60622
4. L&L Tavern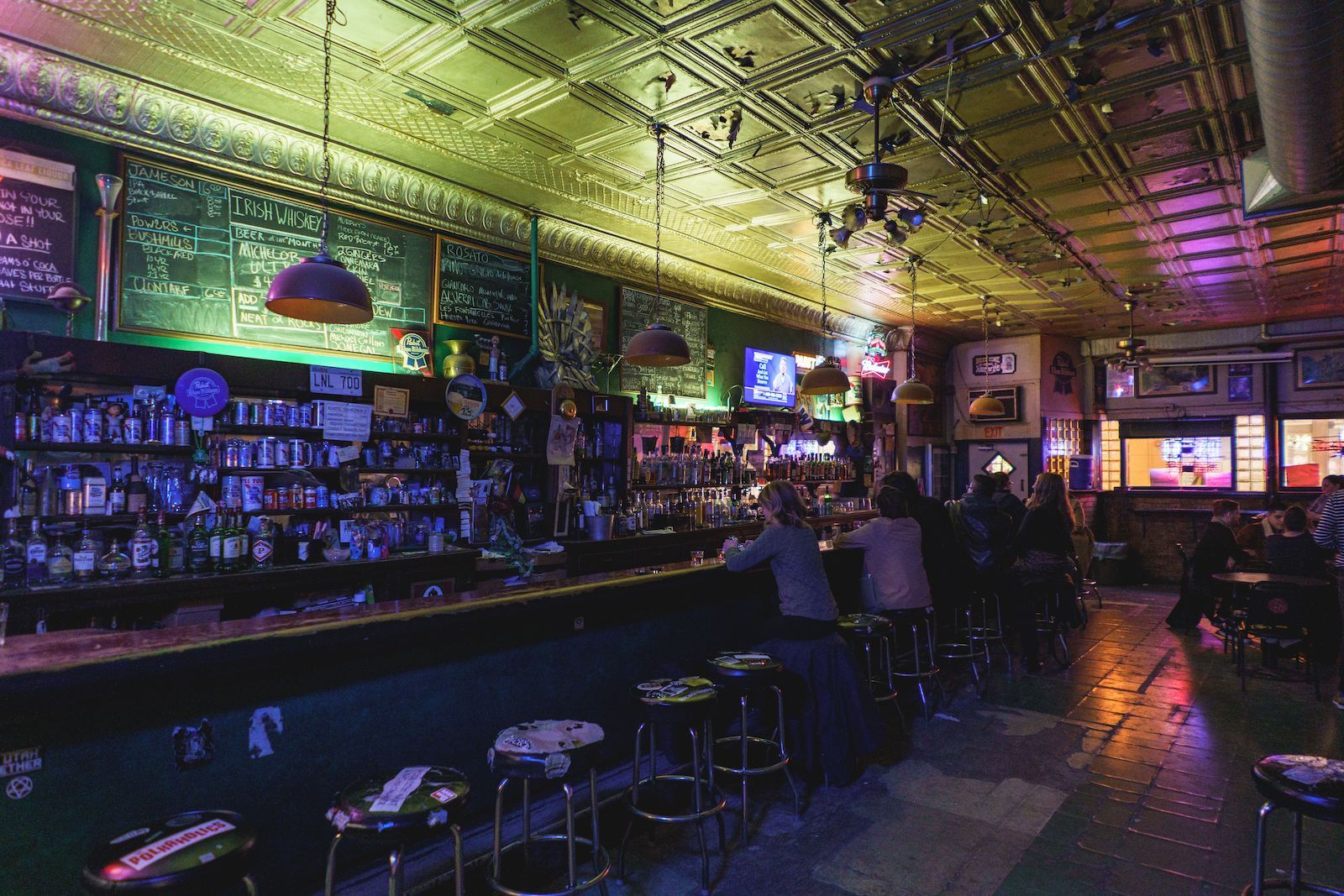 There's always a ripped and bumper-sticker repaired barstool open for a curious traveler at the L&L. Nevermind the handwritten sign in the front window that says "Creepiest Bar in America." Don't question the dried sliver of cake soap left on the cast iron sink in the closet-size bathroom. Behold, instead, the whir of a real jukebox and the charm of a vintage stainless steel stand-up beer cooler. So what if a few notorious serial killers used to call this hole-in-the-wall home? This living relic once served Anthony Bourdain a glass of Malort. It may be creepy, but it's our kind of creepy.
Where: 3207 N Clark St Chicago, IL 60657
5. Simon's Tavern
Over the flip-disc jukebox at Simon's hangs a portrait of its namesake, Simon Lundberg, the Swedish immigrant and savvy entrepreneur who reportedly boot-legged with Capone and built his dream bar from a little grocery cafe and a speakeasy. First timers are amazed to be transported upon opening the heavy old door of this legendary dive with the neon herring holding a martini as its beacon. The present day interior looks much the same. It was designed by Lundberg to resemble a luxury passenger ship. He wanted fellow immigrants in his predominantly Swedish neighborhood of Andersonville to feel like kings at the end of a hard day. Simon's is a historians' dive. Evidence of the Prohibition era speakeasy remains in the bar basement. Current owner (since 1994) Scott Martin is a gracious host, regaling visitors from all over the world with stories as he casually goes about his day. A day drink is the best way to experience Simon's. Between the hours of 11AM and 3PM, you'll likely meet a 'Simonite' or two– neighborhood regulars who set up shop and share lively conversation over lunches at the bar.
Where: 5210 N Clark St, Chicago, IL 60640
6. EZ Inn
Perhaps some of the most compelling evidence for how deeply dive culture is woven into the fabric of Chicago is the love and labor industry veterans pour into dive bar preservation. This is why Chicago might be considered the epicenter of the neo-dive bar phenomenon. One of the best examples is the EZ Inn in Ukranian Village.
If done right, a neo-dive not only pays tribute to the original bar, it is a lovingly curated iteration that looks and feels as if you were walking into that bar in its heyday. And that's what owner Isaac Liberman has accomplished with his renovation of EZ Inn. There's an updated fancy cocktail menu, which you can find on the online, and might not totally gel with the typical dive bar ethos. But there's also daily specials like Hamm it up Tuesday, where you can get $2 Hamms all night. The bar's tagline reads "You are a stranger here but once…" And that's the spirit of a true dive.
Where: 921 N Western Ave Chicago, IL 60622
7. Parrots Bar & Grill
In an affluent neighborhood that sometimes feels far too close to the party strip of Wrigley Field, Parrot's has served up an easy-goingness atmosphere for decades. You could attribute the vibe to the cheap pitchers and free pool and darts neighborhood regulars have long enjoyed. Maybe it's the sheer number of (fake) parrots hanging around the back bar, walls, and beer tap that make this dive feel like a friendly island in a sea of run-of-the-mill sports bars. But more likely, the feeling of immediate welcome when you walk down the steps into Parrot's stems from the bar's owner. The easy quips and genuine smile of Grant Ohori, who recently passed, have left their mark on Parrots.
Where: 754 W Wellington Chicago, IL 6065
8. Rainbo Club
Once the center of the grunge rock universe, Rainbo Club still looks like something out of a 90s movie: vinyl booths, checkered floors, kaleidoscope lights, and a photo booth. The Rainbo Club has been cherished for years as a haven for underground art and music. Chicago's Wicker Park was once home to a vibrant counterculture and Rainbo Club's tiny stage hosted many musicians who went on to find larger fame. This no-frills watering hole still turns into an unpredictable DIY disco dance party, complete with throwback record spinning.
Where: 1150 N Damen Chicago, IL 60622
9. Cary's Lounge
Cary's Lounge is the kind of neighborhood dive that feels strikingly familiar upon first visit. This 50-year-old family owned bar has the energy of a friend's place, where you can wile away the hours in a pleasant conversation as all the usual, smiling faces come through the door. The atmosphere is laid back and lived-in, with a bohemian vibe.
Cary's is also a dive that champions neighborhood artists and musicians. You'll always find a creative character or two here. The most notable of them? That would be Mel the Cat, who can be found sitting at his usual bar stool, overseeing the operations. Don't be fooled by his aloof demeanor. Mel's always ready to welcome a new patron.
Be sure to check out the Cary's patio out back, where you can hang with Mel and owner, Pete Valavanis, who keeps the family legacy alive and positive vibes flowing with free pool, trivia nights, and live music.
Where: 2251 W Devon Ave Chicago, IL 60659