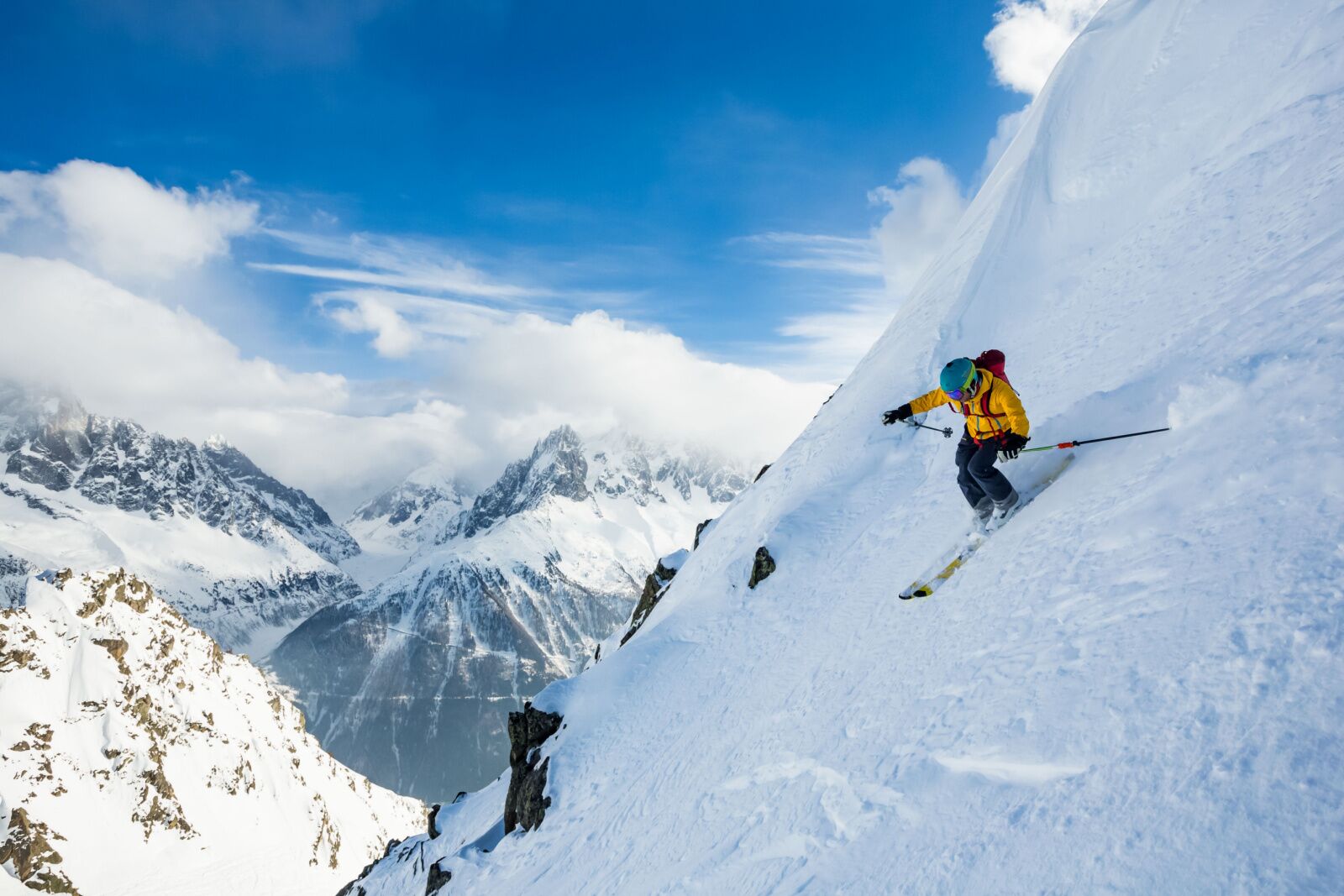 Step off any of the highest gondolas at any of the largest Alps ski resorts, and you'll hear gasps around you. But it's not just gasping for air (though you may find yourself 11,000 feet above sea level). It's gasping at the sheer extent of the famous European mountain range.
Europe's jagged white peaks seem to go on forever when viewed from the top, and the individual resorts within them are huge. Some sprawl across several mountain valleys, tied together by a single lift ticket and plenty of gondolas. Austria's SkiWelt Wider Kaiser alone has 90 lifts and more than 160 miles of interconnected trails. For comparison, the largest ski resort in North America (Whistler-Blackcomb) has 32 lifts . And even that is absolutely massive.
For skiers and snowboarders, having so many resort options and so much skiable terrain is awesome. For travelers planning their first ski trips to Europe, it can be overwhelming. Which resort should you go to in the Alps? Which country should you choose? Which countries have the best skiing? Where can you be sure you'll have snow? And, perhaps most importantly, where should you go to experience the Alps' famous après-ski scene?
Fortunately, many of the best Alps ski areas have their own vibes and draws, and you can start narrowing down which of the many Alps ski resorts will be best for your group. And note that the recommendations below use the word "ski" as a catch-all verb for skiing, snowboarding, mono-skiing, telemark skiing, etc. — whatever floats your boat (or your skis).
Zermatt, Switzerland: best for reliable snow
Zermatt is one of the highest-elevation Alps ski resorts in Switzerland. The resort's Klein Matterhorn gondola is the highest in Europe, whisking guests to a (literally) dizzying 12,736 feet high. So even in the early season, when the lower parts of the mountain range are still getting rain, there's an excellent chance that Zermatt will be getting snow.
Just be aware that guaranteed snow doesn't mean guaranteed powder. Zermatt has relatively dryer and sunnier weather than resorts on the north end of the Alps. That sun cause quickly melt the top layer of snow, and when that moisture re-freezes, it packs down the snow and creates a firmer, icier feeling ski surface.
Of course, that's not always the case, especially if you use a mountain guide or know where to find pockets of untracked snow. Finding north-facing runs can also increase your odds of finding fluffier conditions, and with the mountain's sheer size, you can almost always find fresh tracks, even a few days after storms.
The other benefit of lots of sunny weather is the near-constant views of one of the most recognizable mountains in the world: the Matterhorn. It's visible from almost anywhere in the Alps ski resort town, but is especially stunning as you snake up the cherry-red Gornergrat Bahn train. It was the first European rail route to travel above 10,000 feet in altitude when it opened in 1898.
Beyond the Matterhorn vistas, you'll love Zermatt's car-free streets. (You can take a train in or park your car at the edge of town and take a mini electric taxi). Add in a bustling mountain feel with bars, restaurants, shopping, and even a funky movie theater with bar service, and you can't go wrong.
Davos Klosters, Switzerland: best for families or non-skiers
For the perfect family ski vacation, consider Davos Klosters. It's one of the best Alps ski resorts for a quick trip as it's accessible on foot from the city of Davos (which is two hours by train from Zurich) and the mountain village of Klosters is big enough to offer plenty of variety for lodging and dining. But it's not so huge that family members can't ski different tuns and still meet up for lunch. The on-mountain Berggasthaus Parsennhütte has tasty cafeteria service that simplifies group eating, even for large groups.
If you have beginners in the bunch, stay in Davos, since the beginner zones are near Bolgen Plaza, in the middle of Davos. From this area, more experienced skiers can take the impressive "Bergbahn:" a mountain train that accesses higher and steeper trails. Any non-skiers in the family will also appreciate that Davos has lots of shops and a few museums, including the lovely Kirchner Museum Davos, the Davos Winter Sports Museum, and a local history museum.
Davos is the site of the annual World Economic Forum, in part because it has the big hotels needed to handle so many visitors. That can make it easier to find last-minute rooms for a large family. But if the Hilton Garden Inn doesn't exactly fit your idea of a Swiss ski vacation, just head to the other side of the mountain. That's where you'll find Klosters, likely to be the charming Swiss village you're seeking, with smaller hotels and cozy condo rentals.
Gstaad, Switzerland: best for beginners
All Alps ski resorts know the importance of turning newly minted skiers into lifetime skiers, and ski schools earn good money for the resorts. So every ski area will have at least a few runs suitable for beginners. Even Chamonix, the Alps' most hardcore mountain, has six beginner runs.
That said, if you're just starting out, you might feel intimidated going to a resort filled primarily with experts. And you may prefer a mountainside lunch restaurant where you don't have to worry about skiing or riding back down to safer ground after dessert.
Enter Gstaad, where most trails are on are gently sloped, low-lying mountains with inexpressible Swiss names like Rinderberg-Saanerslochgrat-Horneggli. Rounded mountains mean easy runs and plenty of sunshine, since you aren't in a tight valley surrounded by sun-blocking peaks. In fact, you can have lunch at the top of the ski area and confidently snow-plow your way back down, even if you've had a beer or two.
And if skiing for you is more about eating and shopping in the ski town, you'll be happy to know Gstaad has an amazing food scene. There's good eating to be had, ranging from ravioli with black truffle and sous-vide veal at Rialto Bistro, to the seasonal specialties at cozy La Bagatelle. And the people-watching is equally entertaining.
The main street of Gstaad, lined with shops like Prada, Hermes, and Loro Piana, is stupidly posh. But at least you can be sure that all the people decked out in their finest and strolling the main avenue are not top skiers – or they wouldn't be skiing in Gstaad's nearby mountains. (The Glacier area, which is more challenging, is a full hour away).
Kitzbühel, Austria: best for intermediates
Don't be alarmed by the fact that Kitzbühel is home to The Streif, one of the steepest runs in the world that reaches an angle of more than 40 degrees (gulp). Kitzbühel is actually of the best Alps ski resorts for intermediate skiers. The Austrian resort has multiple blue runs that offer plenty of sub-40-degree steeps and are groomed just enough to make you feel comfortable.
One thing intermediate skiers will quickly notice here, and really anywhere in Europe, is how long the runs are. So even if you're a fairly solid skier or rider, you'll still want to get your leg muscles in shape before you go. Otherwise, your thighs and calves may be throbbing by the time you reach the bottom, potentially setting yourself up for injury.
Fortunately, there are plenty of chalets and restaurants on the mountain that aren't just for ensuring you can go home with plenty of classic Alps ski resort photos, but also provide a chance to rest your legs. These family-run restaurants tend to be small, so reserve in advance if you plan to eat at places like the white-tablecloth Berggasthof Sonnbühel. If that just isn't your style, the Berghaus Tirol has Austrian specialties like wiener schnitzel and spaetzle in more chill surroundings.
In town, Kitzbühel's car-free pedestrian central areas take you past the pastel-colored buildings that are somewhat of a hallmark of Austrian villages. In fact, Austrian mountain villages are some of the loveliest in the Alps. Although none of the lodges and condos are too tall, they are big enough to house groups of friends. And when you're ready for a dinner more mellow and cheaper than the restaurants on the mountain, hit up Simple Food and Drinks.
Verbier, Switzerland: best for experienced skiers or riders
If you want an Alps ski resort with challenging terrain but are a little put off by the challenge of Chamonix (below), try Verbier. It's part of Verbier 4 Vallées, the largest ski area in Switzerland. As the name says, it combines four valleys, which means you can't ski it all in a day, no matter how early you start or how fast you ski.
But it does mean that you will find plenty of steeps on groomed, in-bound trails to satisfy your need for speed. Take the cable car from Col de Gentianes to Mont Fort for something extra unique, but know that it may leave your heart palpitating more than a little. When you exit the crowded gondola at the top, you're on a windswept ridge with mind-blowing views of the Alps in every direction – including the Alps' highest peak, Mont Blanc, which rises 15,406 above the valley below.
The view is lovely, but you'll likely want to get your skis or board on quickly to get off the windy ridge. The extremely steep (77-percent grade) of the downhill slope back to the valley may not be for everyone – though it is plenty wide, offering lots of room to maneuver if you need to make big turns.
After conquering so many long, steep runs, Verbier village offers up plenty of places to swap ski stories over a beer or hot toddy. Indeed, the aptly named Pub Mont Fort practically invites you to brag about your Mont Fort ski exploits. If you don't want to ski all the way down to start après, stop by Ice Cube, an on-mountain bar with killer views hopping in both winter and summer.
Chamonix, France: best for "I should have gone pro" skiers
Chamonix isn't just one of the world's most hardcore places for rock climbing or summer hiking. It's also one of the planet's most extreme ski resorts, drawing a full- and part-time community of hardcore athletes. The mountains of Chamonix are so jagged and steep that they've served as stand-ins for the Himalayas in several Hollywood movies.
One of the most famed places to ski at Chamonix is the Grand Montets ski area by the Argentiere Glacier. Currently, the best way to get there is via the Plan Joran gondola. Pylônes and Point du Vue are the toughest on-piste runs. If you're after steeps, sun, and views of Mont Blanc, head to the south-facing Brévent-Flégère area.
But where the "I probably could have gone pro" skiers and riders go is off-piste – way off-piste. Either they grab their ropes and crampons and shimmy across glaciers to find fresh pow, or they at least slap skins on their skis and traverse into the back- and side-country.
Just know this: skiing off-piste (a.k.a., side- and backcountry skiing) is more dangerous in the Alps than in North America. Even within resort bounds, off-piste zones are only patrolled for avalanches that could take out a chairlift, mountain restaurant, or village below. They don't patrol for potentially "small" avalanches that could take out a couple of skiers. So whether you're headed to the sidecountry or backcountry, rent your avi gear and consider use a guide if you aren't familiar with the mountain. The folks at Chamonix Experience offer guiding services. Beacons are non-negotiable, and remember that you can't fly with the canisters use to inflate avalanche bags.
St. Anton, Austria: best for après-ski
St. Anton has a strong case to back up its claim as the world's après-ski capital. If your idea of a ski vacation includes hours of partying after you've unclicked or unclipped your bindings, St. Anton is the best of the Alps ski resorts for you.
You almost can't avoid the parties, since you'll ski or snowboard past multiple slopeside bars on your way back to the base. And if you do give in and stop for a lager (or three or four), you may find yourself skiing down the final stretch in the dark, especially if you've been drawn in by the unavoidable fun of people dancing on tables. Just stay relaxed and keep your knees bent to absorb those unseeable bumps.
If you don't drink, don't let that dissuade you. The on-mountain party scene is very friendly and worth stopping just to check out the atmosphere. You'll see people take off ski jackets to show off party clothes underneath, or wearing silly ski clothes all day just for the after-party. And St. Anton has some of the best skiing in the Alps, period. And it's worth enjoying the atmosphere at famous bars like the MooserWirt, even if you just drink a soda.
St. Anton is part of the Arlberg Ski Resort, the largest combined resort in Austria. Not only is the skiing some of the best in the world, but the frequent snowfall offers plenty of powder. Add in lower prices and friendly Austrian attitudes, and you'll likely find yourself coming back to St. Anton again and again.
SkiWelt Wilder Kaiser: best for groups of various abilities
If your travel buddy can shred double-blacks with ease but her new girlfriend is still working her way up to steeper blues, no problem. Just head to the Wilder Kaiser region of Austria, about an hour by train from Salzburg. The collection of resorts is famous for the "SkiWelt," a 52-mile, point-to-point ski route in which you never take the same trail or ski lift twice.
But the fact that you can ski 52 miles without retracing your tracks should give you a sense of scale for the resorts. One ticket gets you access to all the trails within the sub-resorts, which include 70 miles of beginner slopes, 74 miles of intermediate, and 22 miles of advanced. Worried it'll be too easy? Just keep skiing – if you add in a 10-minute ride on the free ski bus, you can connect the SkiWelt to Kitzbuhel. There's even a cool website that will plan and animate your custom route across the mountains so you can't get lost.
Another reason SkiWelt WilderKaiser is one of the best Alps ski resorts for varied groups is the variety of lodging. There are nine towns across the various base areas, all connected by a free bus system in case you don't want to ski between them. Budget-conscious skiers can post up at the affordable and laid-back Pension Kaufman, while travelers looking for a higher-end stay may like one of the private chalets with patios and a heated outdoor pool at the ​​Genusslandhotel Hochfilzer.

More like this