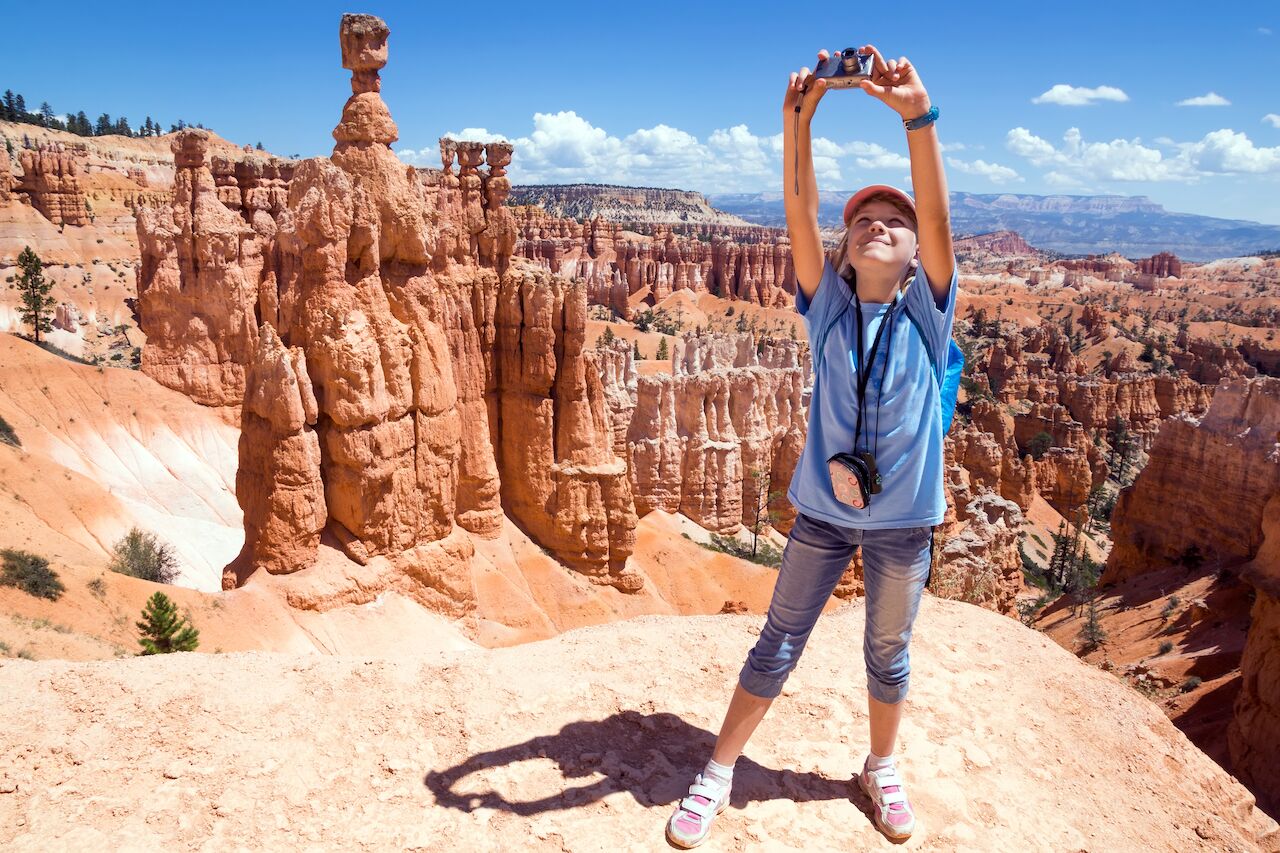 Kids have a way of looking at the world that can bring back the wonder in even the most cynical adult. They stop and smell the roses or lay in the grass looking at the clouds, seeing shapes and animals. They find cool spots to play hide and seek or make-believe. Put a camera in their hand and all that creativity combined with their low vantage point, can make for some fascinating photography.
Giving them a tool to capture memories from such a special and fleeting time in their lives is as much a gift for them as it is for you. Here are some options that will help encourage their new hobby without breaking the bank, whether they are in kindergarten or heading for college soon.
Ultimately, the best camera is the one that gets used so think about what your child likes to photograph and how tech-savvy they are in order to give them the best camera for kids to help them create great images and record their lives. If you have a very young child or one that is very active, you'll want something simple and durable that is fun and easy to use. As they get older and hone those fine motor skills and learn how to take good care of their things, a more advanced camera can really help push their creativity.
We hope you love the cameras for kids we recommend! Just so you know, Matador may collect a small commission from the links on this page if you decide to make a purchase. Listed prices are accurate as of the time of publication.
---
---
Fuji Instax Mini
For $80, watch their eyes light up as a photo develops right in their hand. The Fuji Instax Mini comes in several colors and is very easy to use. Don't forget to buy the sheets (less than $1 per sheet). They come in packs of 10 with various designs on the frames or you can get a pack of 60 so they won't run out too quickly.
VTech KidiZoom Camera Pix (age 3+)
The VTech KidiZoom Camera Pix (age 3+) is only $44.99 and perfect for small hands. There's an LCD screen and even a few games to entertain them when they aren't snapping away. It comes in two colors and is the perfect introduction to digital photography.
VTech — KidiZoom Creator Cam (age 5+)
If your little one also likes being in front of the camera and taking videos, then check out the VTech — KidiZoom® Creator Cam (age 5+) (starting at 40.50). It has a flip-up lens for selfies and a table-top tripod that can double as a handle.
Sony DSC-W830
Want a little more pixel power? The Canon Power Shot ELPH ($239) has a 20.2 Megapixel CMOS sensor and a 12x optical zoom with image stabilization which will help ensure better results. But for even better value, check out the Sony DSC-W830 ($164.99) with a similar sensor size and 8x optical zoom.
Olympus Tough
If you worry about a camera being dropped or caught in the rain, or your kid loves to spend time on the beach and in the water, look at getting a waterproof compact camera like the Olympus Tough ($499). This is perfect to explore the world no matter the conditions on land and underwater, whether in a backyard pool or on a snorkeling adventure. Built to withstand the harshest elements and treatment, this camera will give you peace of mind while also taking great pictures.
Panasonic Lumix DC-FZ80
Older kids wanting to have more control will love one of these bridge cameras. The Panasonic Lumix DC-FZ80 ($397.99) has a built-in lens with a powerful 60x optical zoom perfect for capturing wildlife and sports. Settings can also be controlled on this camera much like a D-SLR so they can experiment with longer shutter speeds to capture the night sky or fireworks.
OIEXI 4k digital camera
Any camera that can record video, including a phone, can be used for vlogging but there are some that stand out in terms of video quality and ease of use. Sony came out with one made specifically for content creators, the ZV-1 ($698) but until they become real influencers, you could look at the OIEXI 4k digital camera for only $97.
DJI OM 5 Smartphone Stabilizer
Or if your child already has a smartphone, why not get them a gimbal like the DJI OM 5 Smartphone Stabilizer ($129) that will smooth their movement when walking and filming, but that can also be used as a tripod.
GoPro Hero7
When GoPro introduced the Hero 1 back in 2006, little did we know how popular this type of camera would become. Thanks to its durability and size, a GoPro can get shots in places where most don't dare to bring more expensive gear, from underwater adventures to tearing down a mountain bike path, and even up in the sky with paragliders and skydivers. Kids will love documenting their wildest adventures with a camera that can be attached to a helmet, handlebars, or a chest harness, leaving their hands free to enjoy the ride while preserving the memories forever. Getting an older model GoPro, such as the Hero7 ($269), is a smart way to save money while still getting great quality.
AKASO EK7000
But don't forget to look at the many other brands that offer similar quality without the higher price tag, such as the AKASO EK7000 ($69.99) or its big brother the AKASO Brave 4 ($89.99)
DJI Mini SE
If you have an older child ready for the next challenge, consider a drone camera. These can get unique perspectives and create really beautiful images of the world as seen from a bird's eye. DJI has long been a leader in this field and has come out with a small drone, perfect for the beginner: the DJI Mini SE ($299). It is under 0.55lbs (250g) which is important to consider because anything above that will need to be registered with the FAA. Even without the need for registration, there are still regulations that need to be followed and certain areas where drones are prohibited to fly, including near airports, over groups of people, and in national parks so be sure to check the rules before you fly.
Drocon Ninja RC Drone
If you are on a tight budget, there are several other brands that are less than $100, such as the Drocon Ninja RC Drone ($64.99) or the SANROCK Drone ($49.99).