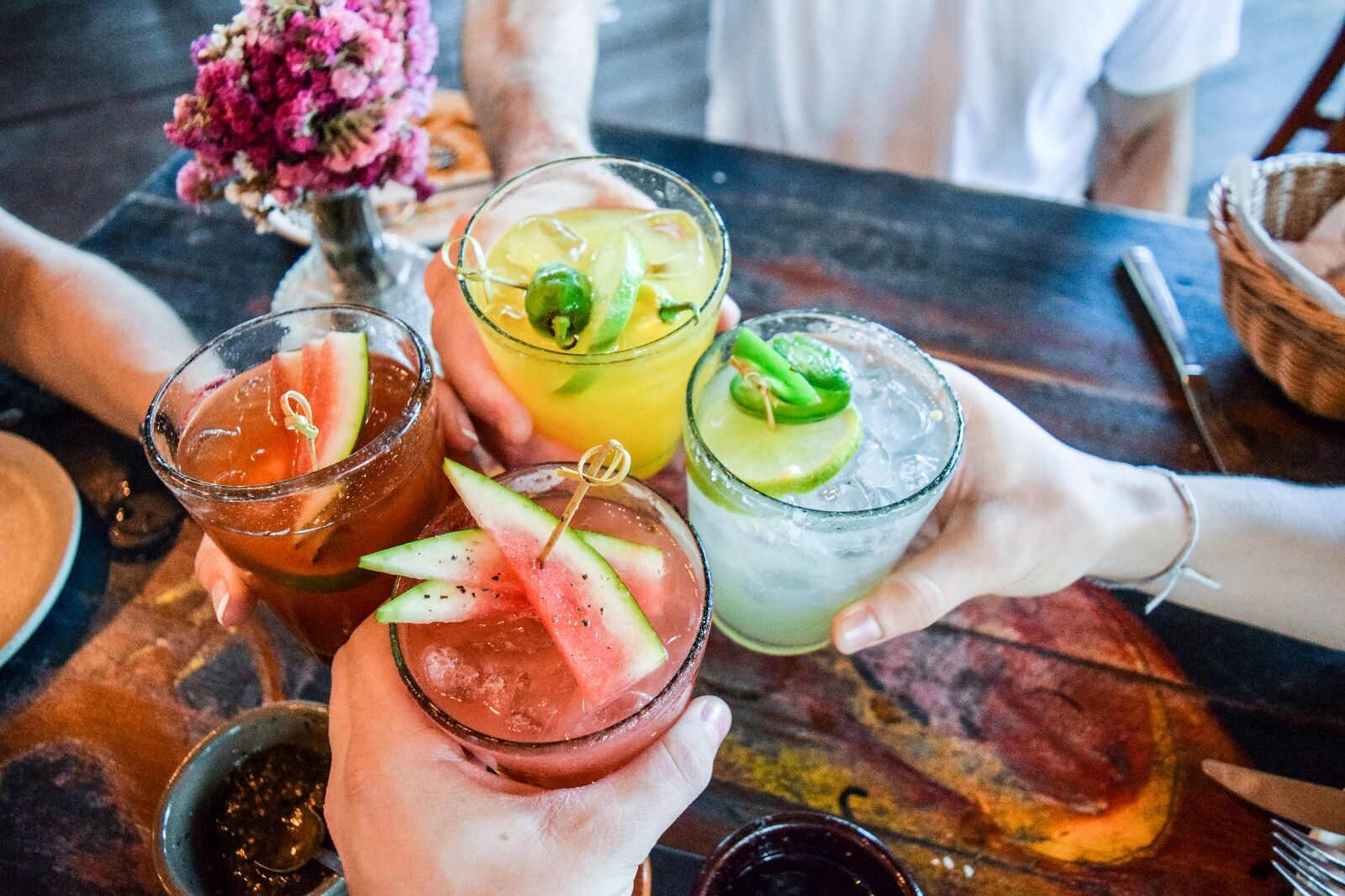 Queer nightlife in Atlanta is peachy keen, supporting a trail of gay bars stretching from Midtown to East Atlanta and beyond. Get buzzed at a historic gay haunt for the city's Black community, shake your tail feather at one of America's few remaining lesbian bars, or learn how to line dance with country-loving queer folks. It's no wonder this town gets called the LGBTQ+ capital of the South — there's a little something for everyone. Head to one of these ten juice joints to sample the Big Peach's local flavor.
Heretic Atlanta
This queer scene staple, open since 1991, boasts one of the city's best dance floors. On weekends, furry lads, DTF daddies, and harnessed hunks bump and grind to techno and house music. On Thursdays, the crowd goes country, with an all-gendered crew boot-scootin' in line dance formations. (Free line dance lessons begin at 8:00 PM on Thursdays for beginners.) If you're a two-step naysayer, fear not — two bars on either side of the dance floor and an outdoor deck leave plenty of spots for standing akimbo with the himbos. Check out the infamous Blackout Party for a dimly-lit night of debauchery, and remember — what happens on the dance floor stays on the dance floor.
Address: 2069 Cheshire Bridge Rd NE, Atlanta, GA 30324
Mary's
Uber-inclusive, ultra-queer, and utterly relaxed: this East Atlanta Village dive is a warm hug in bar form. Join the eclectic crowd of regulars hanging along the glitter-pink bar during the week, or plan a visit around parties like Queer Bait and Saturday Sweat when hipsters kick up their heels on the teeny-weeny dance floor. Maryoke, the bar's Wednesday night singing spectacular, is another neighborhood favorite. Who can resist belting out bops from a list of 15,000 songs?
Address: 1287 Glenwood Ave SE, Atlanta, GA 30316
Bulldogs
Open since 1978 and regarded as Atlanta's OG hang for Black gay men, this friendly Midtown dive is more than a bar — it's a sacred institution. Most folks pay their respects on Saturday nights when the disco-balled dance floor gets sweaty, but the hallowed grounds are worth a visit any night of the week. Monday is for drag divas, Tuesday offers $2 tacos and tequila, and Sunday is best for imbibing post-brunch. Chow down pub grub on the outdoor patio (wings and cajun pasta are both tasty options), or sidle up next to one of Bulldogs' bar-side regulars for cheap drinks and chatter.
Address: 893 Peachtree St NE, Atlanta, GA 30309
Woofs Atlanta
Fantasy football takes on a new meaning at this gay sports bar in the Armour Yards district, where dudes chug brewskies while watching the game on one of 27 television screens. Plan on coming hungry — the menu of bar munchies (nachos, burgers, wraps, and more) makes this the queer equivalent of visiting Buffalo Wild Wings. Woofs might not be your usual gay bar, but bros who like bros need somewhere to watch their home team toss the pig skin.
Address: 494 Plasters Ave. NE STE 200, Atlanta, GA 30324
Sister Louisa's Church of the Living Room & Ping Pong Emporium
Let's get one thing straight — Sister Louisa's "Church" is not. This is a come-as-you-are congregation presided over by Grant Henry (aka Sister Louisa), who hangs his bizarre and blasphemous art from every corner of the two-floor temple. ("Jesus loves a curious pussy," reads a kitten pic hanging above the bar.) If you're looking for atonement, show up for Sunday Service, when queer DJ Vicki Powell spins gospel, disco, and house to a room of sweaty sinners. Throughout the week, congregants gather for ping-pong tournaments, karaoke accompanied by a Baldwin organ, and the occasional Thursday night drag show. If this all seems too sacrilegious, you can always order the Blood of Christ — a rum slushie with cherry soda and cherry wine — and ask for forgiveness.
Address: 466 Edgewood Ave SE, Atlanta, GA 30312
Blake's on the Park
Blake's started serving heavy pours to gay gaggles in 1988, and today, the neon red sign out front is the postcard picture of Midtown's LGBTQ+ scene. Pretty boys knock back mix drinks while ogling one another from a wrap-around bar in front — a preamble to hitting the dance floor, where you'll hear pop remixes pumping all night. Drag shows delight throughout the week, and if you arrive before 9:00 PM, you can even have a meal — best enjoyed on sunny weekend afternoons when floor-to-ceiling windows open up to 10th Street.
Address: 227 10th St NE, Atlanta, GA 30309
Friends on Ponce
Delightfully divey and unpretentious, this roadhouse-style watering hole near Ponce City Market is a welcome respite from Atlanta's see-and-be-seen establishments. Join the mixed crowd of queer folks shooting pool, jiving to the jukebox, or sipping Bud Light on the enclosed patio with views of Ponce De Leon Ave. The only time this jeans-and-a-tee crowd gets glam is on the second Sunday of every month for drag impresario Charmain Sinclair Dupree's "New Faces" — a drag competition that launched legends like RuPaul coven queen Violet Chachki.
Address: 736 Ponce De Leon Ave NE, Atlanta, GA 30306
My Sister's Room (MSR)
There are less than two dozen lesbian bars left in the nation, and MSR is one of the best. This bi-level spot might cater to the Sapphic set, but it's really a haven for anyone who loves top-tier drag performances, high-voltage karaoke nights, bawdy burlesque shows, or cutting a rug to pop music classics. Weeknights tend toward the slower side — an excellent time for ordering chicken tenders, cauliflower bites, or corn dogs from the kitchen — and weekends are all about moving to the tunes. Although its location has changed several times since opening in 1996 (it's currently located in Midtown), the bar's all-are-welcome energy remains.
Address: 1104 Crescent Ave NE ATL 30309
Atlanta Eagle
This long-running leather bar recently became a bird of a different feather. After ending its 33-year run on Ponce De Leon Ave in 2020, the Eagle re-opened in October 2022 like a phoenix rising from the ashes. The new 5,000-square-foot space, located in Ansley Square near a sprinkling of other gay bars, features two floors and a spacious outdoor patio. Leather-loving lads still rule the roost, but the Eagle's new iteration comes with a couple of updates: weekly drag shows and plans to serve food. For the historic haunt's grittier vibe, visit on the last Saturday of the month, when geared-up guys party underneath a harness-clad disco ball.
Address: 1492 Piedmont Ave NE, Atlanta, GA 30309
Future
Techno tunes and psychedelic lights set the mood at this two-story, 14,000-square-foot club and cabaret space in Downtown Atlanta. Circuit queens reign supreme on the dance floor, where you can expect to find a sea of shirtless jocks dancing the weekend away. (Like most circuit events, tickets can be pricey; ensure you're in an all-night groove mood before going.) An adjoining cabaret space hosts some of Atlanta's hottest drag shows, including Fantasy Girls, which features local legends like pageant queen Shawna Brooks and powerhouse performer LaLa Ri. Plan your trip right for a star-studded Ru-veal: this is one of the best places to catch RuPaul's Drag Race girls as they sashay through town.
Address: 50 Lower Alabama Street Suite 180, Atlanta, GA 30303

More like this