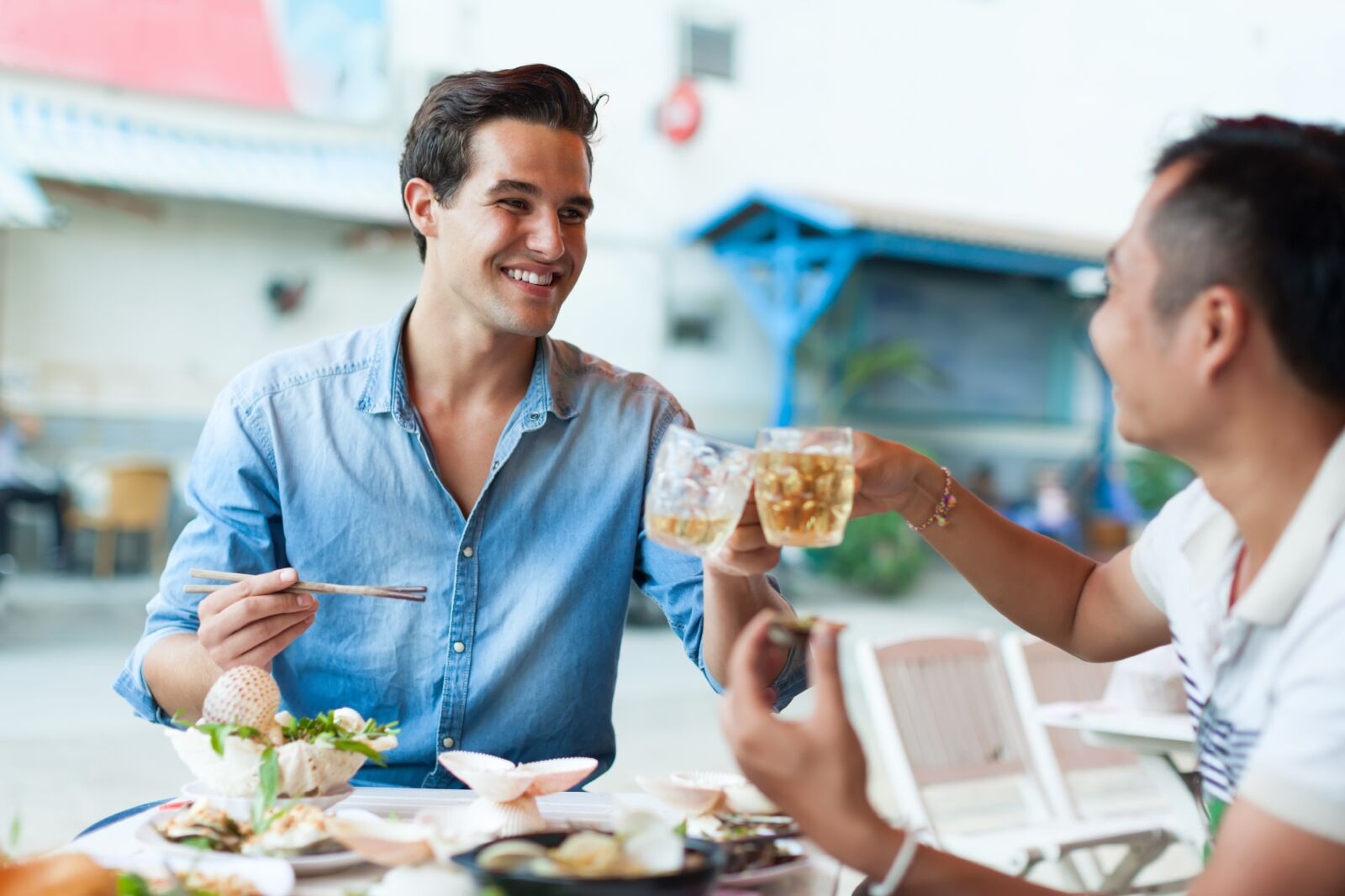 Boston has a deep-rooted history in the battle for same-sex recognition and rights in the US. The GLAD (GLBTQ Legal Advocates & Defenders) organization was formed in Boston in 1978 after a series of police raids targeting suspected gay men. In 1974, Elaine Noble joined the Massachusetts House of Representatives to become the first openly-LGBTQ+ candidate elected into her position in the US. Pressure coming from Boston's LGBTQ+ community even moved Massachusetts into being the first state to declare same-sex marriage legal in 2003.
In the 1950s, Boston had an electric nightlife scene with an underground hub of gay and lesbian bars and dance halls. Now, Boston's queer community has dropped dramatically as the city still struggles to rebuild safe spaces after decades of persistent raids. Many long-established gay and lesbian bars were shut down in the 60s and 70s, but new bars bring with them new energy and Boston is trying hard to revitalize itself into the gay capital of the East Coast. Up-and-coming queer neighborhoods in Boston include the historic Dorchester and South End districts, and the vibrant Back Bay and friendly Jamaica Plains. It is in these fabulous streets that you will find the best gay bars in Boston.
Club Café
Attracting the Boston party crowd since 1983, Club Café is easily one of the city's most popular queer-friendly venues. Throughout the week, Club Café opens its doors between 4:00 PM and midnight to provide dinner and a show for every fun-loving visitor. From Karaoke Wednesdays with the Britney Beards and Drag Bingo Mondays with Mizery to the prize-packed Trivia Tuesdays, and the Latin-themed Discoteca every Thursday, it's always an exciting evening in the Club Café.
On the weekends, the café opens at 11:00 AM. Come early for brunch or visit at the very end of the week to try out the Sunday Tea Dance. Most of the weekly events have no cover charge, however, special ticketed shows, events, and club nights are hosted throughout each month that may vary in price. It's best to reserve your dinner or show in advance as everyone else also wants to spend an electric evening in Club Café.
Where: 209 Columbus Avenue, 02116
Cathedral Station
Cathedral Station is one of the best gay bars in Boston for sports fans. Hanging out in queer bars isn't always about parties. Sometimes it's about eating a Cathedral Burger and drinking a local draft beer as you relax on the outdoor patio or play a friendly game of pool. There's not much in the way of shows and events at Cathedral Station unless you count game nights, but the cheerful atmosphere and home-cooked food draw in countless people of all orientations every afternoon.
Cathedral Station is a fairly recent addition to Boston's LGBTQ+ nightlife scene, having only opened its doors in 2014. This is because Boston's last gay sports bar shut down that same year. Faced with the prospect of having no local place for queer sports fans to gather, a small group of Bostonians came together and created Cathedral Station.
Since then, more sports bars have emerged, but Cathedral Station remains a vibrant place and a second home to many. The bar is open on weekdays from 2:00 PM to midnight, staying open until 2:00 AM on Fridays. On Saturdays, it's open from 11:00 AM to 2:00 AM, and on Sundays, the bar is open from 11:00 AM to midnight. Free parking is available behind Cathedral Station.
Where: 1222 Washington Street, 02118
dbar
The rustic dbar is a great place to get high-quality New England food with a delicious fruity cocktail on the side. Situated in Dorchester, the LGBTQ+ heart of Boston, dbar is the perfect dinner spot from 5:00 PM to 9:00 PM on weekdays and to 9:30 PM Fridays and Saturdays.
After hours, though, dbar comes alive as it seamlessly transforms from a friendly restaurant to a dynamic queer-friendly lounge and nightclub. The closing times vary day by day, so check the website for exact hours. The evenings, known as "dbar After Dark", combine Boston's best DJs with weekly events, including Show Tunes Tuesdays and Karaoke Fridays. The neon-lit bar and intimate dance floor invite all to sing and sway along to the beat of the best songs in Boston.
Where: 1236 Dorchester Avenue, 02125
blend
blend also transforms from a dinner hotspot to a dancefloor every evening (except Sunday) after 9:30 PM. You should definitely stop by for Taco Thursdays, complete with margaritas. Sundays at blend are reserved for brunch, running from 11:00 AM to 3:00 PM. The exciting Pop Star Brunch features the famous 21+ French Toast, made with Irish cream and bourbon maple syrup. The 2nd and 4th Sundays of each month have an added bonus: they're Disco Brunches.
In addition to a steady stream of Top 40 hits, the blend nightclub hosts special events and concerts. The floor comes alive with Boston's energetic gays who dance under a ceiling filled with disco lights. There's also a regular group of LGBTQ+ supporters who gather on Thursdays to watch the latest Ru Paul Drag Race.
Where: 1310 Dorchester Avenue, 02122
Jacque's Cabaret
Jacque's Cabaret is a historic Boston institution. It was opened in 1938 by Henry Vara, the owner of a local nightclub, as the first gay bar in the city. As time progressed and more gay bars appeared under the radar, Jacque's shifted, becoming Boston's leading lesbian locale. Having survived a massive effort to demolish the South End's LGBTQ+ venues in the 60s, Jacque's started welcoming a wider array of queer clientele. By the end of the 20th century, Jacque's Cabaret transformed a final time into the dazzling drag bar we know and love.
Jacque's Cabaret hosts drag shows and events seven nights a week. If you visit on Tuesdays at 10:00 PM, you have a chance to compete in the Sing For Your Supper karaoke buffet. At 8:00 PM on Wednesdays, you can have dinner and a show with the fantastic Drag on Broadway. Some shows are free, while others cost $7 or $15. We recommend booking a table in advance.
Where: 79 Broadway Street, 02116
Boudoir
Boudoir isn't so much a venue as it is a community. Styled as a "queer underground dance party," Boudoir promotes concerts and raves where anyone, LGBTQ+ or otherwise, can let loose and enjoy a safe yet electric party. No two shows at Boudoir are the same, but all of them are guaranteed to be extra loud as queer and queer-friendly DJs take the center stage.
Boudoir usually hosts events in Somerville, which is situated very near Boston, just on the other side of the Charles River. You can also find packed raves at special events in Boston's Boiler Room. If you are tired of the same old evening routines, join in for one of Boudoir's crazy, themed costume parties.
Where: 345 Somerville Avenue, 02143
Midway Café
The Midway Café is a warm, welcoming bar with great drinks and live music every night of the week. Groove in style with the friendliest crowd during Friday's Hippie Hour or let loose at the monthly Burlesque Punk Rock Dance Party. There's an eclectic mix of DJs, singers, bands, and styles at Midway Café. Most shows charge a small cover fee, often $5 or $10, which allows these indie events to continue rocking out at Midway.
Queeraoke is Midway Café's feature show and it's definitely worth the $8 cover to see it while you're there. For over 15 years, Queeraoke has been slaying in Boston's LGBTQ+ scene with karaoke tracks, special House DJ sets, and more, every Thursday. It's a hotspot for anyone who wants to join in on a night of carefree Queeraoke fun.
Where: 3496 Washington Street, 02130
Harp + Bard
The Harp + Bard is another quintessential gay bar in Boston. Although it's not strictly a gay bar, it's definitely a queer-friendly spot. The Harp + Bard is open all week for brunch, lunch, and dinner. Bar and kitchen opening times vary day by day, so check the website in advance to see when you can go. You can find a selection of classic American dishes alongside some cheeky-featured cocktails.
The Harp + Bard is a great place to sit with a friendly crowd and watch a game. You can come with your friends and soak in the relaxed atmosphere or visit alone and make some new connections among the locals. There's also a small outdoor patio where you can enjoy a Sunday brunch with an Executive Mimosa, or one of seven other signature brunch drinks.
Where: 1099 Dorchester Avenue, 02125
Legacy
A longstanding hotspot for Boston's LGBTQ+ party scene, Legacy's open spaces and atmospheric lights frame the perfect dance floor. The club is open seven nights a week and you'll hear a pulsing mix of Top 40 hits and Legacy's house music from local DJs.
Legacy also has a series of weekly events that promote crazy queer parties. Weekdays are filled with Latinx Wednesdays, Serve! Thursdays, and the freaky Bussdown Fridays. If that isn't enough, come back on the weekend for the legendary Legacy Saturdays.
Where: 79 Warrenton Street, 02116
Skip The Small Talk
If you've had your fill of clubs and gay bars in Boston and want to actually stop and have a conversation with fellow LGBTQ+ folk, then check out Skip the Small Talk. This friendly association organizes regular queer-friendly events across Boston. Some sessions are free to join, while others cost $16.50.
Frequent events include the Small Talk LGBTQ+ meetups at different queer-friendly destinations, mainly at local brewing companies. You can also make real connections at one of Skip the Small Talk's 21+ Poly or Monogamous, Bi, and Pan speed-dating events.
Where: Various locations, Boston
Honorable mentions
The LGBTQ+ scene in Boston is found in more places than bars and clubs. To learn more about queer history and culture in Boston, go on a tour of the Gibson House Museum. Founded by Charles Gibson, born in 1874, the museum explores the early subcultures of the Boston queer community.
The gay-owned Dorchester Brewing Company pumps out craft beers to many Boston establishments, but you can visit the tap room to get an inside look at how it's made. The company bar also hosts regular trivia and craft events. If you visit Boston in April, you should definitely check out Wicked Queer: Boston's LGBTQ+ Film Festival, which promotes queer filmmaking and storytelling.