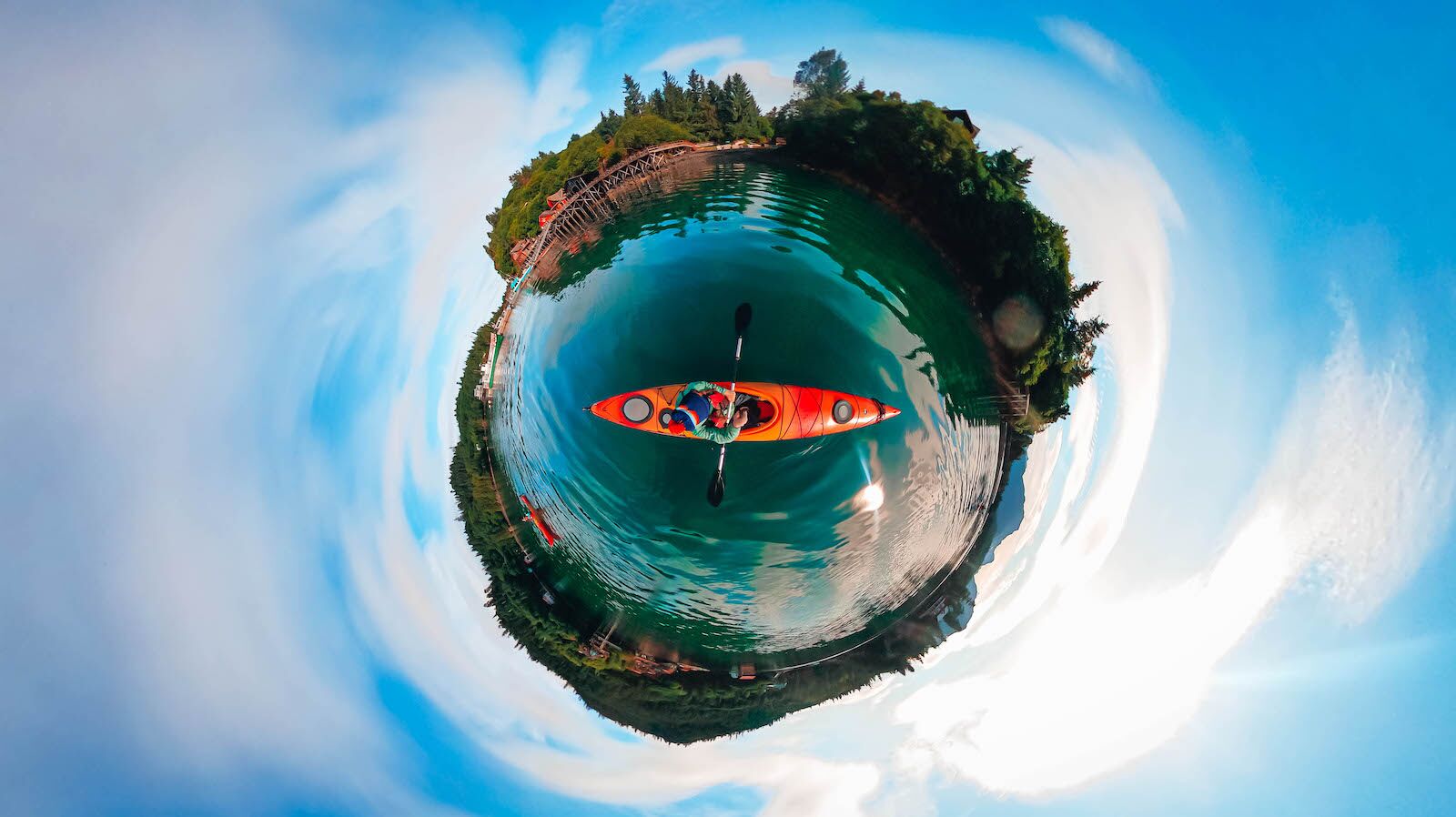 The GoPro 360 MAX is one of the coolest travel toys you can buy yourself this Cyber Monday season — and we found a huge discount on it if you buy it right now.
The tiny little camera shoots 360-degree video and photos, viewable on both a regular smartphone or a virtual reality headset. But it also shoots "Hero Mode" (i.e., non-360-degree) videos and photos, plus time-lapse, and you can pull multiple super-cool still images from a single 360-degree video or photo. By GoPro standards, it's quite inexpensive, and considering it's the tiniest GoPro to date, it's a fun travel accessory to pick up while it's on sale if you plan to up your social media or content creator game next year.
We hope you love the gear we recommend below. Just so you know, Matador may collect a small commission from the links on this page if you decide to make a purchase.Listed prices are accurate as of the time of publication.
It's normally $550, but is on sale for $399 — and comes with an app membership
The GoPro 360 MAX is one of the less-expensive GoPro cameras, but it's still $550. So it's a screaming good deal that you can save $150 dollars if you buy it now. The camera alone is $399, though I'd recommend the accessory bundle (which is $219 dollars off), which comes with an extension pole, a compatible high-capacity memory card, a backup battery, and an enduro battery, which you'll need if you want to do super-long video recording or time lapses.
The best part is they both include a GoPro Quik subscription. Honestly, I only have a few app subscriptions I pay for, but the Quik App is worth it. You get automatic cloud backup (worth it just for that), super-easy editing, and full-size storage of your photos — something quite useful as the large photos can quickly fill your computer's storage.
Here's why you may want to consider buying one.
---
---
What does the GoPro 360 MAX come with?
In addition to the actual camera, you'll get a few other extremely useful items.
The GoPro Max 360 has fish-eye lenses, which means they're bubble-shaped. Fortunately, unlike most other GoPros, it comes with lens covers and a protective carrying case. As long as you're fairly diligent about putting the covers back on after your shots, the lenses should stay scratch-free, even with heavy travel.
The GoPro 360 MAX also comes with a small fabric carrying case (with pouches and two back-up lens covers). I'd recommend always keeping it in that bag except for when you're actively shooting as the lenses, are a bit more delicate than on a standard GoPro (more on that below).
A time-lapse caught a bear snooping on my camp
One of the best things about any GoPro is the time-lapse feature. I used it to take multiple time lapses and, in the coolest thing that happened to me in August, I used it in a national park in Alaska and caught a bear sneaking into my campsite. The only reason I was able to capture that is that I had the GoPro 360 MAX and the accompanying small selfie/tripod stick — I wouldn't have been able to leave my cell phone or higher-end camera propped up on a rock, especially in a place like Alaska where rain is possible at almost any time.
You get dozens of photos from every 360 shot
Because the photos are 360, you can get just about any angle you want. You can turn the photos "inside out," so to speak, zoom in from different angles, and get as close or as far as you'd like from the subject. Think of your photo as a physical sphere you can hold in your hands. You can spin it in any direction on any axis, then zoom in or out.
The GoPro Quik app has a feature called "OverCapture," which makes it extremely easy to pull high-res stills from 360 photos. That creates the possibility for dozens of flat (or 2D) photos from every 360-degree photo, making the GoPro 360 MAX a phenomenal travel accessory for people who don't know exactly what angle or shot they want.
It also means you can get some crazy angles, as with the photo above, where it looks like I took the shot from outside the plane (which I didn't). And if you scroll through the gallery below, the last one looks like a straightforward photo, despite the other three before it. But they're all from the same single 360-degree photo.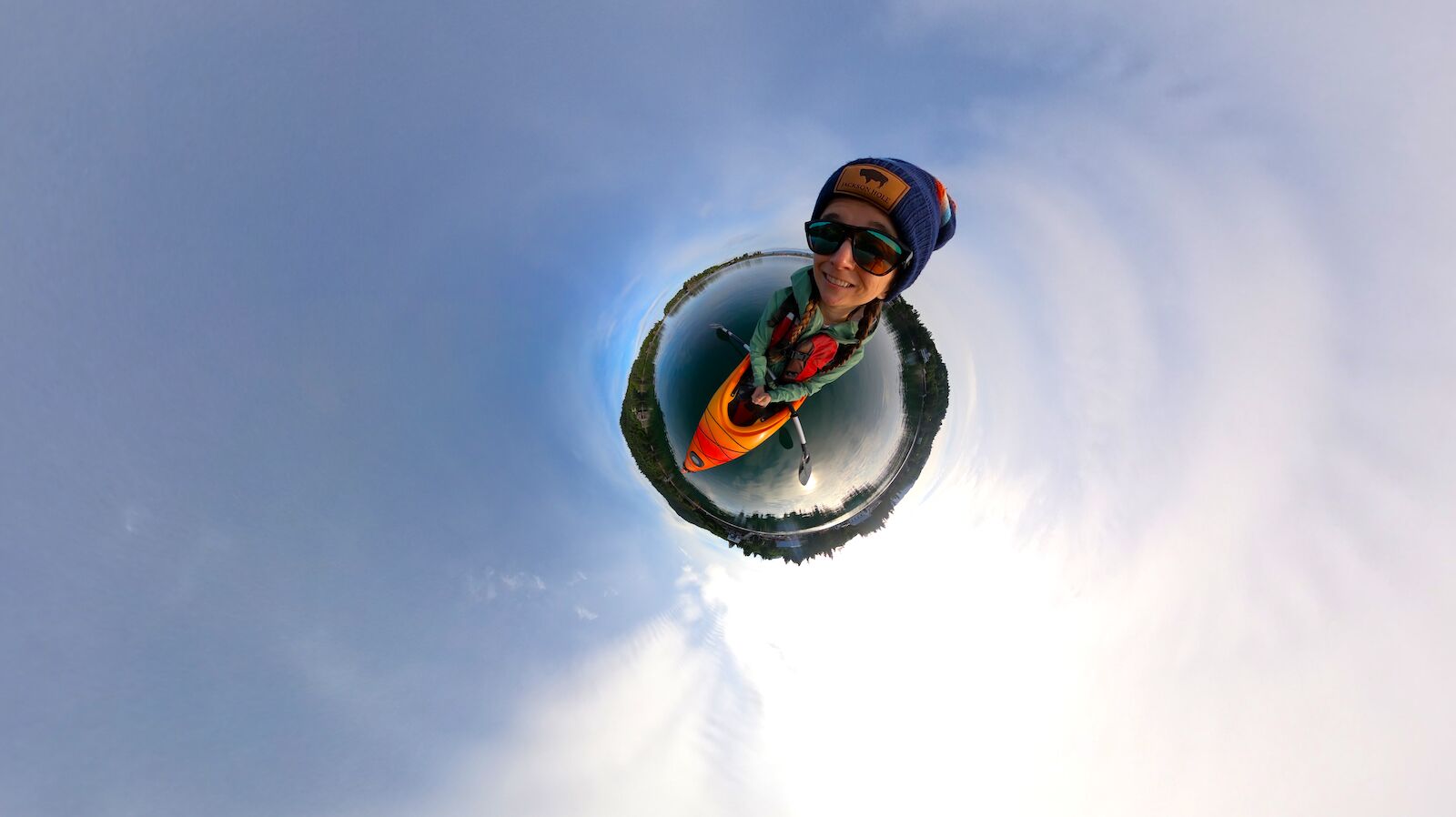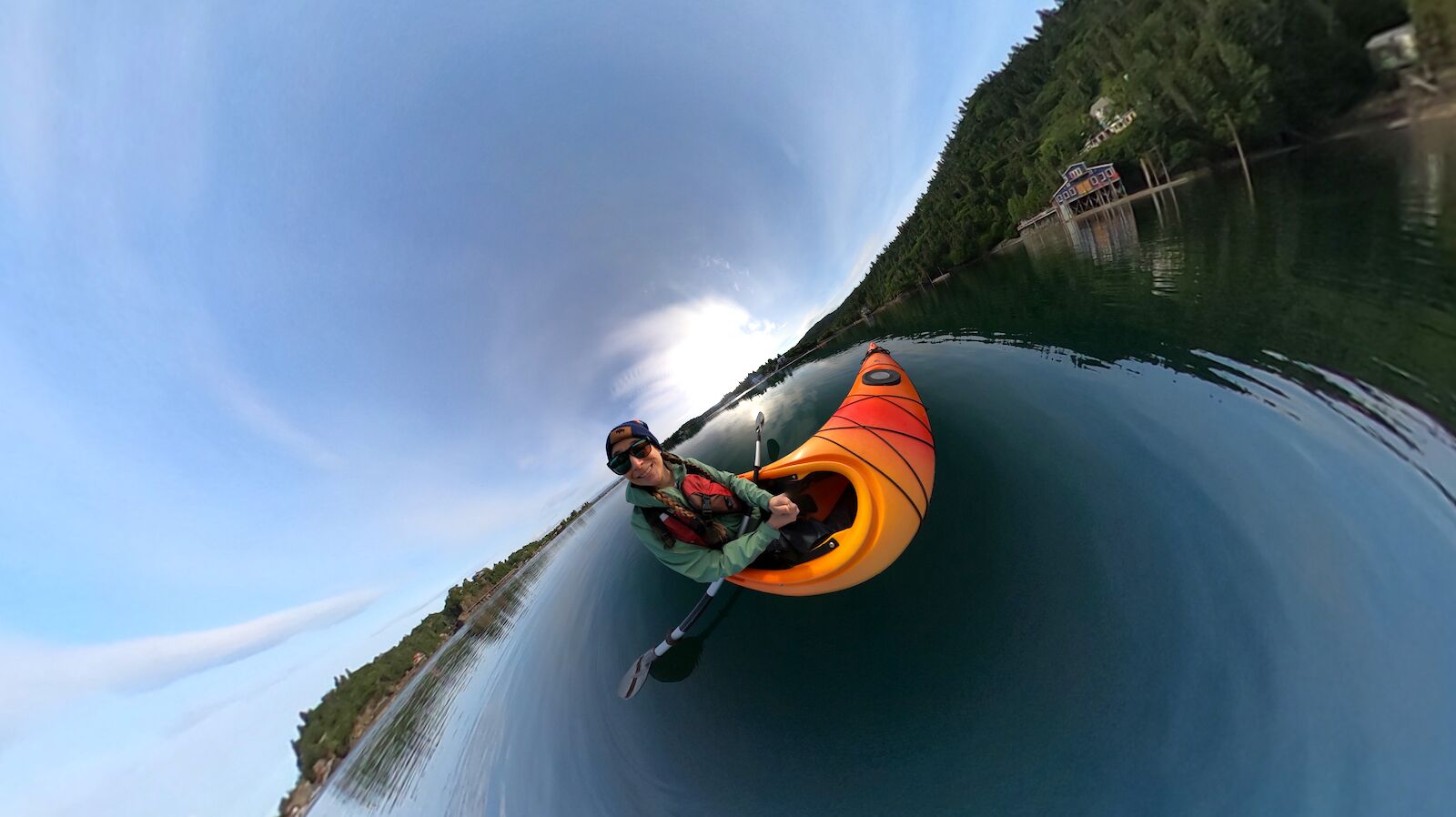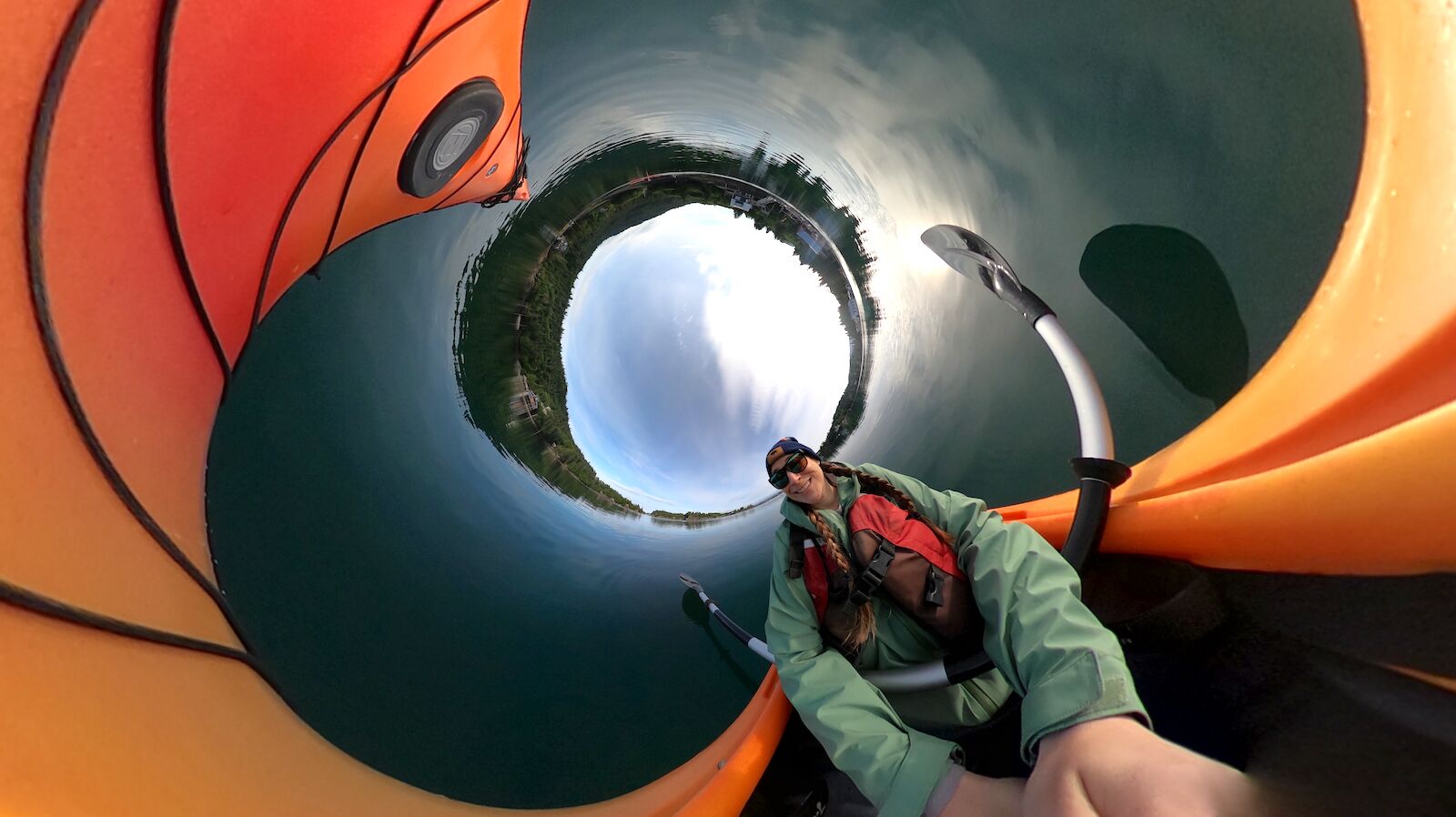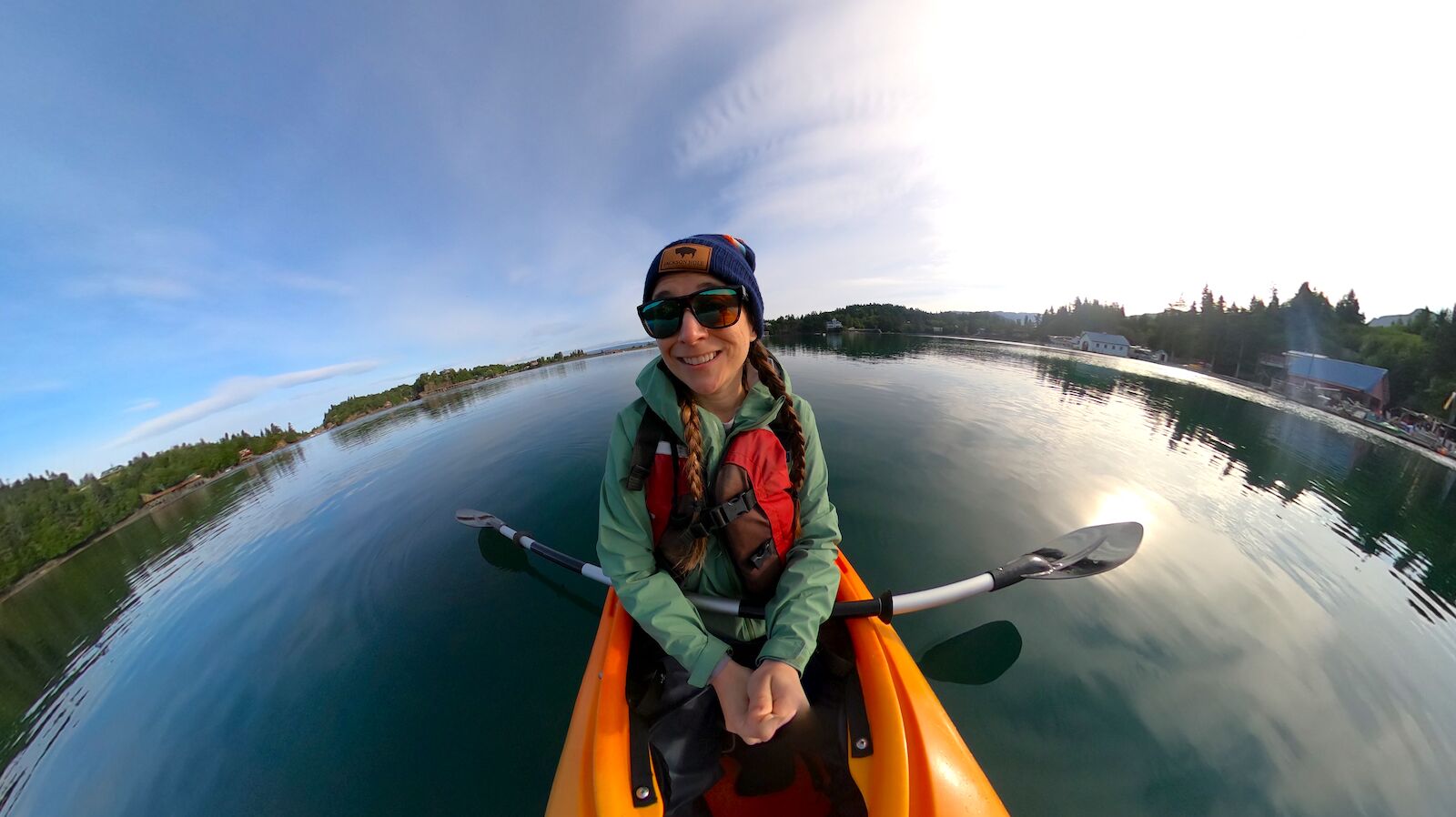 Of course, this also means you'll have to spend a lot more time editing and selecting your shots. Depending on the angle and level of zoom, you could end up with some rather horrifying shots that make you look like a bobblehead if you're not careful.
Each of the photos above came from a single GoPro 360 MAX photo, which is pretty cool. I appreciated being able to get both stylized photos and fairly straightforward photos from one shot.
Hero mode with the GoPro 360 MAX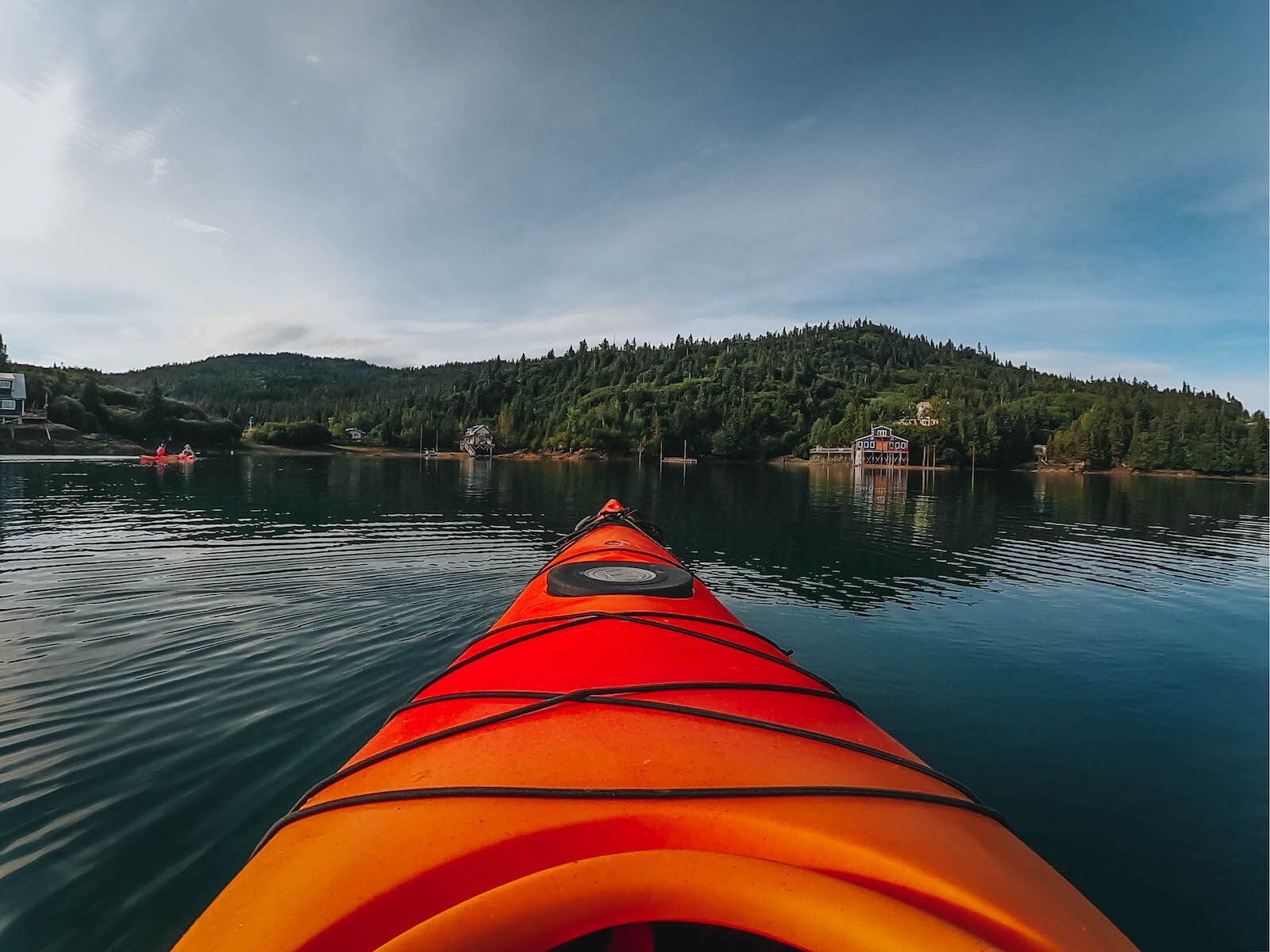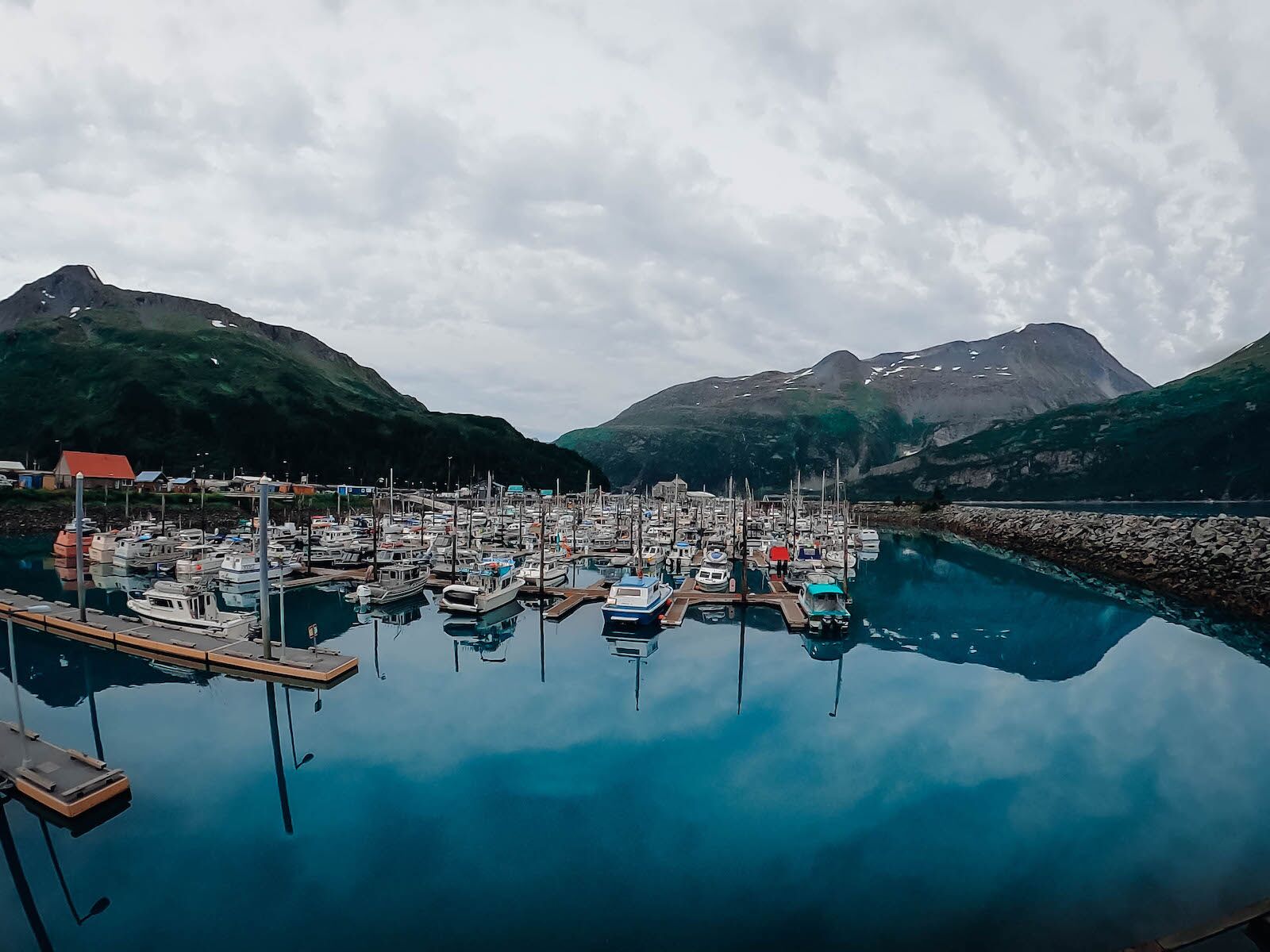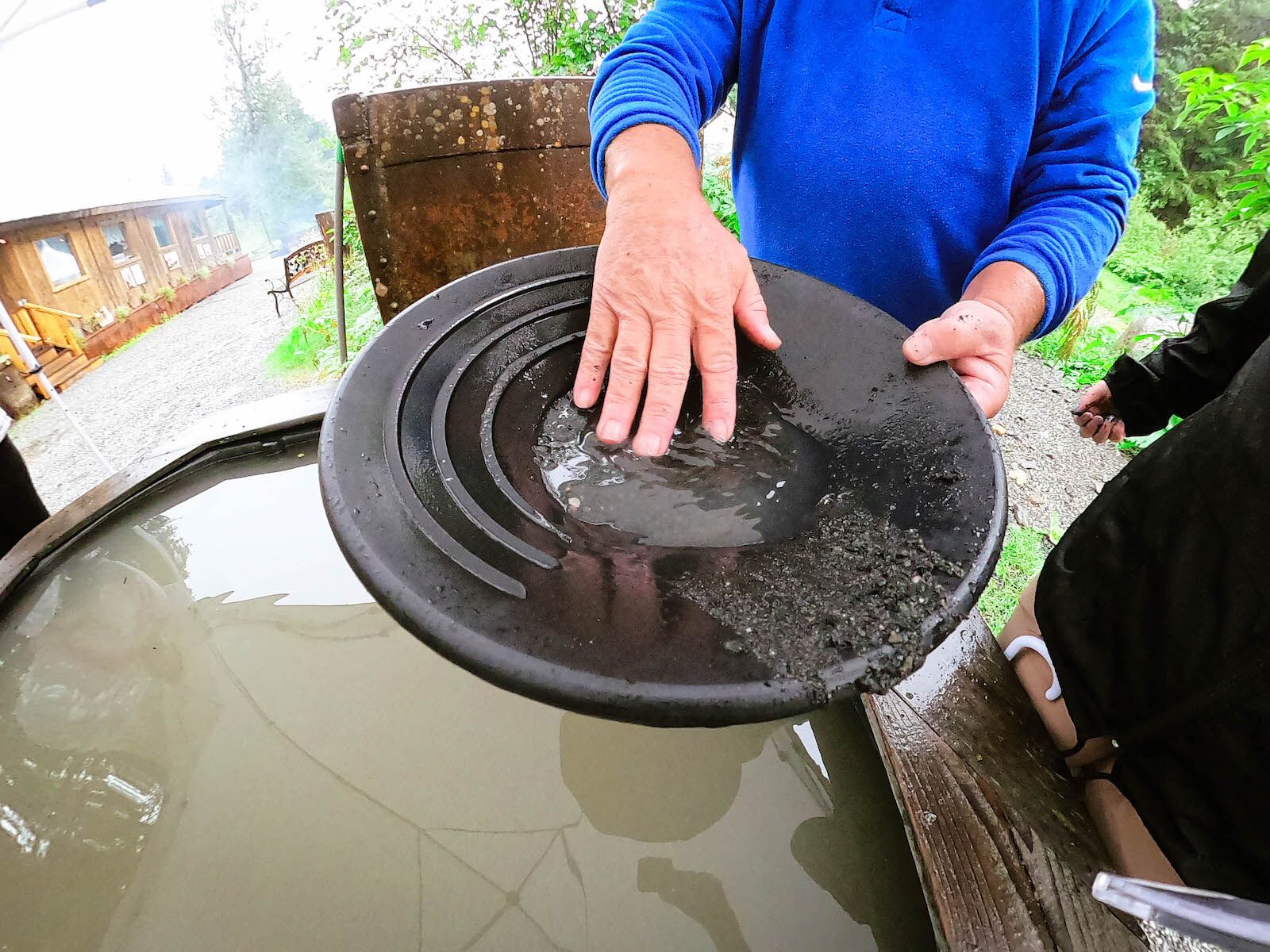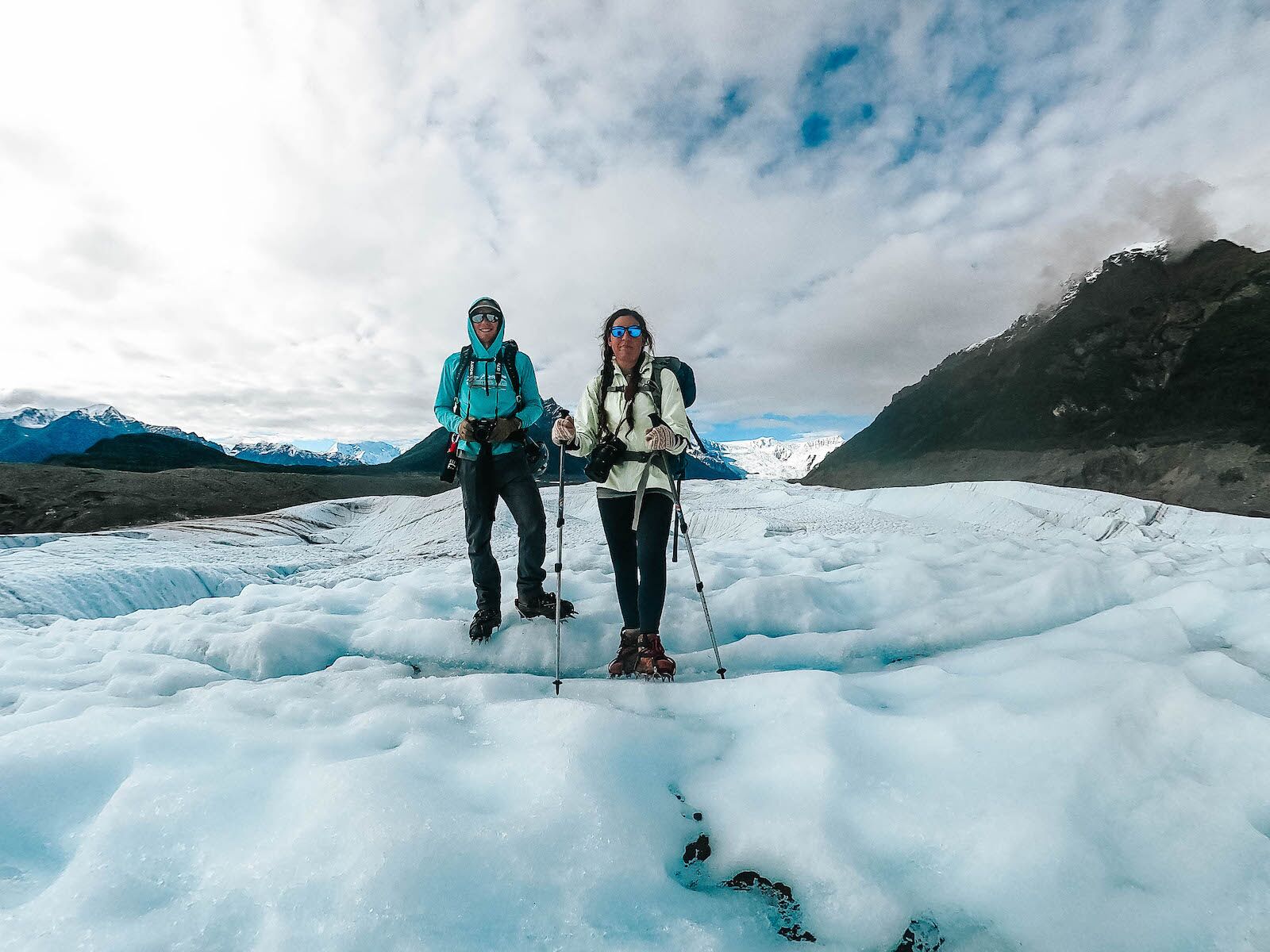 The GoPro 360 MAX shoots 360-degree spherical photos or standard 2D photos (Hero Mode), the latter of which looks similar to cell phone photos and doesn't have as much fisheye distortion as you may expect from a GoPro (unless you opt for a wider frame, which you can adjust on the menu). However, it's still a huge frame (focal length: 8.9 mm), so you'll need to be close to your subjects and probably do a lens correction in editing (which all editing apps and programs have). But you're not going to end up with the fisheye-type photos you associate with GoPros if you don't want them.
It's a smart and budget-friendly option if you want your photos to look like those from a full-frame camera. I thought I got quite a few good photos from it, and I barely knew how to use it when I first started.
Photos in Hero Mode are around 6 MP. Not huge, but plenty large enough for digital and social media use — and even print, as long as you're not making a wall-sized mural.
Make amazing social posts with 360-degree video
View this post on Instagram
View this post on Instagram
The GoPro 360 MAX shoots video in 6K resolution, which is simply bonkers. If you need a high-res 360 video, this should be your go-to camera. That functionality is especially amazing for scuba divers, skydivers, or anyone who goes into an environment most people never see. That's because you can shoot a 360 video, then upload it to an Oculus (or any other virtual reality headset). Do that, and boom: you can suddenly see what was behind you on your last scuba dive or let your Mom experience what it looks like to skydive. It could be a great way to share extreme experiences with non-extreme friends and family.
The 360 video files are color-accurate and high-resolution, and GoPro's Max HyperSmooth technology helps ensure against shaky video (and works quite well). Pro tip: shoot multiple short videos instead of one long one, or the file size will take up tons of storage space on your phone.
You can live stream from the GoPro 360 MAX, but you can't live stream in 360. But considering that technology barely exists, and the apps people would use to watch your live stream don't support 360 video, I'd hardly call that a do
The downsides
For me, the biggest downside to the GoPro 360 Max was that I forgot to use it a lot. With my hands busy with cell phone photos and shooting on my 360, I often forgot (or was too lazy) to pull out my GoPro Max. However, I regret not taking more 360 photos during my first trip with it, so don't be like me.
The other downside is probably the storage space. The GoPro Quik app takes up about seven gigs of storage space on your phone, and the 360 photos are large: about 18 MP or six MP for non-360 photos. Videos are large, too, with a 30-minute video taking up about 15 gigs of storage space. That means you'll likely want an external hard drive or lots of space on your laptop or phone if you plan to transfer your content between devices or do heavy video and photo editing.
Oh, and as with all GoPros, it's a bit awkward to hold without a tripod. I used the small, pocket-sized GoPro Tripod/Selfie Stock nearly all the time rather than carrying just the camera. The tripod is also a must-have for shooting time-lapse to keep your videos steady.
Conclusion: who should buy the GoPro 360 MAX?
Pick up a GoPro Max 360 if you want to start getting more creative with your travel photos or just want a fun toy for an upcoming trip. It's also a good buy if you want to start making video for social as the 360-degree functionality makes it easy to zoom in and out without a drone. I think it's also a really smart buy for anyone who wants to share their travel experiences with people who couldn't be there, be it extreme outdoor adventure or just walking through a colorful Christmas market.
Finally, if you're a blogger, buying the GoPro 360 MAX is a no-brainer. Google's ranking system prioritizes websites that have videos and interactive content, so including 360-degree videos or interactive 360-degree photos is a really easy way to instantly boost how high you appear on Google results.
More like this