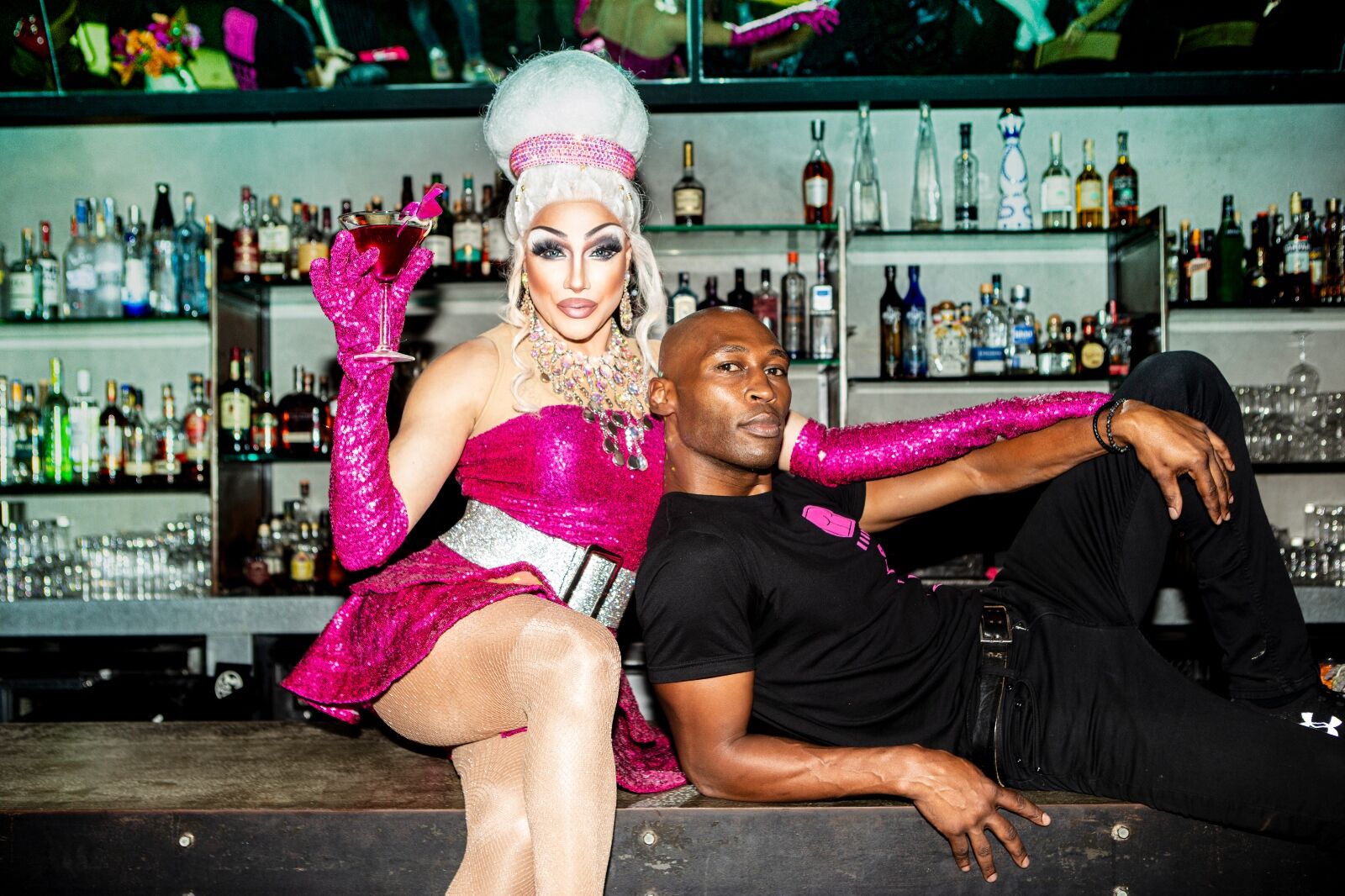 Sip poolside cocktails, see high-octane drag shows, or join thumping parties that pulse until dawn. Magic City is a rainbow of queer revelry with a little something for all tastes. It might seem strange, then, that there's only a handful of gay bars in Miami.
This is the town of Gay Ocho — the nation's largest Hispanic LGBTQ+ gathering. It's where the Black gay community comes for Sizzle every Memorial Day, where lesbians flock for parties thrown by Lezchic and Pandora Events, and where boys get wild on the dance floor at Climax. Wilton Manors, a 45-minute drive north, is one of the country's queerest zip codes. The city's Atlantic shore even sports two beaches where the sugar-white sands are practically pink.
But if you know where to look, Miami's LGBTQ+ community sizzles, and perpetually-packed Twist isn't the only spot turning up the heat. There are quirky dives, top-tier restaurants, and a series of LGBTQ+-friendly spaces stretching along South Beach's electric-blue shoreline, around Brickell's shiny skyscrapers, and through the street-art-strewn walls of Wynwood.
Check out these ten spots to see why Miami still earns praise as one of the East Coast's most hedonistic queer havens.
1. Twist
Two floors, seven bars, three dance floors, and a back room filled with enough gyrating go-go boys to fill every float at Miami Beach Pride: Twist is the Renaissance man of queer clubs — it does a little bit of everything. Hoping to save a buck? There's never a cover, and happy hour offers two-for-one drinks, 3:00 to 9:00 PM daily. Jonesing for show tunes? A VJ blasts Broadway's best belters from the Bungalow Bar on Wednesdays. Dance to Latin grooves, see drag performances, get down to house music, or chill and chat bar-side. The crowd tends to pick up after midnight, but no matter when you arrive, the party's already bumping. This is the only multi-environment club in Miami where you can bar hop without leaving the actual bar. No wonder it's been going strong since 1993.
Address: 1057 Washington Ave, Miami Beach, FL 33139
Opening hours: Daily 11:00 AM — 2:00 AM
2. Palace
The queer joy at Palace is so uncontainable it literally spills onto the street. Dynamic drag shows — which take place seven nights a week and during weekend brunch — occasionally flood the sidewalk, conveniently located a stone's throw from SoBe's gay beach. If you want a table, reserve one in advance: this bar takes pride of place along South Beach's busiest stretch, attracting big crowds with expert entertainers (dance queen Mhi'ya Iman LePaige is a flip-tastic standout), a full food menu (Latin flavor, American favorites), and refreshing cocktails (the blueberry mojito and Chandon Garden Spritz are both thirst-quenchers).
If drag isn't your thing, fear not — this kingdom isn't only for queens. Head to the sixth-floor rooftop, equipped with lounge chairs and a pool, to soak up rays with like-minded royalty while admiring ocean views.
Address: 1052 Ocean Dr, Miami Beach, FL 33139
Opening hours: Daily 11:00 AM — 2:00 AM
3. Nathan's Bar
Who cares that video killed the radio star? It also birthed this South Beach pop culture bar, and for that, we couldn't be happier. Nab a seat in one of six themed sections with screens playing episodes from television favorites like Sex and the City, Stranger Things, and The Brady Bunch — the perfect place to discuss who's the Samantha and why you still have a Marcia complex. Unlike up-all-night Twist, where bar owner Nathan Smith worked as a VJ for two decades, this tiny cocktail lounge is best for low-key nights with friends (including Joey, Monica, Phoebe, and the rest of the gang). Points to whoever spots the Pink Panther demanding you "Send Nudes" first.
Address: 1216 Washington Ave, Miami Beach, FL 33139
Opening hours: Daily 7:00 PM — 5:00 AM
4. Azucar Nightclub
They don't call Miami the Capital of Latin America for nothing. Name a country from the Caribbean or anywhere south of Texas, and it's likely represented in the city. Azucar celebrates this sweet melting pot every Thursday through Sunday with glitzy drag shows and hip-happy dancing so wild it likely shakes Gloria Estefan from her sleep. (Don't be surprised to see someone impersonating Estefan on stage — the Cuban-American chanteuse is arguably Miami's most beloved pop icon). The best part? This bar, located near the southern tip of Little Havana and welcomes all queer folks with open arms — fluency in Spanglish is not required. These bartenders were clearly taught good manners by their abuelas.
Address: 2301 SW 32nd Ave, Miami, FL 33145
Opening hours: 10:00 AM — 1:30 AM Thursday to Sunday, 10:00 AM — 10:00 PM Monday to Wednesday
5. Bar Gaythering
This is Miami's only gay watering hole where stumbling home might mean heading upstairs. Located in the lobby of the MiMo-style Hôtel Gaythering (complete with a clothing-optional men's sauna), guests are only a skip away from spacious rooms ideal for catching z's — though you'll likely want to stay up until the bar's last call.
Themed parties during the week attract a friendly mix of men: German drag import CC Glitzer sets the tone with Monday karaoke, Wednesday trivia and Thursday bingo promises potentially-free cocktails (try the Alvin Shakers: Gray Whale Giin, Lillet Blan, clementine, citrus, and a bitter apéritif), and Friday night's "Bears and Hares" brings furry boys to the fore. The best thing about Bar Gaythering? Laidback, cozy, and unpretentious — it's a welcome departure from the sceney club-thumping of other SoBe spots. The daily happy hour from 5:00 to 7:00 PM doesn't hurt, either.
Address: 1409 Lincoln Rd F1, Miami Beach, FL 33139
Opening hours: Monday — Thursday 5:00 PM — 12:00 AM, Friday — Sunday 5:00 PM — 2:00 AM
6. Blackbird Ordinary
There might not be any lesbian-centric bars in Miami, but at least there are Tuesday nights at Blackbird Ordinary, located 30 minutes from South Beach in skyscraper-sprinkled Brickell. Although it isn't LGBTQ+-focused, ladies drink for free from 10:00 PM to 1:00 AM — which is precisely why the city's Sapphic set decided it was worth queer colonization. And while we're talking about queer, this bar fits the bill: somewhere between cocktail club and dance hall, Blackbird Ordinary breaks the binary. Sip avian-themed drinks while lounging in a leather banquette, or cut a rug on the dance floor until morning's wee hours. Gals might have to deal with the unwanted male gaze, but at least there's no worry about a boy buying you a drink.
Address: 729 SW 1st Ave, Miami, FL 33130
Opening hours: Daily 3:00 PM — 5:00 AM
7. Gramps
Thursdays at Gramps are a drag — a good thing if you enjoy watching avant-garde art performed by Miami's most wig-tastic bar stars. Bearded-and-brassy Karla Croquetta hosts the long-running party in Wynwood, which makes a strong case for staying out late on a school night. Don't forget your dancing shoes — with DJs Mystic Bill, Hottpants, and Zehno spinning tunes, it's hard to resist grooving between performances.
Gramps isn't LGBTQ+-centered throughout the week, but it's always queer-friendly. Stop in for pizza, craft beer, live music, pinball, Sunday's pop-up vintage market, or the monthly erudite Nerd Nite — there's always something fun going on, and the crowd is always cool.
Address: 176 NW 24th St, Miami, FL 33127
Opening hours: Monday — Thursday 4:00 PM — 1:00 AM, Friday 4:00 PM — 3:00 AM, Saturday 12:00 PM — 3:00 AM, Sunday 12:00 PM — 1:00 AM
8. Kill Your Idol
An astronaut hangs from the ceiling, Bruce Lee karate chops over the bar, and stenciled lips on stools promise to kiss you where the sun doesn't shine. The atmosphere at this queer-friendly dive is as quirky and eclectic as it looks, with themed nights throughout the week — including burlesque on the Lord's Day (Sunday) and live music on Wednesdays. For definitive LGBTQ+ flavor, visit on Friday, when a ferocious coven of queens kick, split, and whirl around the slender slip of a bar. Those who prefer to take center stage should consider Thursday's karaoke, hosted by bearded comic queen Auntie Maim. Is it really a night out in Miami if you're not scream-belting local Latin heart-throb Enrique Iglesias's "Hero" to a sea of strangers?
Address: 222 Española Way, Miami Beach, FL 33139
Opening hours: Daily 8:00 PM — 4:00 AM
9. R House Wynwood
Husbands Rocco Carulli and Owen Bale, co-owners of R House, have myriad reasons to be proud of this restaurant. The building is covered in murals and outfitted in art; the Latin-inspired menu ranges from tasty Venezuelan arepas to Brazilian moquecas. Then there's the crowd — uber-inclusive, ultra-trendy, and as colorful as Wynwood, the arty neighborhood it calls home.
But Carulli and Bale should be most proud of their political achievements: their venerated drag brunch is so titillating that in July 2022, it sent Florida's anti-LGBTQ+ governor Ron DeSantis into a fire-breathing tizzy. (You know you're doing something right when a prejudiced politician tries to shut you down.) The extravaganza, which takes place on Saturdays and Sundays, is a feast for the senses. Graze on dishes like cayenne fried chicken, chimichurri sliders, and French toast with guava syrup while downing bottomless mimosas and cheering on drag queens lip-syncing for their lunch money. Make reservations well in advance to ensure a seat.
Although the bar isn't 100 percent LGBTQ+ all the time, it's always worth a visit thanks to the classy-casual atmosphere and expertly mixed drinks (the Piña Loca — a piña colada served in a whole pineapple with sparklers, flamingo straws, tiki umbrellas, and five shots is a crowd pleaser).
Address: 2727 NW 2nd Ave, Miami, FL 33127
Opening hours: Monday — Tuesday closed, Wednesday — Thursday 4:00 PM — 10:00 PM, Friday 4:00 PM — 12:00 AM, Saturday 11:30 AM — 12:00 AM, 11:30 AM — 6:00 PM
10. AxelBeach Miami
This "hetero-friendly" hotel is an art déco beauty boasting multiple bars ideal for laid-back day drinks and early evening pre-games. Sun-kissed clientele sip pomegranate margaritas poolside until 8:00 PM, and as night descends, the crowd moves to Sky Bar for martinis and music until midnight. While Friday happy hours and Sunday pool parties often rival the banana-hammock parade on SoBe's 12th Street gay beach, AxelBeach attracts a mixed crowd; it's possible to find the alphabet-soup mafia's full spectrum imbibing here in style. An attached restaurant — serving grilled sandwiches, salads, chicken wings, and more — makes this spot worth an all-day hang.

Address: 1500 Collins Ave, Miami Beach, FL 33139
Opening hours: Daily 9:00 AM — 8:00 PM
More like this