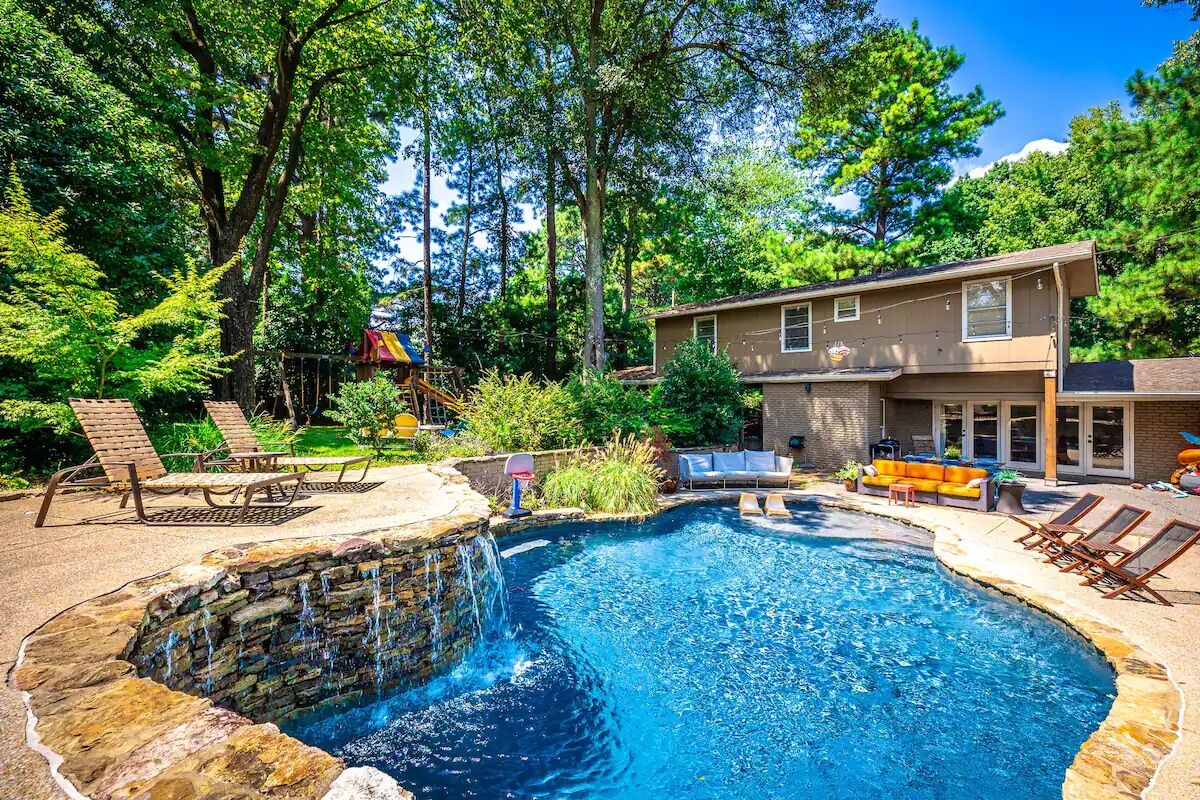 The city of Memphis, where the lights shine all the time, is commonly known as the "Home of the Blues & Birthplace of Rock 'n' Roll." Memphis is a city inspired by music, as legends Elvis Presley, B.B. King, and Johnny Cash recorded hits here. Whether you're here for the music, the history and culture, family fun, or other attractions, dive into an awesome stay at the best Airbnb Memphis rentals.
Traveling to Tennessee? Check out Matador's ultimate Tennessee accommodations guides:
We hope you love the Airbnb Memphis stays we recommend! Just so you know, Matador may collect a small commission from the links on this page if you decide to book a stay. Listed prices are accurate as of the time of publication.
Airbnbs in downtown Memphis
Downtown Memphis is home to everything from the city's rich cultural history to its best dining and sports entertainment. Booking an Airbnb in downtown Memphis puts you steps from all of this. You'll also have the benefit of not being too far from the rest of action.
Vibrant Downtown Memphis townhouse near nightlife and entertainment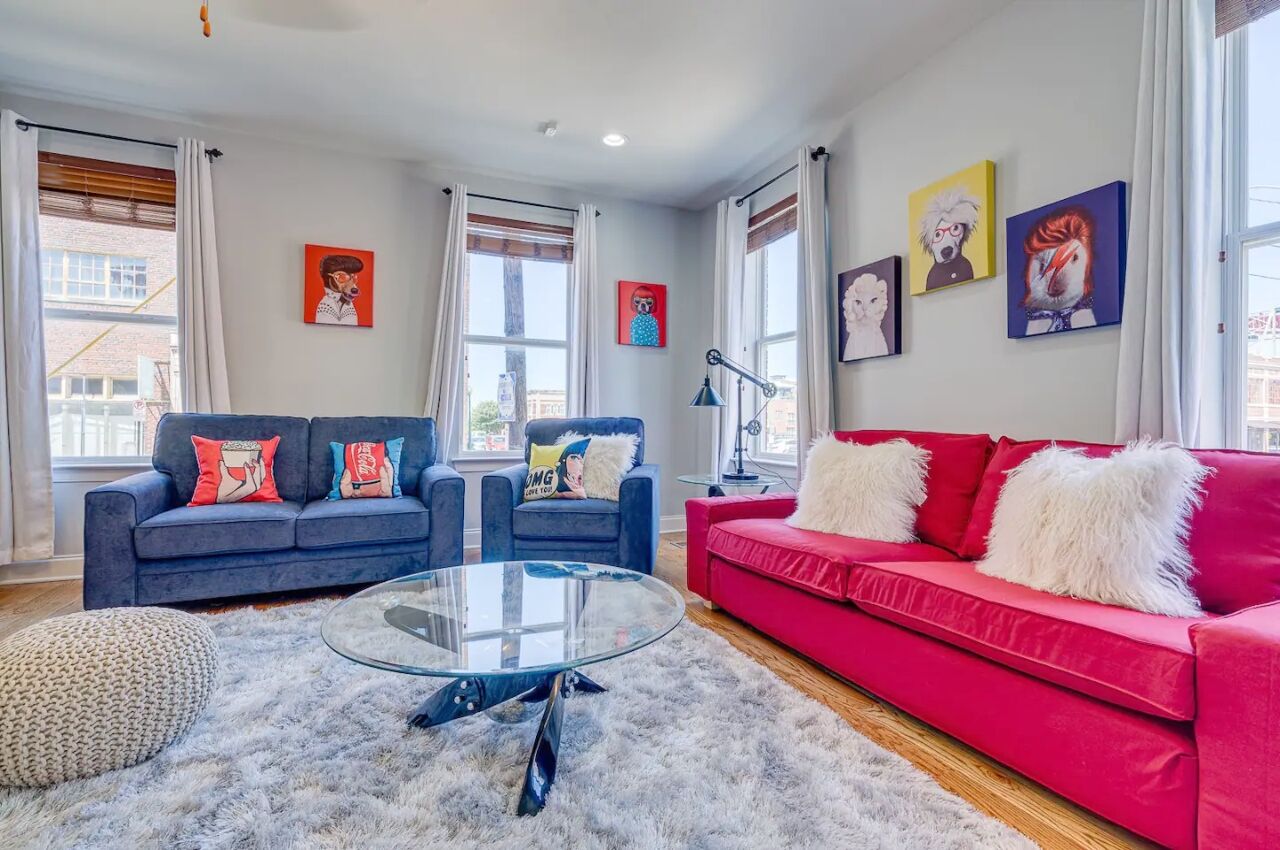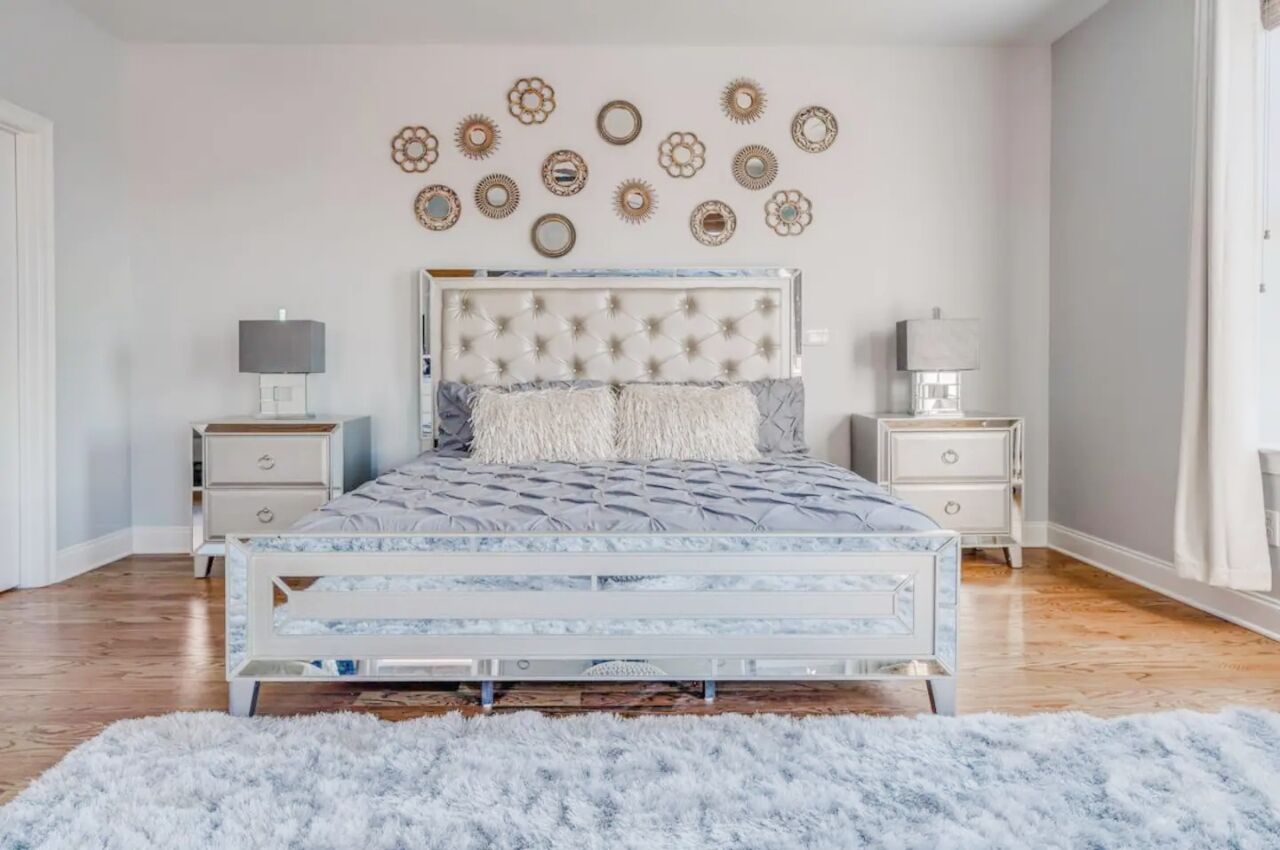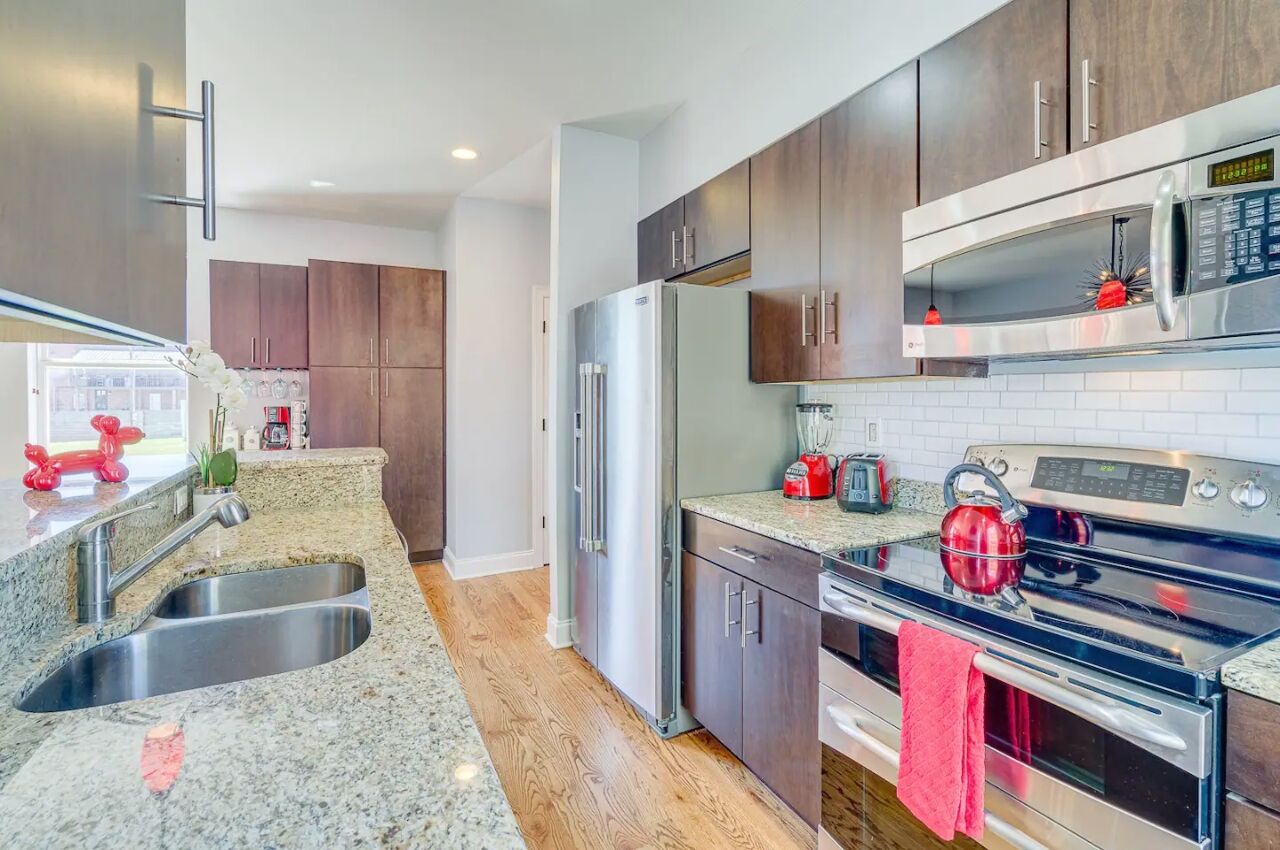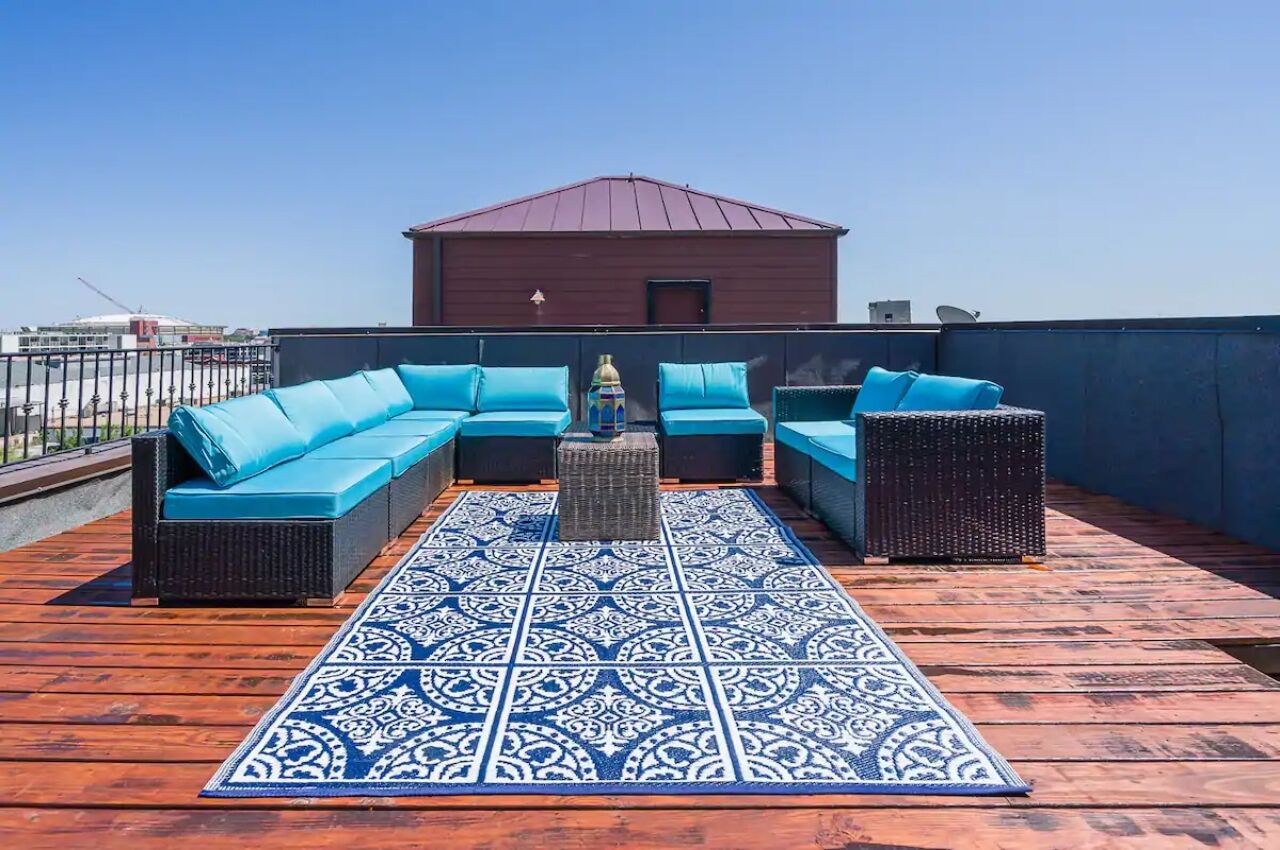 Are you looking for the perfect place for a friends' getaway? Check out this spacious Airbnb Memphis retreat in a prime location. This spacious townhouse is a four-bedroom, six-bath townhouse with common areas like the living room, kitchen, and dining room located on the same floor. There is also a rooftop with a fire pit and outside seating area to hang out after a long day. The townhouse is located right in the heart of downtown and is minutes from nightlife, entertainment, and other Memphis attractions.
Sixteen guests, four bedrooms
Price: $675 per night
Modern historic apartment in Downtown Memphis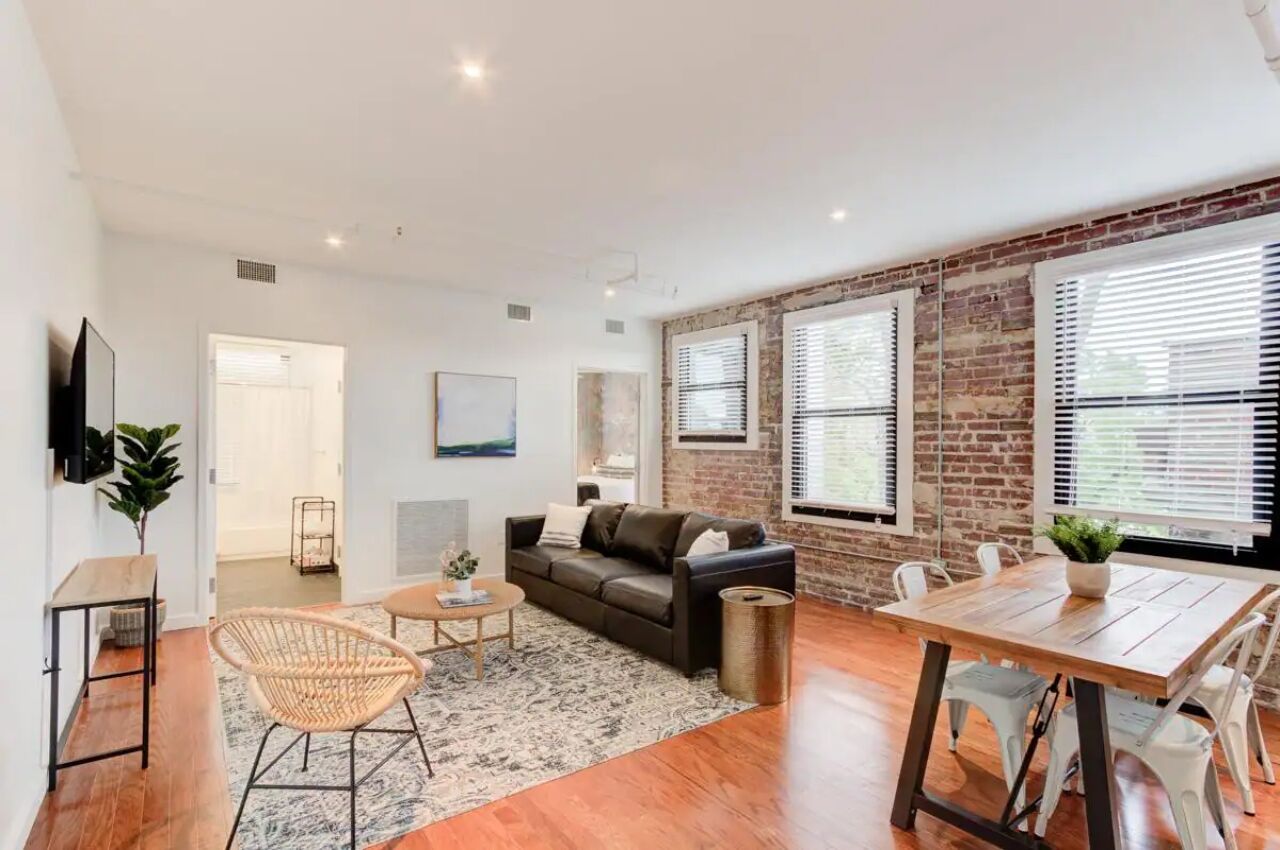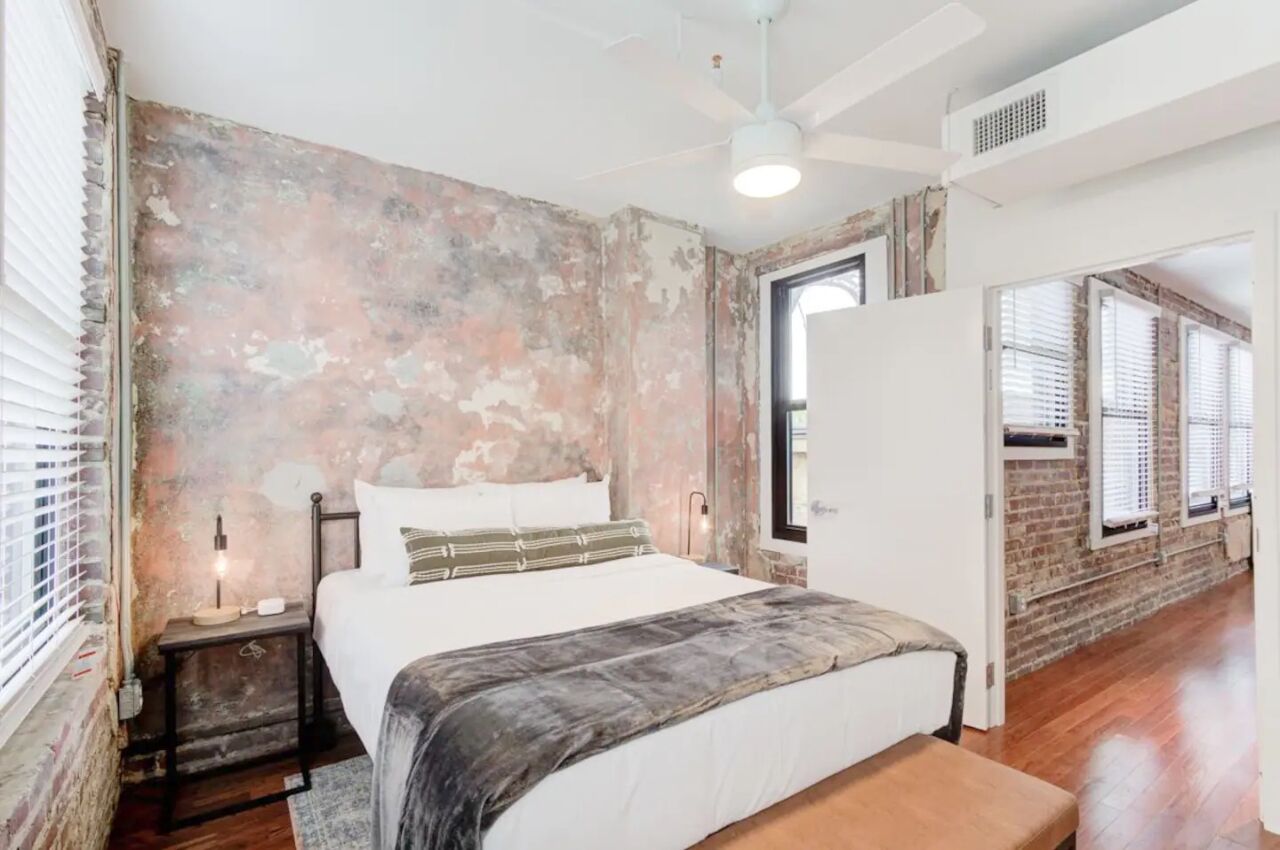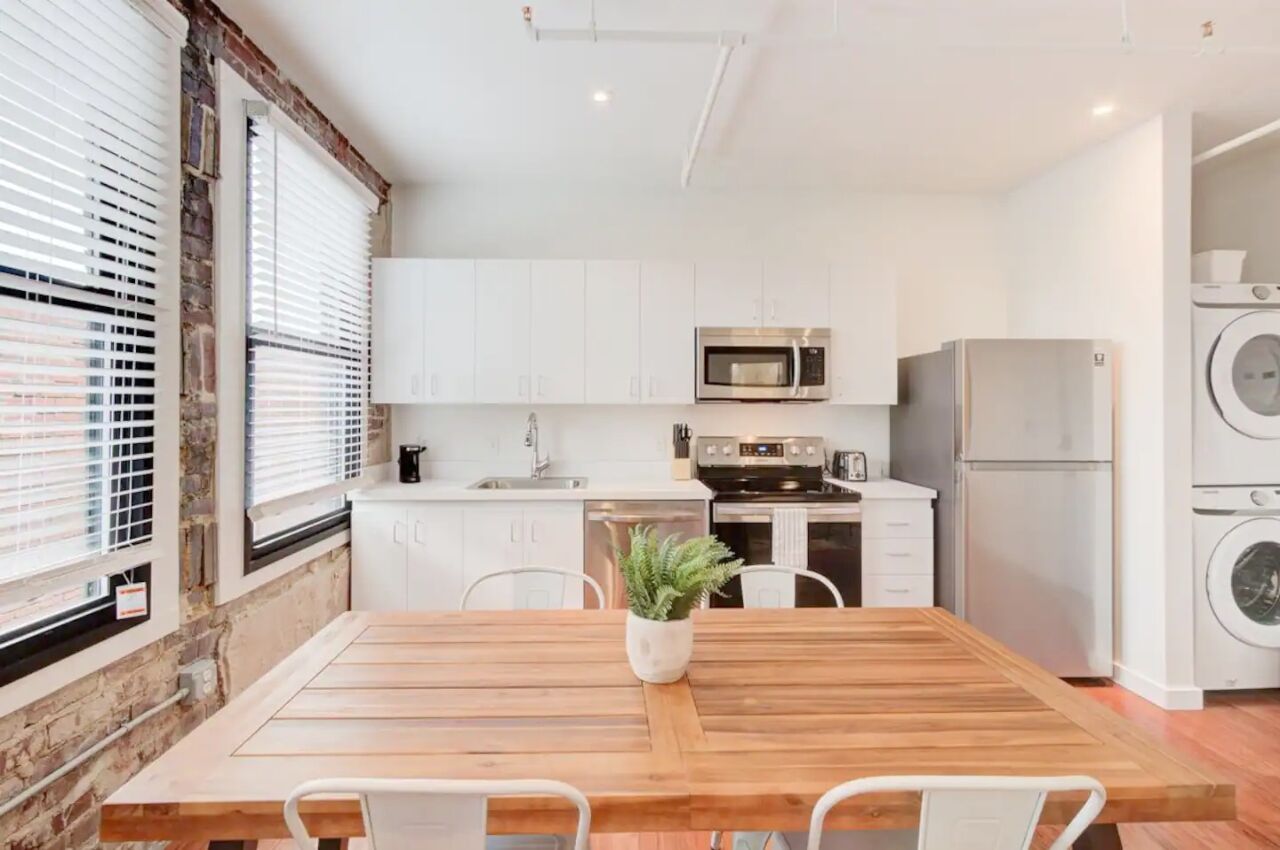 Here is the perfect Airbnb Memphis property that would be great for couples or a solo trip. This historic renovated property is located right in the heart of downtown Memphis. This apartment has a full kitchen and living room. It's also situated above a restaurant and within walking distance of all the popular downtown Memphis attractions.
Two guests, one bedroom
Price: $130 per night
Lavish Downtown Memphis condo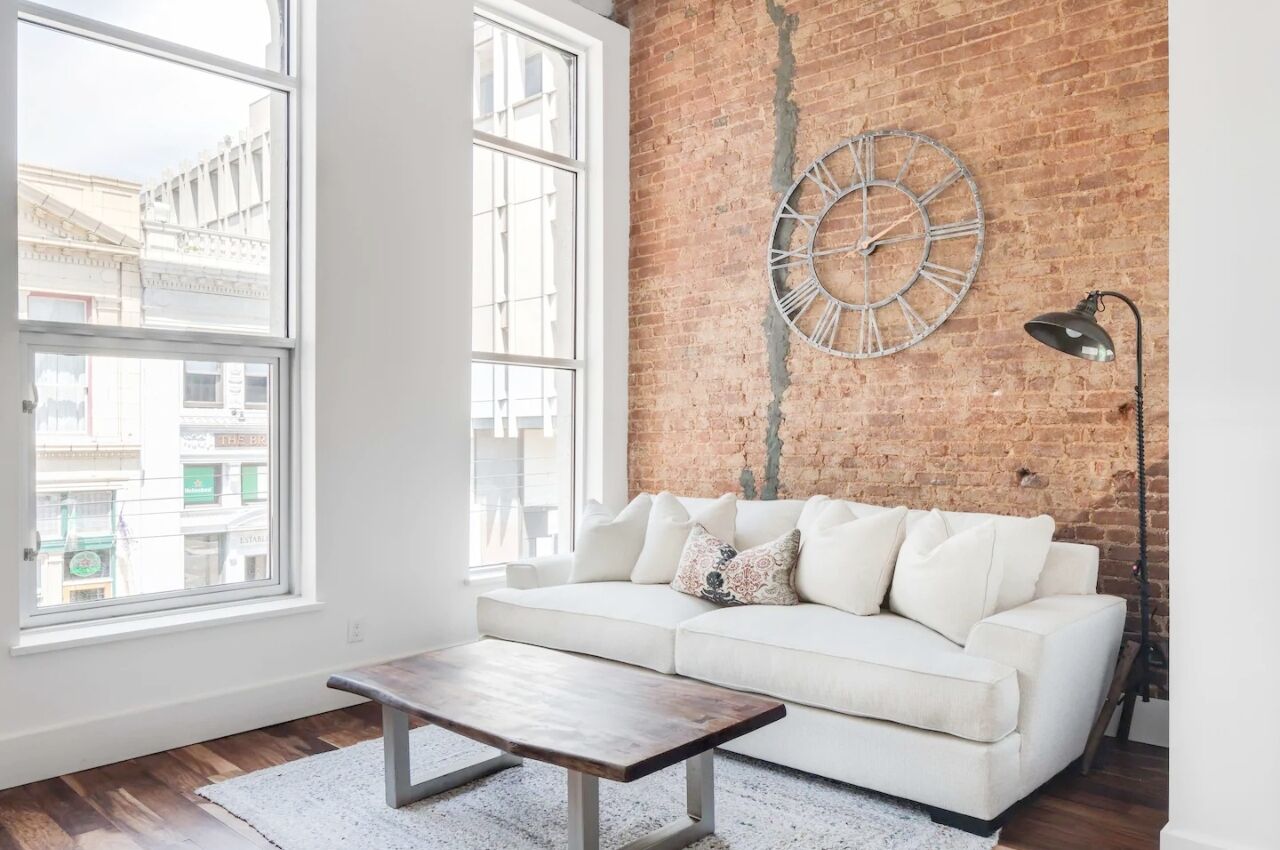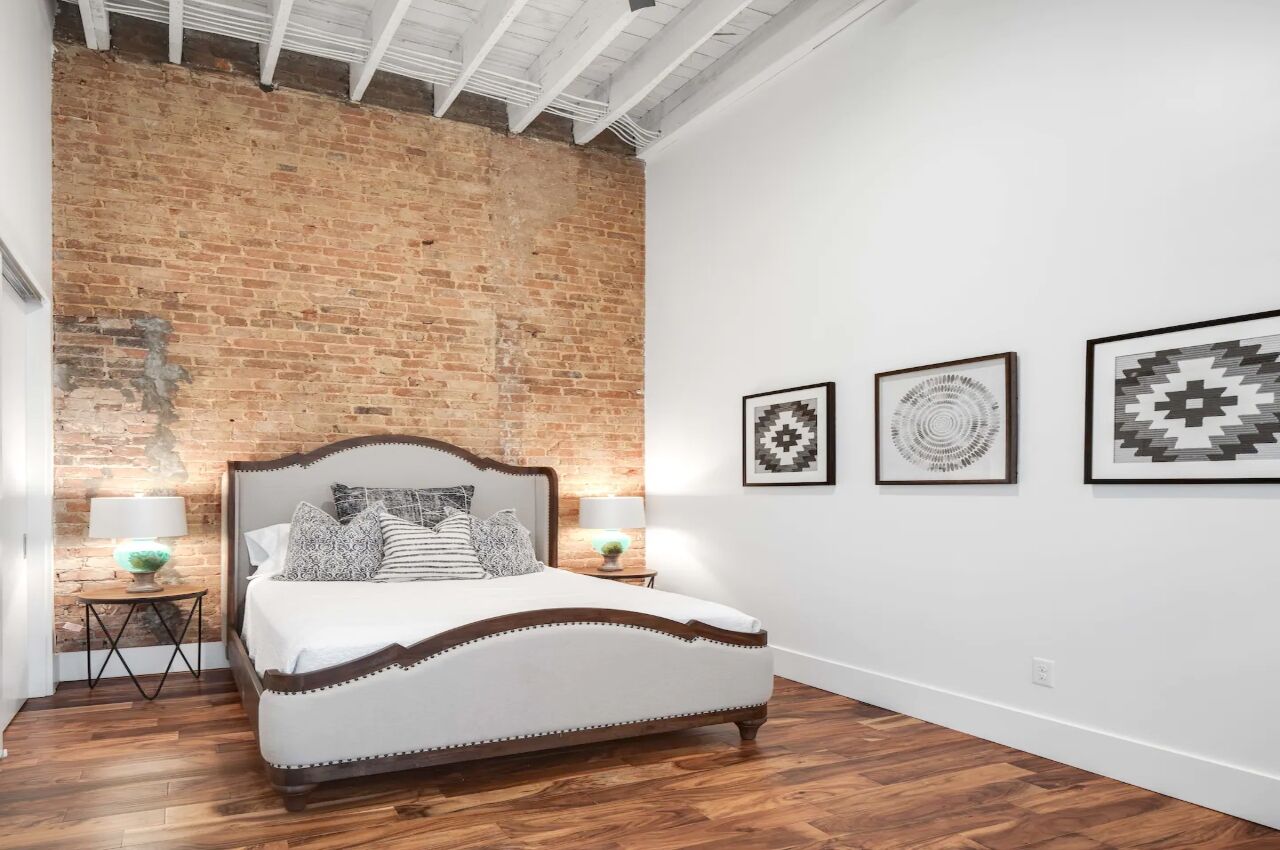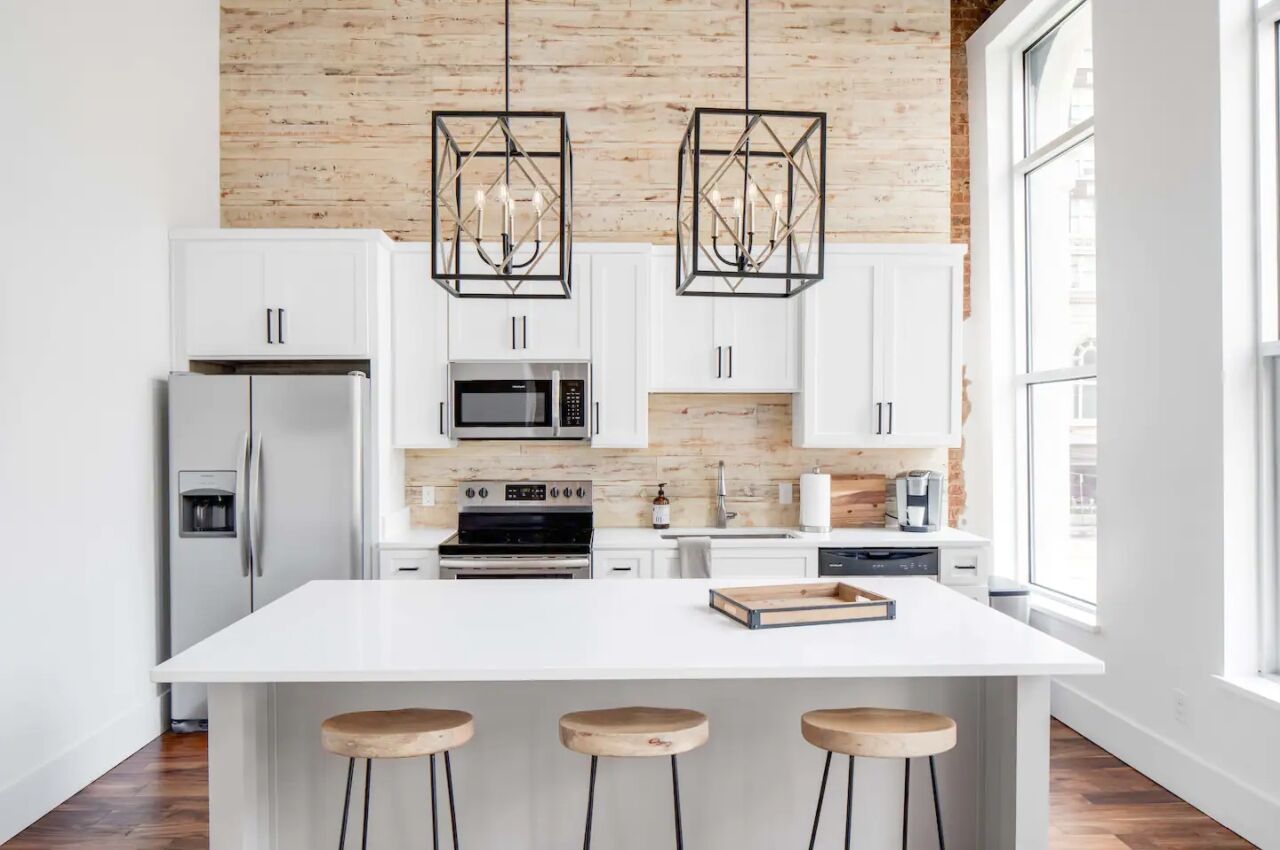 Another luxury Airbnb Memphis stay that will have you wanting to stay in Memphis for just a bit longer. This downtown Memphis condo is perfect for couples, solo travelers, and business travelers. You name it. It features a fully stocked kitchen and a large and open living room with floor-to-ceiling windows. The condo is downtown, within walking distance of many Memphis attractions.
Four guests, one bedroom
Price: $169 per night
Airbnbs near Beale Street
Beale Street is home to the live music and nightlife in Memphis. Airbnbs near Beale Street tend to be walkable or Uber-able to all of this, with the bonus of boasting artistic flare that isn't as common elsewhere in the city. And yes, you can drink a beer while walking down Beale Street.
Colorful and creative apartment near Beale Street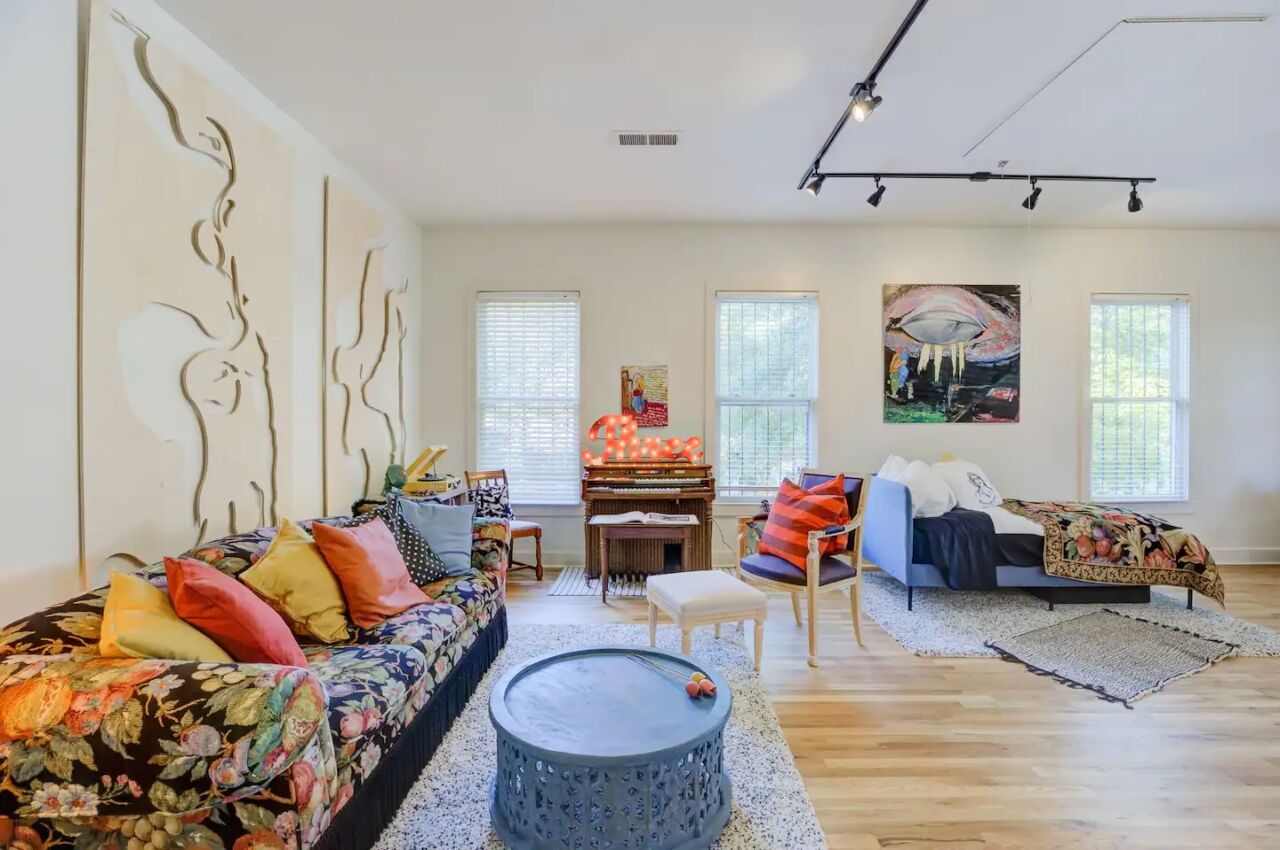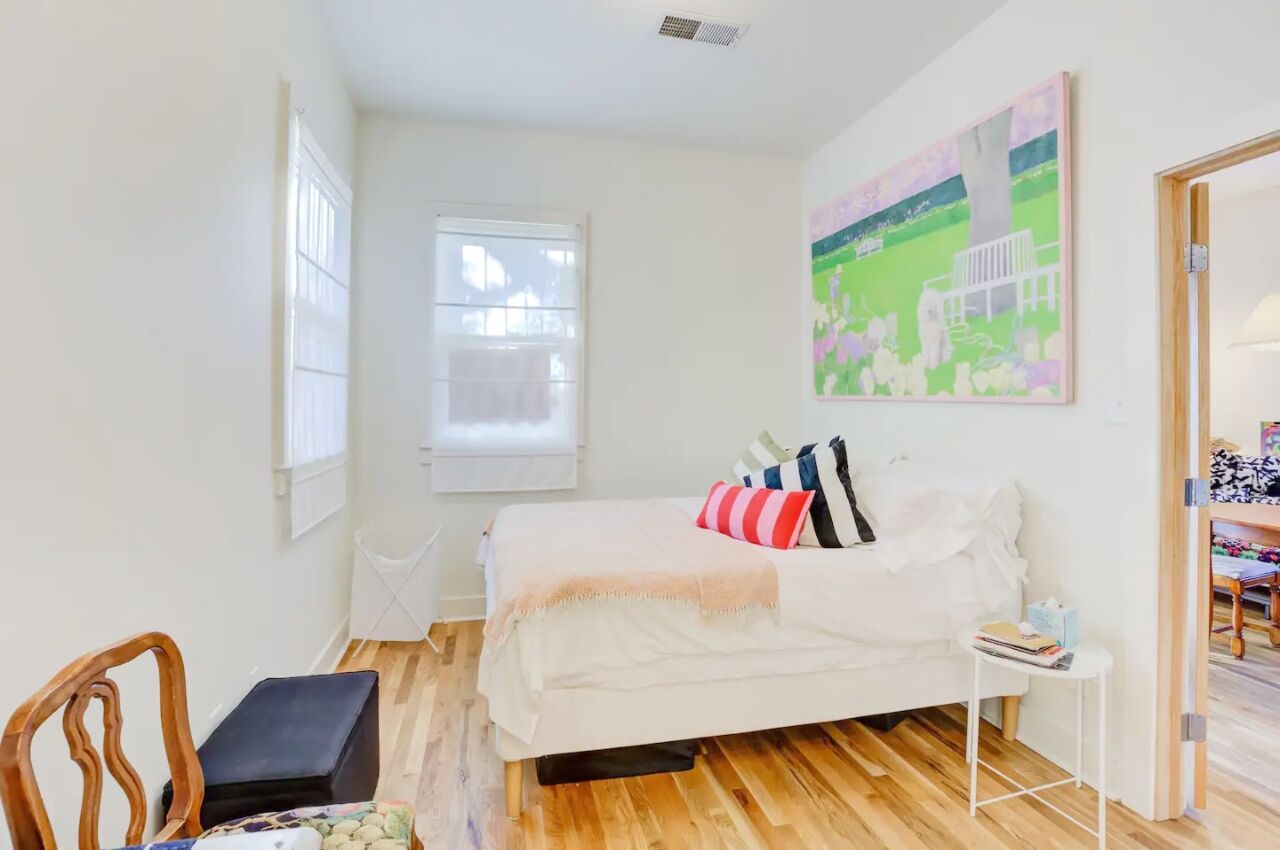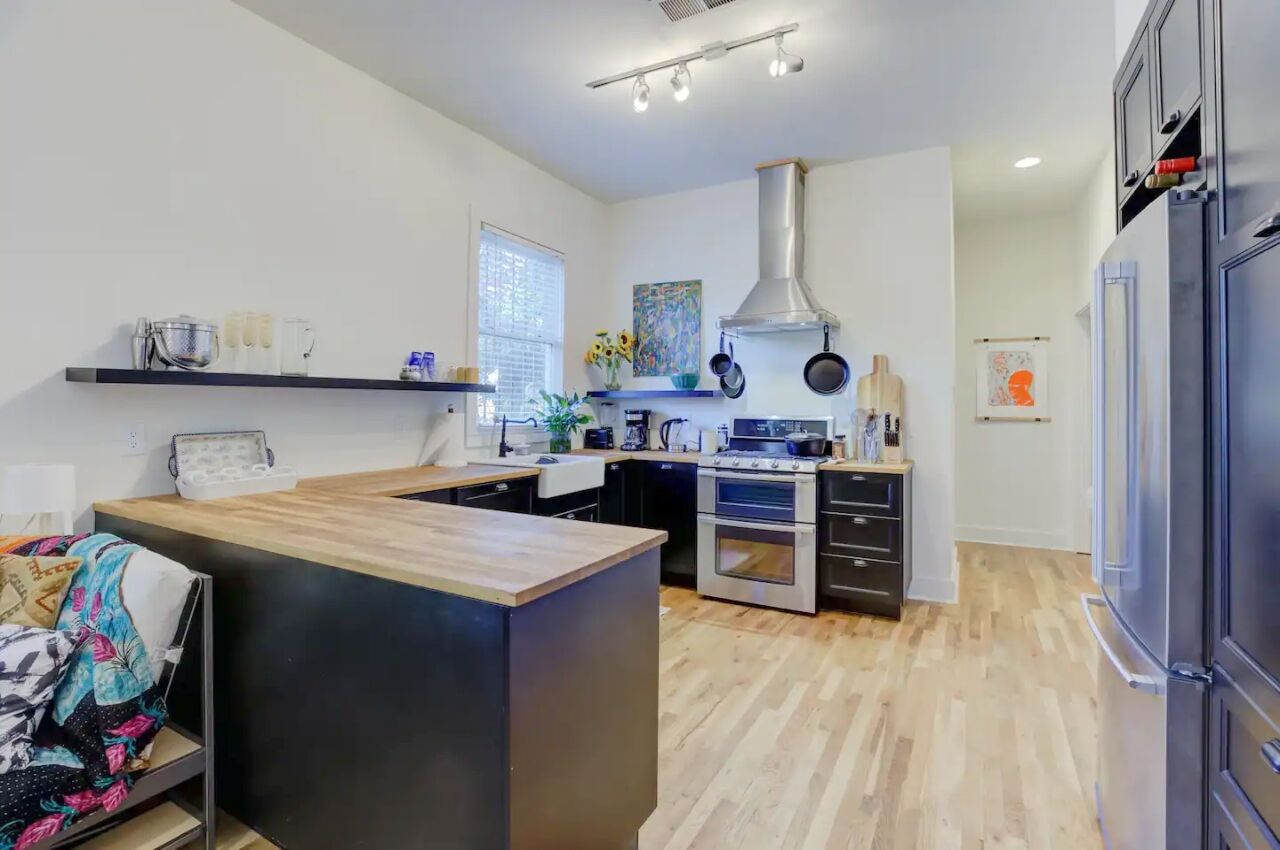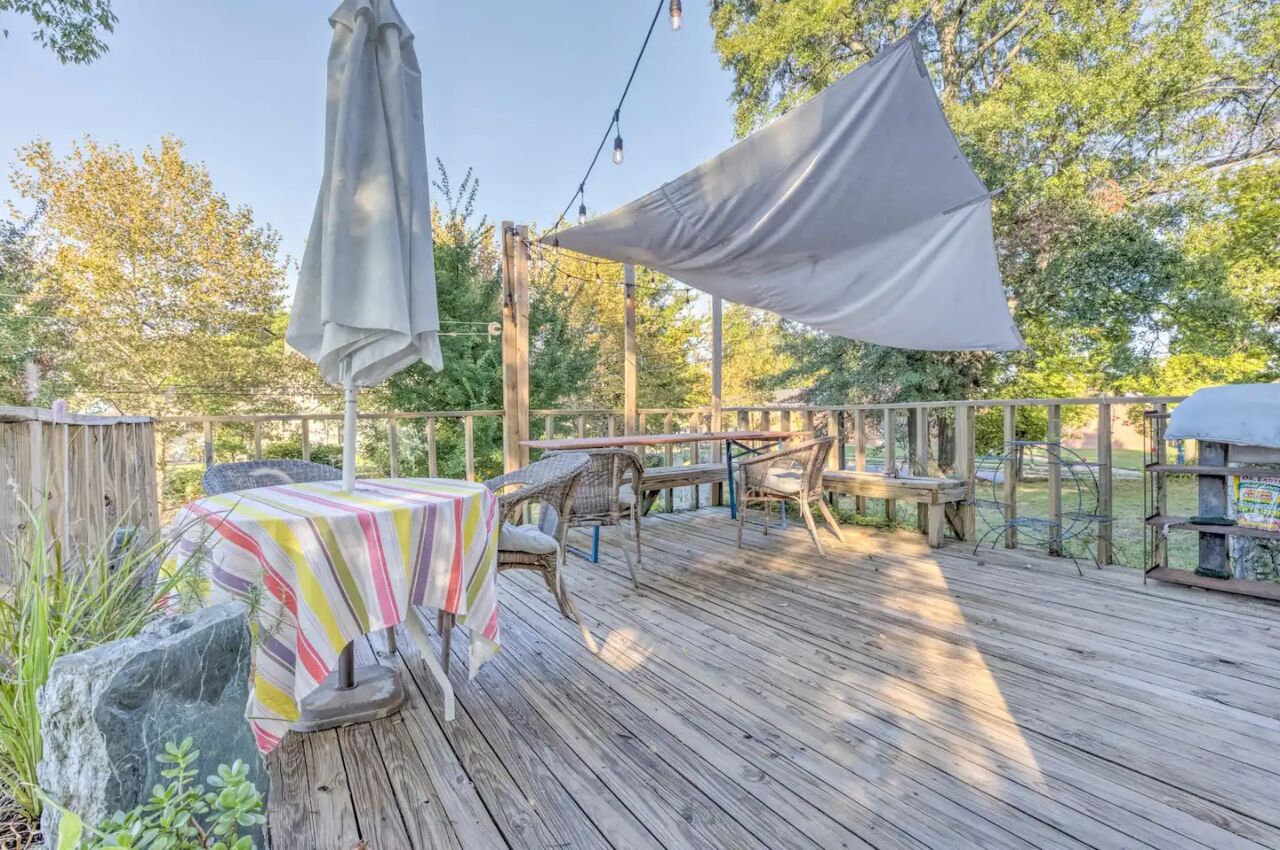 Rock out with this creative space in Memphis. This home has one bedroom and a second living large space with a king bed, sofa, and a day bed. This extra living space can act as a second room or living room area. There is a full kitchen stocked with everything you need, and there is local art throughout the home and some musical instruments.
Five guests, two bedrooms
Price: $101 per night
The William Henry House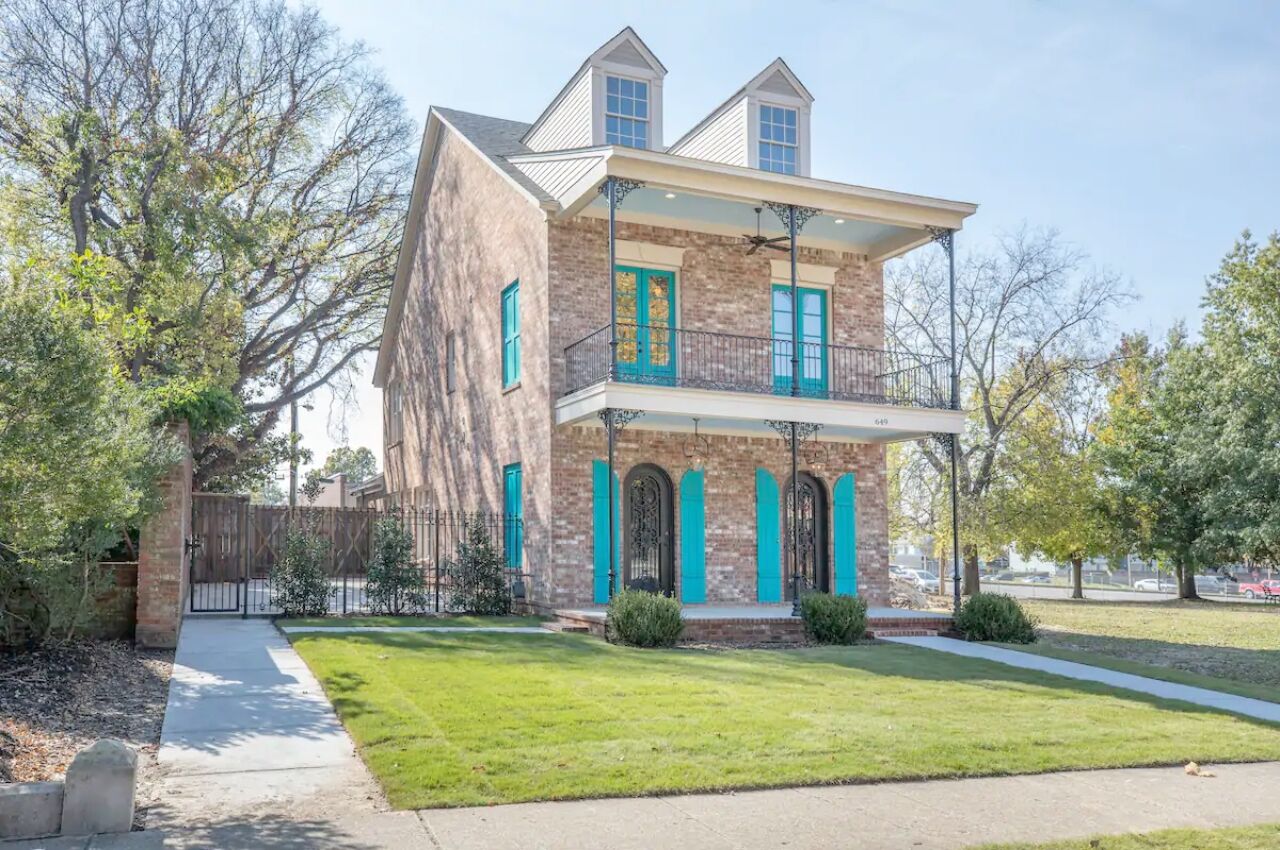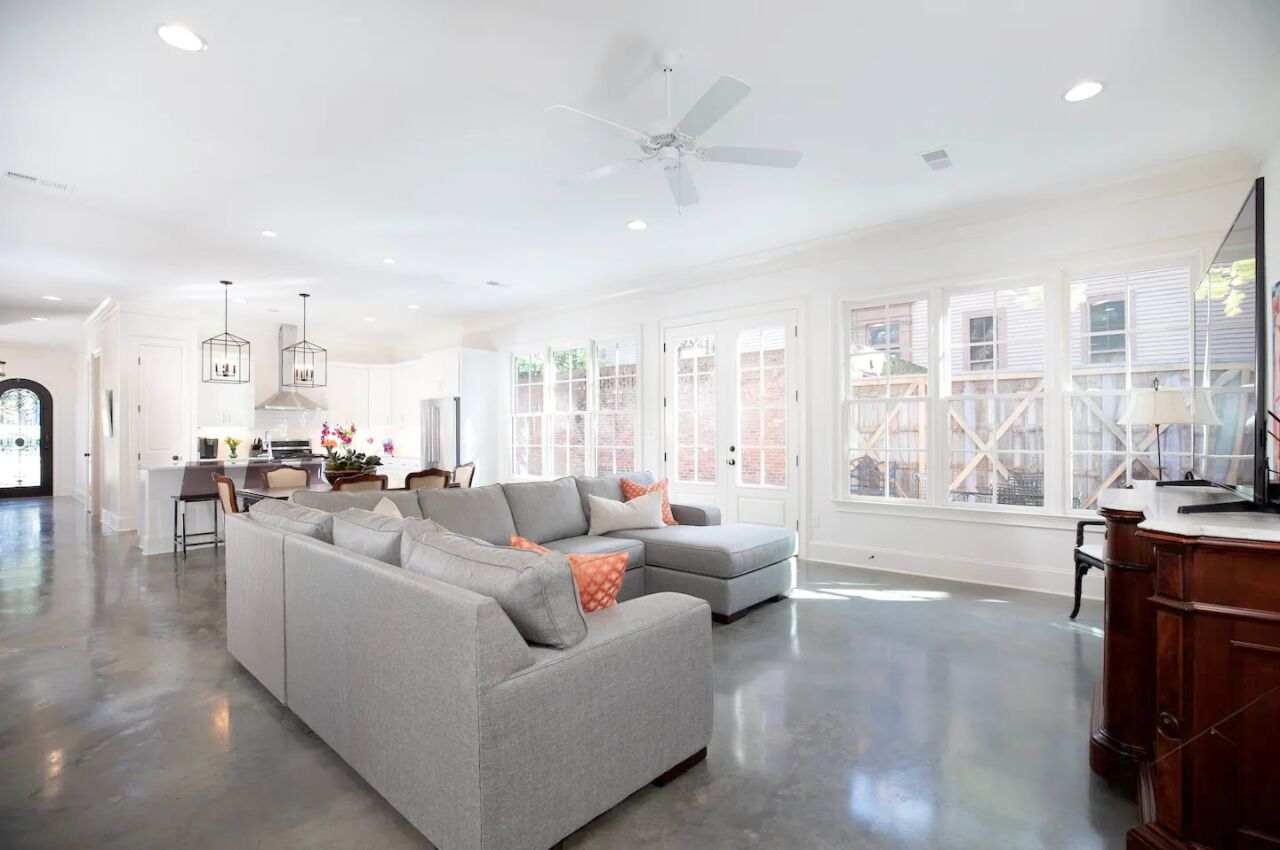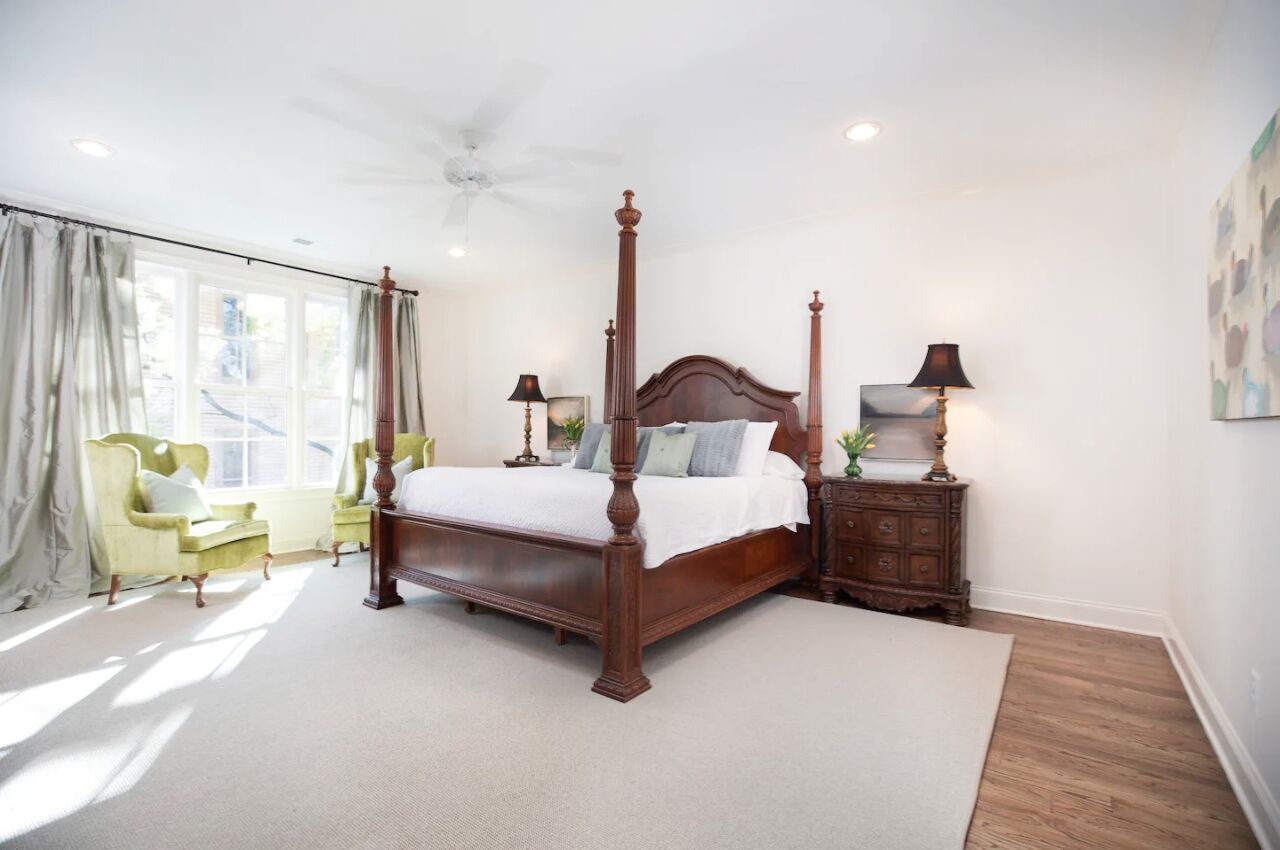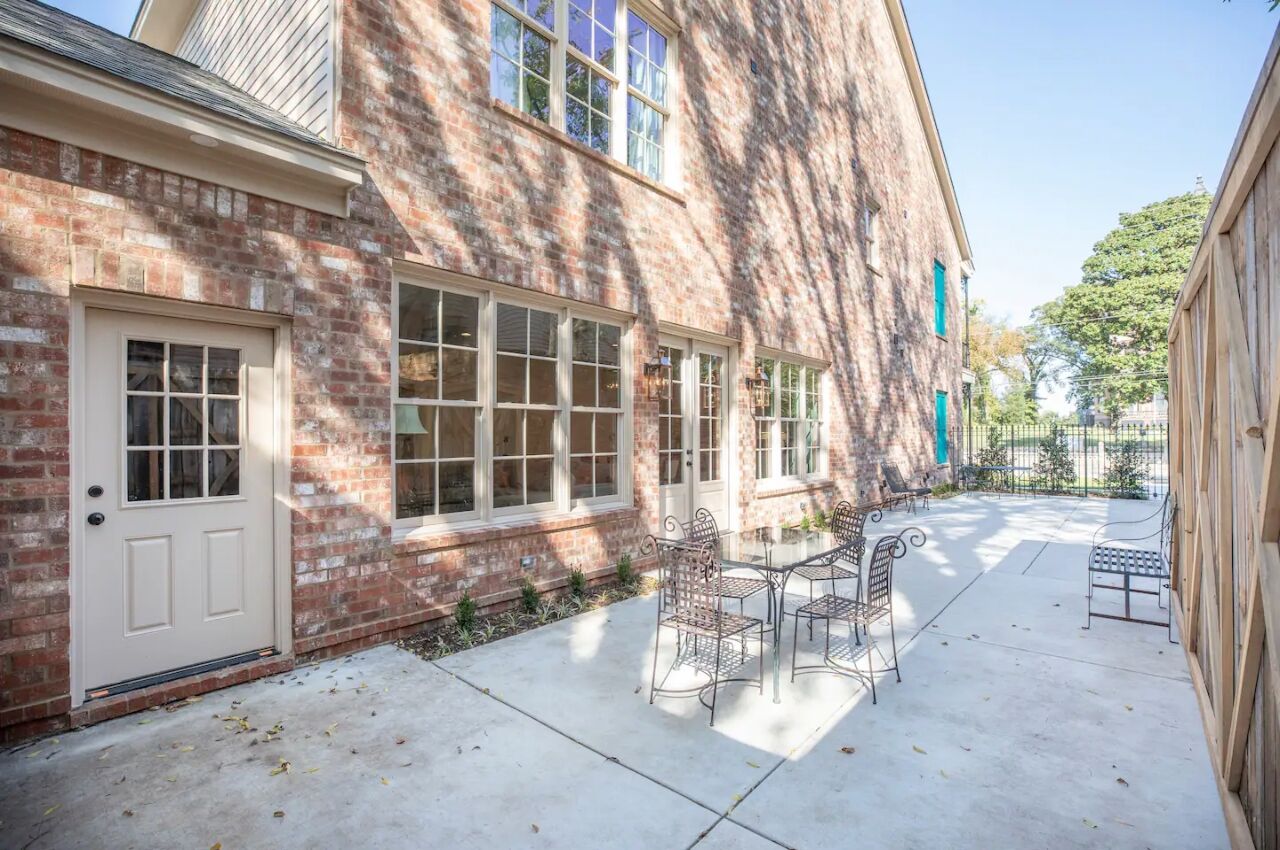 Come and stay at this newly built Memphis home. This spacious floor plan has a living room and kitchen featuring floor-to-ceiling windows. A private courtyard is perfect for relaxing after a long day of exploring. The centrally located home is near downtown Beale Street, FedEx Forum, Convention Center, The Medical Center, and the Civil Rights Museum.
Six guests, three bedrooms
Price: $425 per night
Frances Grace House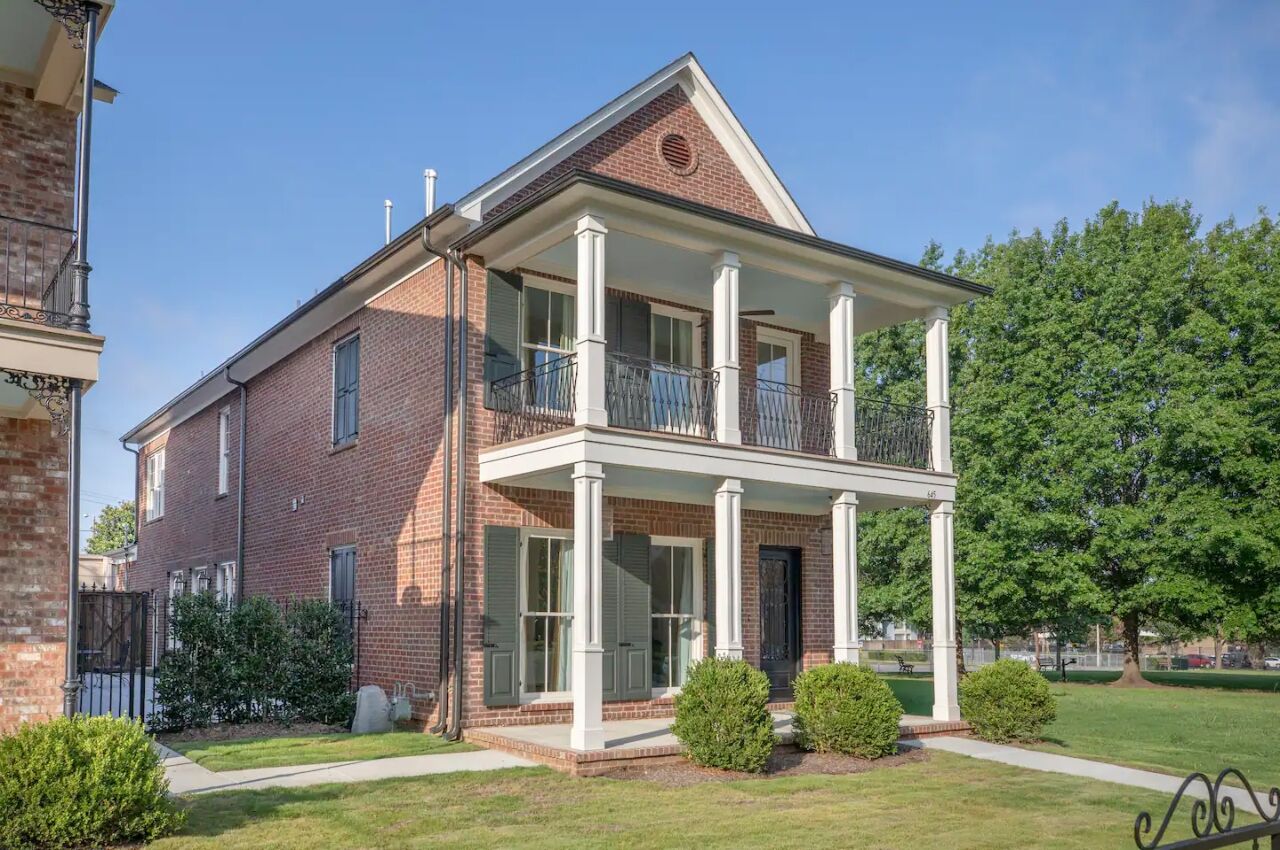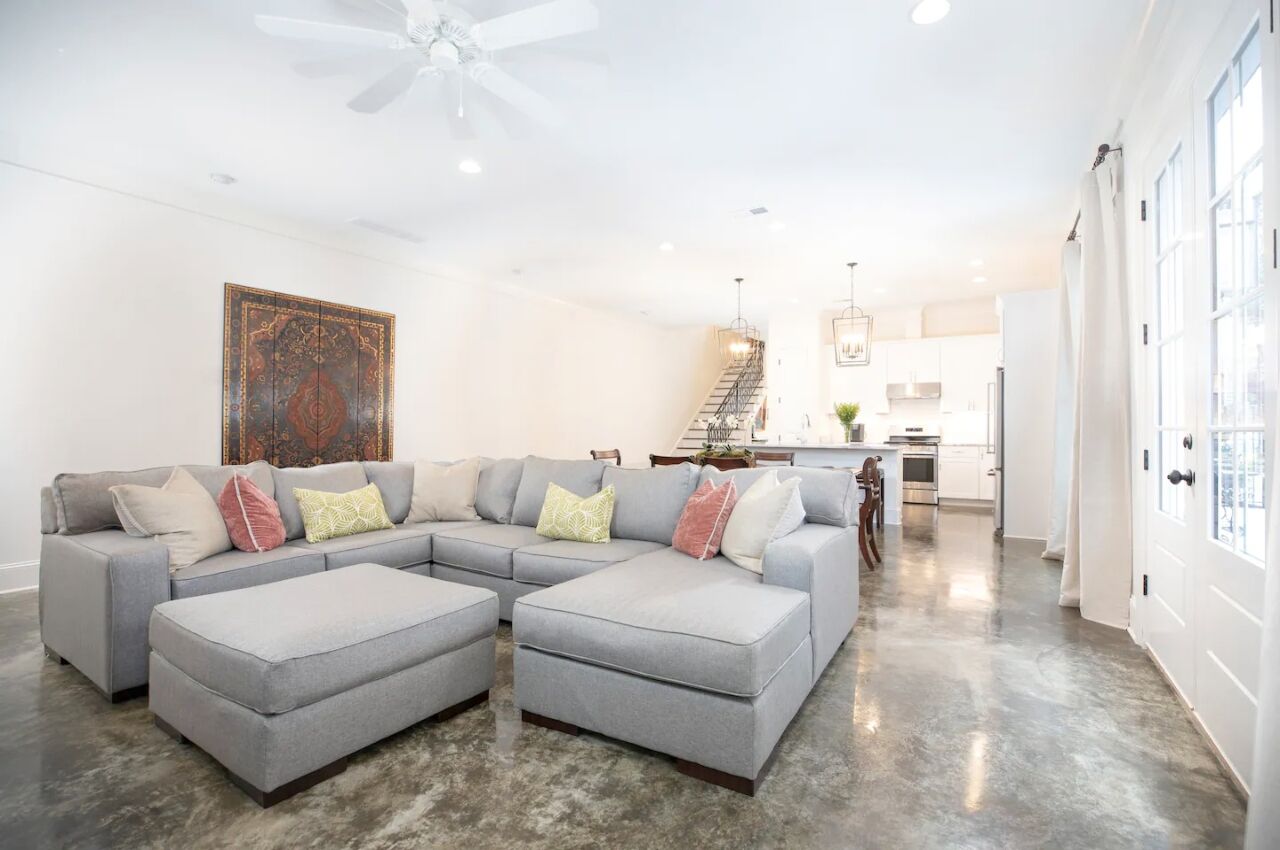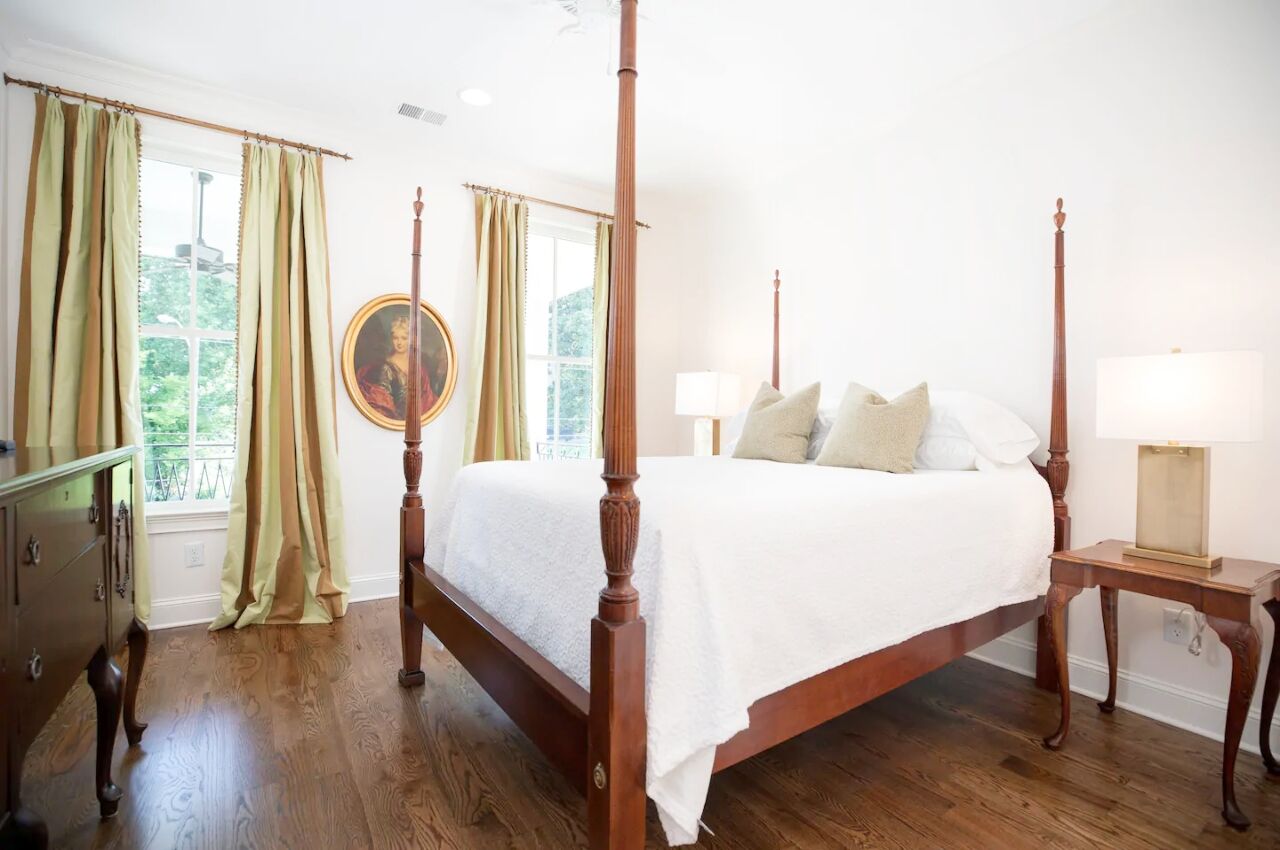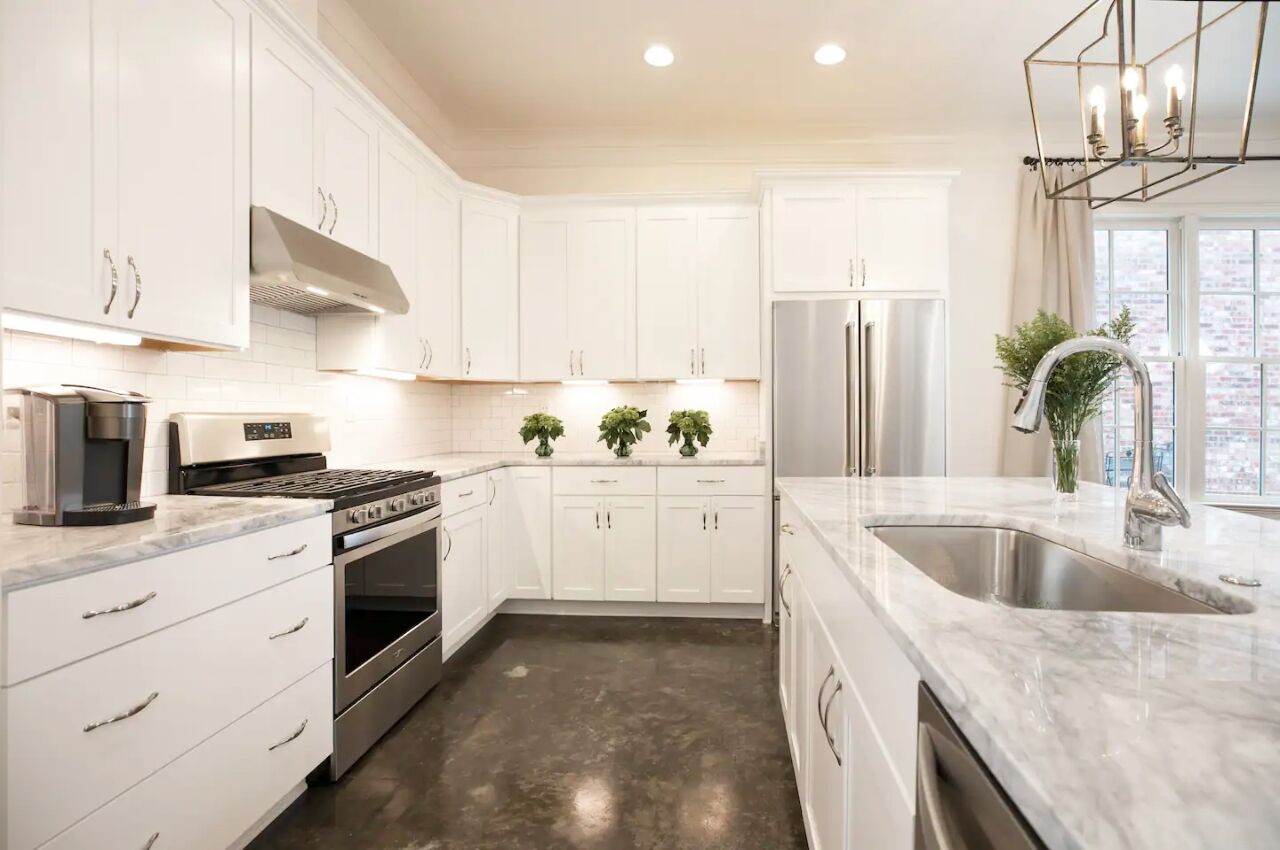 Check out this other historic home located right next to the William Henry House in Victorian Village. The two-story home features a spacious living room and kitchen with a patio on the second floor. The house is near many popular attractions like the Big River Crossing, Music Hall of Fame, Memphis Rock n' Soul Museum, and more.
Eight guests, four bedrooms
Price: $500 per night
Airbnbs in Memphis with a pool
You want swim while in Memphis. Trust us. These Memphis Airbnbs with a pool make that easy, with a host of fun amenities to accompany.
16-person house with pool, mini-golf, game room, and hot tub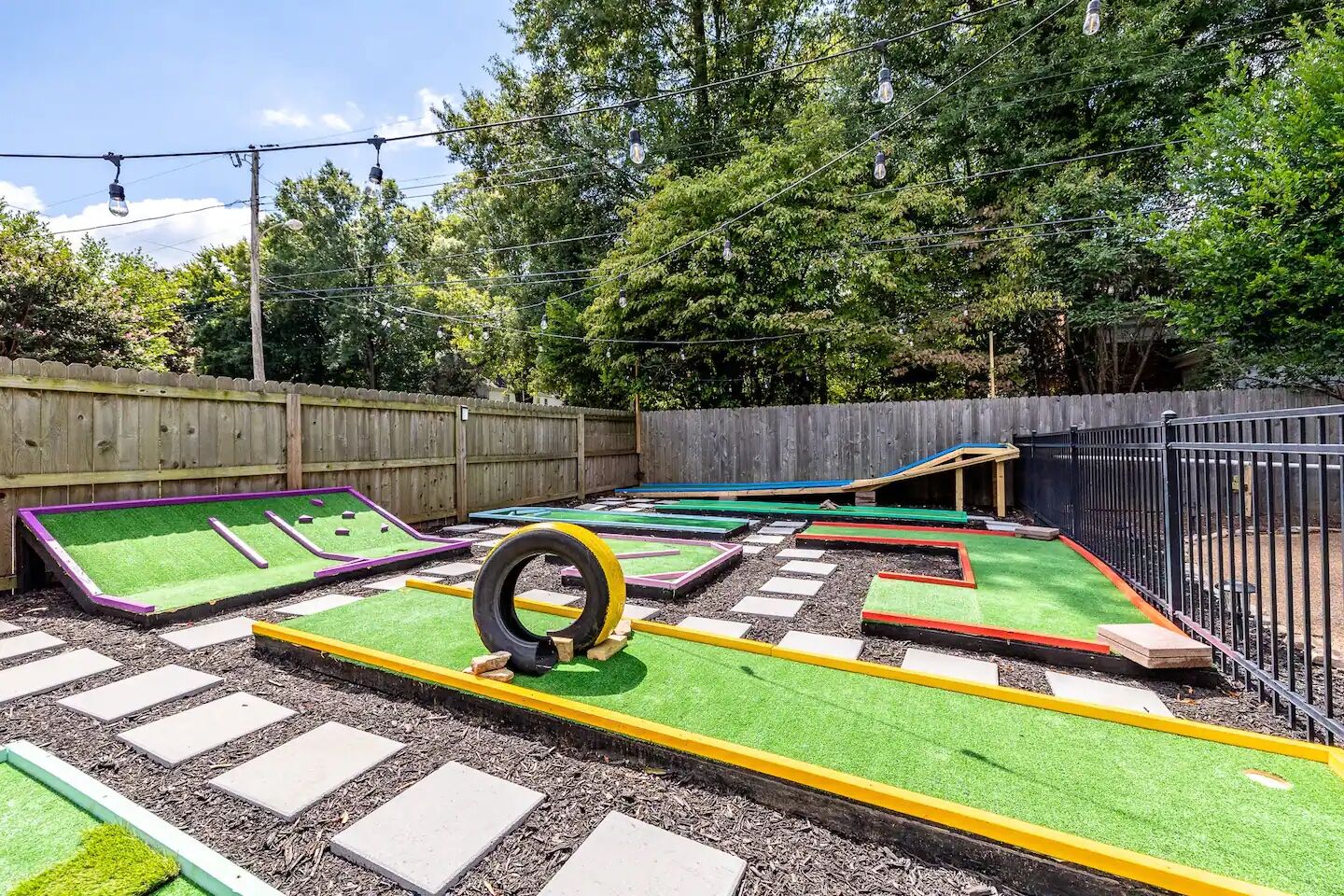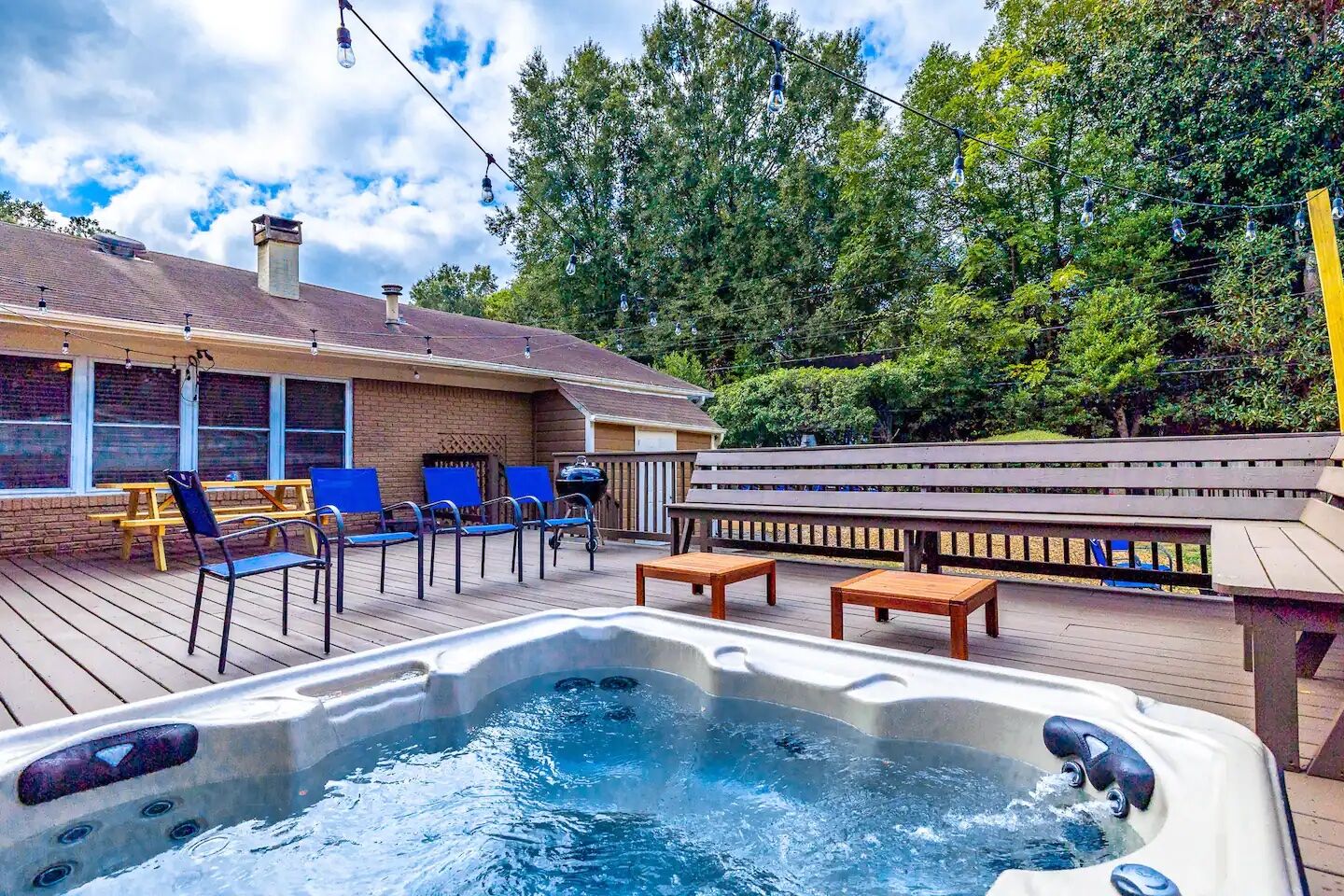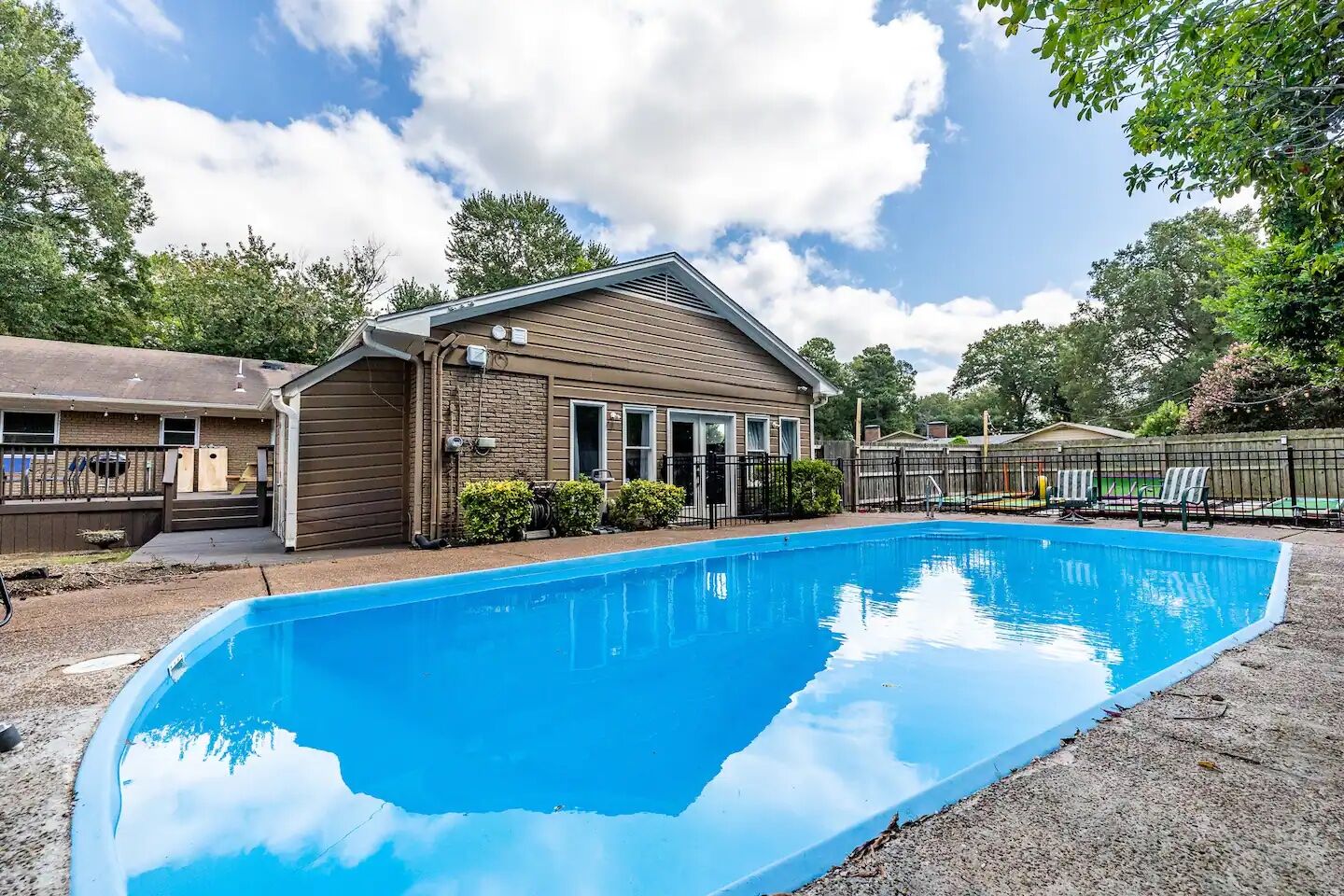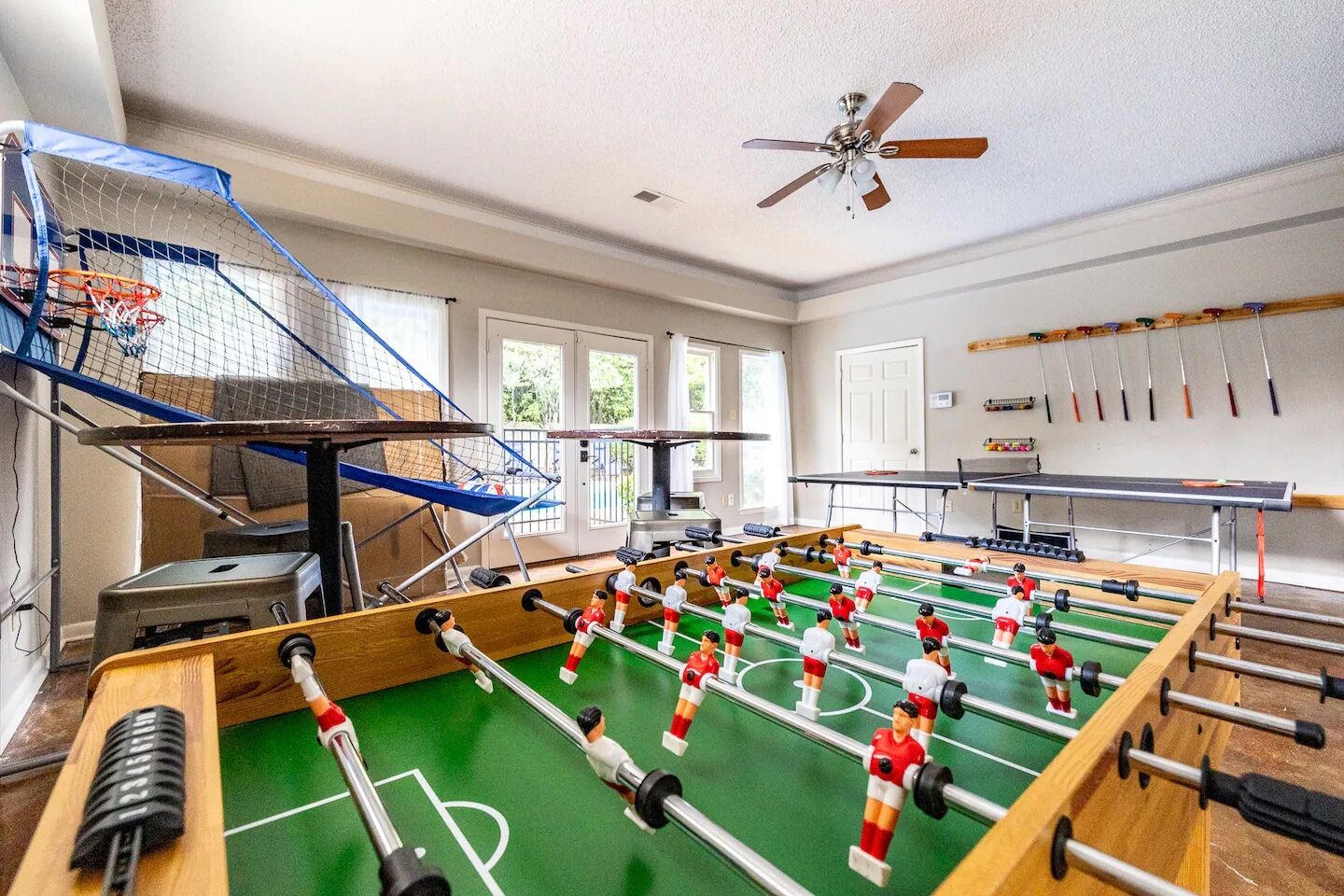 Simply put, this is the best Airbnb in Memphis for large groups and bachelor(ette) parties. Located in East Memphis, you'll have your own mini-golf course and a full game room to keep you occupied when aren't soaking in the hot tub or lounging poolside. Inside, the home has everything you need for a group stay, both kitchen-wise and in terms of lounge space and bedrooms.
16 guests, five bedrooms
Price: $592 per night
Mid-century luxury oasis with a heated pool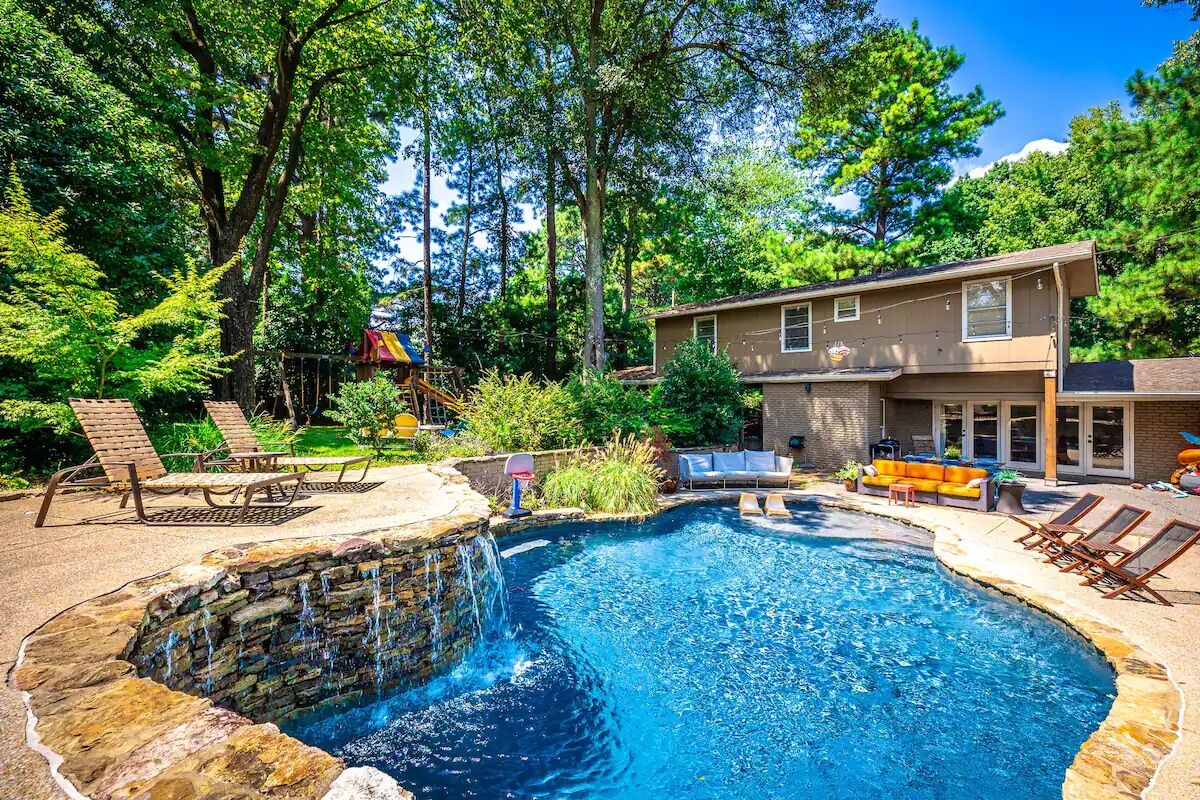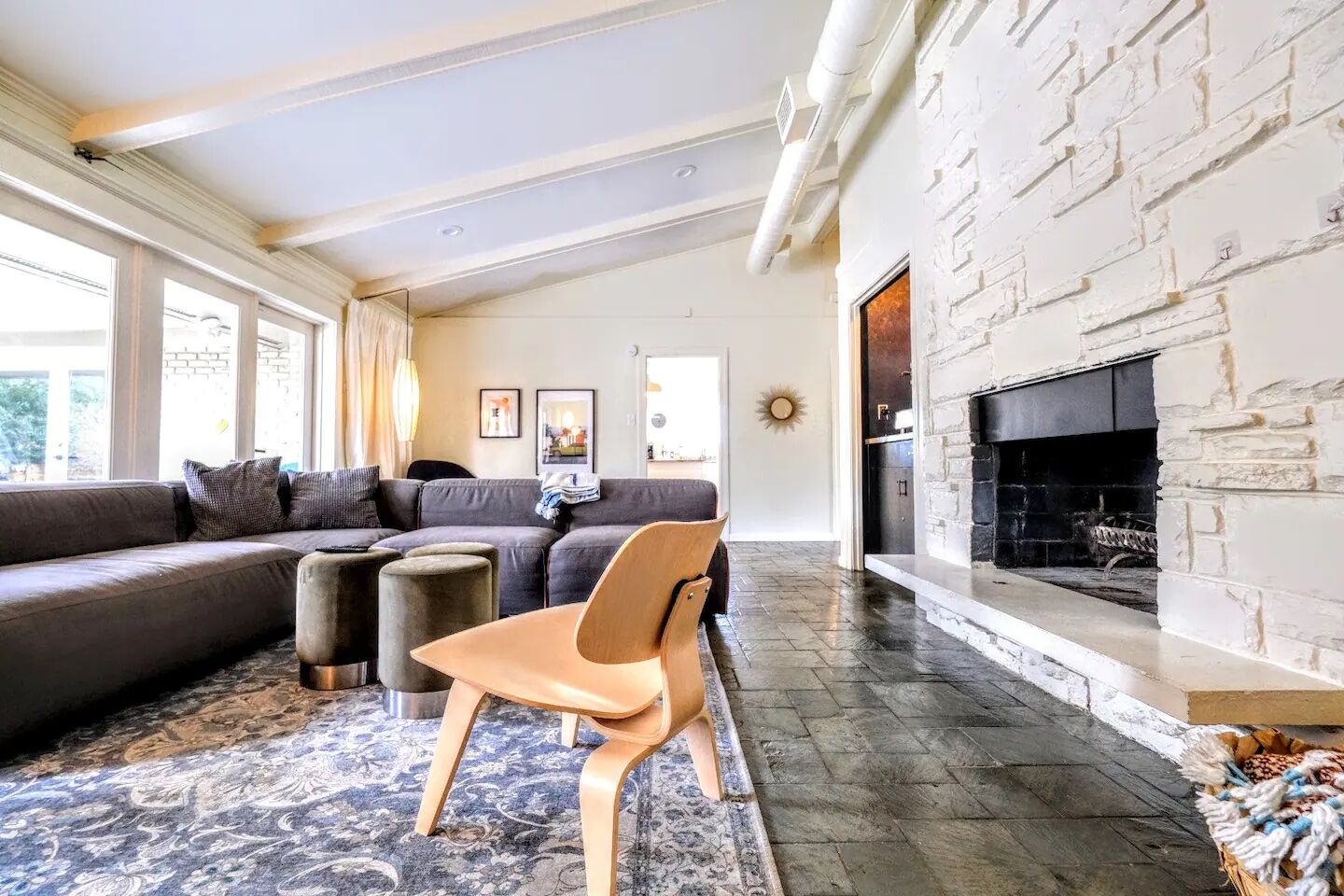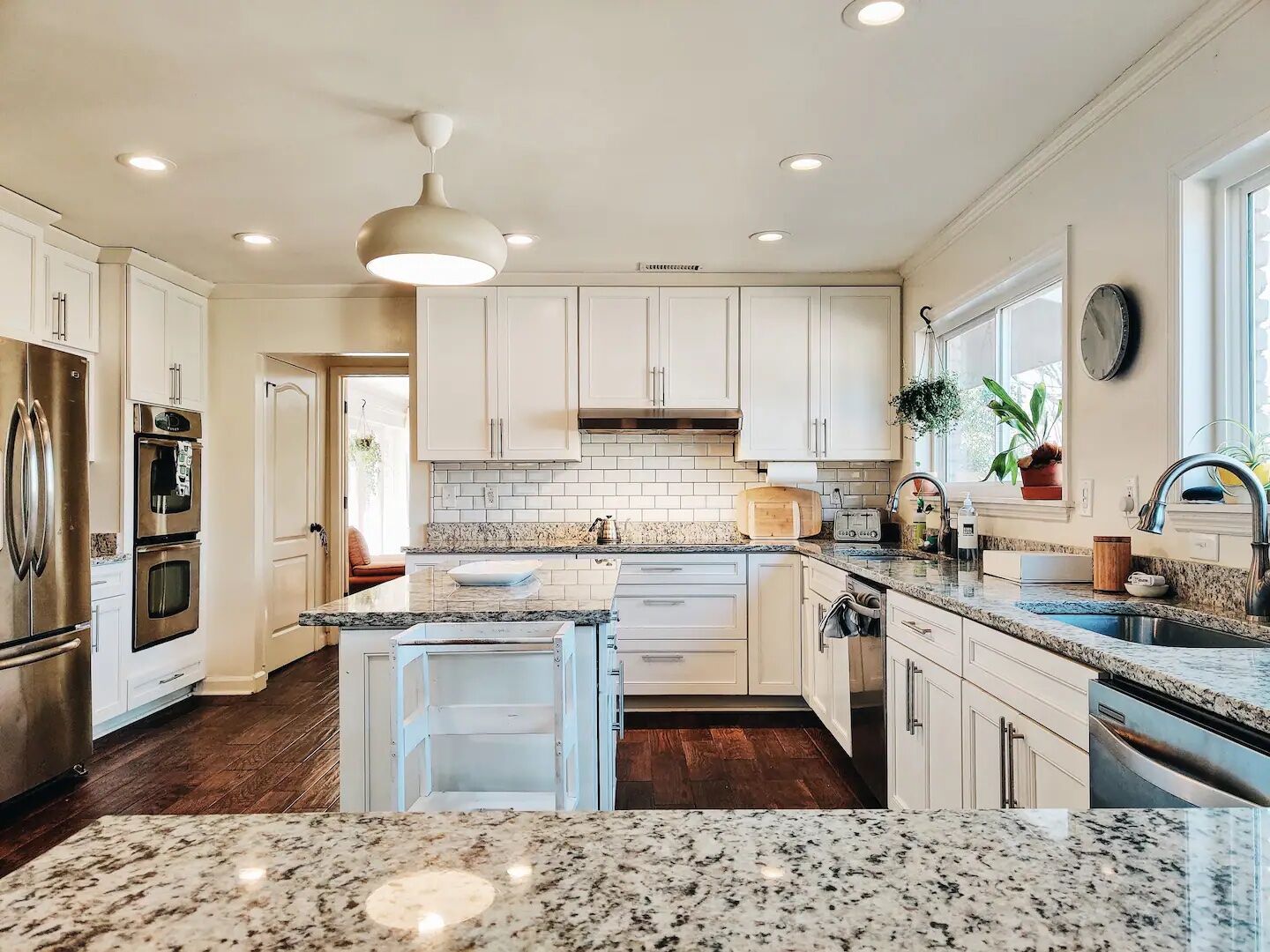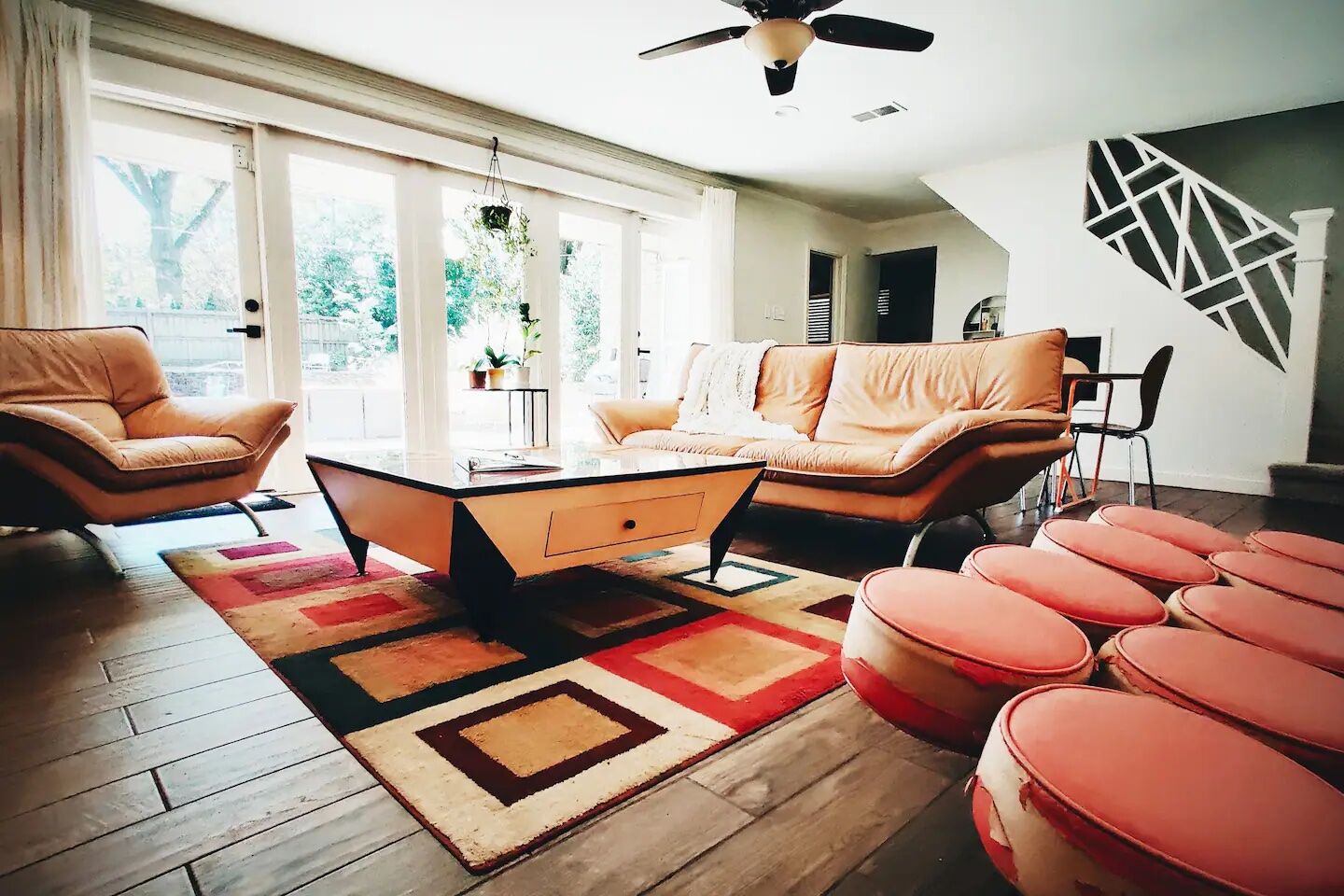 Before booking this property, you need to ask yourself one question: How do you feel about having your own private waterfall? Families will love this high-end home in east Memphis. The Airbnb has a pool and 4,000 square feet of space to spread out in, and a gourmet chef's kitchen to keep everyone fed. Enjoy the quiet neighborhood and nearby parks, with the rest of the city an Uber ride away.16 guests, six bedrooms
Price: $606 per night
Airbnb in Midtown Memphis
Midtown Memphis is hip and cool. It's also incredibly close to where the best activities in the city take place. Whether you book in Midtown or Cooper-Young, you'll enjoy excellent access and trendy accommodations.
Midtown House with backyard pond and waterfall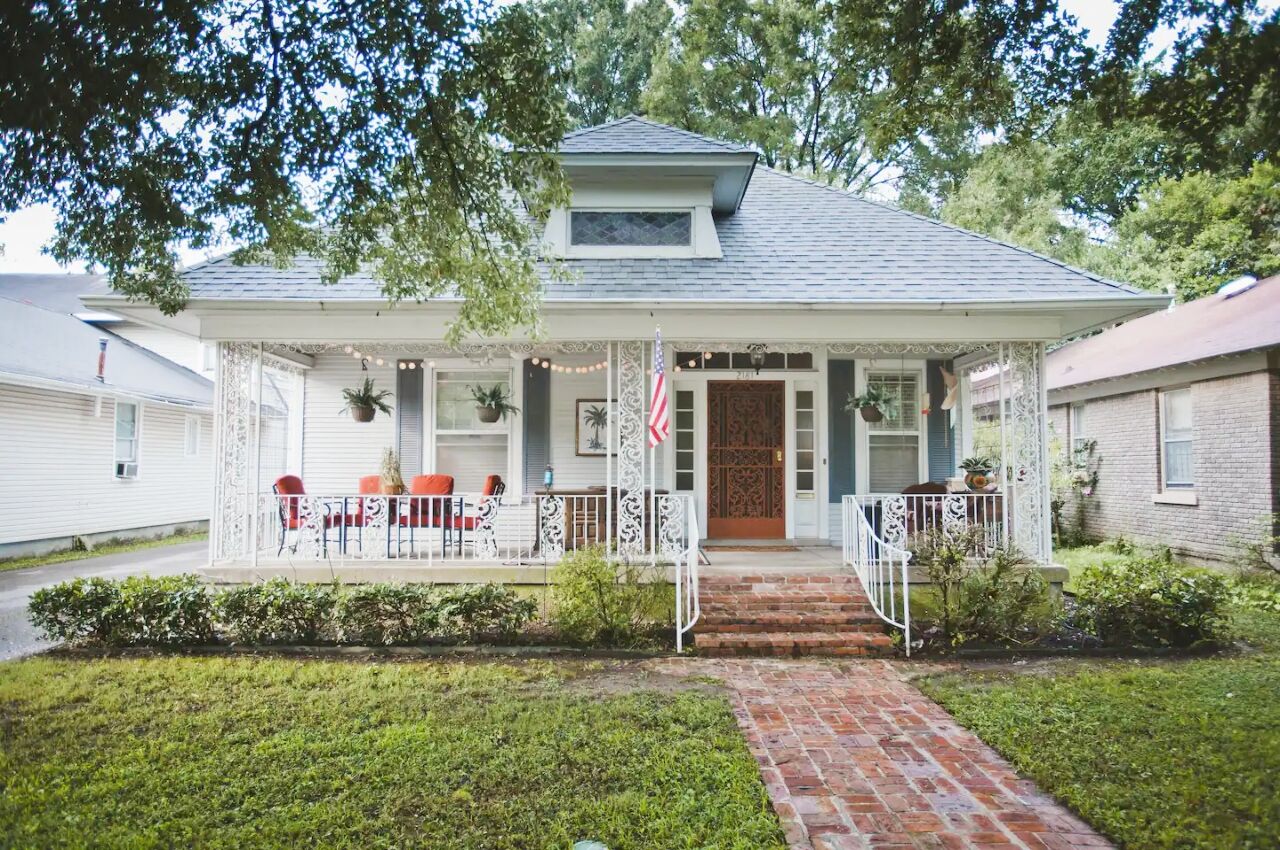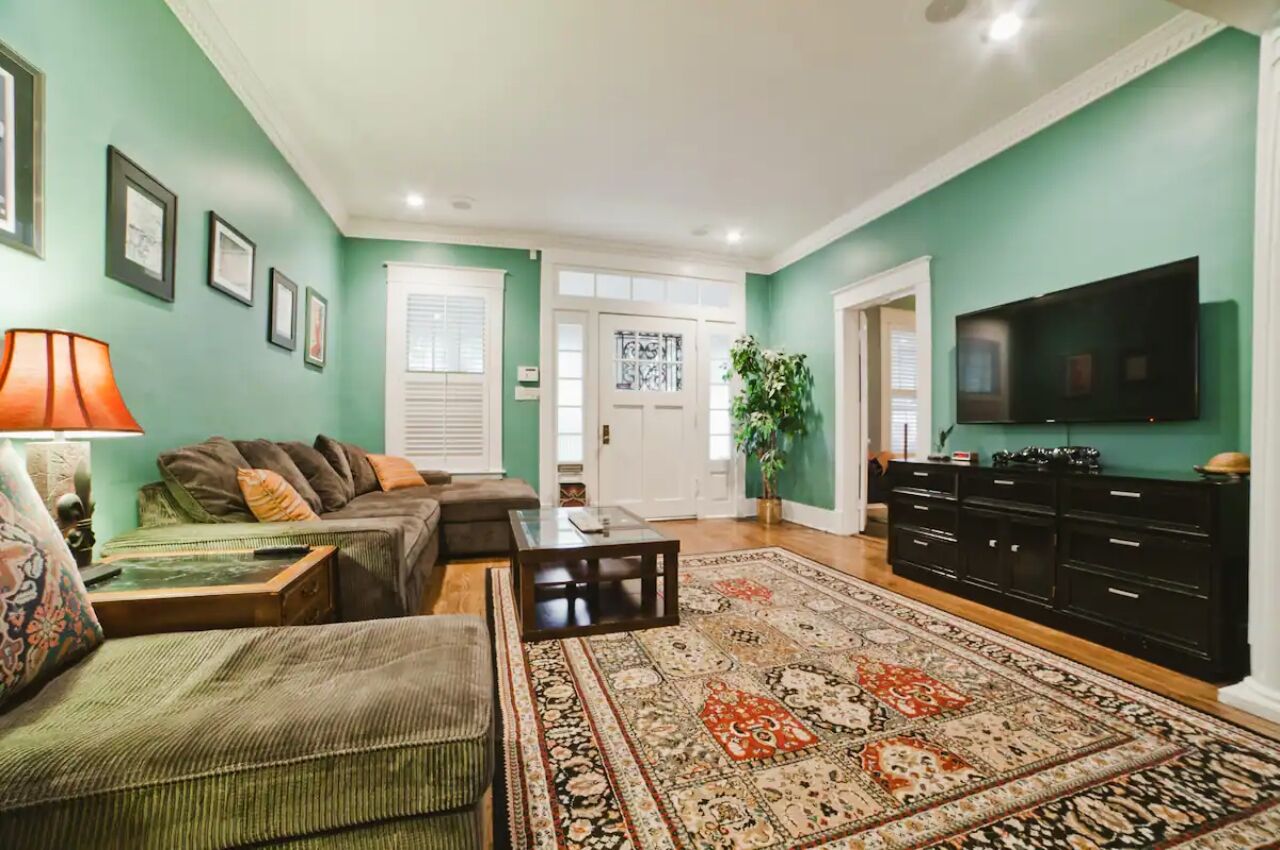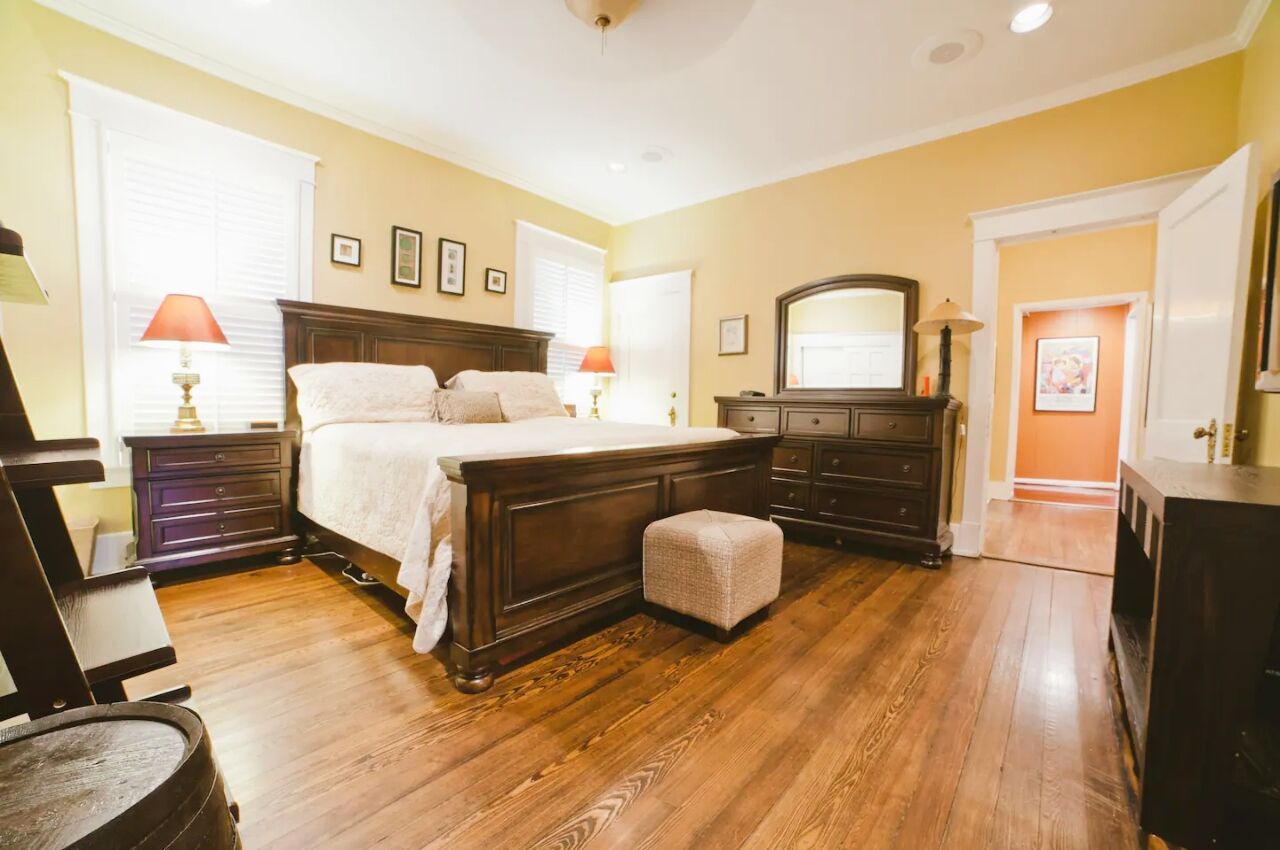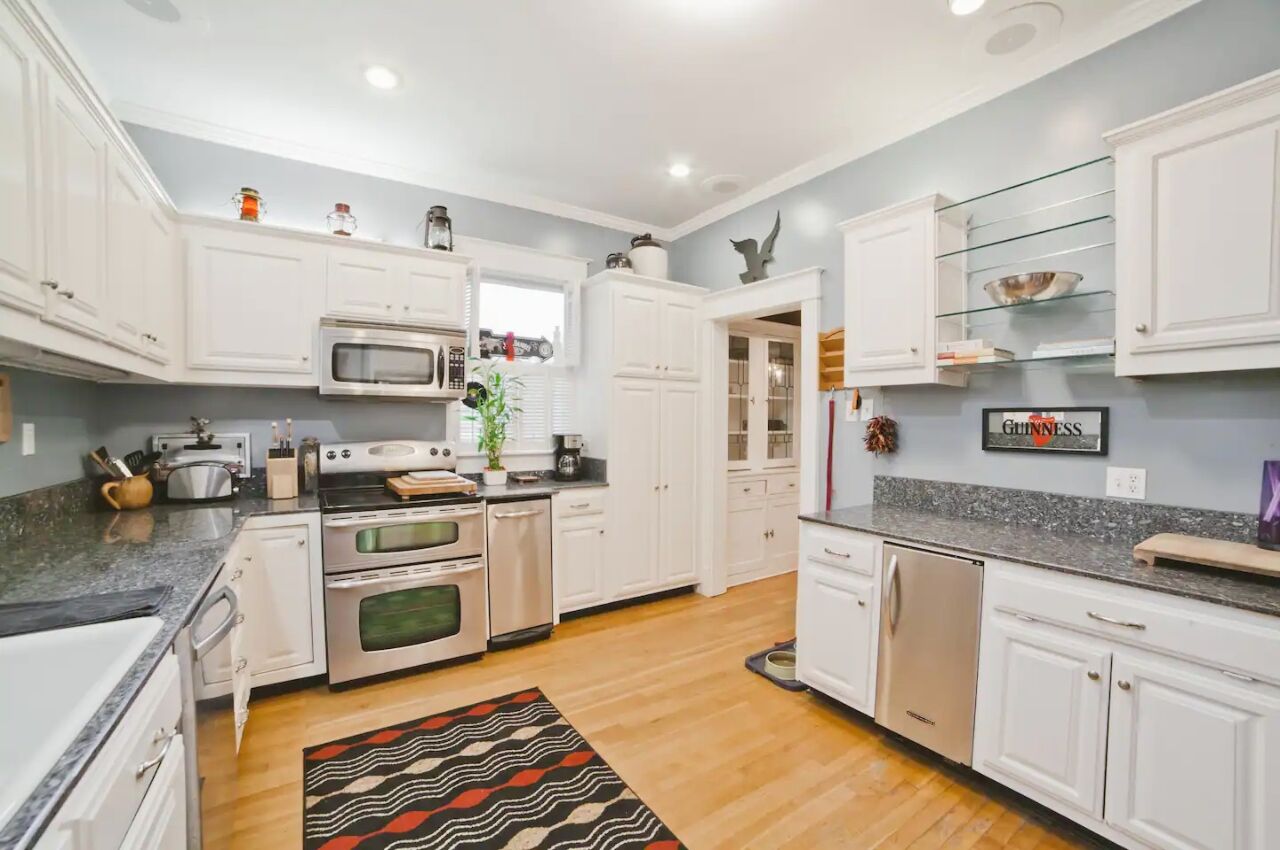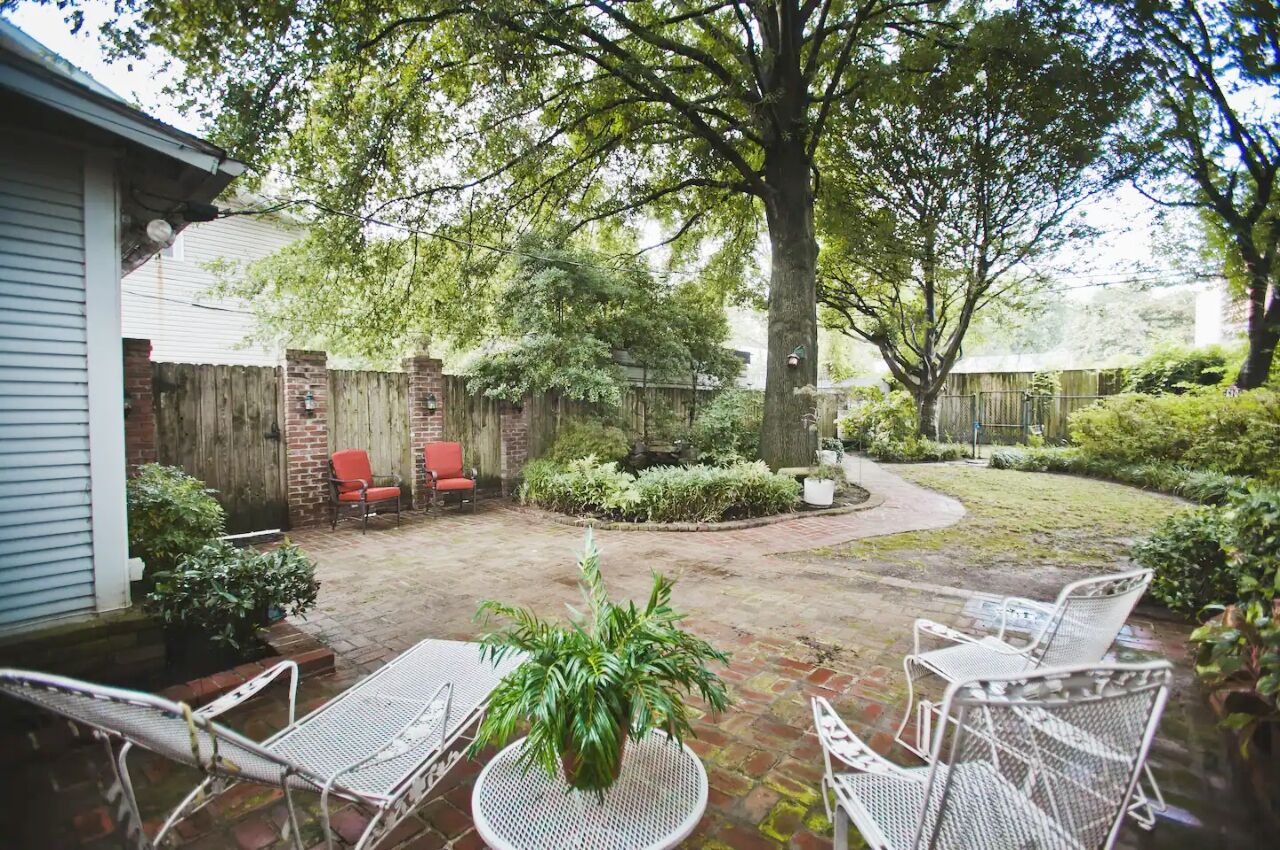 This classic and funky Memphis spot is 1,500 square feet and has a two-bedroom, and there are two separate lounges spots to relax in. There is a large porch, and there is a private backyard with a pond and waterfall. The home is just ten minutes from Beale Street and other activities.

Six guests, two bedrooms
Price: $210 per night
Remolded duplex in trendy Cooper-Young neighborhood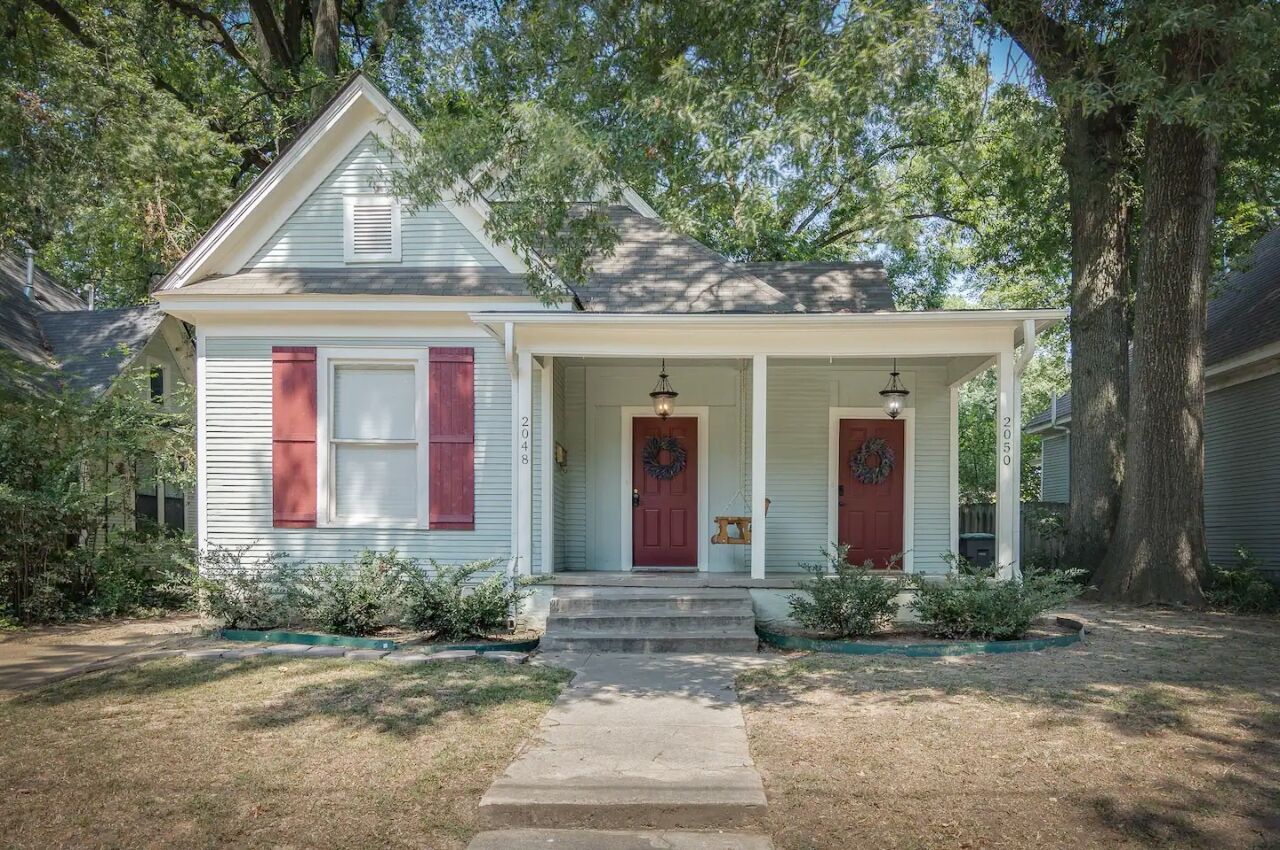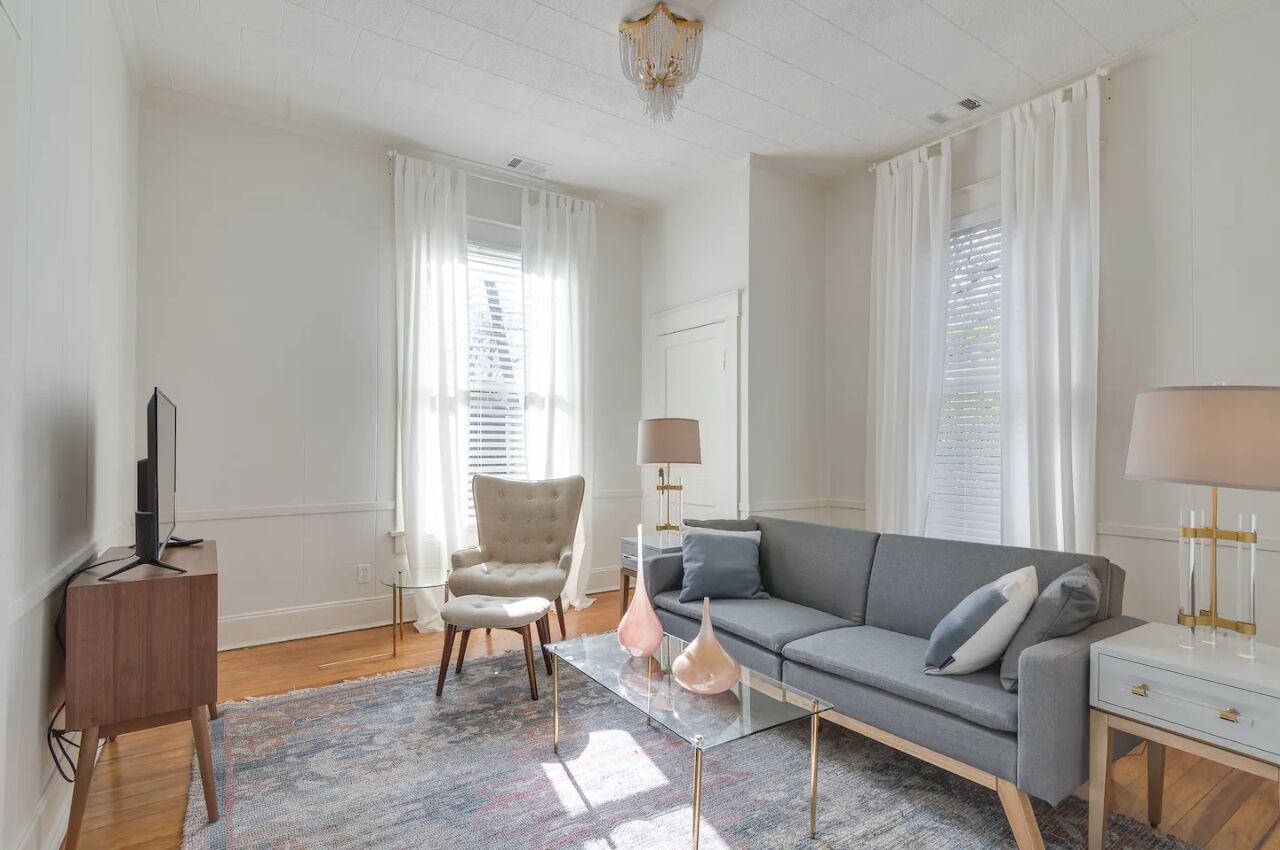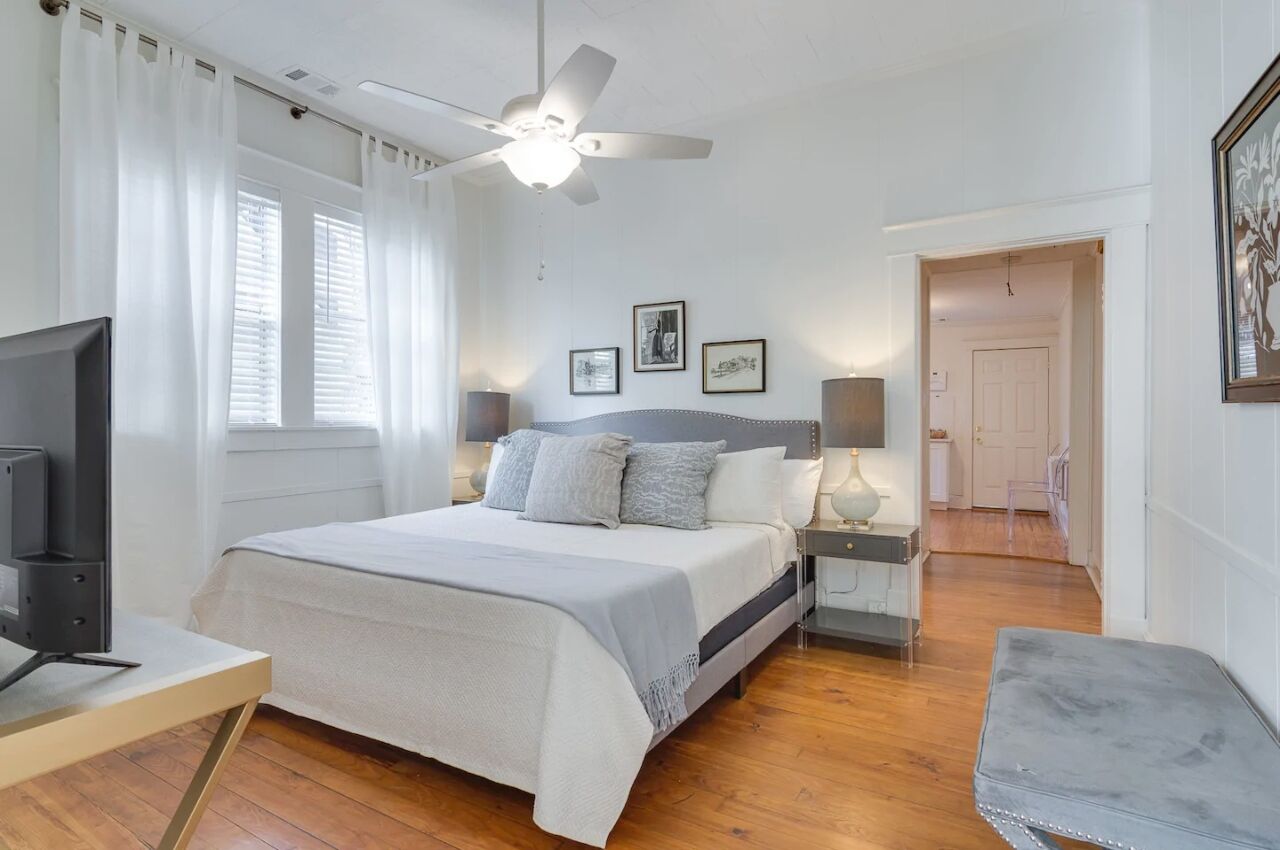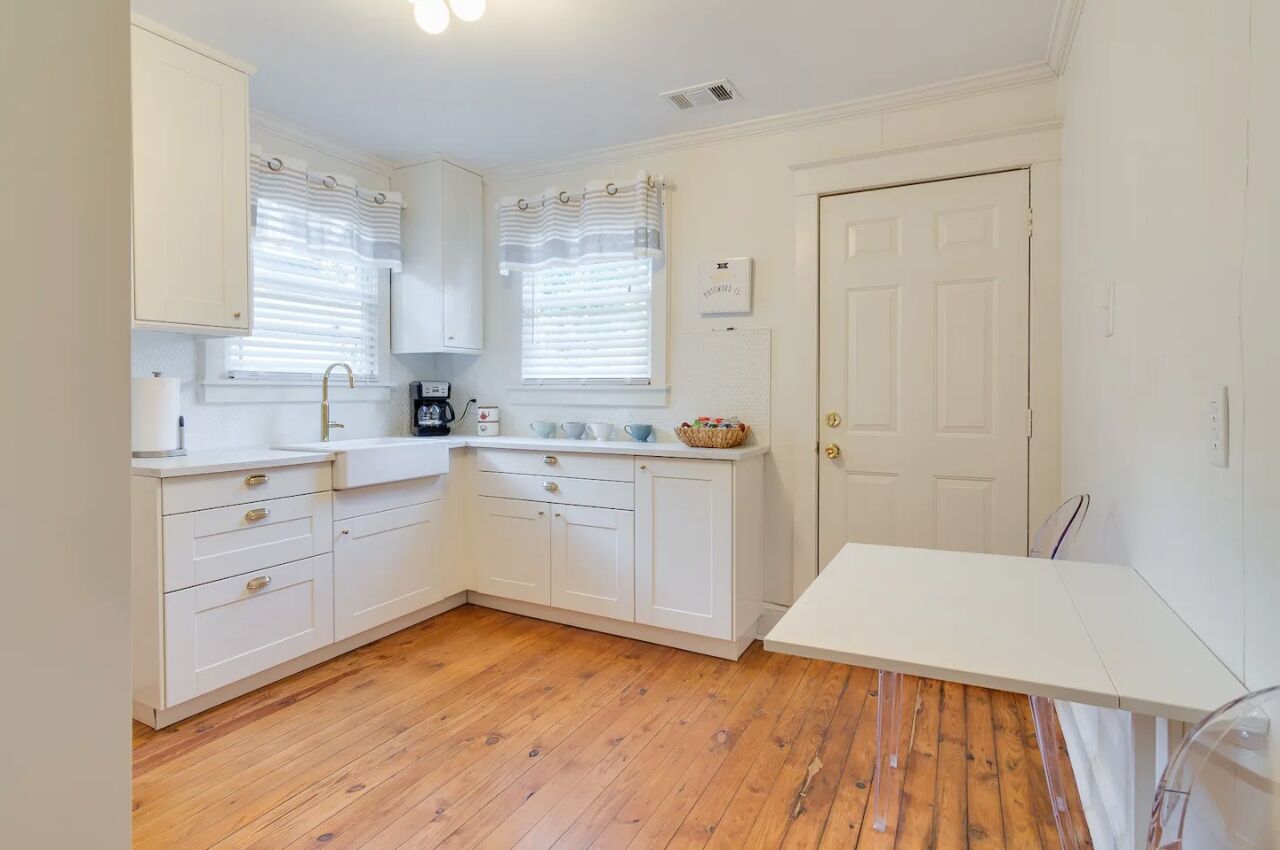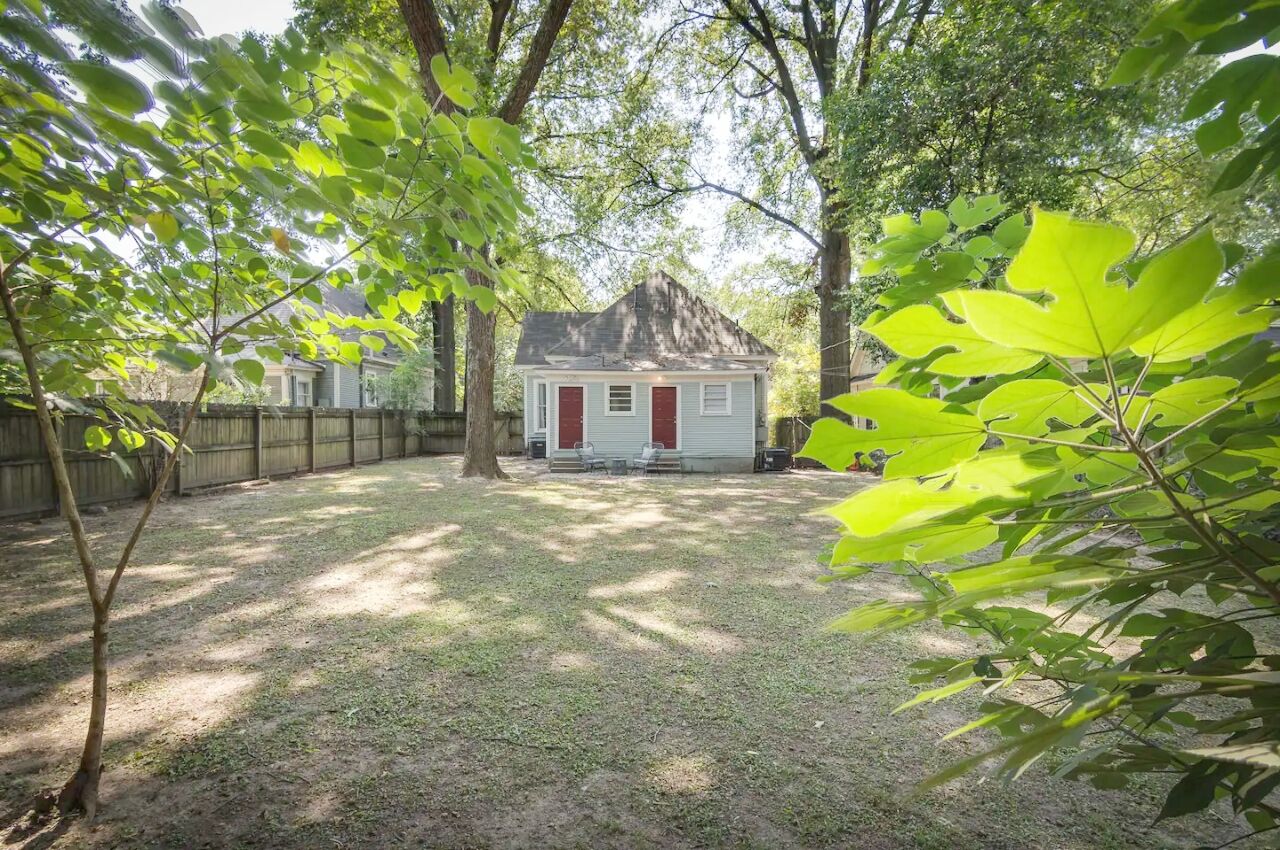 Enjoy this newly renovated duplex located in the heart of the trendy Cooper-Young area. This duplex features a living room, a fully equipped kitchen, and a spacious porch and backyard area for relaxing. The home is within walking distance of Bluff City Coffee, Wise Acre Brewery, and other restaurants and bars.
Two guests, one bedroom
Price: $69 per night
Luxury Airbnbs in Memphis
Sometimes you want to go all out. These luxury Memphis Airbnbs are just the place to do so — with high-end art and decor, extra comfy beds, and all the trimmings you'd expect from a nice hotel.
One fine day in Memphis luxury rental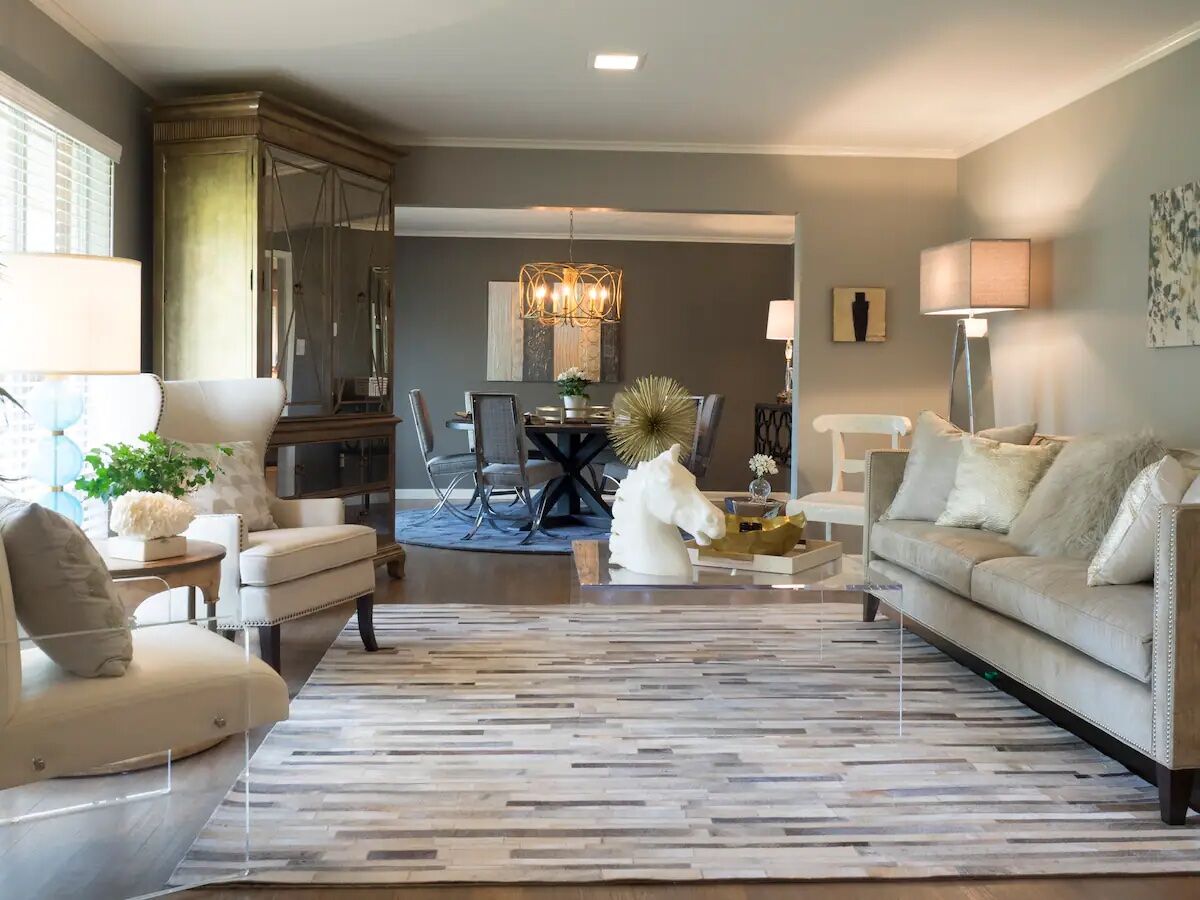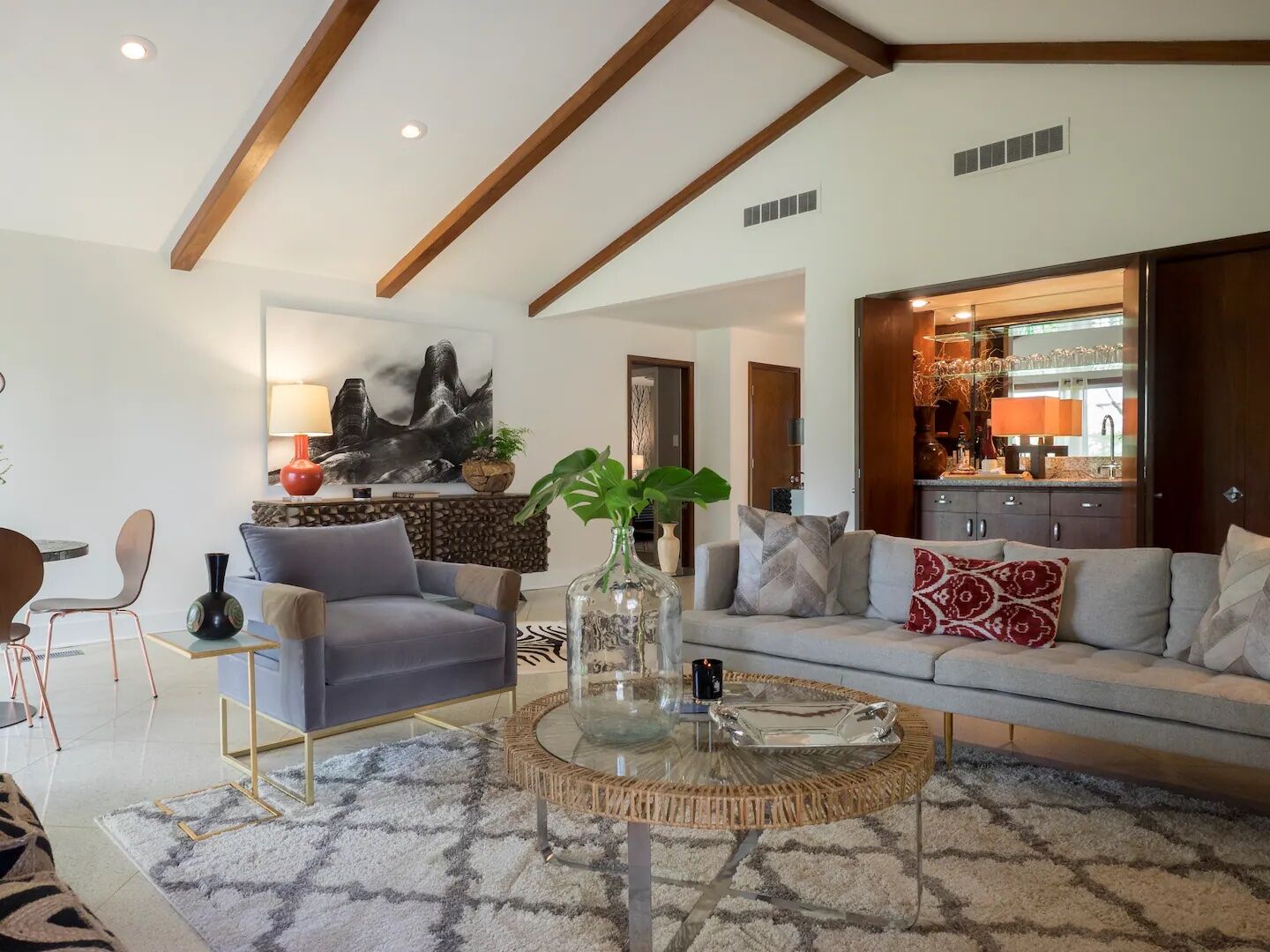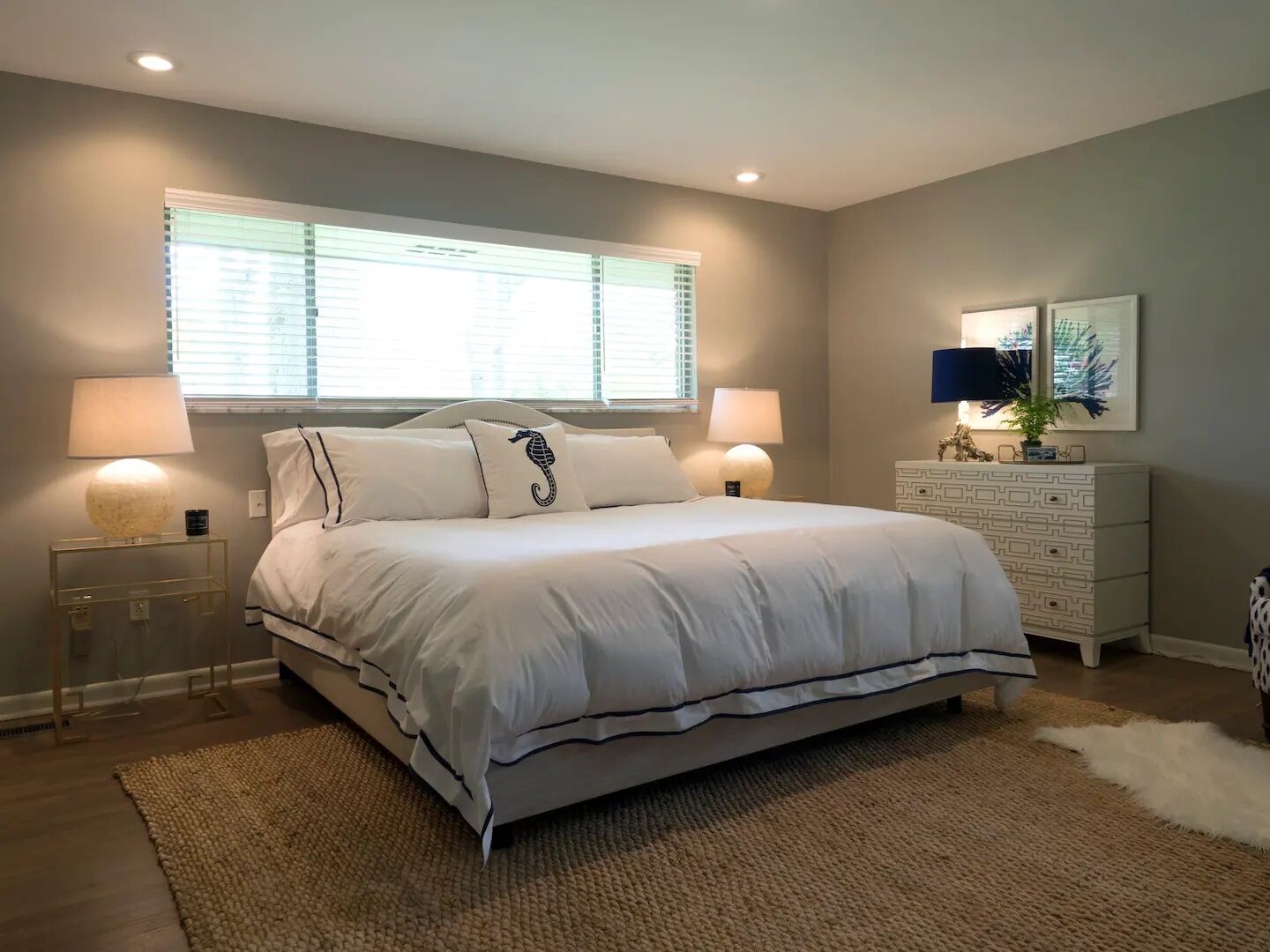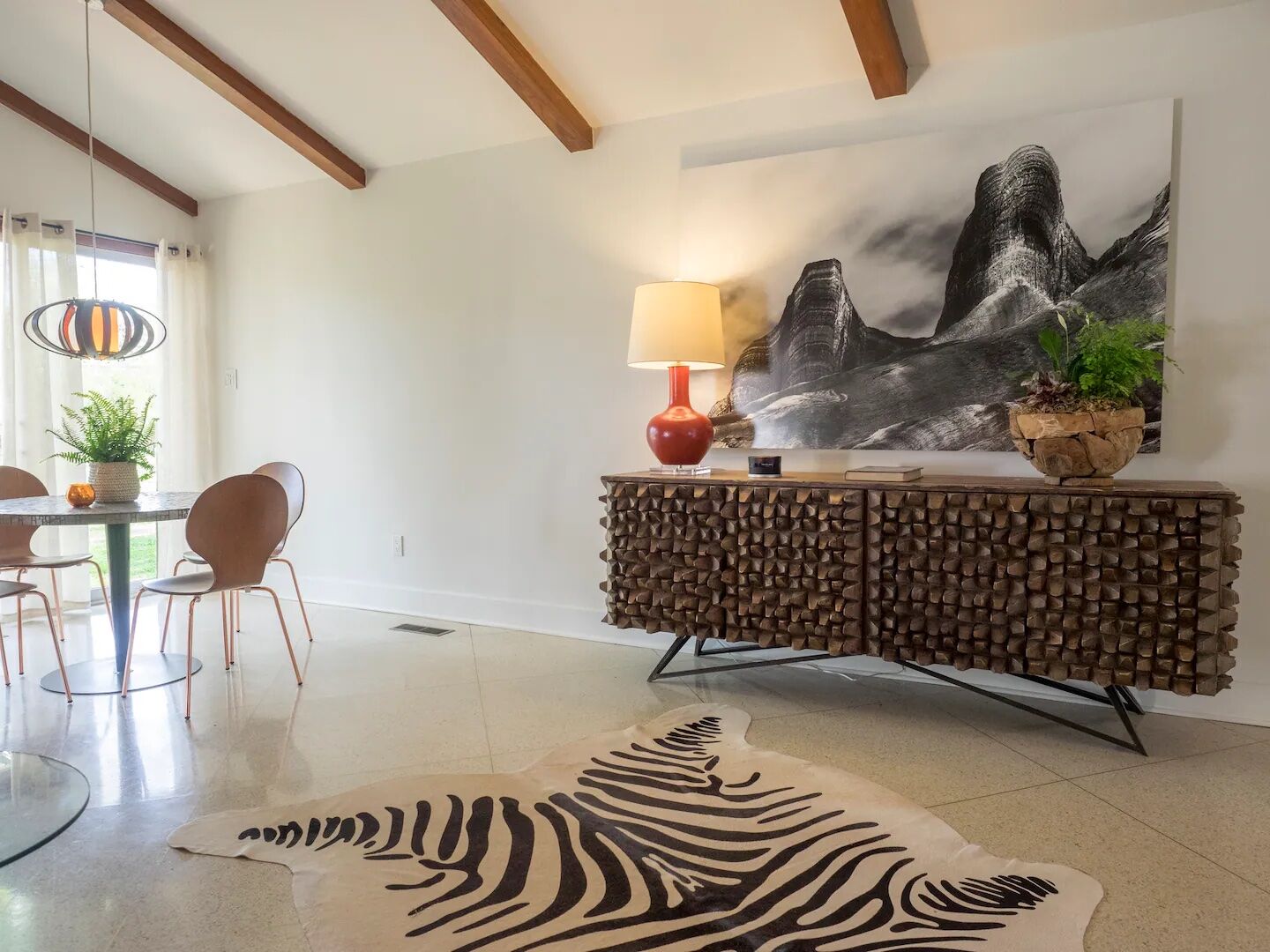 This luxury home is perfect for a group trip. This luxury home was restored and professionally designed with interiors that highlight the design of the house as it was in the 1960s. The home is centrally located between downtown Memphis and Germantown and sits on a one-acre lot. There is a lavish living room and kitchen and a spacious backyard to enjoy.
Eight guests, three bedrooms
Price: $475 per night
Secluded private home on the lake with stunning nature views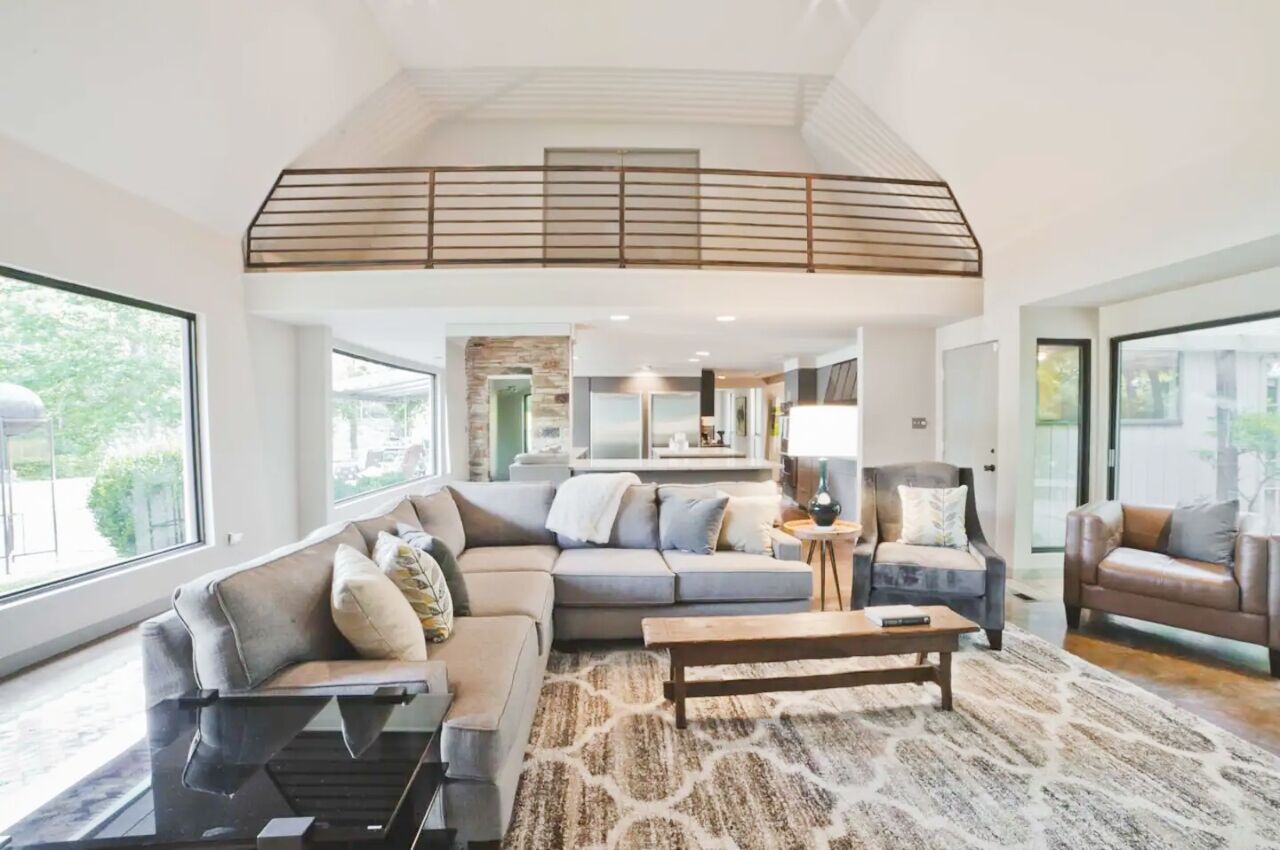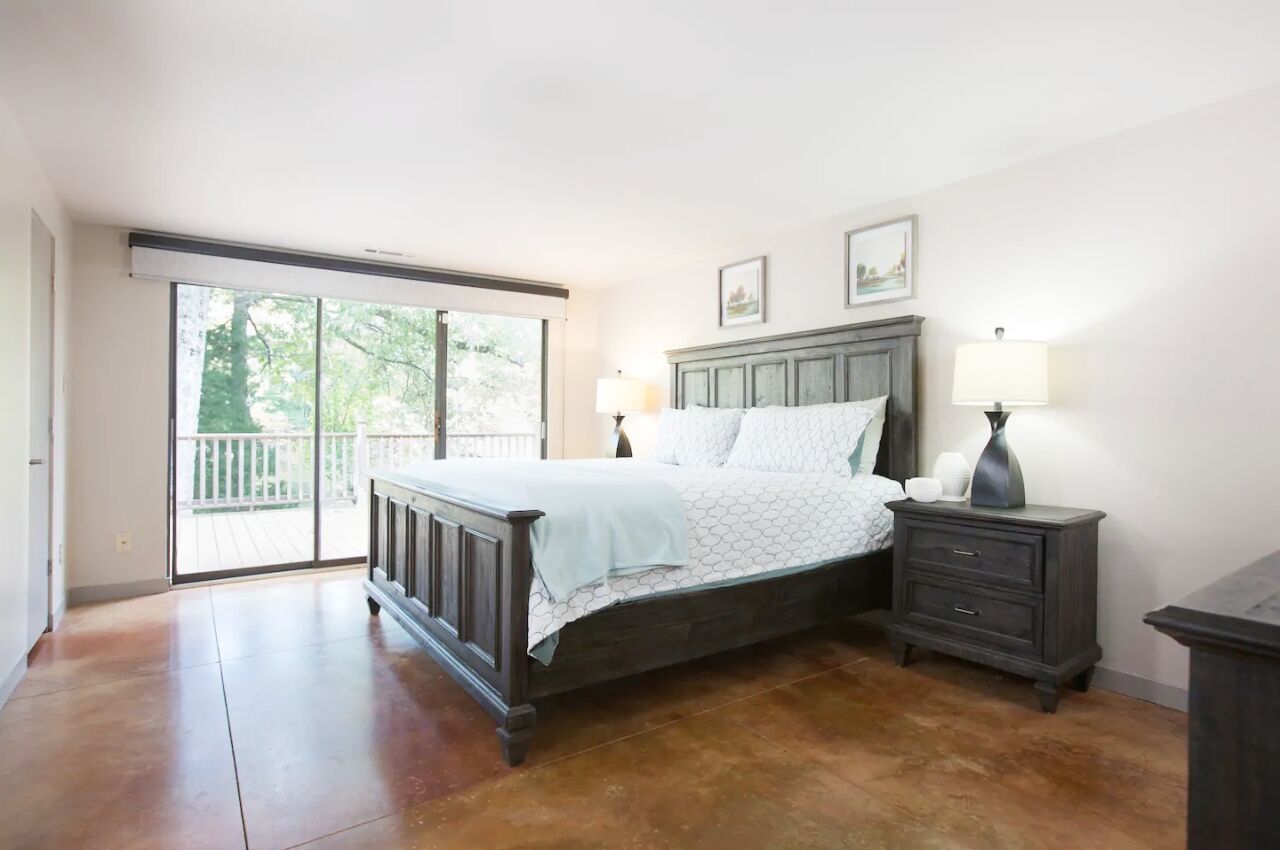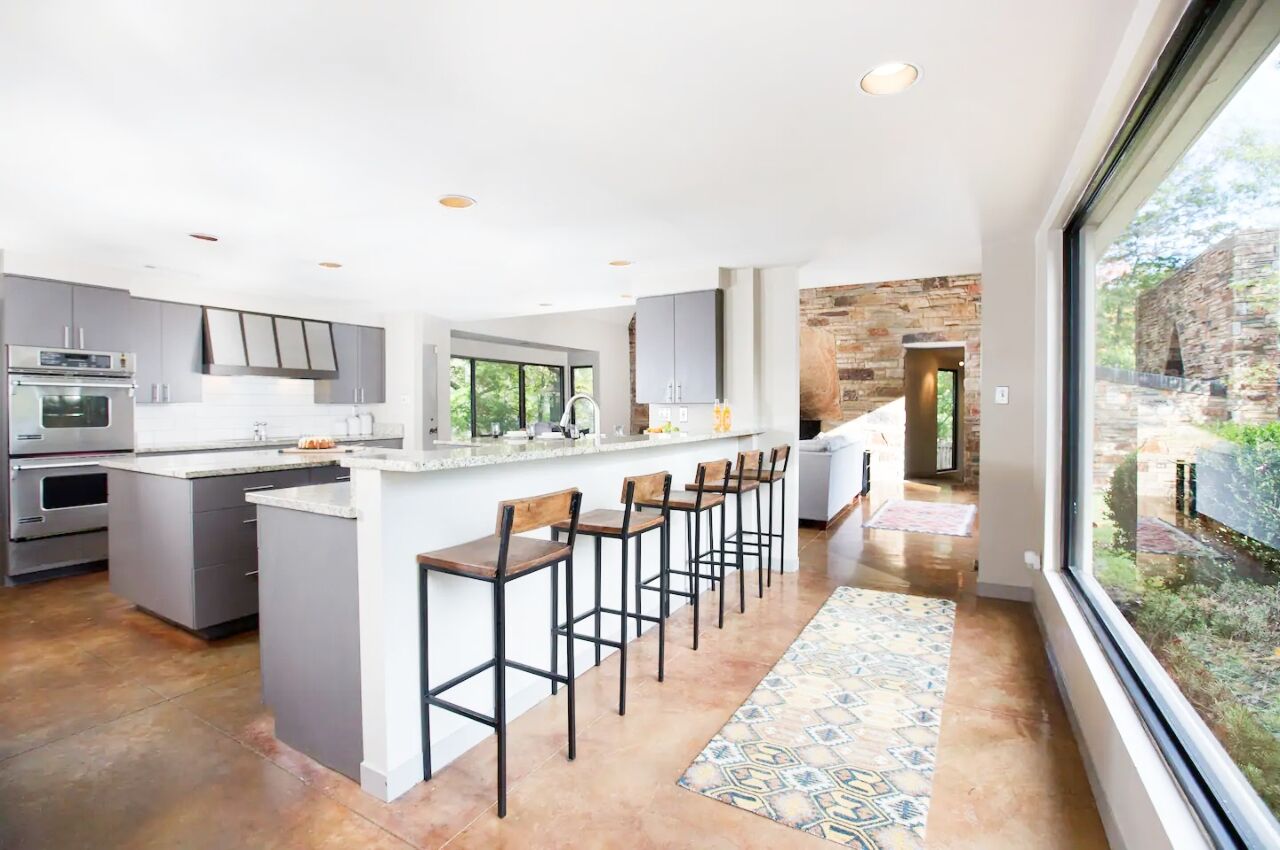 Memphis architect OT Marshall designed this chic home. The secluded home sits on a 1.5-acre peninsula lot with stunning views from every room in the house. The home has a living wing that features the living room, gourmet kitchen, dining room, game room, and library. The home is over 6,000 square feet, has 360-degree views, and is the perfect private getaway.

Fourteen guests, six bedrooms
Price: $650 per night