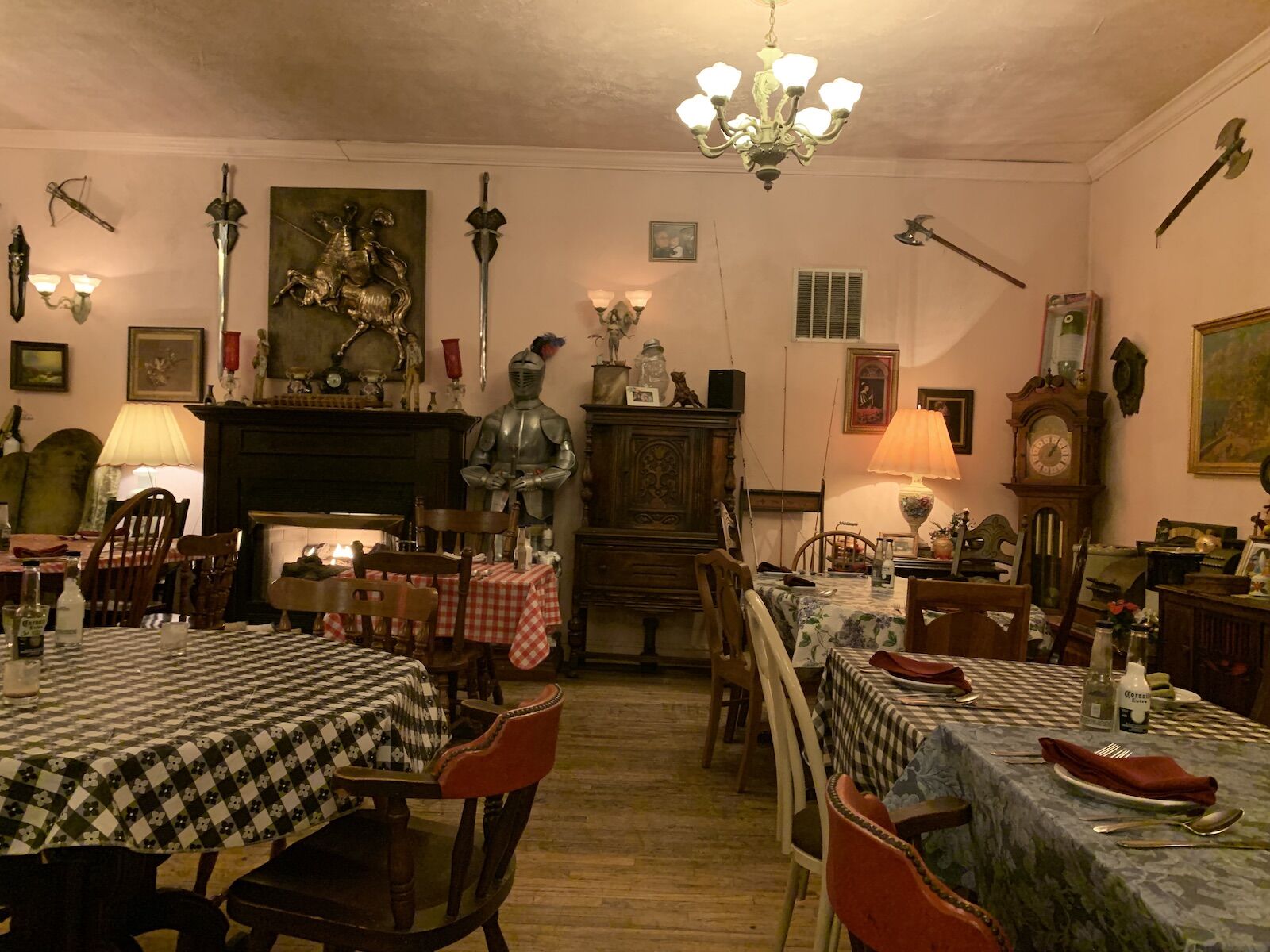 The City of Bridges has plenty of delicious Italian fare for any occasion— planning a special night out with a partner, family, or friends, or if you just have an intense craving for house-made bread and seasonally curated pasta dishes. Just like the best Italian restaurants in New York City, these old school restaurants offer a mix of traditional Italian dishes and contemporary takes on the classics. However, the best Italian restaurants in Pittsburgh stand out from Italian restaurants in other cities because of eccentric decor paired with rustic and cozy atmospheres.
The best Italian restaurants in Pittsburgh can cure your cravings, whether you're just passing through or the Steel City is your home base.
The best Italian restaurants in Pittsburgh everyone should try
1. DiAnoia's
Voted Best Italian Restaurant by locals in Pittsburgh City Paper in 2020, DiAnoia's in the Strip District is notable for its friendly and knowledgeable staff as much as its flavorful food. Waitstaff describes each dish in detail and makes great recommendations. The menu also offers delicious seasonal offerings dreamed up and executed brilliantly by chef (and owner) Dave Anoia, who also makes the bread in-house. The restaurant has vibrant and lively indoor seating as well as quieter seating on mint colored cafe chairs outside, shaded by a pergola. Anoia and his wife, Aimee DiAndrea, also own Pizzeria Davide next door and Pane è Pronto down the street. Reservations recommended.
Where: 2549 Penn Ave, Pittsburgh, PA 15222
2. Pleasure Bar
Known just as Pleasure Bar, this gem is one of the last Italian restaurants remaining in Bloomfield, Pittsburgh's Little Italy (increasingly in name and history alone). Pleasure Bar has been family run since its inception in 1941. This bastion of Italian cuisine on Liberty Avenue may not update its website frequently, but it's part of their old school charm. Reservations not necessary.
Where: 4729 Liberty Ave, Pittsburgh, PA 15224
3. Alla Famiglia
A beacon of classic Italian food in the hip neighborhood of Allentown, Alla Famiglia is a Godfather fantasy come true with slightly Lynchian vibes (read: ornate sculptures, red velvet drapes, a really long hall that leads to the bathroom). The staff is very attentive and will go the extra mile if you're there celebrating a special occasion.
The menu features steaks and veal prepared in a variety of ways, with different toppings and sauces drizzled over them. All entrees come with both a salad and pasta course, except for pasta entrees. Their must-try dish is the Fallen Angel, a campanelle pasta dish featuring bone marrow and black Périgord truffles. Reservations highly recommended.
Where: 804 E. Warrington Ave. Pittsburgh, PA 15210
4. Dish Osteria
In a historic building that has stood in the South Side since 1885, Dish Osteria is the spot for Sicillian and Mediterranean flavors, as well as a long list of amari for both novices and connoisseurs. Dish Osteria prides itself on its history as well as being a "tv free environment," as the restaurant phrases it on its website. Reservations not necessary.
Where: 128 S 17th St, Pittsburgh, PA 15203
5. Lucca Ristorante
In Oakland, the beating heart of Pittsburgh collegiate life, Lucca Ristorante is perfect for dinner while visiting with friends and family, especially if one of your loved ones attends Pitt or CMU. Sit inside, where a burbling fountain will greet you right as you walk in, or sit on the terrace under their cheery blue awning and do some people-watching. The food is fresh and comes out of the kitchen hot. The gnocchi is pillowy, the scallops melt in your mouth, and the delicious selection of refreshing signature cocktails will be tempting too. Reservations highly recommended. Take your guests to the Carnegie Museum of Art and Natural History for some art and fossil gazing before dinner.
Where: 317 S Craig St, Pittsburgh, PA 15213
6. Girasole
As the sunflower follows the sun, Girasole's menu follows, and changes with, the seasons. Girasole prides itself on its contemporary takes on traditional Italian recipes, as well as its cheery staff juxtaposed with stone walls that lend to its rustic atmosphere. Girasole features several daily specials, an all-Italian wine list, and sometimes even live music. No reservations accepted.
Where: 733 Copeland St, Pittsburgh, PA 15232
7. Zarra's
Zarra's in North Oakland has a zany vintage flare with a quiet atmosphere. It feels both somehow impossible and fitting that the space's previous life was lived as a nightclub called the Electric Banana. While you eat, you and your friends can entertain each other by playing I-Spy with the kitschy ephemera covering the walls. The space feels like an eccentric aunt's living room, though the bar at the front of the restaurant has a much more sophisticated atmosphere.
The restaurant is famous for its Tirami-Suzy, so make sure you give it a try. Zarra's gets bonus points for an excellent selection of perfumes and lotions in the women's restroom. Reservations not necessary.
Where: 3887 Bigelow Blvd, Pittsburgh, PA 15213
BONUS: SPiLL
Though not a restaurant, this cozy wine bar called SPiLL features only Italian wines from small vineyards. The staff is extremely friendly, knowledgeable, and patient. The restaurant offers generous wine tastings so you can make sure you will enjoy the glass you settle on. SPiLL doesn't serve food, but guests can bring their own snacks to pair with the wine list. Stopping by on trivia night is highly recommended.
Where: 4800 Liberty Ave, Pittsburgh, PA 15224