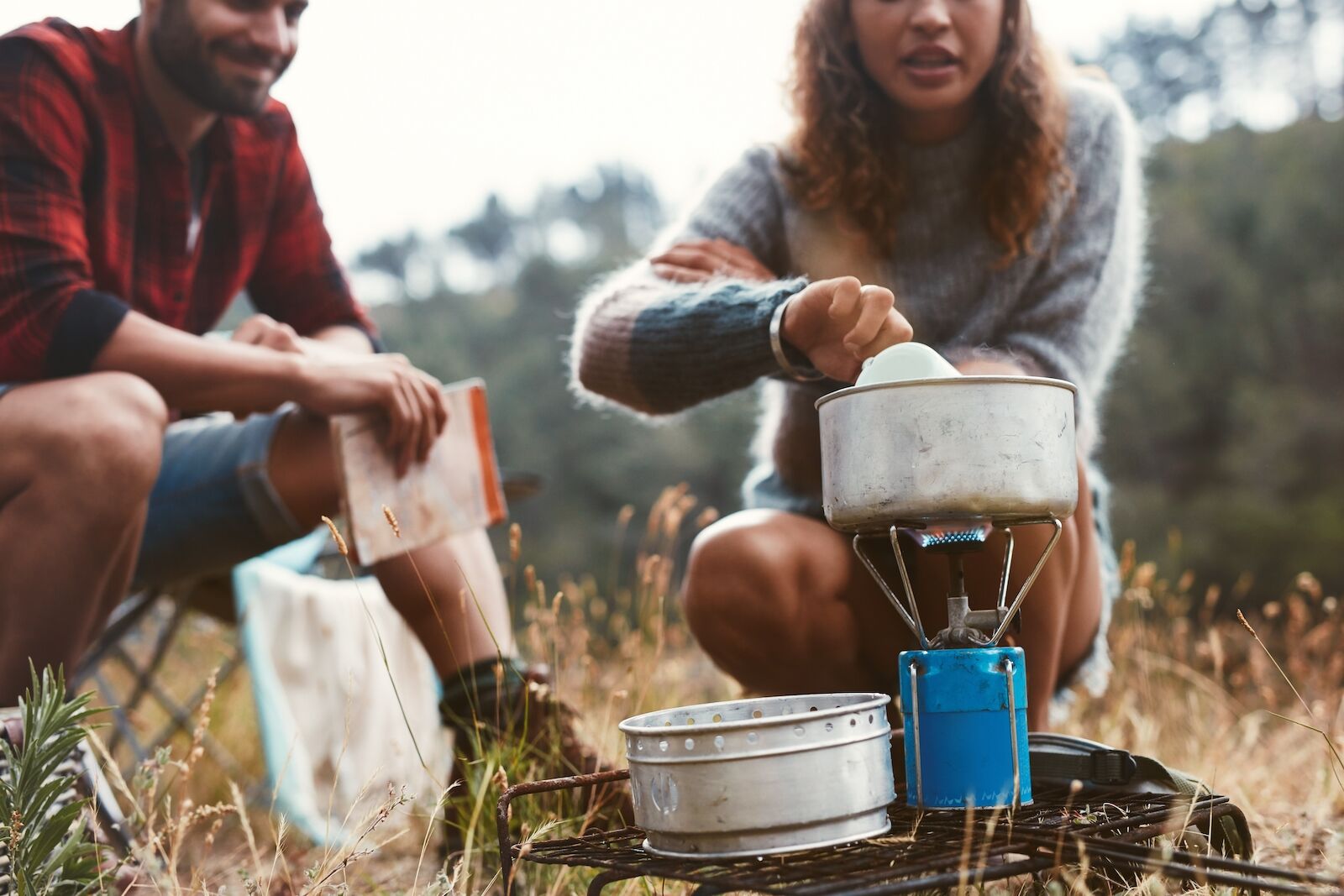 Food preparation and packing can be one of the most stressful and time consuming parts of getting ready for a backpacking or camping trip. Equally as important as bringing enough food is making sure what you're bringing tastes good, isn't bulky or heavy, and packs in enough calories and protein to help you recover after long days of hiking. While there are numerous options, from prepackaged to homemade, dehydrated meals have always been a favorite among backpackers, and for good reason.
Before we get to that, if you're an experienced home cook or you just prefer to save money, there are plenty of ways to make your own camping appropriate food at home: If you have a food dehydrator at home (or are looking to invest in one) you can put together your own dehydrated meals, using minute-rice or pasta as a base, and whatever you want to dehydrate to add in – from dried fruit to vegetables. If you need even more inspiration for how to eat well in the outdoors, this guide to the best food to cook while camping, according to chefs, is a great place to start.
Another great option is to buy pre-dehydrated ingredients from Harmony House and mix and match all the options to create your own custom meals. While this option is certainly not as convenient as buying them ready-made, it leaves a lot of room for creativity, and you may save money over the long run if you go camping and backpacking often. The bottom line is, there are much better options than trail mix eating well on a backpacking trip.
For campers who prefer convenience and ease of cooking, there are plenty of pre-made dehydrated meals that just need water. This option is tasty, lightweight, and easy to cook. Prepackaged dehydrated meals generally weigh less than 10 ounces and take up very little room in a pack. They're easy to make after a long day and only require one pot; just boil water, add it to the meal pouch, stir, and wait 10 to 15 minutes for the food to rehydrate. However, campers should always be careful when boiling water. Hot water burns are one of the most common injuries in the back country.
I've been backpacking and camping for 20 years, and have worked as a mountain guide in Alaska for the past four. I eat dehydrated meals almost five months out of the year, so it's safe to say I've acquired some favorites over that time, as well as some tips to get the most enjoyment out of your meals. Here are the breakfasts, dinners, and desserts that I keep turning back to season after season – plus my tips for how to eat well with limited resources.
We hope you love the products we recommend! Just so you know, Matador may collect a small commission from the links on this page. Listed prices are accurate as of the time of publication.
Breakfasts
Peak Refuel Breakfast Skillet
Coming in at 640 calories, the Peak Refuel Breakfast Skillet is the perfect way to start a long day of hiking. This low-fuss skillet is delicious and nutritious, featuring eggs, sausage, potatoes, and peppers. Peak Refuel meals also claim to have nearly double the protein of many other dehydrated meal companies, making them an excellent choice for recovery and weight-maintenance on long trips.
Good To-Go Granola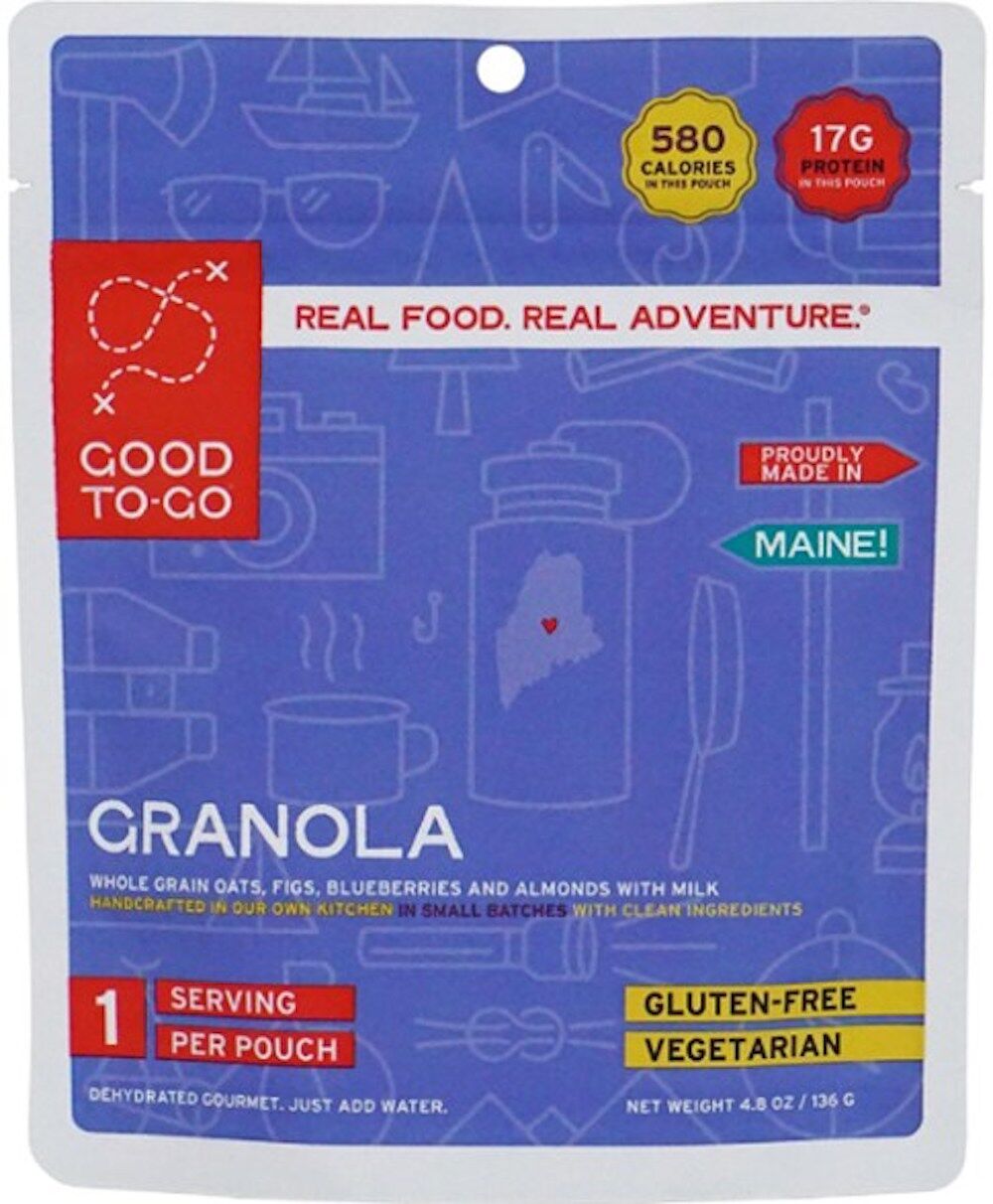 Good To-Go is a great option for campers with dietary restrictions. All of the company's meals are gluten-free and they have vegan and vegetarian options. The granola is packed with oats, figs, blueberries, and almonds in milk and has 580 calories and 17 grams of protein. Try making it with cold water or, on chilly mornings, hot water works too. Granola is my go-to meal for early morning starts since it's quick to rehydrate.
Mountain House Veggie Chorizo Breakfast Scramble
Mountain House has churned out camping meals for over 50 years, so the company knows a thing or two about tasty food. The company's breakfast scramble is the perfect mix of spicy vegetarian chorizo, eggs, potatoes, and peppers. Coming in at 580 calories, this breakfast is also gluten-free.
TIP: Most of the dehydrated pouches are deeper than the length of a camp spoon, making it difficult to scrape up every last bite without getting your hand dirty. Bring a long handled spoon or a separate bowl to put your meal in after it rehydrates to keep your hands clean.
Dinners
Backpacker's Pantry Pad Thai with Chicken
The Backpacker's Pantry Pad Thai has been an REI bestseller for years and with good reason. Sweet and savory, this classic is inspired by the traditional Thai meal and with 840 calories will help you recover from a long day of hiking. It's been one of my favorite dehydrated meals for as long as I've been eating them, and it comes in both a vegetarian option and a chicken option.
Heather's Choice Grass-Fed Beef Shepherd's Pie
Heather's Choice, of Anchorage, Alaska, prides itself on offering nutritious options, and its meals have no gluten, soy, egg, peanuts, artificial flavors, MSG, fillers, or preservatives. The shepherd's pie meal is a classic meat and potatoes meal and is incredibly hearty, perfect for rainy nights or long days.
TIP: After pouring the water into the meal pouch and stirring it, make sure the pouch is sealed and then stick it under your jacket to act as a hot water bottle, warming you up as your food rehydrates.
Good To-Go Mexican Quinoa Bowl
Good To-Go's Mexican Quinoa Bowl is a favorite with my backpacking guests who have dietary restrictions. Gluten-free and vegan, this dinner still packs 26 grams of protein with butternut squash, quinoa, and black beans in a delicious mole poblano sauce.
Mountain House Chicken and Dumplings
Chicken, vegetables, and fluffy dumplings in a white gravy sauce? What more could you ask for in a backcountry dinner? Mountain House's Chicken and Dumplings is another one of my long-time favorites. Flavorful but easy on the stomach, I've found this to be the perfect comfort meal for nights at altitude or to make a rough day feel a little bit better.
Nomad Nutrition Caribbean Curry
Nomad Nutrition is a plant-based, gluten-free company that creates beautiful small-batch meals with high-quality ingredients that are organic and non-GMO when possible. With optimized ratios of fats, proteins, and carbs, the Caribbean Curry is a medley of root vegetables, carrots, cayenne pepper, and quinoa that is the perfect combination of sweet and heat!
TIP: Go for tried and true meals that you know you'll like. There's nothing worse than a long, cold day of backpacking with beef stroganoff for dinner, only to realize you don't actually like stroganoff. The same goes double when you're at altitude. Gastrointestinal issues are common at high altitudes, so choose more bland meals. I made the mistake of bringing dehydrated curry dinners up to Denali one year, couldn't choke any of them down after my stomach shut down at 17,000 feet, and was left eating Pringles for dinner.
Desserts
Backpacker's Pantry Blueberry Peach Crisp
The Backpacker's Pantry Blueberry Peach Crisp is packed with fruit, coconut shreds, and rolled oats with a hint of cinnamon. Packing in 540 calories and 10 grams of protein, this crisp is the perfect way to stay warm all night once you're tucked away in your sleeping bag.
Trailtopia Cheesecake Dessert
Perfect to pass around the campfire, Trailtopia's Cheesecake features real strawberries, chocolate chips, and, a crowd favorite, a sprinkle of crunchy graham crackers on top. Rehydrate this desert with cold water for a traditional cheesecake flavor, or warm for more or a pudding texture.
AlpineAire Chocolate Mudslide
The AlpineAire Chocolate Mudslide lets campers experience chocolatey goodness even out in the wilderness – plus, it fulfilled all my childhood dreams of licking the batter of a brownie bowl. This dessert is made with cold water and is the perfect combination of rich chocolate, a cookie crumb crust, and toffee peanuts. You won't want to share this one with your fellow campers.
TIP: If weight isn't too much of a concern, bring some hot sauce to spice up your meals, or add some Patagonia Provisions Wild Pink Salmon to lunch and dinner to boost the flavor and add even more energy boosting protein.