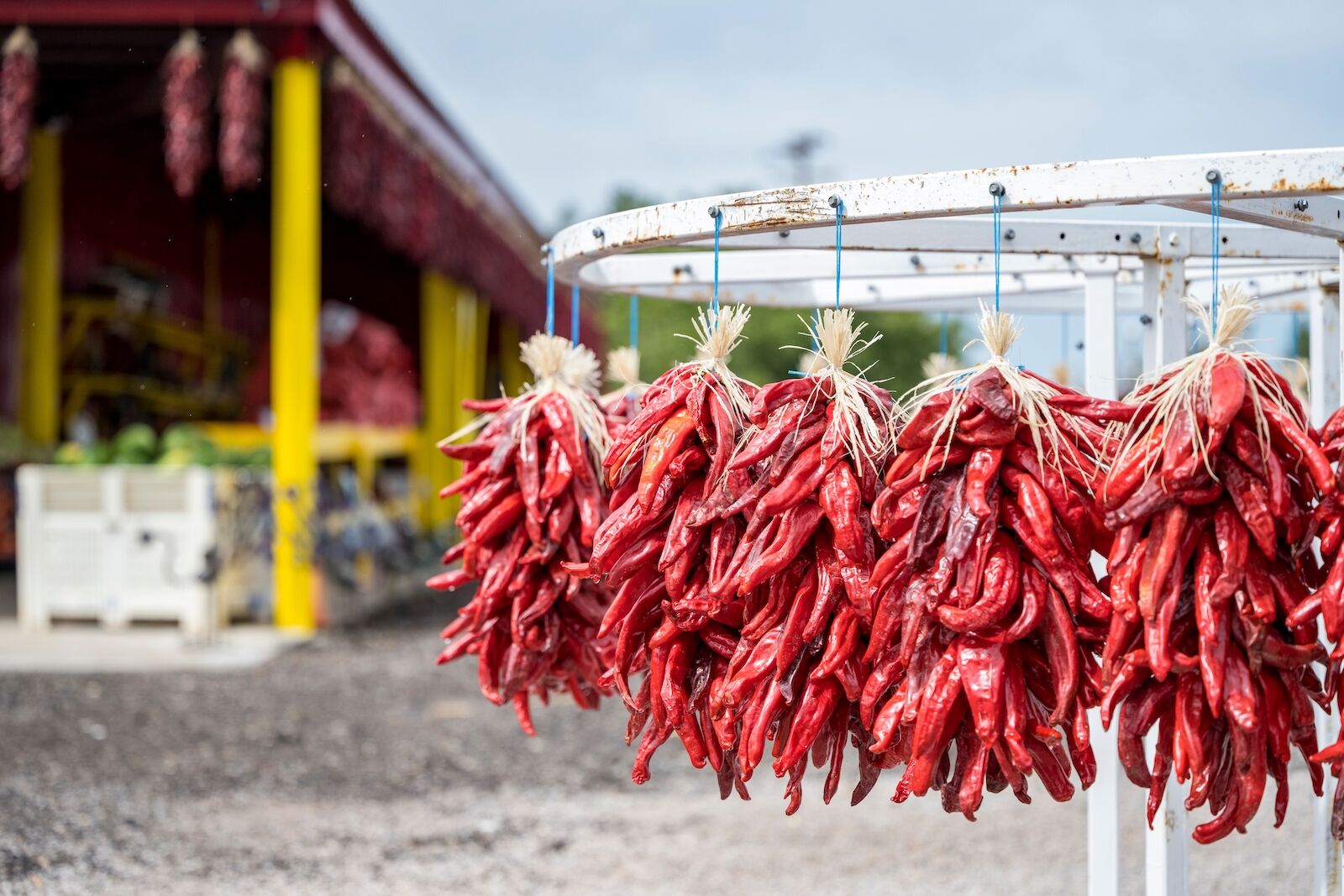 New Mexican cuisine so often focuses on one question: red or green? It all boils down to your chile preference. Or, if you can't decide between the two colors of peppers, there's always the option to combine both and go the "Christmas" route with your order.
That's just as true in Albuquerque as it is across the rest of the state. But the city has so much more to offer on the food front, too. Albuquerque's food scene is largely influenced by Indigenous and Spanish cultures. But you can find just about anything you'd like at the cities restaurants and bars, from innovative fusion dishes to cocktails at a convenience store speakeasy.
These are the most exciting restaurants and bars in Albuquerque to eat and drink at right now.
Sawmill Market
Sawmill Market is the state's first artisanal food hall, and you'll find a diverse mix of traditional culinary cuisines and emerging trends here. From small-batch pasta to pillowy pastries and poke bowls, there is something to satiate every palate. Aside from local food vendors, you'll also be able to peruse the shops of artisanal retailers.
There's enough here to keep you coming back time and time again, but to start make sure not to miss the fresas me amor waffle from XO Waffle, the creamy lemon pasta from Tulipani Pasta, the caramel cappuccino from Plata Coffee, and the ube soft serve from Neko Neko.
Where: 1909 Bellamah Ave. NW Albuquerque, NM 87104
Level 5
Situated on the rooftop of Hotel Chaco, Level 5 takes dining to another level with it's chic, contemporary atmosphere, delicious craft cocktails, and award-worthy fare like avocado hummus, short ribs, and the earl grey crème brûlée. Indulge in an elevated dining experience at sunset with panoramic views of the Sandia Mountains illuminates in an ethereal pink glow. Only hotel guests can make a reservation, so arrive early to get a spot if you're staying elsewhere.
Where: 2000 Bellamah Ave. NW, Albuquerque, New Mexico 87104
Los Poblanos
With lavender farms, rustic charm, and a resident peacock, Los Poblanos Historic Inn and Organic Farm is where you'll find the best brunch in Albuquerque. You don't want to miss the local pecan-beet hummus, chilaquiles (Christmas style), and lavender latte. Located on 25 acres of aromatic lavender fields, you can soak up the sun and views of the Sandia Mountains while sipping lavender-infused coffees and cocktails, enjoy dishes made with fresh ingredients from local farmers and producers, and pick up a few souvenirs to take home with you from the Farm Shop.
Where: 4803 Rio Grande Blvd. N.W., Los Ranchos de Albuquerque, NM 87107
MOMO Lounge
Located in the heart of Albuquerque's Old Town, the newly renovated and redesigned MoMo Lounge is the perfect chill spot for refreshing drinks made with local spirits. The MoMo Lounge transports travelers and locals alike to the bygone days of the iconic Route 66 era with a 70s-inspired design mixed with modern touches. While the lounge doesn't have an on-site kitchen, guests can order from a menu from local restaurants and have the meal delivered to your table. You don't have to be a guest of the Monterrey Hotel, where the MoMo lounge is located, to be able to pop into the lounge. It's also a stop on the ABQ Bike & Taco Tour with Routes Bicycle Tours & Rentals.
Where: 2402 Central Ave SW, Monterey Motel, Albuquerque, NM 87104
Electric Playhouse
People often say it's not polite to play with your food, but Electric Playhouse says otherwise. Step inside this interactive gaming wonderland, where guests get to play with their food in more ways than one. Gather up a group of friends for a private dinner where you will be transported through a show with moving abstract art and projections. After dinner, you can indulge in interactive game boards along with classics like air hockey and whack-a-mole. The games and show theme is constantly changing, so this makes for a fun space worth visiting again and again.
Where: 5201 Ouray Rd NW, Albuquerque, NM 87120
Ten 3
Refuel and unwind after a heart-pumping mountain hike at Ten 3, which is located at a peak of the Sandia Mountains. If you'd rather hitch a ride than a hike, hop aboard the Sandia Peak Tram, the longest aerial tramway in North America, for some jaw-dropping views. At the summit, you'll find Ten 3, which gets its name from the elevation — 10,300 feet. Situated as close to the cliff as possible for optimal viewing pleasure, you'll find casual dining as well as fine dining options at Ten 3. Try the chip trio and smash burger with fries, and compliment the meal with a Sandia Pink cocktail.
Where: 30 Tramway Rd., Albuquerque, NM 87122
MÁS Tapas y Vino
The style and flavor of Andalucía are delivered to you at MÁS Tapas y Vino, located inside the Andaluz Hotel. Fun fact: The Andaluz Hotel is the fourth hotel ever built by Conrad Hilton. MÁS is a full-service restaurant with a hearty wine list serving shareable plates made with locally-sourced foods. Honey-bacon-wrapped dates, crispy Brussels sprouts, patatas bravas, blistered shishito peppers, gambas al ajillo con chorizo, New Mexico apices duck fat fried oysters, carne adobada egg rolls, and the lavender lemon drop are all menu highlights. Don't leave before taking a moment to peruse the ornate lobby filled with private nooks called casbahs that are perfect for retreating and relaxing with a glass of tempranillo. Each casbah has its own personality For a nightcap, head upstairs to a more modern vibe at Ibiza Rooftop Lounge.
Where: 125 2nd St NW, Albuquerque, NM 87102
Apothecary Rooftop Lounge
Need a dose of feel-good vibes? Apothecary Rooftop Lounge is Albuquerque's hottest rooftop bar. It's perched atop the rooftop of the historic Parque Hotel, a former sanitorium, and serves up Prohibition-era classic cocktails such as the pink lady and sazerac along with a side of breathtaking views of the Sandias and Albuquerque skyline. Don't miss out on the signature cocktails made with house-made bitters and syrups. Inside, you'll find relics of the building's clinical past, such as vintage apothecary bottles behind the bar, an old gurney repurposed as a table, and a hanging surgical lamp over said table.
Where: 806 Central Ave SE, Albuquerque, NM 87102
Founders Speakeasy
A not-so-secret password, followed by a jaunt through an inconspicuous liquor store freezer and down a secret staircase that leads to a clandestine cocktail bar. Hidden as it is, Founders Speakeasy is not exactly secretive, given it openly posts the password on its Instagram page. The bigger challenge to getting in is nabbing one of the few seats, as this tiny bar seats on a first-come, first-served basis. If you're lucky enough to get inside, you'll be met with a bevy of spirits and signature beverages to choose from. The dark walls, dim lighting, and decked-out vintage decor all make for a sultry atmosphere where it's easy to lose track of time while sipping drinks like a banana bread old fashioned.
Where: 622 Central Ave NW, Albuquerque, NM 87102
Indian Pueblo Kitchen
One would be remiss to visit Albuquerque and not visit the Indian Pueblo Cultural Center to learn about the culture, history, and heritage of Indigenous people in New Mexico. This cultural institution is known as the gateway to New Mexico's 19 Native American Pueblos. Before embarking on the cultural tour, kickstart your morning with breakfast at Indian Pueblo Kitchen to experience Indigenous cuisine.
Where: 2401 12th St NW, Albuquerque, NM 87104
Old Town Farm & Bike In Coffee
Book a gourmet bike and taco tour and embark on a scenic journey that takes you along the Rio Grande bosque (forest), through historical Old Town, down Route 66, and out to places like the wildly picturesque Old Town Farm & Bike In Coffee who has some of the best carnitas tacos in town.
Where: 949 Montoya St NW, Albuquerque, NM 87104
El Pinto
El Pinto is an Albuquerque favorite with a beautiful, and impressively massive, property that can seat more than 1,200 guests at a time. Menu highlights include green chile strips, red chile ribs, stuffed sopapillas, and the calabacitas burrito. El Pinto prioritizes sustainability with its use of only locally-sourced ingredients, many of which are grown by the restaurant itself. A composting area that processes 600 pounds of food waste per week provides compost for the restaurant's gardens. There is also a behemoth menu of distinctive New Mexico cuisine, and even more options when it comes to the selection of tequilas and mezcals with more than 200 options.
Where: 10500 4th St NW, Albuquerque, NM 87114