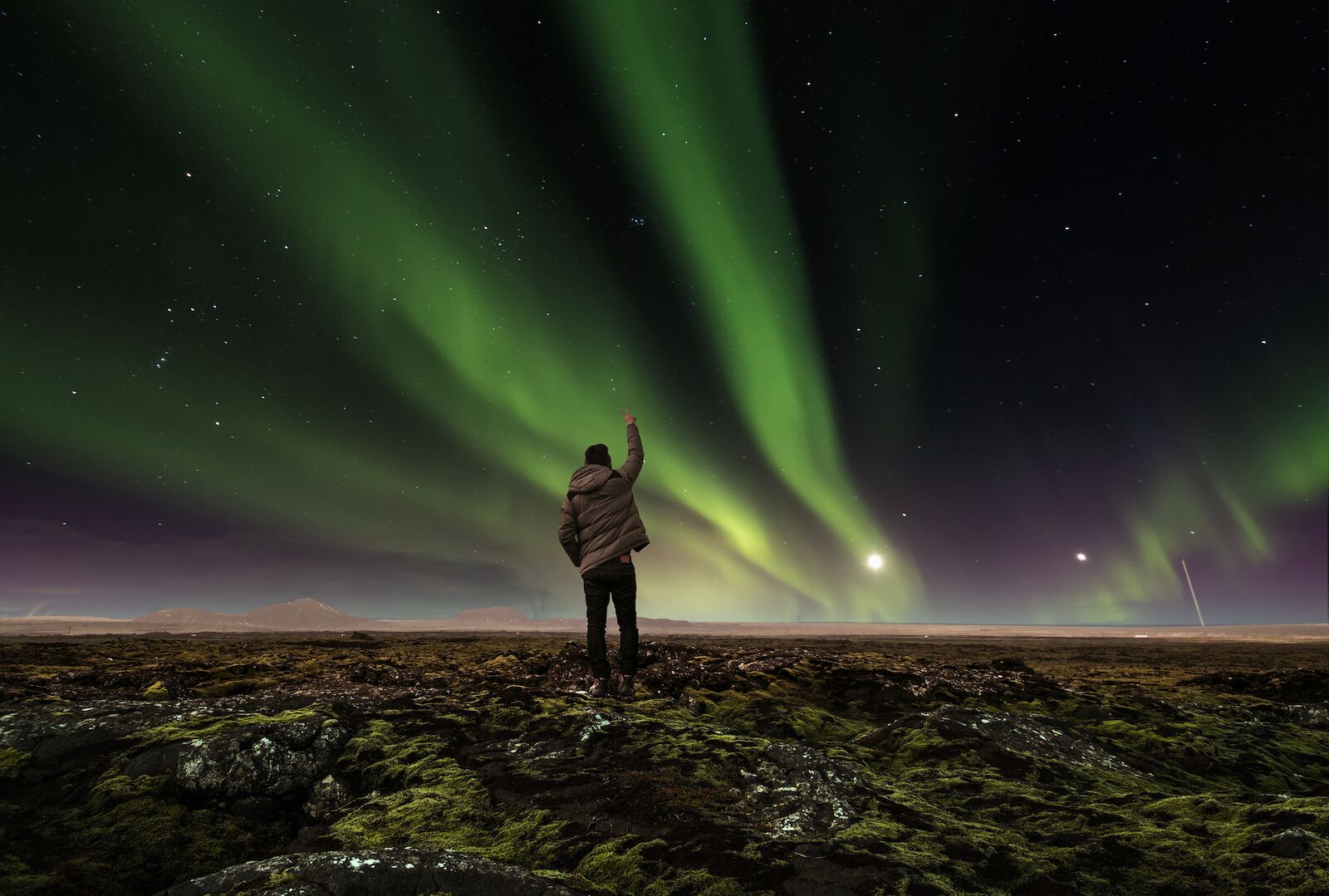 In Iceland, the northern lights set the sky ablaze in a kaleidoscopic set of colors. This natural phenomenon, the aurora borealis, is a result of solar wind interacting with the Earth's magnetic field. On a recent trip, viewing those famous greenish-blue hues involved a bit of luck and timing, both of which I hoped would be on my side as I boarded my nonstop flight from New York City to Reykjavík.
Like an eager child, I asked the flight attendant what he thought my chances were of viewing the lights. "You never know," was his calculated response. And he was right. Though I did get to briefly see the lights during my 5-day stay with Reykjavik Sightseeing, there are quite a few tips I wish I had known before my trip. Here, experts share their insight on how travelers can best see the northern lights in Iceland.
What to pack
Because of its northern location and dark winter nights, Iceland has long been a place that people travel to view the northern lights, particularly between September and mid-April. These colder temps call for proper planning in the packing department.
"Proper clothing is a must since you will most likely be outside enjoying the northern lights when and if they reveal themselves," says Auður Jónsdóttir, General Manager of Aurora Basecamp. "We recommend three layers of clothing: Wool, fleece, and windproof jacket, and trousers along with sturdy shoes, hat. and gloves."
Ahead of my trip, my suitcase was filled with an insulated windproof parka from REI that quite a few friends recommended, and an incredible weighted vest that kept me warm and toasty the entire trip – particularly when the temperature dropped to levels foreign to a California native like myself.
Jónsdóttir also suggests bringing a tripod for your camera to stabilize your shots, and learning ahead of time how to adjust the camera to capture photographs at night. A headlamp and wide lenses will also come in handy. His company offers tours to a northern lights Observatory that's about a 35 minute drive from Reykjavik — just far enough to avoid the light pollution, but also close enough to have good roads and easy access. Guests take a 15 minute guided tour through an exhibition where the goal is to inform and teach them about the northern lights, as well as to train guests to identify the northern lights from the very first stage of the aurora borealis. The guides on site also give tips on how to adjust phones and cameras to get good photos of the phenomenon.
When to go to Iceland to see the northern lights
"To see northern lights, two things must go hand in hand: The sky has to be at least partially clear and the sun has to be throwing fast moving solar wind towards Earth," says astronomy educator and author Sævar Helgi Bragason. "If Earth is inside a stream of solar wind, northern lights can be seen from all over Iceland. On average, they're most frequently seen in September and October, and March and April and around 11 PM."
Bragason recommends visiting Auroraforecast.is for the best cloud cover forecast and space weather information. The site shows two meters: one for the current solar wind speed and the other for the orientation of the interplanetary magnetic field.
"We want both meters to point to orange or red," Bragason says. "The faster the solar wind is blowing, the more dynamic and colorful the northern lights become. As long as the interplanetary magnetic field is negative, fast moving particles are moving in and we're in for a show."
Where to see the northern lights in Iceland
"If you are staying in Reykjavík and have a rental car, then it's all about getting out of the light pollution in the city and it doesn't have to be a long drive," Heimir Berg of Aurora Experts tells me. "I would recommend Þingvellir National Park, Garður Lighthouse, Vogar Vatnsleysuströnd, Lava Tunnel, and Akranes Lighthouse. These are all located 20 to 45 minutes outside of the city."
Others suggest going to one of Iceland's famous lagoons.
"My favorite place by far is the Jökulsárlón Glacier Lagoon in the south east of Iceland," says Ryan Connolly of Hidden Iceland. "To have the northern lights flowing over the top of an iceberg-filled lagoon with Iceland's highest mountain in the distance is as incredible a sight as you'll ever see in your life."
For those looking for budget friendly options to view the lights, Berg suggests renting a scooter in Reykjavik. "Take a ride out to the Grótta Lighthouse and try your luck," he says. "We see hundreds of travelers every evening going down to the Sun Voyager or Harpa Concert Hall to try their luck there, too. You're looking to the north over the ocean where it's pitch black, so a lot of times people can see a little bit of northern lights from there."
How to choose a northern lights tour in Iceland
There are a number of tours to join, from overnight stays to evening trips close to the city center — or even in the city itself. What you decide is ultimately up to your budget and the amount of time you'd like to spend chasing lights.
"If you are opting to go it alone (and you don't have your own vehicle), then Reykjavík, despite all its unnatural light, still has good spots to try and catch them," Connolly says. "The harbor area in Grandagarður (Grandi), just a short walk from the city center, overlooks the ocean with incredible 360 views from certain spots. Or if you are happy for a longer walk, the Grótta Lighthouse on the outskirts of town is far enough away from congested areas to really take in the view. Alternatively, the Perlan Exhibition and Museum sits on top of a nearby hill that boasts a 360-degree dome that overlooks the entire city. There'll be plenty of lights below you but from that high up you should get unspoiled Aurora above,"
Hidden Iceland offers an overnight small group tour that's great for solo travelers. It allows you to keep costs low but still get a chance to stay out of the city overnight.
Aurora Expert's Ultimate Northern Lights Tour caps the number of guests at 15. It also offers winter jumpsuits for every guest.
"We have extra tripods that guests can borrow and we offer unlimited amounts of hi-res photos from the tour taken by a professional photographer and delivered in three-to-five days," Berg says. "We put so much effort into our Icelandic traditional snacks, pastries, chocolate, snaps and hot cocoa on the tour that it almost feels like you are on a food tour under the dancing lights."
Regardless of which tour or location you choose to view the northern lights in Iceland, being present is the most rewarding choice you can make.
"Don't forget to enjoy the show, so focus on the sky instead of your mobile phone or camera," Bragason says. "And remember, a dark, clear sky also contains beautiful stars, bright planets, shooting stars and of course our home galaxy in the universe, our Milky Way. So be curious and look out for other things while you wait for auroras to appear."
How to get to Iceland and where to stay
PLAY airlines offers nonstop flights from New York, Baltimore, and Boston, with new routes to be announced in 2023. The budget friendly airline has competitive rates, sometimes as low as $100 dollars one way, even during the height of northern lights season.
Shuttle buses are the best way to get from Keflavik airport to Reykjavík's city center. Taxis can run up to a whopping $400 for the 45-minute trip.
For a centrally located hotel with reasonable prices that's just steps away from Reykjavik's nightlife, restaurants, and transportation for tours, check into Canopy Hilton Reykjavík. You may even catch a few northern lights from their outdoor terrace if you're lucky.
When hunger strikes after hunting lights all day, don't miss Grillmarkaðurinn or Matarkjallarinn, which offer a lively dinner atmosphere and incredible plates of Icelandic food, from seafood soup to tender lamb on rye bread.