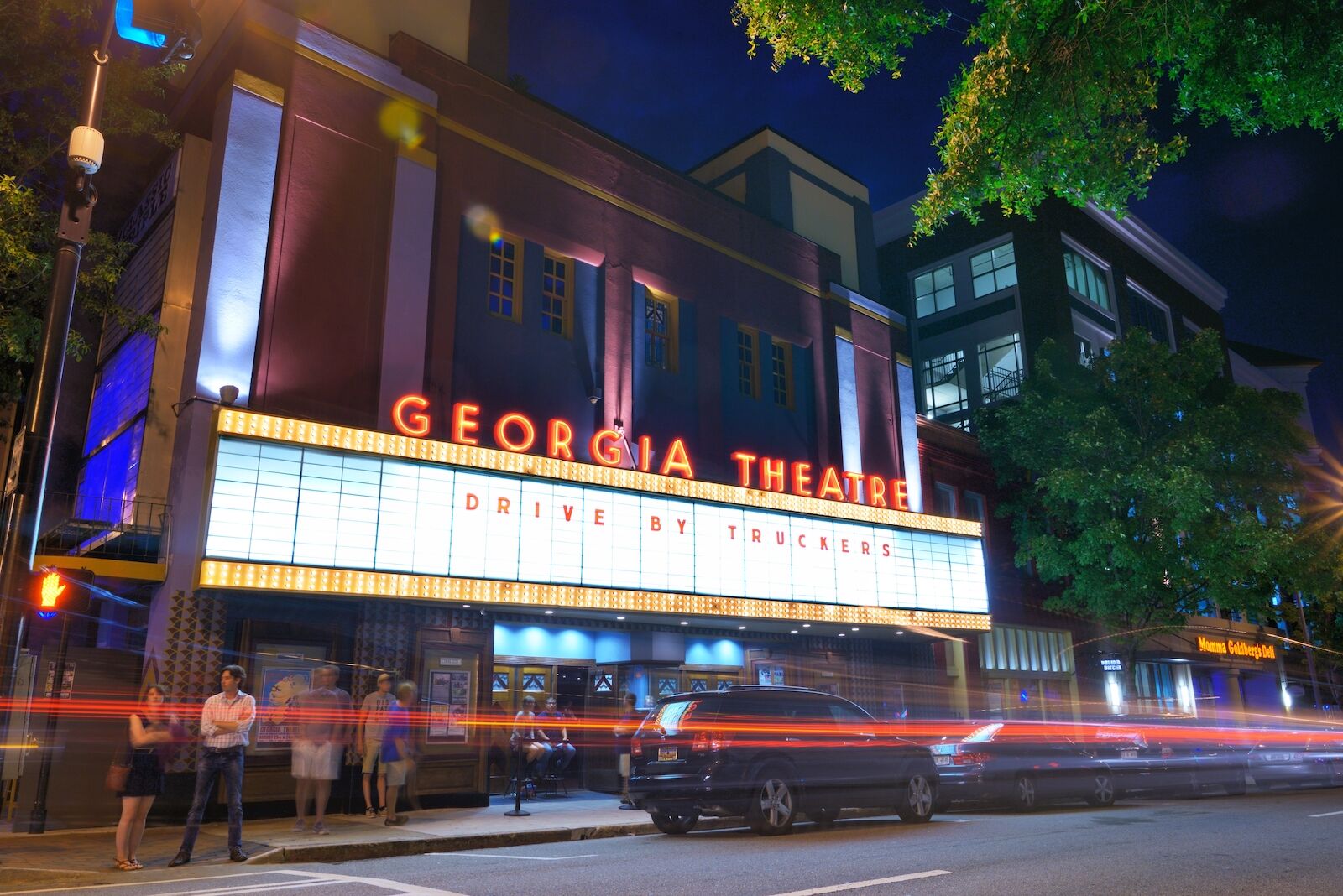 Athens is brimming with Bulldog pride. Home to University of Georgia's Dawgs, the city is a mix of cool college kid energy and nostalgia. As you walk around the city, you will see that there a few sides to this historic town. From quirky signs extolling "sweatah weathah," to a lively dive bar scene, to art, to plenty of live music (and music walking tours), the pulse in Athens is lively.
It takes between 90 minutes to two hours to make the 70-mile drive northeast from Atlanta — perfect for a quick weekend trip from the city if you're looking to round out a trip in the Peach State. Once here, there's no shortage of things to do.
The best things to do in Athens if you only have one weekend
While University of Georgia football games take over many parts of the town in the fall, there are plenty of things for people to do that aren't sports related as well. If you only have a short time in town, you don't want to miss the music, the art, and the local shopping on Jackson Street.
Listen to live music
Music is central to Athens culture. Numerous bands started here, and local music is easy to come by at places like the historic 40 Watt Club, intimate Nowhere Bar, Hendershot's, the Warehouse, and much more. The Georgia Theatre is renowned for drawing in notable local and national acts, so be sure to check the calendar before planning a trip. For a historic view of Athens music, The tourism bureau put together a self-guided historic walking tour that you can visit place by place.
Music events are another thing to keep an eye on when planning travel. Historic Athens Porchfest is a quaint activity and quintessential to Athens. For one day (October 15 in 2023), six neighborhoods in the historic district delight onlookers with live musical performances on (you guessed it) porches. Lawn cheers, lemonade, and snacks greet those who stop along the way. Download the map and schedule of performances and wear comfy shoes. This is a great way to explore the city that gave birth to REM and the B-52's.
Go on an art tour
The Georgia Museum of Art is home to more than 18,000 pieces and has up to 25 temporary exhibits annually. The sculptor's gallery outside carries bold abstract steel creations by Jane Manus, while photography, paintings, sculptures, and more highlight themes like race, local history, music, and nature.
Shop local
Athens is a pedestrian friendly town with many vintage shops. One of the things you'll notice is that there aren't many franchises around. The Community is a boutique filled with fashion, jewelry, body products, and crafts from local artisans. Owned by Sanni Baumgartner, the store sources sustainable and eco-friendly products. Part of the store is dedicated to redesigning vintage clothes into more contemporary styles. It's fun to hear sewing machines whirring away as you enter. Indie South is another woman-owned space with eclectic and mystical pieces.
Where to eat in Athens
This being the South, there's no shortage of high quality Southern food and barbecue in Athens. But that's far from all that's on offer. Once you've had your fill, round out your weekend with a stop at one (or all) of these restaurants.
The Lark Winespace
Come for the wine and stay for the cheese boards, toasties, tinned fish and good vibes. The Lark Winespace is owned and operated by fine-artist-turned-sommelier Krista Slater. It's the type of place where you can get an easy pour as you people watch through the big bay windows. Small production domestic and international wines with an emphasis on sustainability and minimal intervention are championed here. Every month the wine list is swapped out, which keeps the locals coming back.
The Lark Winespace: 493 Prince Ave, Athens, GA 30601
ZZ and Simone's
ZZ and Simone's is the new kid on the restaurant block, and serves cheerful Italian fare. The yellowfin tuna crudo with orange, olives, and guindilla pepper is a bursting with flavor. As a main course, the Chianti-braised short ribs with polenta is hearty and comforting. Wash that all down with a not-so-classic margarita made with mandarin orangecello.
ZZ and Simone's: 1540 S Lumpkin St Suite 4, Athens, GA 30605
Mama's Boy
This breakfast spot is definitely Instagrammable. The retro diner is popular with UGA students, alumni, and parents for its hefty portions and world-class fluffy biscuits. The chorizo omelet with bell peppers and onions will keep you full way past lunch. There can be a long line on the weekends, so plan to go early.
Mama's Boy: 197 Oak St, Athens, GA 30601
Independent Bakery
Independent Bakery is in the heart of the Five Points historic neighborhood. Kevin Scollo and his team of bakers make the freshest and most cherished loaves of artisan bread and decadent pastries using grains that are milled daily, and the bakery has earned mentions in national publications as the best bread in all of Georgia. Independent Bakery also supplies local restaurants (including The Lark Winespace) with bread. Be sure to grab a box of pastries and include the chocolate croissant.
Independent Bakery: 1625 S Lumpkin St, Athens, GA 30606
Where to stay in Athens
There are numerous Airbnb options in Athens that put you close to downtown, UGA, and all of the action in Five Points. If you're the type who prefers a hotel, The Georgia Center is a comfortable and affordable stay in the heart of Athens that's also the home base for people coming in for UGA activities — so expect plenty of school pride.