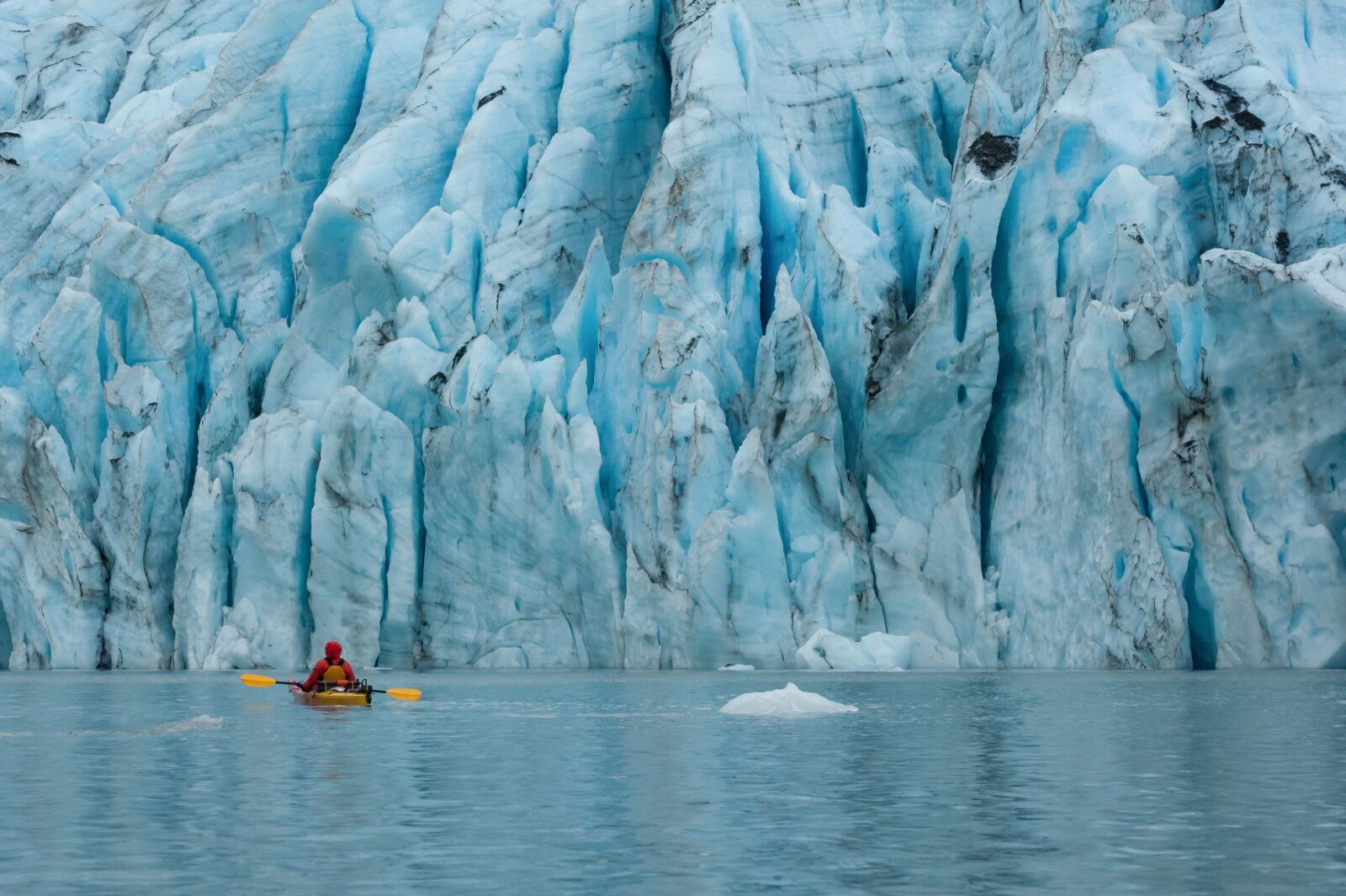 Alaska is the 49th state and is often called "The Final Frontier." That's probably because it's in the furthest corner of North America, bordered by Canada to the east, the Arctic Ocean to the north, and the Pacific Ocean to the west and south, with Russia further west across the Bering Strait.
The climate of Alaska is typically subarctic with cold winters, and summer is usually cool, but not cold. The precipitation in Alaska mainly falls as snow during winter, and while it does rain often in the summer, it's usually a light rain, rather than extended downpours.
As you may expect from a place so far north, most people think the best time to visit Alaska is summer, when there's minimal risk of getting snowed on and the national parks, protected wilderness areas, towns, and forests are free of snow. But just because most people think the best time to visit Alaska is summer, that doesn't make it true. Depending on what you'd like to do and see, you may find that a spring or early winter trip is better for you.
Transportation and logistics
One of the reasons so many people think summer is the best time to visit Alaska is probably because getting around is so much easier. You can rent a car and drive just about anywhere without worrying about icy roads or getting caught in a snowstorm.
But winter travel is actually a lot easier than you may think. Alaska is the largest state in the United States by area and, with an area of 664,268 square miles, is larger than all but 18 countries in the world. But it has a population of around 740,000, which means quite a lot of the state is undeveloped wilderness. Because of that, many of the state's towns aren't connected by roads, and domestic flights and bush/seaplanes are often the easiest way to get around. Planes can generally fly year-round, albeit with the occasional weather delay in the winter. But you may not be doing too much driving regardless of when you visit.
Alaska also has yet another easy way to get around: the Alaska Railroad. It runs between Anchorage, Denali, and Fairbanks, as well as a few other side routes. The train isn't weather-dependent and hitching a ride on the Alaska railroad offers some of the best views without any need for driving. The best time to visit Alaska to see snow-covered terrain you otherwise wouldn't access is winter, especially if you get views of Denali as you travel between Anchorage and Fairbanks.
Winter: the best time to visit Alaska for northern lights, skiing, and snow sports
In winter, Alaska becomes a place of extreme cold (and beauty), with snow and ice everywhere. If you are planning to visit Alaska in winter, dress warmly. You'll be exposed to freezing temperatures, so layer up with jackets and thick fabrics, plus a face mask or scarf to protect your face from the cold. But if you don't mind the cold, visit Alaska in the winter if you want to ski, see the northern lights, or try a more unique winter activity, like learning to mush with sled dogs or hiking with reindeer.
Northern lights viewing
Alaska's most famous natural wonder is the aurora borealis, also known as the "northern lights," visible in various locations throughout the state.
The best time to visit Alaska to see the northern lights is during winter, from late November to early March. The best time to see them is in the middle of the night, as the darkness makes them look the brightest and most active (hence why it's hard to see them in the summer, when daylight lasts until close to midnight). Alaska is far enough north that you can see the northern lights from almost anywhere in the state, but Fairbanks is especially well-known for aurora viewing, with specialty hotels focused on it, like A Taste of Alaska Lodge and Borealis Basecamp.
Go dogsledding
If you've never dogsledded, there's no better place to try it than Alaska, land of the world-famous Iditarod. There are dog mushing camps throughout the state, but since they only mush on snow, you'll need to go when there's snow on the ground. You can find dog mushing camps near most large and small towns in Alaska, so the best way to plan a mushing trip is to ask your hotel what camps they recommend visiting. Usually, you can ride on a dog mush cart, do a meet and greet with the energetic huskies, or even take a mushing class if you're up for some high-speed learning.
Enjoy winter sports
Alaska's most famous resort may be Alyeska Resort near Anchorage, but you can ski and snowboard all over the state if you're willing to head into the backcountry. There are also heli-ski resorts throughout the state like Majestic Heli Ski and Black Ops Valdez, and cross-country skiing and snowshoeing are practically requirements for travel on foot. So winter is definitely the best time to visit Alaska if you're into high-energy winter sports.
Spring: the best time to visit Alaska for cruises
Spring offers a hint of what's to come during summer, but it's still fairly snowy and cold. It's mostly just an extension of winter.
However, spring is a great time for cruising, and many major Alaska cruise lines offer their lowest prices on trips during the spring. If you like small-ship cruising, check out Maple Leaf Adventures and Alaska Dream Cruises. Both offer small ships with usually only a few dozen people (or less) and itineraries are quite flexible, often detouring if there's a great whale sighting or a fantastic hike along the route is melted out early.
For larger-ship trips, check out Princess and Holland America, both of which offer rather high-end and outdoorsy cruises. Princess is particularly known for their culinary programs, which lean heavily on Alaskan seafood. Both companies offer combo packages that include cruising and on-land adventures, which are ideal for spring when travel on your own on land may still be a bit snowy and cold.
This is also a good time to try your luck at gold panning, since snowfall can break up rocks and piles of dirt, exposing any tiny flakes in the mountains and moving them into the streams.
Summer: the best time to visit Alaska for water activities, hiking and parks, and sightseeing
Alaska has some of the most beautiful natural wonders in North America, and if you want to spend time in the wilderness, summer will be the best time to visit Alaska. The state is often called the "Land of the Midnight Sun" because of it's extremely long days in the summer, making it ideal for any activity where you want warm weather and long days.
Visit national parks
Alaska has nine national parks and summer is generally the best time to visit them for hiking, backpacking, camping, and any other activity in which you'd prefer warm weather and lots of sunlight. Several of the Alaska national parks also have massive glaciers, and glacier trekking is a popular summer activity. Summer is also the best time to visit Alaska if you want to do any sort of guided outdoor activity (like rafting and paddling, camping, or climbing), as many outdoor outfitters are seasonal, operating roughly between May and September.
Get on the water
Water is an essential part of Alaska's culture and economy, and you can find boat tours for everything from fishing to glacier viewing to wildlife watching to fishing and attending coastal fish-fries. Most of these tour operators run between May and September. Summer is the best time to visit Alaska for options like kayak tours, combo river cruise and hiking tours, or private fishing charters (and yes, you can have your catch frozen and shipped to your home).
Explore seaside towns
Alaska's seaside small towns are at their tourist peak in the summer, with the most options for dining, bars, activities, hotels, and more. And don't worry — crowded in Alaska isn't the same as crowded almost anywhere else in the US. Cool small towns to visit during summer include:
Seward: Seward is a coastal town known for seafood, beautiful scenery and a historic district. It has many quaint shops, galleries and restaurants, and serves as the jumping-off point for trips to Kenai Fjords National Park, as well as other whale-viewing trips.
Homer: Homer is a coastal town that offers visitors a chance to experience Alaska's natural beauty with its breathtaking views of the coastline, mountains, wildlife and glaciers. There are many activities to do in Homer such as fishing, kayaking or hiking, and the Homer Spit is the jumping-off point for trips to island lodges and Kachemak Bay State Park. The Spit is also super tourist-friendly and offers some of the best waterfront seafood restaurants on the Kenai Peninsula.
Ketchikan: Ketchikan offers visitors an opportunity to experience Alaska's natural beauty with its breathtaking views of the coastline, mountains, wildlife and glaciers , viewable from popular nearby hiking in Mount Edgecumbe Park or Tongass National Forest.
Juneau: Juneau is a coastal town in the southern park of Alaska and is the best airport to fly into if you're visiting that part of the state. It has great views of and access to mountains, wildlife and glaciers which can be seen from various locations around the city. One of the most popular outdoor attractions around Juneau is the Mendenhall Glacier National Monument, where you'll find all manner of hiking, trekking, paddling, and sightseeing tours.
Sitka is the former state capital of Alaska and has everything you'd expect from a city near the water, like fishing, paddling, whale-watching, and a cute downtown with small shops and restaurants. It's also rich in Indigenous cultural activities and has some of the state's best birdwatching. Flying to Sitka from Juneau only takes about 35 minutes.
Autumn: the best time to visit Alaska for bears
If you know anything about grizzly bears, you probably know that they hibernate — and that they love salmon. Fortunately, Alaska is rich in salmon and rich in undeveloped places, which means it has a very healthy grizzly bear population. Salmon spawn between August and October, which makes autumn the best time to visit Alaska if you're hoping to see the bears in action.
The best places to see grizzlies in Alaska are Denali National Park and Preserve, Lake Clark National Park, Katmai National Park, Kodiak Island State Park, and the Arctic Circle. Of course, bears live throughout the state, so you could see one just about anywhere, save in the middle of bigger cities (though it has happened).
If you don't want to look for bears but want to go somewhere where they definitely are, take a helicopter or bushplane trip to Lake Clark or Katmai national parks. The bears in these parks are almost always in the exact same spots during feeding season, and there are even viewing platforms to watch them safely.
If you want a guaranteed way to see bears without any hiking, those are your two best bets. But those aren't your only options. Admiralty Island has a whopping 1,600 grizzlies, and you can find both polar and grizzly bears in the arctic circle. Visit on the earlier side of fall or late summer if you're headed that far north.