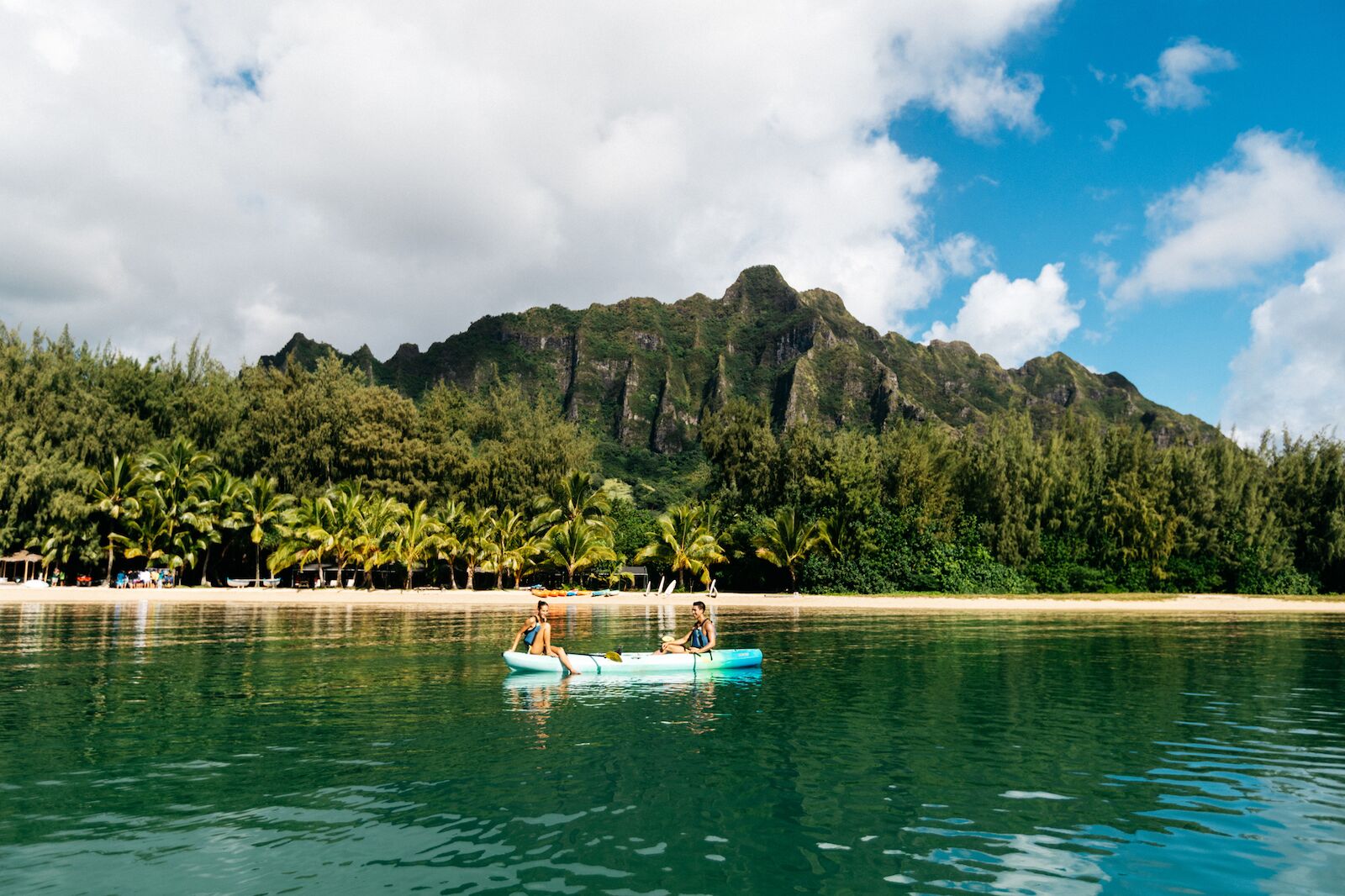 Vacationing in Hawaii is a no-brainer. However, deciding on the best time to visit Hawaii can be tricky. But thanks to year-round balmy temps ranging from 78 to 85 degrees Fahrenheit and a variety of microclimates (think: arid deserts, cool alpine regions, volcanic mountains, and tropical rainforests), it's possible to find sunny weather any time of the year on any Hawaiian island.
When it comes to weather across the Hawaiian islands, variety is not so much island to island but region to region on each island due to the diverse micro-environments. An area shielded by volcanic mountains, for example, will have different weather than a nearby rainforest.
When it comes to the best time to visit Hawaii to avoid rain, November through March tend to be the rainier months, and April to October are the drier periods. Of course, sprinkles or downpours can pop up any day of the year, but it's uncommon for any one spot to get drenched for more than a few days in a row during the dry period. As the saying goes, if you don't like the weather where you are, just drive to another part of the island for sunnier skies.
The best time to visit Hawaii for festivals: year-round
Of the eight major Hawaiian islands, Oahu hosts the most events, and the Aloha Festivals in September are the largest cultural gatherings in the state. With carefully crafted floats festooned with fresh flowers, hula dancers, and marching bands, the Annual Floral Parade is a sight to see.
Hawaii's largest block party, the Annual Waikīkī Ho'olaule'a (also part of the Aloha Festivals), is a delightful combo of live music, local eats, and handmade crafts.
Foodies will appreciate the Hawaii Food & Wine Festival, also held in the fall, with culinary events on Maui, Oahu, and the island of Hawai'i (often called the Big Island). Attendees can chat with local chefs, participate in cooking demos, and support the Malama Hawaii Program, which offers discounts and benefits to tourists participating in volunteer programs.
Best time to visit Hawaii for water activities
Snorkeling
Winter: North shores of islands
Summer: South shores of islands
As Jacques-Yves Cousteau once said, "the best way to observe a fish is to become a fish." Likewise, spending time below the surface is well worth it for a new appreciation for the marine world thriving beneath the islands.
When snorkeling, abide by the local rule of avoiding the ocean after a rainstorm. The water gets murky, so sharks have poor visibility and snorkeling can be slightly more dangerous. Other than that, any time of year can be good for flipper-kicking your way around. Apply reef-safe sunscreen beforehand to protect the sea critters and coral reefs.
The best visibility for a snorkel sesh is when the water is calm and clear. The south shores tend to be calmer in the winter; the north shores are calmer in the summer when the swells are much less intense. Hawaii's tourism website has a great website for locating snorkeling sites and finding tour operators.
Big-wave surfing: January to March
Just as Hawaii's rain is localized, so too are its waves. So if the waves are too gnarly in one spot, travelers can likely drive to another side of the island for friendlier weather. The north-facing shores of each Hawaiian island pump up much larger waves during the winter thanks to the northern hemisphere's winter storms that send ocean swells toward the islands.
During the summer on Oahu, a beginner could surf on the north shore. But come winter, it's a whole different story. During that time, the north shore can whip up 40-foot waves, so only advanced surfers should attempt to catch waves or even swim. After all, this is the home of the famous Banzai Pipeline, one of the world's most famous surf breaks.
Winter is when the best surfers in the world flock to the islands to compete. Oahu hosts the Vans Triple Crown of Surfing (held sometime between November and December and known as the "Super Bowl of Surfing"), the Billabong Pipe Pro (held sometime between January and February) and the Hurley Pro Sunset Beach (held in February). On Maui, the Red Bull Magnitude is held sometime between December and March. Check out the World Surf League website for details since the events are scheduled based on surf forecasts.
Wind sports: varies
Adventurous souls flock to Oahu and Maui for kitesurfing and windsurfing thanks to its consistent winds and impressive waves. The best wind on Oahu tends to be June through August, while Maui's wind season is March to October.
One of the newest wind-dependent sports is called wing foiling, or winging. It's a rad mash-up of windsurfing and kiteboarding with less of a learning curve. It's becoming popular across the islands, so there's no best time to visit Hawaii to try it, and local shops near hotels should be able to advise on the best places to try it on any given day.
Travelers that want to learn in advance can use Slingshot Sport's Foil Academy to get online tips from pro athletes.
Generally speaking, most trade winds come from the northeast for the entire island chain, so the northern or eastern coasts consistently have reliable wind conditions (especially in summer). In winter, trade winds occur less often because the wind from the south (a.k.a. the Kona winds) are more predominant. Maui's position between the equator and 30 degrees north makes it the windiest of the islands.
Canoeing and paddling: year-round
Double-hulled canoes brought the first Polynesian settlers to the islands. Fast forward to today, and it's possible to paddle in the same type of outrigger canoes on the open ocean during a vacation. Several resorts offer outrigger canoeing experiences daily for guests, and sometimes also for non-guests.
There's no best time to visit Hawaii for canoeing (or any other kind of paddling) since beginners will always start in protected coves on generally calm seas. More advanced paddlers often tackle big waves during seasonal regattas.
When to visit Hawaii to see wildlife
Whales: December to May
During this time of year, humpback whales migrate from Alaska to Hawaii to give birth and breed in the warm waters. Typically, a few whales show up in September and November, but more start to show up by the end of the year.
The best time to visit Hawaii to see the most whales is usually January through March, when it's peak season for whale watching. Remember that by law, people must stay at least 100 yards from humpback whales. Responsible whale-watching boat tours will always stick to this rule.
Sea turtles: Year-round
It's easy to find Hawaiian green sea turtles near any rocky shoreline 365 days a year. There's nothing like encountering them in the water, but be sure not to get too close. It's illegal to pet, chase, or ride them. Summer is nesting season, so visitors may see more turtles on land then.
Turtles resting on land often have an area around them roped off, and visitors should never cross this line – and if the turtles start to move toward the sea, be sure to give them plenty of space as they make the slow journey, even on crowded beaches. The fine for harassing sea turtles can be up to $10,500 US, and Hawaii has fined tourists before.
Best time to visit Hawaii for hiking: Year-round
There are hundreds of trails across the Hawaiian islands, from hikes past waterfalls to dreamy ocean views and walks through bamboo forests.
Oahu's Manoa Falls and Kuliʻouʻou Ridge Trail are great options. If it's raining, however, avoid Manoa due to potential landslides.
Kauai's Kōkeʻe State Park has plenty of hiking options and on Maui, the Waihe'e Ridge Trail rewards hikers with panoramic views of the ocean and the jagged mountains rain or shine. (Note that Maui's Polipoli Spring State Recreation Area is closed due to storm damage as of October 2022).
Several trails at Hawaii Volcanoes National Park on the island of Hawaii have viewpoints of Kīlauea's latest eruption, though, of course, it's subject to closure due to weather (or an eruption). To see a list of accessible hikes and trails statewide, visit Nā Ala Hele Trails.
The reliably mild weather makes hiking a year-round activity; however, the rainy season can make some trails iffy as they can get slick and muddy after rain. But with proper hiking gear like trail shoes and rain jackets, they should be no problem.
In the event of a heavy downpour, seek higher ground immediately. Flash flooding kills a handful of people each year.
The best time to visit Hawaii for avoiding crowds and saving money
For extra elbow room and to save some moolah, visit during shoulder season, which is February through May or September through mid-November. Peak season is when accommodations and rental car rates are on the rise. Avoid holidays like spring break, Thanksgiving, and Christmas, as they're the most expensive for both hotels and flights.