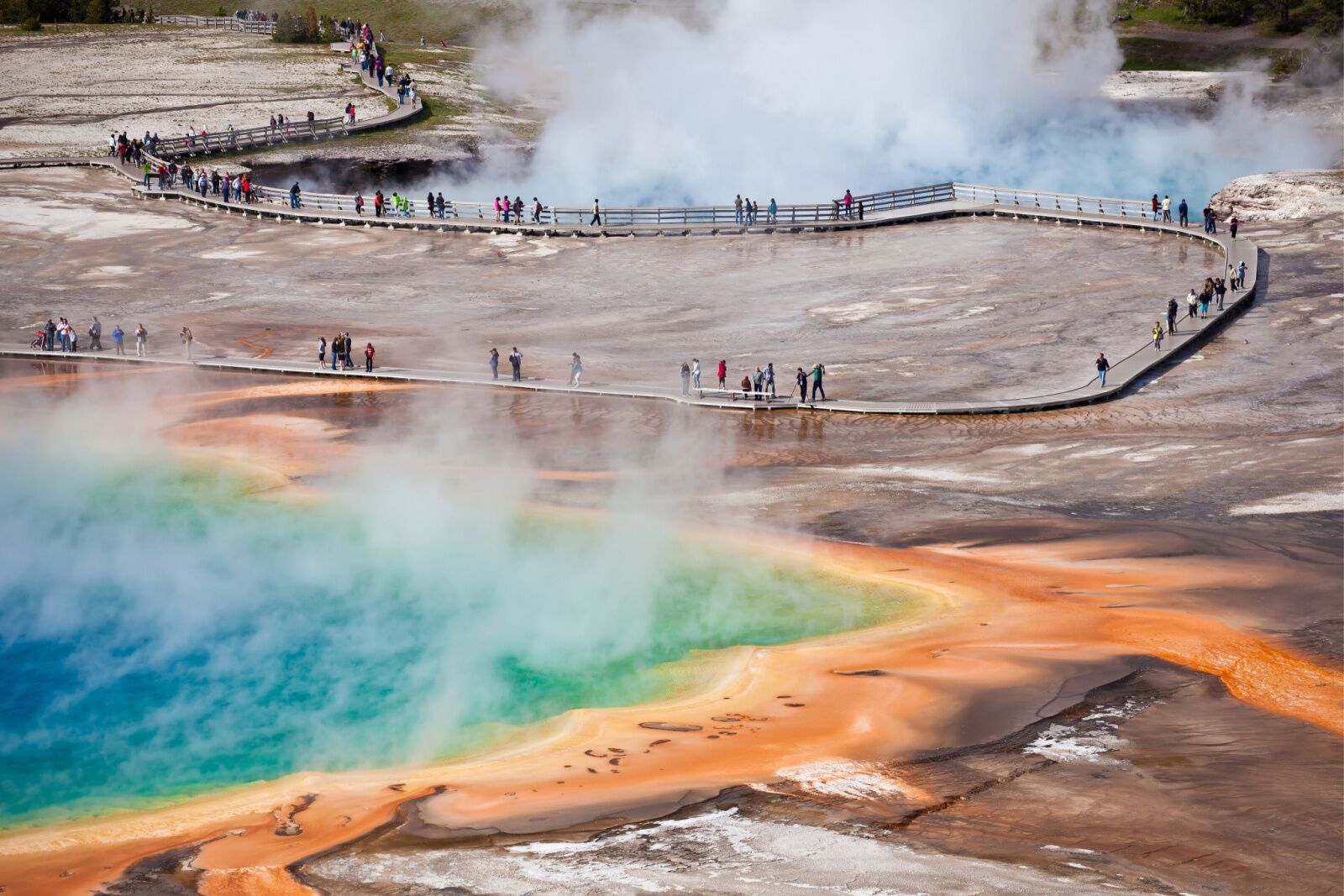 There are endless reasons to visit spectacular Yellowstone National Park, America's first national park and one of the country's largest.
The park's sheer size and vast range of activities and scenery, however, make planning a trip a somewhat daunting task. Deciding which parts of the park and which entrances to use, where to stay, and how to spend one's time involves a fair amount of logistics, as does choosing the best time to visit Yellowstone, based on what visitors want to do.
The first step in planning should be deciding on the best time to visit Yellowstone, as this incredibly unique park comes with some equally unique seasonal considerations, offering vastly different experiences between summer and winter.
The best time to visit Yellowstone for one person may be totally different for different people, based on their preferred activities. Here's a quick month-by-month guide to when to go and what to expect.
---
---
Seasonal considerations for visiting Yellowstone
While Yellowstone is open year-round and welcomes guests every season, accessibility varies significantly depending on the time of year. Most park roads (with the exception of the one connecting the North Entrance in Gardiner, Montana, to Cooke City, Montana) close from early November through late April. During this time, the only way to travel is across the snow, either on snowmobiles or the specially designed "snowcoaches" run by tour companies in the winter.
Of the park's five entrances, only the North Entrance is open year-round. The other four close on a similar schedule to the park roads. West Yellowstone is generally the first to open in April, followed by the East Entrance (near Cody) and the South Entrance (near Jackson) in early May. The Northeast Entrance near Cooke City is the last to open, usually around Memorial Day.
Nearly all accommodations in the park, including campgrounds, are closed between November and April, or sometimes October and May. The only exceptions are the year-round Mammoth Hot Springs Campground, Old Faithful Snow Lodge, and Mammoth Hot Springs Hotel, all of which are only open during winter.
Weather-wise, visitors should be prepared for anything at all times of the year. It's not uncommon to get snow in the middle of summer or have warm, dry days in the dead of winter. Pack layers (including a good rain jacket) and plenty of emergency food, water, and other supplies for all outdoor activities. .
The best time to visit Yellowstone for hiking and backpacking
Summer and early fall
The best time to visit Yellowstone to explore it on foot is summer through early fall. All the park's trails are accessible and the weather is stable and comfortable, with warm days and cool nights. Although this is the busiest season in Yellowstone, most of the crowds congregate at major attractions like Old Faithful and Grand Prismatic Spring. Hikers can expect to have a quieter environment after just a few minutes of hiking past most trailheads. There's also great hiking outside the park during this season.
Note that permits for backcountry campsites should be reserved as far in advance as possible.
Best time to visit Yellowstone for wildlife spotting
There are three best times to visit Yellowstone for spotting wildlife, depending on what you hope to see.
September and October
During the fall, the park's resident elk, deer, and moose are in rut, exhibiting unique behaviors in an attempt to attract mates.
Expect to see males fighting and crashing their antlers into one another, rubbing their antlers against trees and other hard surfaces, and rolling around in mud and urine. Bull elk also bugle, displaying their distinct call that sounds like a drawn-out wail. Note that male animals in rut are extremely aggressive, so while humans should never approach wildlife too closely, it's important to be extra cautious during this time.
Winter
Winter is by far the best time to visit Yellowstone for people hoping to see wolves. Several known packs call the park home. They tend to hang out in Lamar and Hayden valleys during the winter months. While seeing them is still rare, winter offers the highest odds.
March and April
March and April are the other best months to visit Yellowstone for wildlife. This is when bears emerge from hibernation, bison are more active as they begin migrating back to the park's higher-elevation areas, and many animals have their babies. Note that the park doesn't run ranger programs in the spring, though many third-party companies run wildlife watching tours.
Best time to visit Yellowstone for families
June, July, and August are the best times to visit Yellowstone for families because of the variety and availability of activities. For families that want to go white water rafting or horseback riding, take a guided tour, or participate in a family ranger program, these are the only months to go.
While this is also the busiest time of year in Yellowstone, all roads, accommodations, and trails are open, making it easier for families to move around the park fairly easily with minimal hiking or travel on foot – ideal for strollers or little legs.
The best time to visit Yellowstone to avoid crowds
For travelers hoping to avoid heavy crowds, the best times to visit Yellowstone are October or November, and April or May. Each of these timeframes shows how just a couple of weeks can make a world of difference as they're periods of heavy change in the park.
Most park roads close for the season by early November and don't reopen until May, and during these months, the ground can alternate between snow-covered, or not. Bears also go into and come out of winter hibernation during these shoulder-season months.
Weather can be extremely unpredictable during this time, so it's important to have flexible plans. It's also a good idea to check the official park website for the most up-to-date weather and road conditions and have winter-driving tools in your car (like snow chains and snow scrapers).
Best time to visit Yellowstone for winter sports
December to March
Not surprisingly, Yellowstone is paradise between December and March for winter sports enthusiasts. In some years, there's still enough snowpack to cross-country ski or snowshoe into April. There are five groomed trails for cross-country skiing and snowshoeing, and all unplowed park roads and trails are open to it as well.
The park has two ski shops, one at Old Faithful and one at Mammoth Hot Springs, that rent gear and offer lessons. Skier shuttles depart from both ski shops multiple times a day between mid-December and early March, and guided tours also usually meet at one of these locations. Even visitors who have experience visiting Yellowstone in the winter should still stop into one of the shops to check on trail conditions before venturing out.
Downhill skiing near Yellowstone
Those looking to fit in some downhill skiing during their visit are in luck as Yellowstone is relatively close to three excellent resorts: Jackson Hole Mountain Resort and Grand Targhee Resort in Wyoming, and Big Sky Resort on the Montana side. For a lower-key, non-resort experience, head to Snow King Mountain in Jackson or the Sleeping Giant Ski Area in Cody, Wyoming.
Best time to visit Yellowstone for Fishing
Yellowstone's fishing season officially runs from the Saturday of Memorial Day weekend through the first Sunday of November.
Several unique factors come into play when fishing in the park. There's its massive size, the number of rivers flowing through it (nine sizable ones and dozens of smaller streams and creeks), and thermal runoff into some of the rivers, significantly increasing the water temperature.
All of these things mean the best time to visit Yellowstone for fishing, as well as the best location, changes slightly throughout the season.
Early season
From May into mid-June, the Madison and Firehole rivers are the only fishable rivers in the park. Snowmelt means most of the park's other rivers are much too high and fast, plus slightly murky and full of debris. West Yellowstone makes the best base for early season fishing.
Summer
From June through August, fishing is best in the northern region of the park. The Yellowstone and Gardner rivers typically offer good fishing in early July, while the Lamar River is later in the season, dependent on snowfall. In a heavy snow year, the Lamar may not be fishable until late July or early August. Set up a base in Gardiner or Cooke City to fish in the peak season.
Fall
Through September, the Gardner and Yellowstone rivers fish well, but fish in the Lamar are weary from heavy fishing all summer. The temperature of the Madison River, near West Yellowstone, usually cools off enough by mid-September to fish it again.
Best Time to Visit Yellowstone for unique adventures
If you're looking for a unique, off-the-beaten-path adventure, the best time to visit Yellowstone will be winter and summer.
Summer is the only time to experience whitewater rafting on the Yellowstone River or go kayaking anywhere in the park. Horseback riding and e-bike tours and rentals are also only available in the summer and into the very beginning of September, typically ending after Labor Day weekend.
But most people agree that winter adventures in Yellowstone are the most unique of all. December through March are the only months to experience snowcoach tours, snowmobiling, and the magic of ice climbing a frozen waterfall.