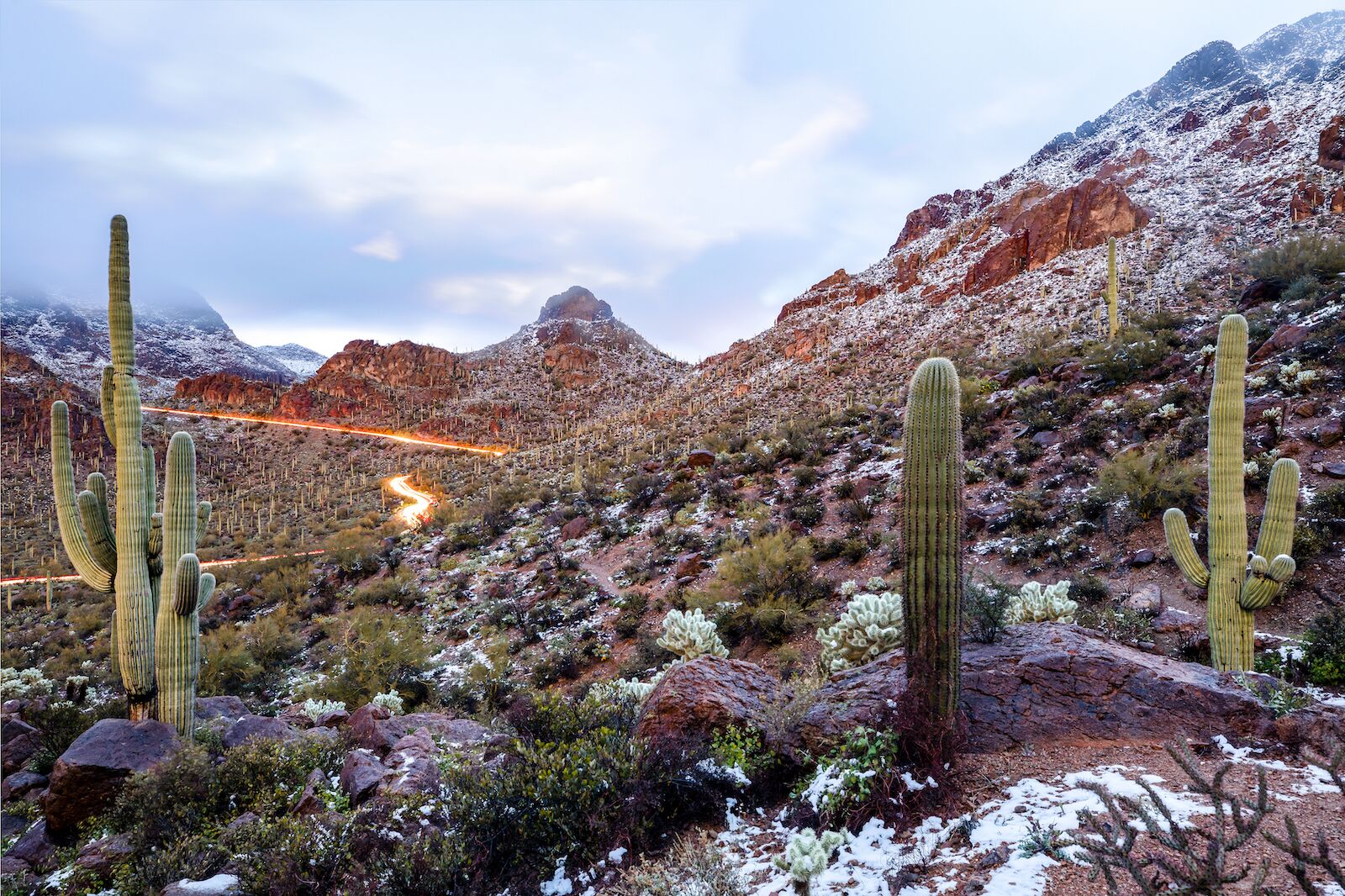 Winter may not seem like the ideal time to visit the wilds of a national park, but really there's no bad time to enjoy the beauty of America's public lands. Some national parks in temperate or even tropical climates are better to visit in winter when they're free from the scalding heat of summer. If you don't mind the potential for a bit of snow, you'll enjoy relative quiet in some of the larger parks visited en masse during warmer months.
No matter your preference, you've got plenty of choices. From Hawaii to Utah, here are the best national parks to visit in winter.
Bryce Canyon National Park, Utah
Winter brings a lull in crowds to this popular southern Utah park. Running along a high plateau at the top of Grand Staircase (a series of high-desert mesas), Bryce Canyon's 8,000- to-9,000-foot altitude practically guarantees light, dry snow and crisp, clean air during the colder months. It's enough snow for visitors to glide through the park's famous red-rock hoodoos — the largest concentration on Earth — on cross-country skis or snowshoes, but not so much that all the campsites shutter. Bryce Canyon's North Campground is open year-round.
If you don't have snowshoes, join a guided hike to borrow them for free. Some of the most fun guided hikes happen between November and March when rangers lead visitors through deep snow to catch epic views of the full moon. Two annual events — the Bryce Canyon Winter Festival and Christmas Bird Count — also make this slice of southern Utah one of the best national parks to visit in winter.
Big Bend National Park, Texas
One of America's largest national parks, Big Bend is also one of the most remote. Since the closest big city (El Paso) is more than five hours away by car, overcrowding is rarely a problem.
But what can be an issue is the sun. Due to the brutal West Texas heat, November through April is when visitor numbers pick up in Big Bend. But most visitors go in the spring, leaving winter relatively traffic-free. The average temperature in December hovers between 60 to 70 degrees Fahrenheit during the day and 50 degrees F at night. It's dream camping weather, and the park has more than 200 year-round campsites. Evenings can get cold in Big Bend, sometimes dropping by 40 or 50 degrees overnight, but that'll only make you appreciate the park's hot springs like Langford all the more.
Winter recreation in Big Bend is not that different than any other season, from horseback riding in the Chisos Mountains to canoeing down the Rio Grande. If you have a passport on hand, a $5 rowboat ride will ferry you across the river to the Mexican town of Boquillas, where you'll find the other side of the Langford Hot Springs. Big Bend also has more bird, bat, and cacti species than any other national park, with countless trails crisscrossing its 800,000-plus acres.
Yellowstone National Park, Wyoming, Montana, and Idaho
Yellowstone's geysers are always impressive — so much so that some five million people went to the park to see them in 2021. But in the cold winter air, the steam that rises from Old Faithful and its kin is even more pronounced, and the psychedelic colors of thermal pools like Grand Prismatic Springs are even more striking against the stark white snow.
Add in winter fauna like wolves and bison — particularly in the Northern Range, the only area of the park that's automobile-accessible year-round — plus sports like snowshoeing and cross-country skiing that make it easy to spot tracks in the snow, and you'll see why winter is the best time to ditch Yellowstone's crowds in favor of its wildlife.
Great Smoky Mountains National Park, Tennessee and North Carolina
As rich in history as it is wildlife, Great Smoky Mountains National Park is a perfect place to while away short winter days. Thanks to its temperate location in the rolling hills shared by Tennessee and North Carolina, the park has wildflowers and rich wildlife-viewing opportunities year-round. You might spot black bears, white-tailed deer, coyotes, groundhogs, wild turkeys, raccoons, or skunks — or you can fish in the rivers, streams, and lakes.
Five drive-in horse camps provide access to 550 miles of hiking trails for equestrians and history fans will be awed by more than 150 historic cemeteries in the park; a walk between headstones provides special insight into the communities that once called the area home. Camping is available year-round, and winter is a great time to try to snag a scenic valley campsite at Cades Cove, one of the park's most popular campgrounds.
Saguaro National Park, Arizona
Winters in Tucson are about as warm as summers in Seattle, with daytime temperatures averaging between 65 and 75 degrees Fahrenheit. That's a whole lot more pleasant than the city's daytime temperatures, often measured in the triple digits. And it's still more comfortable than the mid-80s of fall or spring, particularly if you plan on hiking in Saguaro National Park. Nights get cold — often dipping below freezing — but if you wake up before the desert has a chance to thaw, seeing some of the tallest cacti in the country looming over snowy wilds is pretty magical.
Denali National Park, Alaska
Denali isn't the only national park where you can see the aurora borealis — Acadia, Glacier, and a few others also fit that bill — but it's one of the best due to its far-north latitude and minimal light pollution.
Aurora season in Denali spans from September to April, with the long nights in December and January offering visitors the best likelihood of catching the otherworldly phenomenon. Couple that with classic winter sports like dog sledding and snowshoeing under the watchful eye of the park's eponymous mountain (the tallest mountain in North America), and it's clear the protected slice of Alaskan wilderness undoubtedly deserves a shoutout as one of the best national parks to visit in winter.
Yosemite National Park, California
Naturalist John Muir once called Yosemite "the grandest of all the special temples of nature [he] was ever permitted to enter." First protected in 1864, the park is known for sheer rock faces, plunging waterfalls, switchbacking trails, and sweeping panoramas made famous by photographers such as Ansel Adams. Winter isn't the greatest time to scale famous landmarks such as Half Dome or El Capitan, but it is the ideal time to enjoy the park's beauty without the other thing it's become known for: overwhelmingly large crowds.
While some roads close in winter, Glacier Point Road stays open. But it closes to cars at Badger Pass (about five miles in), where guests will find the Yosemite Ski and Snowboard Area — one of only three ski areas in the US inside a national park. The road is open to cross-country skiing and snowshoeing after car access closes.
Yosemite Valley also remains open, allowing hikers and snowshoers to see icons such as Bridalveil Falls, Mirror Lake, and Lower Yosemite Falls. Another popular snowshoeing route cuts through the park's ancient sequoia groves, while ice skaters can glide beneath Half Dome at the Curry Village (also called Camp Curry) Ice Skating Rink.
Lodging is also much easier to find in and around the park in winter. Visit in winter and you might actually have a chance of snagging a room at the almost-impossible-to-reserve Ahwanhee Resort inside the park during the off-season. Or, if you're into roughing it, you can bed down at one of the four campgrounds open year-round. And some of the rentable canvas tents in Curry Village have heaters.
Rocky Mountain National Park, Colorado
This is one of the best national parks to visit in winter if you like playing in snow. Rocky Mountain National Park spans 415 square miles of spectacular alpine and subalpine mountain ecosystems. Visitors can cross-country ski or snowshoe throughout the park, and beginning in January, park rangers host regular snowshoe tours to help get guests familiar with the craggy surroundings. More active travelers know that sledding and ice skating are popular at Hidden Valley, a former ski area inside the park.
Rocky Mountain National Park is also one of the country's top wildlife viewing destinations, making that the top-rated activity for a majority of the park's 3,000,000 annual visitors.
But Rocky Mountain National Park's biggest draw is big mammals, and winter brings massive herds of elk, bighorn sheep, and mule deer with a few moose sprinkled in. While the Moraine Park Campground is open for overnights, a more comfortable option may be heading into one of the nearby towns of Estes Park or Grand Lake for a warm bed and a famous Colorado microbrew in front of a roaring fire.
Everglades National Park, Florida
The main reason Everglades is one of the best national parks to visit in winter is a bit of a technicality — it's the only time of year when the heat and humidity are bearable. From November to April, skies are clear, there's little moisture in the air, and temperatures range from the high 70s to the low 50s. The dry season also eliminates pests such as mosquitoes and flies while drawing out the creatures you'll be happy to see. Animals like bobcats and deer congregate around watering holes, alligators burrow and go dormant, and a variety of bird species migrate to the park to winter in sunny southern Florida.
Some consider the Everglades a murky, dangerous wilderness, but it's actually the largest subtropical rainforest in the United States, not to mention a World Heritage Site, International Biosphere Reserve, and Wetland of International Importance. Wildlife watching is one of the most popular activities in the park, and you can expect to see manatees, dolphins, crocodiles, alligators, turtles, and herons to name a few.
Visitors can camp year-round in the park and in the backcountry along the 99-mile Wilderness Waterway. As a bonus, just a few miles to the east of the Everglades sits Biscayne National Park, a great spot for anyone who loves being on the water. Its beaches, blue waters, and coral reefs can be explored by foot, by boat, or while snorkeling. In southern Florida, you get two of the best national parks to visit in winter in one place.
Haleakala National Park, Hawaii
For those heading to the islands, a visit to Maui's Haleakala National Park is worth the slight bit of effort. Meaning "house of the sun" in Hawaiian, Haleakala is actually a huge domed volcano covering three-quarters of the island. Mark Twain once described the sunrise from atop Haleakala as "the most sublime spectacle [he] ever witnessed." Apparently, many people agree.
If you want to jostle with the crowds for the perfect photo of the dawning of a new day, book with a local tour company or be prepared to obtain a permit in advance; unsurprisingly, parking is limited at 10,023 feet above sea level.
Another option is to head up the mountain to see a famed Hawaiian sunset. It doesn't require a permit and allows for a day to explore the park's other beautiful sights, from otherworldly rock deserts to lush Hawaiian rainforests. Be sure to keep your eyes out for spotting nenes, Hawaii's state bird and an endangered species. It's not the only rare species, though, as Haleakala actually protects more endangered species than any other park in the National Park Service.
For a truly immersive experience, camp or stay in cabins in the park.
Carlsbad Caverns National Park, New Mexico
Actor Will Rogers once called Carlsbad Caverns "the Grand Canyon with a roof over it," explaining why the park attracts nearly 500,000 people a year — most of them in the summer. That makes winter the perfect time to skirt the crowds and quietly appreciate the beauty of this unusual spot. Over 119 caves are hidden beneath the Chihuahuan Desert, all formed when sulfuric acid dissolved the limestone remnants of an ancient fossil reef.
If you arrive just as the park opens, you may find yourself the only one meandering down the 1.25-mile, 750-foot-deep Natural Entrance Trail into the mouth of the caverns. Inside, the Big Room is an alien-looking limestone chamber almost 4,000 feet long and more than 625 feet wide and 255 feet high, making it the fifth-largest chamber in North America.
Above ground, the desert is alive with flowering cacti, wildlife, and rocky canyons prime for hiking. You can't camp at Carlsbad Caverns, but if you're adventurous, you can boondock on neighboring Bureau of Land Management land. For more comfort, the town of Carlsbad has plenty of hotels, and year-round camping is available at nearby Guadalupe Mountains National Park, 40 minutes away in scenic west Texas.
Hot Springs National Park, Arkansas
Hot Springs, Arkansas, has been called the "Calistoga of the South," and it's easy to understand why: the entire north end of the city is a national park built around hot springs. People have been flocking to this town for years to take advantage of the bubbling mineral waters' much-touted health benefits. And winter is an ideal time to soak in the warmth.
Hot Springs National Park's visitor center is in the historic, stained-glass-and-marble Fordyce Bathhouse, sitting on the city's Bathhouse Row. Visitors can opt for a hot soak in a traditional bath at the Buckstaff Bathhouse, in business since 1912, or opt for a more modern spa experience at Quapaw Baths and Spa.
Once you're thoroughly pruney, walk around the city of Hot Springs to check out the stylish Art Deco buildings. If you're looking for more of a challenge, miles of trails run through the park. The longest and most popular path is the Sunset Trail, covering more than 10 miles and crossing the varied terrain of the Ouachita Mountains.
Since Hot Springs National Park is in an actual city, you'll find plenty of places to rest your head. But if you want to sleep under the stars, Gulpha Gorge Campground is open year-round.
Joshua Tree National Park, California
Joshua Tree National Park is an otherworldly, unique landscape just two hours east of urban Los Angeles. In winter, ground-level temperatures hover in the 50s and 60s F, while snow can cover the peaks (or even the trails and trees) following a recent storm. Rock climbers are among the most frequent winter visitors, leaving the paths and lookouts away from the crags and anchor points wide open.
Start with a hike in Cottonwood Spring or Black Rock Canyon before making your way to the Wonderland of Rocks in Indian Cove. Camping is popular in winter, so if you plan to stay overnight, reserve a spot in advance or plan to stay outside the park boundaries. Last-minute campsites are usually available midweek.
The 794,000 acres that make up the park have been home to human activity since the Pinto People lived here more than 7,500 years ago. In the park, you'll see the Pinto People Information Sign where you can stop to learn more about the area's earliest inhabitants. Even if you only have a day to spare, it's worth the park entrance fee — a drive along the main road to Skull Rock and Keys View Lookout is worth the entrance fee, even if you're just using it as a cut-through to destinations further east or west.
White Sands National Park, New Mexico
Rarely do the terms "hidden" and "national park" come together in a sentence. But White Sands National Park fits both descriptions. It's in a rocky area of southern New Mexico otherwise known for the mountainous terrain of the Sierra Blanca and hardy, outdoors-oriented mountain towns like Ruidoso.
In the park, you'll find the same white-hued dunes as you would in summer, albeit with no one around — meaning the quick hike up the Playa Trail to views of white in every direction is yours to meander as you please.
The weather at the park stays warm while the sun is up even as snow blankets the surrounding peaks, so winter is an ideal time to take out a plastic sled and some wax to host a quick race down the dunes. For a challenge, hike the five-mile Alkali Trail, which crosses several dunes.
Acadia National Park, Maine
Home to 45 miles of carriage roads, Acadia is one of the best national parks for cross-country skiers, which makes it one of the best national parks to visit in winter. Groomed trails are equally fun for snowshoers, and you can also cross-country ski on unplowed roads — just beware of snowmobiles.
January and February spell peak ice fishing on larger lakes and ponds, while the Schoodic Peninsula is prime for birdwatching throughout the season. Another game for winter birders: trying to spot snowy owls through the leafless trees of Acadia's forests.
Channel Islands National Park, California
Off the coast of Los Angeles, the Channel Islands comprise a mild-weathered park popular with scuba divers, kayakers, hikers, and campers year-round. But there are a few annual occurrences that make it one of the best national parks to visit in winter.
December kicks off gray-whale-watching season, which runs through March, as well as pupping season for northern elephant and harbor seals. Late January marks the start of wildflower season, particularly on the Santa Barbara, Anacapa, and San Miguel Islands. And winter sunsets are legendary in Channel Islands National Park to boot.

A version of this article was previously published on November 7, 2018, and was updated on October 20, 2022, with more information.