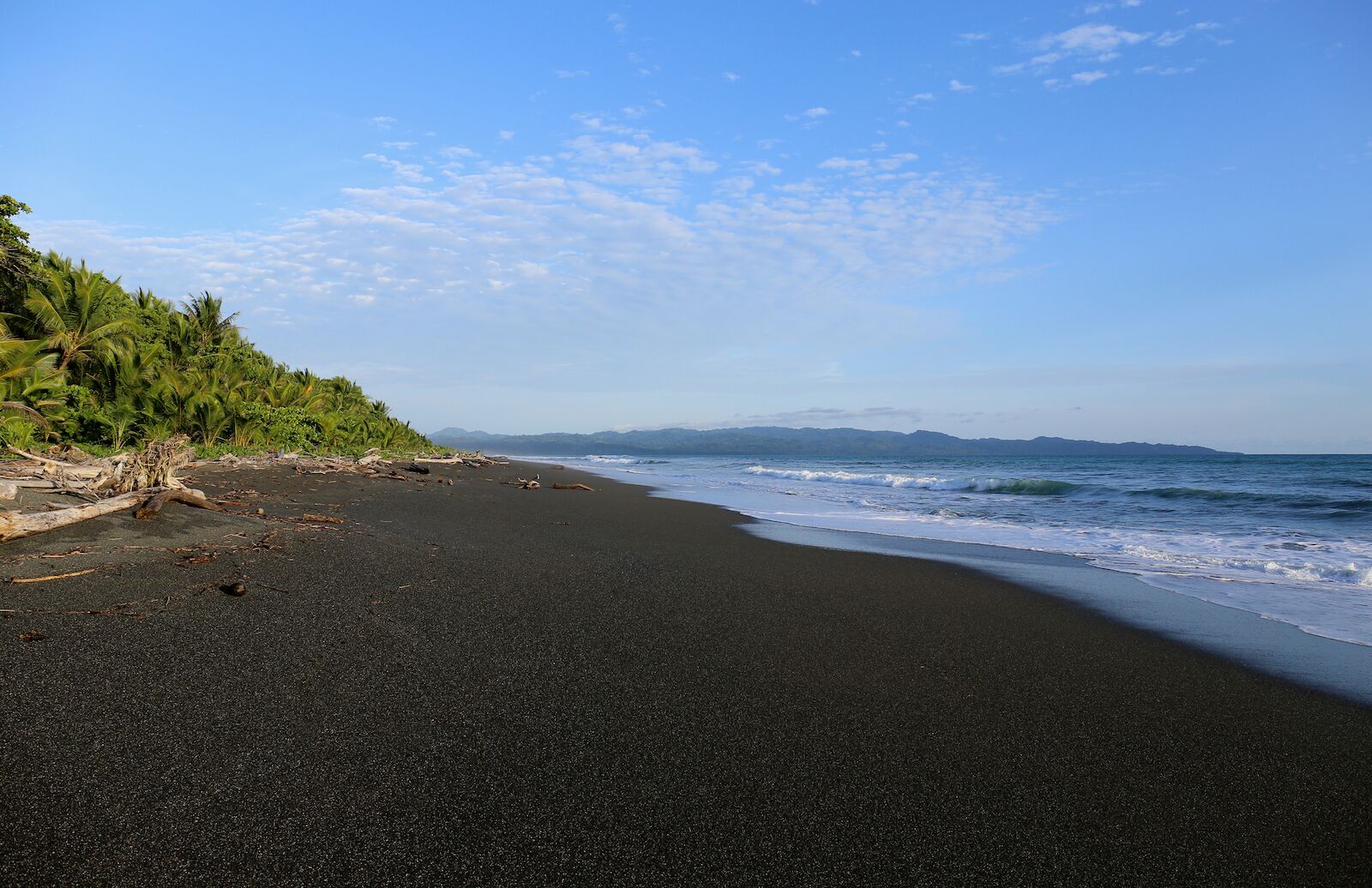 No two beaches in Costa Rica are alike. There are quiet coves for relaxing, peaceful stretches to admire the wildlife, or swell-lapped shores that beckon surfers. The color of the sand also varies — from pearly white to silvery black, the product of eroded lava, basalt, and other volcanic minerals. Since Costa Rica's many volcanoes bisect the country across its middle, their inky deposits have created black sand beaches on both the Pacific and Caribbean coasts. There are many black sand beaches in Costa Rica but these seven are our favorite ones.
Playa Carbón, Guanacaste
Just north of the busy beach town of Tamarindo lies a small beach cove that is part of the Las Baulas National Marine Park, a reserve for leatherback turtles. It's called Playa Carbón, or Carbon Beach, and it may just have the blackest sand of any beach in the country.
Unlike other black sand beaches in Costa Rica where volcanic deposits occasionally mix with the cream-colored sand made from eroded quartz and other rocks, in Playa Carbón the two sands seem to remain side by side — or one atop the other. If you dig under the lighter black sand, which is sifted by ocean current, you might find heavier white sand underneath. The black sand at this secluded cove has so much iron oxide that it is actually magnetic.
2. Playa Negra, Guanacaste
An hour's drive south of Playa Carbón lies Playa Negra. While both beaches are named for their dusky hues, they couldn't be more different. While at Playa Carbón the black and white sands don't seem to mix, at Playa Negra the waves that batter the beach ensure they do, making for a beach with murkier beige gray tones.
The waves also attract surfers. Fortunately, Playa Negra is big and it has waves for every level of surfer — so beginner surfers needn't feel intimidated. In fact, you can find plenty of surf camps there. If you prefer to exercise on dry land, yoga studios abound, including the Playa Negra Surf Centre.
3. Playa Montezuma, Nicoya Peninsula
Montezuma is one of the loveliest beaches in Costa Rica, a semi-circle of slate-toned sand backed by verdant jungle. You'll find a lot of hiking here, with the most popular option being the three waterfalls hike that takes you to a series of linked, cascading falls. While the uppermost waterfall is about 15 feet tall, and hikers can jump into its refreshing pool, the next one is a more daunting 40-feet tall, and the final one plunges nearly 80 feet.
The entire area at the southern tip of the Nicoya Peninsula in the northern part of Puntarenas province is worth a visit, as Montezuma is also a picturesque village with a hippie vibe and several resident artists. You can snorkel, zip-line, and even stay in a treehouse at Ylang Ylang Resort. You can visit plenty of other beaches as well, like Las Manchas and Las Rocas.
4. Playa Hermosa, Jaco
Playa Hermosa is not just one of our favorite beaches on Costa Rica's Pacific Coast. It's also celebrated as a World Surf Reserve, a place where local governments and surfers have worked together to preserve the coastal environment that nurtures not just marine life but also wonderful, naturally made waves.
And the sand really is dark here. So after you've surfed on some world-class waves, be careful coming out to the beach. That black sand absorbs the sun's heat and can be very hot. It's best to leave some flip-flops on the shore waiting for you. The waves get big here, so if you're not an experienced surfer, you might want to just stay on your beach towel. You can watch the surf pros in action instead — maybe even during one of the many surf competitions hosted here.
5. Playa Matapalos, Northern Puntarenas
In Costa Rica's Central Pacific Coast lies a little-known beach called Matapalos, not to be confused with beaches of the same name in Guanacaste Province or on the Osa Peninsula. Matapalos is a pleasant escape from the busier beaches of nearby towns like Uvita and Dominical and it's only a thirty-minute drive to Manuel Antonio National Park, one of our favorite national parks in Costa Rica.
The beach is a long, pleasant stretch of charcoal-colored sand that lends itself to long walks. Surfers know this beach, but pretty much no one else does. And gentle waves can be found, so if you've rented a board in Dominical, Matapalos might be a good place to catch a few slow rollers.
6. Playa Pavones, Southern Puntarenas
At the southern end of the Pacific Coast, not far from the border with Panama, lies Playa Pavones, which looks like a strip of slate dust backed by thick, green jungle. Things feel wilder and more remote here, and there's plenty of wildlife. A walk on the beach — or under the canopy as you head back to your car — could introduce you to several types of monkeys, among them the always audible howler monkeys. You may spot sloths and even skittish coati, as well as several species of birds.
Playa Pavones is best known for its surfing, but the wildlife is also unbeatable, lying as it does across the Golfo Dulce from the Osa Peninsula, with its many national parks and a massive concentration of protected land. It gets pretty rainy down here, so consult our tips on when to visit Costa Rica for which activity and come during the Pacific dry season from December to April.
7. Playa Negra, Limón
Not to be confused with Playa Negra in Guanacaste, this Playa Negra is actually on the Caribbean side of Costa Rica — so it's best visited in September and October. This isolated expanse of black sand extends so far that a stroll to one end and back will take up an afternoon.
Playa Negra lies next to Puerto Viejo, one of our favorite towns on Costa Rica's Caribbean coast, rich in Afro-Caribbean culture and also home to Costa Rica's Indigenous BriBri peoples. You can listen to Calypso music, take an Afro-Latin Dance Class, or participate in a chocolate tour through a cacao forest, followed by a chocolate tasting. It's now known that chocolate was first cultivated in Central America before it was later adopted by the Aztecs in present-day Mexico.