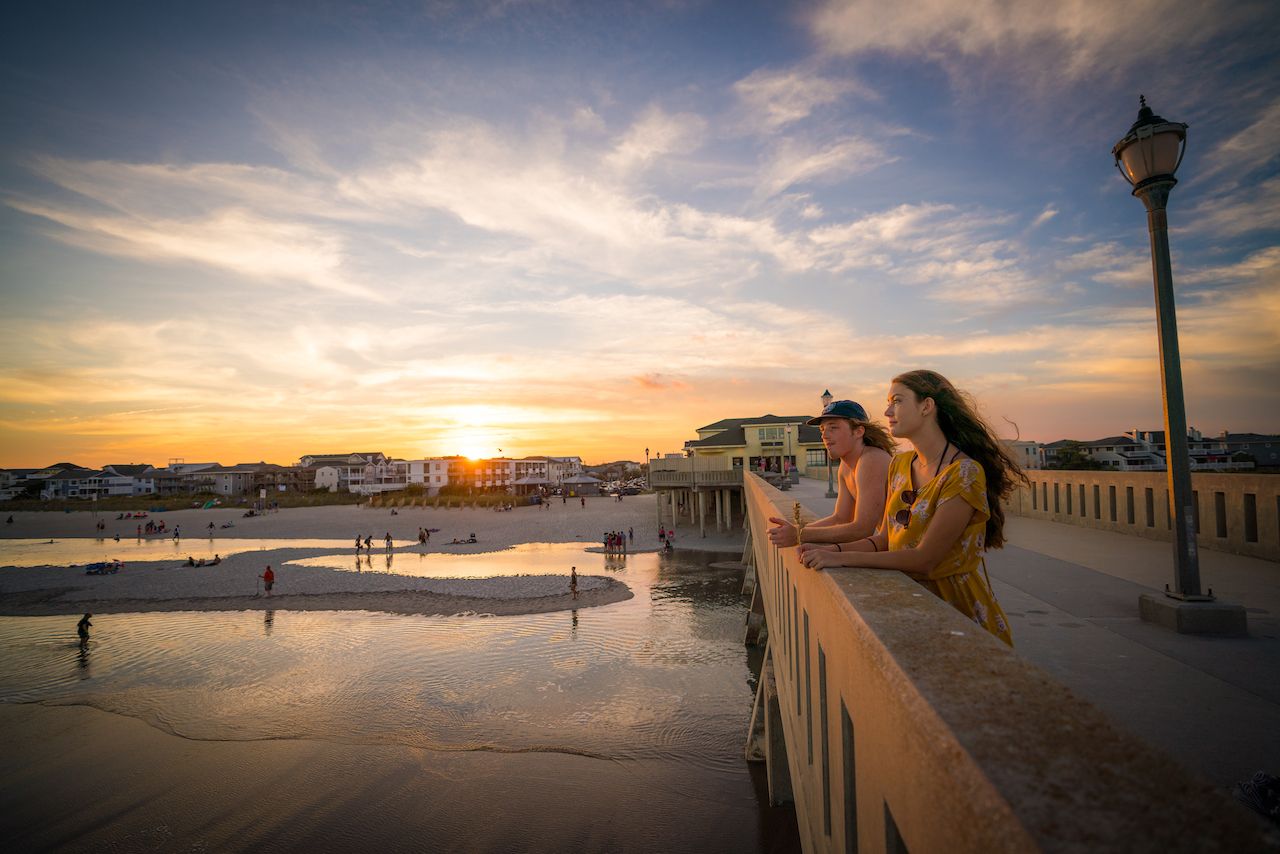 Right now is the ideal time to fall in love with Wilmington and its island beaches — or, for return visitors, to uncover all that's new since you were last in town. If mild weather and the open seashore aren't enough to tempt you, turn your eye to the festivals, fairs, flotillas, and fall happenings that are sure to reveal the magic of the area. Pack a bag and get ready for a trip that'll have your social feeds — and your body and mind — flooded with likes and loves.
1. Fall is celebrated with kites, rare beers, and more.
Riverfest — a beloved street fair — returns for three days in October to bring together artists, musicians, and, of course, chefs to celebrate the Cape Fear River and life in Wilmington. Beer hounds will also want to keep October's Voracious Rare Beer Festival and Lighthouse Beer & Wine Festival on their radar so they can sample some hard-to-find bottles from brewers both local and across the state.
The first weekend in November, head to Kure Beach for the Cape Fear Kite Festival to gaze at flying and floating kites of all shapes and sizes. Then, kick off Thanksgiving weekend with the NC Holiday Flotilla at Wrightsville Beach, a nighttime lighted boat parade that culminates with fireworks over the water.
2. The city's got nearly 300 years of haunted history to explore.
Scare up a good time with the whole family on the Halloween Ghost Trolley downtown and GooseBumps in the Grove at Poplar Grove Plantation. On the Ghost Trolley, you'll hear the eeriest Wilmington tales, while Poplar Grove Plantation's craft fair and carnival gets a spooky twist — but both events keep it kid-friendly.
Adults 21 and up can join the Haunted Pub Crawl and enjoy some spirits with their spirits or board the Battleship NORTH CAROLINA Ghost Hunt USA. The latter is a perennial sellout (so get those tickets now!) on one of the most haunted ships in the U.S.
And don't miss the Ghost Walk of Old Wilmington, which blends the beauty of the historic district — Wilmington's city roots run back to 1739 — with ghost stories and haunted tales that show the destination in a new light.
3. The coastal trails are suitable for beginners and beautiful year round.
You don't need hiking boots on the Sugarloaf or Flytrap trails at Carolina Beach State Park or when you're hiking Fort Fisher's Basin Trail. Instead, tennis shoes will do — along with your camera — as you pass through the beautiful coastal landscape from river to ocean to dune to an up-close look at the endemic Venus flytrap.
Meanwhile, your running or even walking shoes will serve you just fine on the Wrightsville Beach Loop and along the urban trail that circles Greenfield Lake. Awe-inspiring gardens worth a wander await at the New Hanover County Arboretum and Airlie Gardens, too.
4. You can take a nature, history, or even pirate tour.
Cape Fear Riverboats delivers sightseeing, sunset, and nature-focused tours along Wilmington's riverfront. For cruising with a side of pirate lore, history, and nature, try Wrightsville Beach Scenic Tours. Or, you and 19 of your closest friends can charter the M/V Shamrock for a private boating experience that's tailored to your preferences. One option is to drop anchor at Masonboro, a coastal barrier island accessible only by boat, where you can swim, fish from the boat or the shore, hike around the island, and hunt for seashells.
Back on terra firma, Tasting History Tours reveal the stories and flavors of Carolina Beach and Kure Beach in a delicious afternoon. And in Downtown Wilmington, Springbrook Farms' horse-drawn carriage tours lead you through the historic district, where you can also take a self-guided film tour of "Hollywood East," visiting film and TV locations from 1980 to today.
5. There's more than a little night music.
Well-known bands make Wilmington a frequent stop, playing intimate shows at Greenfield Lake Amphitheater and packing the house at the 7,000-person Live Oak Bank Pavilion at Riverfront Park.
But don't miss the local acts performing at venues such as Satellite Bar and Lounge, Bourgie Nights, The Palm Room, and Carolina Beach's SeaWitch Café & Tiki Bar. Bars like The Blind Elephant and Earnest Money & Sons bring in artists who amplify their cocktail-cool vibes.
6. The dining scene is world-class yet cozy…
At Seabird, Savorez, and South Beach Grill you'll find fish, shrimp, crabs, oysters, and more served up as ceviche, in elegant reimaginings of Southern classics, and in simple dishes that let the seafood shine. Dive into the fresh catch while watching the waves roll in on the pier at Wrightsville Beaches' Oceanic. Port Land Grille's upscale steakhouse feel brings the best of the land and sea together (with an exceptional wine list to boot).
Locals have their favorite spots, and among them is the Thai and pan-Asian Indochine, where a lush outdoor patio-garden-dining room is the perfect place for a meal. The Green House gives veggies the five-star treatment with "wow"-worthy vegan dining. And Mariposa serves Spanish tapas in a cozy setting in addition to being a great launchpad for exploring the neighborhood.
Guy Fieri's Diners, Drive-Ins, and Dives has found tempting treats in and around Wilmington. Sweet n Savory Cafe delighted him at breakfast, lunch, and dinner. The Fork n Cork drew him a map to flavortown with its fantastic burgers and to-die-for duck wings. The Copper Penny's handhelds and wings had him diving in for seconds, and the blend of Southern and Latin cuisines at nearby Ceviche's showed off remarkable flavors in every dish. And don't forget the Cali-inspired tacos from Nollie's Taco Joint — they hit the spot every time.
It doesn't matter which of the Wilmington and Beaches towns you visit — you'll always find options for satisfying your hunger. Hit up Kure Beach, where Jack Mackerel's Island Grill serves up Caribbean-inspired flavors, or Carolina Beach, where Hang Ten Grill, Salt Fish, and Havana's will tickle your tastebuds with fresh local seafood. In Wrightsville Beach, chow down on a burger at Poe's Tavern or dive into something coastal at Shark Bar & Kitchen before you take a stroll on the sand.
7. …and always changing.
This year, there's even more to sink your teeth into with two exciting additions to the dining scene. Kipos Hellenic Cuisine, the new coastal outpost of Giorgios Bakatsias, prolific restaurateur and perpetual James Beard Award nominee, serves next-level Greek food. Local seafood and produce, an intriguing wine list, and plenty of classics appeal to any and every appetite.
And soon you'll be able to enjoy Olivero, courtesy of Chef Sunny Gerhart, a 2022 James Beard Award semifinalist for "Best Chef Southeast." This nontraditional take on New Orleans cuisine will bring the city's Spanish and Italian flavors together with local produce, seafood, and house-made pasta.
8. New attractions have hit the coast.
Wilmington and Beaches is constantly changing, upgrading, and tossing in more local color and flavor. Here are some of the newest additions to look for:
It's a magical time to visit Wilmington and its beach towns. Get here when you can, and you'll surely find something new.