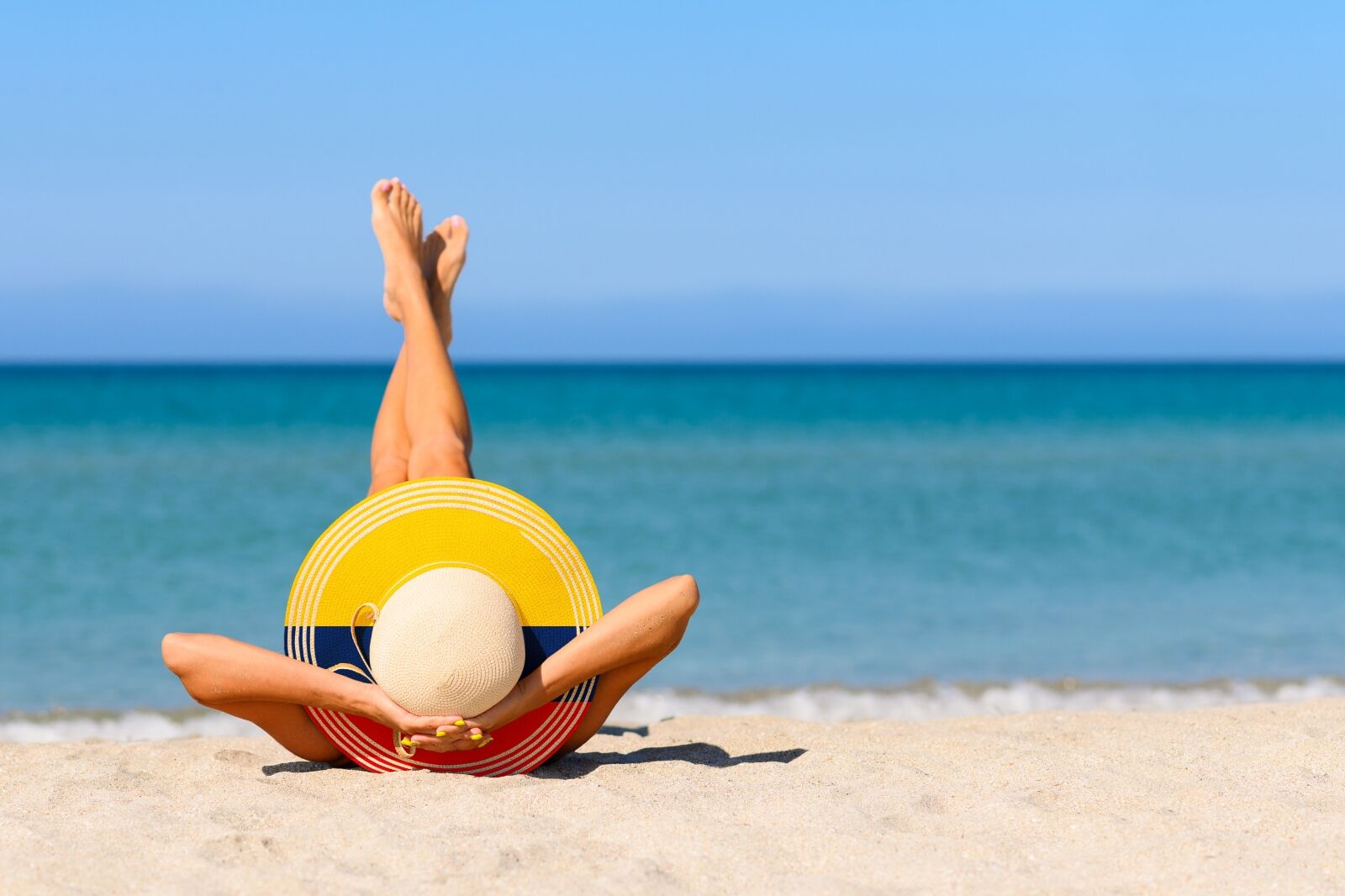 A fairy-tale castle city of cobblestone streets and pastel-colored cathedrals, Cartagena also happens to be perched right on the edge of the glimmering Caribbean sea. What that means for visitors is that besides all the epic dining, nightlife, and historic sightseeing, a variety of glorious beaches also lie just outside of the historic walls of the city. And while the Cartagena beaches are easy to access, they pale in comparison to the white sands and sapphire waters of Baru, Tierra Bomba, and especially the Rosario Islands, a series of coral reef islands located just a short boat ride away from the Cartagena harbor. These tropical islands add another element of choice when planning a coastal vacation to the region.
These are the most beautiful beaches in Cartagena for every type of traveler, so you can make the most of your precious beach time.
Most romantic beach: Bendita Beach
Tucked under a canopy of trees overlooking crystal clear turquoise waters is Bendita Beach. Also known as Isla Bendita, this private enclave is one of the smallest of the Rosario Islands. In fact, you can walk around the entire thing in 15 minutes.
Bendita Beach has a long bar of white sand that stretches out into the sea, which means the water is shallow enough to play far into the ocean. There's a romantic beachfront bar serving cocktails, and the onsite restaurant specializes in freshly caught fish served with coconut rice and veggies. Access to the beach is tightly controlled, which makes this one of the most exclusive beaches you can visit in Cartagena.
How to get to Bendita Beach: Bendita Beach is a 45-minute boat ride from Cartagena, and although most tour vendors offer a day trip to the island, you can also book directly from its website and ensure that you have a seat on one of the island's own fleet of high-quality boats. The day trip includes round-trip transportation, lunch at the island restaurant, and the use of all facilities, including the canopy beds.
The island also offers a handful of rustic but luxurious cabanas where you can spend a night or two, but meals must be pre-planned and prices negotiated ahead of time.
Top party beach: Cholon
The floating bars of Cholon are legendary in Cartagena for its seven-days-a-week drinking parties. These simple thatched-roof huts sit over a sandbar, so guests can sip a coconut filled with rum while being semi-submerged in the shallow, crystal clear ocean.
Cholon is also a popular spot for people to anchor yachts and join the party, which often turns into a pretty wild reggaeton- and liquor-fueled affair. On the beachfront itself, there's a variety of restaurants for grabbing lunch or snack foods.
How to get to Cholon: The island is a common stop on many beach tours and snorkeling trips on a multi-destination itinerary to the Rosario Islands from Cartagena. Another option, if you plan on visiting nearby Baru, is to pay a local to scoot you over on their boat. This will allow you more time to hang out and get your party on. Or, even better, if you are interested in sailing the islands and have experience, you can charter a yacht for the day from Cartagena harbor.
Best family beach: Gente del Mar
On Isla Grande, the largest of the Rosario Islands, Gente del Mar is a resort complex home to several gorgeous cove-style beaches with powder sugar sands and iridescent blue water.
With volleyball courts, great snorkeling and other water sports to enjoy, this is an excellent beach to bring the little ones to for a safe island escape from the city. If the weather is poor, there's a video game zone at the resort to keep the kids occupied. The onsite restaurant serves an extensive menu including the house special ceviche and kid-friendly items like pizza and chicken tenders.
How to get to Gente del Mar: Gente del Mar operates its own day tour from the Cartagena harbor that includes the use of all resort facilities, as well as a three-course lunch and a welcome cocktail. But it's also a great place to chill out for a couple of days with your loved ones. The onsite hotel offers a variety of options, including a family suite that sleeps five and opens onto the garden grounds.
Best budget beach paradise: Playa Blanca
The most popular and economical beach tour from Cartagena takes visitors to Baru, home to the long swath of gorgeous white sand known as Playa Blanca. This beach is popular with locals and visitors alike. Although the water is not as clear as it is out on the Rosario Islands, it has a beautiful turquoise blue Caribbean hue to it that is absent on the urban coastline.
How to get to Playa Blanca: Because there's a simple bridge connecting Baru to the mainland, you can get to Playa Blanca by bus tour. An organized trip takes around 1.5 hours each way and includes a simple lunch at one of the many local restaurants that line the beach. While it is also possible to visit Playa Blanca on your own, the journey on public transport requires several transfers and is not worth it unless you plan on spending more than a day on Baru. Many of the local restaurants rent beachfront rooms for much cheaper than you will find on the Rosario Islands. Also at the far end of the beach, known as Playa Tranquilo, there's Cartagena's famous Media Luna Hostel where you can grab a cheap dorm bed right on the white sand.
Most chilled out beach: Punta Arena
The island of Tierra Bomba is frequently overlooked by visitors to the Cartagena beaches despite it being one of the closest to the city.
The island is home to several outstanding stretches of sand, many with impressive views of the city skyline over the pale blue water. One of the easiest beaches to reach, and the beach with the most services, is Punta Arena. Bars and restaurants line the white sand and service will come right to your beach chair or lounge bed.
How to get to Punta Arena: Punta Arena is a quick 15-minute boat ride from the beach in front of the Bocagrande hospital, a short taxi ride from the Old City, and even closer to the beachfront hotels of Bocagrande. The public section of Punta Arena beach can be busy with both locals and visitors in the know. At the far end of the beach, however, the Namaste Beach Hotel offers chilled-out beach beds and hammocks, which can be a little more peaceful. The hotel also offers well-priced rooms and packages for those that want to kick back for a couple of days.
Best beach for snorkeling: Isla Pirata
Another private island in the Rosario chain, Isla Pirata is covered in lush vegetation and surrounded by coral reefs that keep its offshore water calm and clear like a swimming pool. This has made the island a prime destination for those wanting to check out the underwater ecosystem of a Caribbean reef. While the swimming here is good, those that are looking for real beaches to relax and tan on are going to be disappointed as the rocky and pebbly shoreline never breaks into sand.
How to get to Isla Pirate: Snorkeling tours to Isla Pirate run from Cartagena daily and include round trip transport (about 50 mins by boat from the Cartagena harbor), lunch at a seafront restaurant, and use of snorkeling equipment.
Most LGBTQ+-friendly beach: Playa Hollywood
Located at the far end of the Bocagrande Beach, which stretches west from the Old City, Playa Hollywood is Cartagena's official adults-only public space. The wide swath of golden sand is popular with partiers and is friendly and safe for all. Like many other city beaches, the water here is far from clear and crystalline, but it is a refreshingly cool way to pass a humid afternoon.
How to get to Playa Hollywood: Playa Hollywood is within walking distance from most of the hotels in Bocagrande and a short taxi ride from the Old City.
Most local beach: La Boquilla
At the far northeastern point of Cartagena, La Boquilla is a traditional fishing village that has kept much of its charm and local traditions despite the ever-encroaching mega-hotels in whose shadows it now stands. Although it is one of the Cartagena beaches with gray sand, the green-blue water is some of the cleanest in the country and La Boquilla is one of Colombia's four certified sustainable beaches.
The wide sands host several volleyball courts and impromptu soccer games that you can join in on with locals. La Boquilla is also famous for its many beachfront seafood restaurants where casual plates are based on seafood caught in the morning.
How to get to La Boquilla: Local buses go from the Old City to La Boquilla frequently and stop just outside of the walls of the Via del Mar. There are also several cultural tours from Cartagena to La Boquilla that include a visit to the nearby mangrove forests of La Cienega, where you can enjoy excellent bird watching.