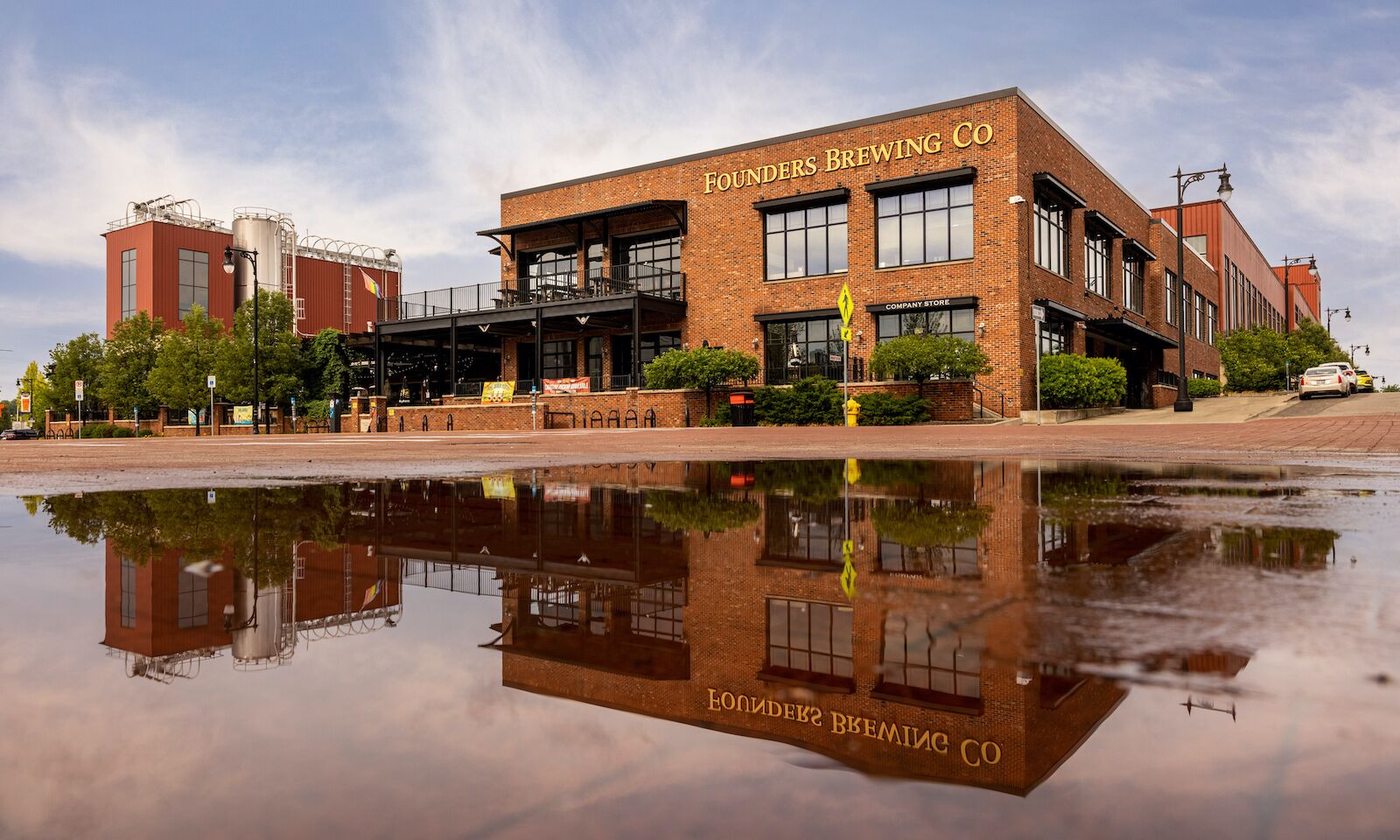 Michigan is a complicated state. On one hand, it's synonymous with water sports, romantic campfires, and the immortal melodies of Motown. On the other hand, it has experienced hardship in the form of collapsed industries and harsh winters. The result is that the people of Michigan are known for their hard working spirit and a stubborn local pride. One potential silver lining? The industrious nature of Michiganders has led to some of the best craft beer in the United States, and a tour of Michigan breweries is a necessity for beer enthusiasts everywhere.
Michiganders started brewing beer back in the 1800s. Small Michigan breweries supplied the state's thirsty workforce with beer until the heavy hand of prohibition took them down. After prohibition, wars, changing social climates, and the desire for convenient food and drink all made the post prohibition brewing industry stagnate. That was until the so-called craft beer revolution of the 1960s and 70s. Amateur brewers started experimenting with brewing beer in their garages and sharing recipes and ideas, hoping to make better beer than the big name brands, and Michigan breweries started popping up all over the state.
Starting with Bell's Brewery in 1985 and the opening of other small Michigan breweries soon after, Michigan was on the verge of craft beer stardom. Today, the state has just under 400 craft breweries, making it the sixth most brewery-concentrated state, just under Colorado and Washington. Many beer snobs and brewers argue that what makes Michigan's craft beers so special is its water, productive hop farms, and its devoted population of expert brewers striving for perfection.
Going from north to south, here are some of the best Michigan breweries, one of the best states for craft beer.
Michigan breweries everyone should know
Blackrocks Brewery
In Michigan's rugged Upper Peninsula is the college town of Marquette. Here where Lake Superior's icy squalls meet pristine forest is where Blackrocks Brewery started. Since its inception in 2010, Blackrocks has blossomed into one of Northern Michigan's largest craft breweries. Co-founders Andy Langlois and David Manson turned their hobby of home brewing into a profession after the pair fell on desperate times during the 2008 recession. Today Blackrocks' beers are sold throughout Michigan, led by its popular flagship 51K IPA.
The original nano brewery is located inside a two story former home in downtown Marquette. Here, customers can enjoy dozens of varieties, from classics like Grand Rabbits Cream Ale and Mykiss IPA to seasonal specialties like Willie O`Ree. At their popular brewery, live music and rustic fire pits complement the delicious beer. The company recently started hosting events including Sunday jam sessions where customers can grab a pint and take a seat next to the fire or relax on the outdoor swing set.
Where: 424 N 3rd St, Marquette, MI 49855
Short's Brewing Company
One of craft beer's hallmarks is its openness to experimentation. In 2002, the 22-year-old brewer Joe Short created his brewery intending to push the envelope with ingredients and bold flavors. Short and his team of friends converted a 120-year-old hardware store in downtown Bellaire into his brewpub.
Today, Short's Brewery has expanded beyond the original brewpub to include a large combination brew pub and brewing facility in the town of Elk Rapids. Today, you can find its bottles and cans throughout the state, including some of its seasonal and experimental limited releases. However, nothing compares to sampling its beer straight from the source at the original brewpub in Bellaire.
Where: 121 N Bridge St, Bellaire, MI 49615
Silver Spruce Brewing Company
What happens when two people with advanced brewing science degrees and years of brewing experience create a family and a brewery together in Northern Michigan? Pure magic. When Leah Tyrell and Scott Stuhr created their dream project in Traverse City, they looked at a former Blockbuster Video building in a rapidly developing part of downtown. The building was an iconic meetup point for locals for many years. Now Silver Spruce is a cherished addition to the already impressive lineup of world-class breweries in Traverse City.
From traditional European-style lagers, ales, and stouts to the brewery's hugely popular IPA, both fans of good craft beer and those just getting into it can find something to love. The smell of wood-fired pizza and fermenting malt, along with the rustic outdoor ambiance makes it an appealing space. Even with recent road closures and a pandemic, Silver Spruce Brewing Company remains a fixture for local fans of craft beer.
Where: 439 E Eighth St, Traverse City, MI 49686
Stormcloud Brewing Company
Every year, intense storms batter the small fishing town of Frankfort, Michigan. Protruding into Lake Michigan, its jetty and sand dunes act like a catcher's mitt for incoming storm waves, attracting surfers from all over the region, even in the depths of winter. Here in this weather hardened town is Stormcloud Brewing Company. It's the place many local surfers, fishermen, and fans of Belgian style craft beer descend on after braving the elements.
Stormcloud has been producing a wide range of dependable and delicious beers since 2013. Currently, it has two locations: a lively downtown brewpub that serves excellent flatbread pizzas, sandwiches, and salads, and the taproom and brewery up the road. Co-founders Brian Confer and Rick Schmitt opened the taproom in 2018. The space is home to the Lakehouse Ales Project, an ever changing sour program that uses local cultures and seasonal ingredients to craft sour beers.
Where: 303 Main St, Frankfort, MI 49635
Cedar Springs Brewing Company
In the quiet central Michigan town of Cedar Springs, the lively and sometimes rowdy energy of Cedar Springs Brewing attracts locals and visitors looking for great beer and a good time. For people who love German staples like Bavarian pretzels and wiener schnitzels and a fun ambiance, Cedar Springs Brewing Company can't be beat. However, its true claim to fame is its beer. Delicious German inspired pilsners, bocks, and weissbier poured fresh from the tap are consistently good.
Cedar Springs Brewing Company opened in 2013. Owner David Ringler's vision was to bring traditional German beer styles to the palettes of Michigan's growing craft beer fanatics. It's apparent when visiting his brewery and tasting his beers that he believes wholeheartedly in his mission—his job title on LinkedIn says Director of Happiness. Inside and outside, there are long tables for communal seating..
Where: 95 N Main St NE, Cedar Springs, MI 49319
Grand Armory Brewing Company
Michigan's history is a story of industrial growth, dominated by the automotive, agricultural, and lumber industries. For much of the early 20th century, towns and cities built large industrial brick buildings throughout the state. In 2015, a team of ambitious brewers created one of Western Michigan's standout craft breweries in a former Victorian Armory building in downtown Grand Haven. Today, guests enjoy a lively taproom featuring their delicious beers poured from 20 taps inside the historic building.
The brewery regularly hosts events inside their space like yoga classes and live music performances. It also sponsors charity events like the Special Olympics and the Grand River Clean Up.
Where: 7 S 2nd St, Grand Haven, MI 49417
The Mitten Brewing Company
Grand Rapids may be Michigan's premier beer city. Located in the iconic Victorian Engine house No. 9, The Mitten Brewing Company is a must visit for beer lovers. Co-founders Chris Andrus and Max Trierweiler opened their venture back in 2012. They set up their classic baseball themed microbrewery in one of Westside Grand Rapids' most historic buildings. Their mission was to bring quality craft beer to their community. Sports fans and beer aficionados crowded into their brewery, and before long, it became one of the most popular craft breweries in the city.
Besides its popularity with locals, its beers have dominated the world of craft beer. In 2013, the Michigan media company MLive Media Group listed it as "Michigan's Best New Brewery." Then, in 2016, it won a silver medal in the World Beer Cup for its English Brown Ale. In 2022, for the same international competition, it took home the gold for the same beer and a silver for its imperial red IPA. With the momentum of its success, The Mitten has recently opened two new tasting rooms in Northport and Saugatuck to the delight of craft beer fans throughout the state.
Where: 527 Leonard St NW, Grand Rapids, MI 49504
Founders Brewing Co.
The titan of Grand Rapids' craft beer, Founders has become one of the state's craft beer staples. It's hard to find a party or event in Michigan without eying someone with a Founders beer in hand. Co-founders Dave Engbers and Mike Stevens started the brewery in 1997 by opening a 9800 square foot space in downtown Grand Rapids.
The brewery would spur a movement in craft beer by aging its strong ales in bourbon barrels. The critical response was significant. In 2004, The Beer Advocate rated their Bourbon Barrel Aged Stout as the second best beer in the world. In 2011 and 2012, Rate Beer named Founders the second best brewery in the world for two consecutive years. It has since expanded into a Detroit taproom and distributes its beer throughout the country.
Where: 235 Cesar E. Chavez Ave SW, Grand Rapids, MI 49503
Tenacity Brewing
Tenacity is Flint's first microbrewery. Since its inception in 2015, Tenacity has staked its claim to success. Inside the old Grand Traverse Street fire station, the team keeps over a dozen beers on tap. Patrons crowd inside the brick building to enjoy games, live music and comedy, and a food truck. Tenacity brought great craft beer and beer culture to Flint and kept their commitment to the city, which has gained them a cult following among locals and Michigan beer fans.
Where: 119 N Grand Traverse St #5620, Flint, MI 48503, United States
Jolly Pumpkin
Ann Arbor is a college town that drinks a lot of craft beer. In nearby Dexter, brewer and owner of Jolly Pumpkin Ron Jeffries has been crafting some of Michigan's most celebrated ales, sours, and farmhouse ales since 2004.
Its beers are rustic and refined. Today, Jolly Pumpkin beers are sold throughout the United States and have won several awards over the years. Throughout Michigan, there are several Jolly Pumpkin restaurants and taprooms.
Where: 311 S Main St, Ann Arbor, MI 48104
Dragonmead Brewery
Dragonmead Brewery is a peculiar among other Michigan breweries. In between the medieval decorations, knight statues, and house banners hang various accolades, including several gold medals from the World Beer Cup and other national competitions. Since its opening in 1997 by co-founders Larry Channell, Bill Wrobel, and Earl Scherbarth, it has become one of the most award-winning craft breweries in the United States.
The Dragonmead Brewery in Warren, Michigan isn't just for fans of award-winning craft beer and medieval imagery, though. The brewery has become a favorite hangout for locals and visitors alike. The brewery has a laid back and friendly vibe with plenty of games and events to keep guests occupied. Along with good food, the brewery serves flights and pints of its world famous beer along with mead and wine.
Satélite location called dragons landing plus full kitchen from local sources. Highest quality for food.
Where: 4600 E Eleven Mile Rd, Warren, MI 48089
Bell's Brewery
No Michigan craft breweries list would be complete without including Bell's, the OG of Michigan craft beer. Since its humble beginnings, it's become one of the most successful and award-winning brands of craft beer in the United States.
In 1985, expert home brewer and homebrew supply store owner Larry Bell opened Kalamazoo Brewery. What started as a small local operation changed its name and kept evolving thanks to its popular new releases, like the cherry stout and brown ale. These beers introduced Michigan's consumers to new flavors that helped spawn a local craft beer revolution. In 1989, Bell's began distributing its beer across the state. All this change culminated in the 1992 release of its most influential beer to date, Oberon Ale, which sent Bell's into national stardom.
Where: 355 E Kalamazoo Ave, Kalamazoo, MI 49007, United States

More like this