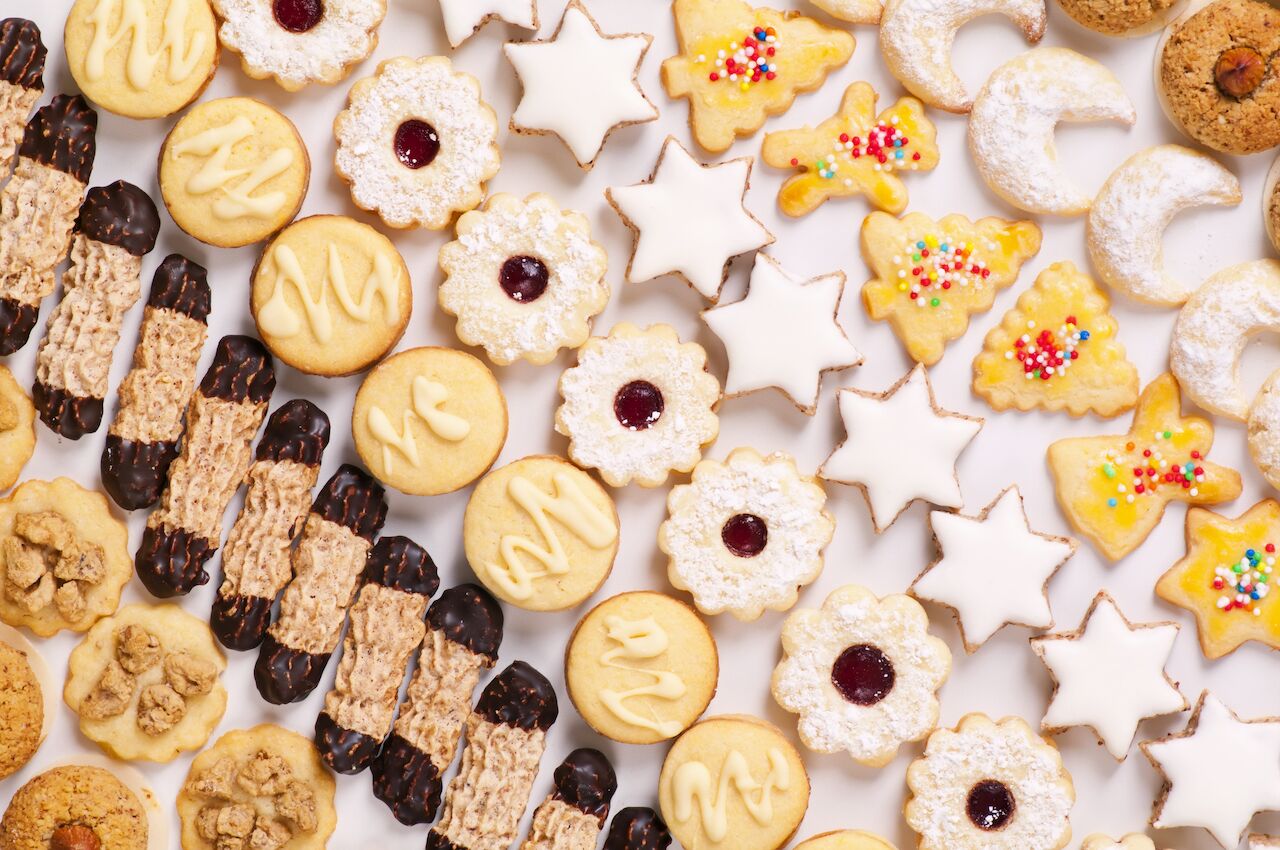 Every Christmas when I was a little girl, my godmother Judith would invite my mother and I to her home for tea. Judith visited Germany multiple times every year after studying abroad there as a high school student, and she always returned from these trips bearing goodies: German Christmas cookies fanned out a white plate and served with a pot of Sugar Plum Spice tea. My favorite were lebkuchen, a soft and chewy gingerbread-like cookie covered with a crisp sugary outer shell. I loved that satisfying pairing of textures, and the warming spices were the perfect complement to the chilly weather outside.
German people take their festive sweets very seriously. In Germany, on Christmas and the weeks leading up to it, cookies are undoubtedly the star of the dessert table. There are a number of varieties — many spiced and decorated with nuts — that accompany festive celebrations.
---
---
German Christmas cookie traditions
Preparation starts early. Making lebkuchen dough, for example, can start as early as October, explains Anja Dunk, author of the cookbook Advent: Festive German Bakes to Celebrate the Coming of Christmas. The aroma of spices and citrus fills kitchens through November and the four weeks of Advent that run up to Christmas.
Serving said cookies is done in a very particular way.
"Each time friends and family come round, a Bunter Teller (directly translated as colorful plate, and in this instance a colorful plate of biscuits) is shared around," Bunk says. "This plate should include as many variations in texture and flavor as possible. You can expect delicious spiced lebkuchen, cinnamon stars with snowy frosting, coconut macaroons, vanilla-scented crescent moons, bite-sized marzipan confections, and jelly filled rings. As guests leave it's [customary] to send them home with a tin filled with these delights to enjoy in their own homes."
These 11 varieties of German Christmas cookies, and the story behind each one, will add festive cheer to your holiday feasts regardless of where you are.
Just so you know, Matador may collect a small commission from the links on this page. Listed prices are accurate as of the time of publication.
1. Kipferl
These crescent shaped shortbread cookies dusted with powdered sugar have a distinct vanilla flavor. Traditionally, kipferl are made with ground almonds, walnuts, or hazelnuts to add a layer of nutty flavor. The texture is pleasantly soft with each bite because of how much butter is in these cookies. Their simple appearance is deceptive, as the flavors are delicate but deep. You'll often see them served with coffee and tea, as is the tradition in Austria, Germany's neighbor to the south.
2. Lebkuchen
These gingerbread cookies are spiced with cinnamon, ginger, cloves, and nutmeg — festive flavors from around the world that are synonymous with the holiday season. Lebkuchen are soft and chewy on the inside, and most versions include that signature hard outer layer of sugar glaze that makes for a satisfyingly crunchy first bite. Some versions of lebkuchen are filled with pieces of candied oranges or ground hazelnuts or almonds.
Lebkuchen was likely first baked by monks living in Franconia, Germany, in the 13th century. Today, Nuremberg (which is located in the Franconia region) is still the number one exporter of lebkuchen. Nuremberg is home to the Lorenzer Forest, a paradise for flowers that attracted bees, which in turn produced honey — the central ingredient in lebkuchen cookies.
3. Kokosmakronen
Coconut macaroons are popular all over the world, including Germany and the Netherlands, where they're known as kokosmakronen. This simple cookie is spiced with a touch of cinnamon, and the shredded bits of coconut are held together by a light and chewy meringue. Served with coffee and tea, coconut macaroons add a slightly tropical flavor to the Christmas season.
4. Zimtsterne
These cinnamon stars are another spiced Christmas cookie prepared with almond flour and sometimes decorated with slivers of almonds. Like lebkuchen, zimtsterne cookies are soft, chewy, and glazed with icing. Cinnamon is the predominant flavor, complimented by a hint of orange zest.
Recipes for cinnamon stars began appearing in German cookbooks in the 18th century.
5. Bethmännchen
Bethmännchen cookies showcase rich almond flavors through marzipan and a decoration of three almond halves. According to the most popular origin story, Bethmännchen first appeared in Frankfurt. The wealthy Bethmann family commissioned a French pastry chef to run their kitchen. He created the bethmännchen cookie — which means "little Bethmanns" in honor of the family's four sons — and, appropriately decorated each cookie with four almond slices. According to legend, after one of the boys died, bethmännchen cookies were decorated with only three almonds, a tradition that remains in place today.
6. Pfeffernusse
The name of this cookie translates to "pepper nut," which refers to the addition of white pepper in the dough that gives pfeffernusse its spicy kick. Like several other German Christmas cookies, pfeffernusse are reminiscent of gingerbread, and once baked, the mound-shaped cookies are covered all around in a shell of sugary glaze.
Pfeffernusse are especially popular on December 6, during celebrations that welcome St. Nicholas. In Germany, children receive oranges and nuts on this day to signify that St. Nicholas has deemed them "nice" children.
7. Hausfreunde
These crispy, buttery cookies are works of art. Hausfreunde consists of three layers: The top layer is dipped in chocolate and topped with a walnut, while the other two are covered in apricot jam and almond paste. The name hausfreunde means "friend of the house," which might be a reference to the fact that guests are treated to these delightful cookies when they stop by on Christmas.
8. Springerle
These elaborate cookies hail from the Swabia region of Germany, where they were first prepared to celebrate religious holy days. Anise-flavored springerle are part of a long tradition of bildergebäcke — German pastries that feature pictures, sometimes of royalty, biblical scenes, or coats of arms. According to German blogger The Daring Gourmet, the name springerle means something like "little jumpers," a reference to the way that the cookies rise while baked.
Today, simple designs like flowers and birds are common. But back in the 14th century, when springerle were first introduced, The Daring Gourmet writes that the elaborate molds used to decorate the cookies were also an opportunity for bakers to showcase their wood carving skills. Originally intended as good luck charms passed out during religious celebrations, today they appear in German homes throughout the Christmas season.
9. Spritzgebäck
Like hausfreunde, spritzgebäck are buttery and crisp. Sometimes piped into its signature "S" shape, or into neat spirals, spritzgebäck also sports a distinct ridged appearance. One end of the cookie is often dipped in chocolate as well. Usually made with a cookie press that creates the exact design and shape of traditional spritzgebäck, these cookies are known for their delicate, dry texture.
10. Spitzbuben
These flower shaped sandwich cookies are dusted with powdered sugar and filled with red currant or raspberry jam. Sometimes also known as hildabrötchen, these cookies are just as popular in Switzerland as they are in Germany. One interpretation of spitzbuben is that the name means "mischievous child," a reference to the fact that some bakers punch three holes into the cookie, so that its surface resembles a face.
11. Spekulatius
Spekulatius, or speculaas as they are known in The Netherlands, are a spiced German and Dutch cookie, which usually takes the shape a windmill. Especially popular around Christmas and Advent, the month before Christmas, spekulatius are spiced with cinnamon, ginger, cloves, cardamom, nutmeg. This crispy shortcrust cookie is often compared in flavor to gingerbread or Biscoff cookies.
What is the most popular cookie in Germany?
The most popular Christmas cookie in Germany is lebkuchen. Lebkuchen are a soft and chewy gingerbread cookie that is distinctive for its crunchy sugar glaze that adds a touch of crunch to the cookie when you bit into it.
What is the most popular Christmas dessert in Germany?
The most popular Christmas dessert in Germany is probably the many different varieties of Christmas cookies. However, another beloved Christmas dessert in Germany is called gebrannte mandeln, or candied almonds. Candied almonds are a must-try snack at German Christmas markets, where you will likely see lots of kids running around with paper cones stuffed with these sugar-coated nuts.
What is the difference between lebkuchen and pfeffernusse?
The difference between lebkuchen and pfeffernusse is that the latter tends to be smaller and completely coated in a white glaze. Lebkuchen refers to many different types of German gingerbread cookie, although it tends to just have a thin top coating on top to give it a crispy bite. Pfeffernusse, which means pepper, points to its key ingredient — alongside the typical cinnamon, ginger, cloves, cardamom, nutmeg spices, the cookie is also spiced with black pepper. It's typically smaller and rounder than other types of ginger bread cookies, and completely coated in a white, hardened sugar glaze. Sometimes nuts and orange peel are also added to pfeffernusse for another layer of flavor.
Where can I buy German Christmas cookies?
People can buy German Christmas cookies at Christmas markets, and online retailers like Taste of Germany. German Christmas cookies, including lebkuchen, can also be found on Amazon.