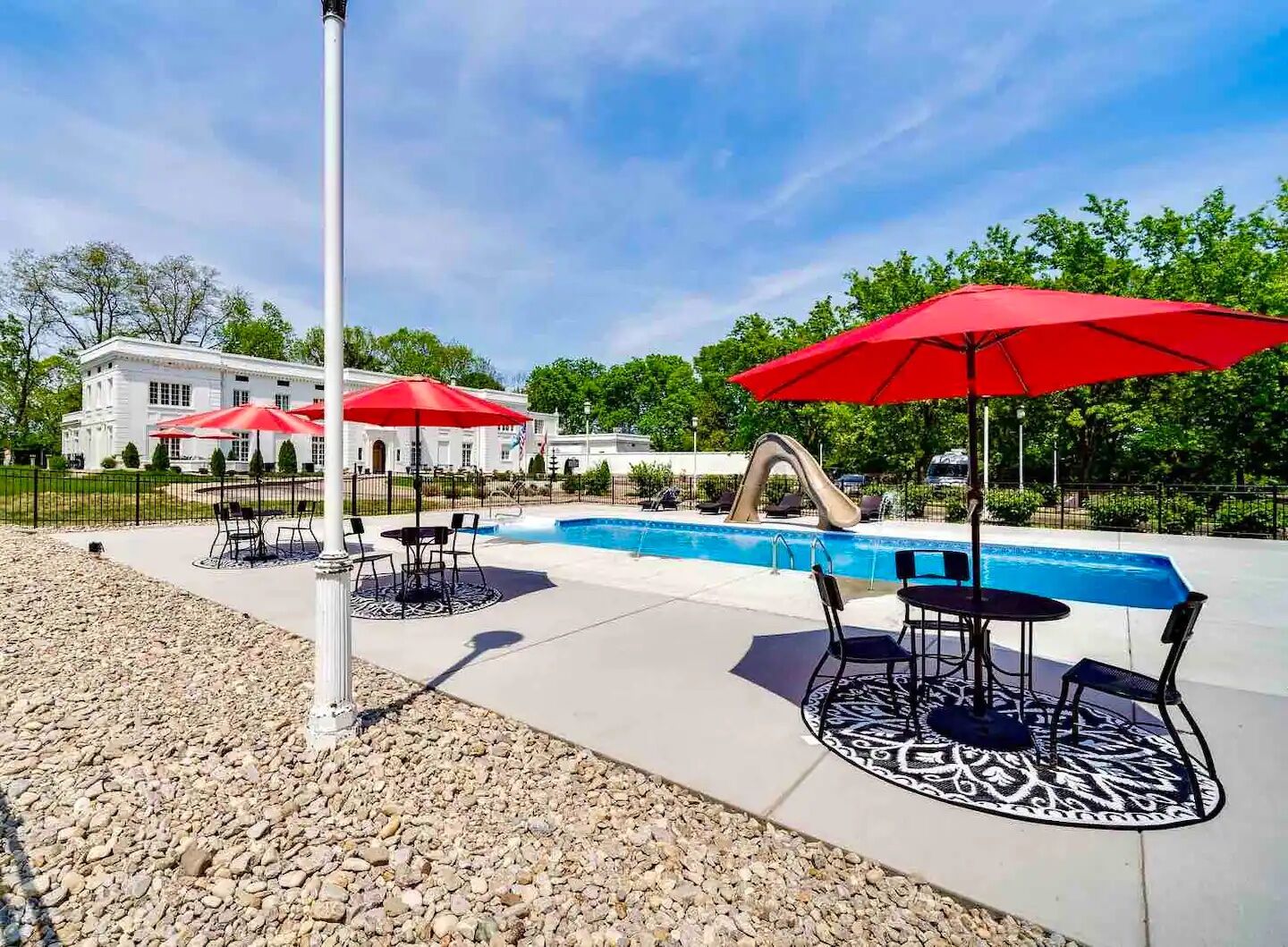 Famed for its breweries and moreish chili, you could easily spend a long weekend sampling the best brews and bites while stadium-hopping in Cincinnati, Ohio. Downtown throngs with museums, galleries, and markets, with riverside paths and vast parklands making it a doddle to hit your daily steps quota. Cincinnati's accommodation scene has exploded with fashionable lofts and unique stays. Here are the best Airbnbs in Cincinnati, Ohio, that place you moments from Cincy's best sights.
Matador's

guides to

the best of Airbnb Categories:
We hope you love the Airbnb Cincinnati vacation rentals we recommend! Just so you know, Matador may collect a small commission from the links on this page if you decide to book a stay. Listed prices are accurate as of the time of publication.
One-of-kind and mansion Airbnbs in Cincinnati
The Swing House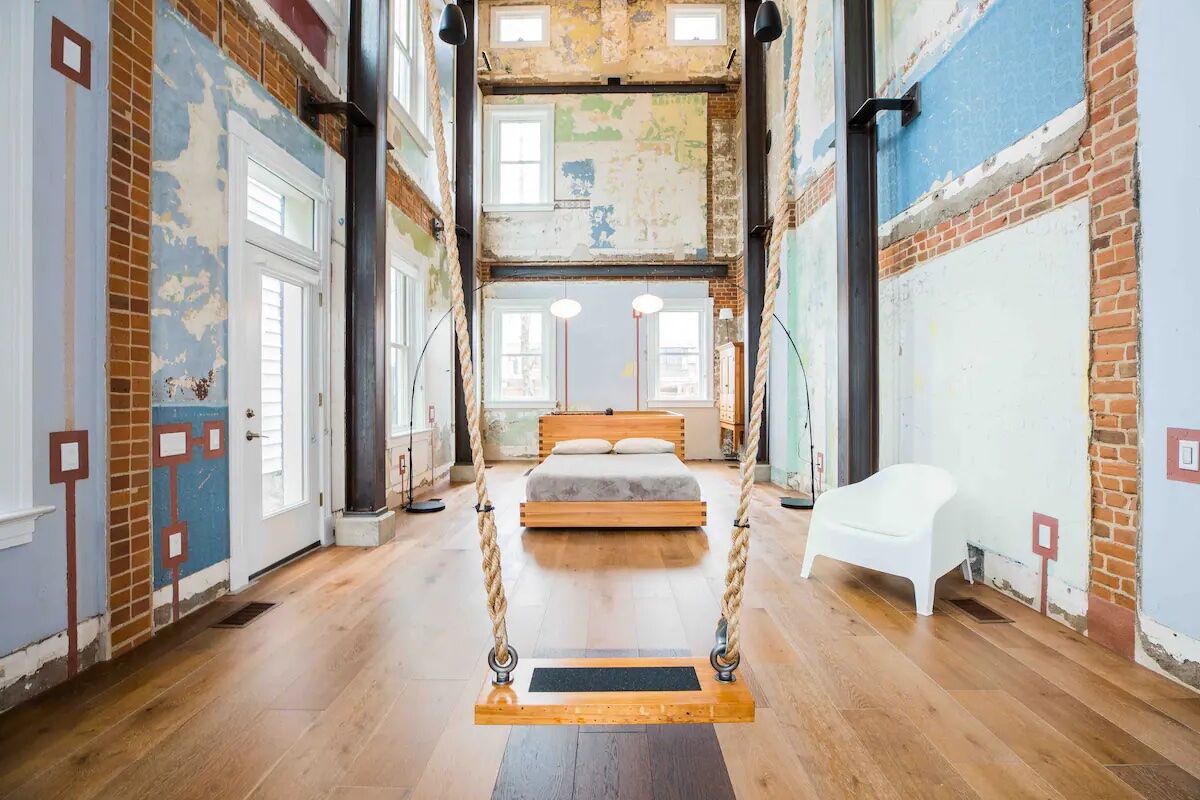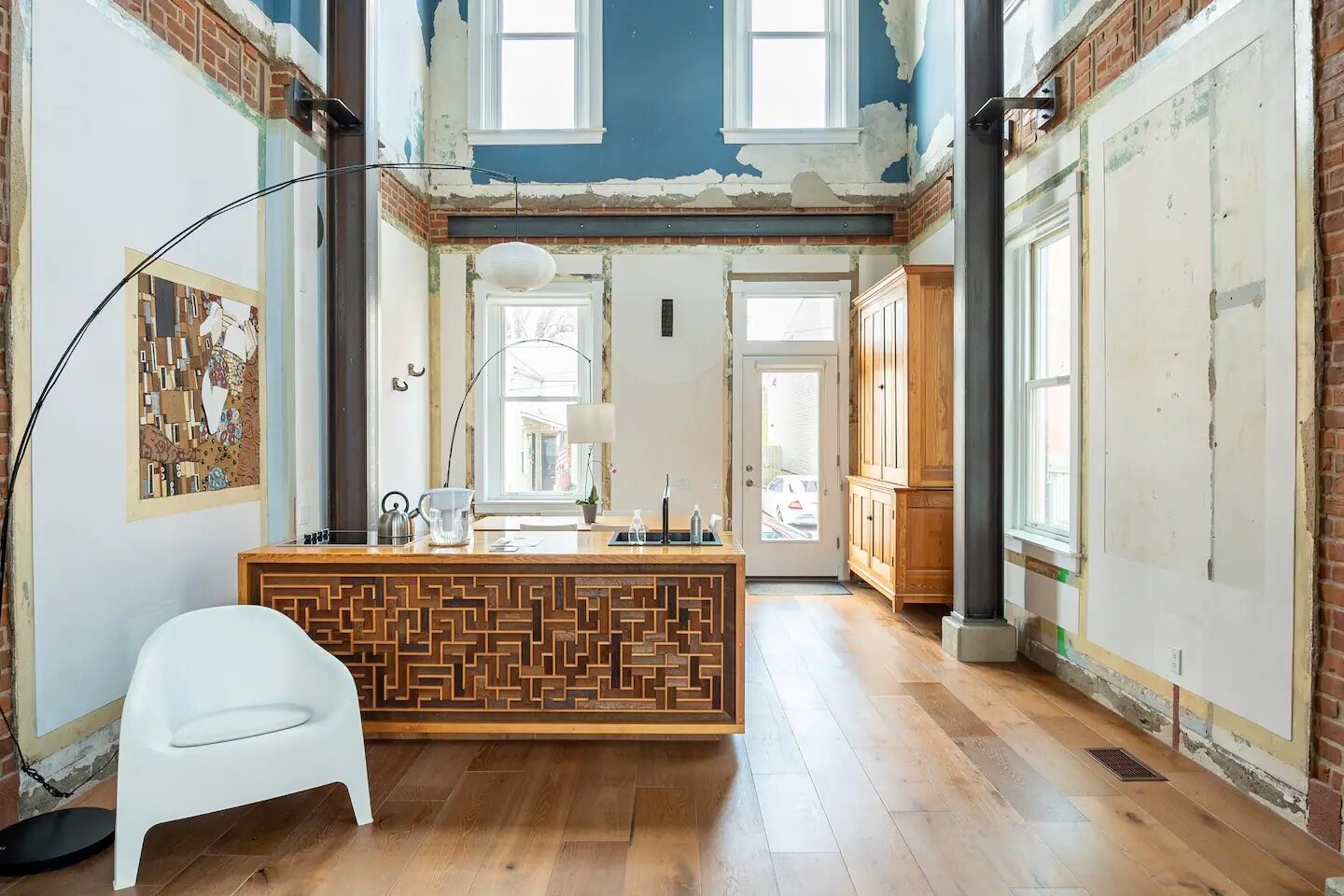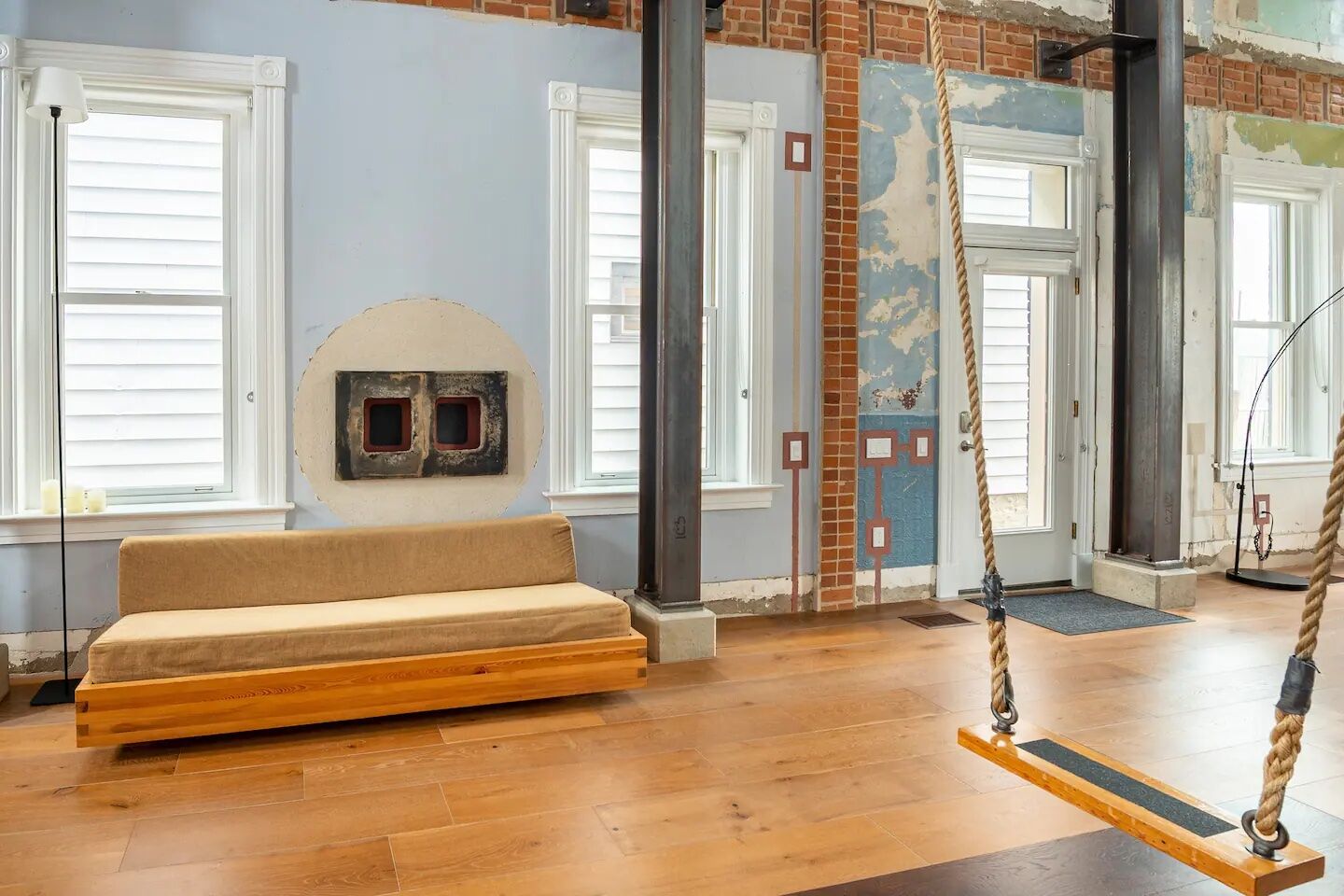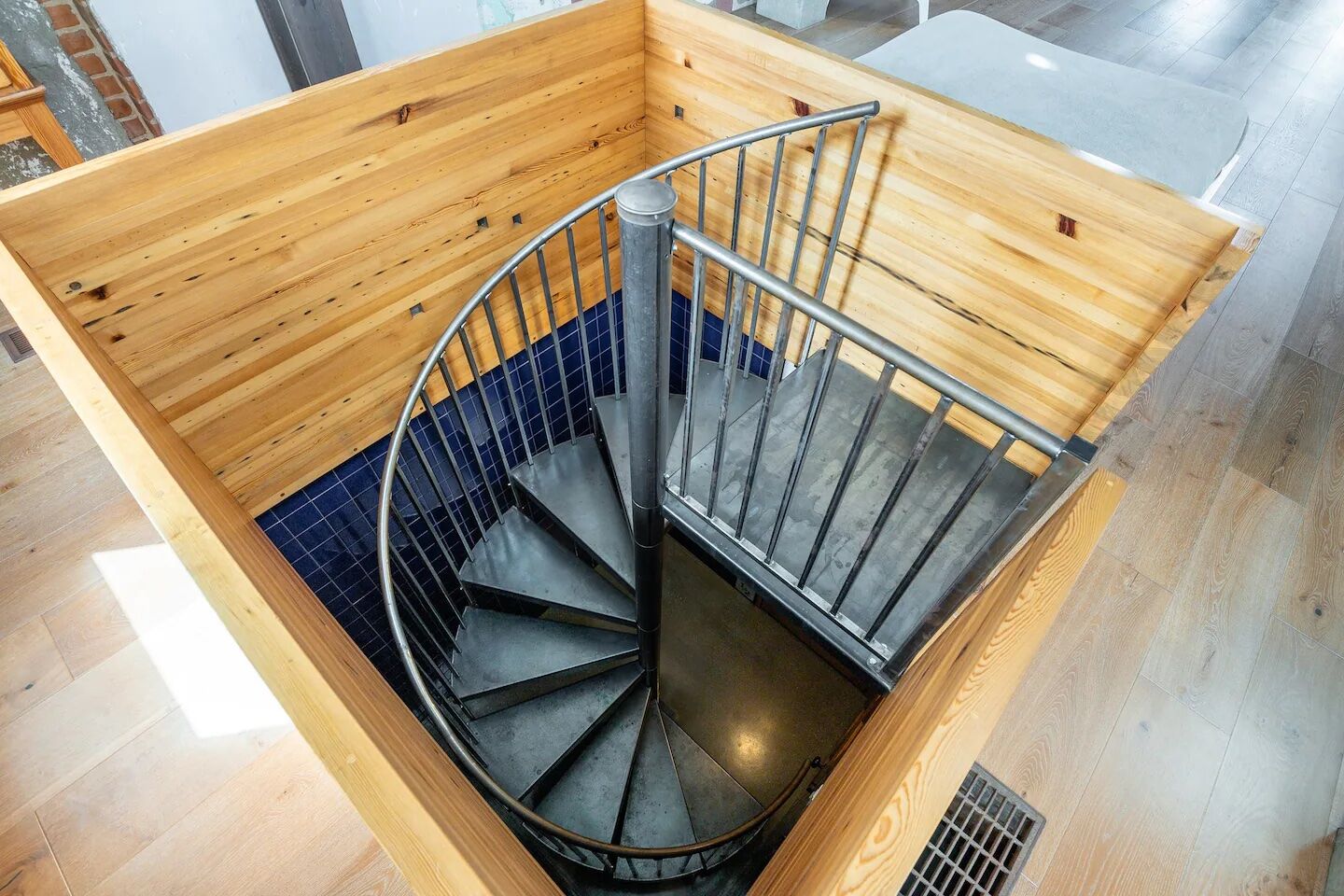 Conceived for the young at heart, the "Swing House" Airbnb in Cincinnati, Ohio, features a whimsical swing in the center of the space. This free-standing townhouse was remodeled to create a bespoke layout with most floors and walls removed and the absence of conventional interior design. In keeping with the theme, all furnishings float – or appear to. Meanwhile, the basement exhibits materials salvaged from the renovation. Kitchen amenities are basic but the backyard is perfect for al fresco picnic dinners.
Two guests, one bedroom
Price: $236 per night
Extraordinary historical church rehab near TQL/OTR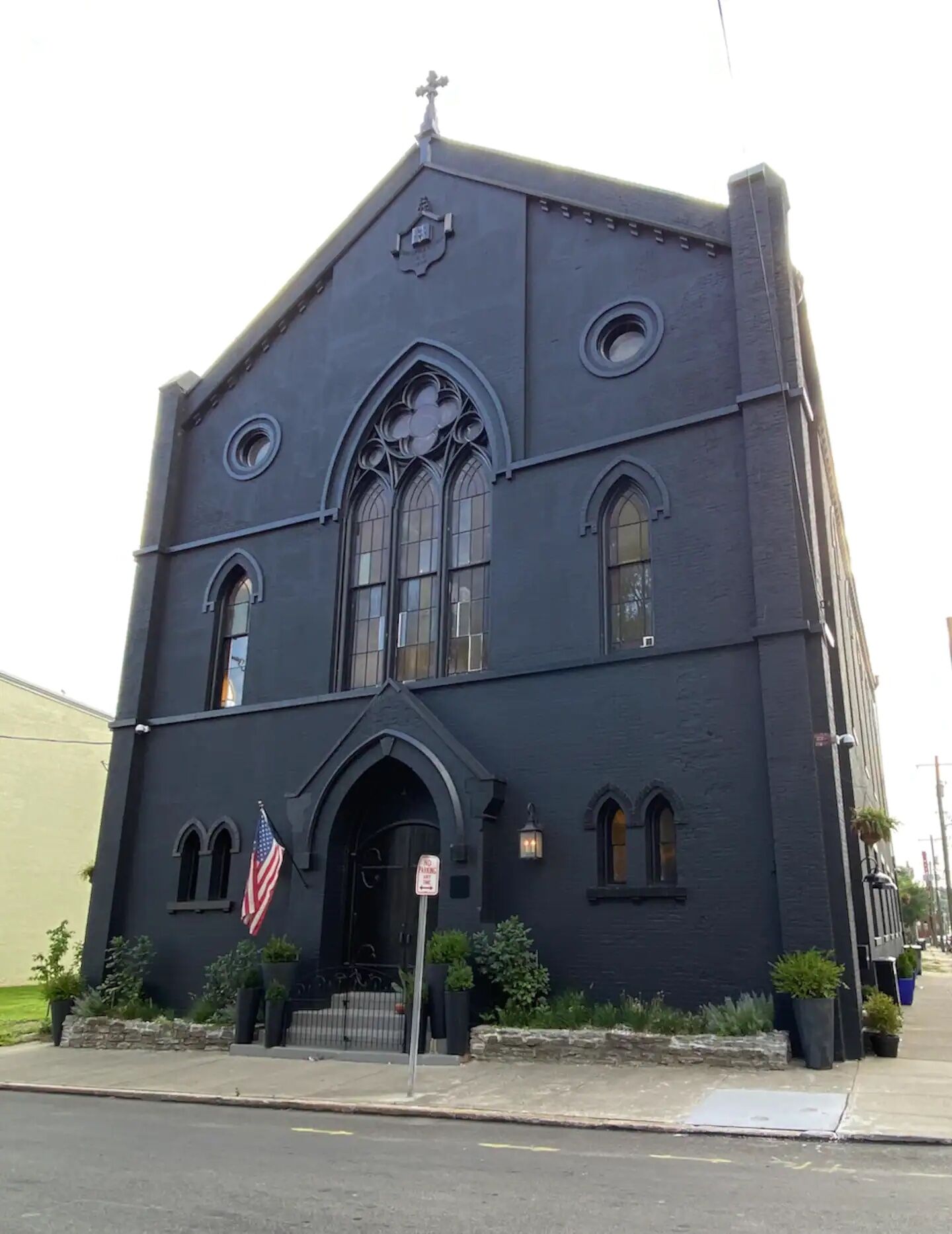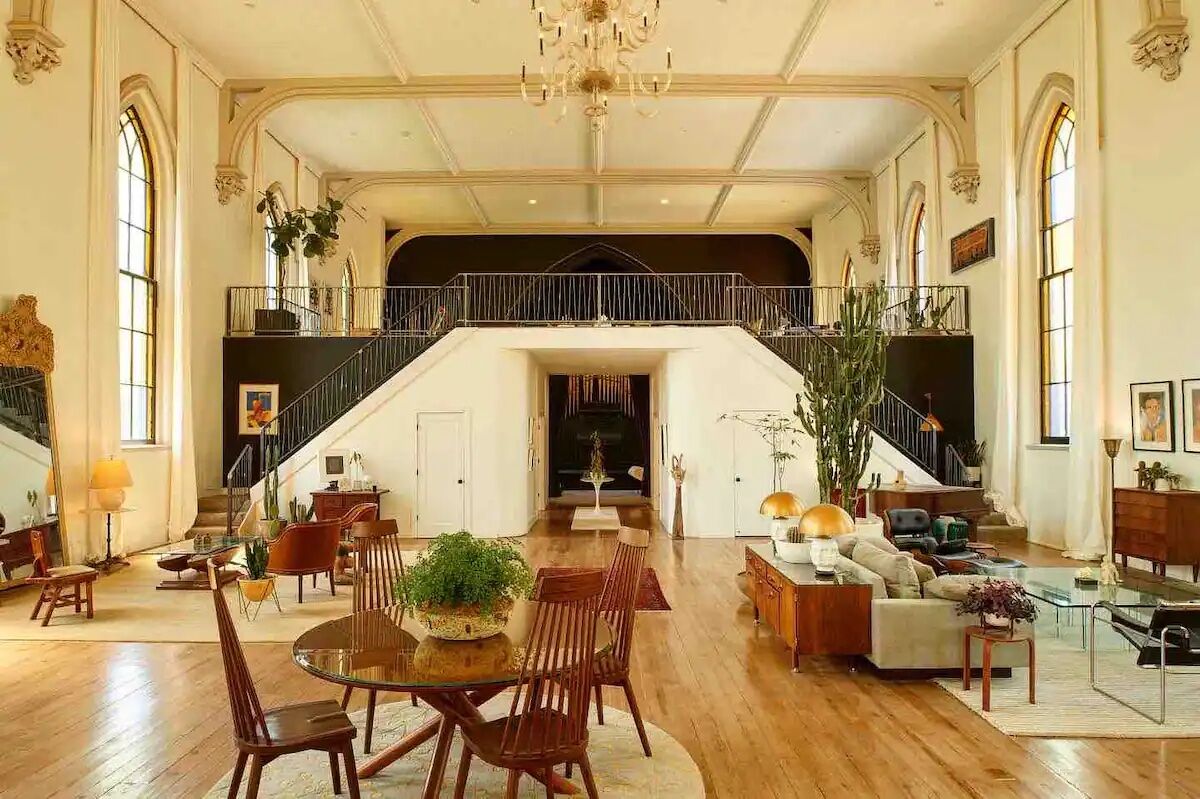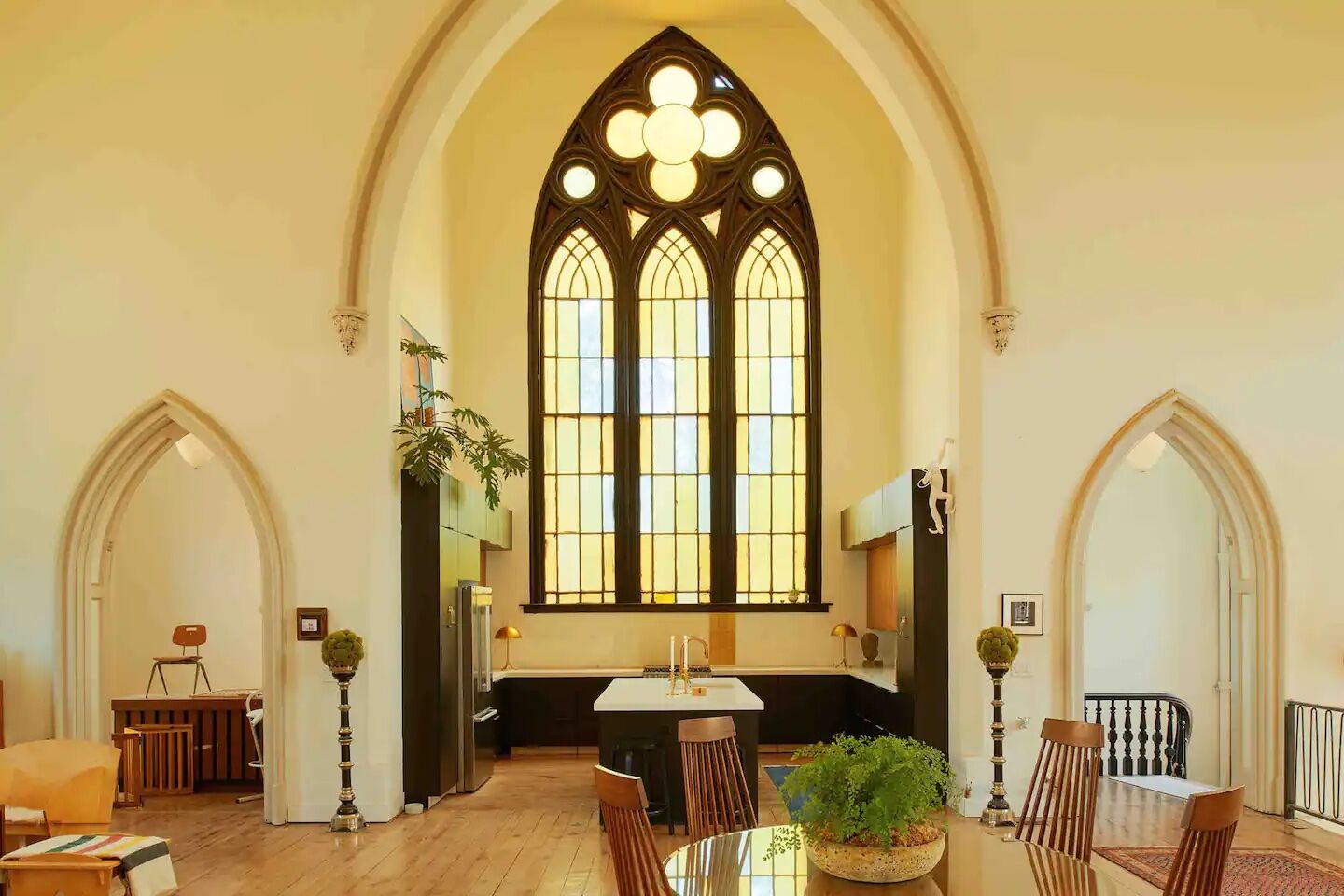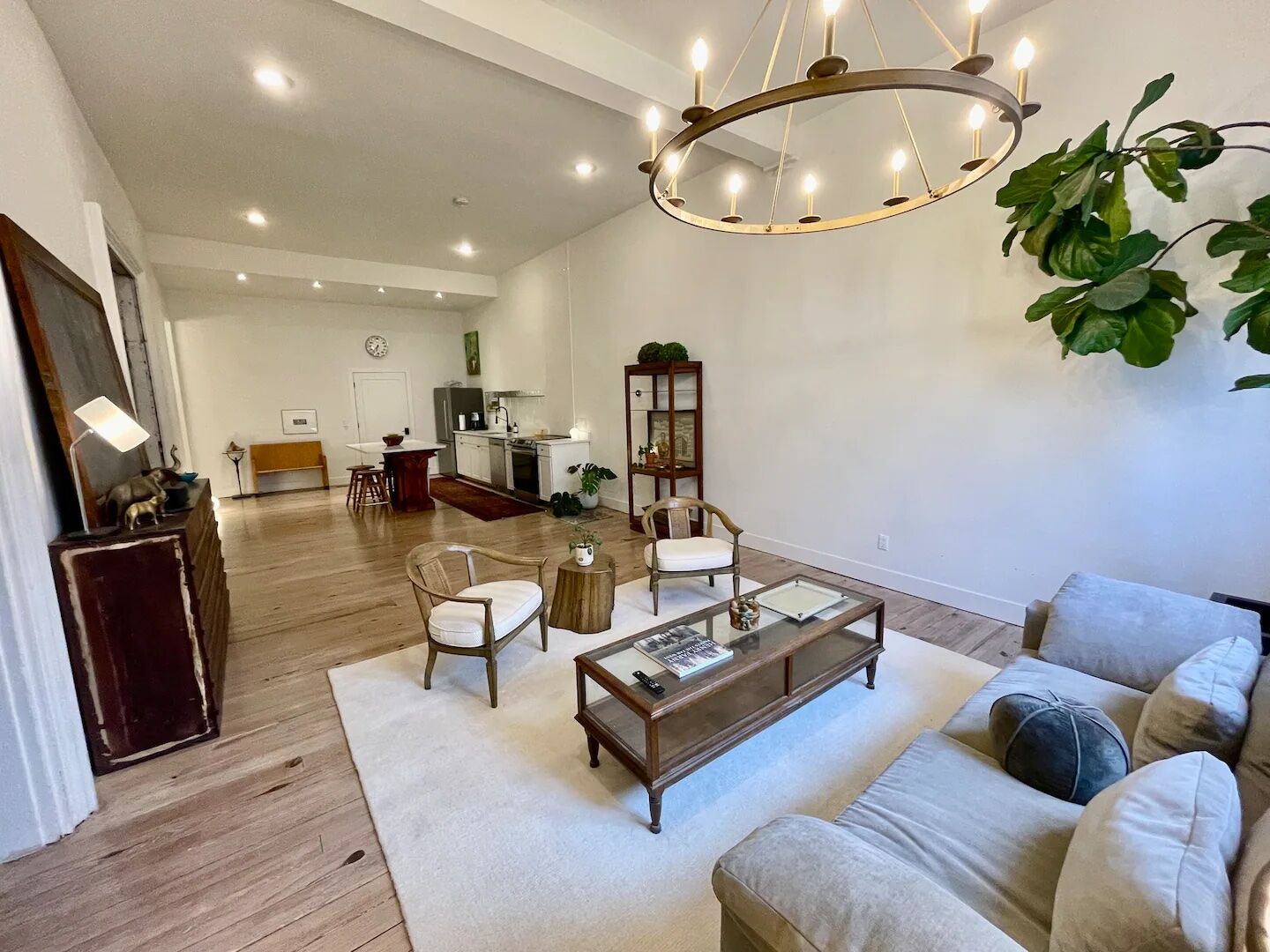 This 19th-century church in Over-the-Rhine was beautifully reimagined as one of the most unforgettable downtown Cincinnati Airbnb vacation rentals. What was once the nave is now an open-concept living area with original cathedral windows complete with stained glass. A modern kitchen unit alongside three sophisticated bathrooms adds practicality while bedrooms are dressed with contemporary linens and homely touches.
Eight guests, three bedrooms
Price: $1,199 per night
Unique 1917 mansion with outdoor pool on 6 acres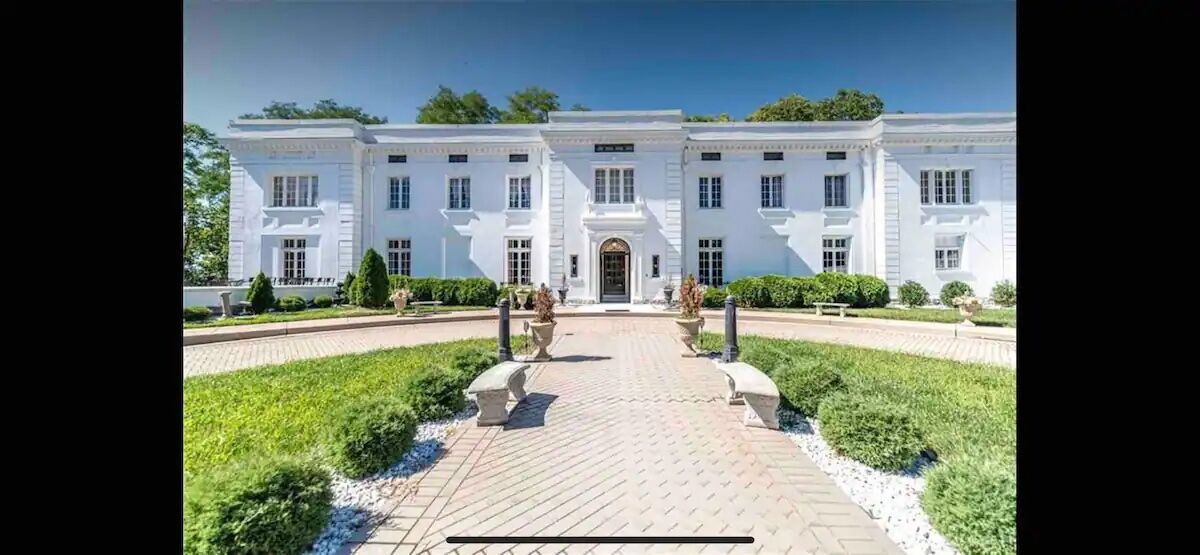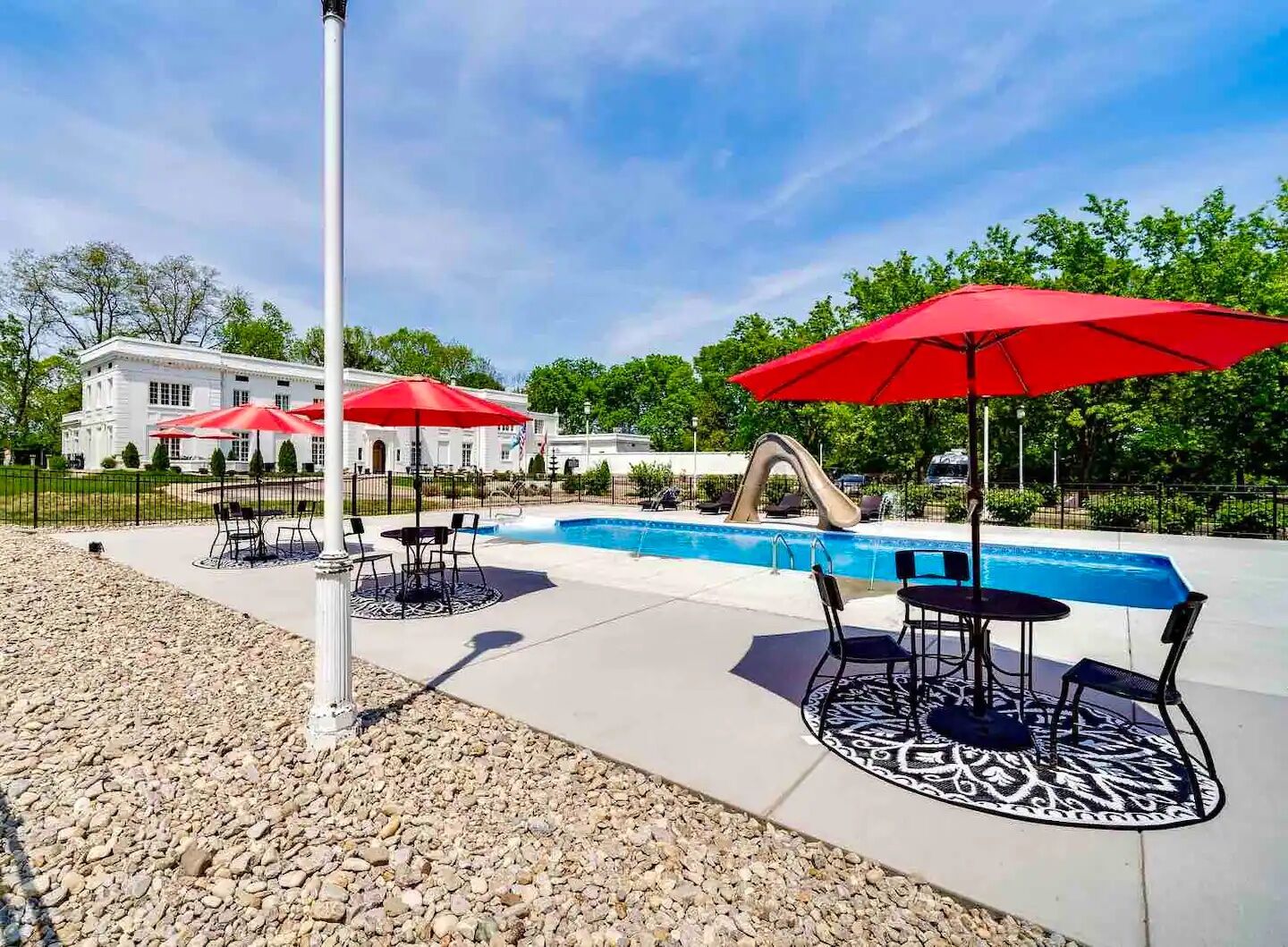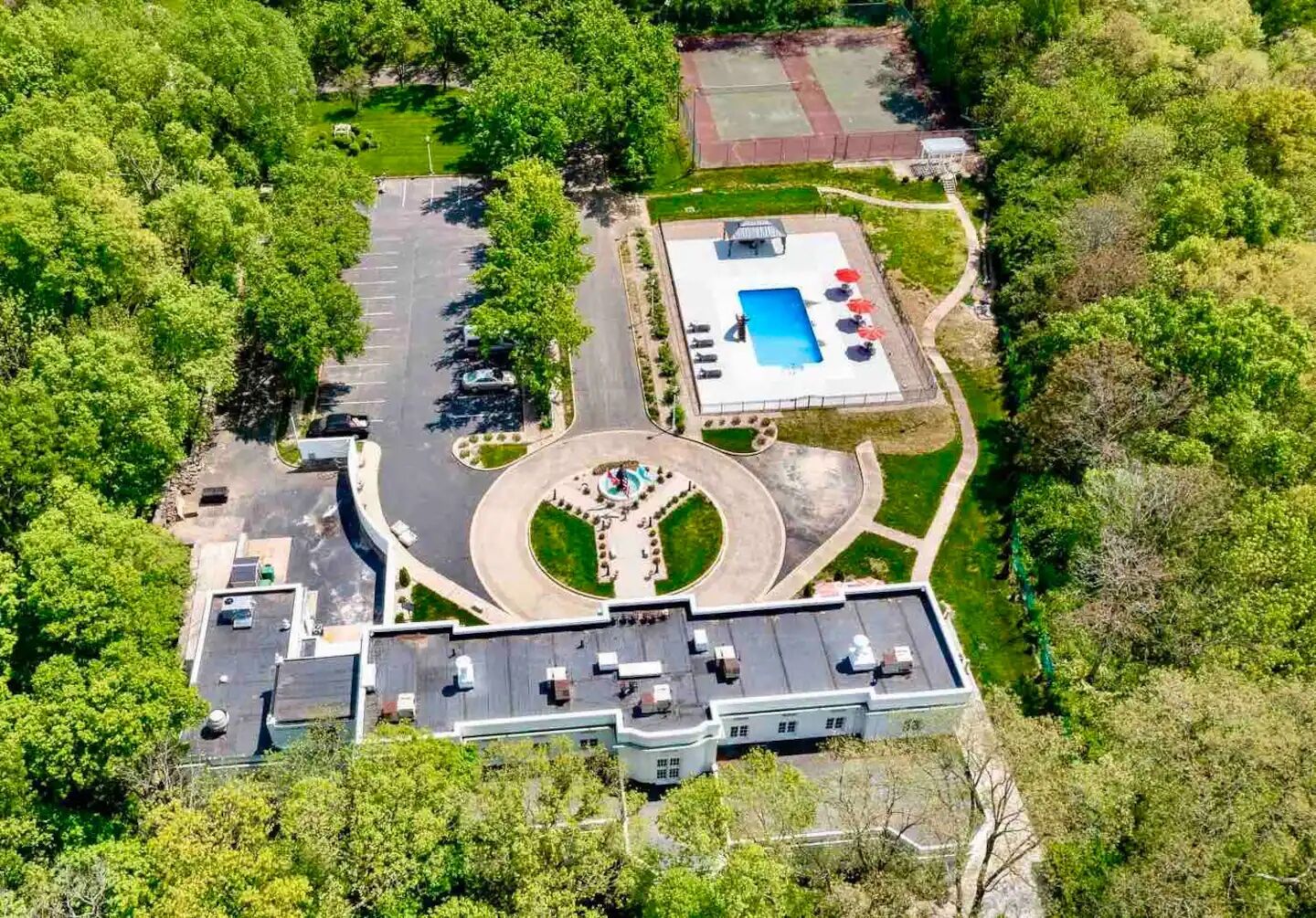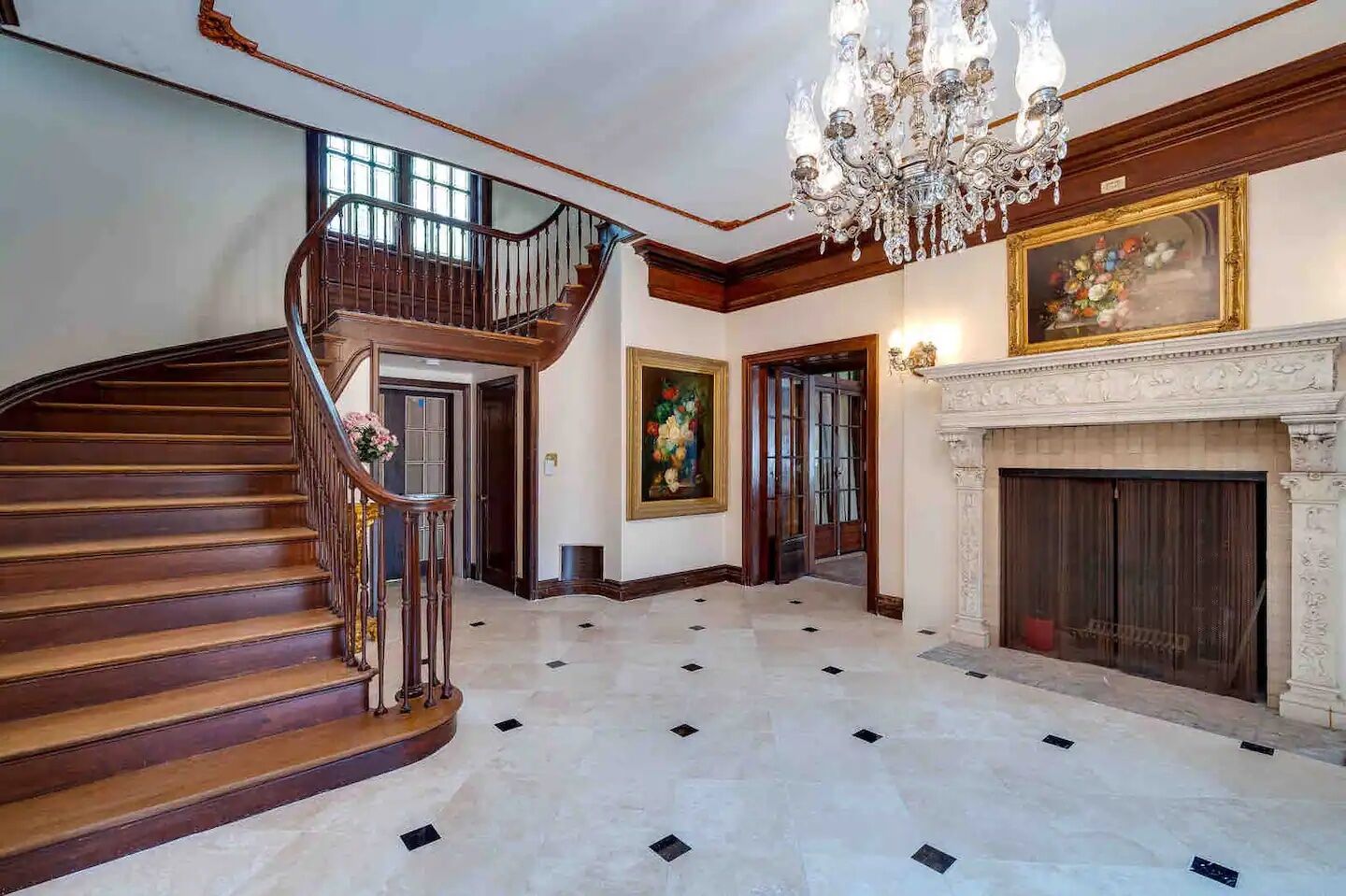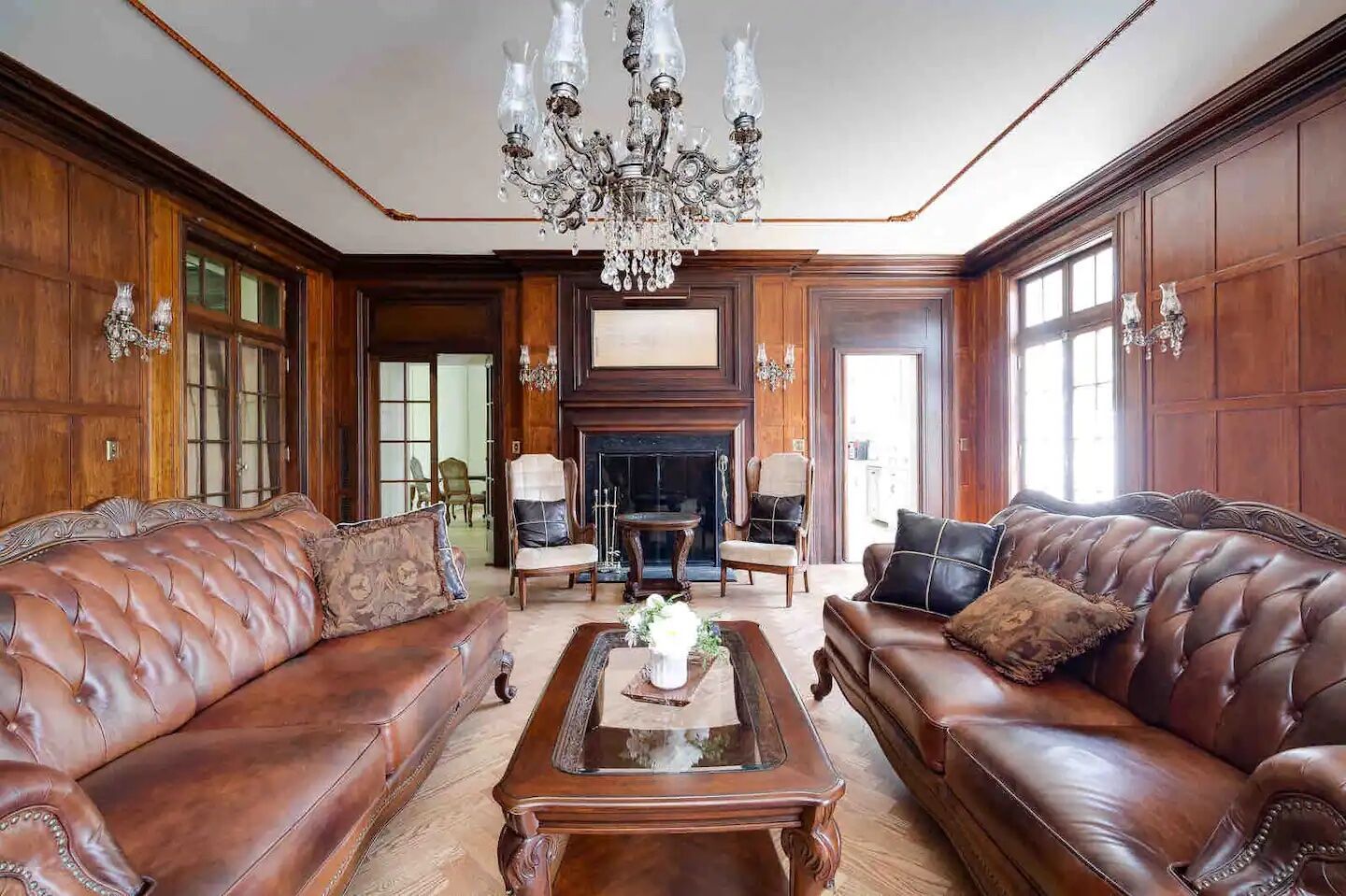 Constructed in 1917, this gleaming property has hosted Eisenhower, FDR, and the King of Belgium in its time. But now, it's your turn to call this Cincinnati Airbnb mansion with a pool your home away from home. Highlights of the manor include the wood-paneled sitting room and the library. Scrub up in the bath with views over the estate or retreat with a book to the vintage claw-foot tub. Outdoors, you'll find the private pool with a waterslide and a tennis court.
Sixteen guests, nine bedrooms
Price: $899 per night
Airbnbs in downtown Cincinnati
The Lounge – walk to OTR, Reds Stadium!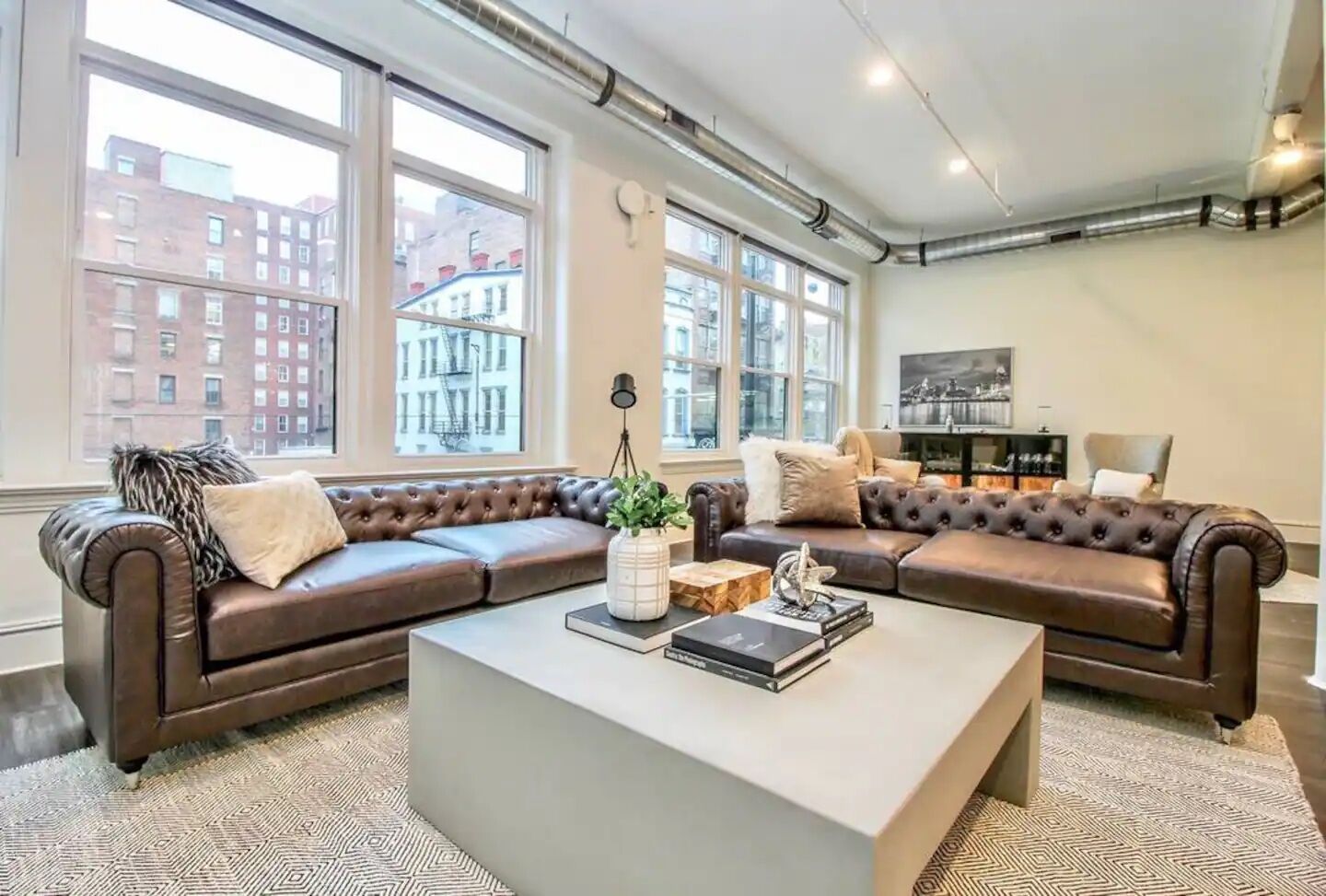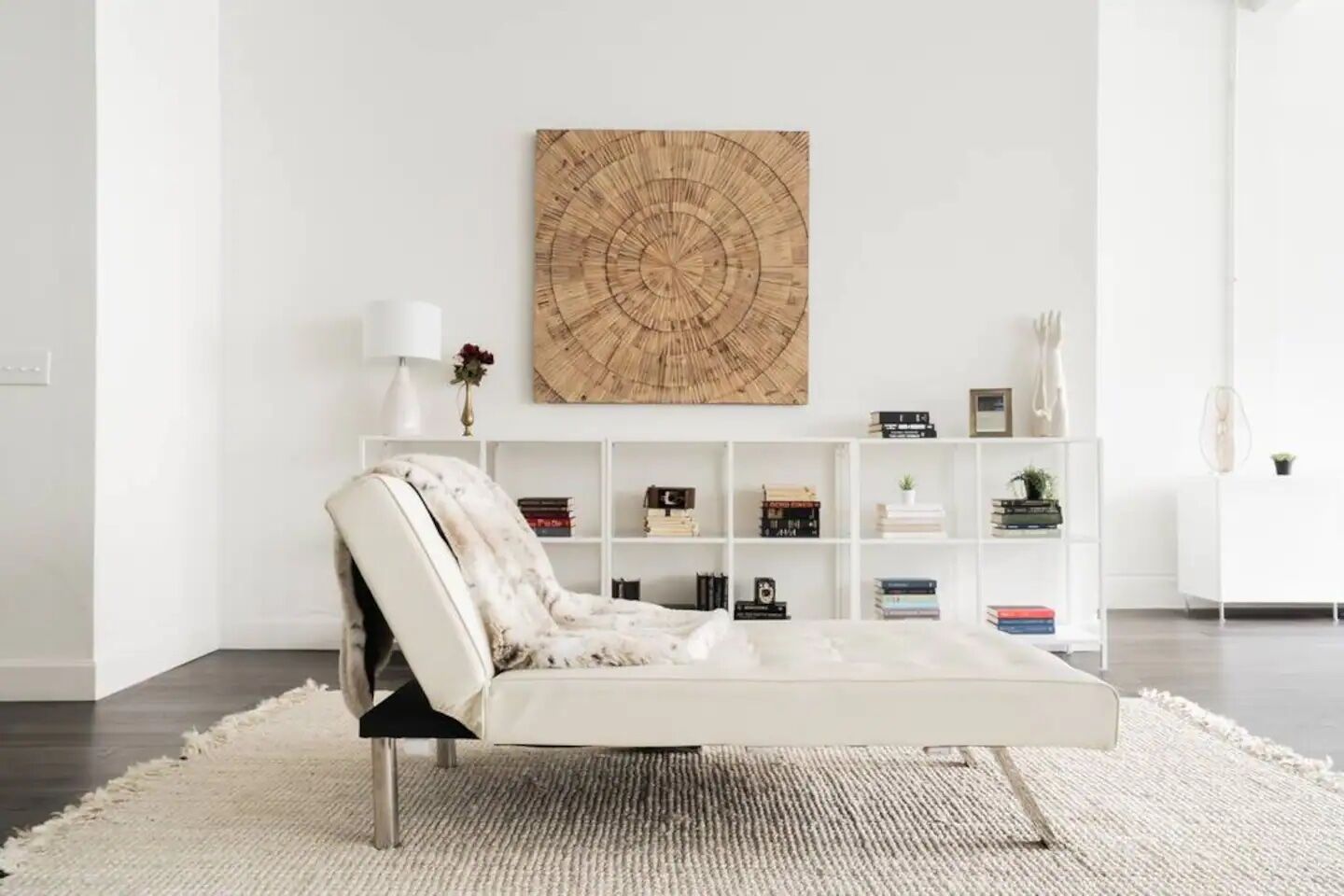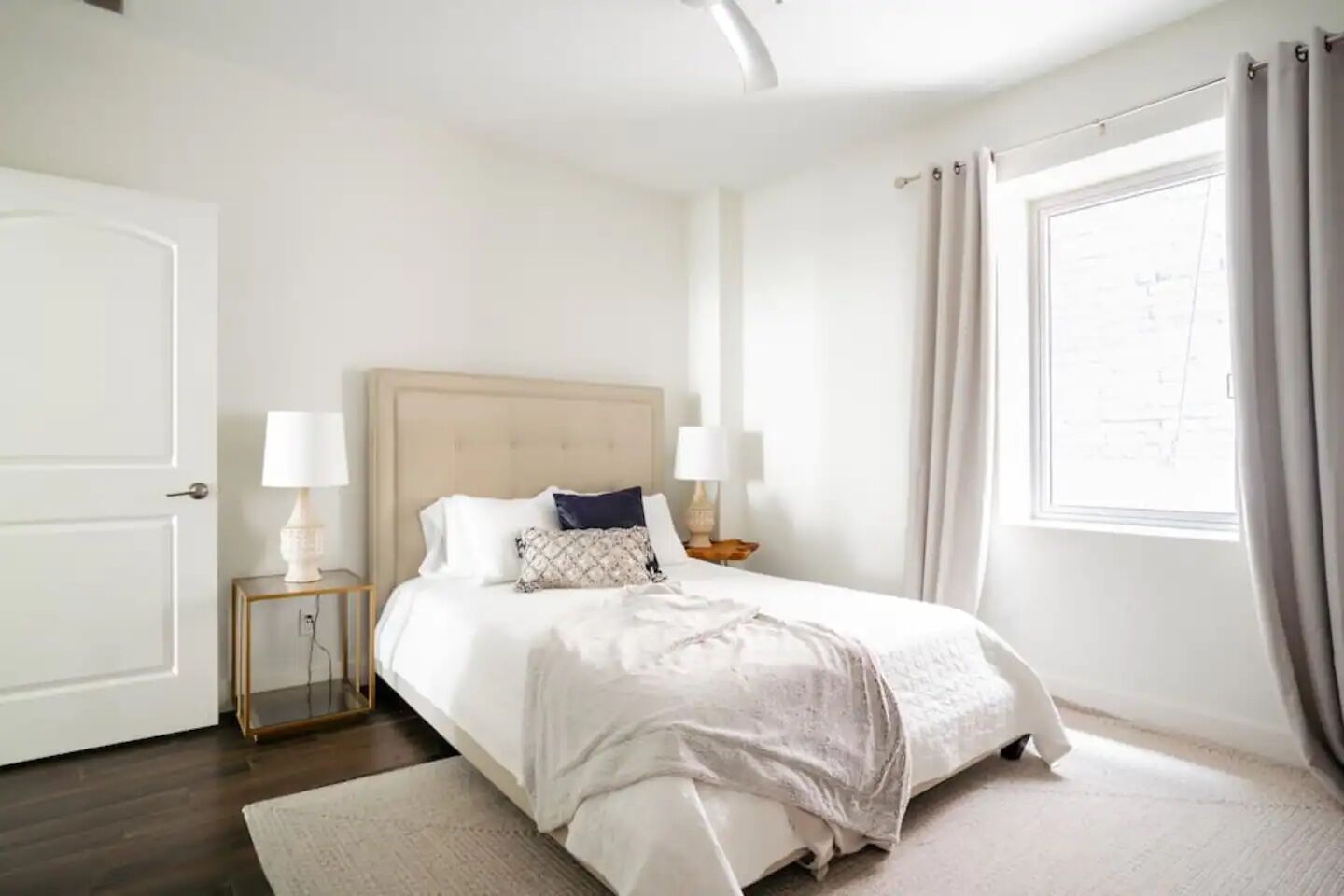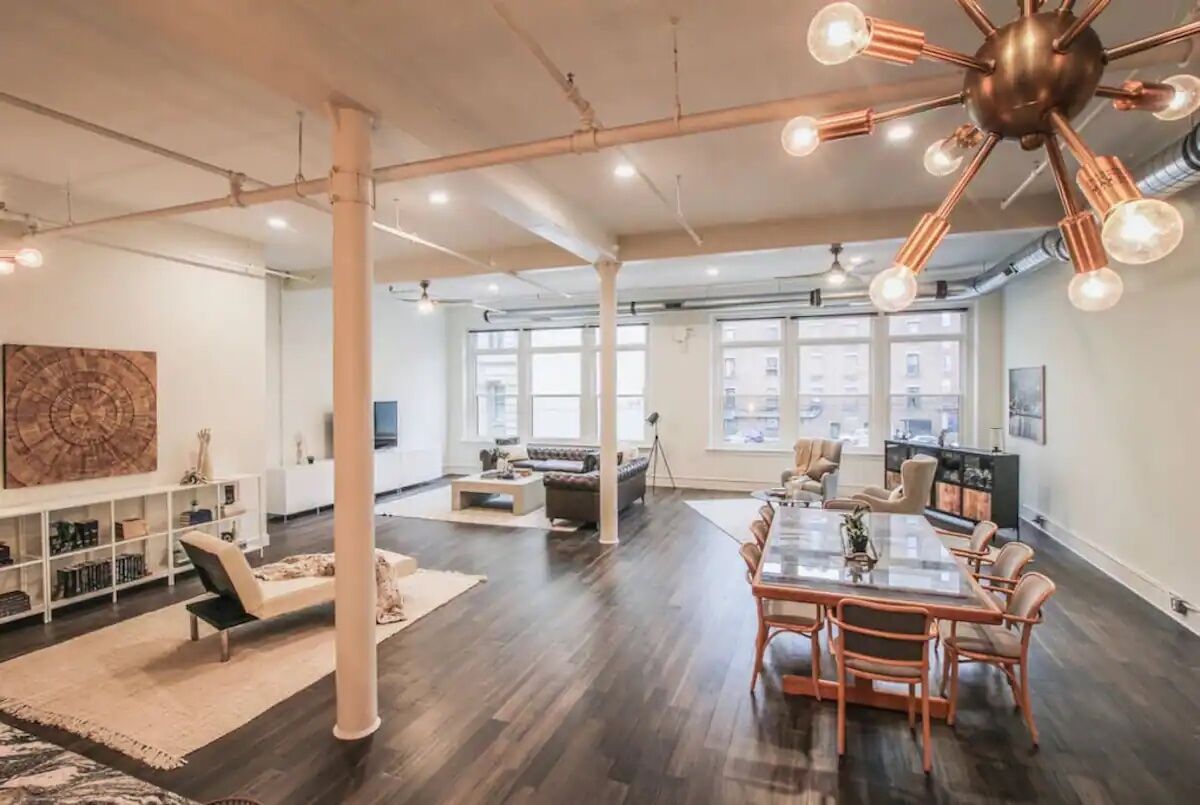 This swanky loft Airbnb in downtown Cincinnati is stylishly appointed with sumptuous leather couches, elegant tilework, and ambient lighting. Of the two bathrooms, one comes with a double shower while the second has a deluxe tub. In addition to two queen bedrooms, extra guests are welcome to kip on the sofas. Located right in the middle of the city, there's zero need to drive.
Six guests, two bedrooms
Price: $147 per night
Uptown Monkeys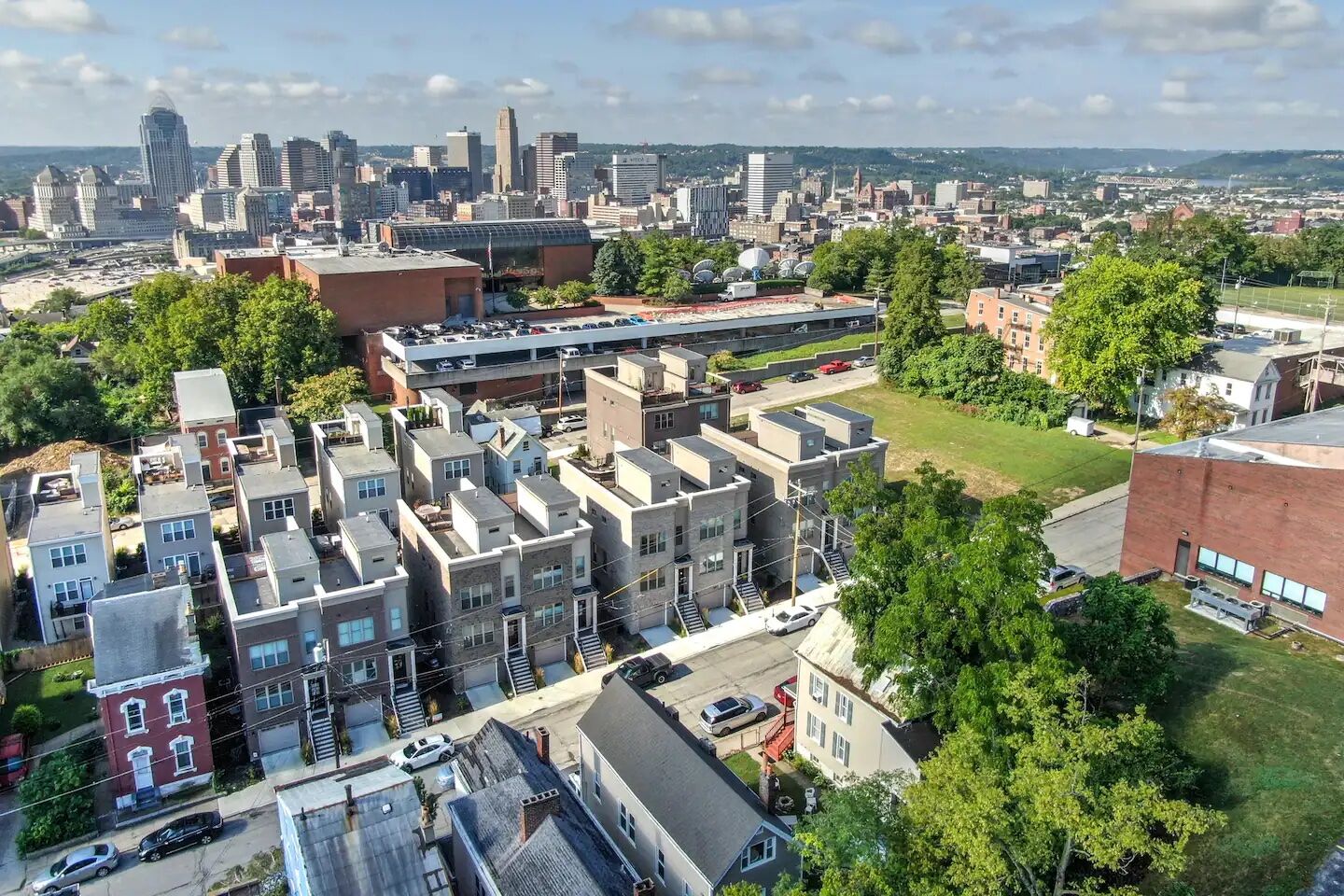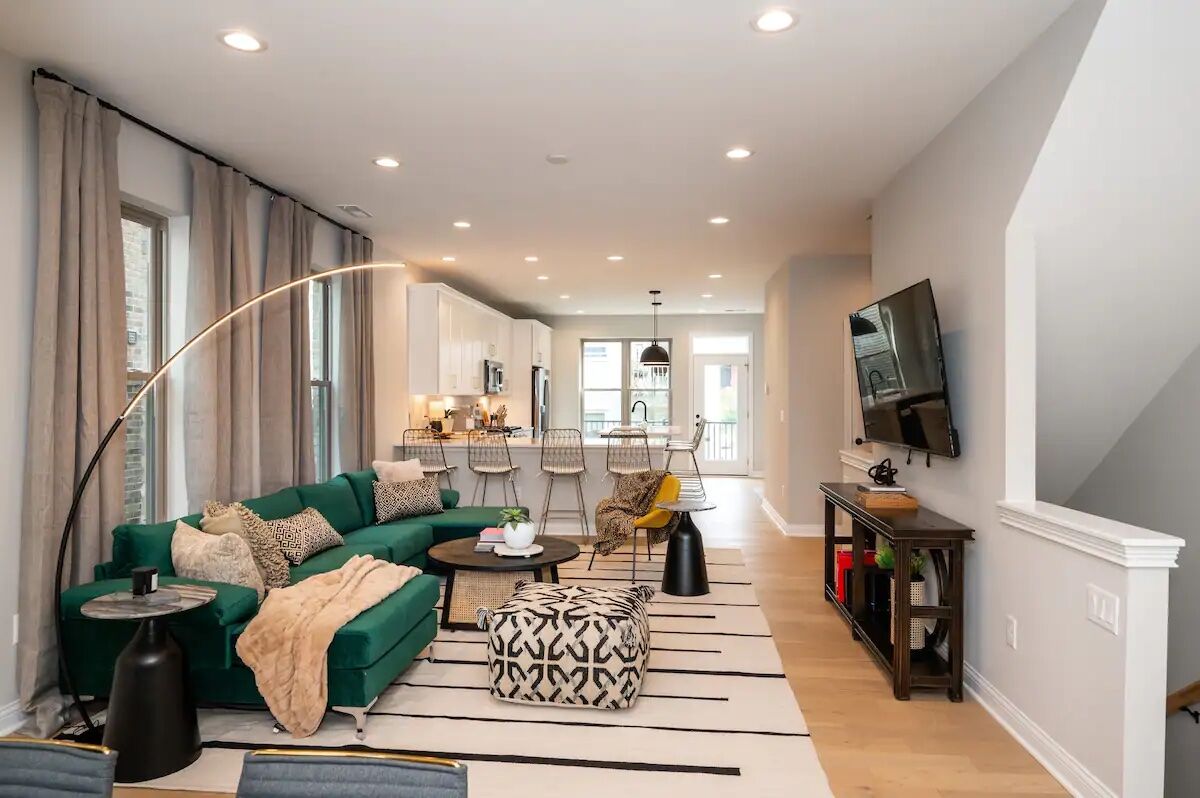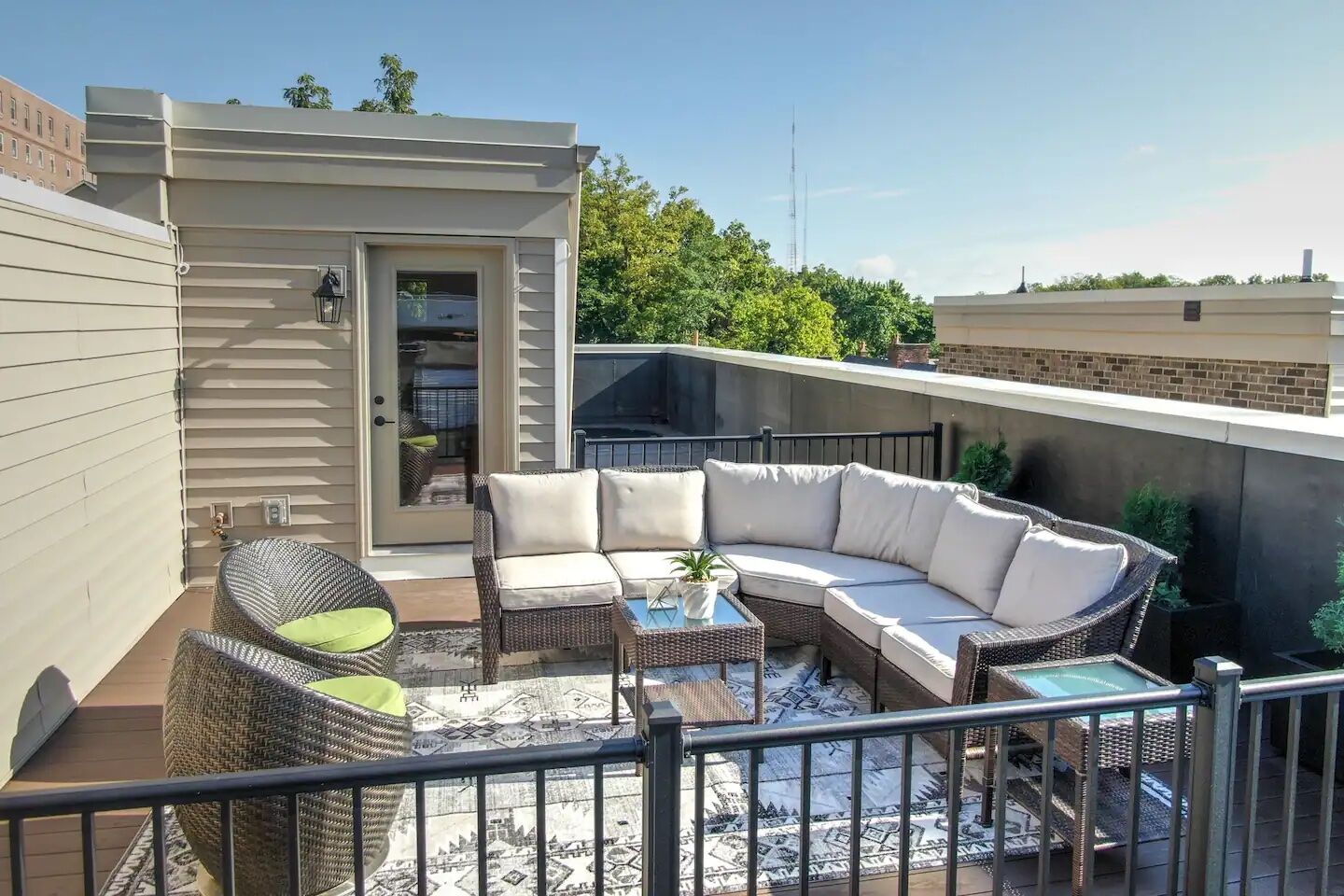 Rigged for sociable groups, this pet-friendly Airbnb in Cincinnati features a cozy lounge plus a private roof terrace with ample seating. While the kitchen is stocked with just about every tool you could possibly need, the wet bar makes it even easier to put on a cocktail evening at Uptown Monkeys.
Eight guests, three bedrooms
Price: $320 per night
All-in-one resort-style vacation with a pool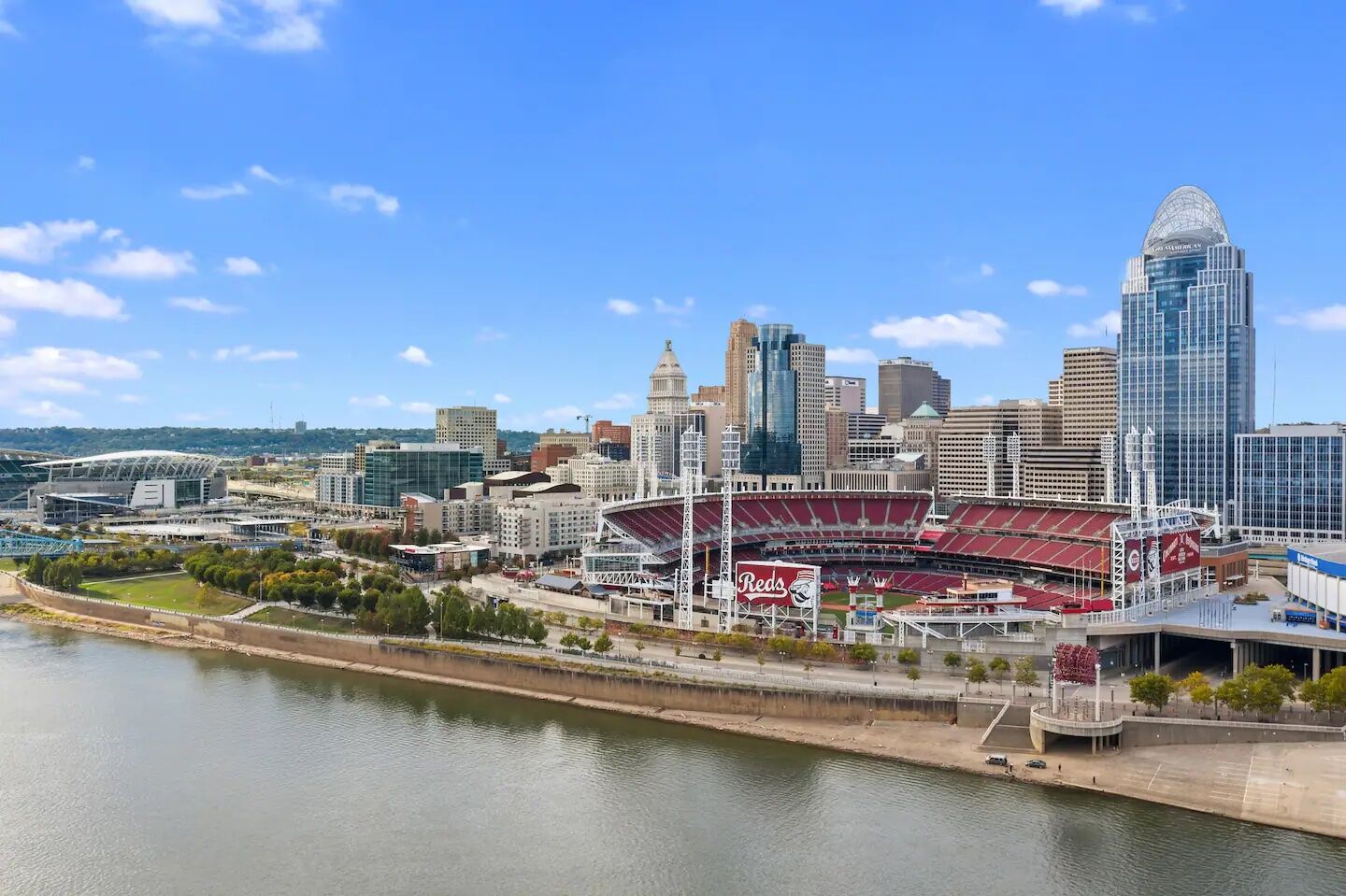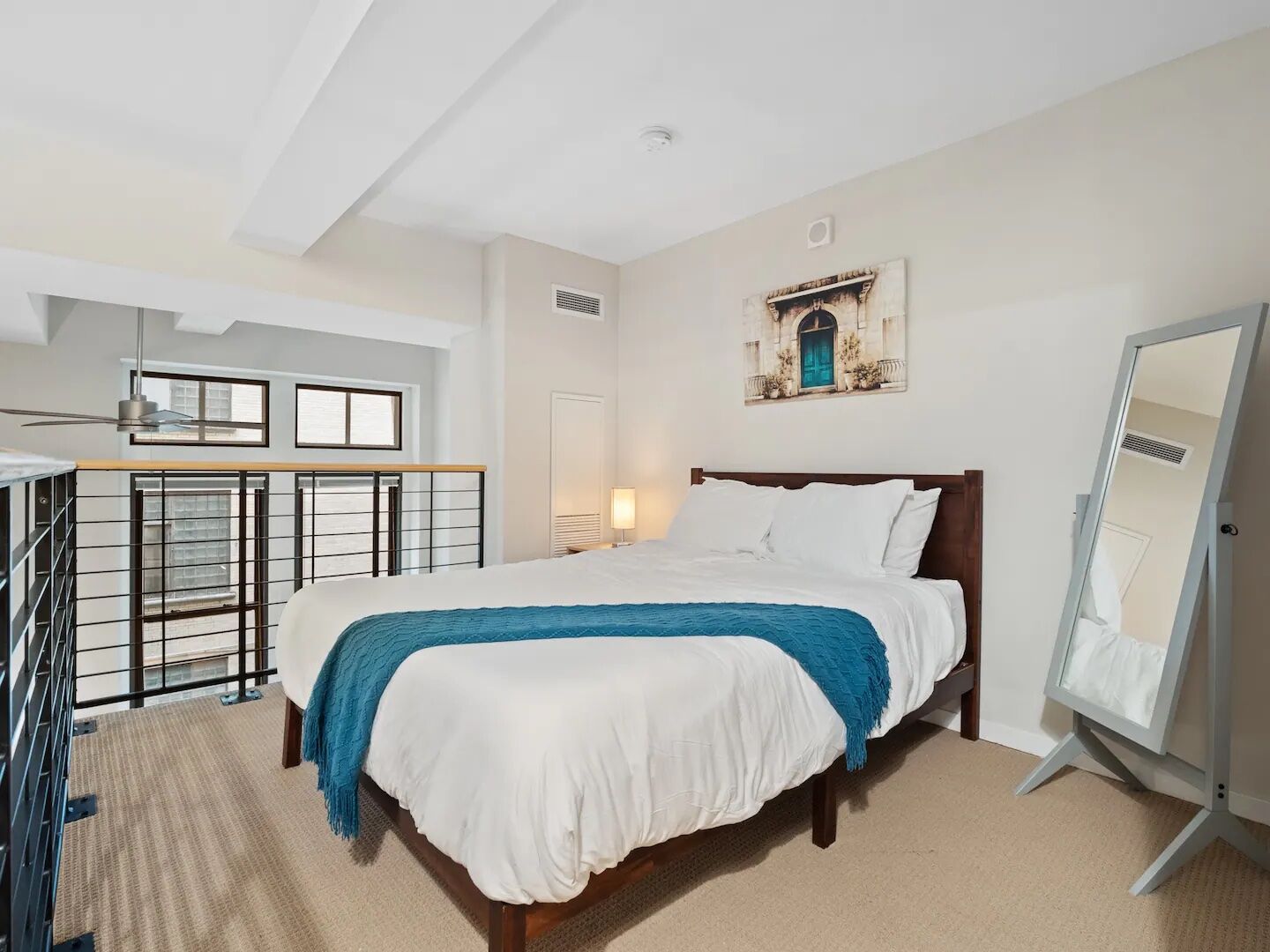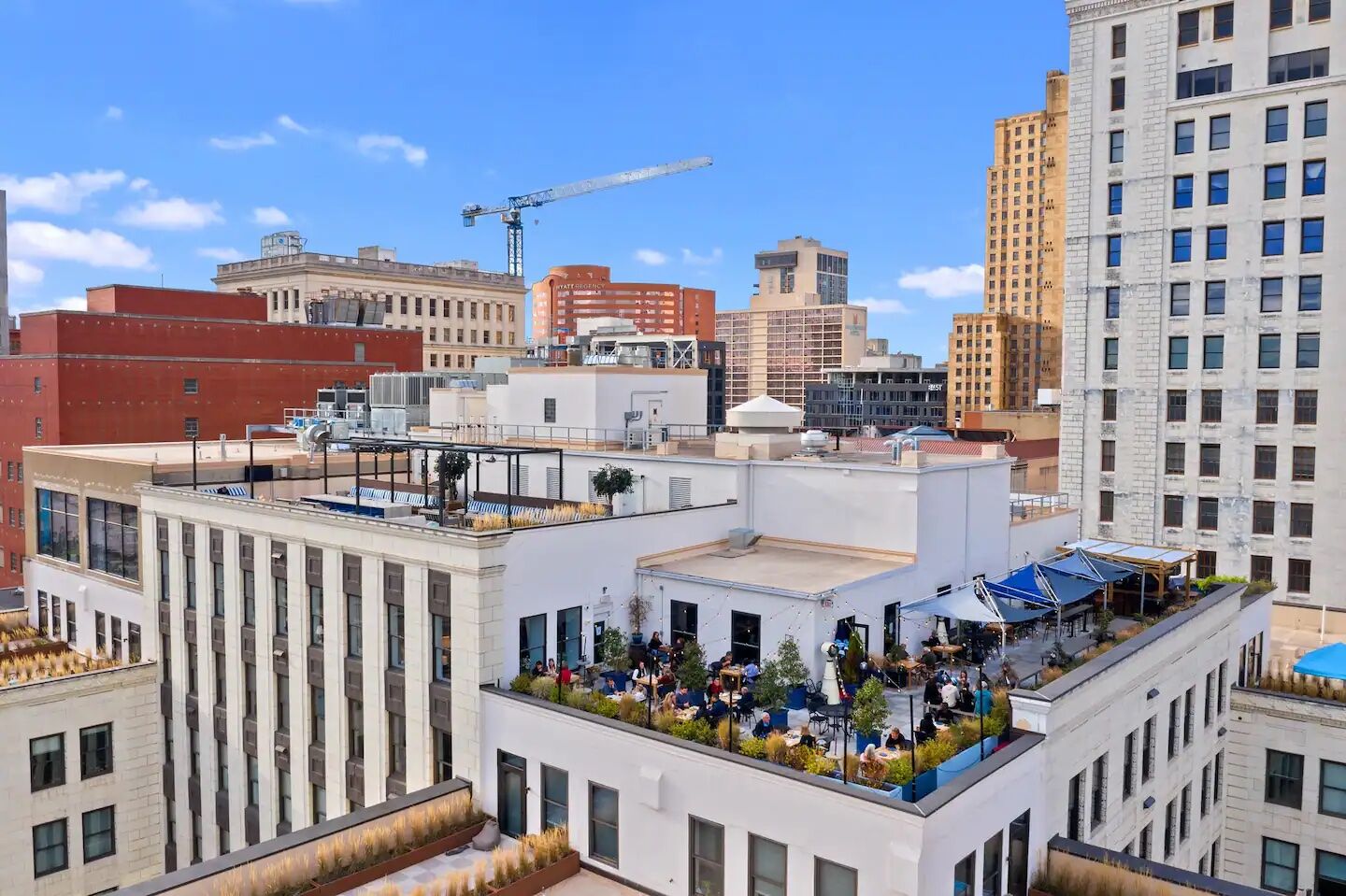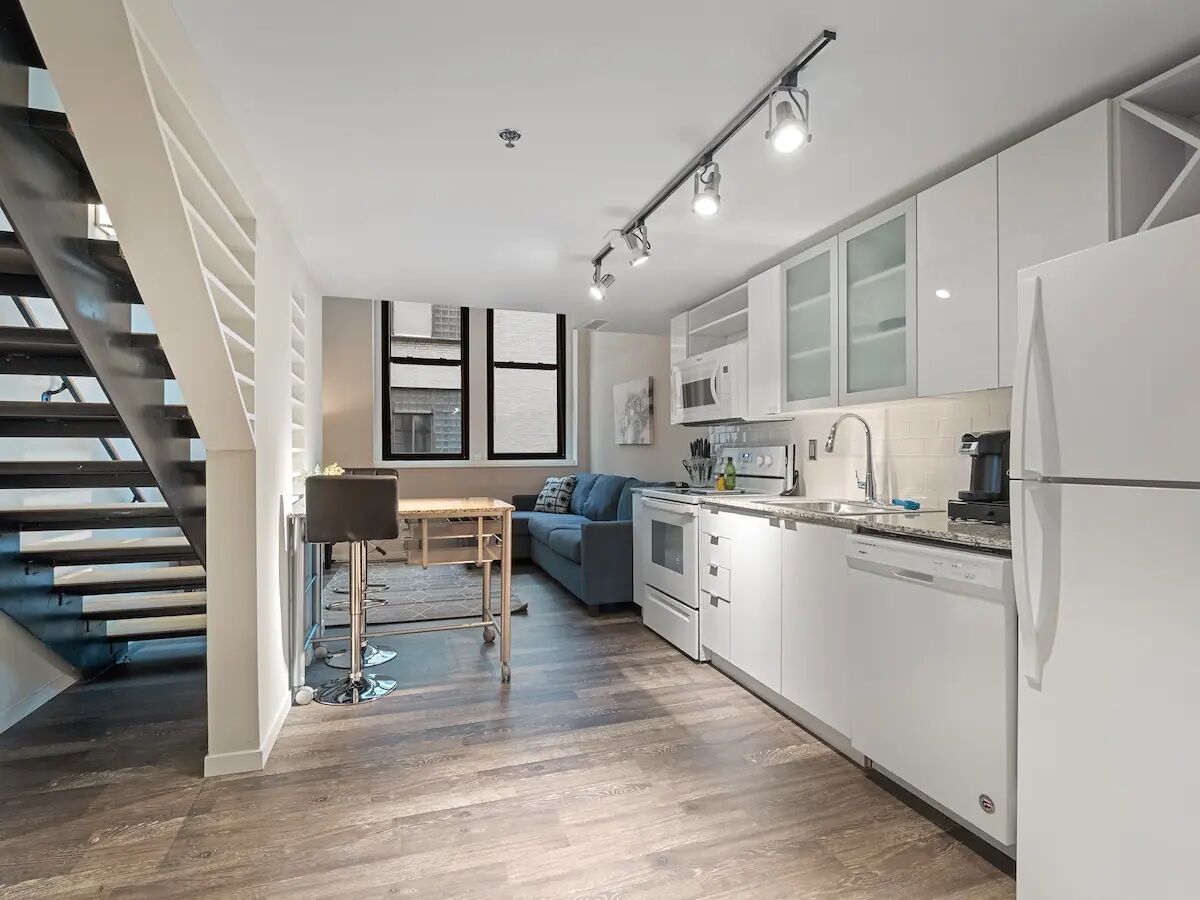 Live the highlife at this resort-style Airbnb in Cincinnati with a pool, hot tub, and games room shared between guests. The condo comes with a full kitchen and bathroom plus a mezzanine bedroom that adds a sense of space. As the communal facilities are indoors, you'll have access across all four seasons. This Beaux Arts condo block is sited right in the midst of downtown a short stroll from the riverside.
Two guests, one bedroom
Price: $247 per night
East Walnut Hills Airbnbs in Cincinnati
Luxury home seven mins from downtown with a hot tub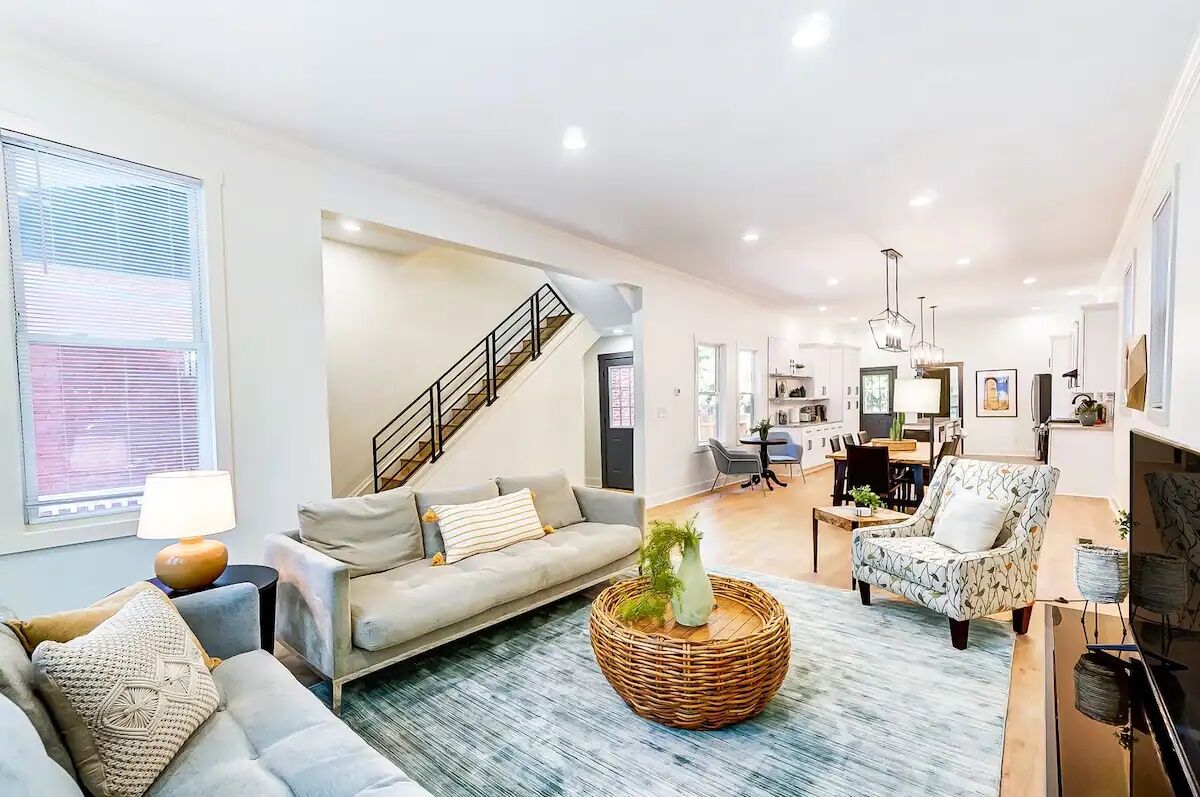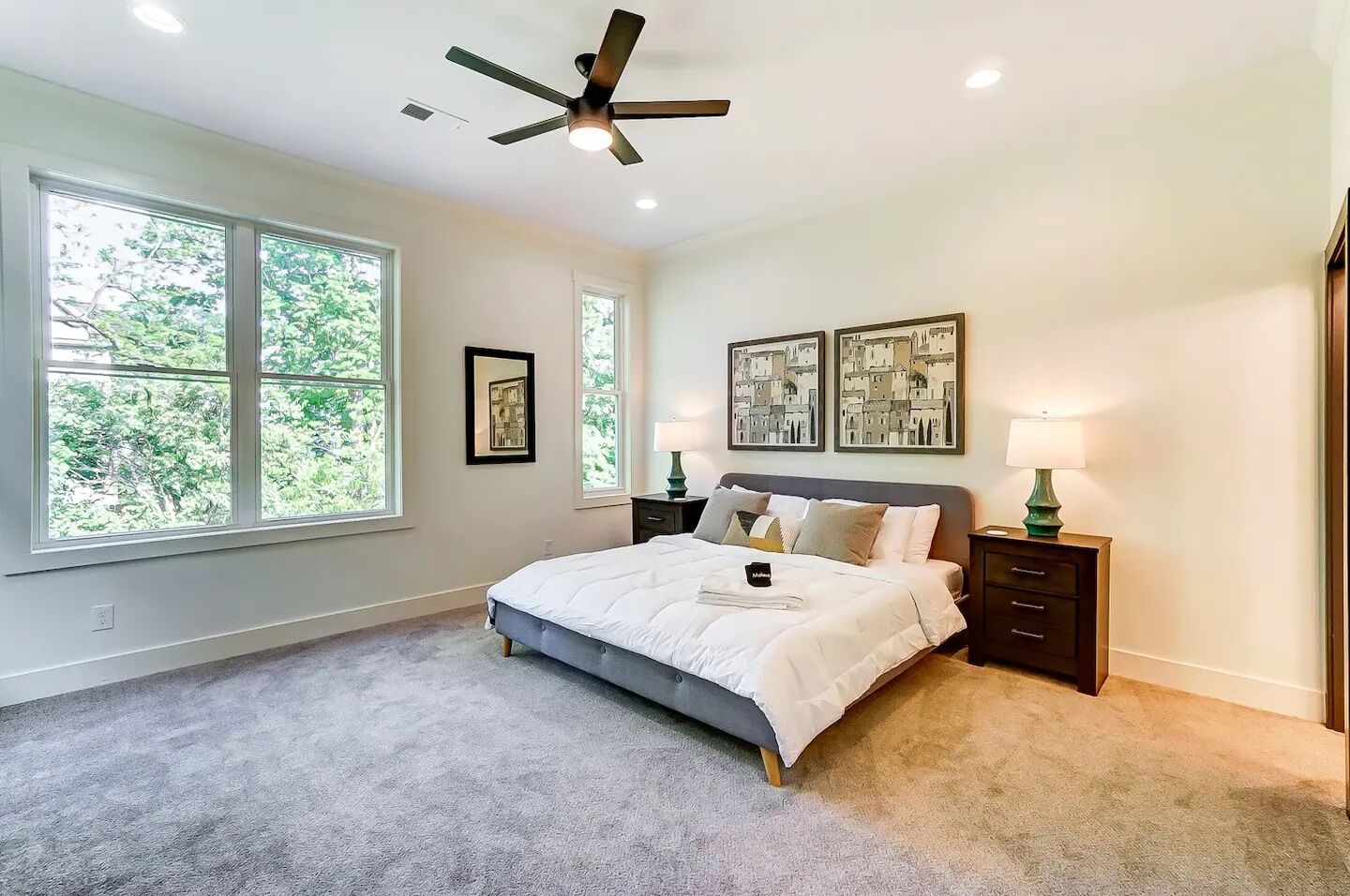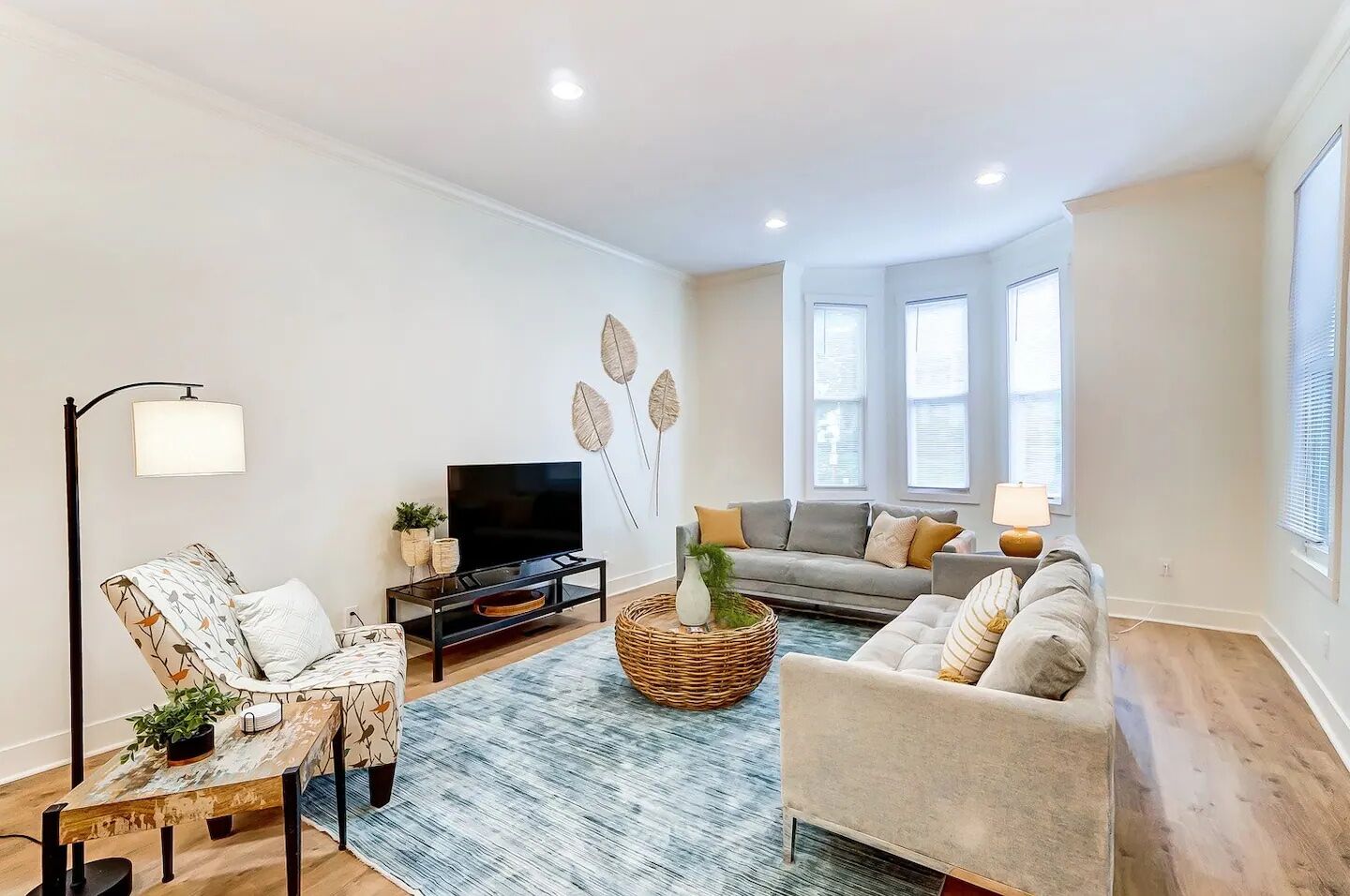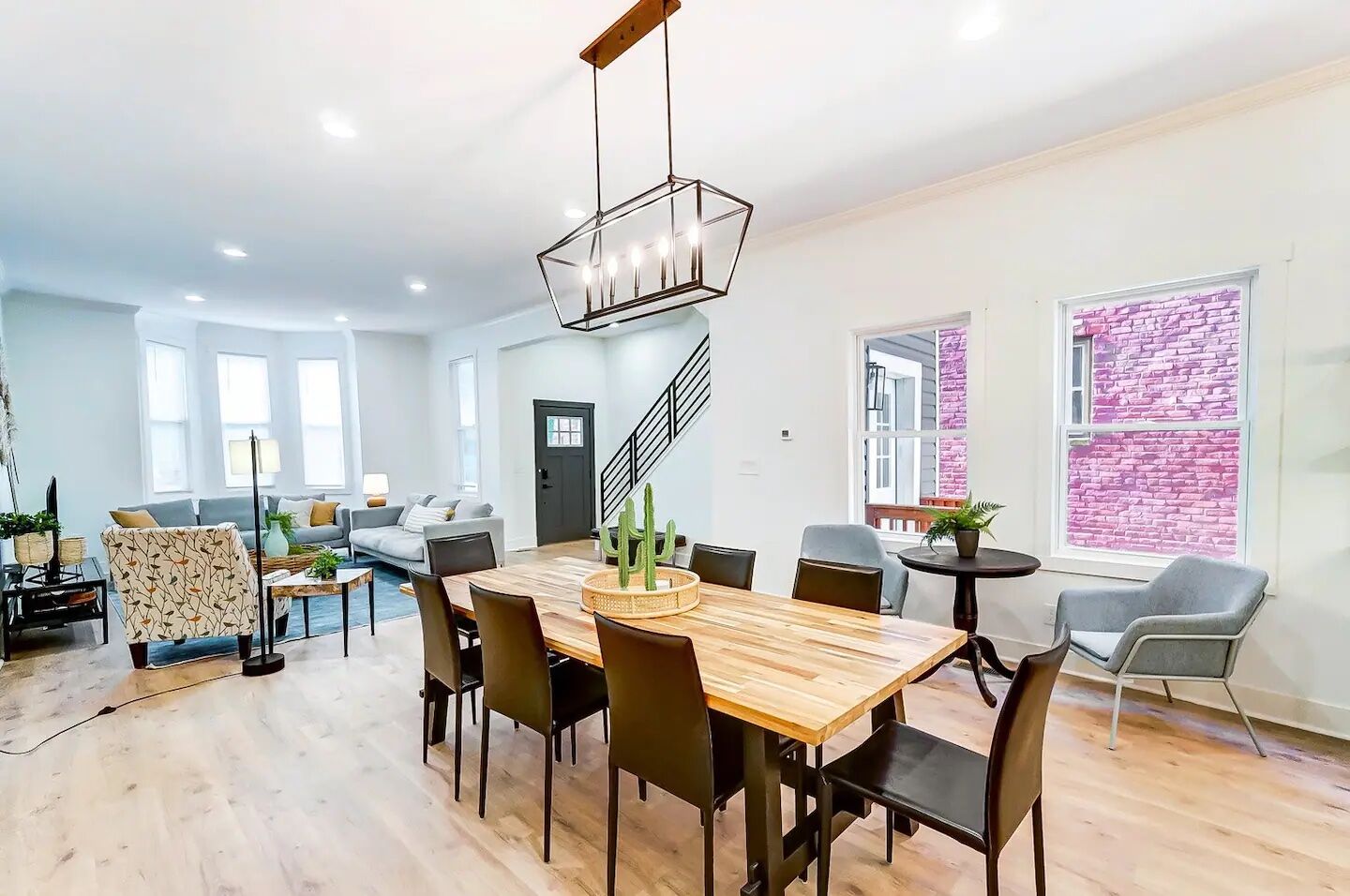 Located in the mellow East Walnut Hills, this Airbnb in Cincinnati with a hot tub is less than 10 minutes to downtown with Uber. Spread over two levels, the property offers spacious rooms, a gourmet kitchen, and luxurious bathrooms. The expansive backyard was recently updated with the addition of the six-person hot tub and an atmospheric fire pit.
Twelve guests, four bedrooms
Price: $336 per night
Convenient Cincy boho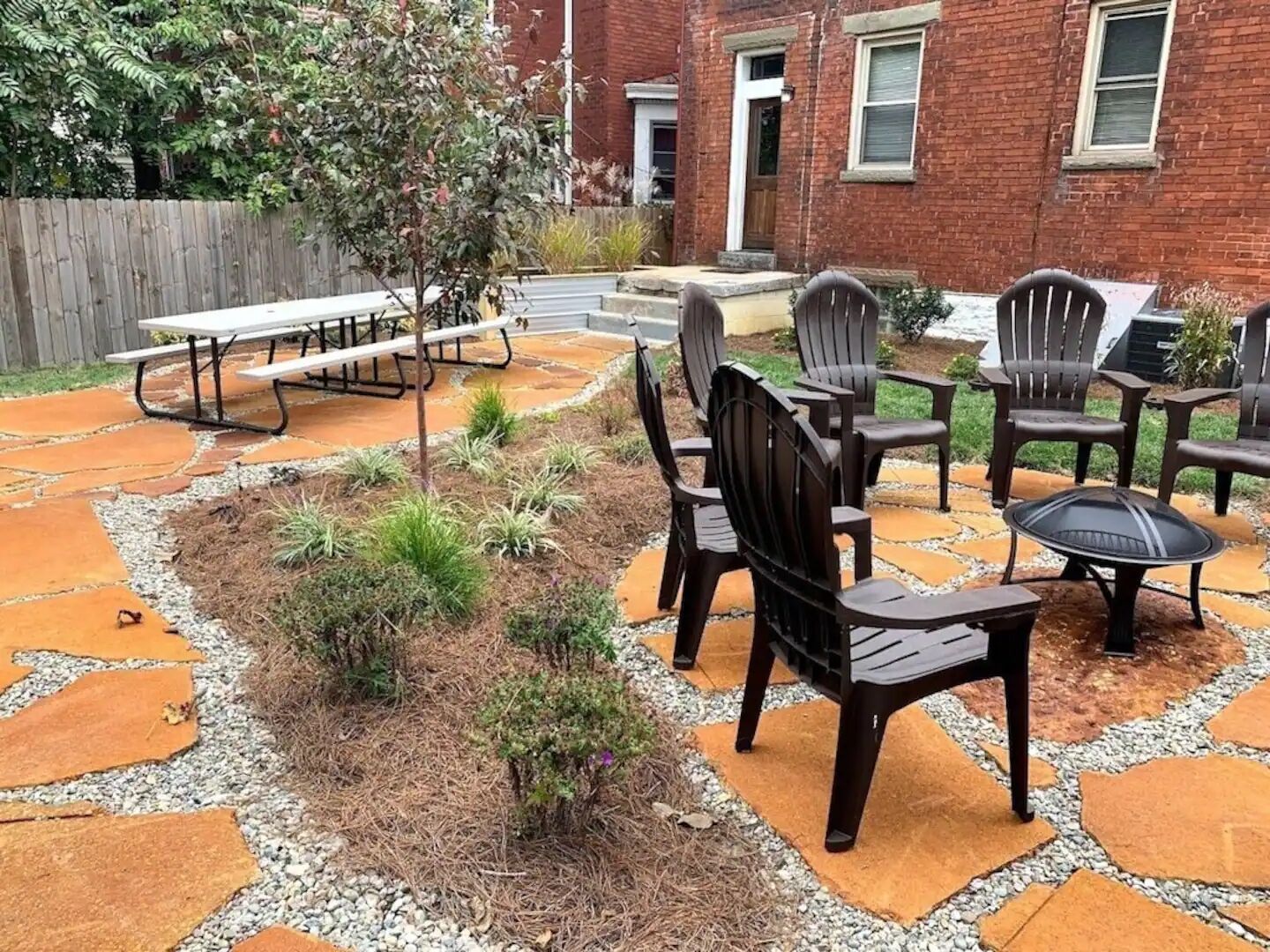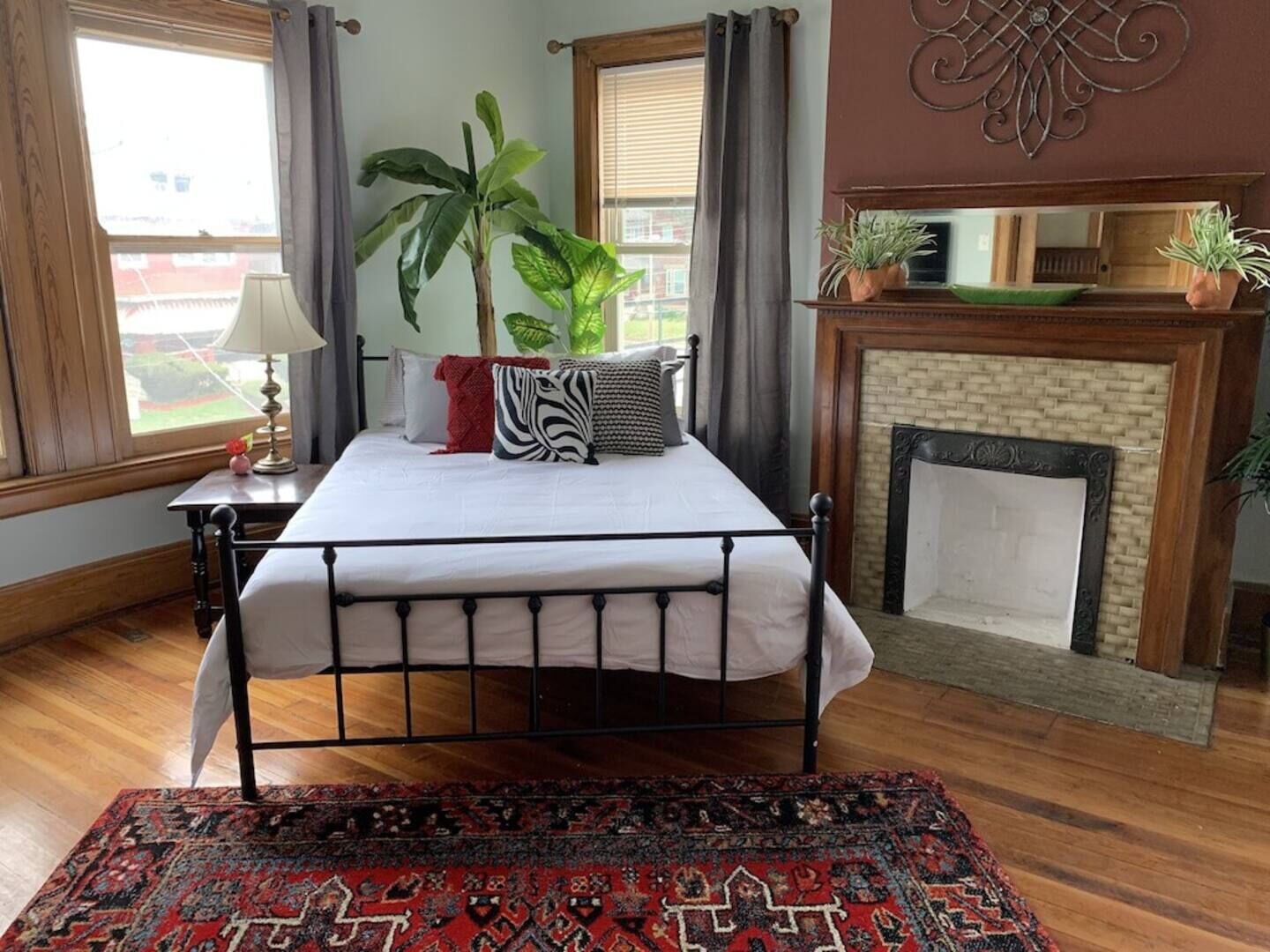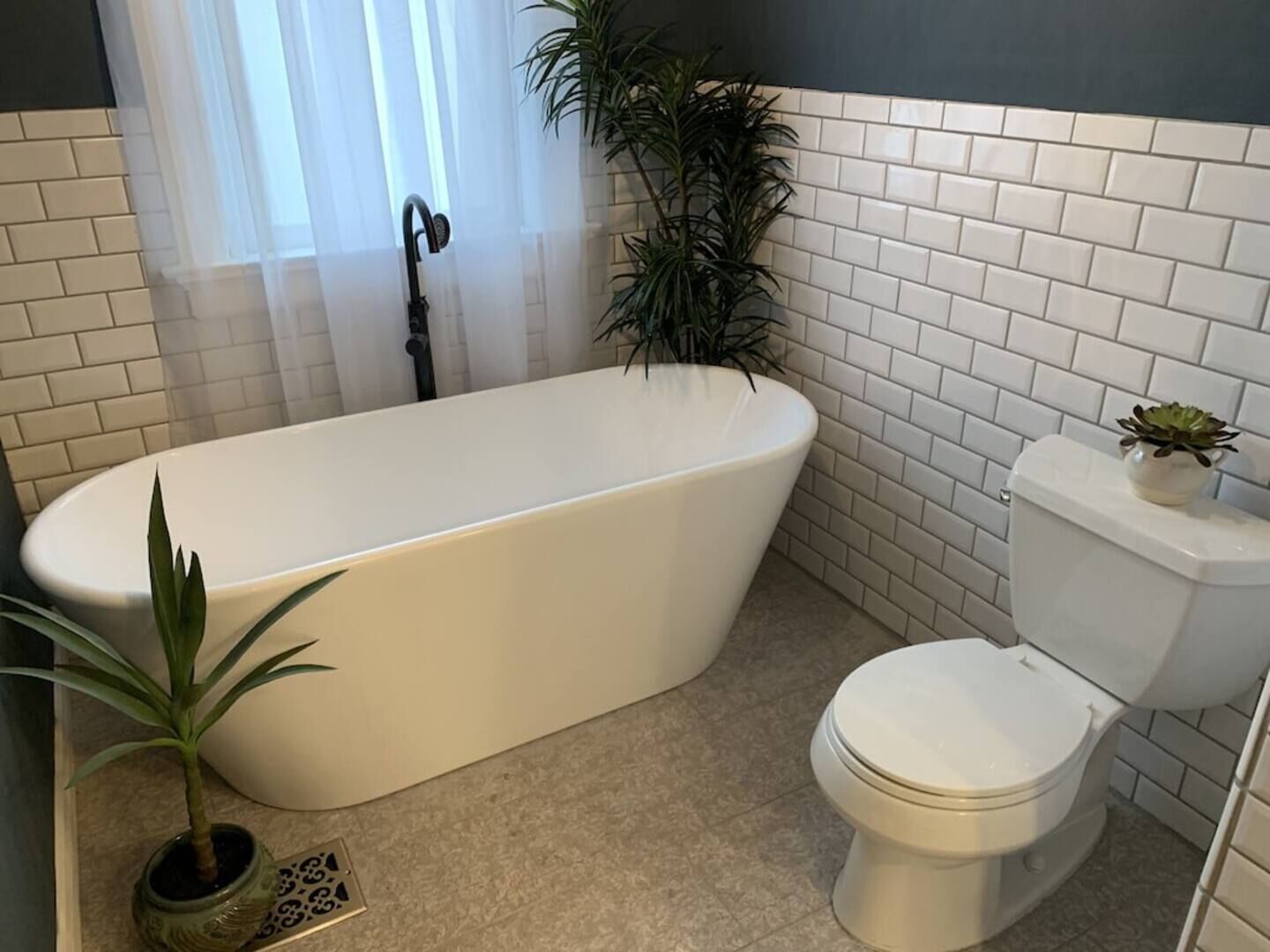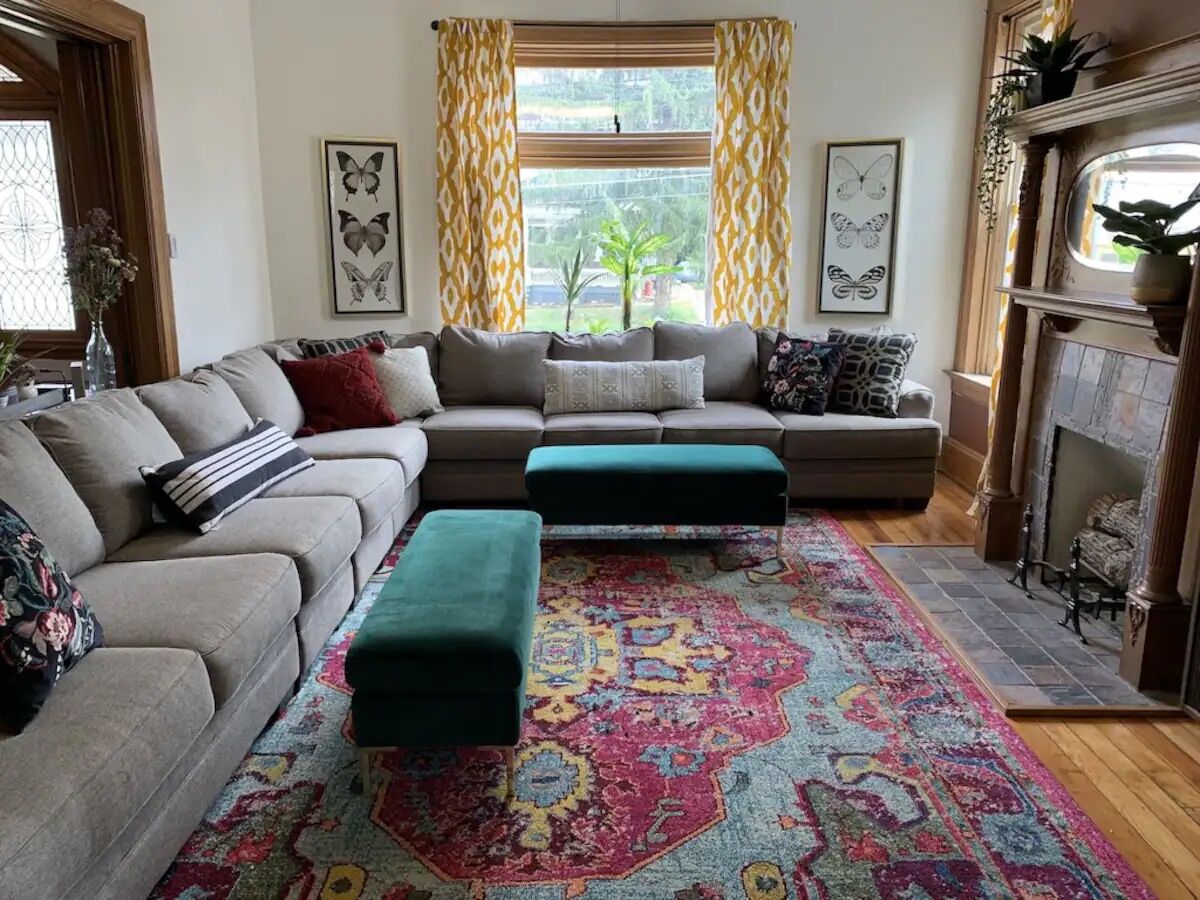 An alternative East Walnut Hills rental, this Cincinnati Airbnb with a hot tub is perfect for larger groups. Despite its central location, the townhouse calls to mind a rustic farmhouse through its warm colors, satisfying textures, and woody finishes. A vintage vinyl player adds a nostalgic touch for evening suppers. With its fire pit, hot tub, and games garage, the backyard is the star of the property.
Sixteen guests, six bedrooms
Price: $495 per night
Mount Adams and East Cincinnati Airbnbs
Mount Adams hideaway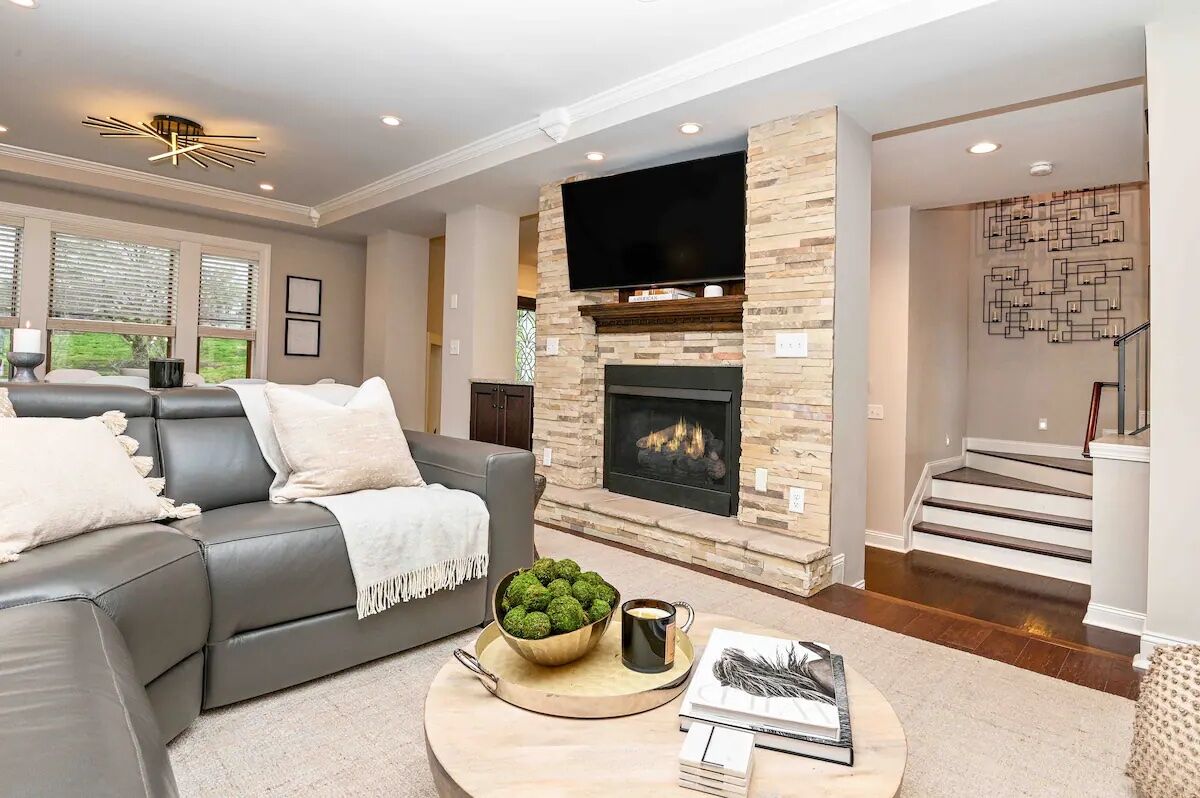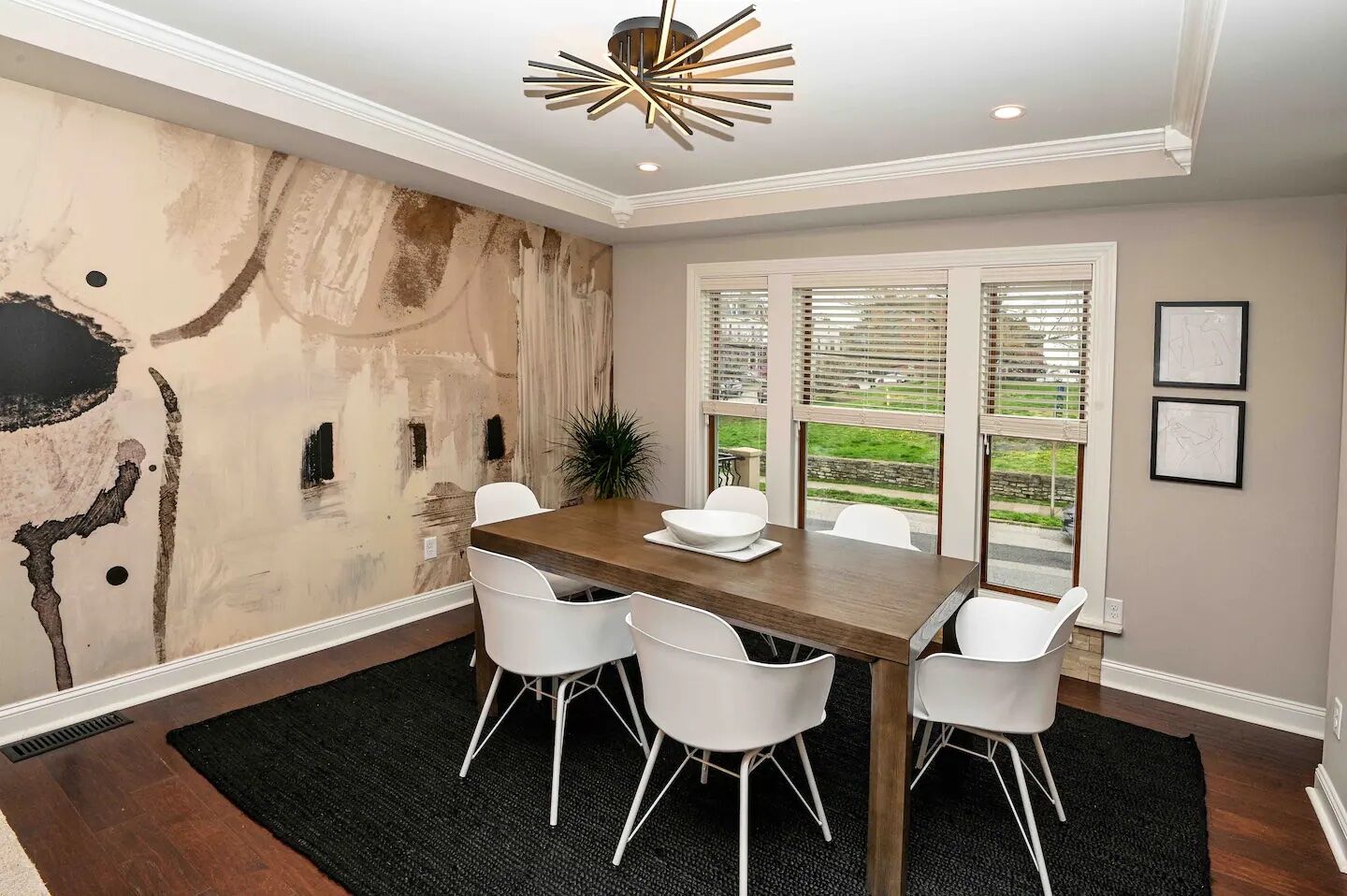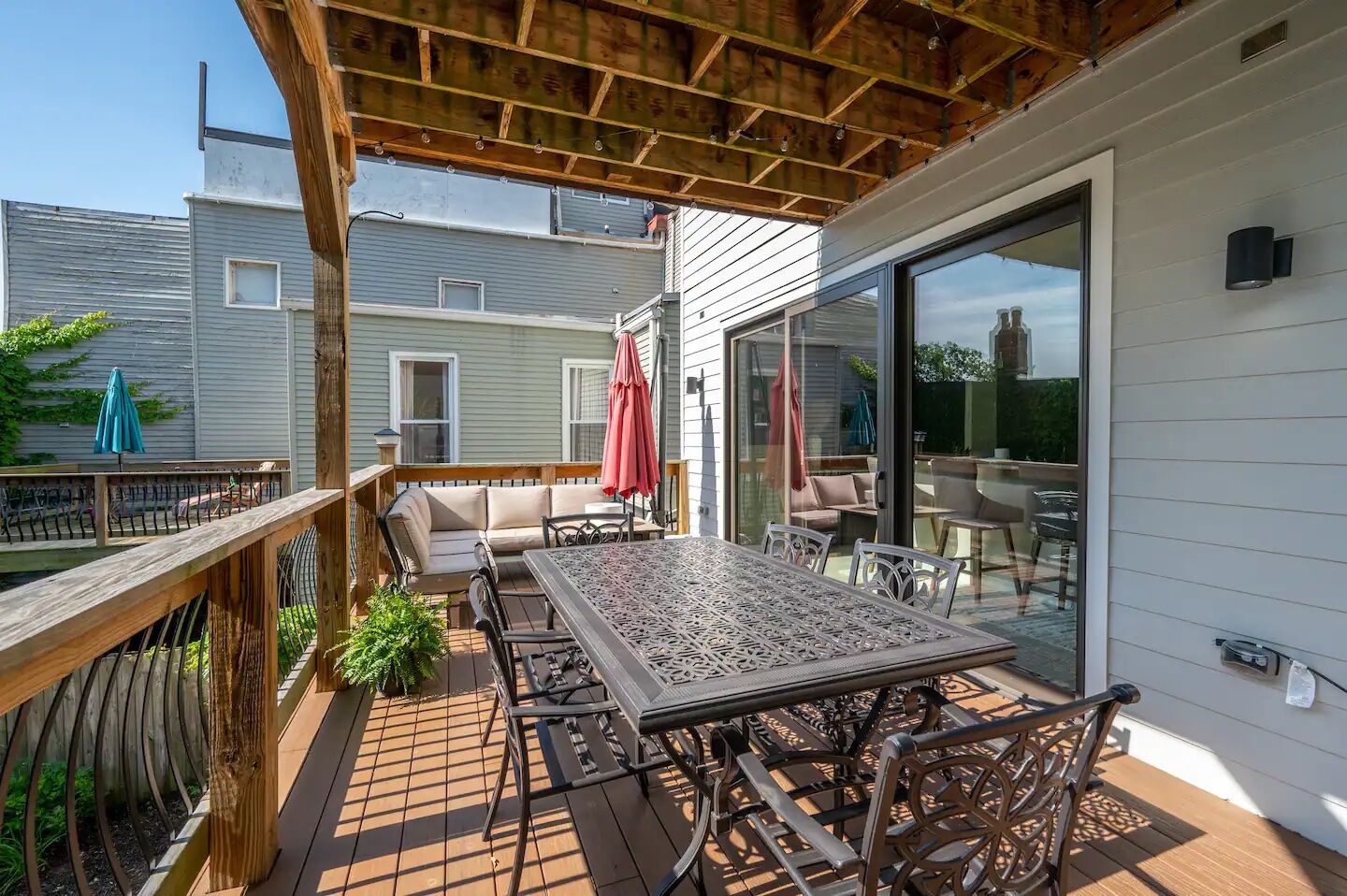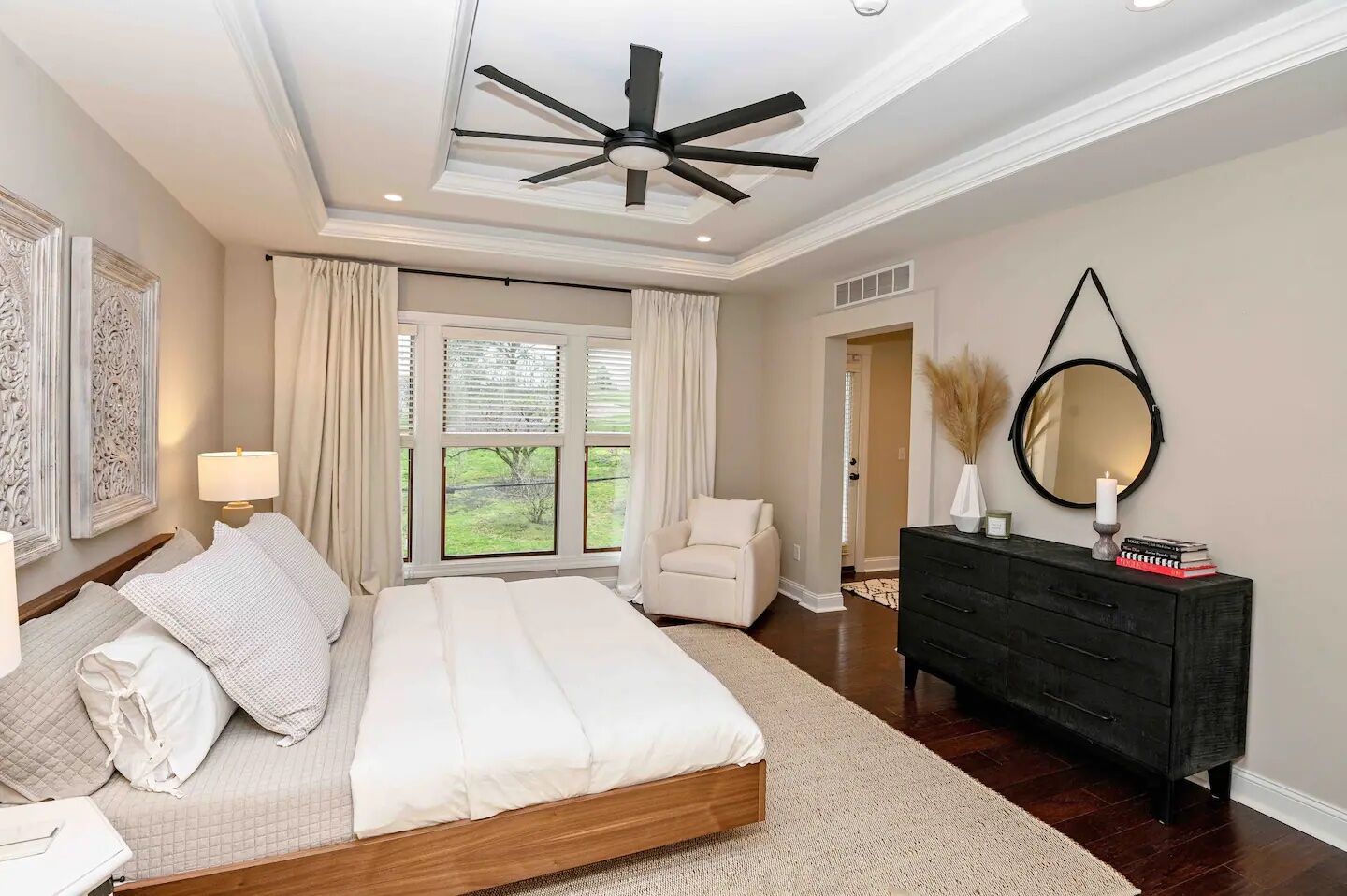 Sublimely turned out, this pet-friendly Airbnb in Cincinnati overspills across multiple balconies before culminating in an epic sun terrace. Historic Mount Adams fuses the convenience of downtown with picturesque views and lush green spaces where you – and your four-legged friends – can wake up with a morning stroll. Sink into either of the two lounges to plot out your time in Queen City and unwind after a day of exploring.
Eight guests, three bedrooms
Price: $590 per night
Safe, clean, spacious – rooftop deck/on-site parking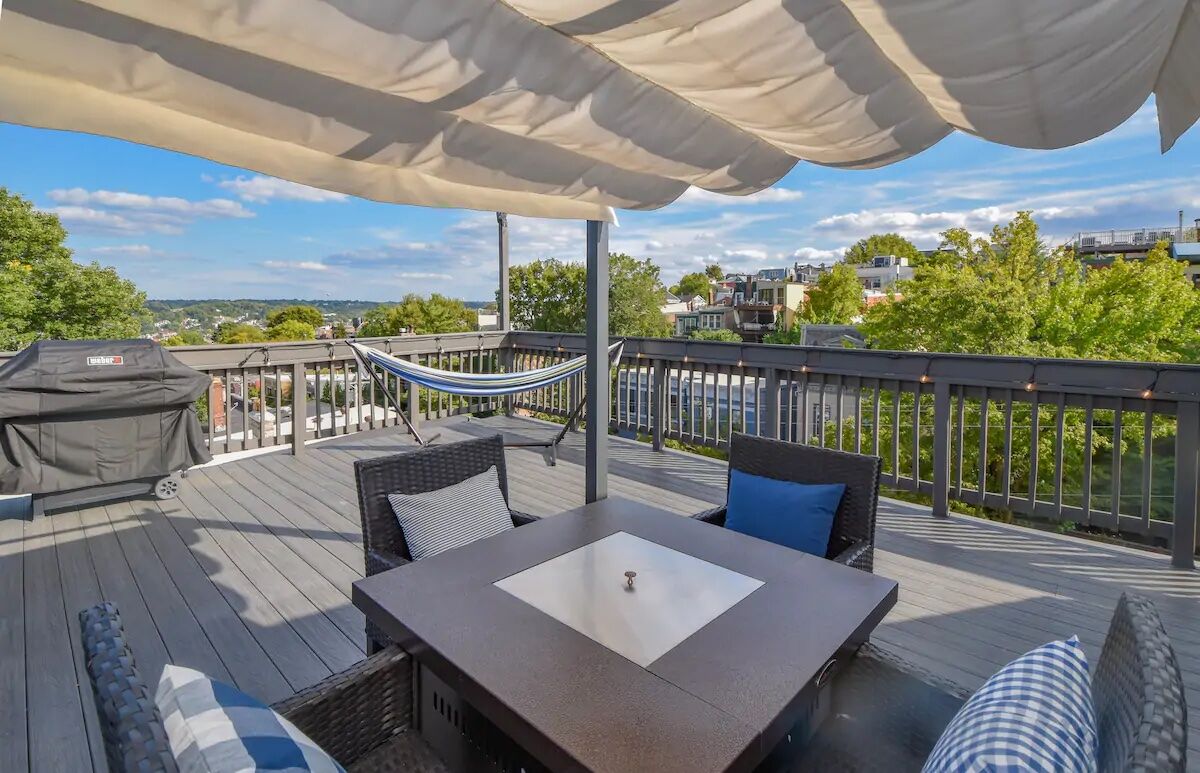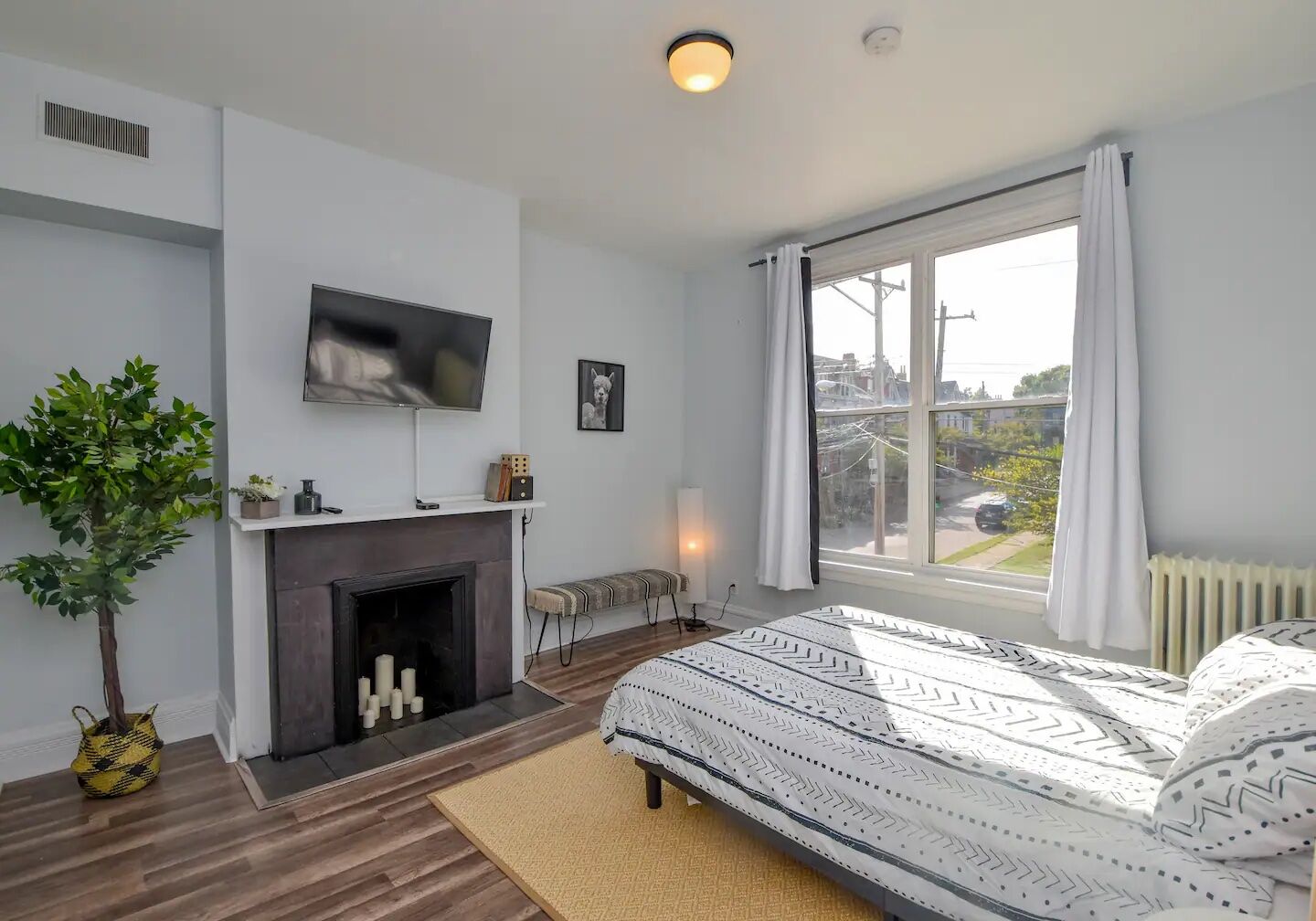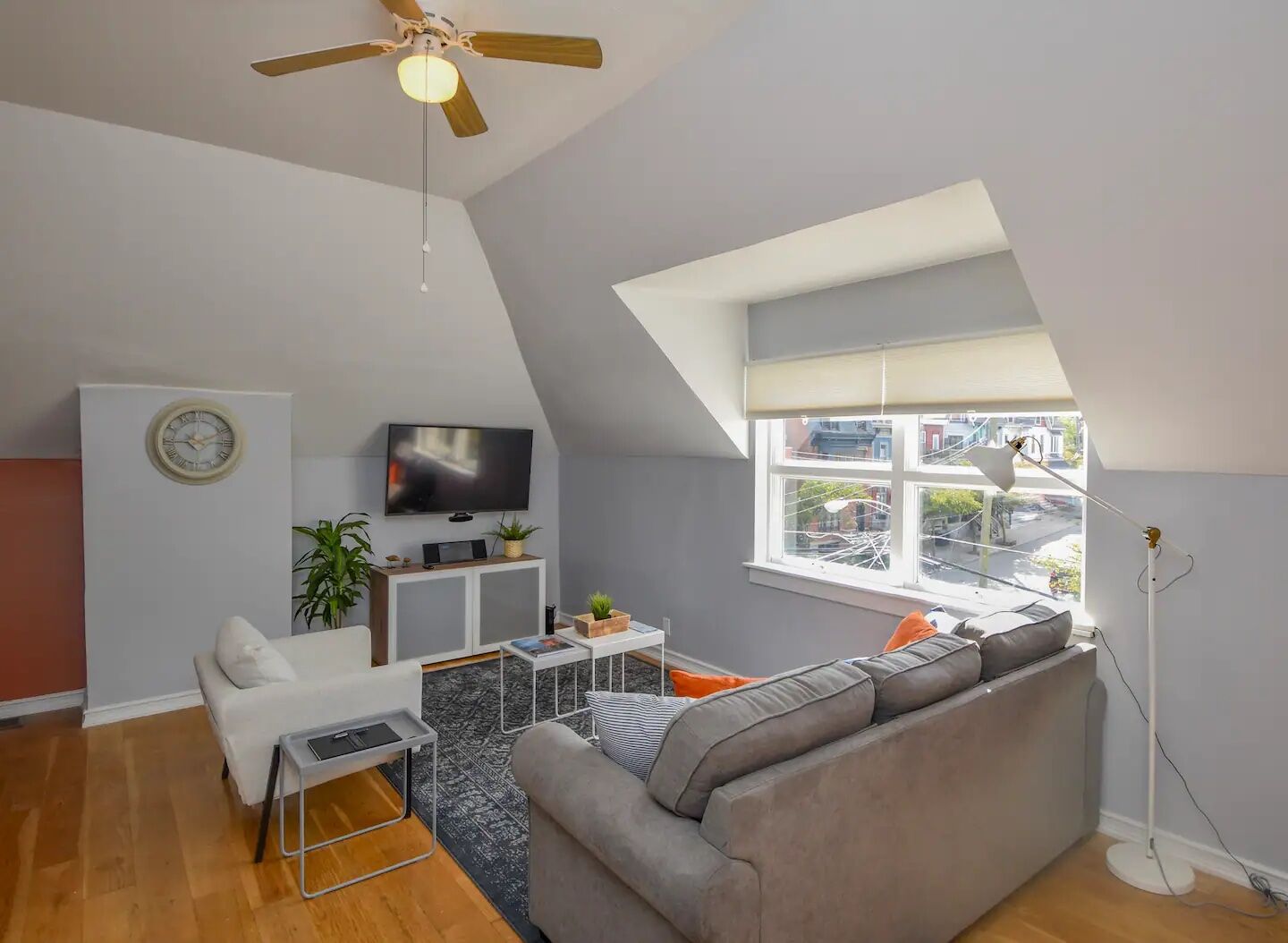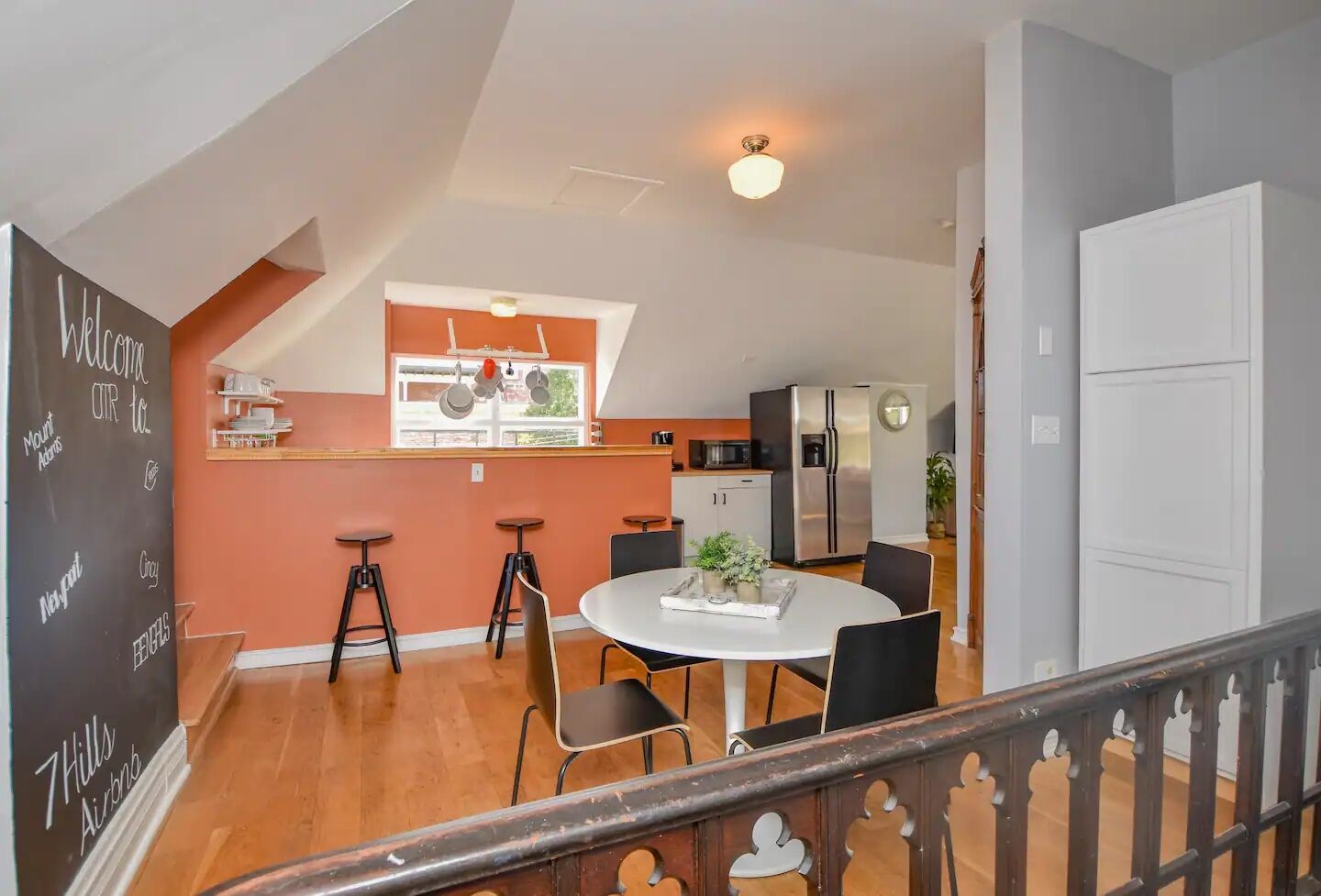 This pet-friendly Cincinnati Airbnb consists of two comfortable double bedrooms with a cheerful little kitchen overlooking the lounge. Opening out onto a private rooftop patio, you will find a dining zone, grill, and hammock catering to every need. Perfect for a couple seeking extra space or for a small group.
Seven guests, two bedrooms
Price: $183 per night
Beautiful, large, and private home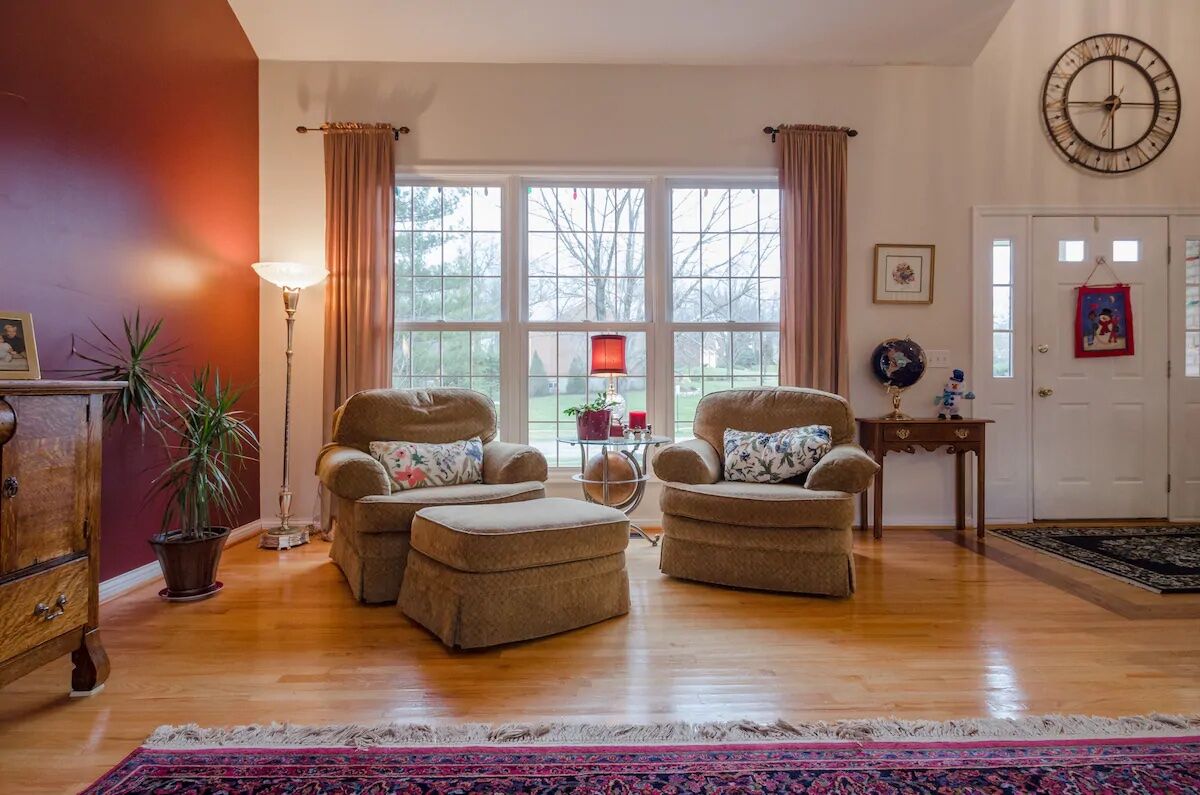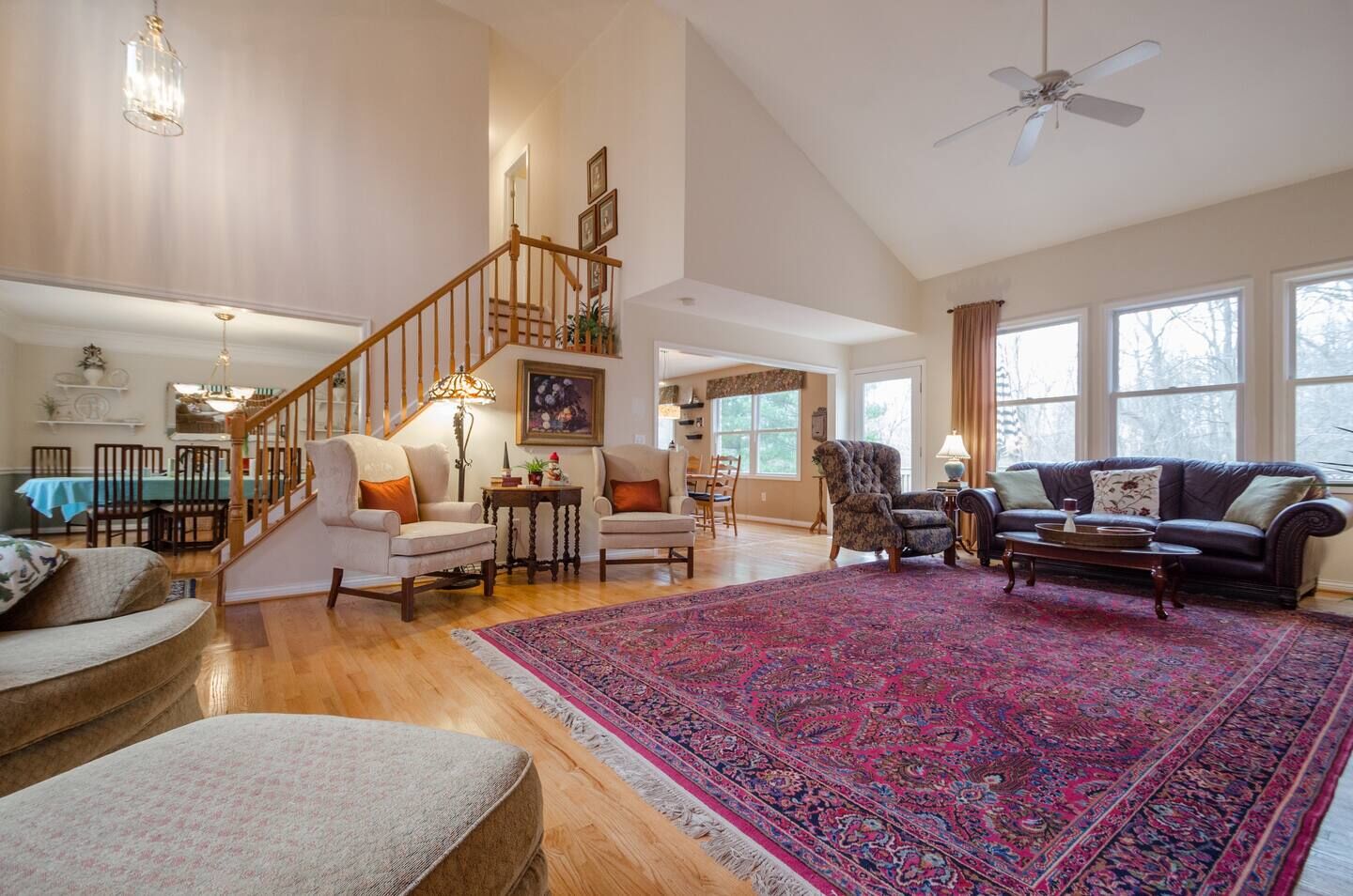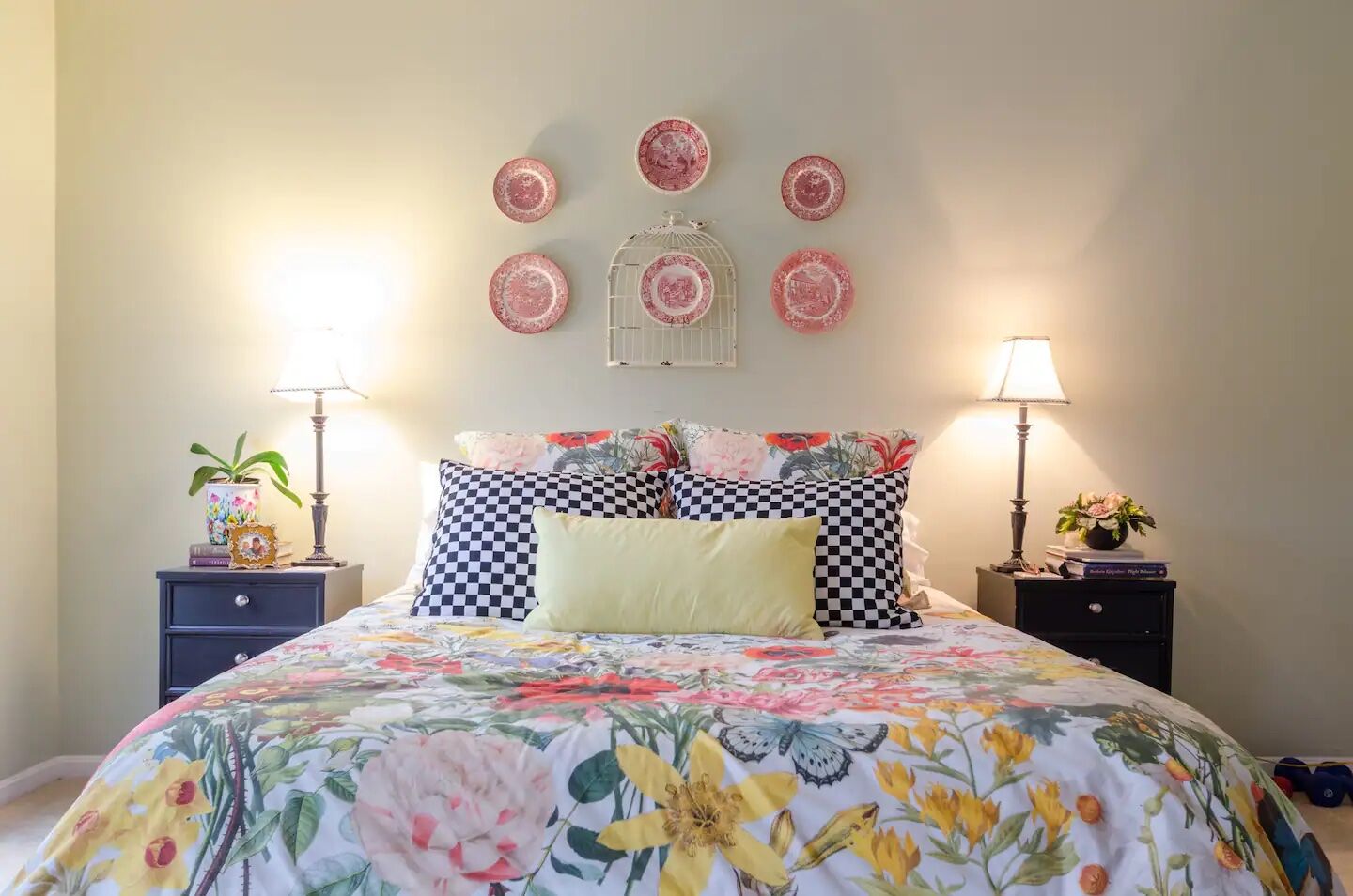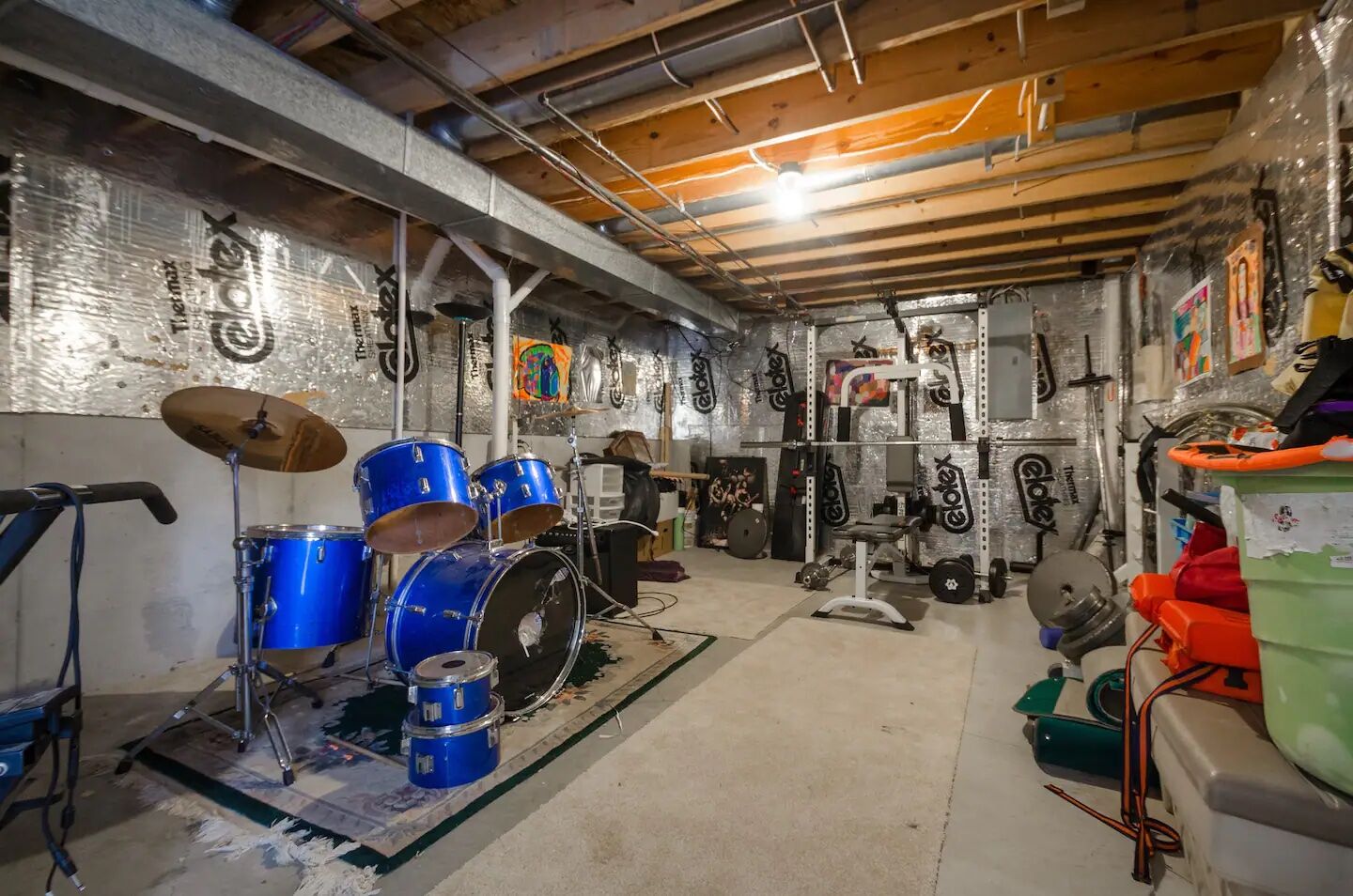 Escape to the leafy suburbs east of downtown at this Airbnb in Cincinnati with a pool and creek access. Ideal for families, the home consists of generously proportioned bedrooms and communal areas. Head out to the converted garage where you'll find a drum kit and mini gym. Elsewhere, the billiards table and a stack of board games are sure to keep boredom at bay on a rainy day.

Eight guests, four bedrooms
Price: $550 per night
More like this