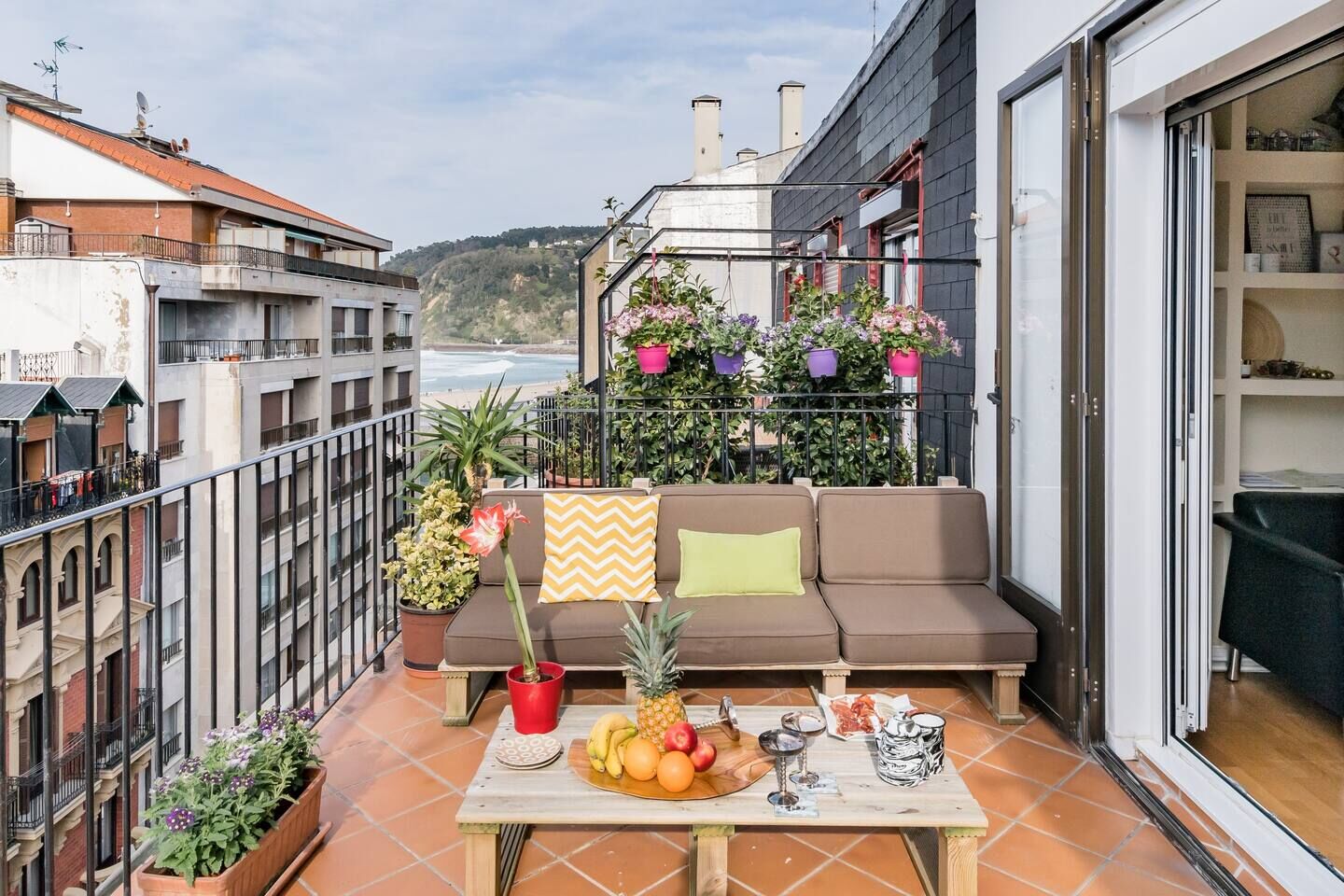 From the mountainous north to the sun-drenched beaches of the south, the untouched mountain villages to the cosmopolitan cities, Spain is a country to return to again and again. While Madrid and Barcelona drive the bulk of the tourism, you'll need to cast your net wider if you want to get a full panorama of life in the Iberian Peninsula. Accommodation in Spain spans lush fincas and heritage townhouses to contemporary penthouses. Here are the most unique Airbnbs in Spain across islands and cities.
Traveling to Spain? Check out Matador's Spain accommodations guides:
We hope you love the Airbnb Spain vacation rentals we recommend! Just so you know, Matador may collect a small commission from the links on this page if you decide to book a stay. Listed prices are accurate as of the time of publication.
Top Airbnbs in Mallorca, Spain
Fantástica Villa Blau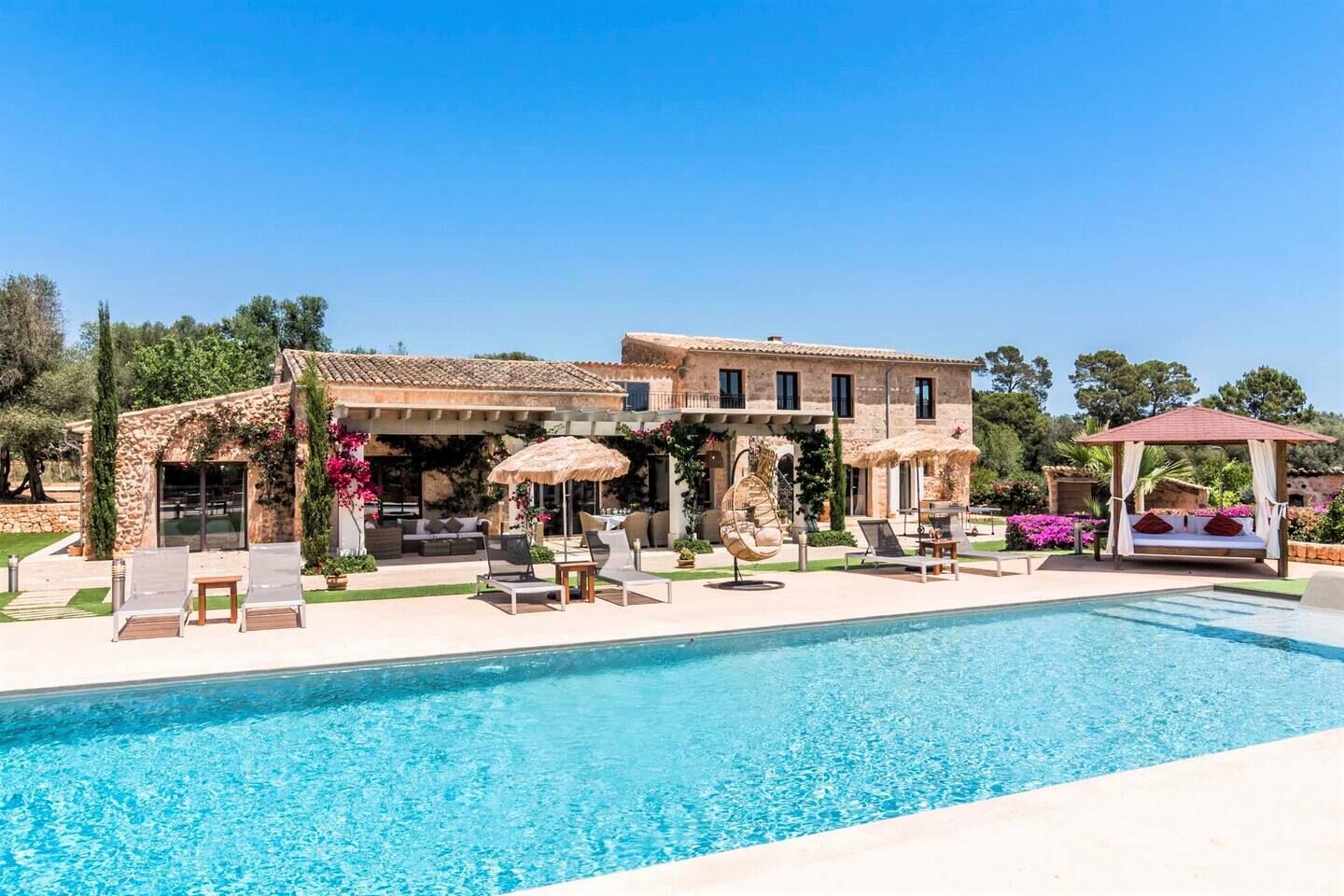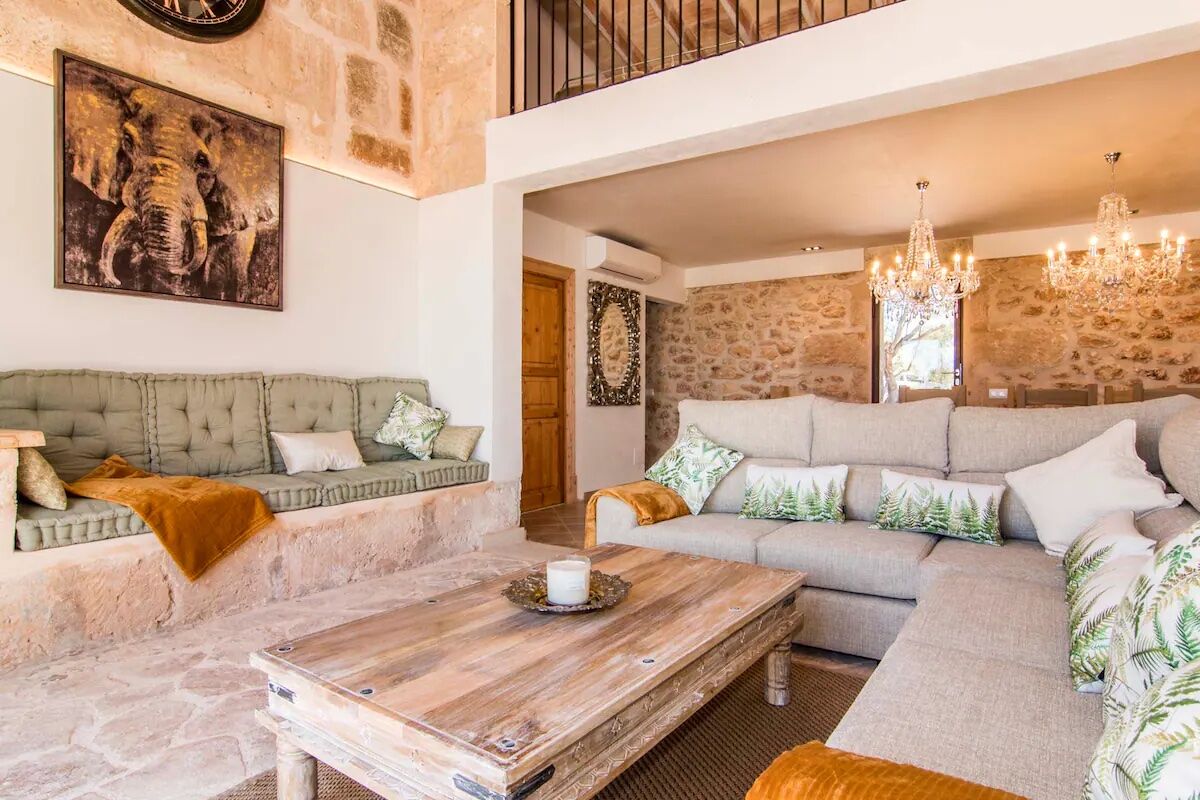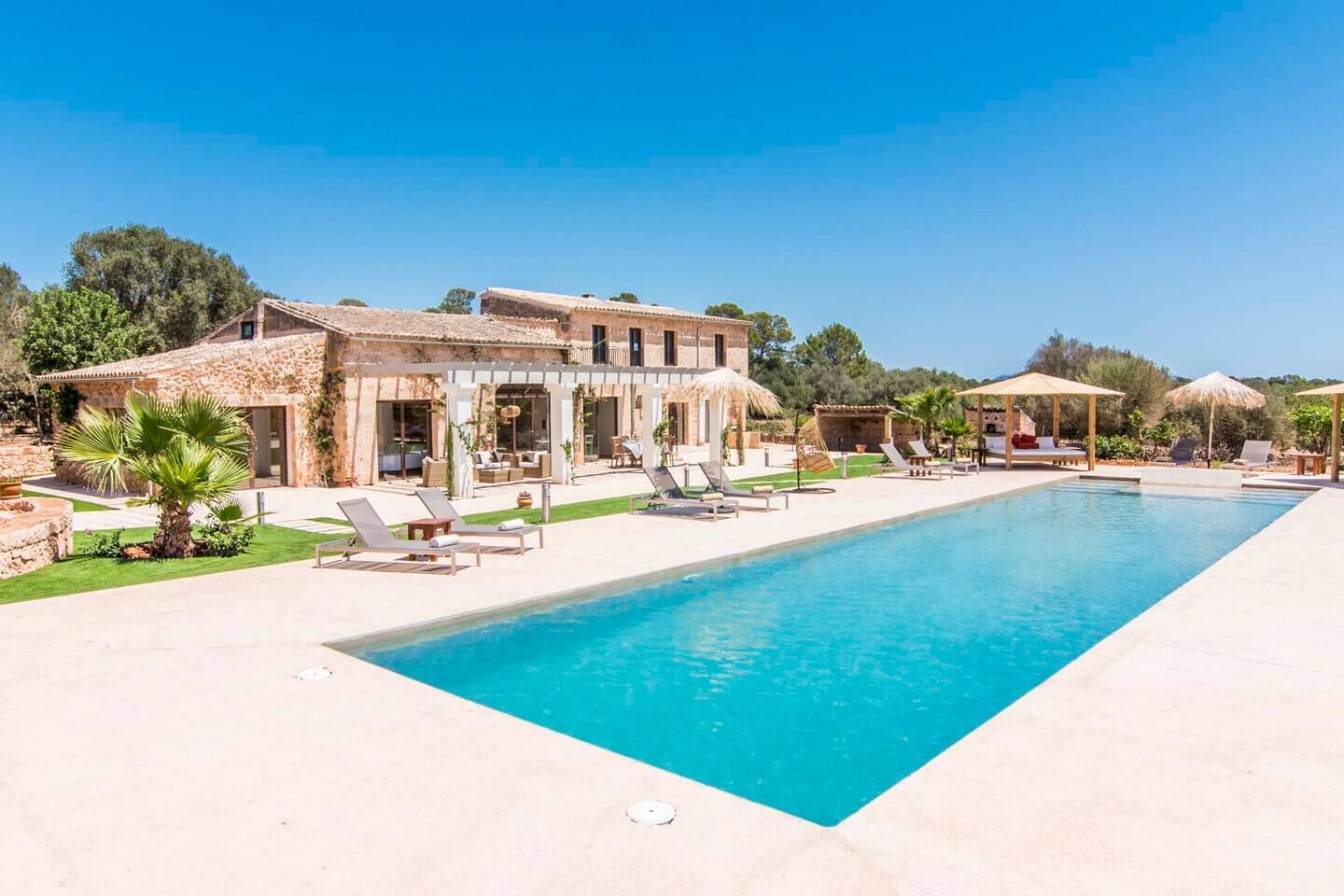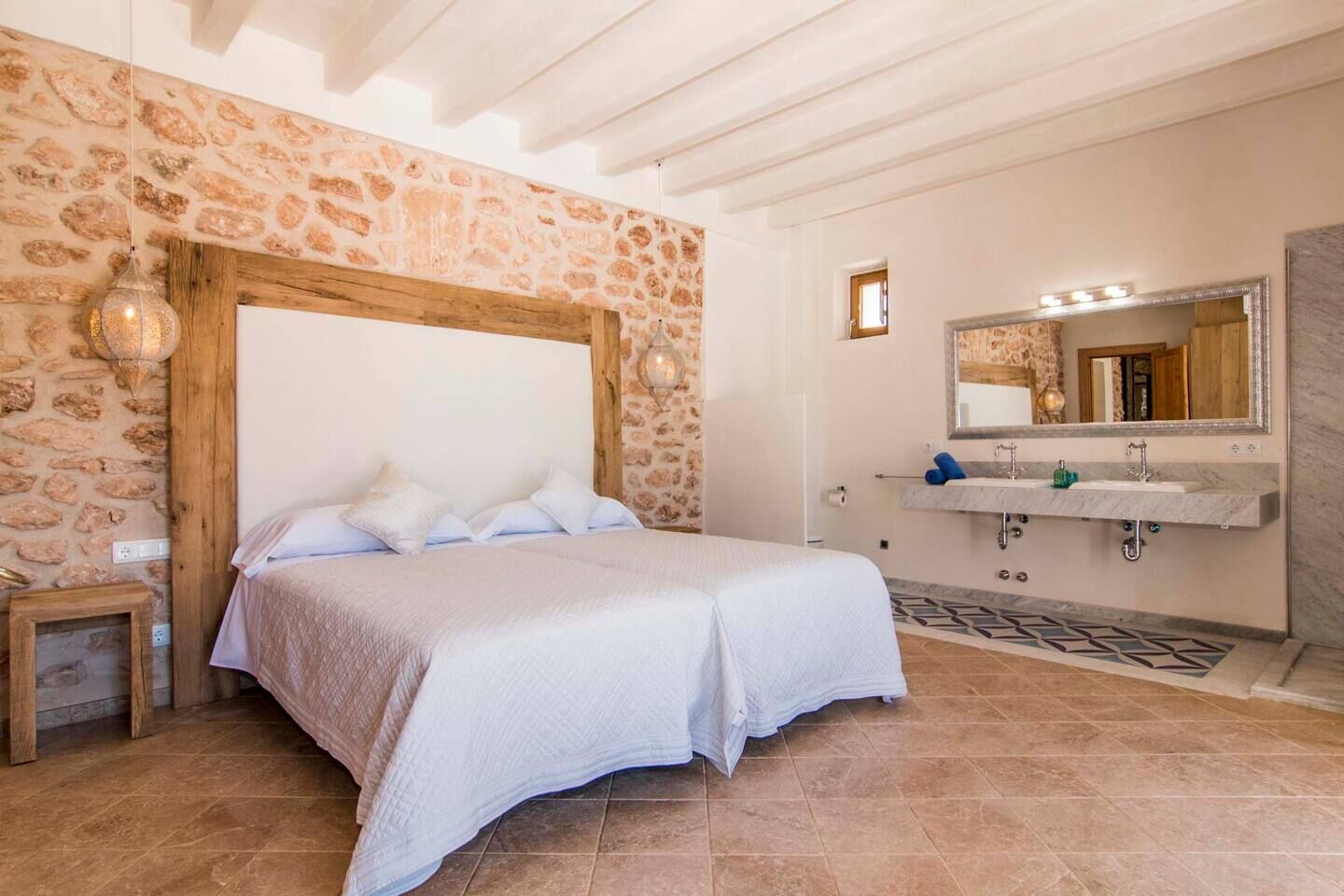 Located a 20-minute drive from Palma and the island's southern beaches, this Airbnb in Mallorca, Spain with two private pools is laid out with a sun deck, covered dining porch, and Balinese daybeds. An expansive garden nurtures almond, carob, and fig trees alongside fragrant flowers. Five spacious bedrooms are decorated in a soothing palette, each with its own bathroom. Dogs are welcome at this pet-friendly finca.
Ten guests, five bedrooms
Price: $406 per night
Posada De Balitx – magical townhouse in Fornalutx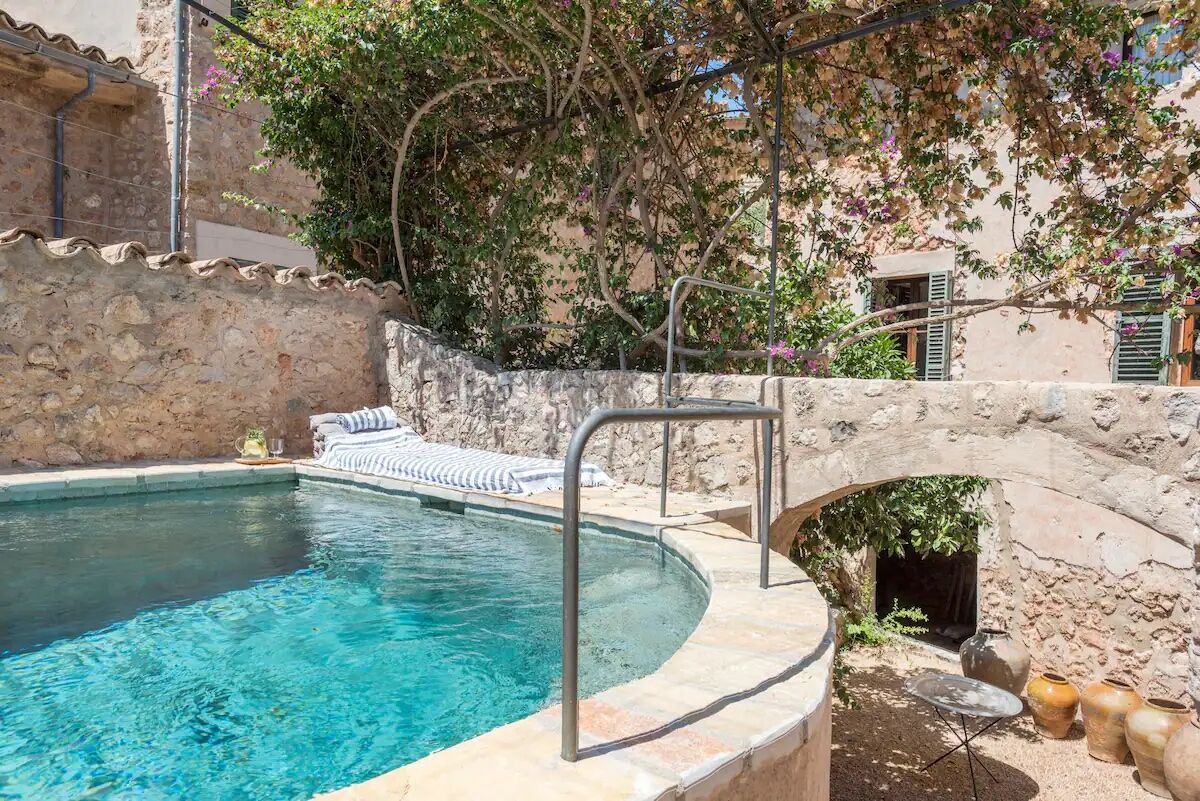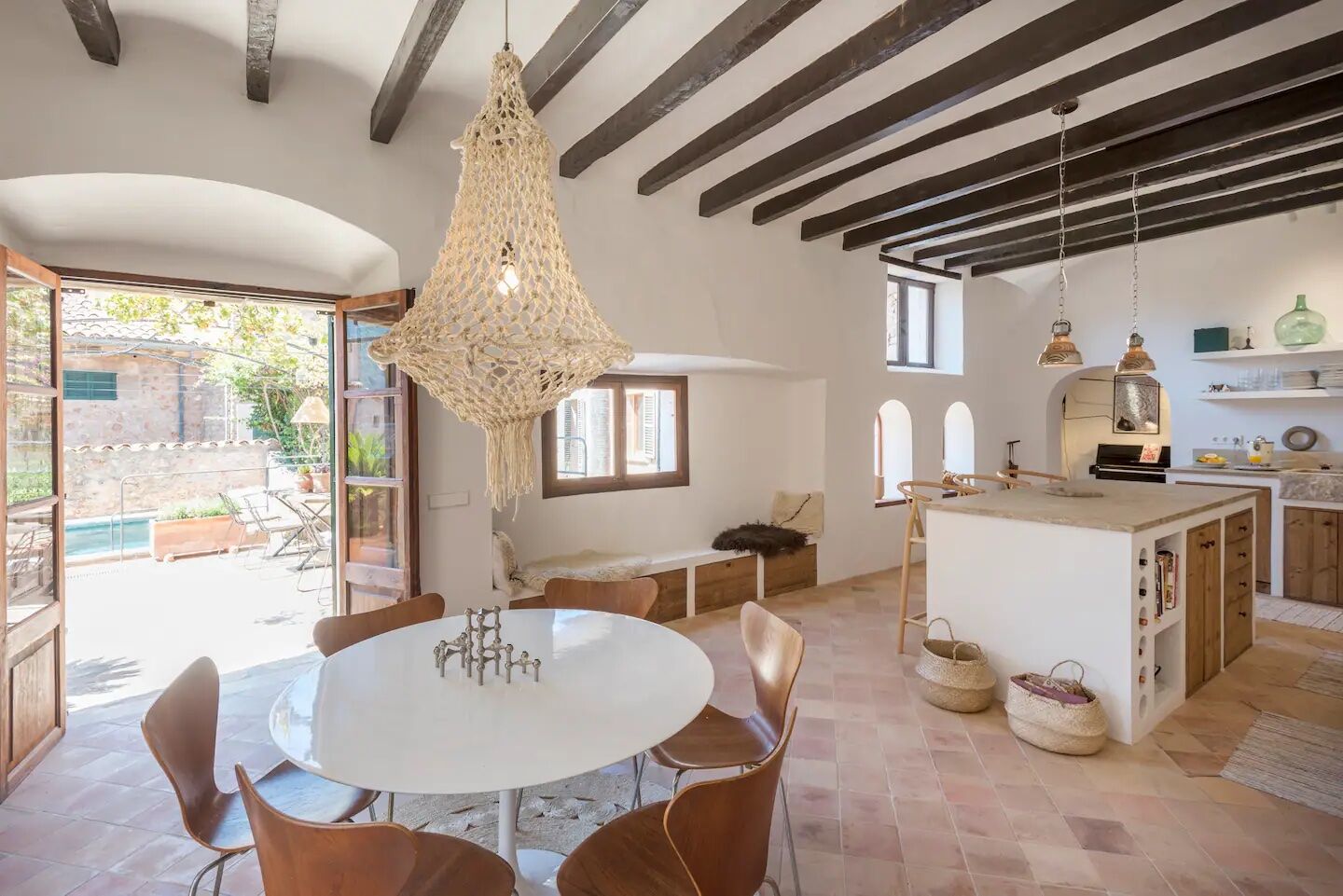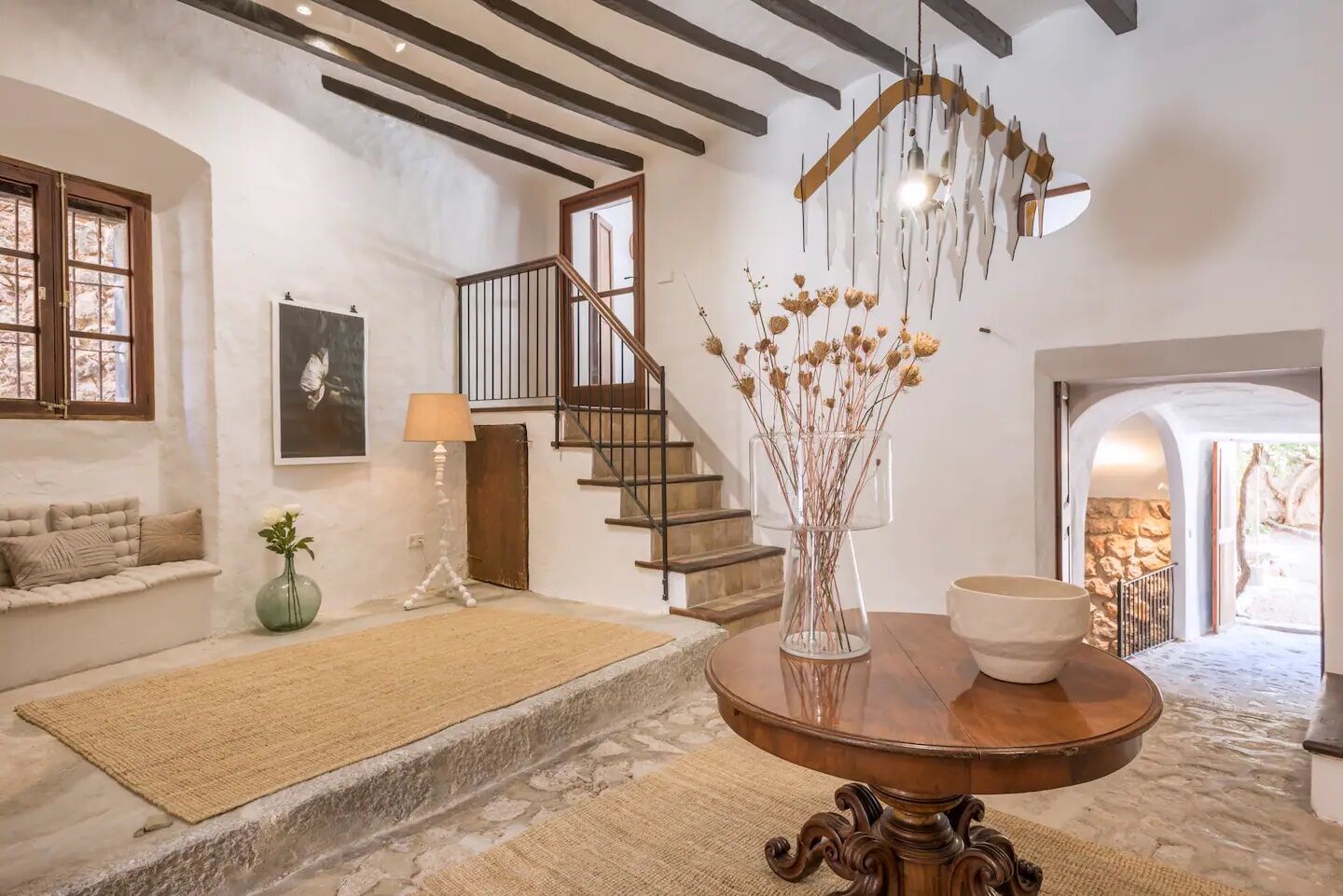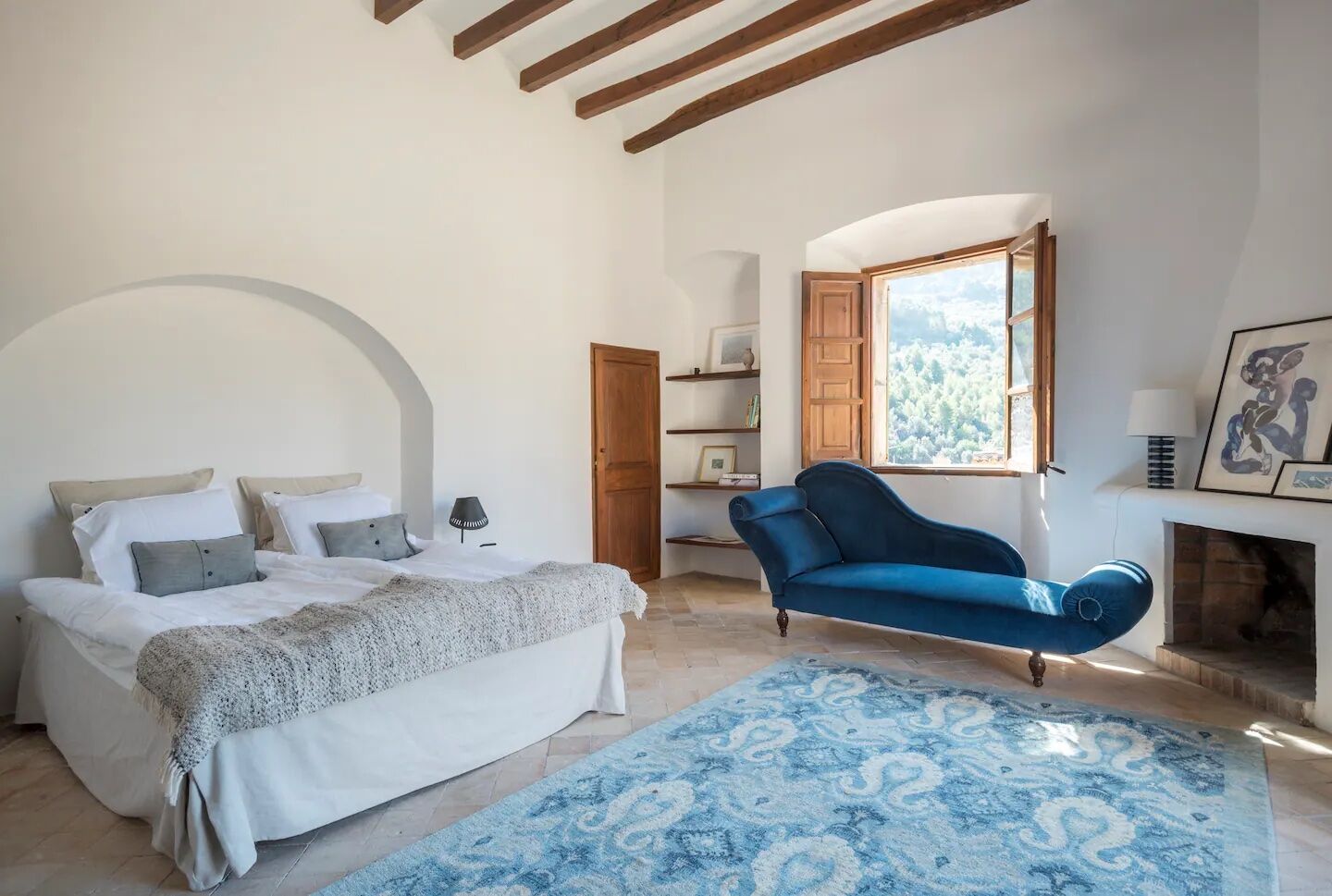 Whisk yourself far from the crowds to this Mallorca Airbnb in Fornalutx, one of Spain's prettiest mountain villages. The historic stone house overlooks the Soller Valley where you can fill your days with hiking and cycling. Back at the property, you can cool off in the plunge pool and nap beneath the bougainvillea. The upper floor is given over to a studio ideal for yoga, meditation, and movie nights courtesy of the projector.
Ten guests, five bedrooms
Price: $573 per night
Top Airbnbs in Seville, Spain
Magno Apartments Alameda 1851 – penthouse with private Jacuzzi and terrace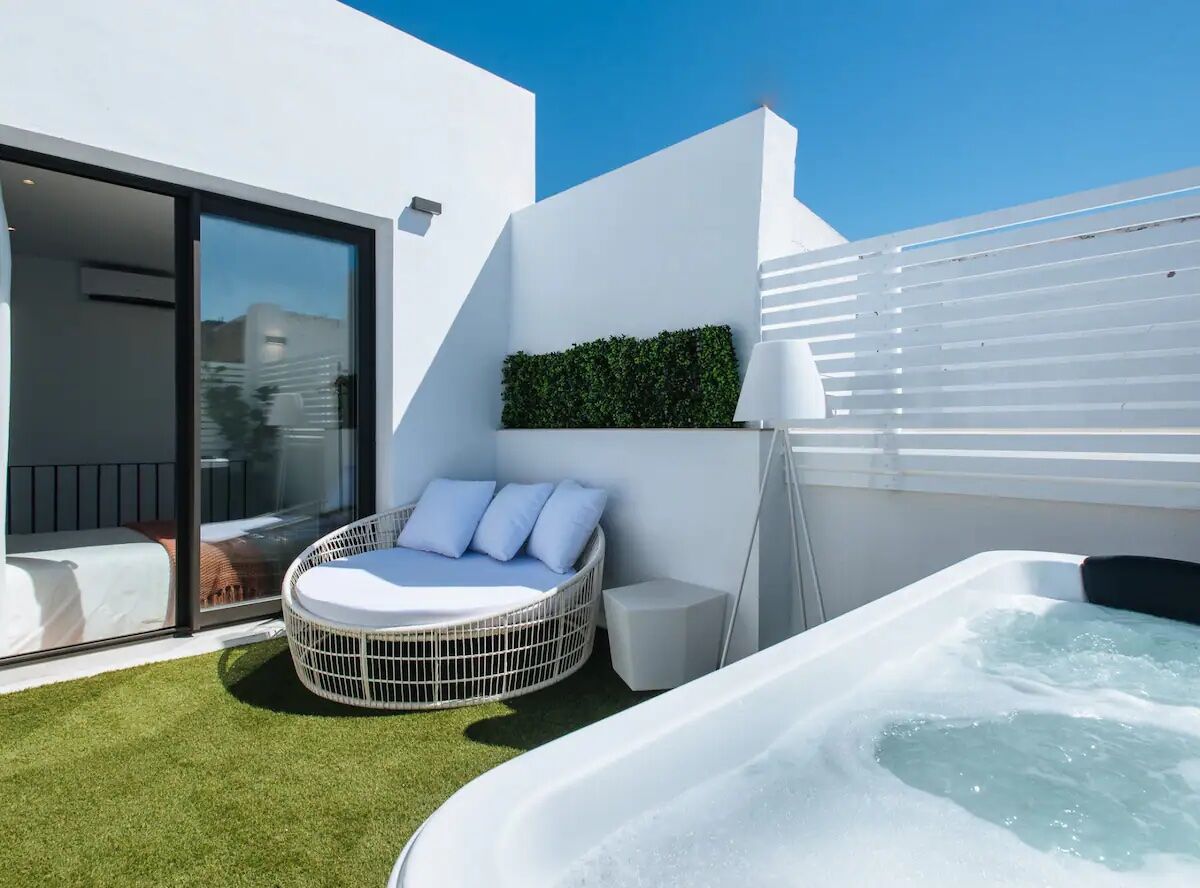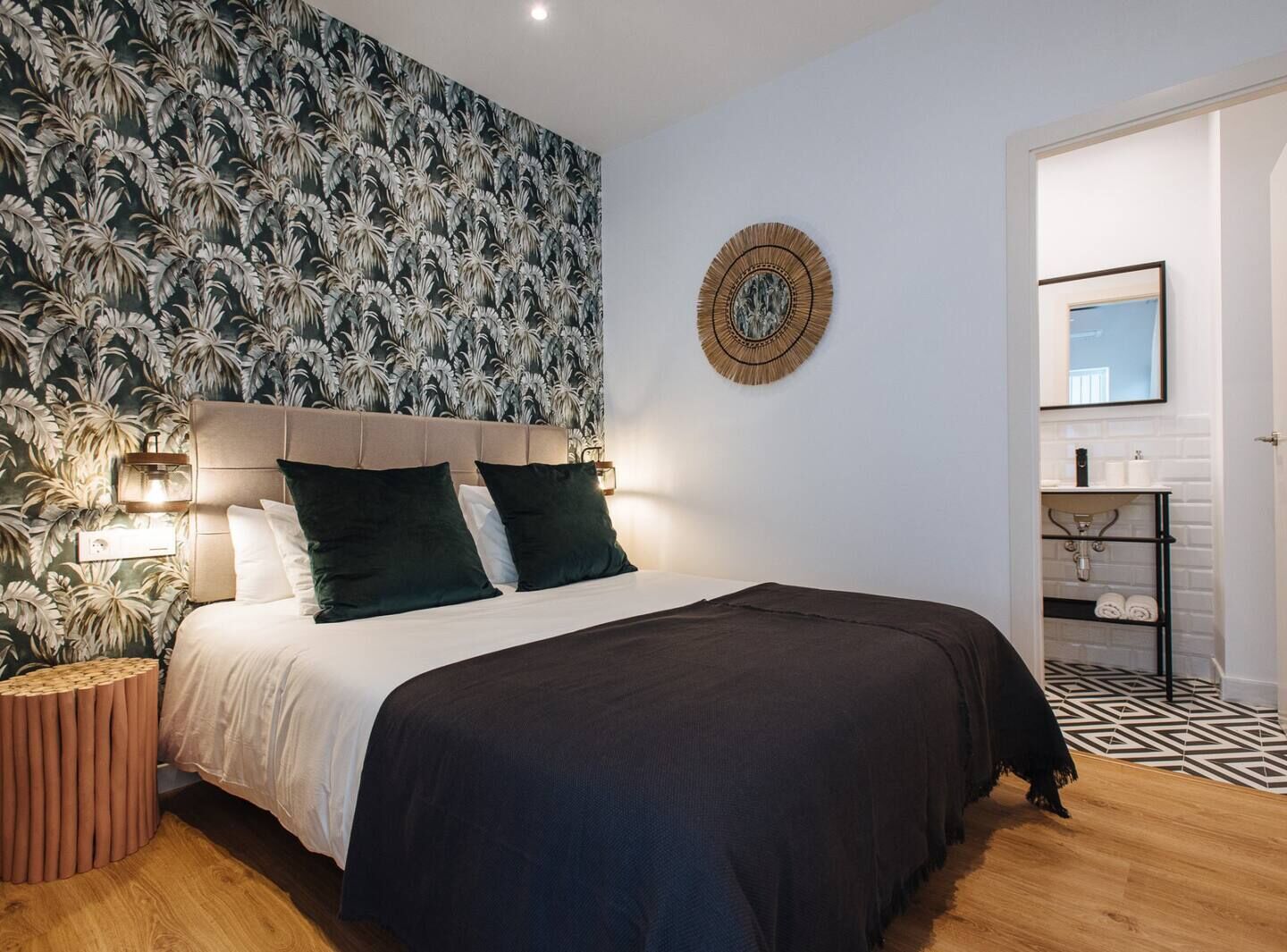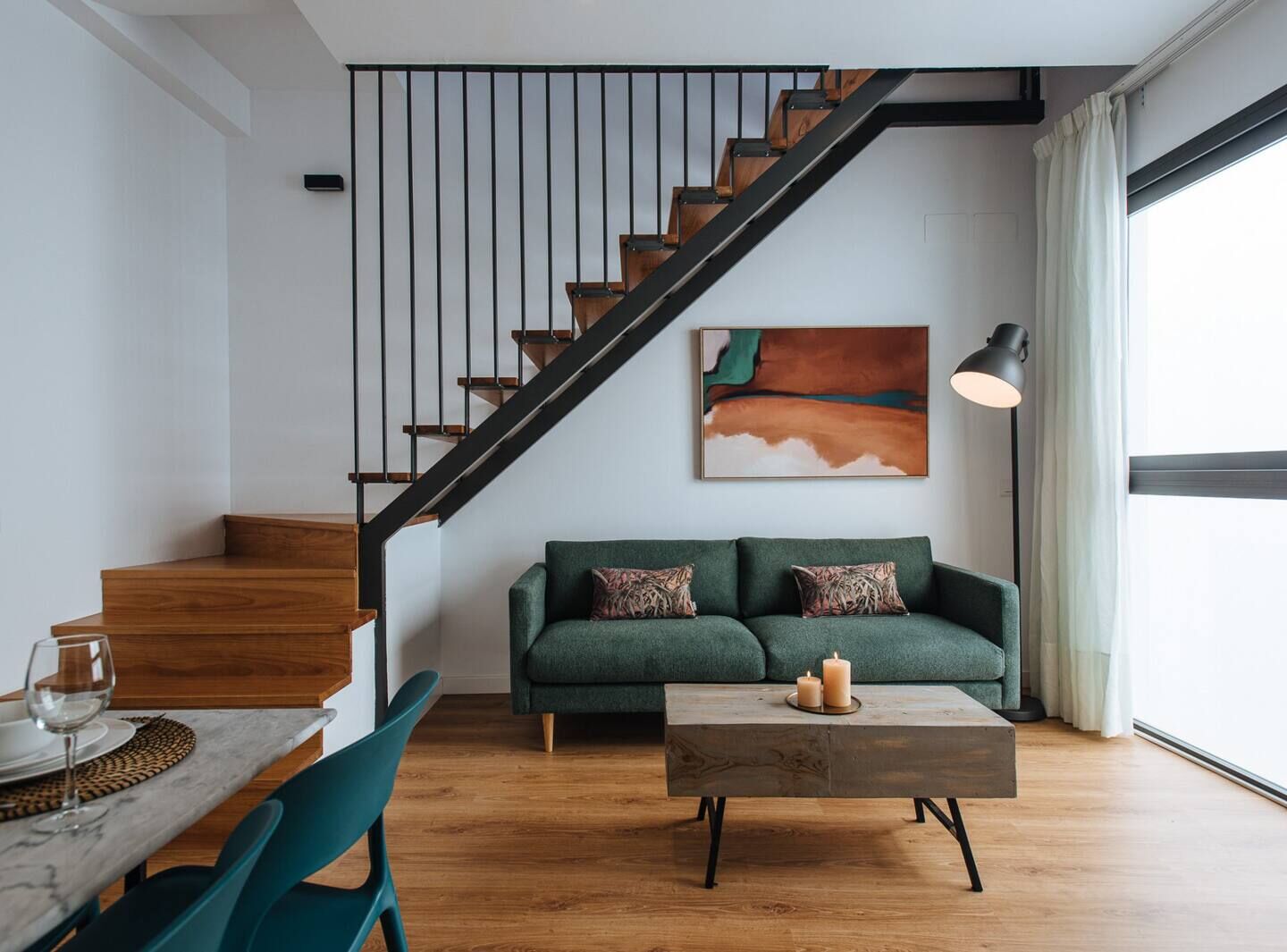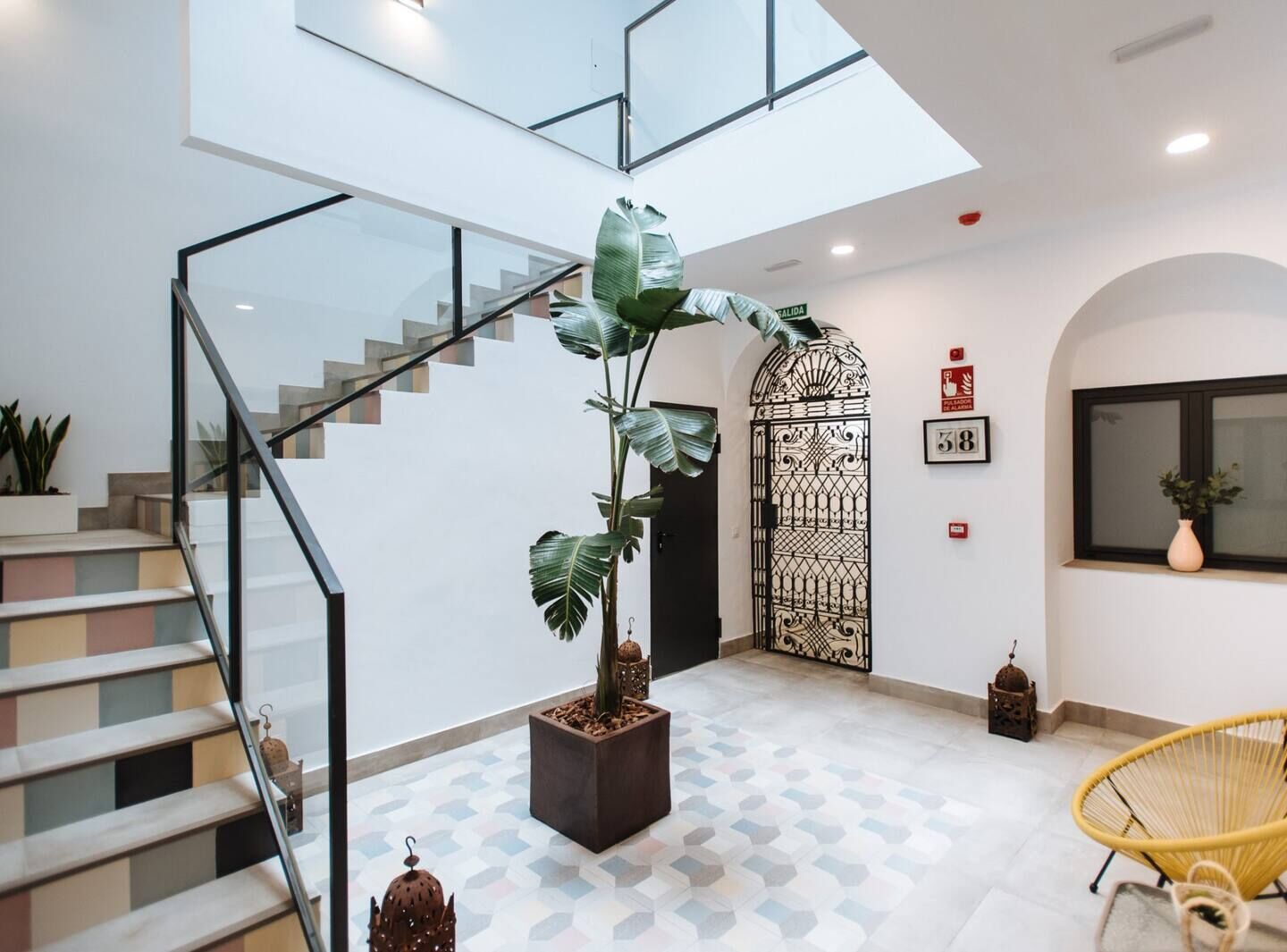 Situated at the crossroads of three of the most desirable neighborhoods, San Vicente, Feria, and Regina, this one-bedroom Airbnb in Seville, Spain, is perfect for a romantic city break. The upper floor of the duplex opens onto a sun terrace with a hot tub while the state-of-the-art kitchen and stylish bathroom are immaculately presented.
Two guests, one bedroom
Price: $203 per night
Beautiful three-bedroom townhouse in central Seville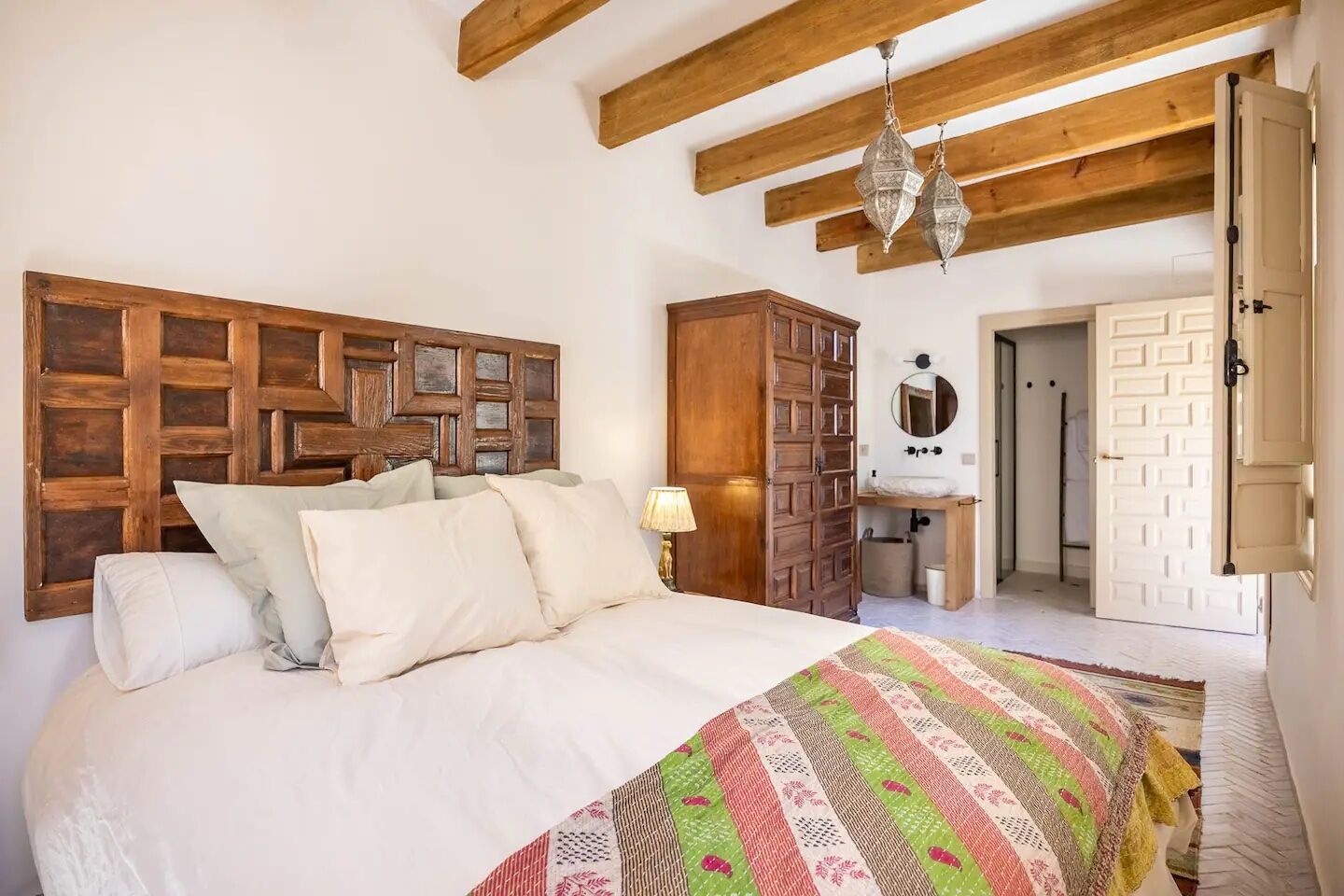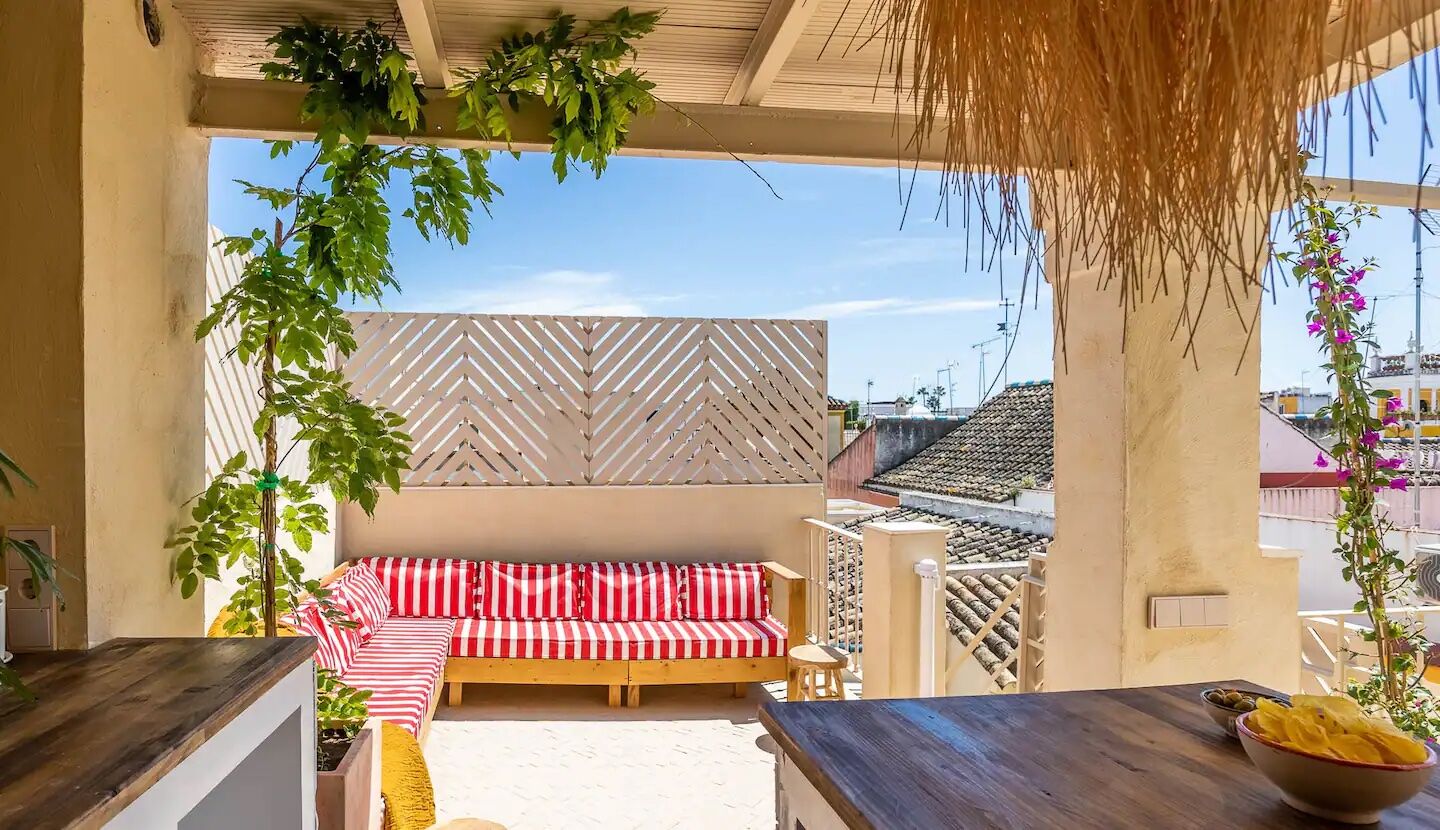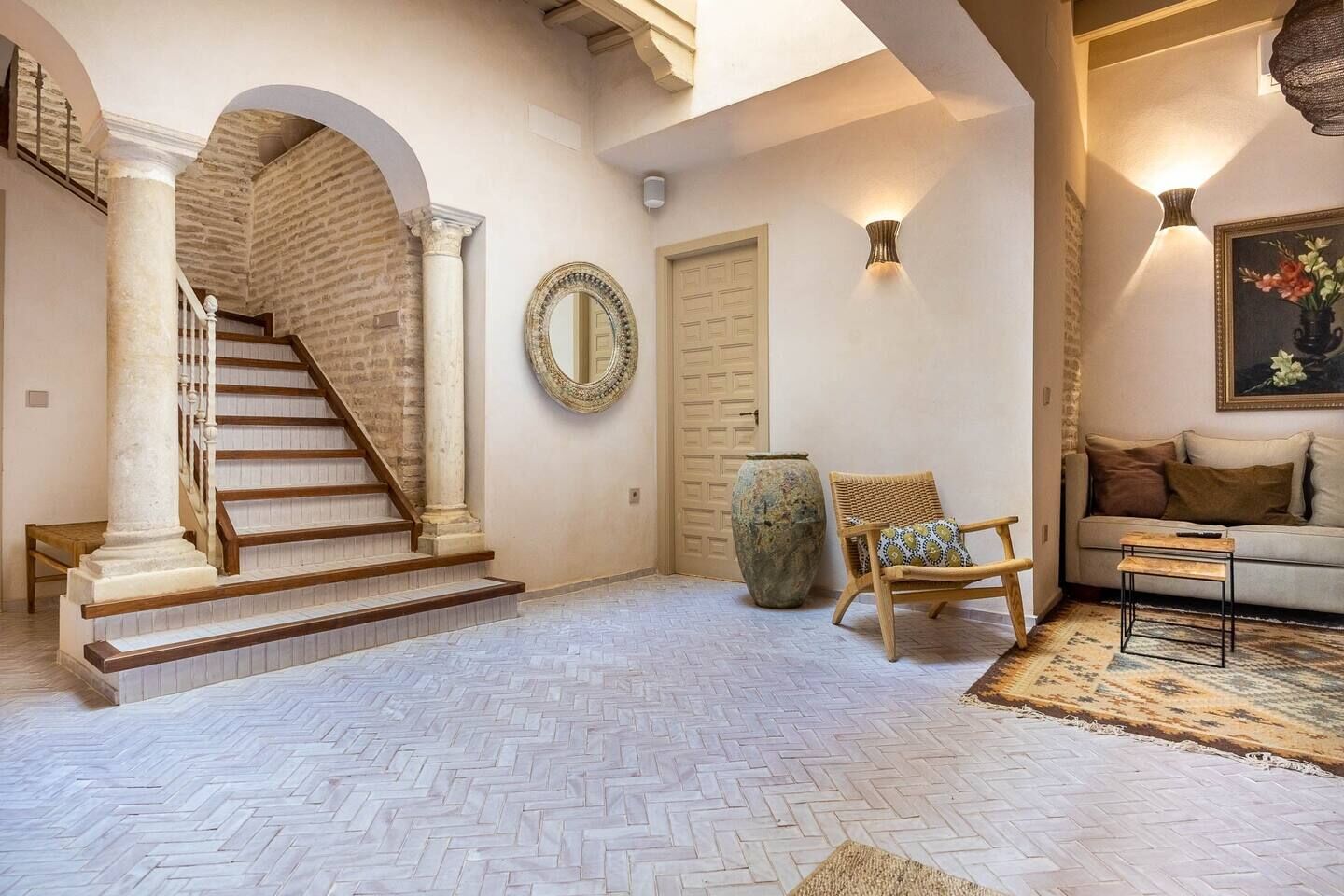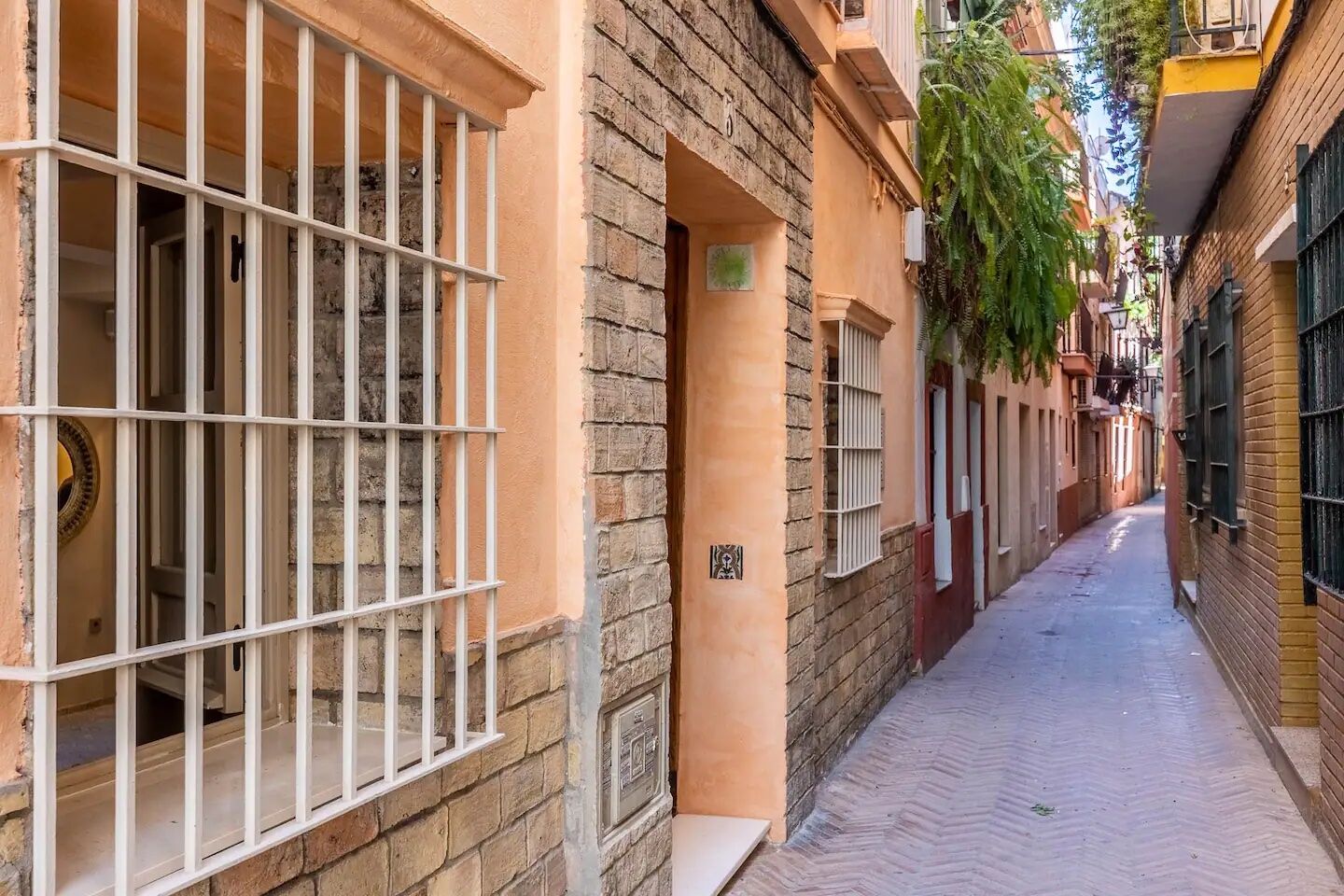 Unwind between sights at this three-story Seville Airbnb with a roof terrace and bar. Consisting of two double bedrooms and a bunk room, the Santa Cruz townhouse is suitable for families or groups of friends. The property adheres to traditional Andalusian design with wood, stone, and natural fibers. Meanwhile, an open-concept kitchen and dining area with a breakfast bar make it easy to whip up your own tapas.
Seven guests, three bedrooms
Price: $458 per night
Top Airbnbs in San Sebastian, Spain
Radiant sea-view penthouse experience in Old Town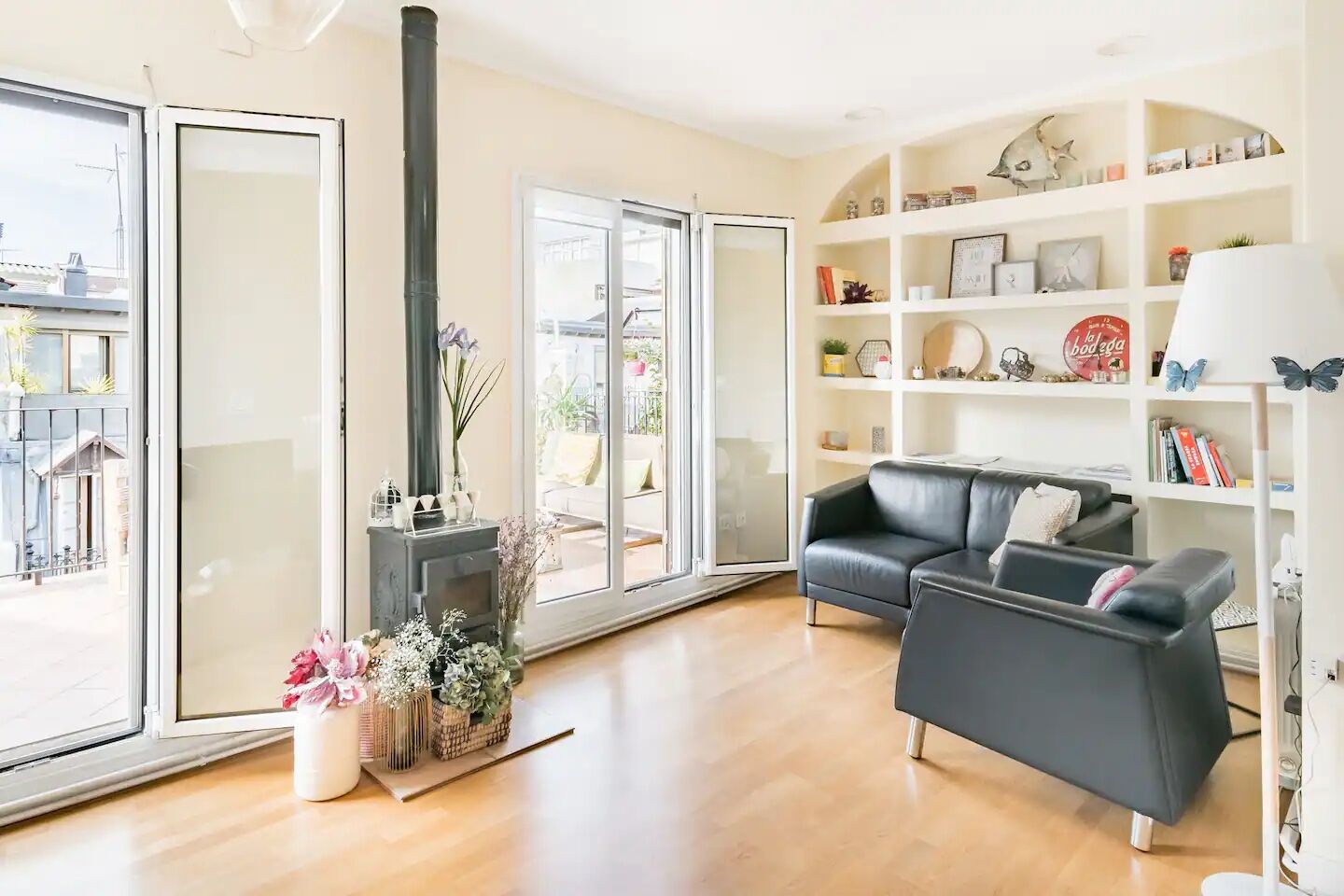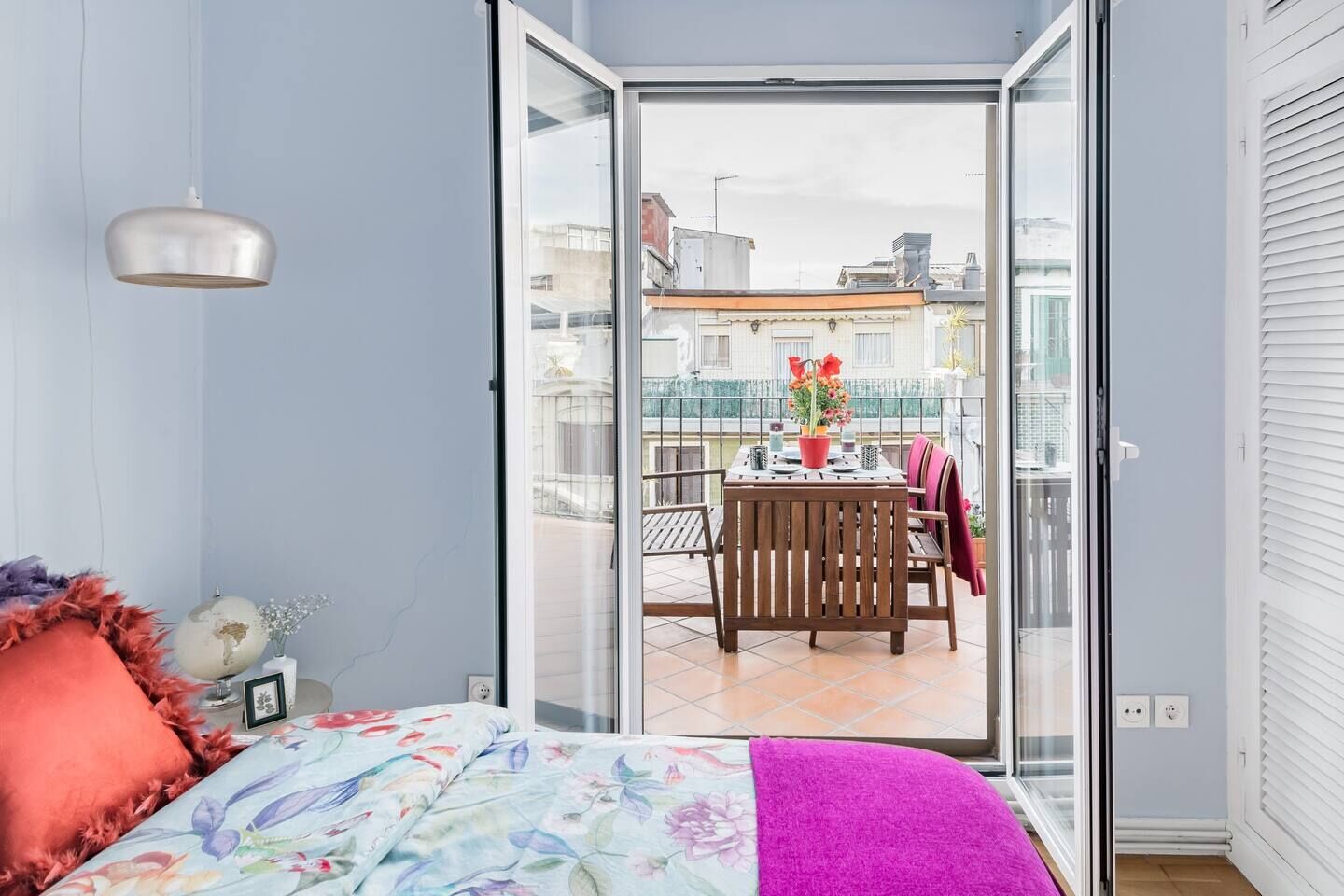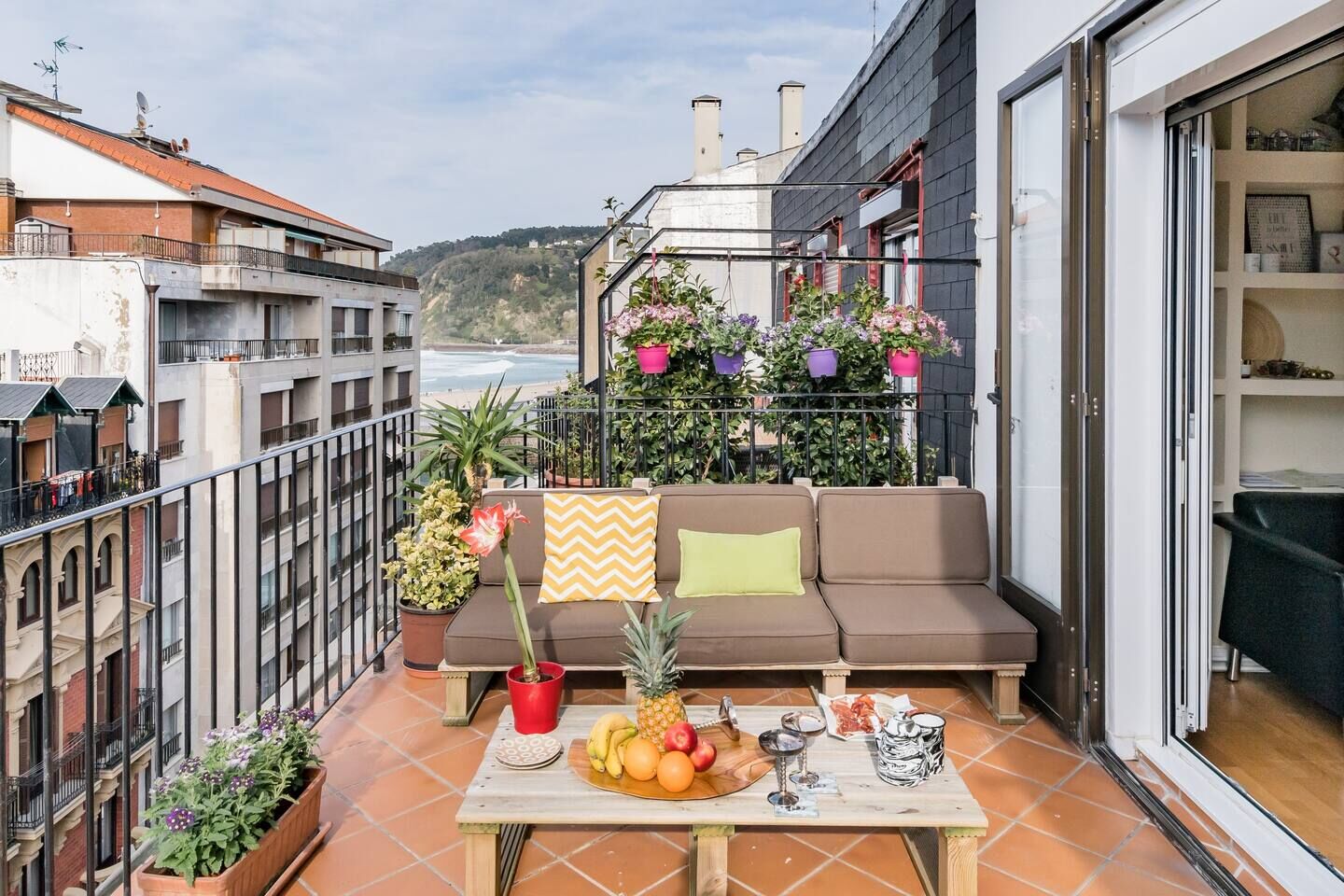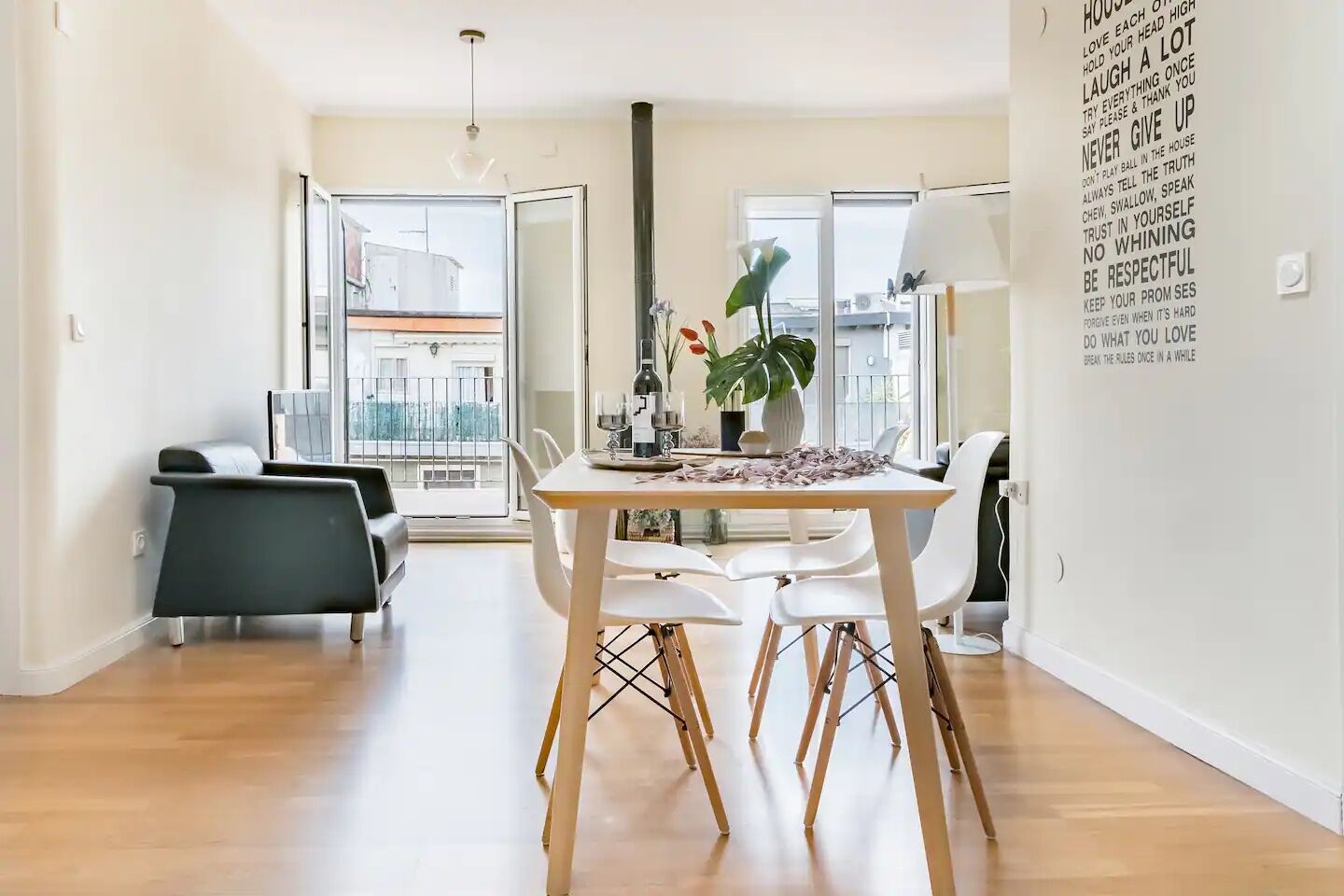 No need to drive when you stay at this San Sebastian, Spain, Airbnb with views of the Bay of Biscay from the terrace. Right on the cusp of Old Town, the penthouse is perfect for first-time visitors eager to sample the culture, beaches, and cuisine of Basque Country. The lounge is warmed with a wood burner in winter while trinkets create a homely ambiance. Reach out to the host to arrange tours, wine tastings, and childminding services.
Three guests, two bedrooms
Price: $355 per night
Go Donosti Romanticism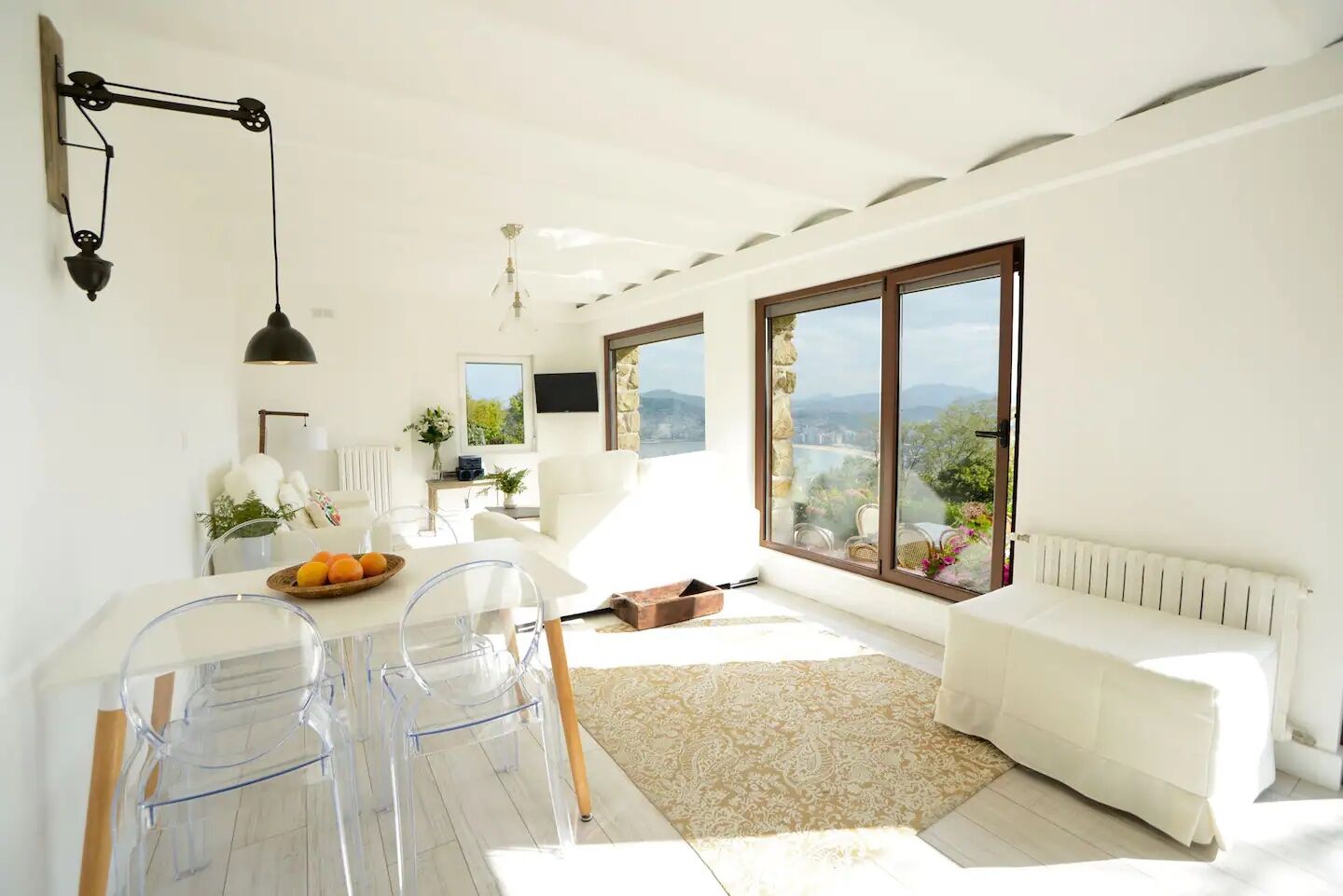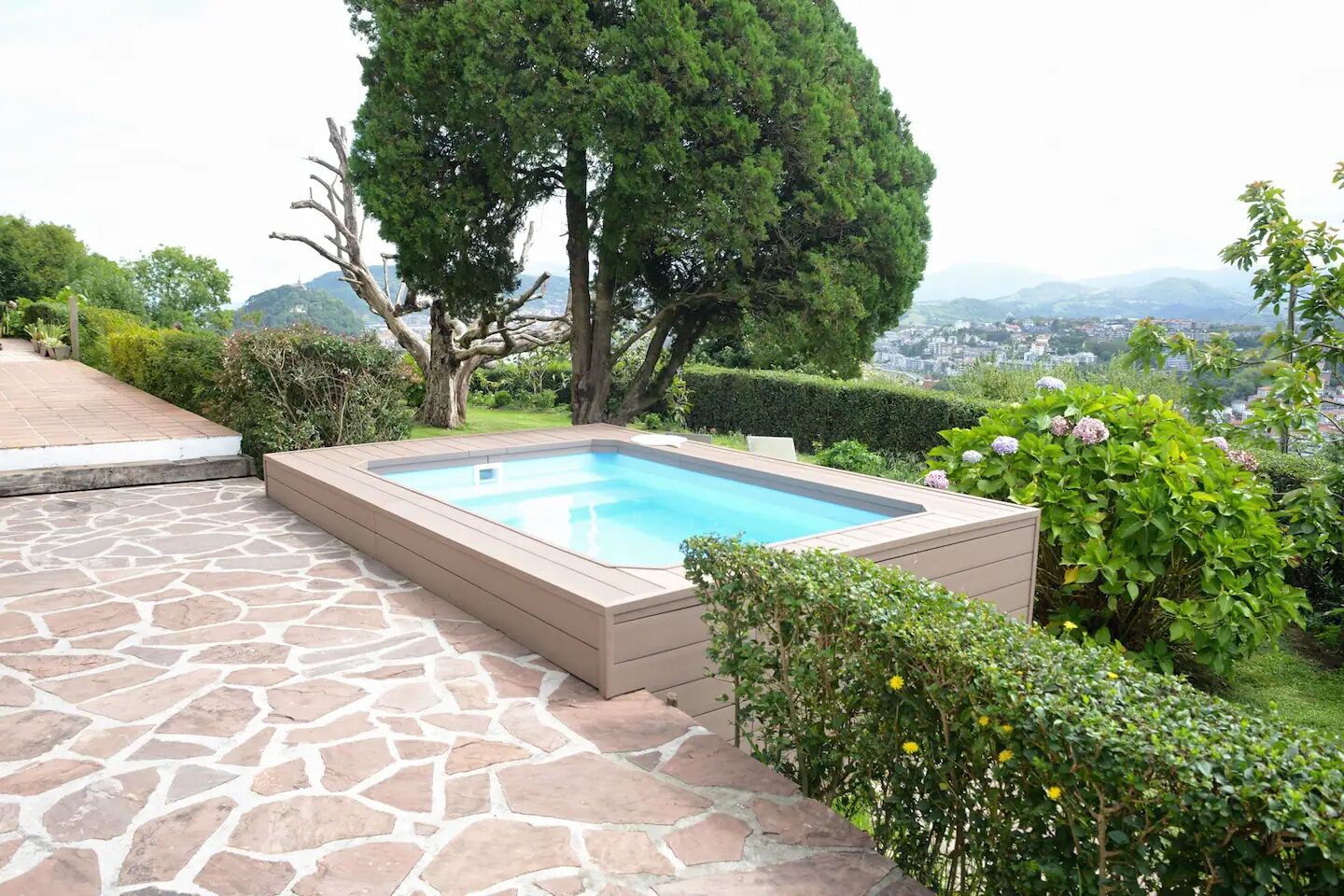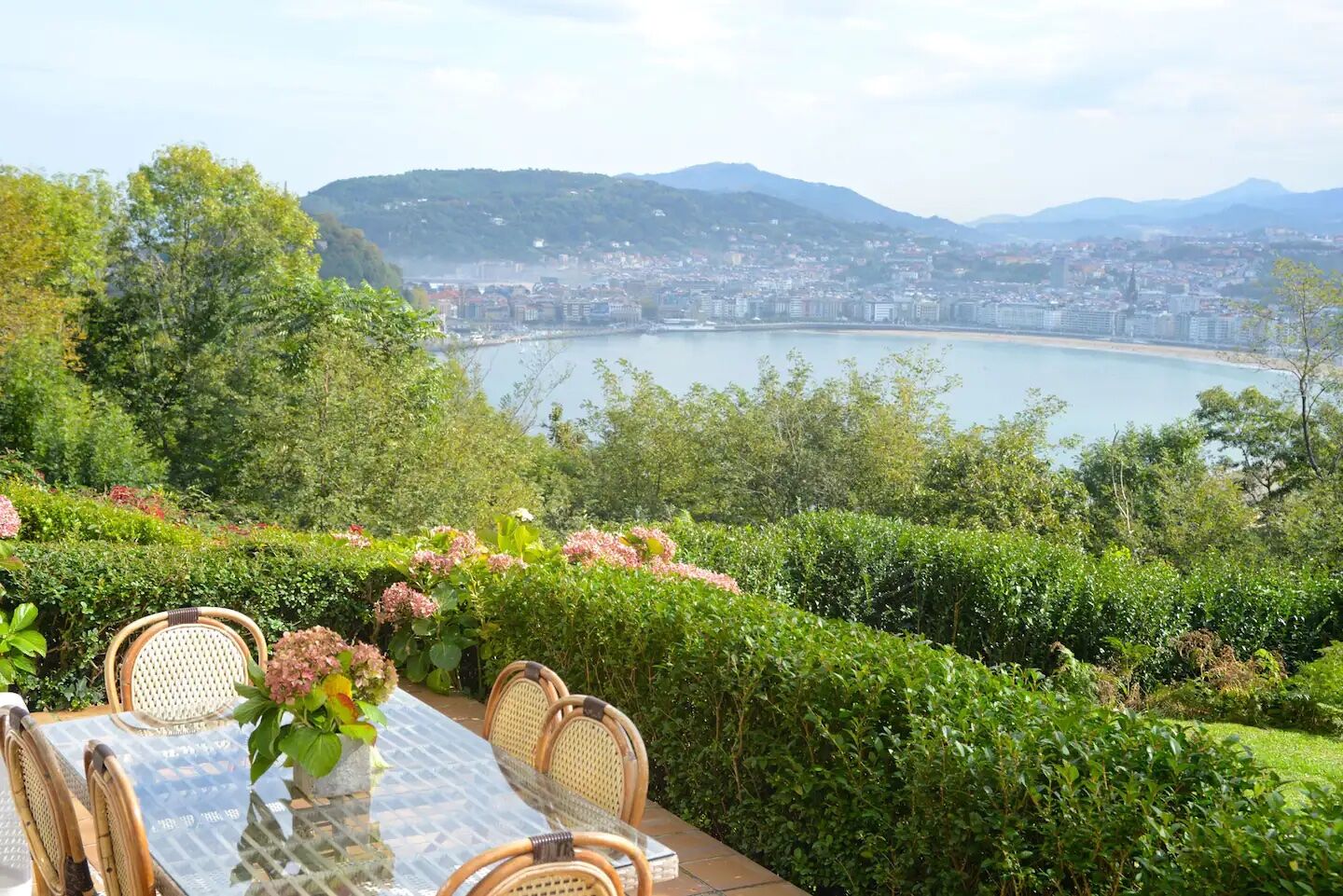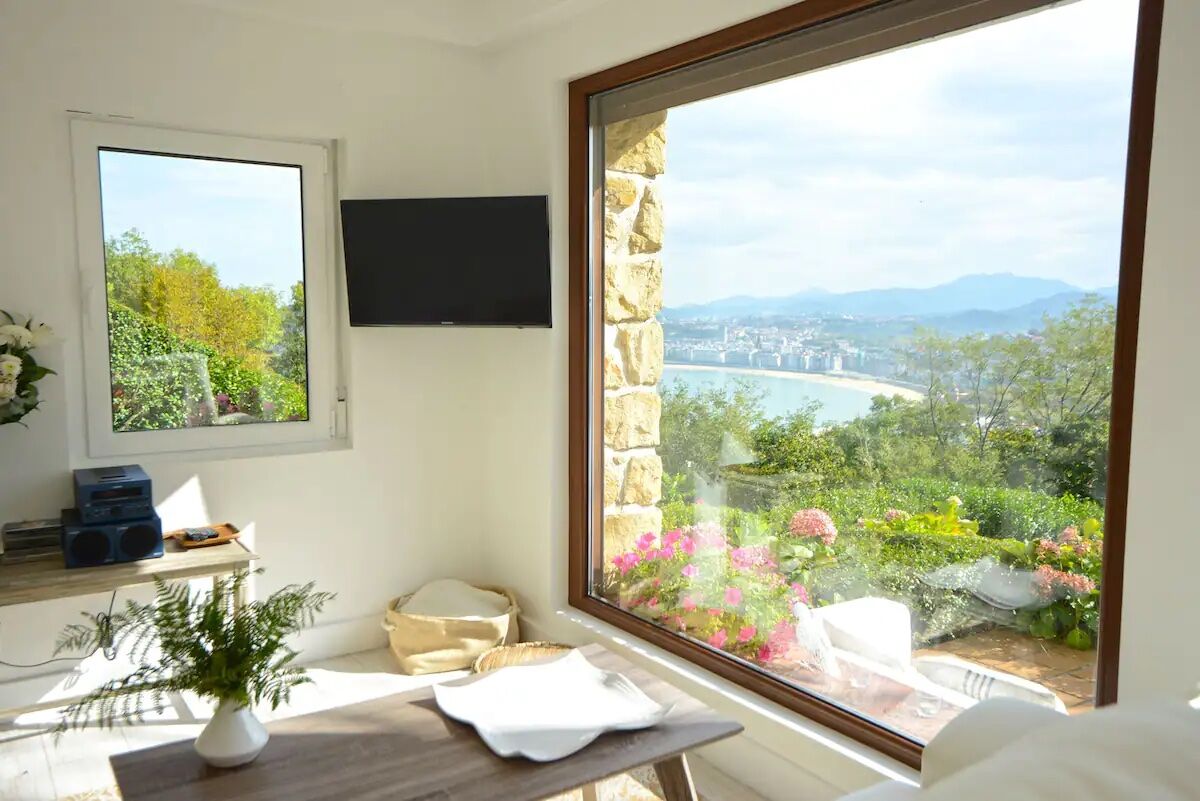 Overlooking La Concha and the surrounding mountains, this Airbnb in San Sebastian, Spain, with a pool is a short drive from the town center. The two-bedroom apartment is gloriously appointed with pristine white fittings and thick bedding. Panoramic windows and the backyard with a lawn maximize the views. Dogs are welcome at this pet-friendly vacation rental at no additional charge.
Four guests, two bedrooms
Price: $280 per night
Top Airbnbs in Bilbao and Valencia, Spain
Bilbao Arte III by Aston Rentals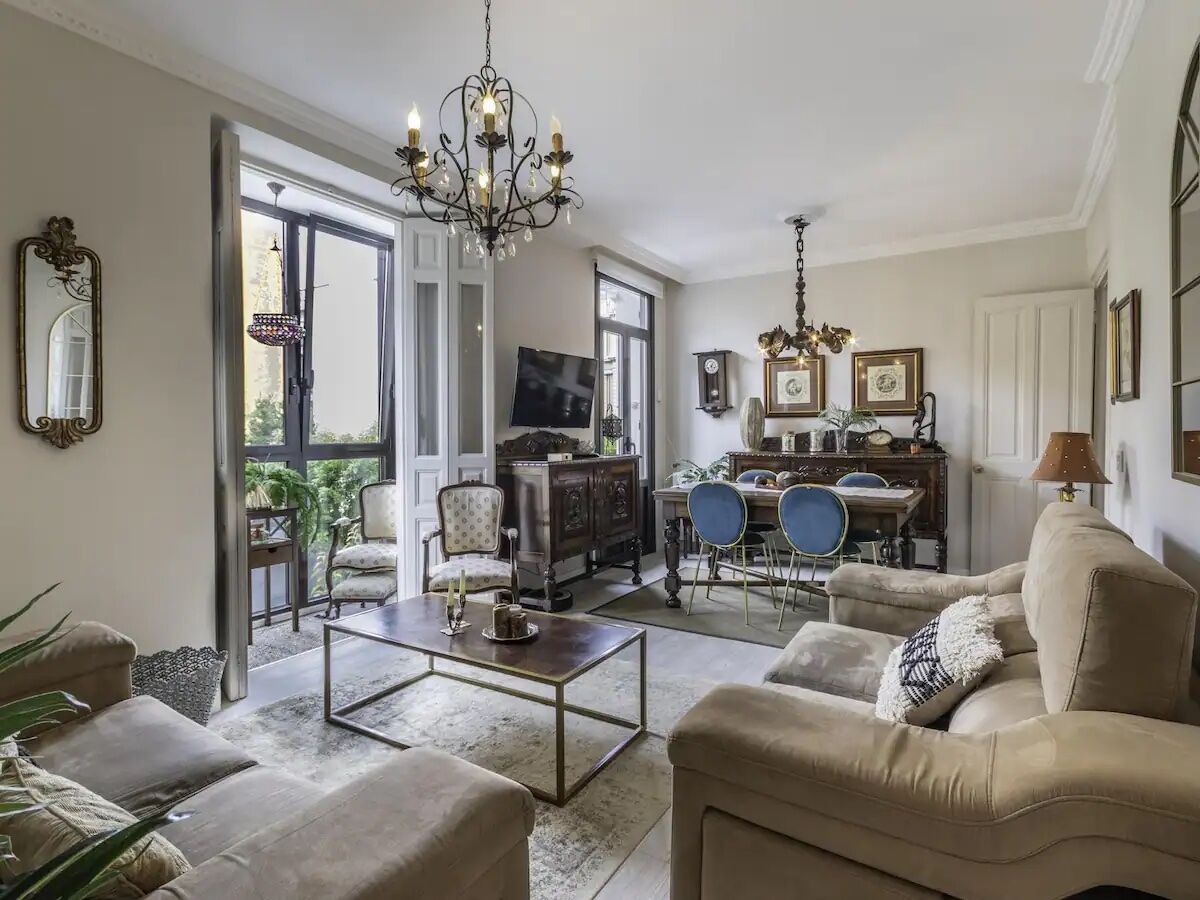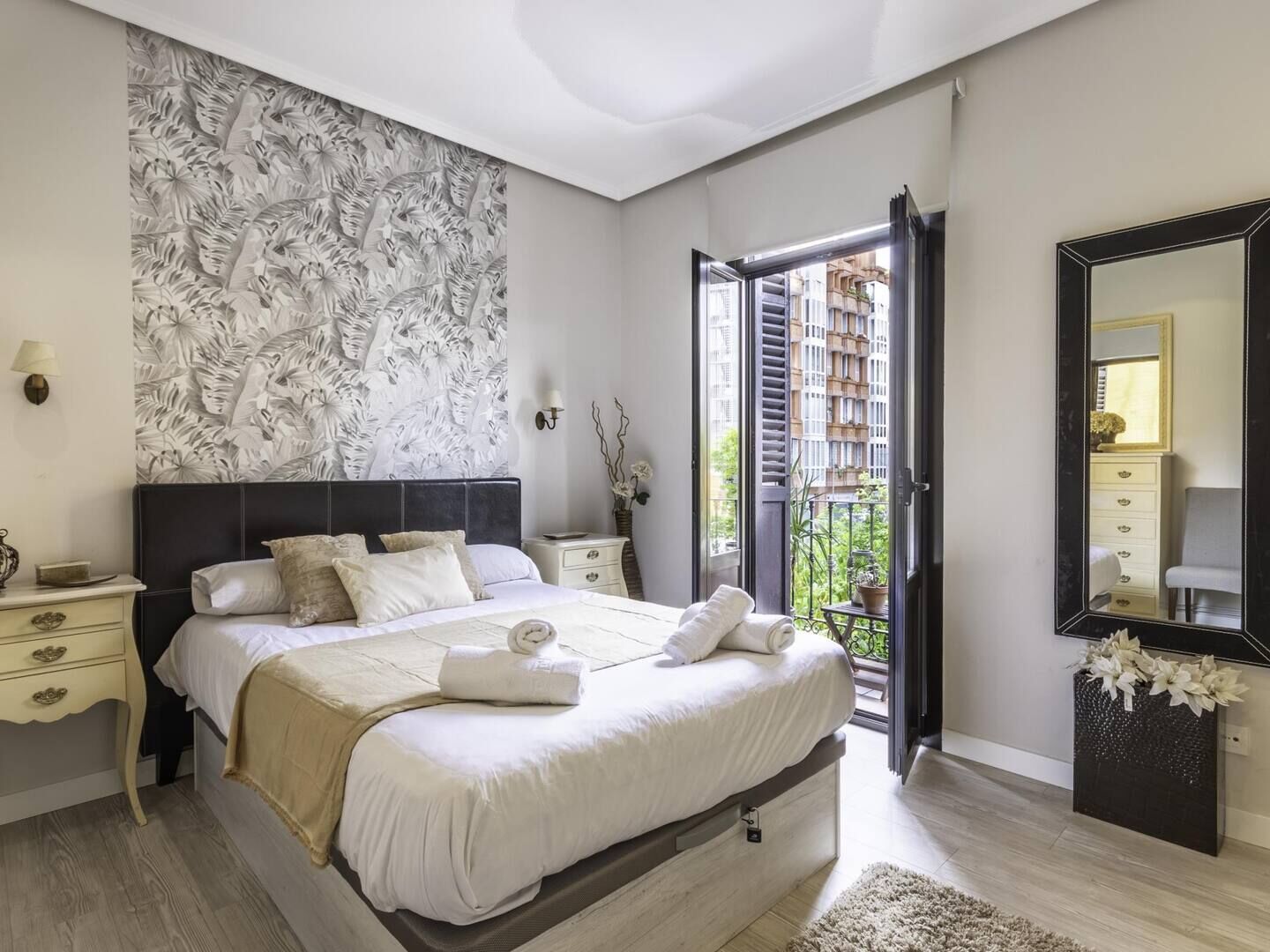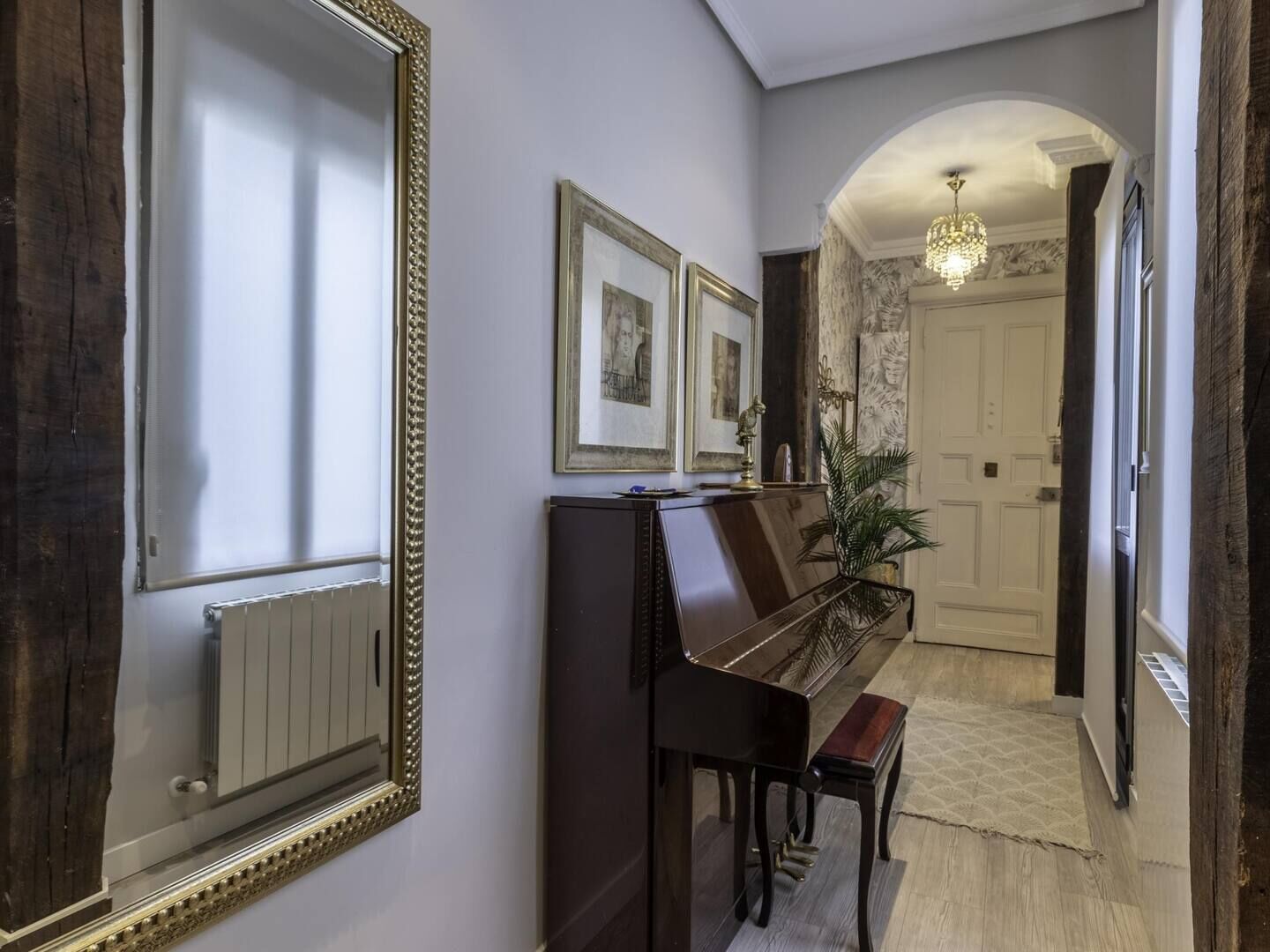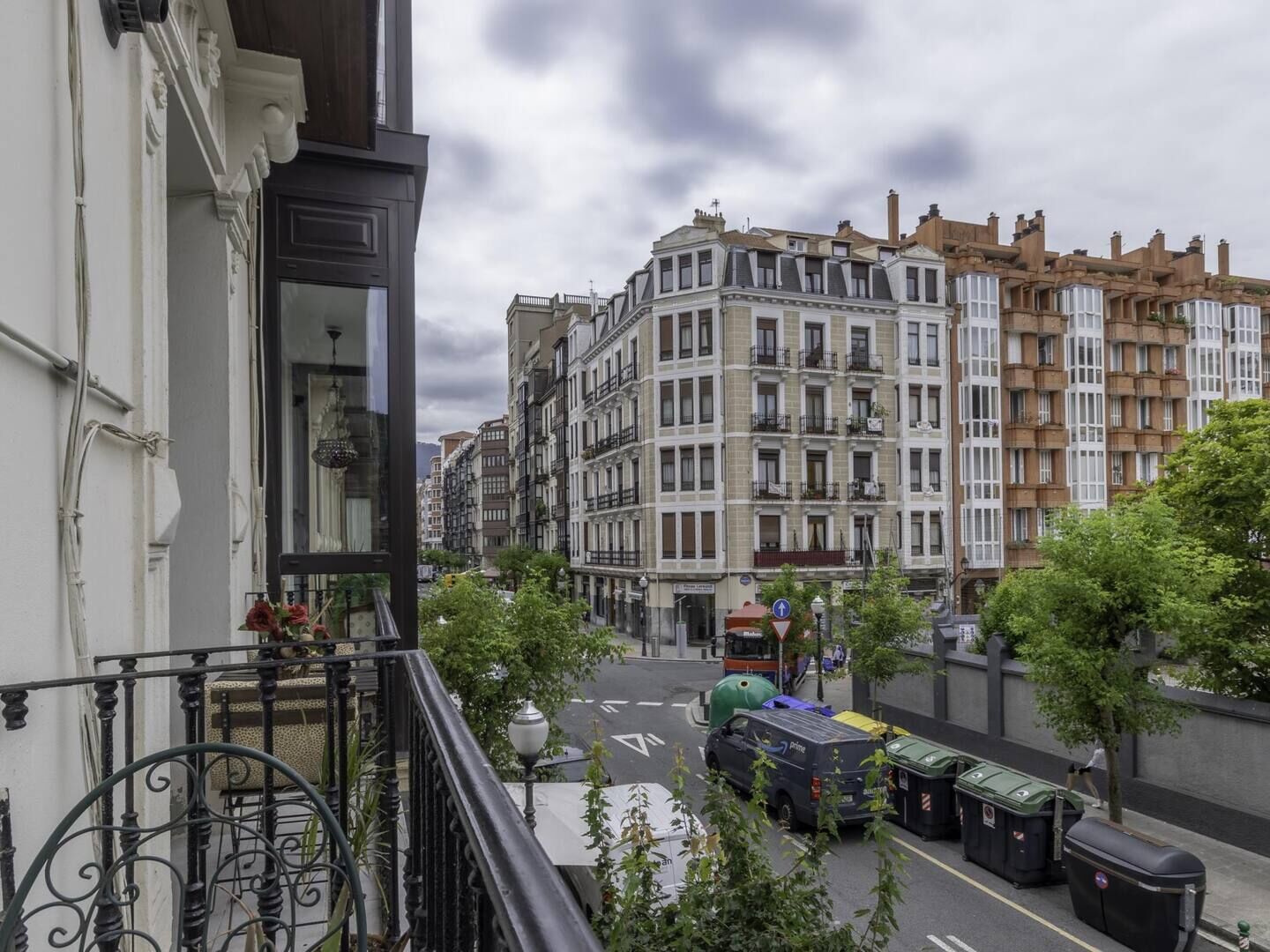 This sophisticated Airbnb in Bilbao, Basque Country, is our top pick if you're headed to the Guggenheim and Fine Arts museums. In fact, the apartment itself is a treat for art-minded travelers. Statement wallpaper accents the master bedroom while art and decorative embellishments hang on the walls of the lounge. Start your day with pastries and coffee on the balcony where you'll have first-row seats as the city springs to life.
Six guests, four bedrooms
Price: $378 per night
Entire house with gardens for a family vacation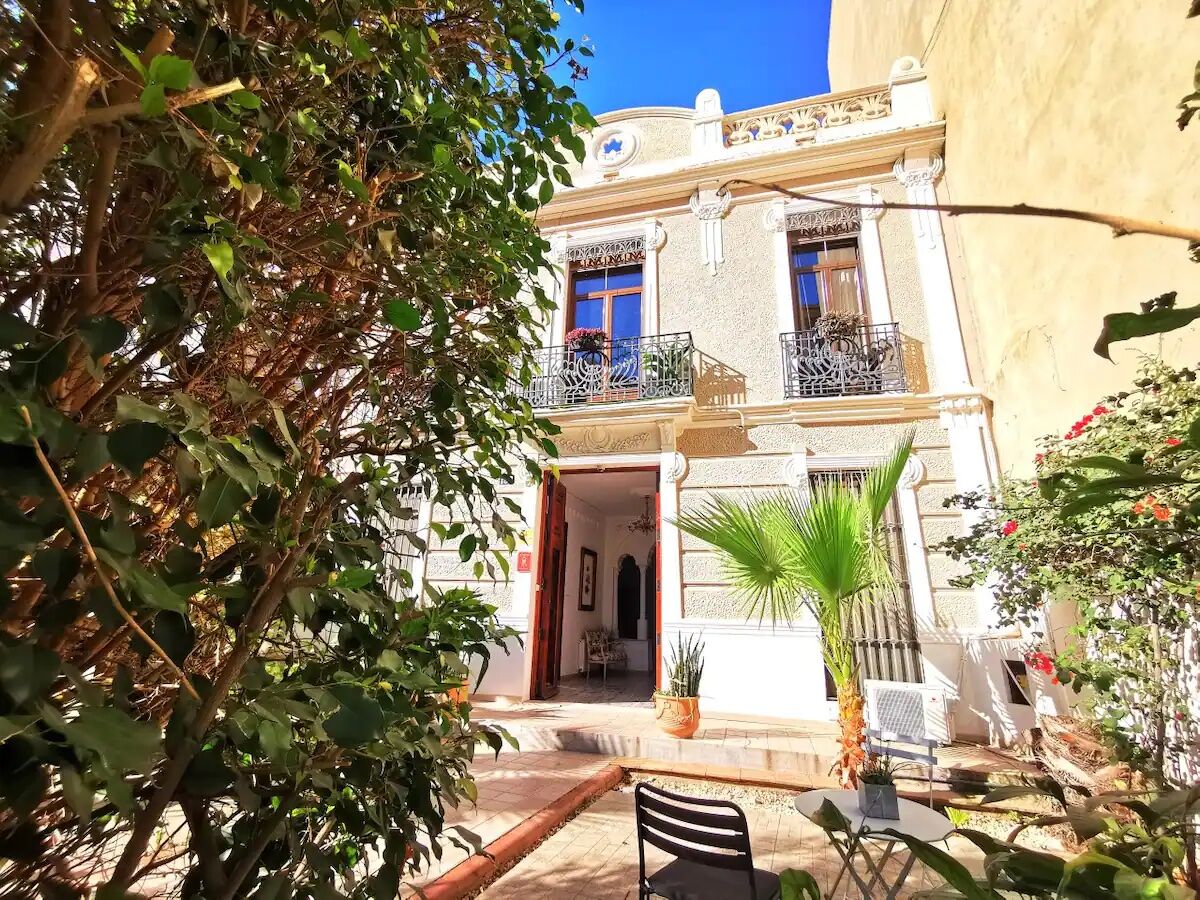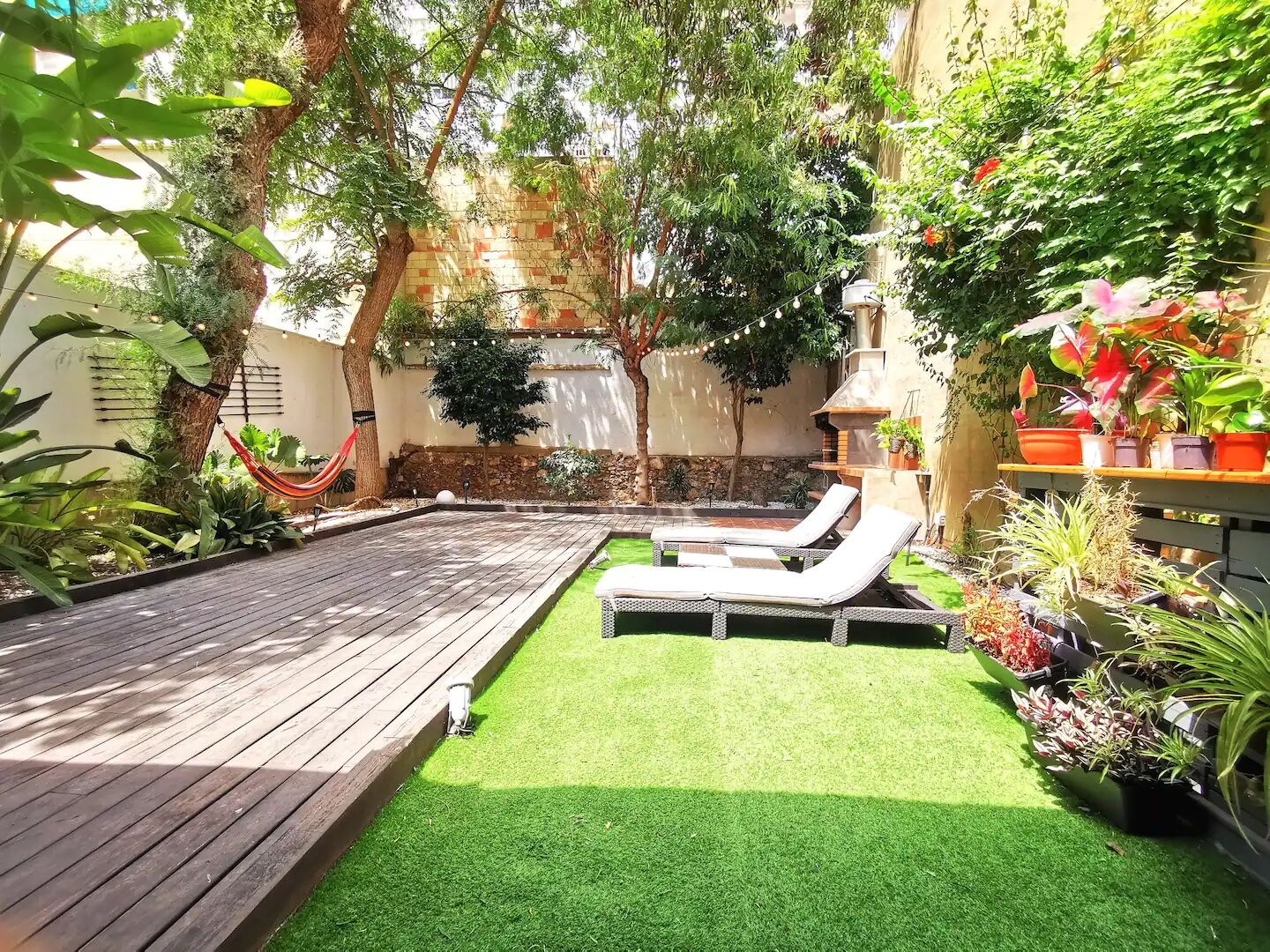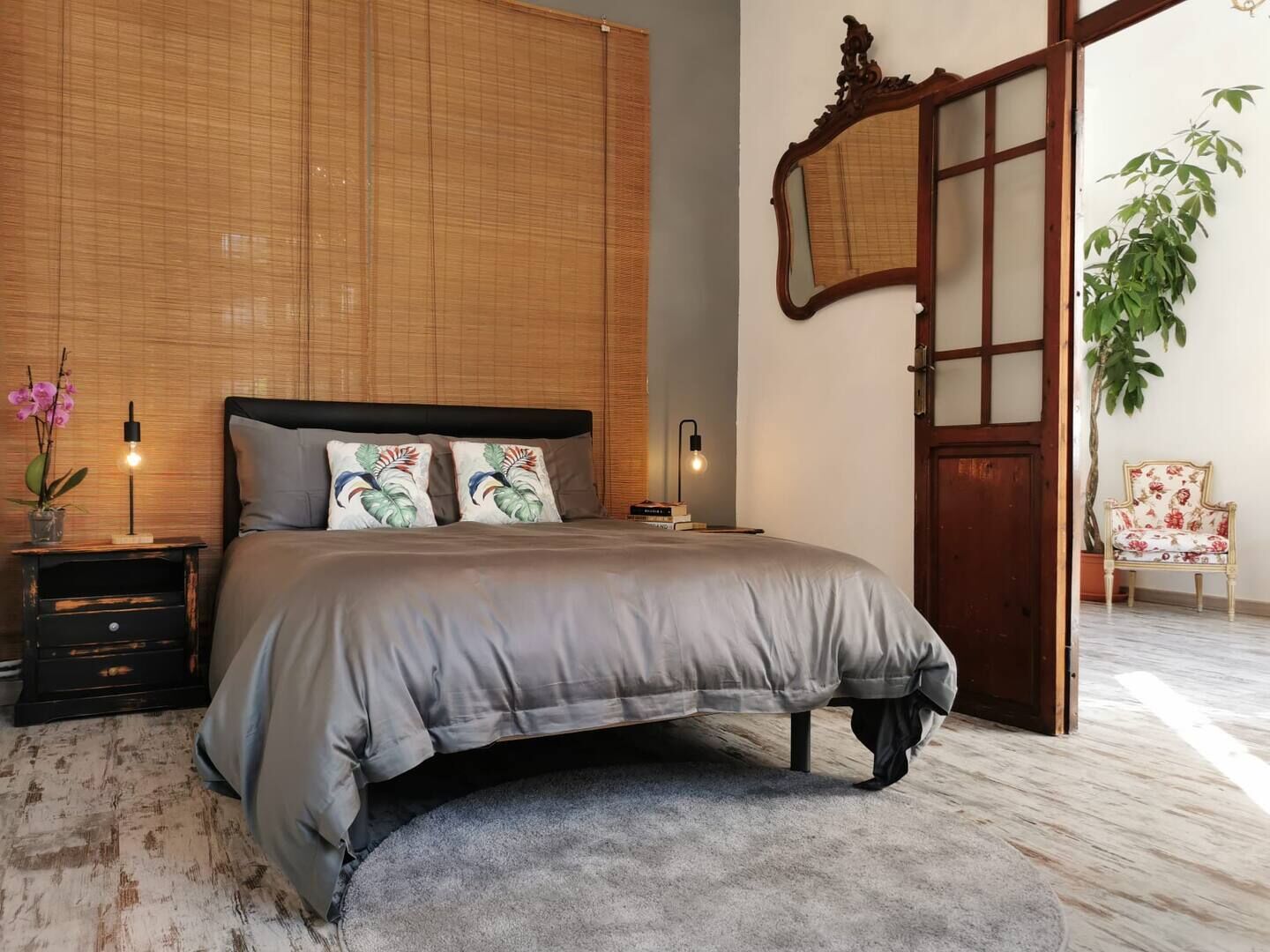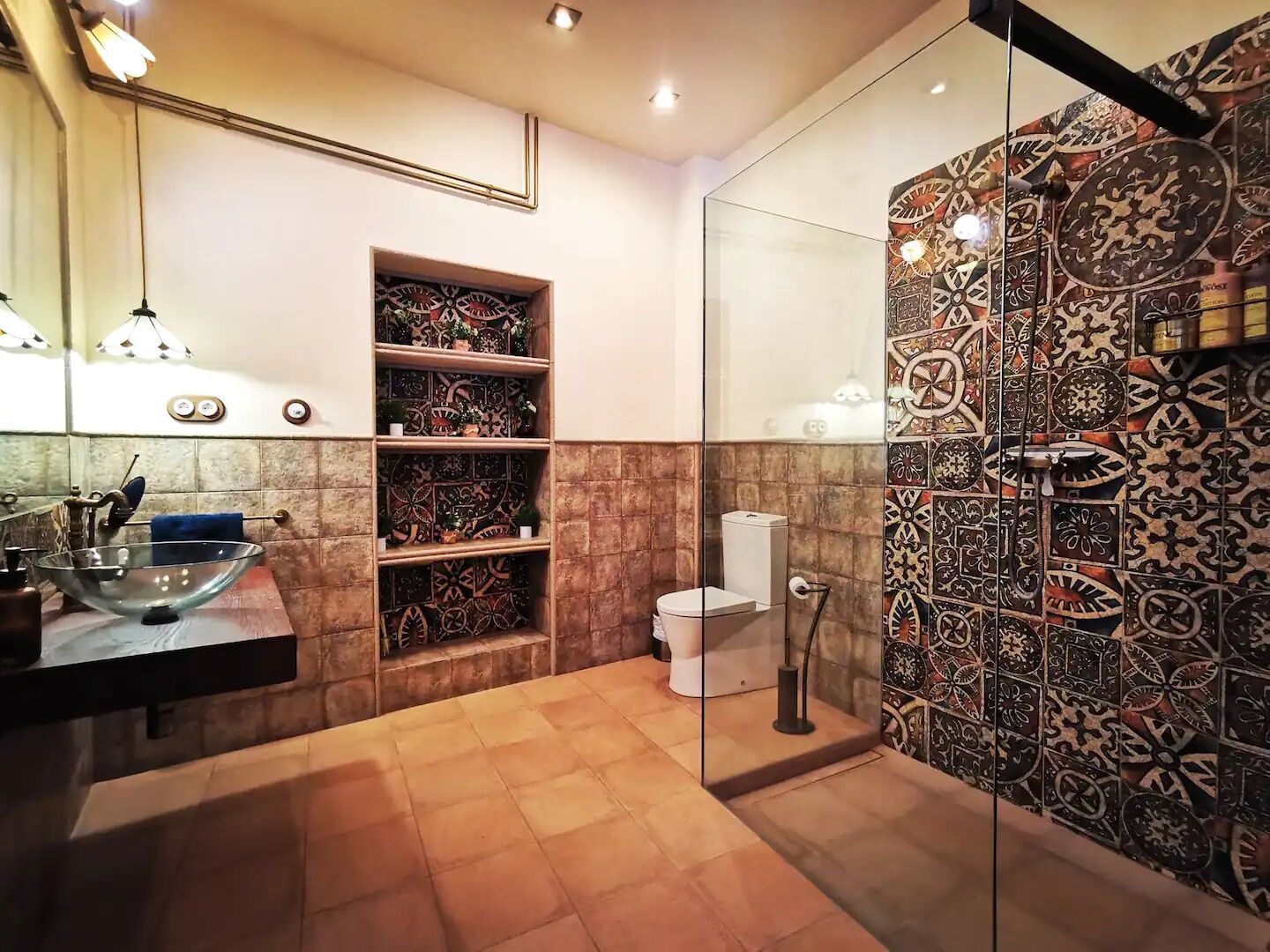 Convenient for the city's attractions and beaches, this listed heritage Valencia, Spain, Airbnb comes with an exclusive backyard with loungers and a hammock. The townhouse is impeccably decorated with Spanish tiles, arched doorways, and vintage-style furnishings. Liaise with the hosts over your travel plans: they've teamed up with independent businesses providing reduced bike hire, tastings, and excursions.
Ten guests, five bedrooms
Price: $549 per night
Exclusive apartment in the center of Valencia with a beautiful terrace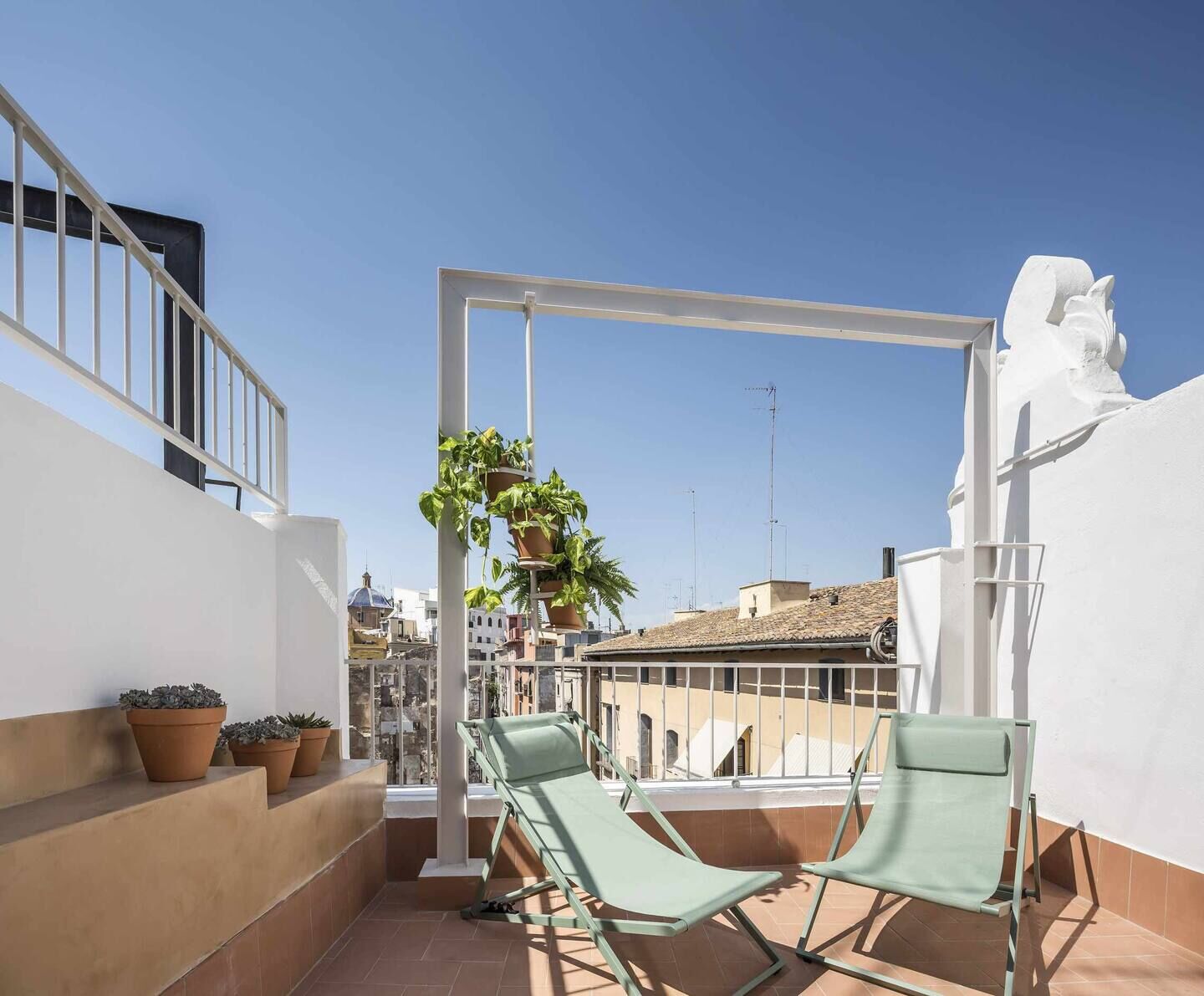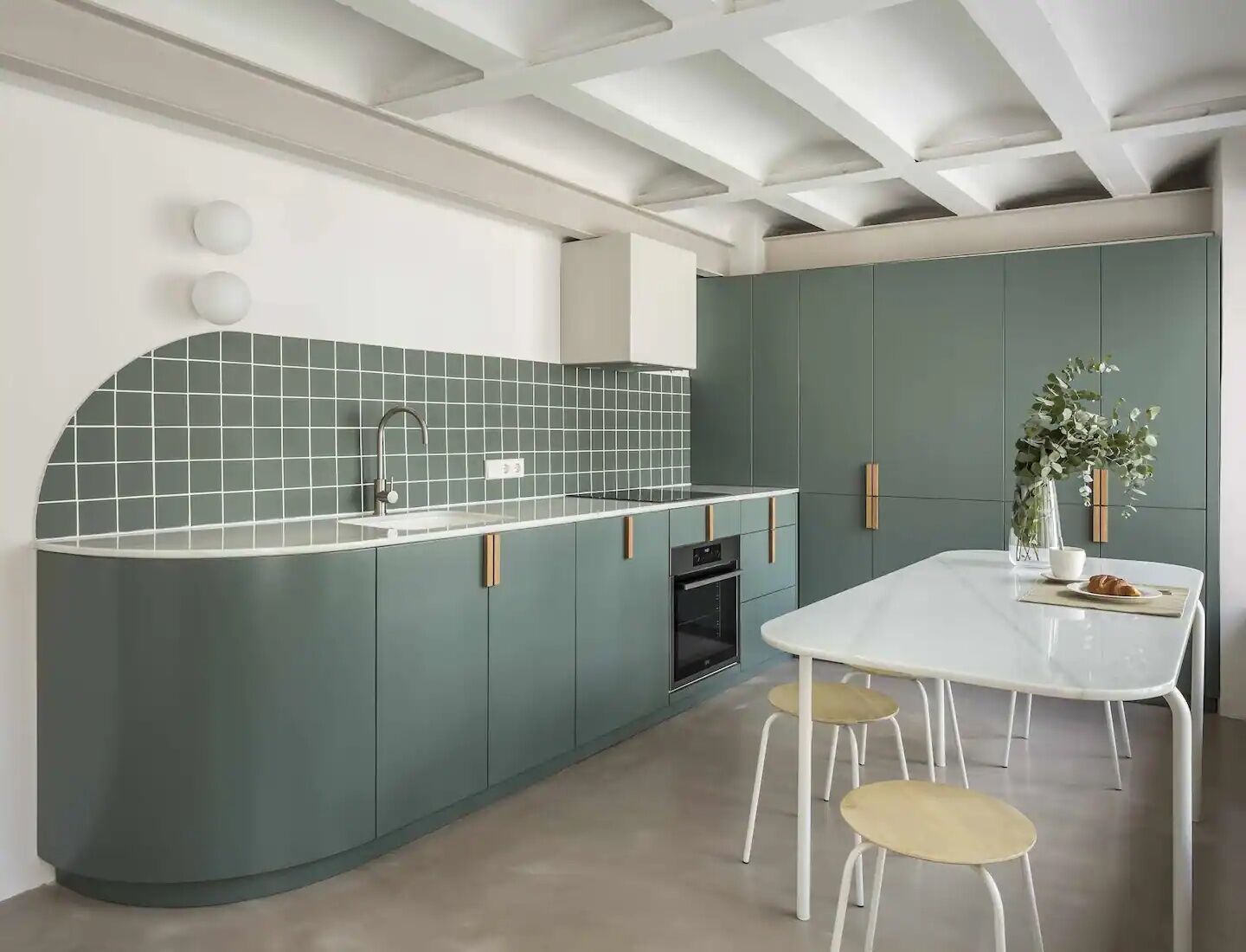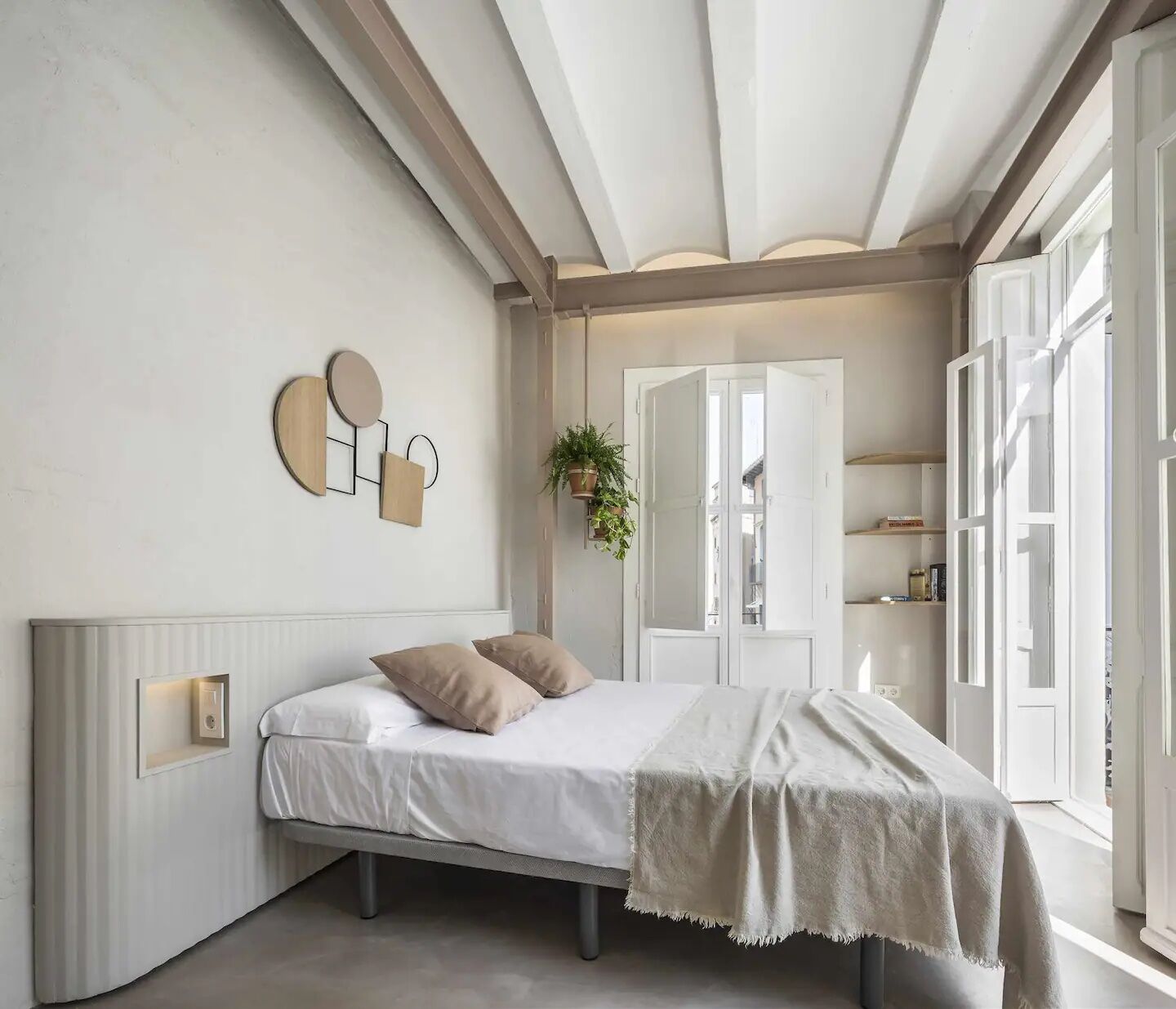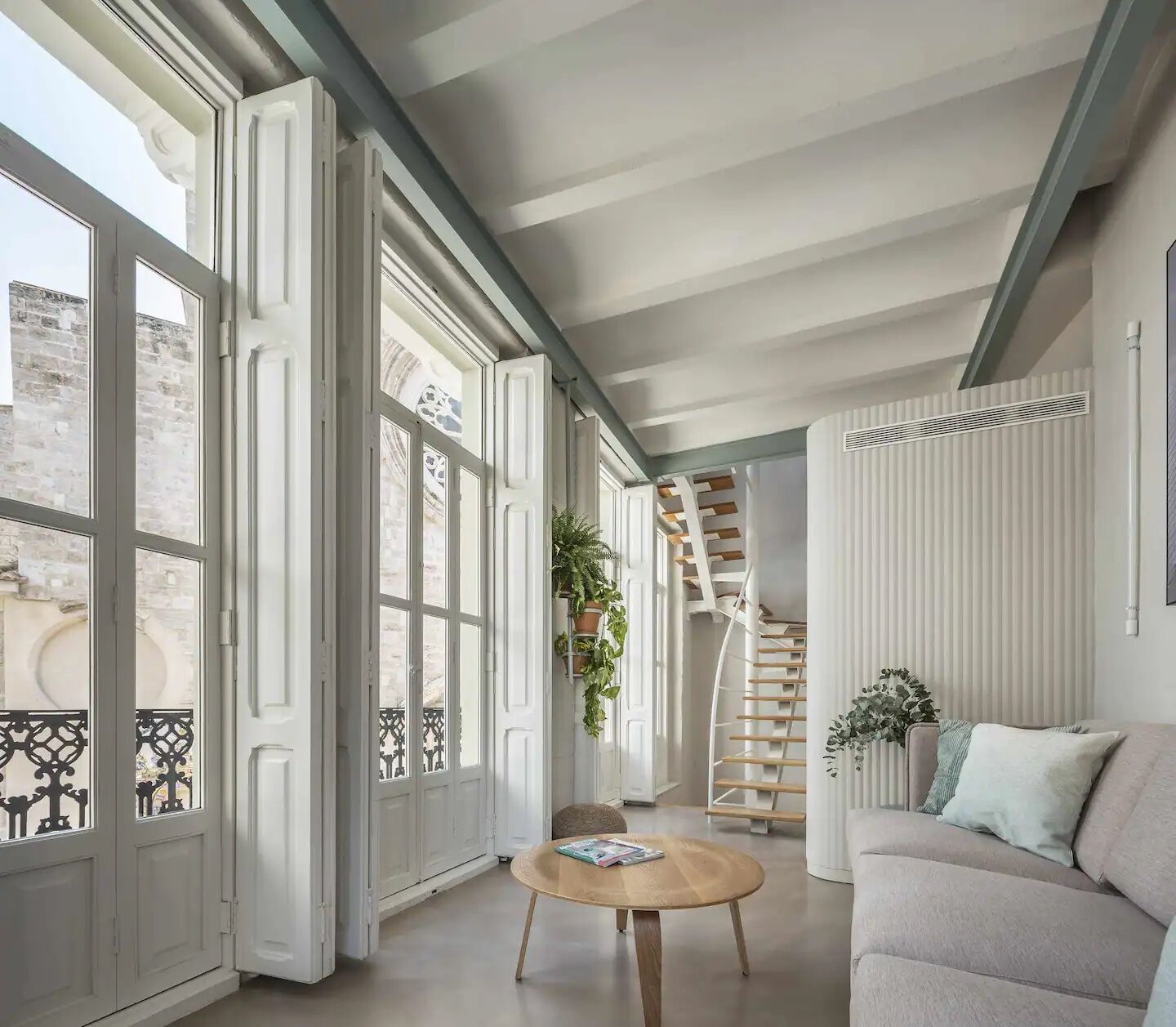 Centrally located in the heart of town, this Airbnb in El Mercat, Valencia, with a roof terrace lets you experience the major sights and best restaurants. That being said, an elegant teal kitchen may well inspire you to rustle up a paella to savor on the sundeck while the city swirls below. Double French doors in the master room open onto a Juliet balcony.
Six guests, two bedrooms
Price: $340 per night
Top Airbnbs in Ibiza, Spain
Casa Rosada – stunning villa in the heart of Ibiza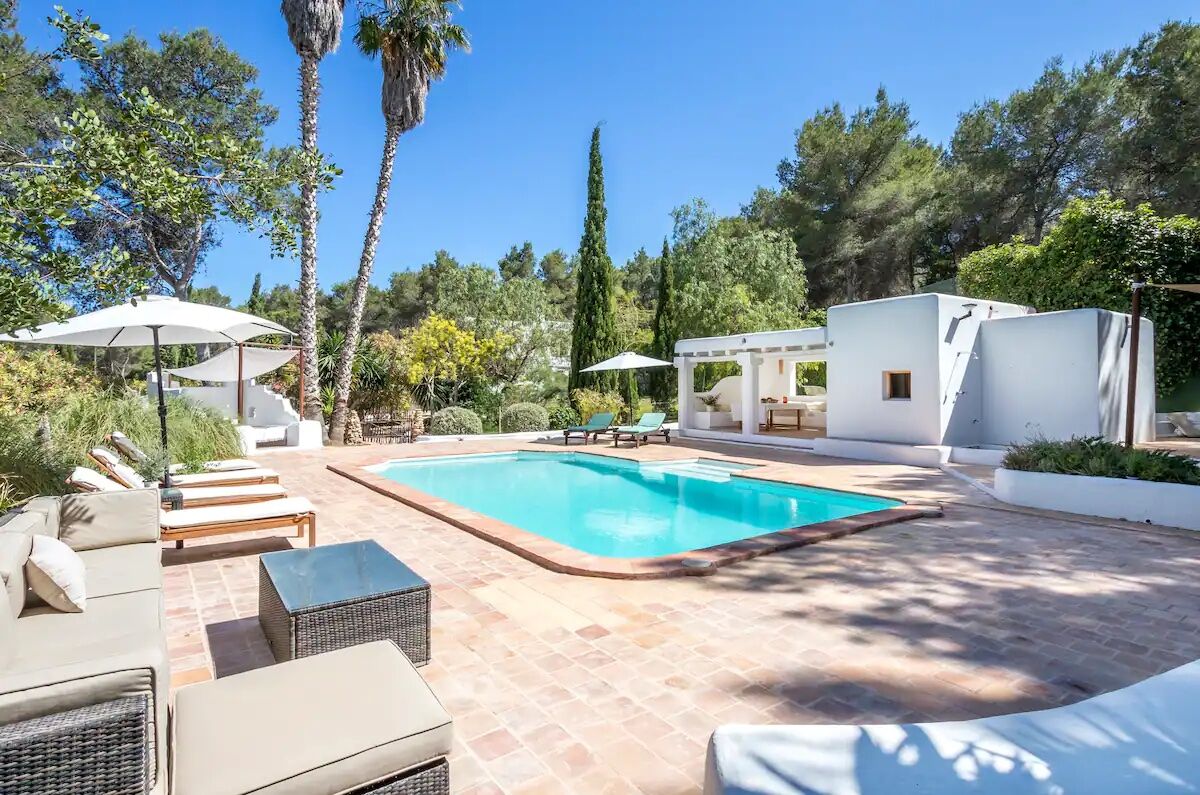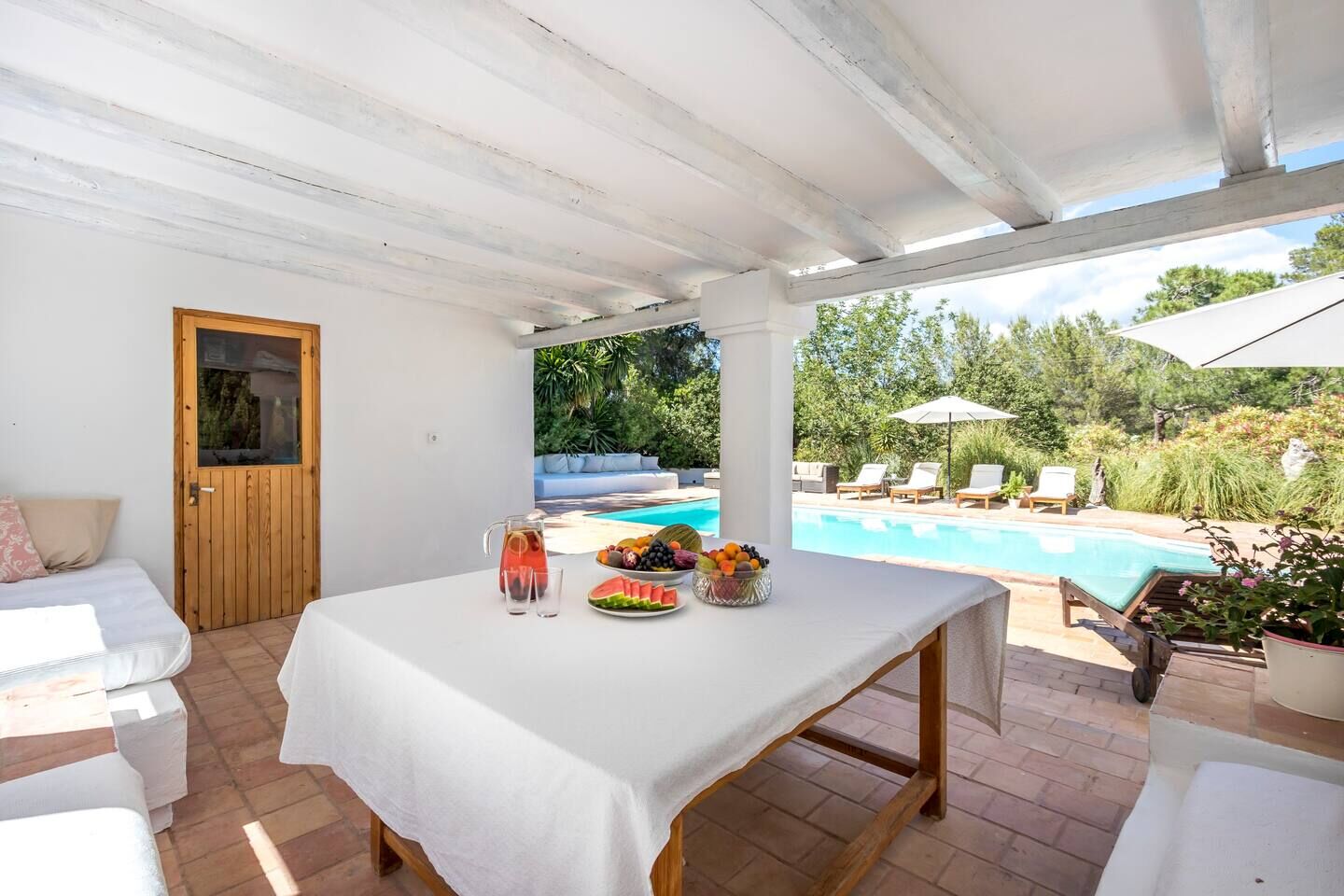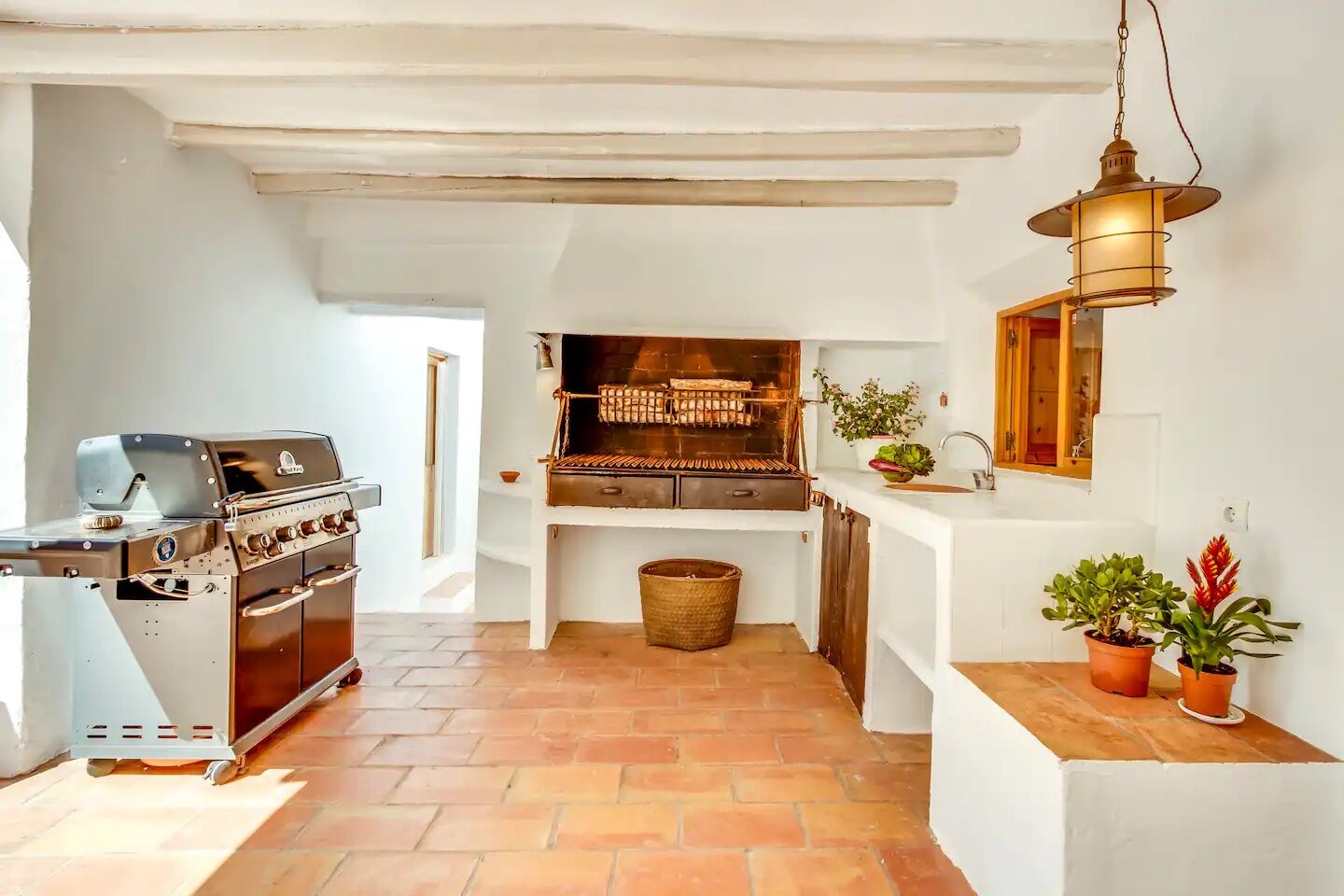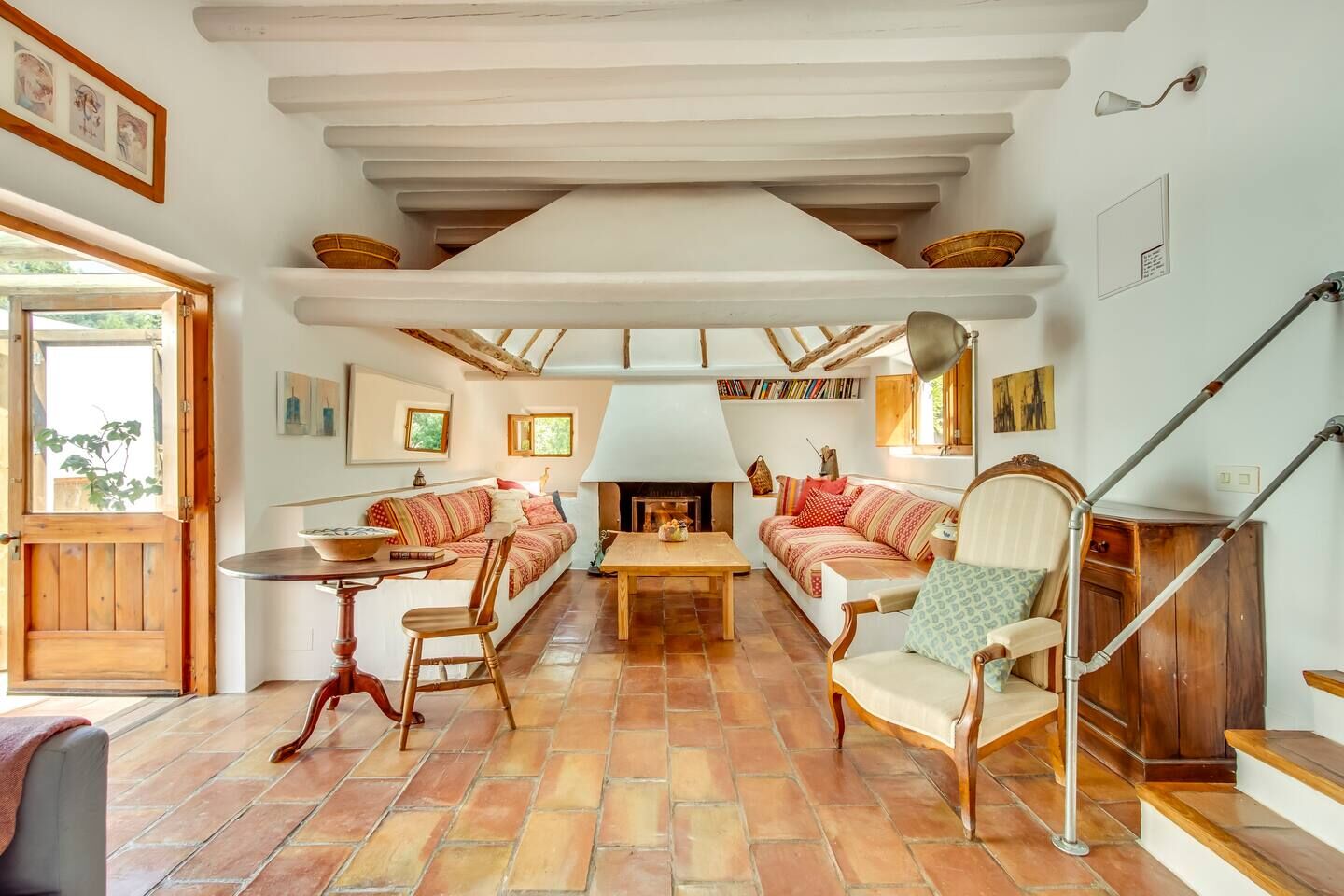 Loll beneath the Mediterranean sun at this family-friendly Airbnb in Ibiza, Spain, with a private pool, padel tennis court, and an epic outdoor kitchen with multiple grills. There's ample external space for dining and resting while indoor living spaces are curated with an artisanal touch. With a playground in the backyard and friendly livestock roaming the compound, kids in particular will relish their time here.
Seven guests, four bedrooms
Price: $311 per night
Tropical paradise for 16 guests with a pool and cinema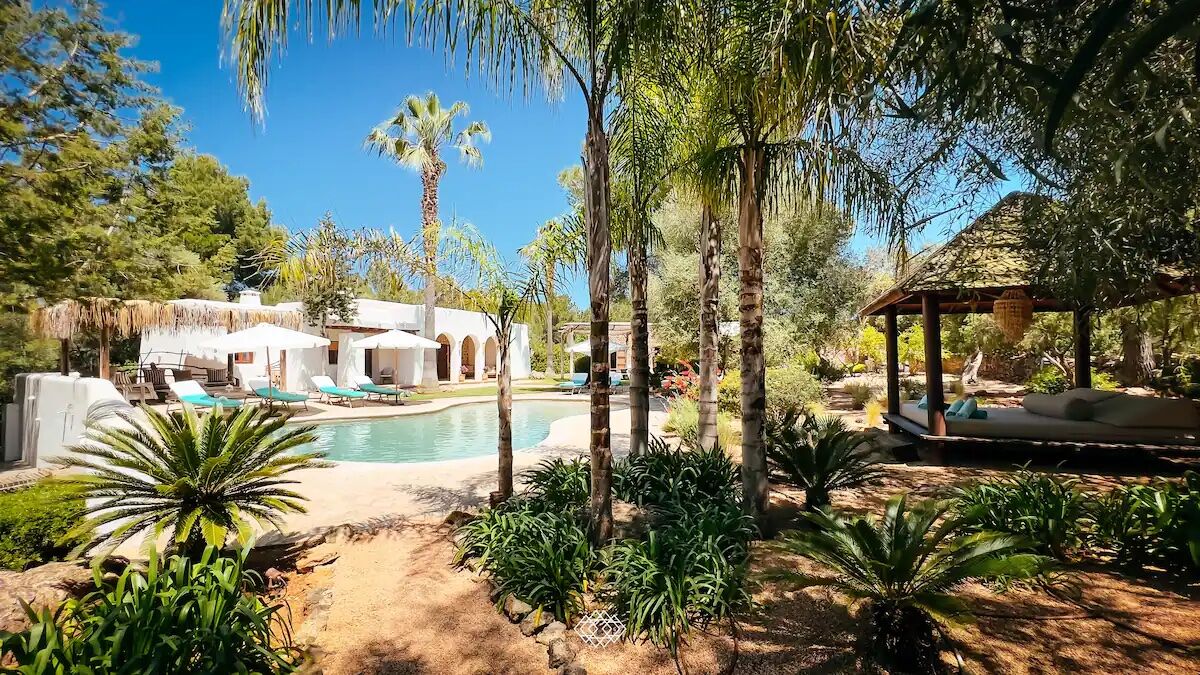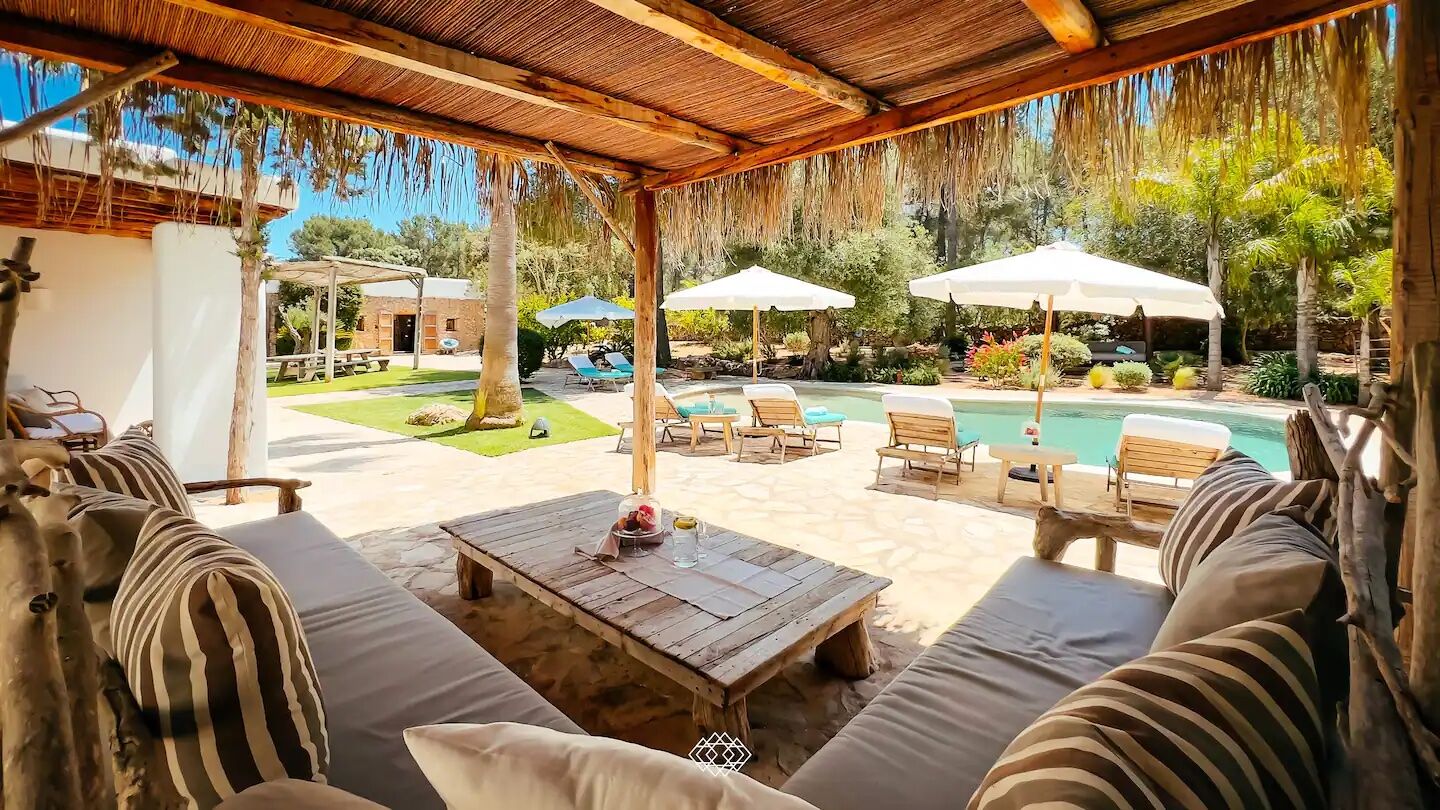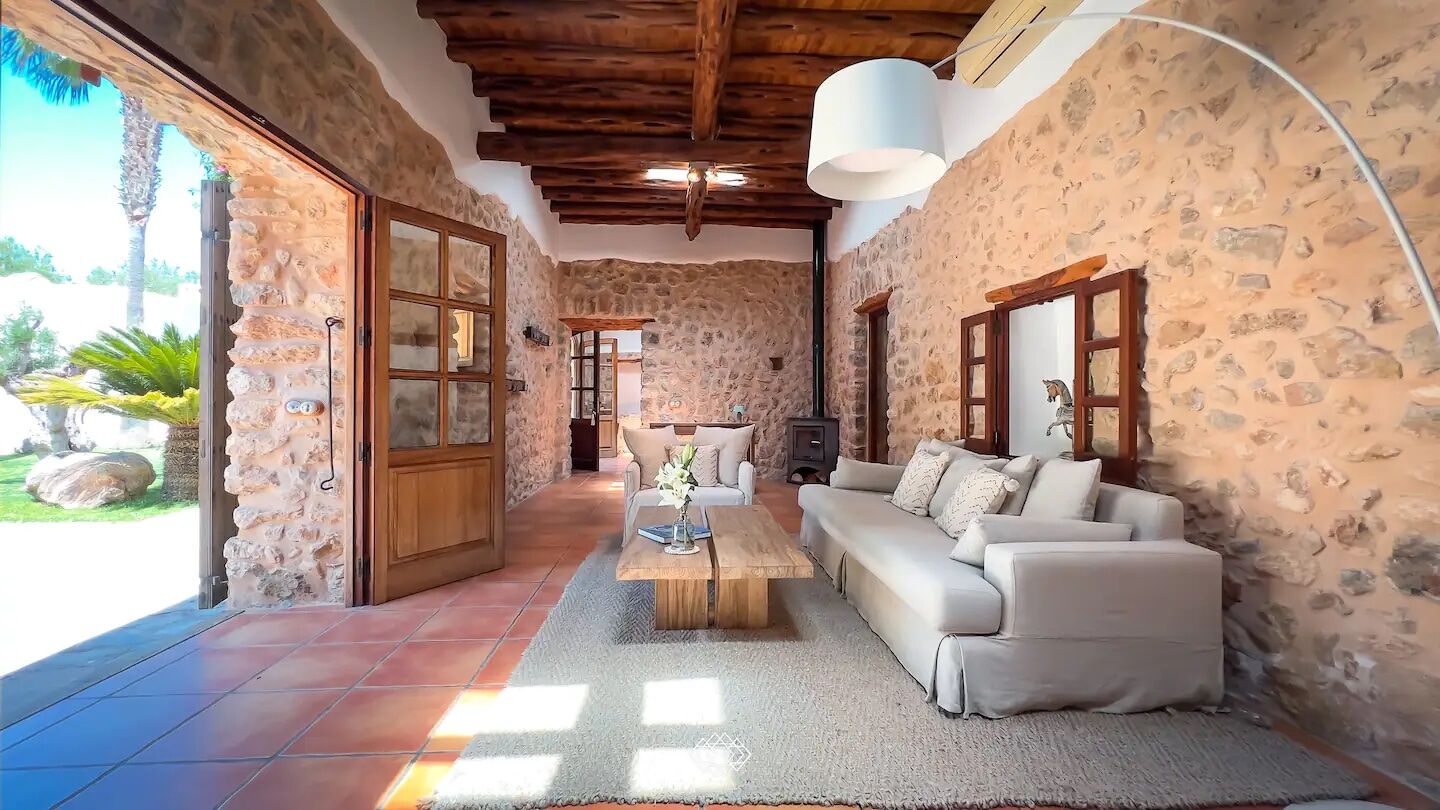 An excellent choice for larger groups, this Airbnb in Ibiza, Spain, comes with a pool and outdoor cinema. Divided into two living units, the finca compound also includes a bar (stocked with complimentary soft drinks) and a covered terrace for yoga or gatherings. Interiors flatter the traditional build of the house, with exposed brickwork, oak beams, and stable doors.

Fourteen guests, five bedrooms
Price: $1,095 per night