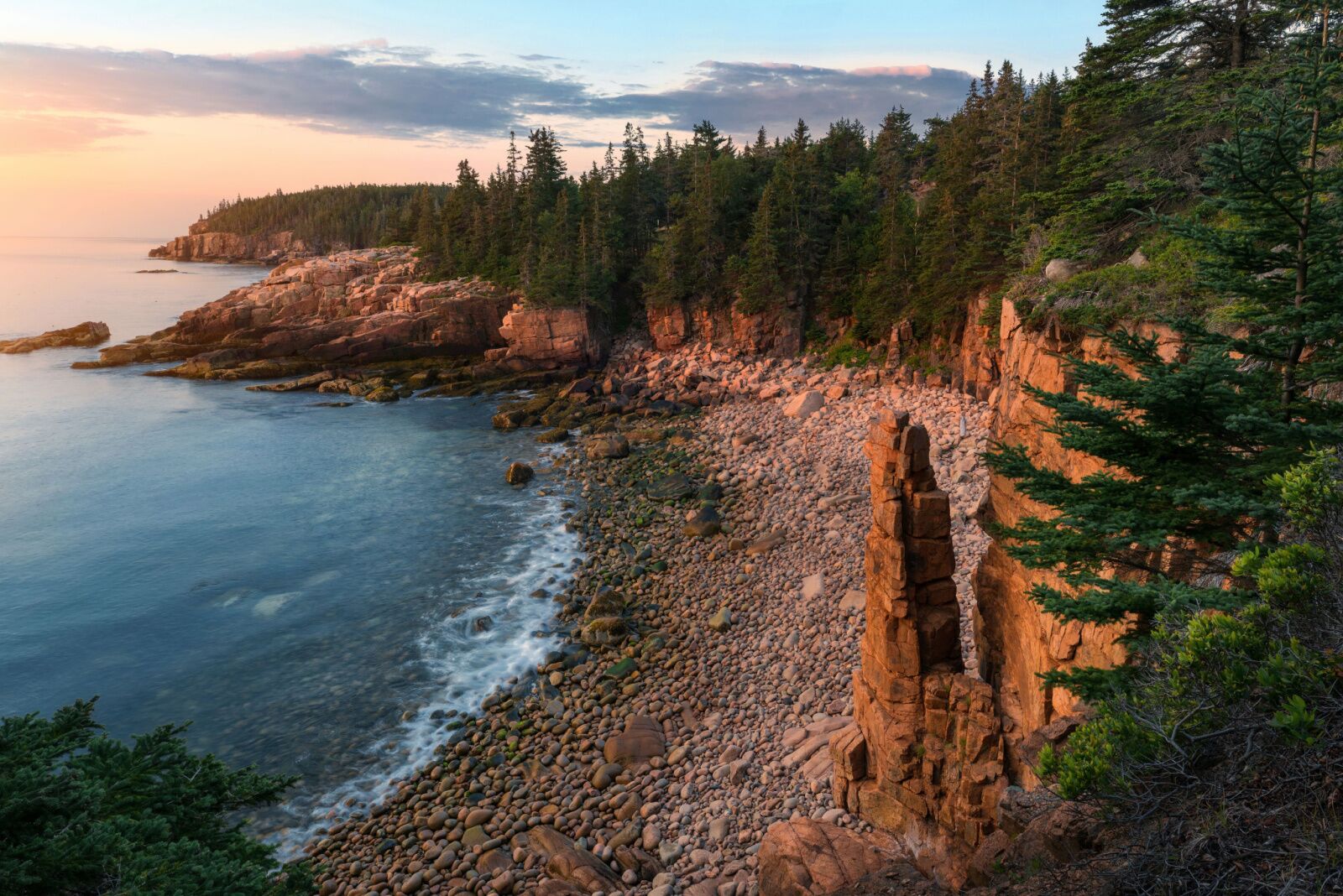 Most of the best US national parks are quite remote, with no major cities nearby. And while you may be thinking of parks in the western US, the fact is that even Acadia National Park, one of the few parks on the East Coast, is still pretty hard to reach. But fortunately, how to get to Acadia National Park doesn't have to be a challenge thanks to a surprisingly robust public transportation system.
Where is Acadia National Park?
Acadia National Park is in southern Maine, making it one of the few national parks in the northeast. The closest town is Bar Harbor, and it's about a five-hour drive from Boston. If you're wondering how to get to Acadia National Park by plane, you'll want to look at flights into Bangor, Maine, which is about 45 miles from the park entrance.
How to get to Acadia National Park without a car
Getting to Acadia National Park without a car can be a challenge, though fortunately, moving around once you've arrived is a bit more intuitive. But really, considering that over two million visitors descend upon the park annually, some may argue that minimizing the use of a car is really the only way to go. Fortunately, for environmentally friendly travelers (or city-dwellers who might not have access to cars), figuring out how to get to Acadia National Park doesn't require tons of money — just a little extra time and effort.
And once you get there, you're set: the park's closeness to Bar Harbor means that forgoing a car doesn't mean you forgoing a memorable experience.
Where is Acadia National Park in relation to the airport?
Several airlines, including Silver Airways and Cape Air, operate between Boston and the Hancock County-Bar Harbor Airport, just 20 minutes from Bar Harbor. In summer and fall, the free Island Explorer Shuttle provides service between the airport and Bar Harbor every half-hour during the day and every hour at after dark.
While it is slightly farther, major airlines including American, United, and Delta operate in and out of Bangor International Airport, with service from major airports around the country. Downeast Transportation offers bus service between the airport and Bar Harbor from Monday through Friday. The price estimator tool from Lyft thinks you should plan to spend around $75 to $85 for a one-way ride from Bangor to Bar Harbor.
Once you're in Bar Harbor, you'll be within walking distance to hotels and dining, and quite close to the actual park, too.
Getting around while you're there
The Island Explorer is a free shuttle service with ten routes across Mount Desert Island (where Acadia National Park is) and the Schoodic Peninsula across the water to the east. From Bar Harbor, you can get to all of the area's attractions and trailheads in and outside the park, including Jordan Pond, the Precipice Trailhead, Sand Beach, and Thunder Hole, to name a few. It even runs to other nearby harbor towns like Southwest Harbor.
Since not all of these routes are in operation year-round (and some have limited schedules during off-seasons), make sure to check the online schedules in advance. The company does an excellent job of keeping the maps and timetables current, and you may want to take a screenshot of the routes on your phone before heading into the park as there are several different lines and schedules.
You might not be able to cover as much ground by foot, but being able to walk from your hotel or Airbnb directly into the forest can be invigorating. And thanks to the membership-supported organization Friends of Acadia (a group busy developing Village Connector Trails for over 20 years), it's not difficult to make that a reality.
The Village Connector Trails connect the national park's trail system to Bar Harbor, Southwest Harbor, and Northeast Harbor. Using the Island Explorer and Connector Trails in conjunction with one another is a great way to leave town by foot while still seeing parts of the park that might not be within walking distance in a single day. There aren't too many national parks with cute towns within walking distance, so you may want to take advantage of having it there. Walking into the park also means you don't have to deal with traffic or parking, both of which can be a bit of a headache on busy summer weekends.
You can get around by bike, too
Acadia Bike, in central Bar Harbor, offers a variety of bicycle rental options, including road bikes, mountain bikes, and bikes with carts for kids. From the shop, it's an easy pedal to the park via Main Street and Park Loop Road. But if you'd rather save your energy, you can catch the Bicycle Express Shuttle, operated by the Island Express.
The park's 45 miles of historic carriage roads offer a quiet way to get away from the crowds of Park Loop Road and offers a chance to explore the park like people did a century ago — without a car. There are even multiple self-guided cycle tour routes available on the park website that go past Acadia's best park's best sights.
Consider renting your bikes in advance if you're visiting on a busy weekend as the park is one of the most popular in the US.

Note: A map of the carriage roads can be found online or picked up at the park's entry stations. You can also opt for an e-bike from shops like Bar Harbor Bike or Island Bike Rentals. They're a good choice for people with injuries or mobility issues — or for anyone who just doesn't feel like breakig a sweat that day.