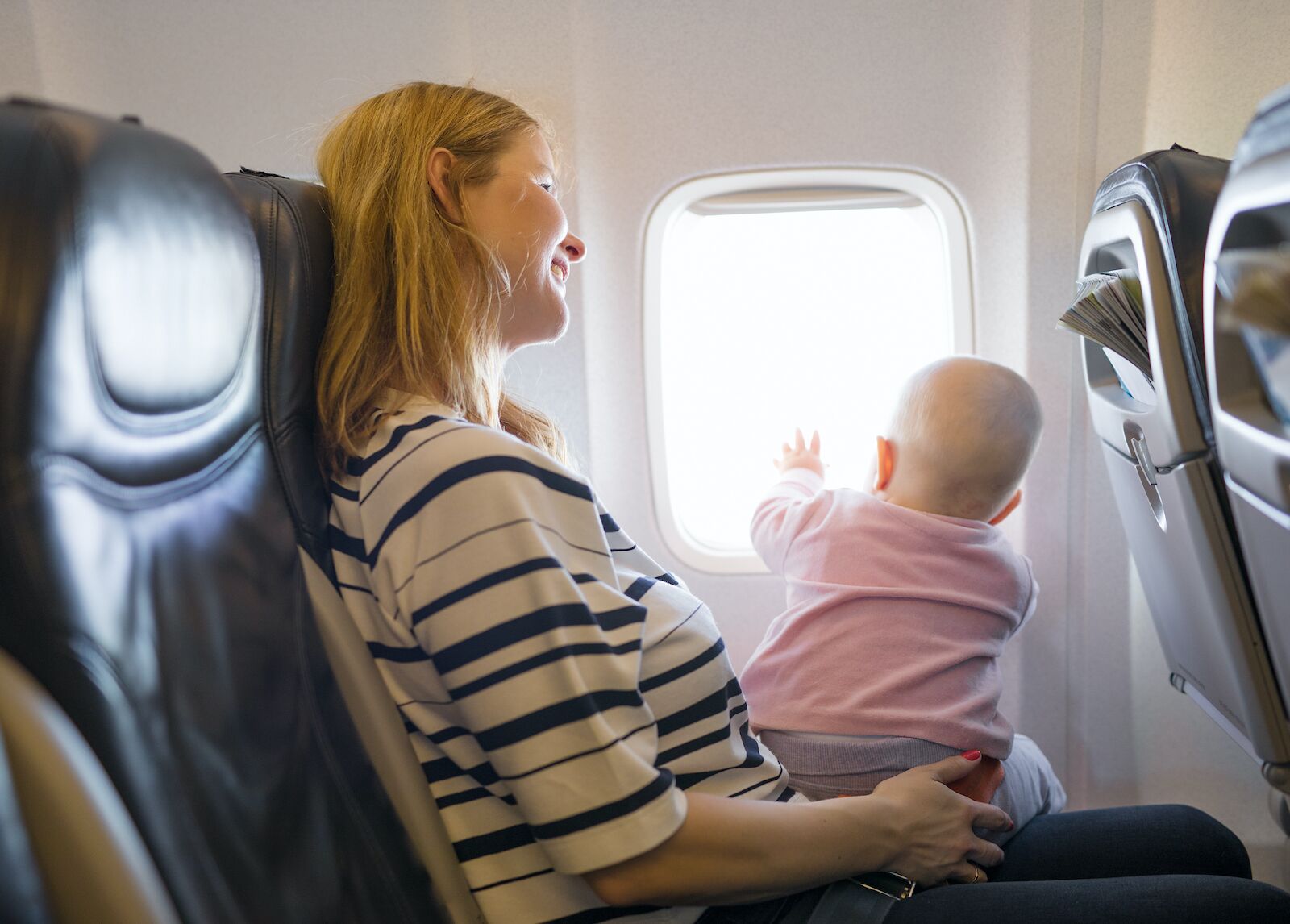 Flying with children can be one of the most stressful experiences a parent can have (though there are tips out there for making the whole process go more smoothly). If your child isn't content to sleep on the flight, then you're facing hours battling an antsy energetic kid who just wants to run, scream, and play. This is what kids do, so all parents can really do on a flight is grit their teeth and try to get through it — and I won't hear any arguments that kids shouldn't be allowed to fly.
There are all sorts of hacks that travel influencers peddle to keep kids occupied on long flights. Parents should accept some degree of mayhem, no matter how many snacks and toys are brought to minimize disruption and try to put off the inevitable tears for as long as possible. While you should try to resist the temptation to over pack, I think I've found the best toys for long flights. First, however, here's what I learned about packing toys for my energetic toddler on her first six hour flight from the East Coast to Seattle.
We hope you love the products we recommend! Just so you know, Matador may collect a small commission from the links on this page. Listed prices are accurate as of the time of publication.
Keep it simple
My first time flying with my one-year-old daughter, I gave up all my space in my carry on for puzzles, books that make animal noises, and toys specifically designed to occupy fidgeting kids. In my anxious state, I over packed so drastically that I could hardly fit my hand into the bag to retrieve any of the toys. The result was a cramped flight to our destination that involved a lot of pretzel-like maneuvering to dig through the bag with her sitting on my lap. The best child entertainment that you can bring is one that you can actually use, so pack accordingly.
Only bring new toys
Whatever toys you ultimately decide to bring on the plane, make sure your baby has never played with them before. If you buy toys ahead of time, hide them in your closet or any space that the baby can't access. Most importantly, only reveal those new toys once you're on the plane. That way, she's not already tired of playing with the toy or already knows how to use it. She needs novelty, or toys that present a puzzle she doesn't yet know how to solve.
The best toys for long flights
To find toys for the plane ride, I searched Amazon for "toys for flights toddlers," and got back results for lots of small toys that she could spin, pull, or push — basically anything that would keep her little hands occupied and her mind focused on a puzzle. These are undoubtedly the best toys for long flights.
Most of it she discarded without a second thought. One category that caught her attention were squishy, silicone pop fidget toys. It took all her focus to pop all the bubbles on one side, then she flipped the toy over and popped them all again on the other side. It made a satisfying "pop" noise every time she touched it, and when she tired of the bubbles, she just smushed it in her little fist. I liked this one because she could sharpen her fine motor skills while playing, and the lightweight, flexible material didn't take up much space in my bag.
However, the biggest hit was easily the buckle pillow, a squishy blue square with different types of buckles attached to the front and back. My daughter isn't quite dexterous enough yet to clip the buckles together, but she was absolutely determined to try. She patiently watched us clip and unclip each buckle, then tried her best to repeat the process. When she couldn't manage we did it for her, over and over, but she never seemed to get tired of trying.
The buckle pillow is soft and huggable, which is always comforting for a young kid, but I think it appeals to parents because it presents an intriguing problem for kids to solve. On a plane, distraction is the name of the game, and kids will absolutely get immersed in trying to figure out the buckles (and you should give yourself permission to indulge in as much screen time as you want).
On the return flight, I took out almost all of the toys I had initially packed in my carry on and checked them in my luggage. I left behind the buckle pillow, the pop fidget toys, one book, and one puzzle. My bag was lighter, we had more space at our seats, and my daughter could focus completely on a couple toys rather than her attention bouncing between too many different things.
Was the flight easy? Absolutely not. She cried, she wanted to run up and down the aisle, her ears hurt. But it was so much more pleasant with one toy she really loved. And now, the buckle pillow is now a staple toy at home. She carries it around the house with her.