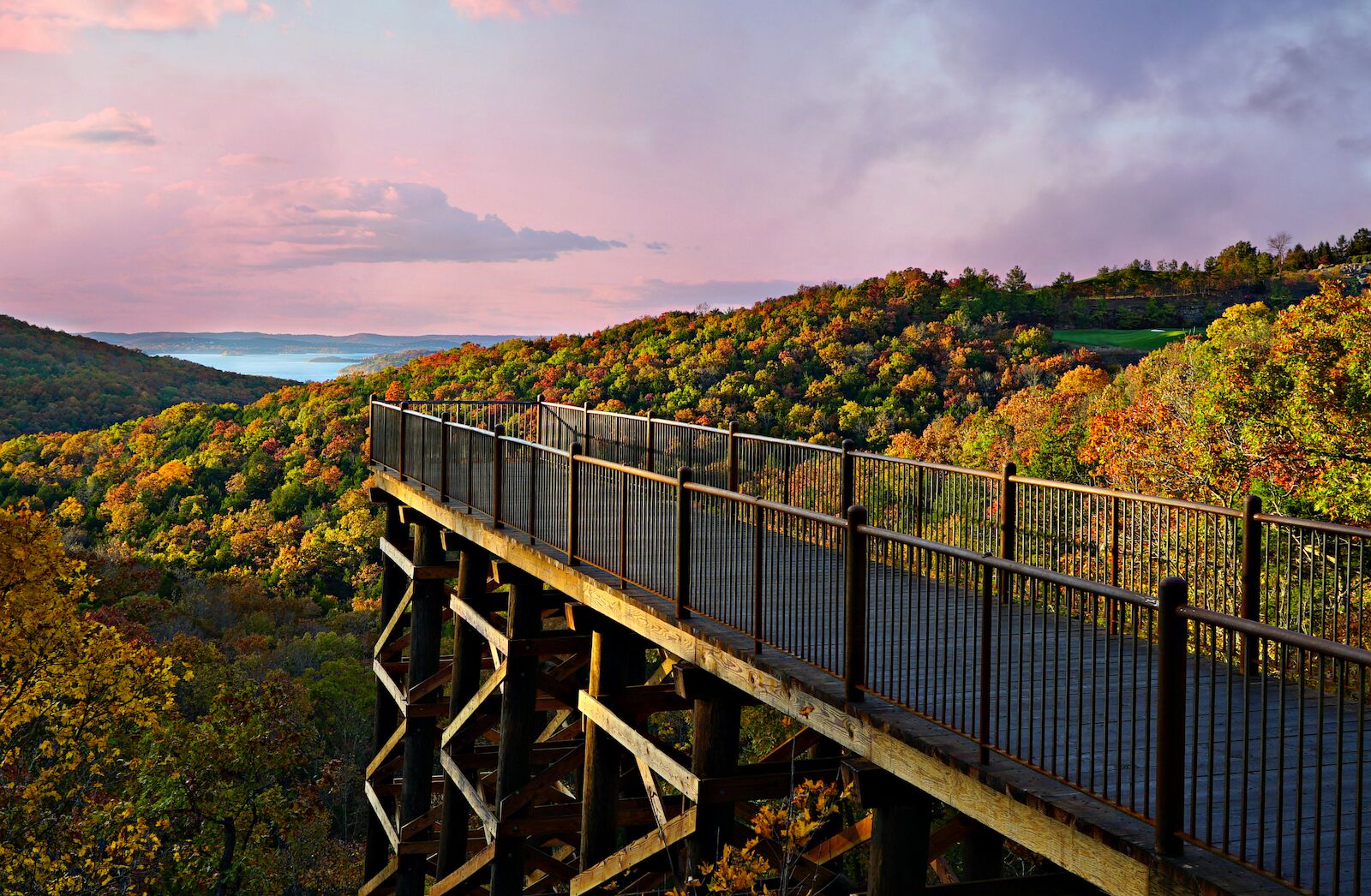 Rugged mountaineers, isolated hill towns, outlaw hideouts — the Ozarks have always evoked adventure, remoteness, and mystery. After Native American nations and a scattering of French fur trappers, Scotch-Irish farmers were the first to settle this mountainous region, filling the hollers and ridges with bluegrass music and storytelling traditions. From fugitive Confederates to James Jesse and the Byrd family, those looking to flee have long sought the hard-to-reach Ozarks, but the mountains also beckon those souls, law-abiding or otherwise, who simply yearn to escape the rush and roar of city life. While the likes of the James Gang or the Bald Knobbers, notorious outlaw crews of days past, may no longer rule the hills, the old values of stalwart individualism, hospitality to strangers, and love of the outdoors live on.
The following four-day Ozarks road trip showcases the beauty of both the Ozarks' nature, culture, and cuisine. The Ozarks' mountains and rivers are famous for fishing and hiking, but they are also smattered with quaint towns, excellent museums, and unexpected luxury. The itinerary for this Ozarks road trip starts in Missouri, takes you through northeast Arkansas, and ends in eastern Oklahoma, a few hours from Dallas, Texas. Along the route, you'll soak in hot springs, listen to virtuosic Bluegrass musicians, and of course, enjoy some of the tastiest beer and vittles in these hills.
Springfield
Your trip across the Ozarks begins in the burg of Springfield, Missouri, "The Queen City of the Ozarks." The third largest city in the state (after Kansas City and St. Louis), cheap flights are available to Springfield from hubs like Dallas, Houston, and Atlanta. Springfield Airport is also a convenient place to rent a car. Formerly one of the Wild West's rowdiest towns, the Springfield of today is a laid-back town of grand stone architecture, Civil Rights history, and Southern charm. (Also, Brad Pitt, hails from here.)
One of Springfield's monikers is the "Birthplace of Route 66," and the Route 66 Car Museum is a must-see for car lovers and history buffs. Don't sleep on the Springfield Art Museum (SAM) either. SAM has an impressive collection of American art, especially from the 18th century onwards. If you have time after perusing the galleries, check out the museum's sculpture garden. Craft brew fans should make sure to stop in at Mother's or Springfield Brewing Company, two breweries generating buzz across the Midwest. And, of course, no trip to the Midwest is complete without tucking into a delicious smash burger, and Red's Giant Hamburg has perfected this regional style into an art form.
Branson
Welcome to the Las Vegas of the Ozarks — albeit family-friendlier. Branson, about an hour by car from Springfield, is one of the country's great live-music cities. From Dolly Parton to Jimmy Dean and Elvis, every country legend has graced the stage in Branson at some point in their career.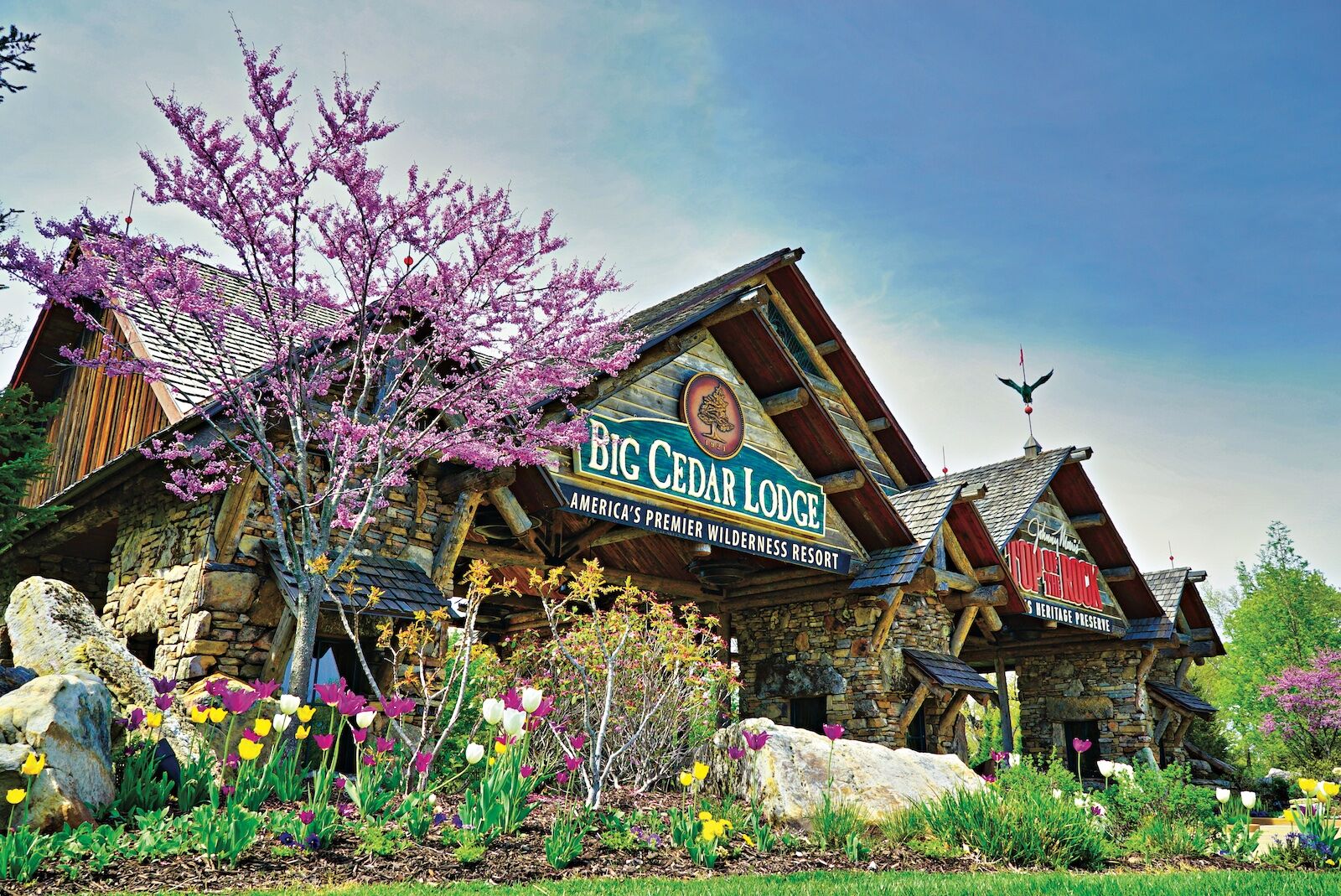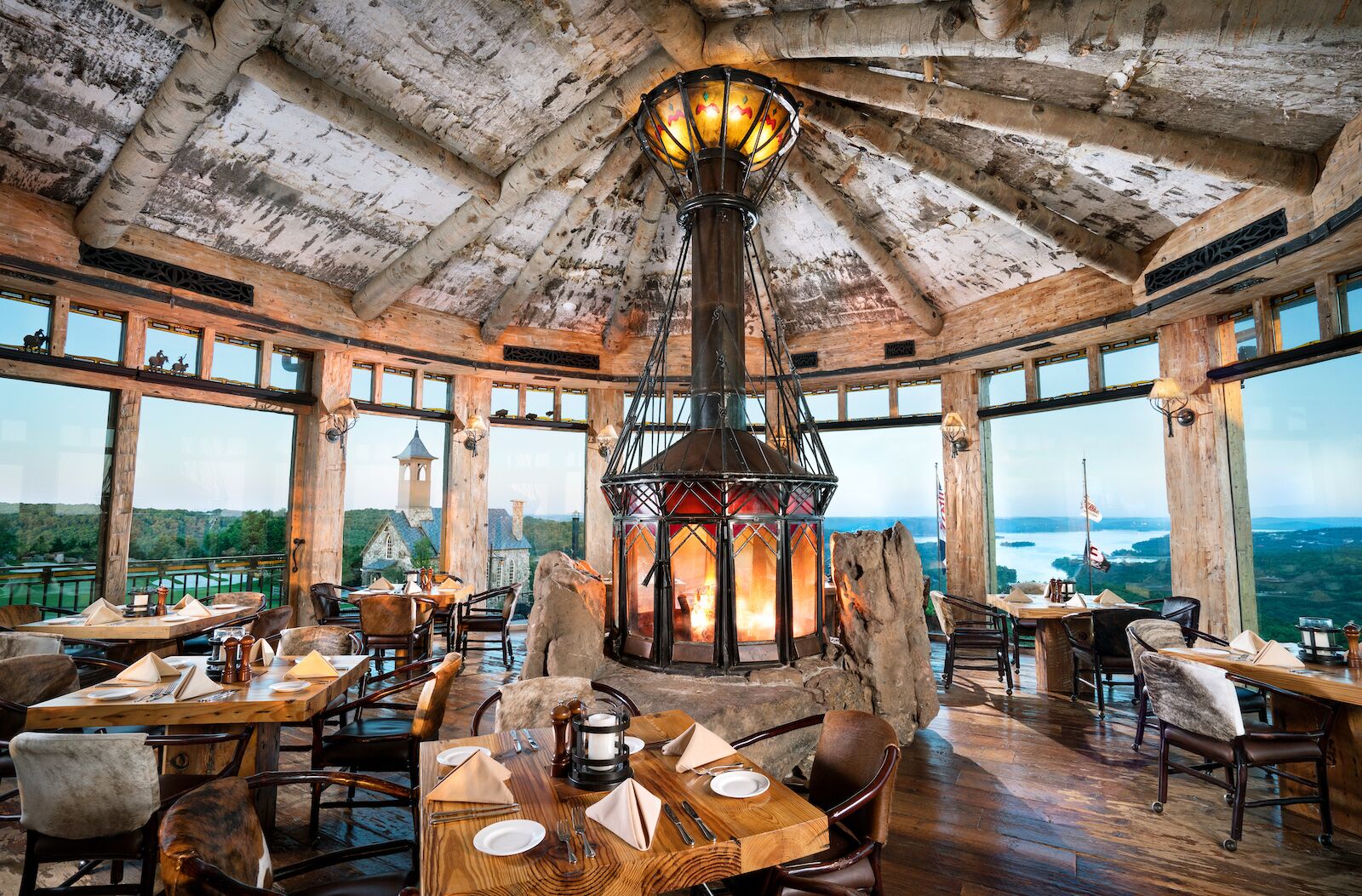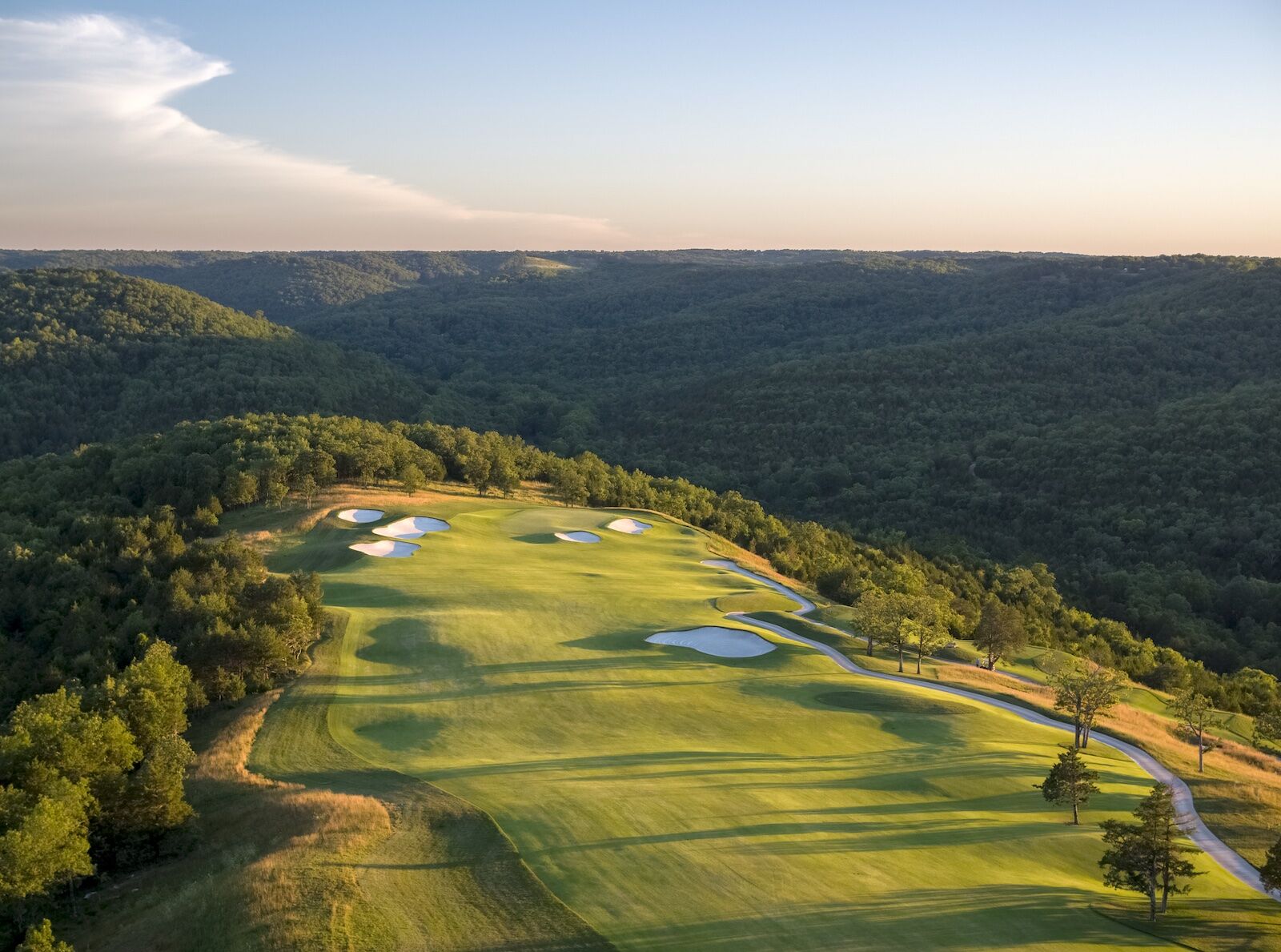 Start the morning at Parlor Donuts, the local go-to for well-poured espresso drinks and scrumptious donuts, made fresh every morning. Fortified with caffeine and sugar, drive out to Big Cedar Lodge, a resort owned by Johnny Morris, the founder of the Bass Pro Shop. Guest passes to Big Cedar usually cost $15 per person (more during special events), but you can easily spend the whole day exploring the Ancient Ozarks Natural History Museum, dining, and taking in the gorgeous views of the mountains and Table Rock Lake. If you're looking to hit the links, Big Cedar Lodge has a beautiful golf course, with fairways framed by mountains and woods. Once you've worked up an appetite, make a beeline for Osage — they do an especially sumptuous brunch — or Arnie's Barn, built inside an actual barn formerly owned by golf legend Arnold Palmer. (Fun fact: Amish carpenters transported the barn, beam by beam, from rural Pennsylvania to the Ozarks, reassembling it exactly as it was.)
To burn some calories after all that rich food at Big Cedar Lodge, rent a kayak and explore Table Rock Lake. The Army Corps of Engineers created Table Rock Lake in the 1950s during the construction of a hydroelectric dam, and an Ozark town lies at the bottom of the lake. (In fact, with scuba gear, you can enter the post office.) Branson's Entertainment District hosts year-round performances from well-known country artists. And with its sea of neon lights, giant statues, and iconic Ferris wheel, the district is worth perusing even if you don't see a show. Fuel, in the Entertainment District, serves curated beers from around the Midwest as well as satisfying burgers — go with the Lumberjack, a cheeseburger stacked with smoked pulled pork and pickles.
Fans of American literature or theater should set an evening aside to see The Shepherd of the Hills in an outdoor amphitheater framed by magnificent ancient pines. The story, based on Harold Wright Bell's 19th-century novel, is a hymn to the Ozarks — a beautiful saga exploring themes like redemption, forgiveness, and frontier virtue. The performance lasts two hours with an intermission after the first hour. Theatergoers can also arrive at the venue early to enjoy a BBQ dinner and live bluegrass show (highly recommended). Performances take place throughout the year, even in the winter.
To sample a rotating selection of craft beer from around the Ozarks and the greater Midwest, pull up to the Seven Arrows Taproom. If you're up for indulging in harder spirits, go to Missouri Ridge Distillery to sip locally made whisky, moonshine, and mead. Word on the street is that their BBQ is the best in Branson, but if you choose to dine at Missouri Ridge, make sure to book a reservation at least a day in advance. Finally, if you're looking for a watering hole chock-full of local color, cheap shots, and classic country playlists, check out Crazy Craig's Cheeky Monkey Bar.
Eureka Springs
About an hour by car from Branson and across the Arkansas border, Eureka Springs, as the toponym implies, is famous for its healing natural baths. Legend has it that Al Capone, who ran bootleggers through the Ozarks to Chicago, escaped to Eureka Springs for a couple of weeks each year — presumably to unwind in the thermal waters and forget the cares and worries of managing the mob. The Eureka Springs of today exudes happy-hippie vibes, with health and wellness stores, crystal shops, and vegetarian restaurants dotting the undulating streets of the mountain hamlet.
The Crescent Hotel, founded in 1886 as a hot springs retreat, is allegedly one of the most haunted hotels in the country. With dark wood, narrow staircases, and a striking similarity to Hotel Overlook in The Shining, the Crescent Hotel certainly appears as good a candidate as any for paranormal activities. Even if you're not a guest at the Crescent Hotel, you can book a session at their world-renowned spa, which designs treatments around the area's therapeutic hot waters. Palace Bath House is another excellent spa, and slightly less expensive. Their most popular treatment includes a long soak in a vintage, claw-foot bathtub and then one of the most off-the-wall spa specials you've ever seen: a steam bath inside a wooden barrel.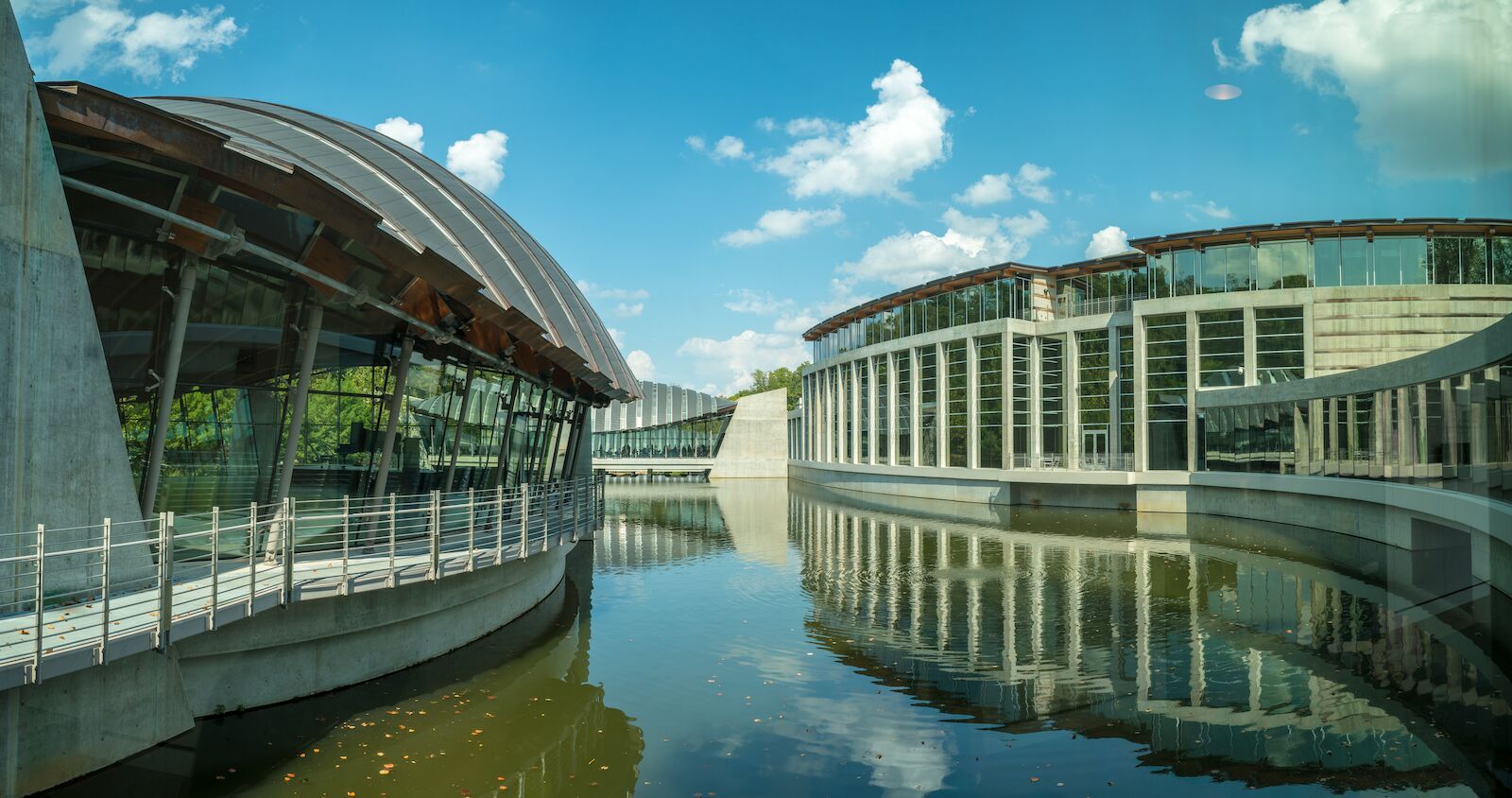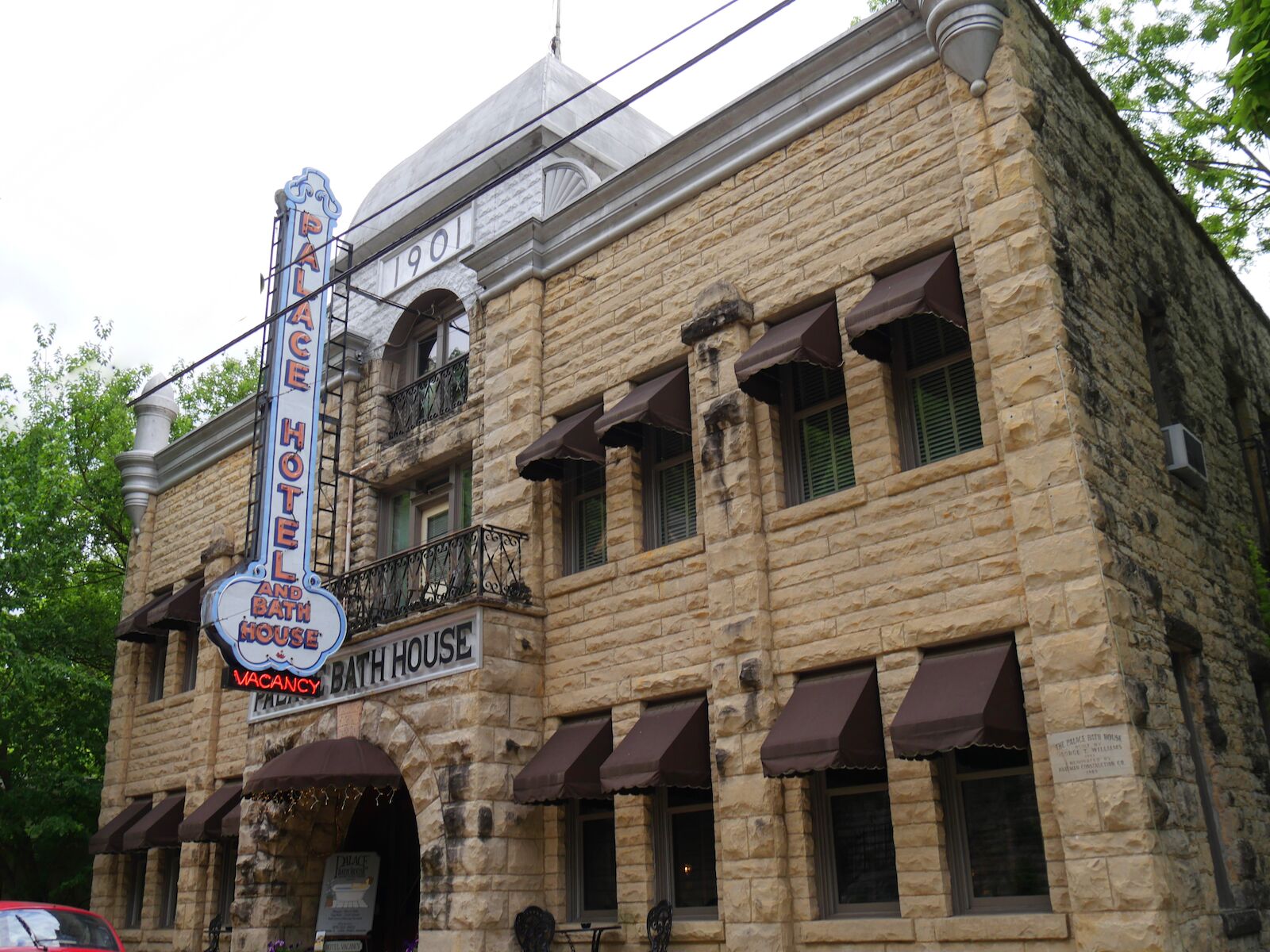 A popular weekend getaway throughout the Ozarks, Eureka Springs has its fair share of good restaurants and fun bars. For great coffee or a place to work, head over to Brews. At night, Brews switches from caffeine to alcohol, and the cafe-pub hosts live music many nights of the week. We all know and love Tex-Mex, but have you heard of Ark-Mex? Arkansas is only one state removed from the Mexican border, and consequently does its own take on Gringo-Mexican cuisine. Head over to Amigos to sample some delectable examples of Ark-Mex.
Bentonville
What are so many sharp-suited businessmen doing in this small town in Arkansas? Well, Bentonville is actually the headquarters of the world's largest retailer. The Walton Family, proud Arkansasans and founders of Walmart, has invested millions into beautifying their hometown of Bentonville, commissioning public art, multiple museums, and some of the nation's best mountain biking trails. Crystal Bridges Museum, designed by architect Frank Lloyd Wright, rivals even the Smithsonian for its collection of American art. Like all of Wright's buildings, the building itself, a structure of glass and steel in the middle of the forest, is mesmerizing. Allocate at least two hours to admire the artwork, grab lunch at the onsite Eleven Restaurant & Coffee Bar, and maybe browse the gift shop. If you still have the stamina for another museum, go to the Walmart Museum, which details the rise of Sam Walton's business from a local general store to a mega-corporation.
Fayetteville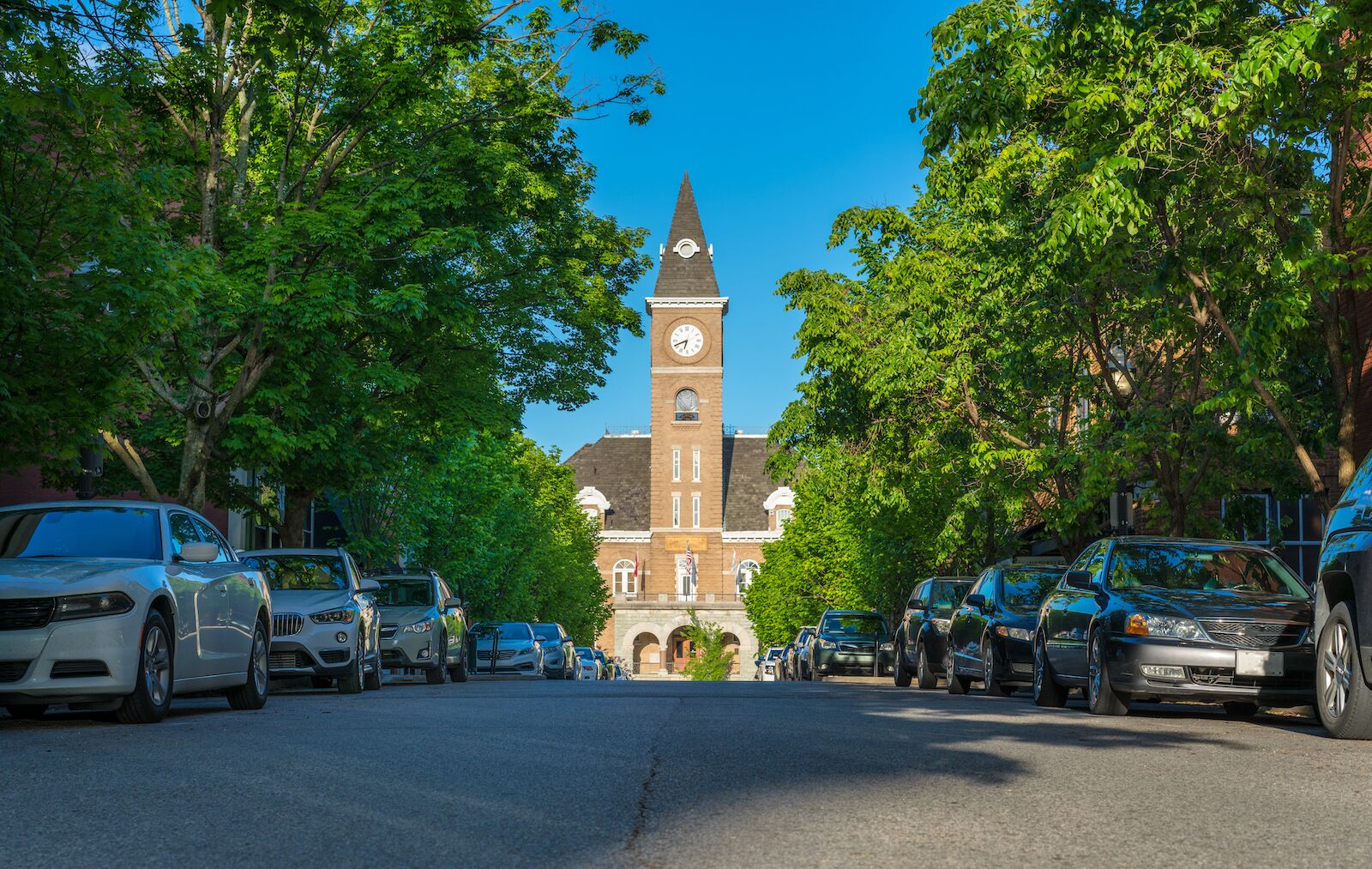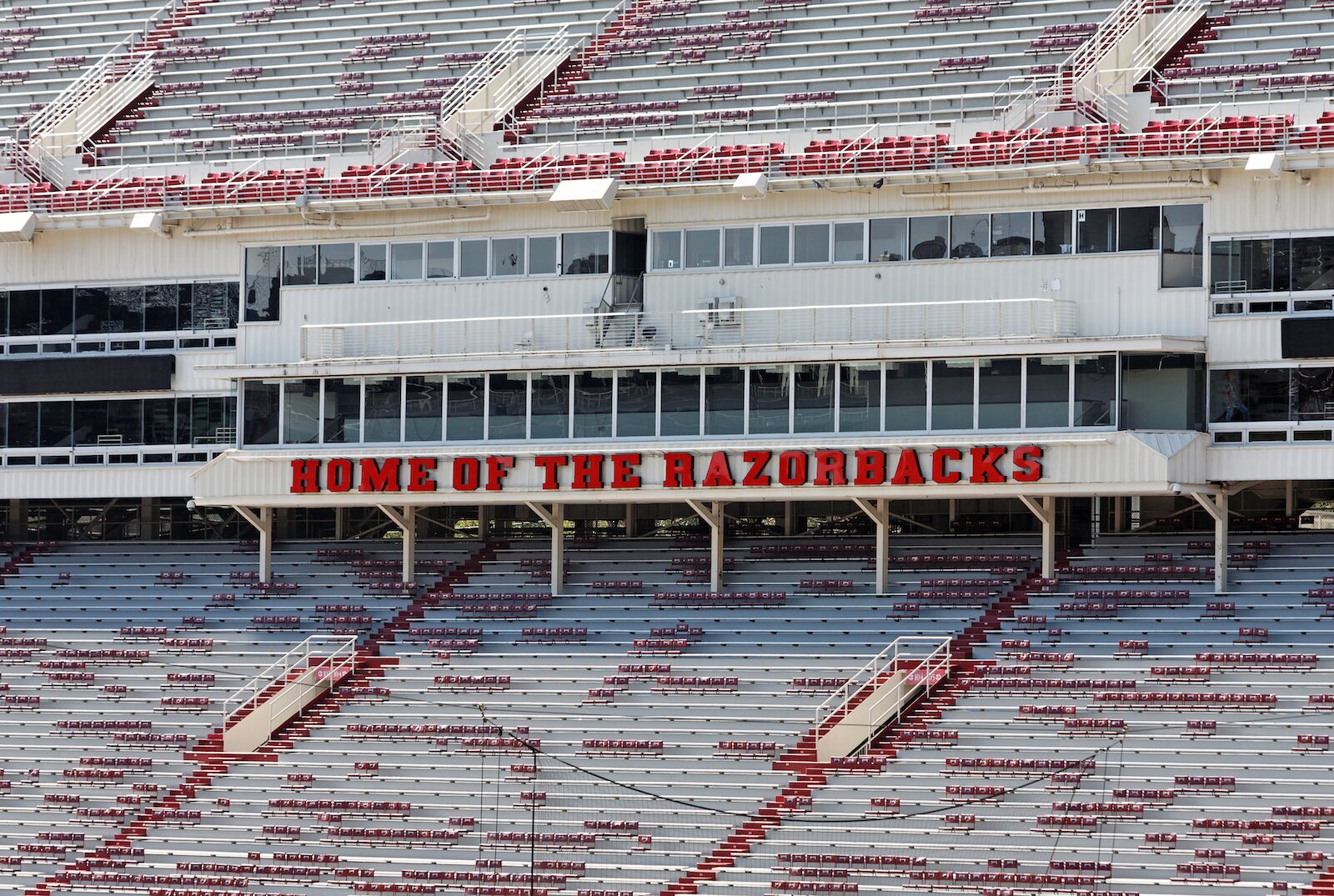 Home to the University of Arkansas Razorbacks, Fayetteville is one of the South's most legendary college towns. Like Savannah or New Orleans, Fayetteville is unencumbered by pesky open container laws, so grab yourself a walking beer — Lost Forty Brewing and Fossil Cove Brewing are Arkansas classics — and take in the town's historic streets and collegiate verve.
Like Austin or Boise, Fayetteville is a blue island in an otherwise red state, and the youthful town is full of quirky cafes, funky shops, and yoga studios. If you need an espresso-based pick-me-up, Arsaga's or Puritan Coffee deliver the goods. Don't leave Fayetteville without grabbing a beer and burger at Hugo's, a subterranean bar and shrine to all things Razorbacks — a favorite haunt among students, professors, and tourists.
Hochatown
Oklahoma might bring to mind wind sweeping down the plains, but the eastern sliver of the state is home to the western reaches of the Ozarks. Hochatown, about three hours from Fayetteville and known as the "Moonshine capital of Oklahoma," retains its pre-Prohibition ethos as a fun-loving vacation retreat. On the shores of Broken Bow Lake, the resort town is popular among fishing enthusiasts, boaters, and watersports aficionados. Lakeside cabins are available for rent, and that fresh mountain air will knock you out better than melatonin.
Most dining options in Hochatown are simple, homey, and delicious — think tacos, pizza, and cheeseburgers. Fan of barrel-aged hooch? Tie one on at Hochatown Whisky Distillery, one of Oklahoma's finest spirits makers. And to jam out to some honky-tonk blues, head over to the Hochatown Saloon, where the beers are cheap, the crowd is friendly, and the stage is always hot.
Oklahoma has the largest Native American population in the Lower Forty-Eight, and Hochatown borders Cherokee and Choctaw Nations, also worth exploring while in town. The Cherokee National History Museum is an excellent small museum and one the best places to learn about and purchase Native art. If you're the type who likes to hit the tables or the slots, Cherokee and Choctaw Nations are home to a score of bustling casinos like Roland and Casino Ramona.