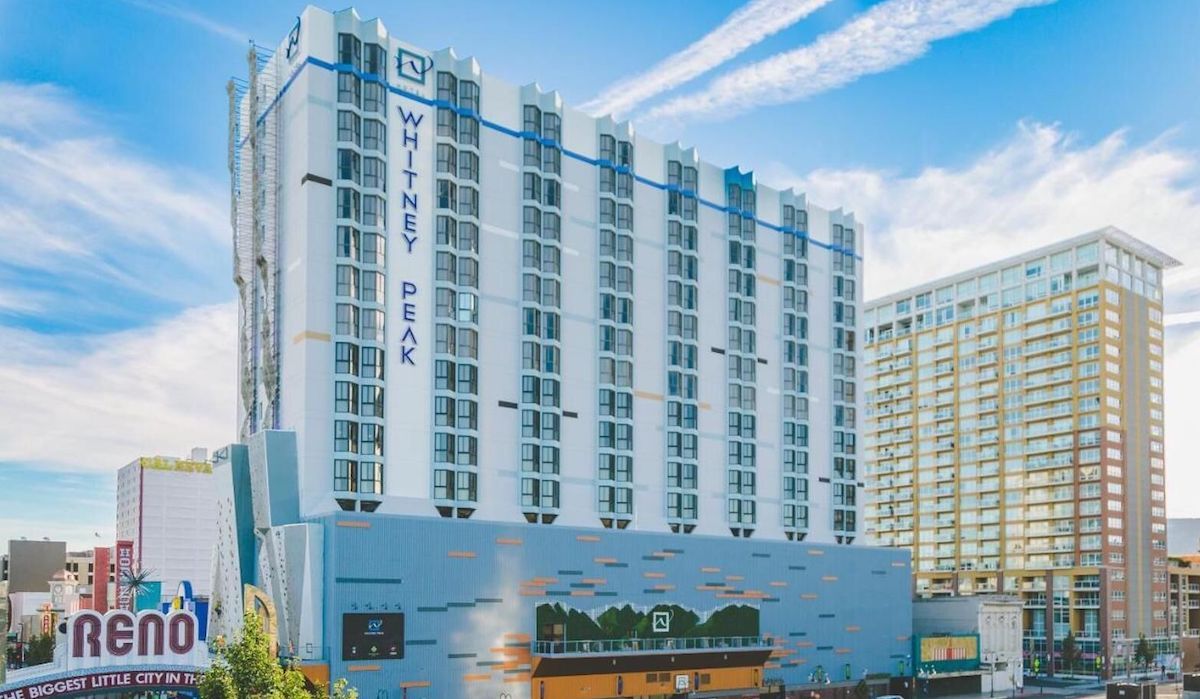 There's a hotel in Reno that has a 164-foot outdoor climbing wall soaring above the Reno Arch on the corner of Virginia Street and Commercial Row. Not what you'd expect in a city packed with casino resorts and sports bars. But that's what the Whitney Peak Hotel does: it shatters stereotypes. Instead of catering to a gambling crowd, it provides a refuge for outdoor enthusiasts and business travelers passing through.
I stayed at the hotel during a recent trip to the city and found it to be a comprehensive play on both adventure and comfort — a welcome change from the norm in a state where the air in hotels tends to be as toxic as a freeway during rush hour.
We hope you love the Whitney Peak Hotel! Just so you know, Matador may collect a small commission from the links on this page if you decide to book a stay. Listed prices are accurate as of the time of publication.
The Whitney Peak Hotel gives the Tahoe-bound a reason to stay in the city
The 310-room Whitney Peak Hotel opened in 2014 in a former casino space to become the city's first non-smoking and non-gaming luxury boutique hotel. That distinction hardly describes the experience, however. Vintage ski trail maps decorate public spaces and a 7,000-square-foot indoor climbing gym couples with the outdoor wall. The on-site restaurant, Cafe Whitney, serves global cuisine in a posh but not pretentious setting. Of course, local brews are poured in abundance.
Rather than targeting the gaming crowd, the Whitney Peak Hotel seeks to provide a haven for active lifestyles. Reno is the gateway to Lake Tahoe — its airport is the closest international airport to many of Tahoe's ski areas and resort villages.
I recently visited Incline Village for a conference and opted for a night in Reno before an early flight out the morning after the event. I spent about five minutes researching hotels in the city before deciding on the Whitney Peak, knowing after viewing its website that a quasi-snowboard-bum cleverly disguised as a near-middle-aged professional traveling on business would feel comfortable posting up here. Translation: The hotel's branding efforts are working.
Well-appointed rooms with city or mountain views
As a traveling journalist, I've developed a firm standard for what constitutes an acceptable hotel room. Several factors must be met to hit the standard, but none of these include over-the-top luxury. The Whitney Peak Hotel surpassed each of these easily.
First, and perhaps most important, the hotel is quiet. My Club Level room at the Whitney Peak Hotel was silent, a heavy rainstorm endured throughout the night but I never heard a thing. (As a bonus, being 15 floors up in a high-rise during a brutal storm looks really cool when viewing from the window).
The second is a clean presentation and, hopefully, a bed without a box spring. If the aesthetic can be described as either "hipster-modern" or "adventure cabin," all the better. The Whitney Peak falls more toward the former, with ample outlets to charge devices and a work desk that's both comfortable and spacious. I slept well on the king bed. I loved the lounge chair by the window, where I took in the storm while trying to figure out why the building across the way has a giant bowling ball sculpture on its roof (as it turned out, that building is the National Bowling Stadium.)
All rooms (starting at $151) come with DIRECTV, a 40-inch HDTV, WiFi, USB/HDMI ports, a mini-fridge, a safe, and central air. There's also a Keurig, though you shouldn't use it unless you've brought your own biodegradable coffee pods. Dinner can be ordered for pick-up from Cafe Whitney, though during my stay, delivery to my room was not available. In the bathroom, zero-waste bath amenities from Zero Percent Collection are offered rather than disposable options.
Water bottle refilling stations are located throughout the hotel, a nice alternative to plastic water bottles. The hotel features conference facilities, valet parking, and spa services including a sauna.
Upgrading to the Club Level is worth it for those looking to lounge on-site
Guests have the option to upgrade their stay to the Club Level, located on the 15th floor. The upgrade adds access to a private and free happy hour with drinks and hors d'oeuvres served in the speakeasy-like Club Lounge. It's hidden behind the door of the otherwise unassuming room number 1522. A room key for a room on the same floor, or with otherwise pre-purchased access to the lounge, is required for entry. Inside is a well-trimmed penthouse lounge complete with a bar and a charcuterie buffet for happy hour. The adjoining room is set up around a large TV that during my stay made for a great place to watch the World Series. The windows in both rooms offer expansive city views.
Breakfast is served daily in the Club Lounge, the only breakfast buffet on-site, meaning those who skip the upgraded booking will have to head elsewhere for the morning grub.
A hotel designed for climbing and rocking
The Whitney Peak Hotel's most prominent feature is its massive climbing wall, which allows those with the skills and courage to ascent to the top of the pseudo-skyscraper, to be rewarded with views stretching across greater Reno and into the Sierras beyond. I did not attempt the wall — it was closed due to rain, giving me a convenient excuse — but I did spend an hour playing around the indoor climbing gym. The gym is populated by far more locals than tourists, indicating that it's far more than just a gimmick. Several climbing walls are set up and each includes multiple routes to attempt. The gym also has cardio equipment and free weights, for a more traditional workout.
Also on site is the Cargo Concert Hall, a 1,100-capacity music venue that regularly hosts touring rock, metal, and folk acts, as well as other artists and genres. Modern and well-equipped, the venue is akin to a slightly smaller House of Blues. The venue is modern, well-equipped with its own bar. And, even when a show is popping off, it's impossible to hear from the hotel's well-insulated rooms.

More like this