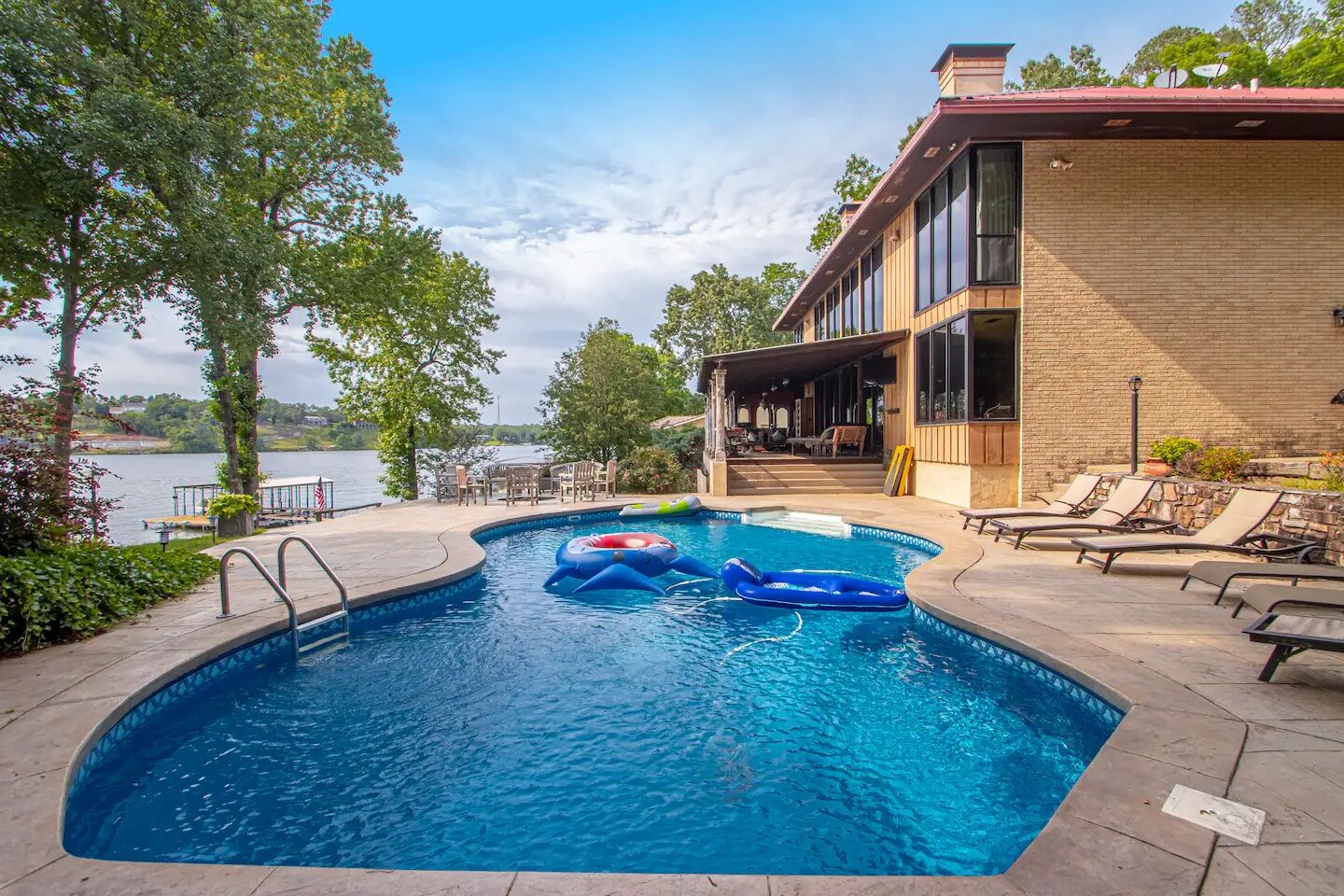 Cast yourself away to Hot Springs, Arkansas, and you can take your pick from no less than eight thermal bath houses without stepping out of downtown. A short drive out of the city and you'll be in the clutches of the Hot Springs National Park, the Ouachita National Forest, and the banks of Lake Hamilton. Not forgetting the mandatory day trip to Magic Springs where rides vary from soothing to scary. All these spots are within easy reach of the best Hot Springs Airbnbs.
Traveling through Arkansas? Check out Matador's Arkansas accommodations guides:
We hope you love the Airbnb Hot Springs vacation rentals we recommend! Just so you know, Matador may collect a small commission from the links on this page if you decide to book a stay. Listed prices are accurate as of the time of publication.
Treehouse Airbnbs in Hot Springs, Arkansas
Deer Run Treehouse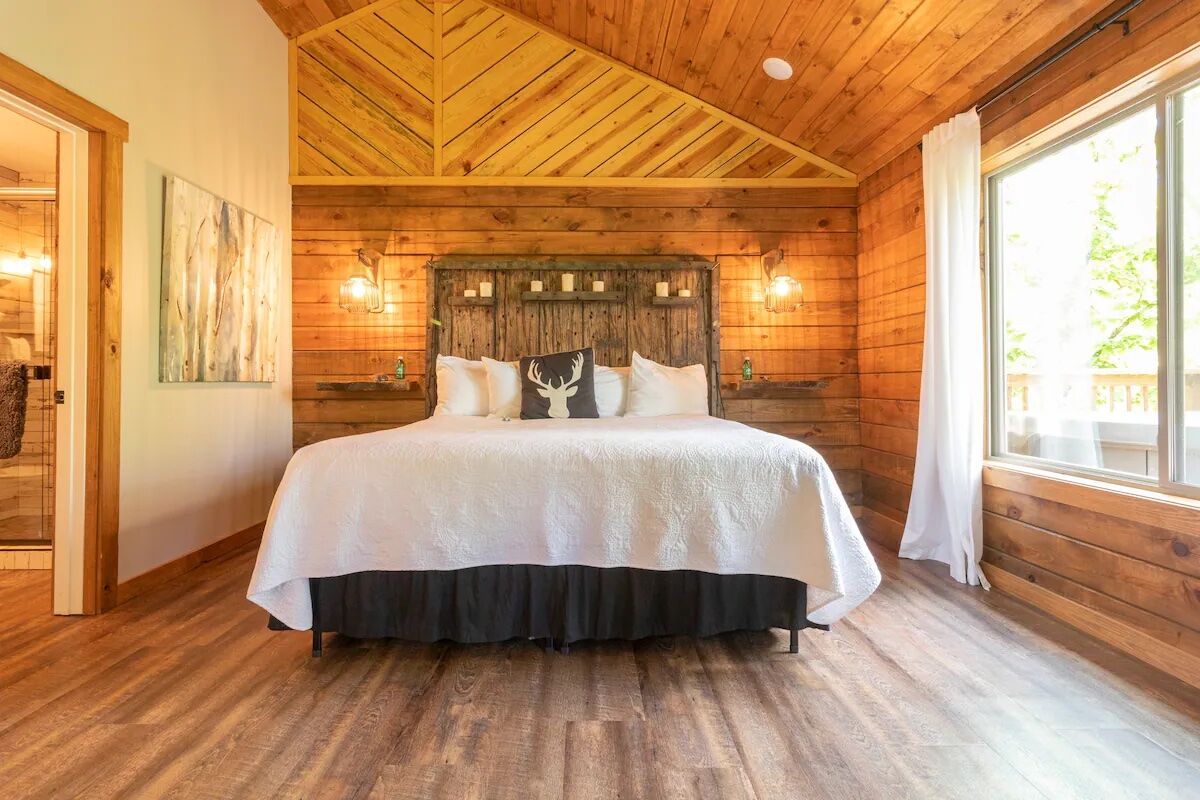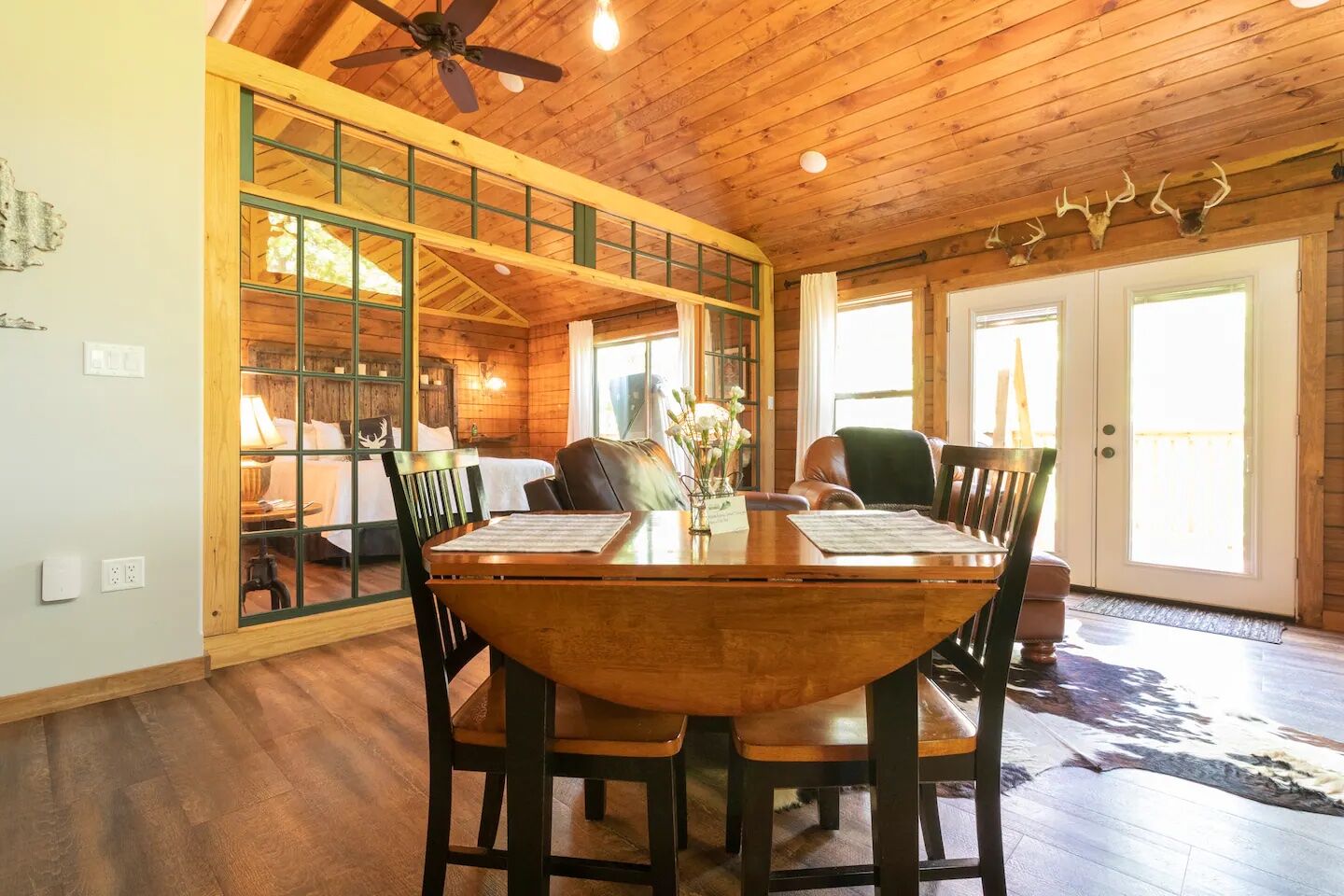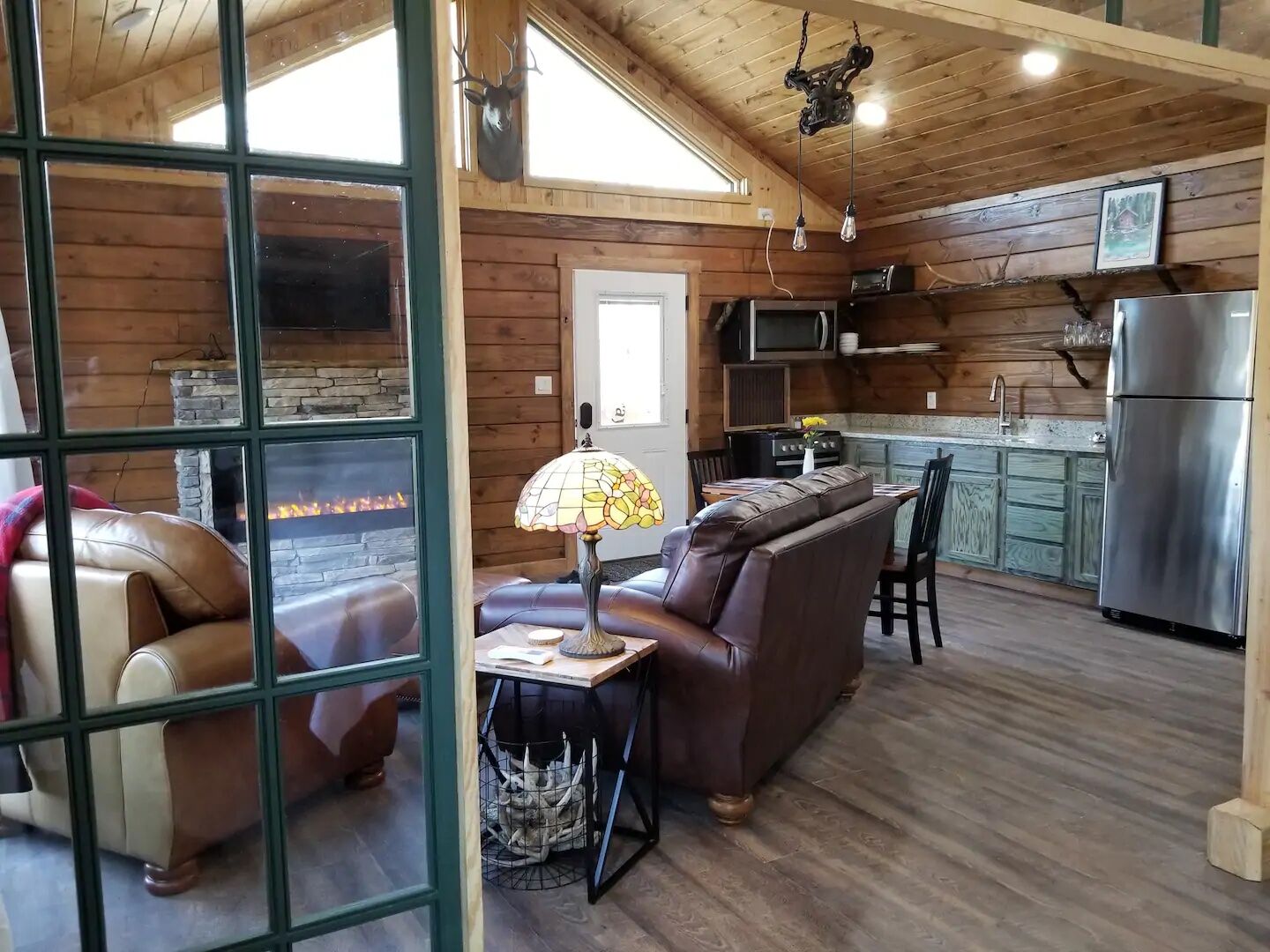 Sleep among the foliage at this Hot Springs, Arkansas, treehouse Airbnb kitted out with an artisanal bed, decadent linens, and a full kitchen. The private balcony is fitted with a swing, grill, and hot tub overlooking the forest. Deer Run is one of six units managed by Hot Springs Treehouses. If your dates are unavailable, cast an eye over the rest of the portfolio. As the most luxurious in the collection, this one features an antique French door and extra space.
Two guests, one bedroom
Price: $312 per night
Airbnbs in downtown Hot Springs, Arkansas
Capone's Loft – historic downtown, unique luxury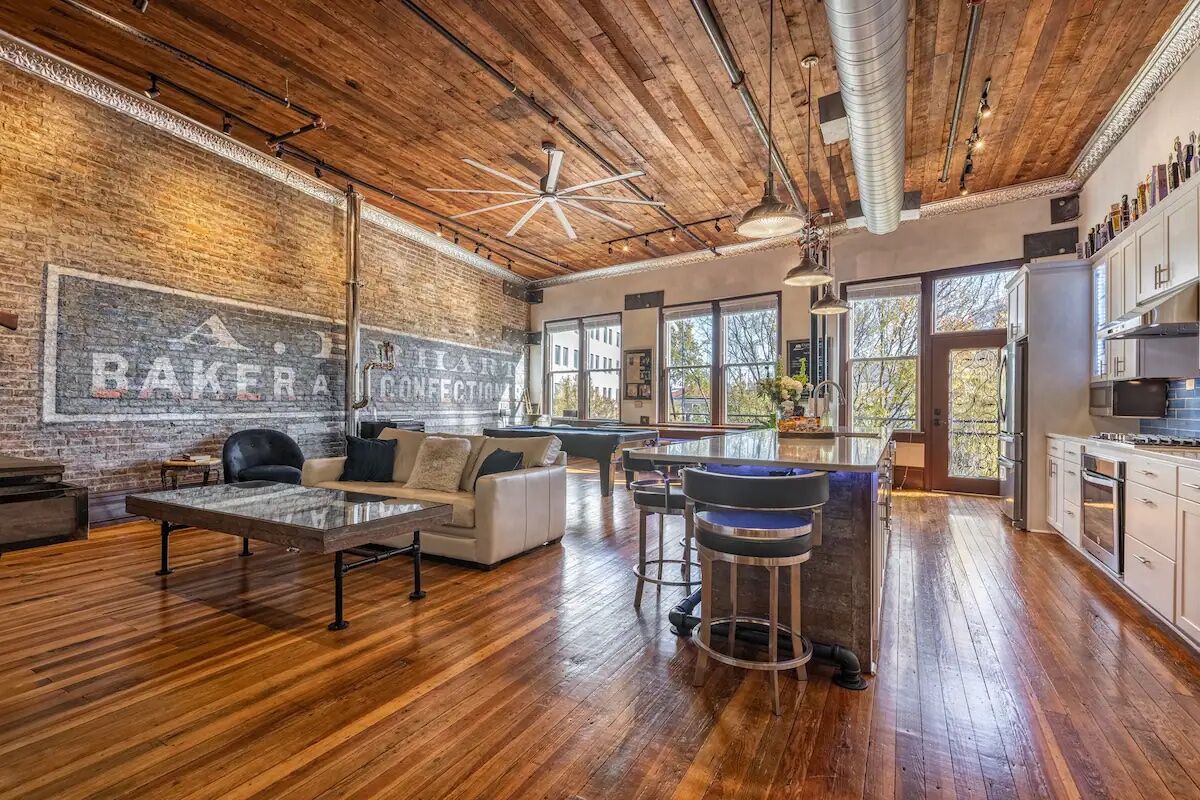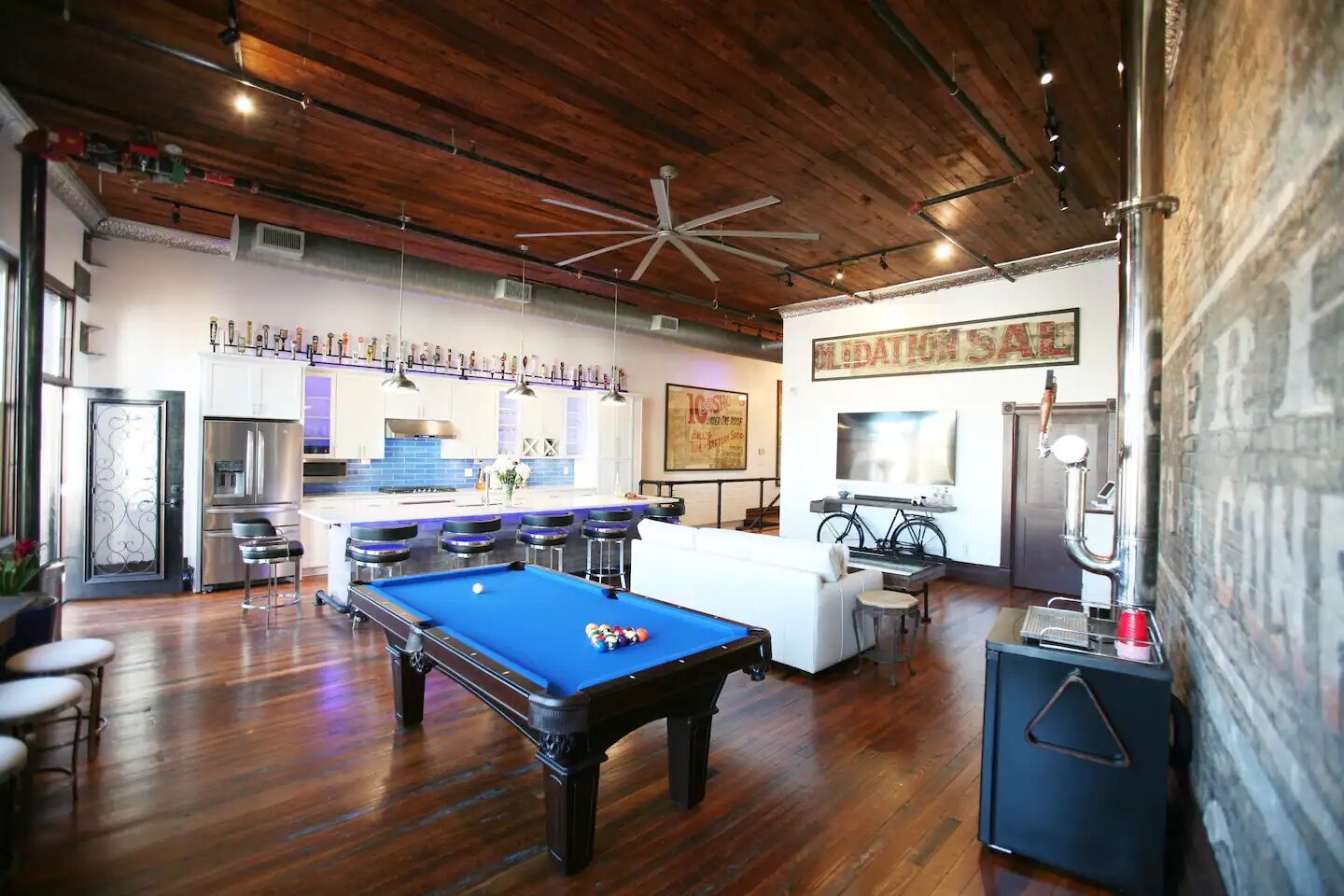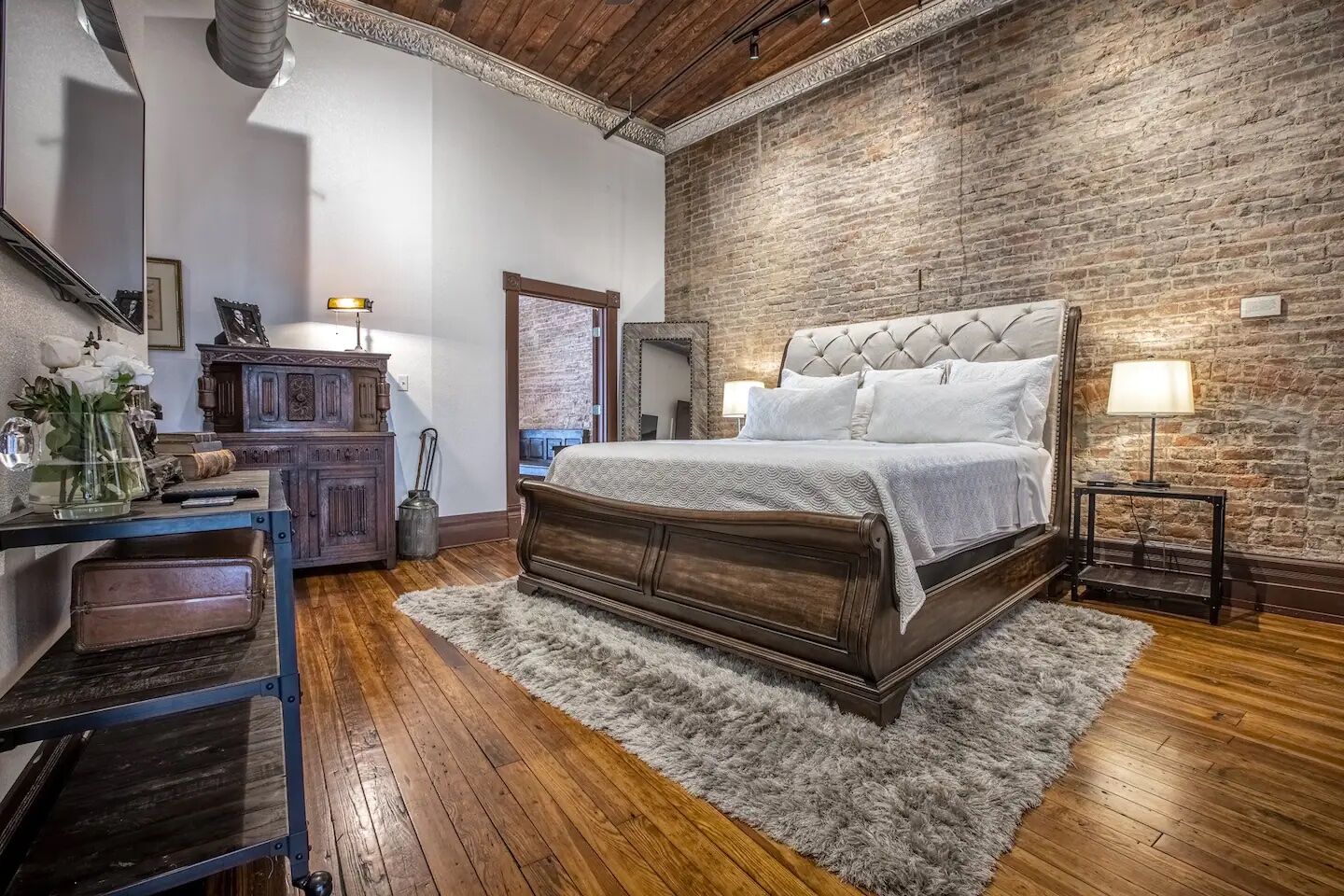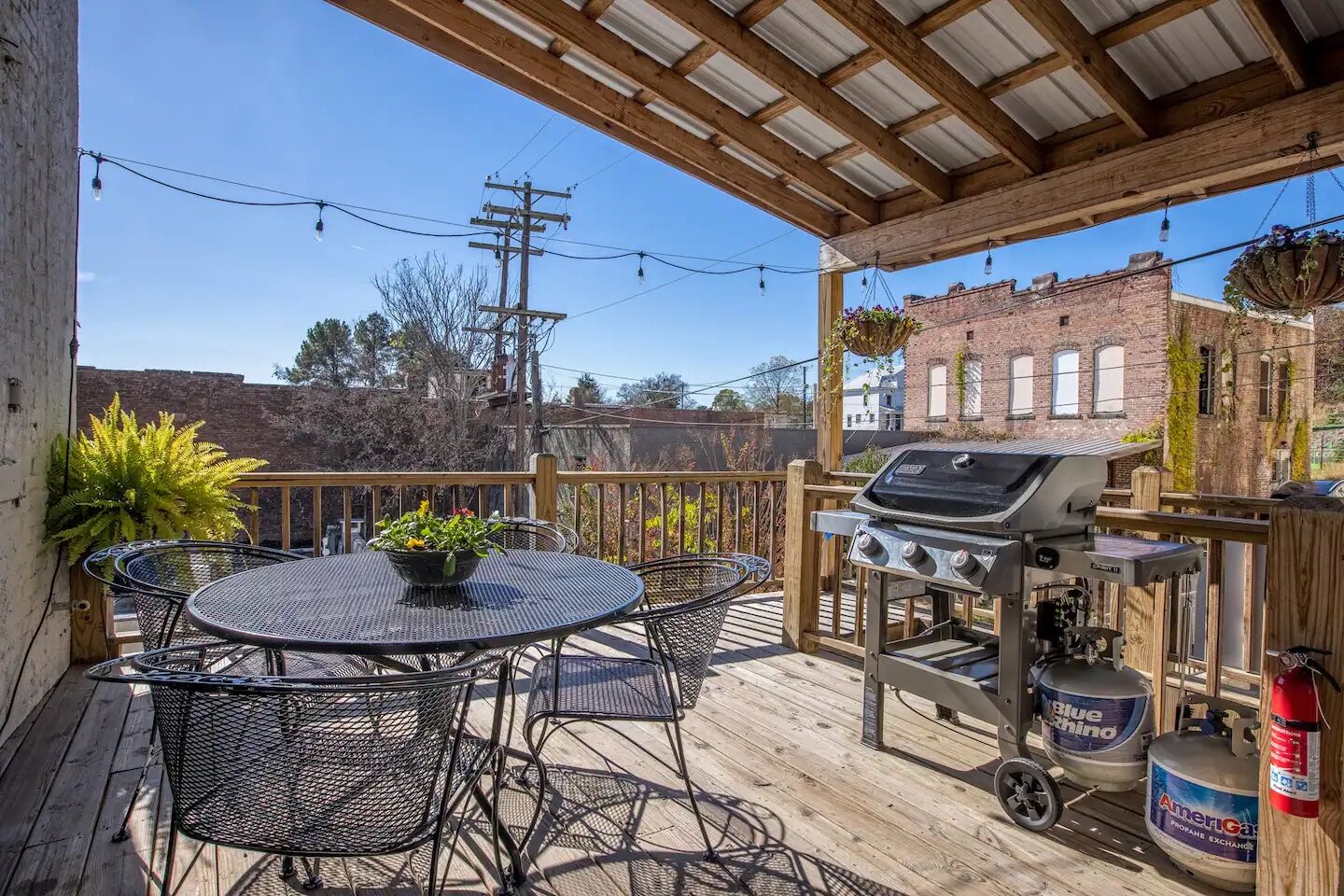 Capone's Loft fuses the pizzazz of the glamorous 1920s with modern lifestyle touches. Exposed brick and pipework throughout the communal and sleeping areas achieve that seriously chic Brooklyn vibe. The centerpiece of the interior is the pool table, complemented by the fully-functional beer tower while the larger of the two balconies is fitted with a grill. This Airbnb downtown Hot Springs, AR, is within walking distance of Bathhouse Row.
Six guests, two bedrooms
Price: $455 per night
House by the creek, five minutes from downtown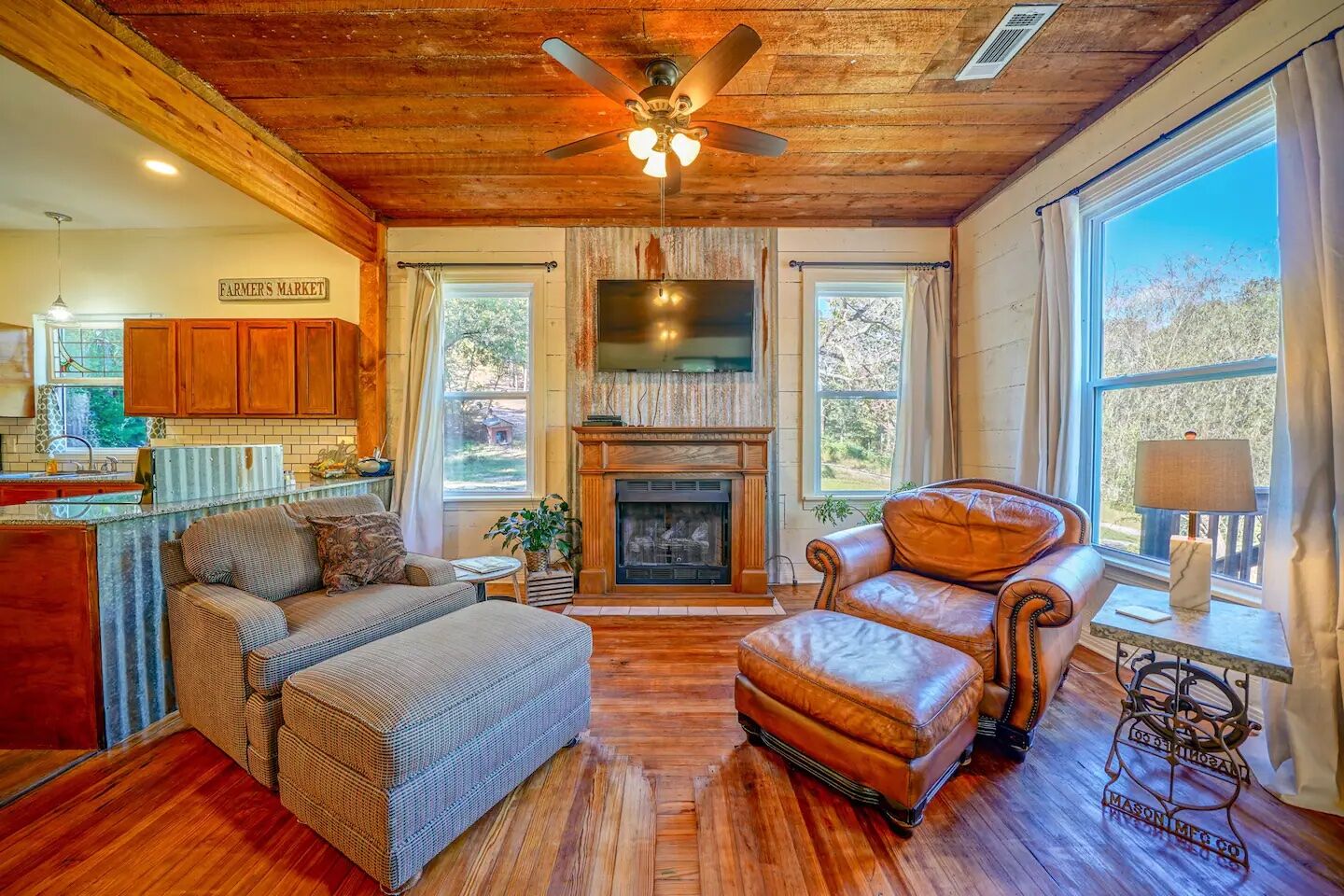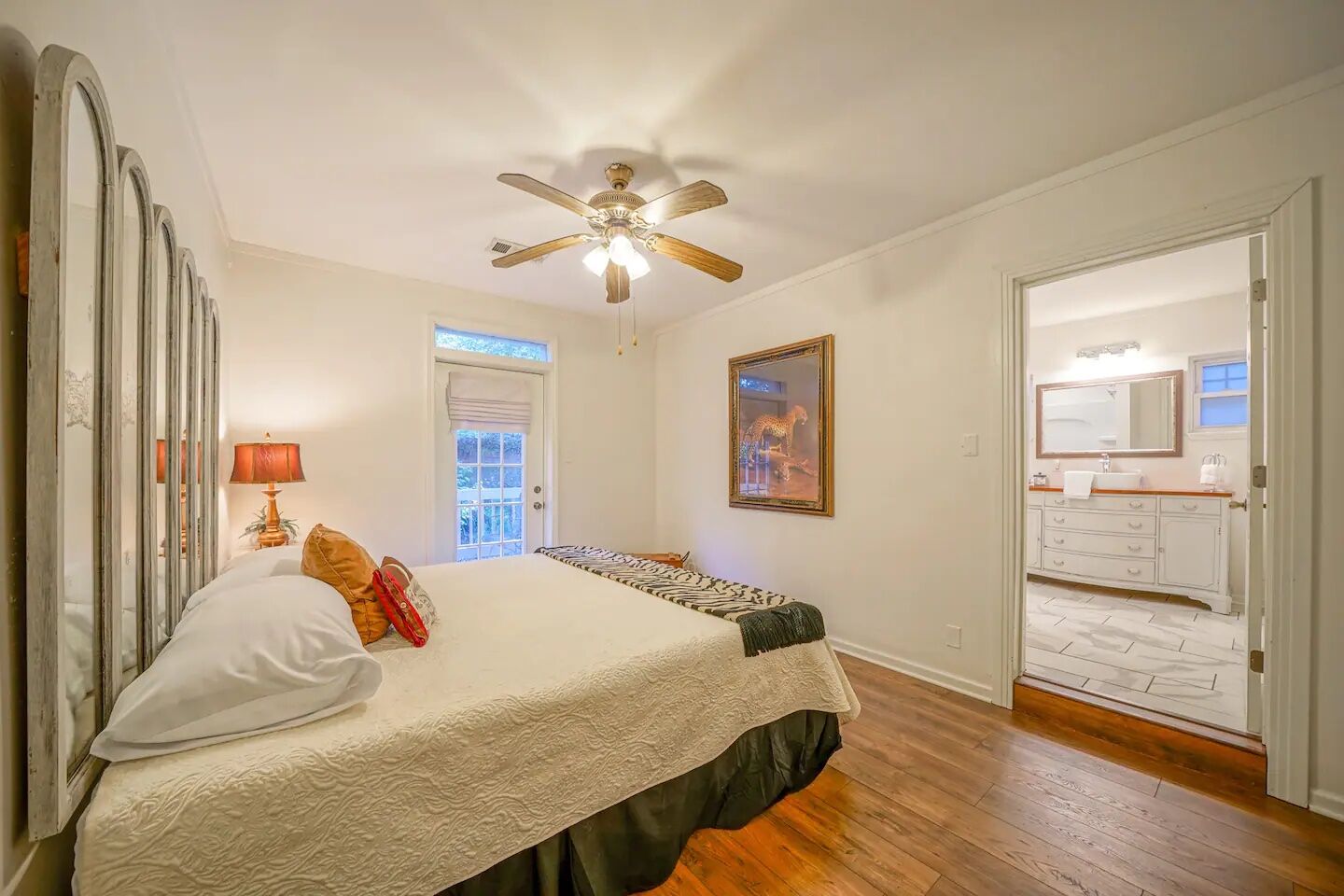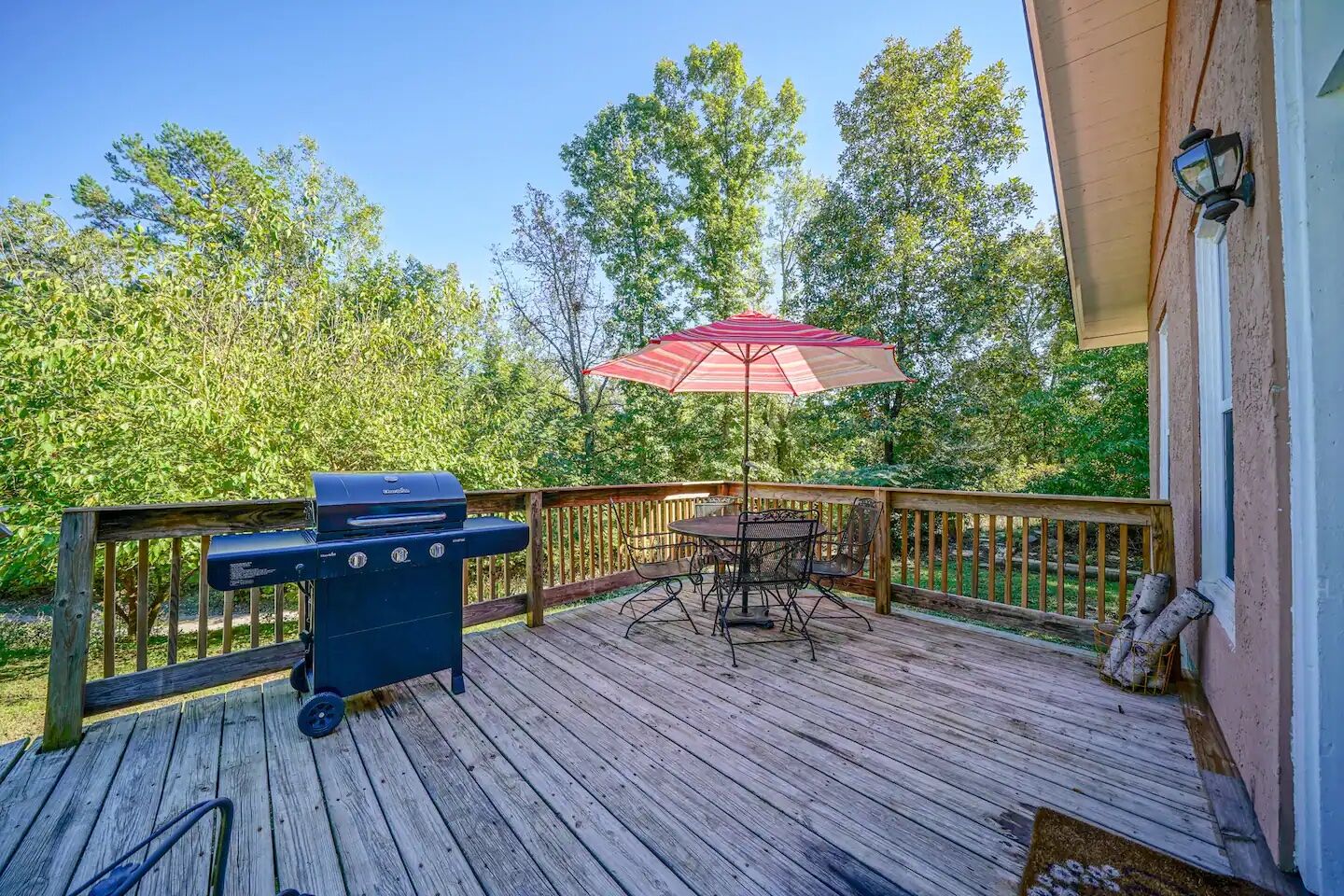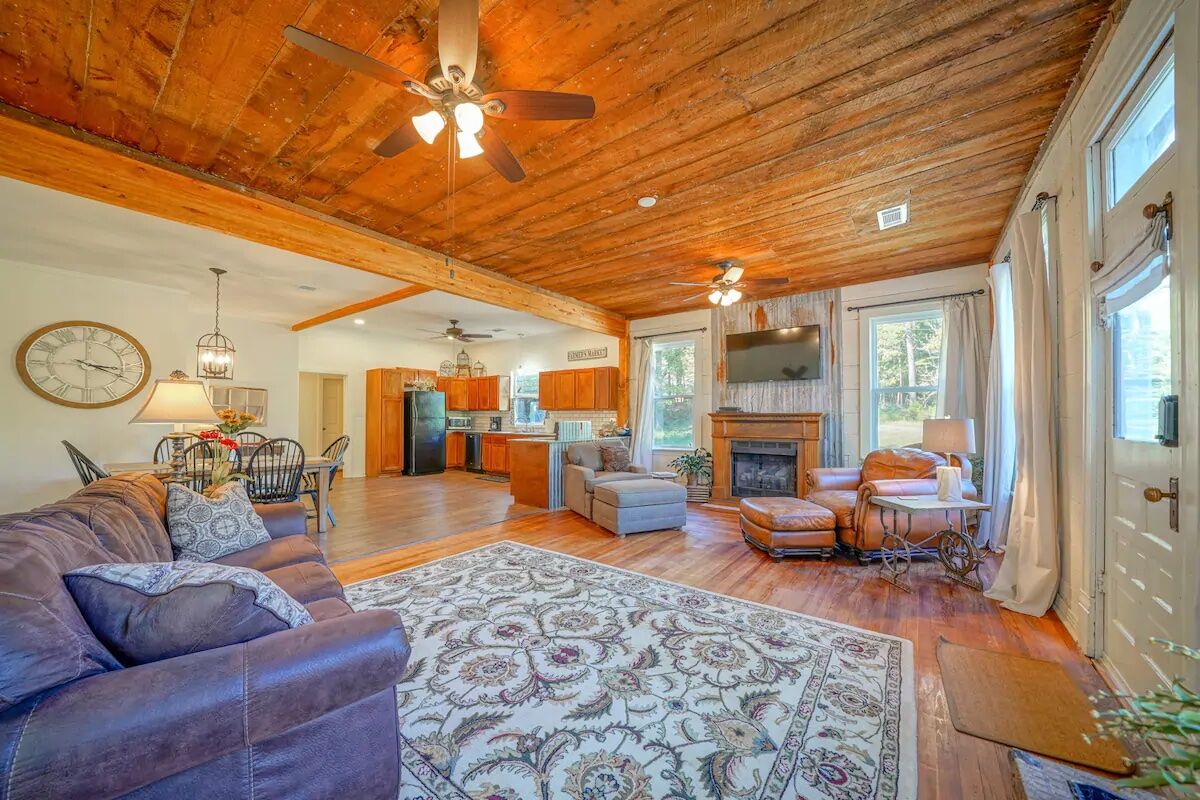 Gorgeously restored, this creekside ranch-style Airbnb is on the cusp of the national park. The property is encircled by woodlands and enjoys a private lawn with direct access to the stream. Spread over one floor, the open-concept lounge features shiplap walls, hardwood flooring, and an original barn door leading into the master suite. A whirlpool bath and sumptuous couches by the fire with external views round off this homely yet luxurious Airbnb in Hot Springs Arkansas.
Six guests, three bedrooms
Price: $225 per night
Miss Fancy (Ladies of the Court)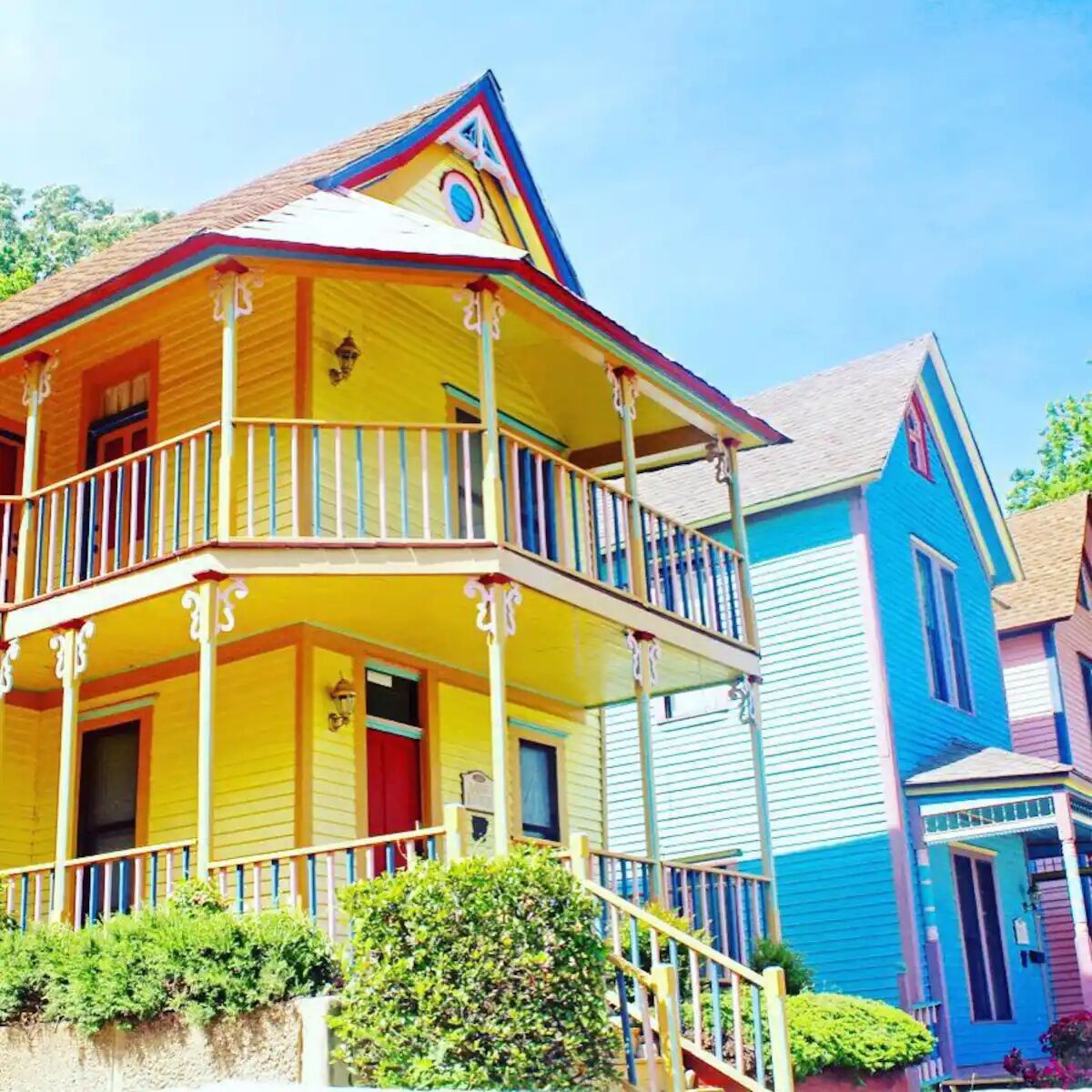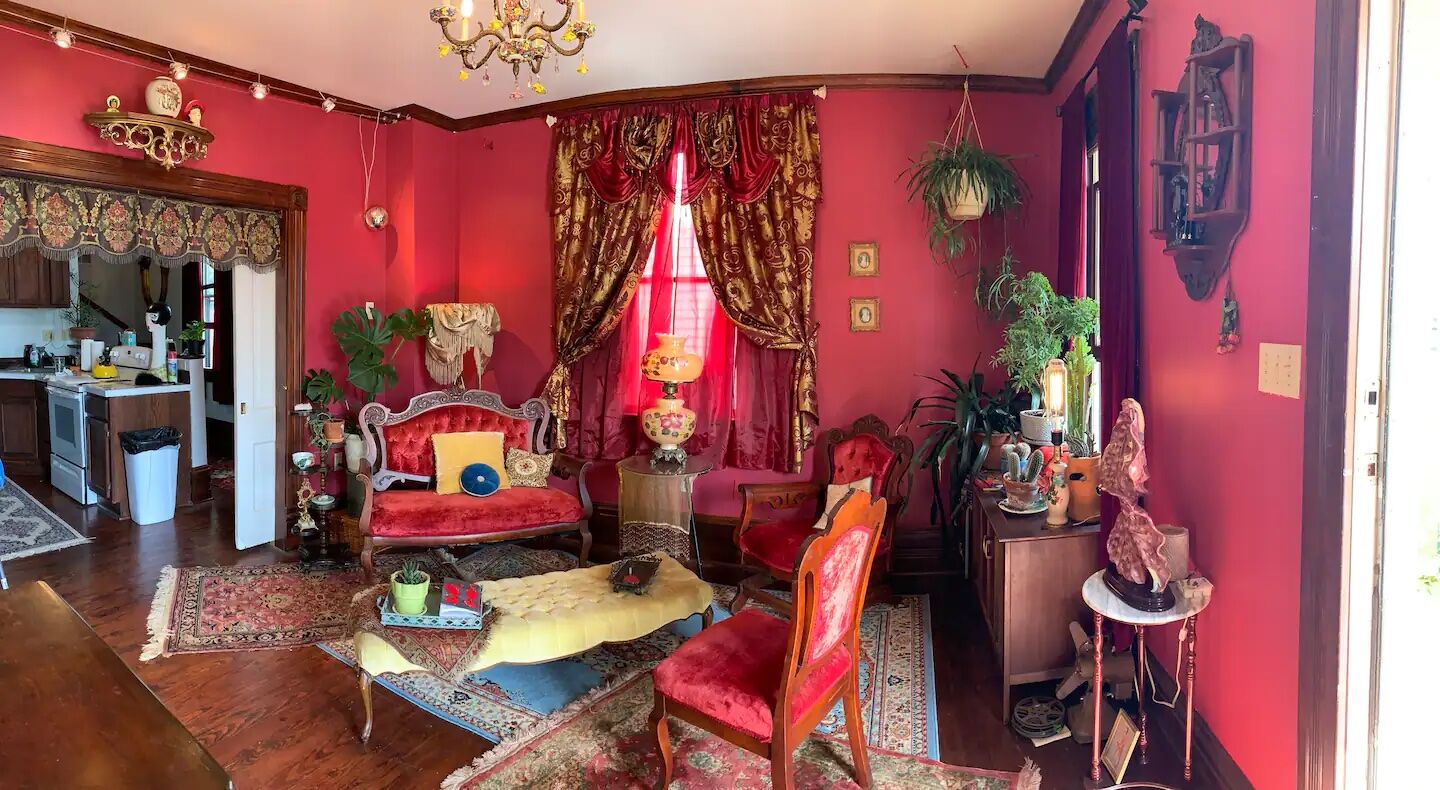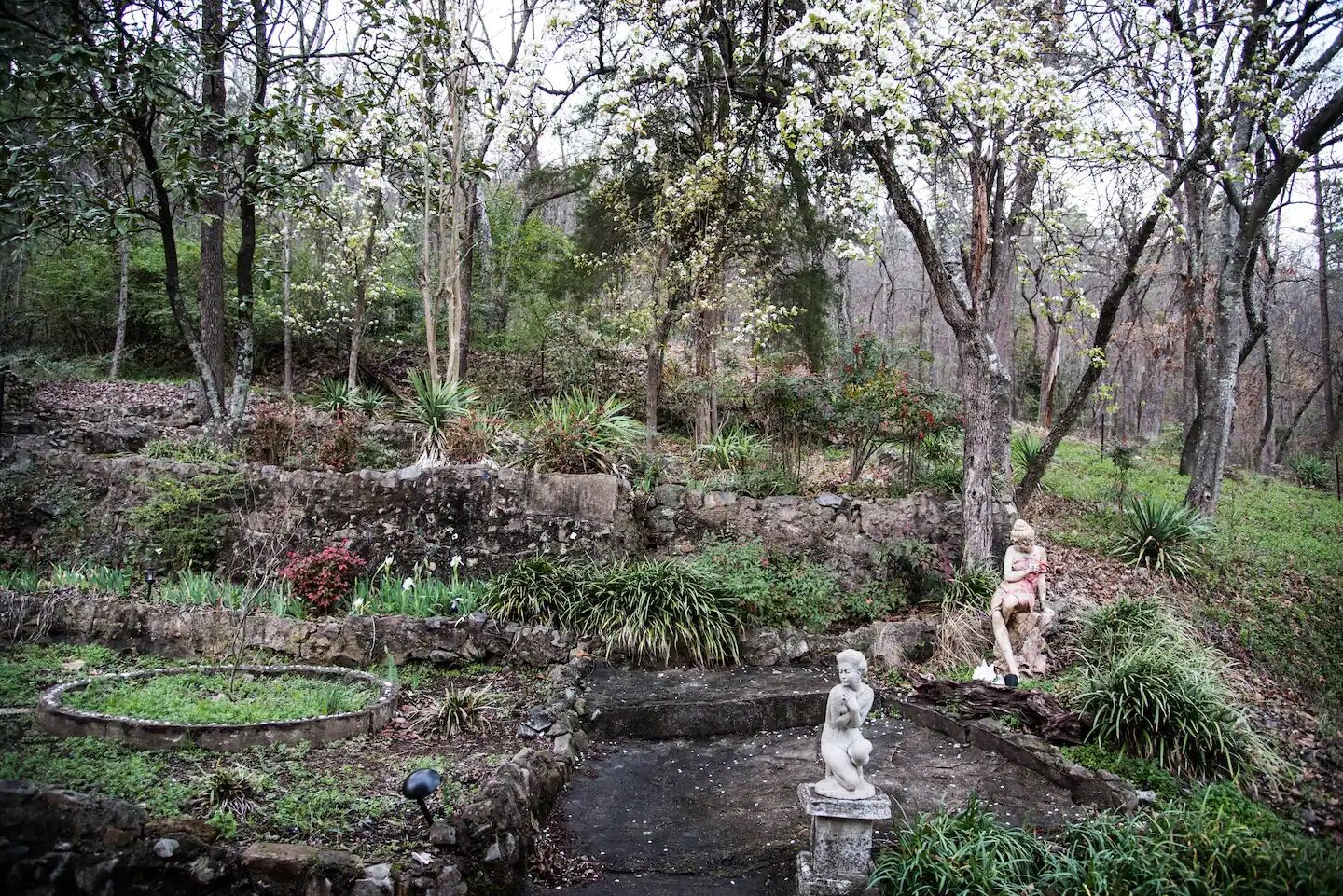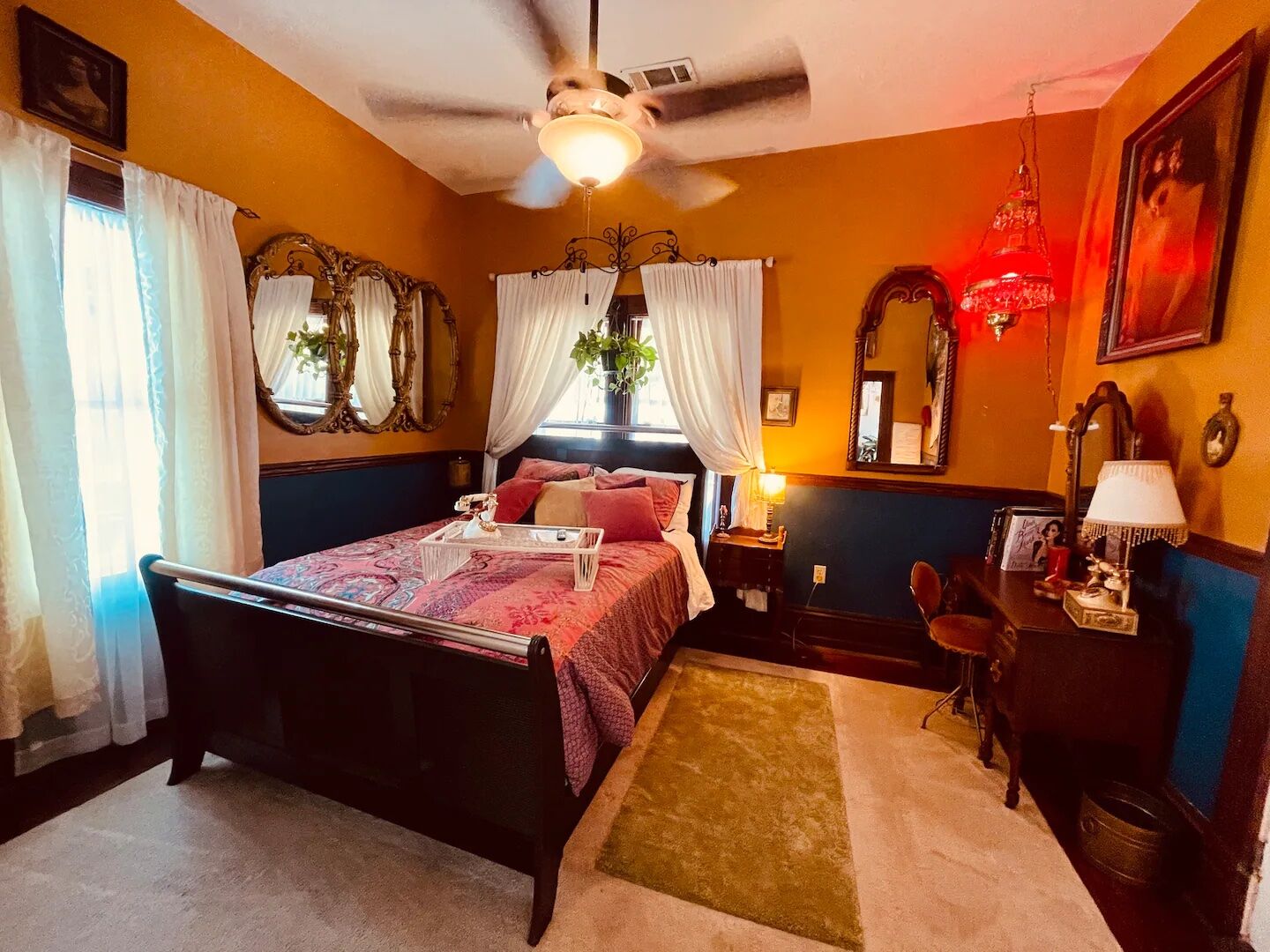 Potentially the kookiest vacation home in the entire state, this Airbnb in downtown Hot Springs comes with a resident cat so you'll need to be chill with sharing the space. Built in the 19th century, the property has previously been used as a spa and a brothel. Boojie interiors are awash with velvet, burlesque art, and a theatrical dressing room. Perfect for eclectic tastes: and friends of felines.
Four guests two bedrooms
Price: $179 per night
Airbnb cabins in Hot Springs, Arkansas
Cozy yurt in a quiet cove on Lake Hamilton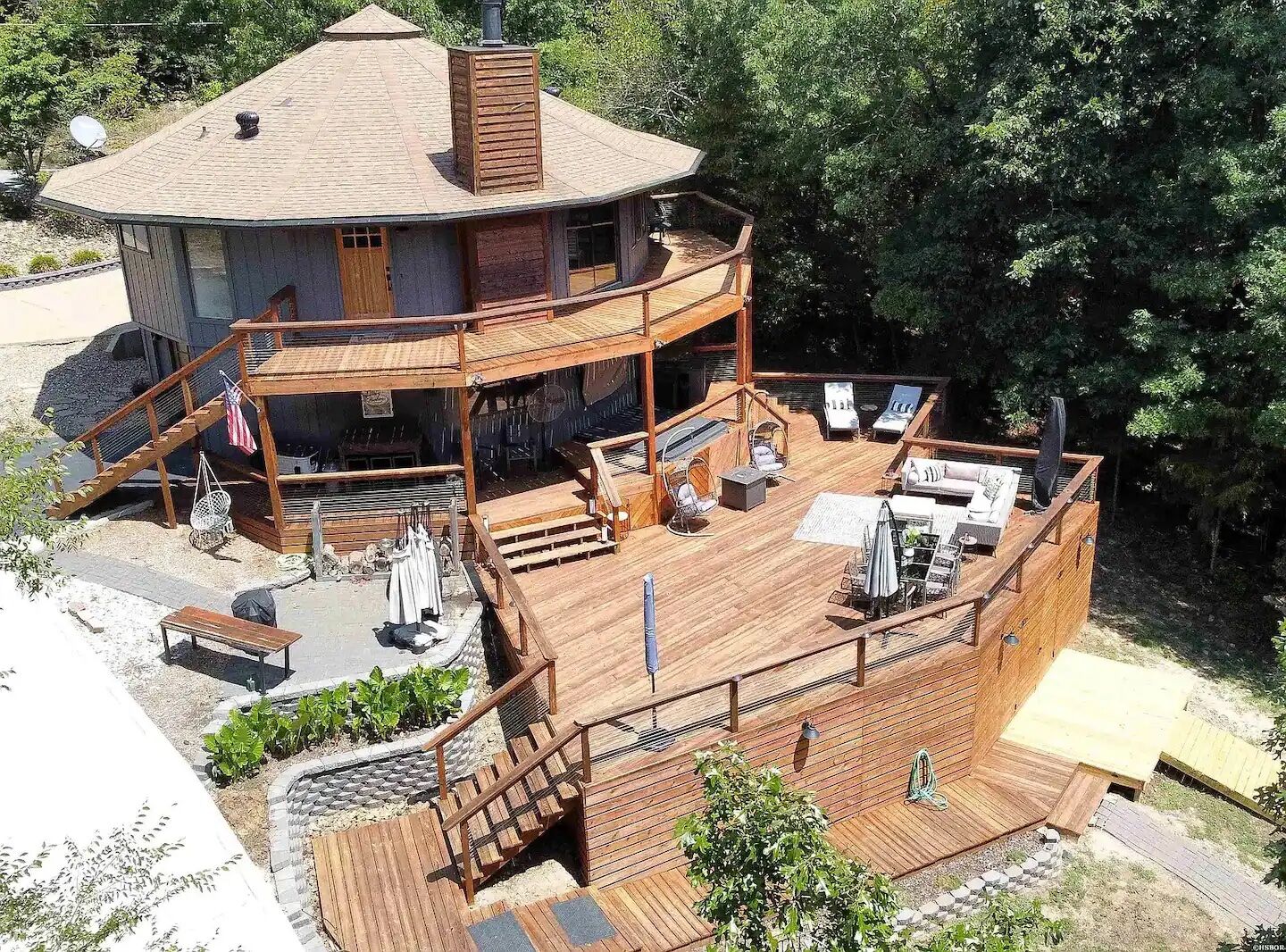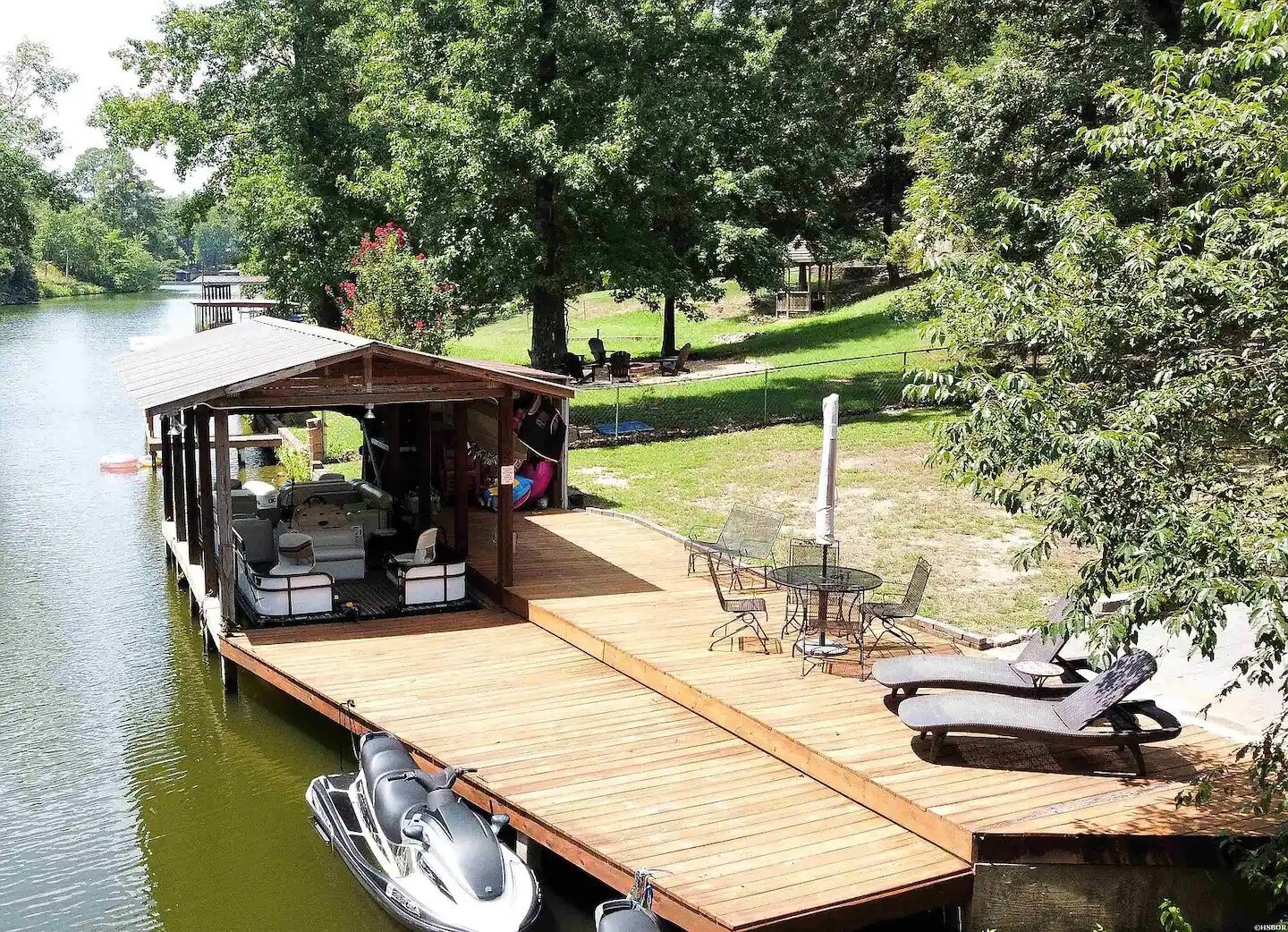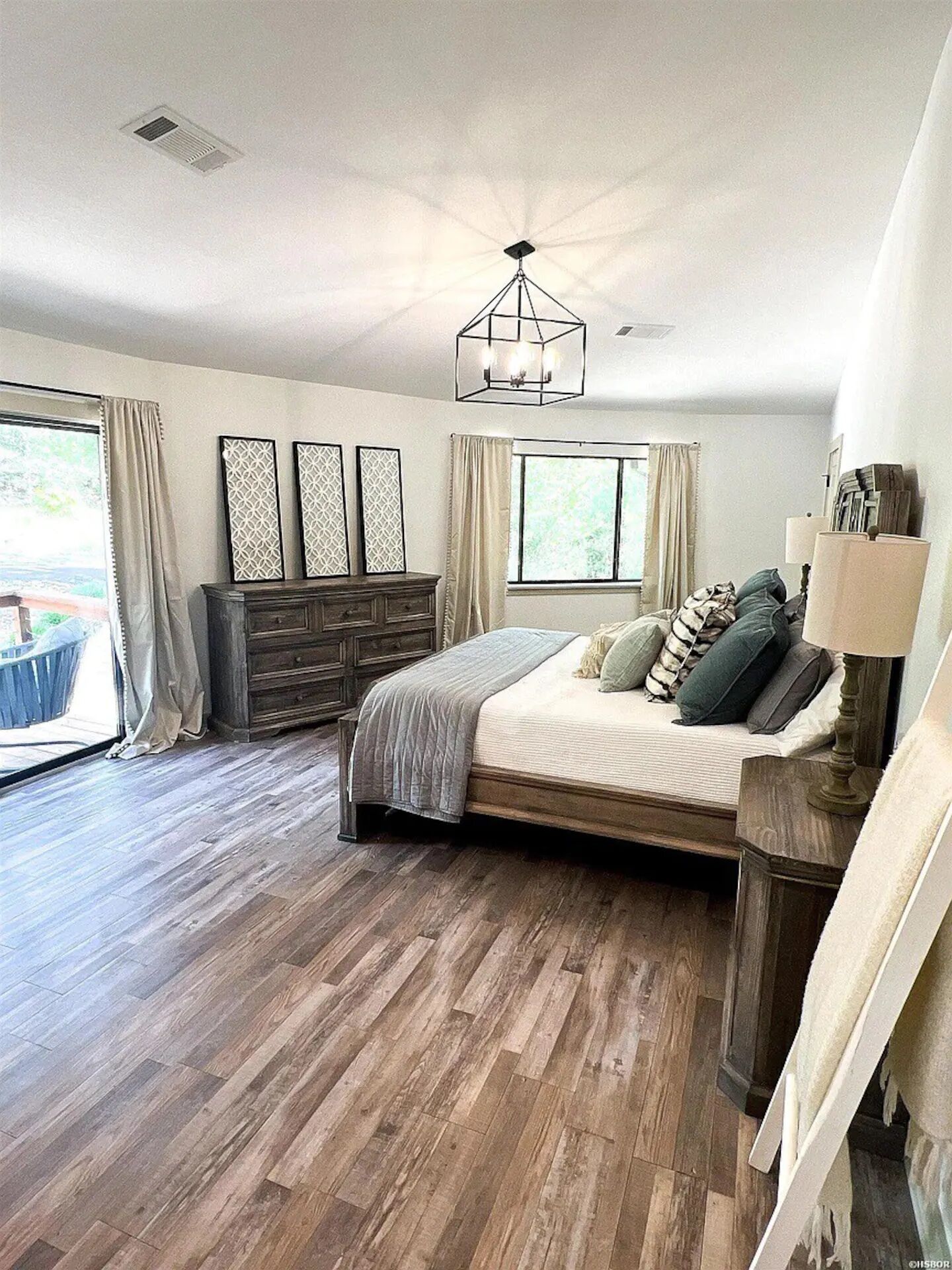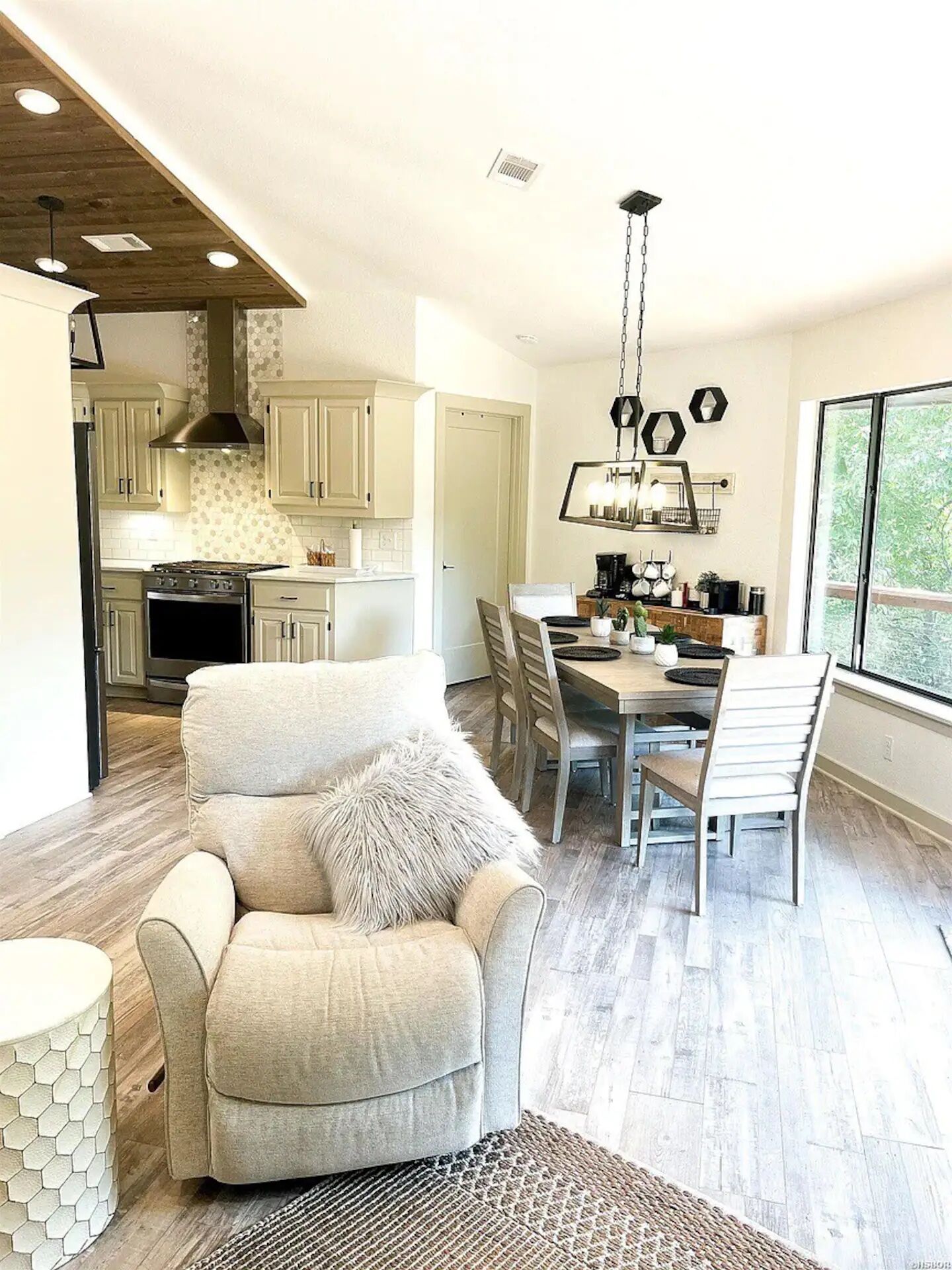 This one-of-a-kind cabin merges yurt elements to create an unforgettable Airbnb Hot Springs experience. Spread over two levels, the property has an upper-level balcony plus a spacious desk equipped with a hot tub and a multitude of seating options. On the way down toward the private pier, you'll find a fire pit and grill area. You're welcome to bring your own boat and dock it in the slip.
Six guests, three bedrooms
Price: $213 per night
Hillside retreat at Kelly Hollow Farm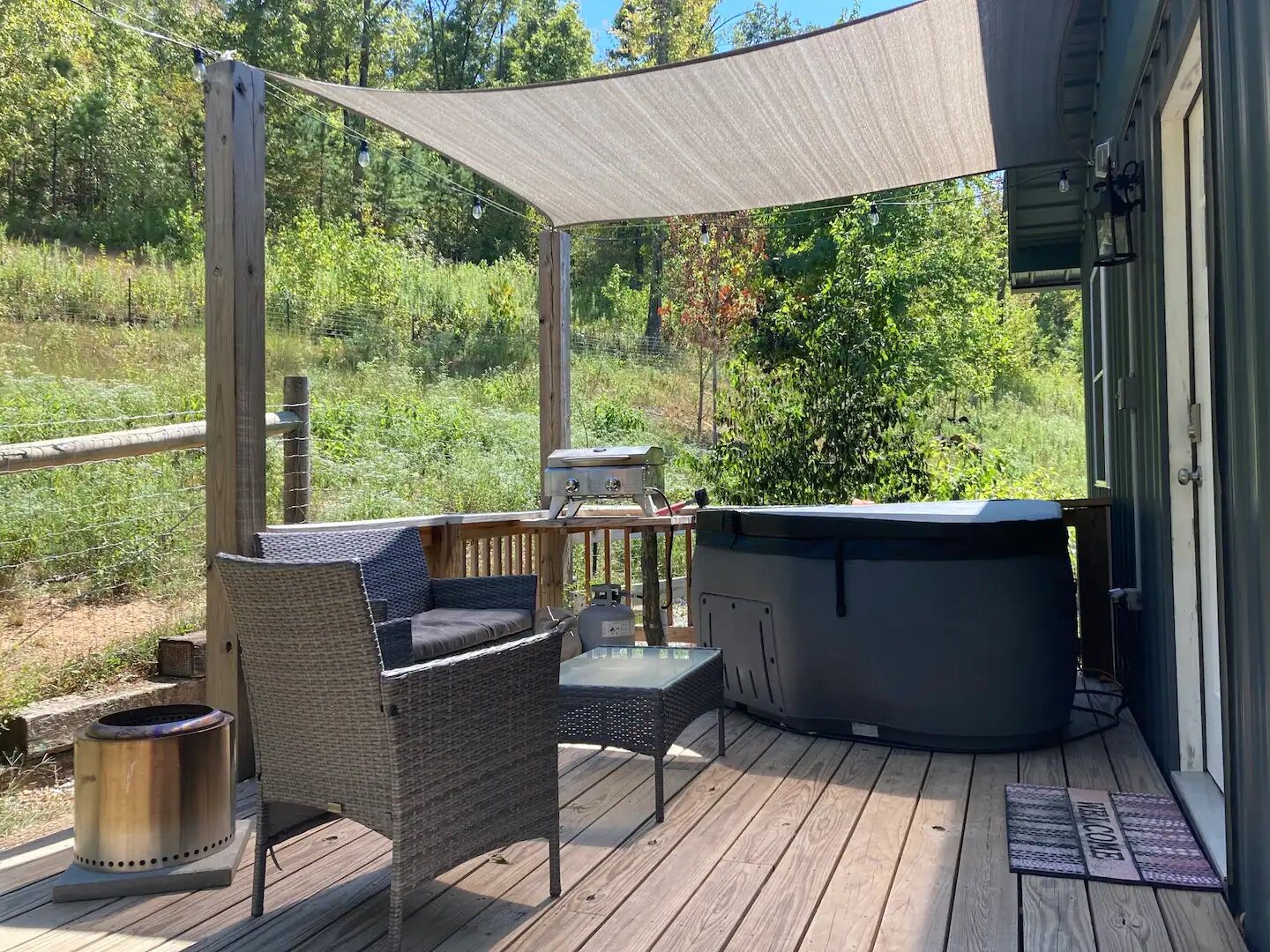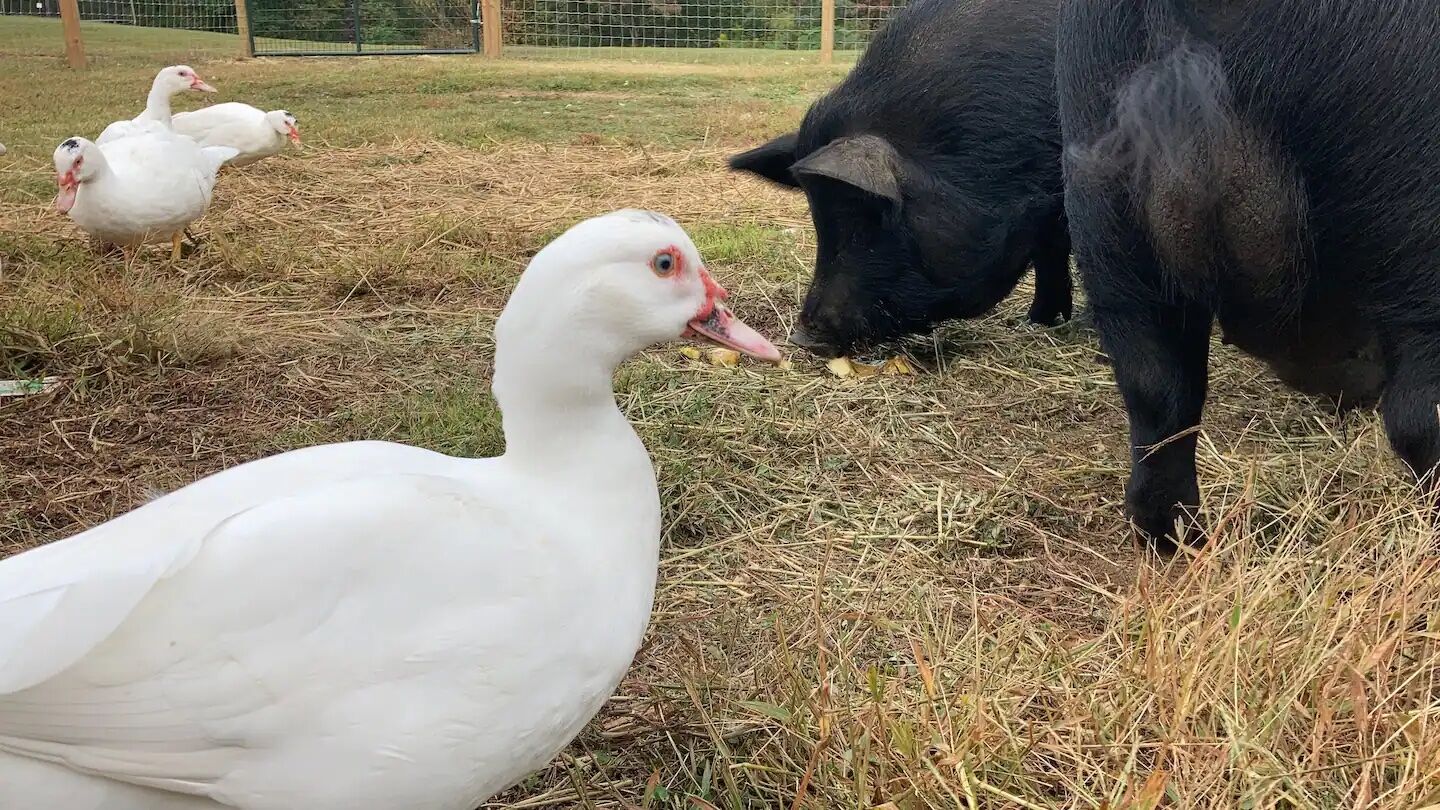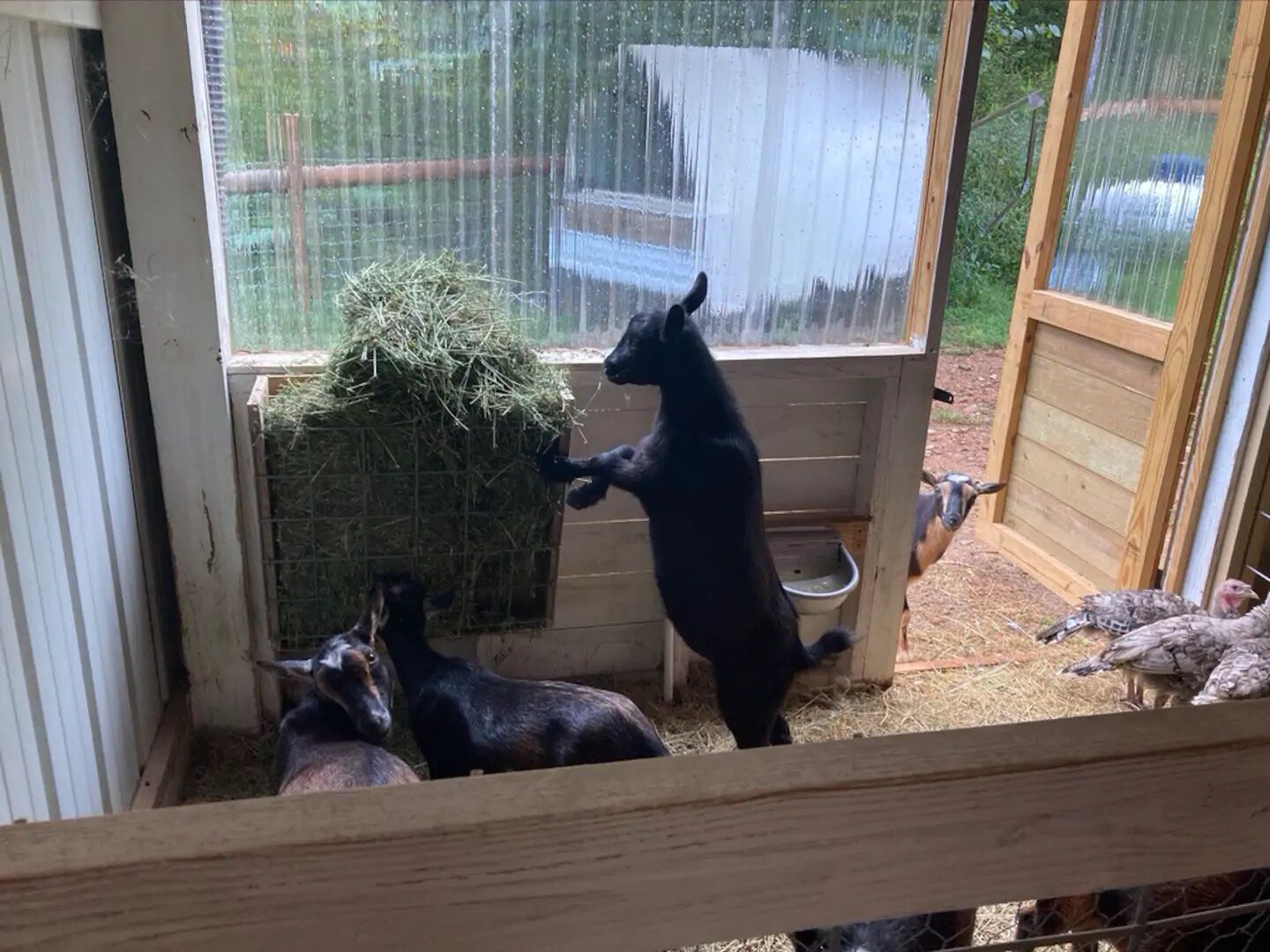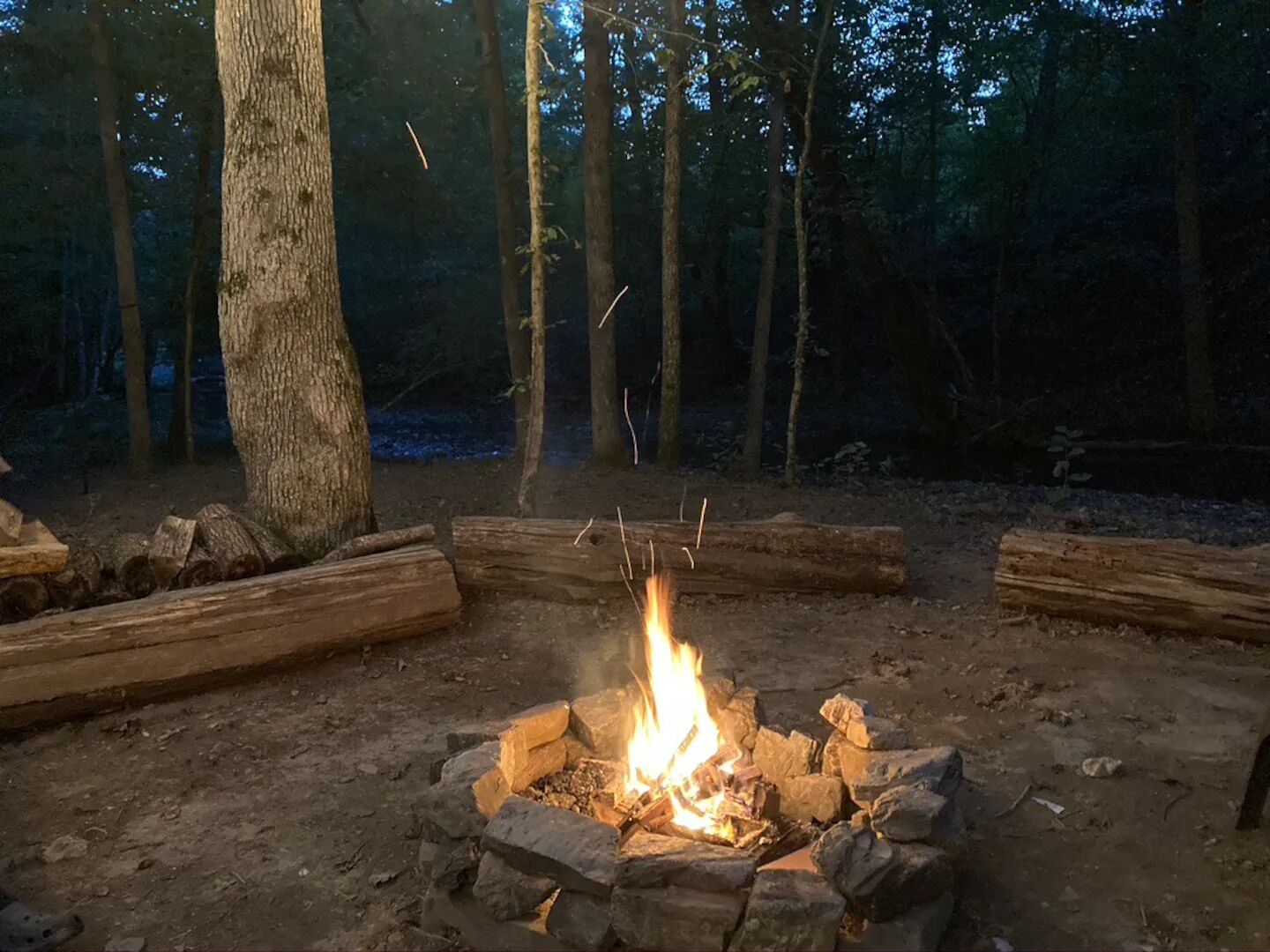 Combine your detox getaway with a night or two at this Airbnb farmyard cabin in Hot Springs, Arkansas. The cabin sits apart from the main buildings of the premises but you are welcome to roam the compound and befriend the resident pigs, goats, and geese. Modestly proportioned interiors include a fully-equipped kitchen and a bathroom with a tub. However, the terrace with a hot tub for your exclusive use is the highlight of this farm stay.
Three guests, one bedroom
Price: $155 per night
Hilltop home – six miles to Hot Springs National Park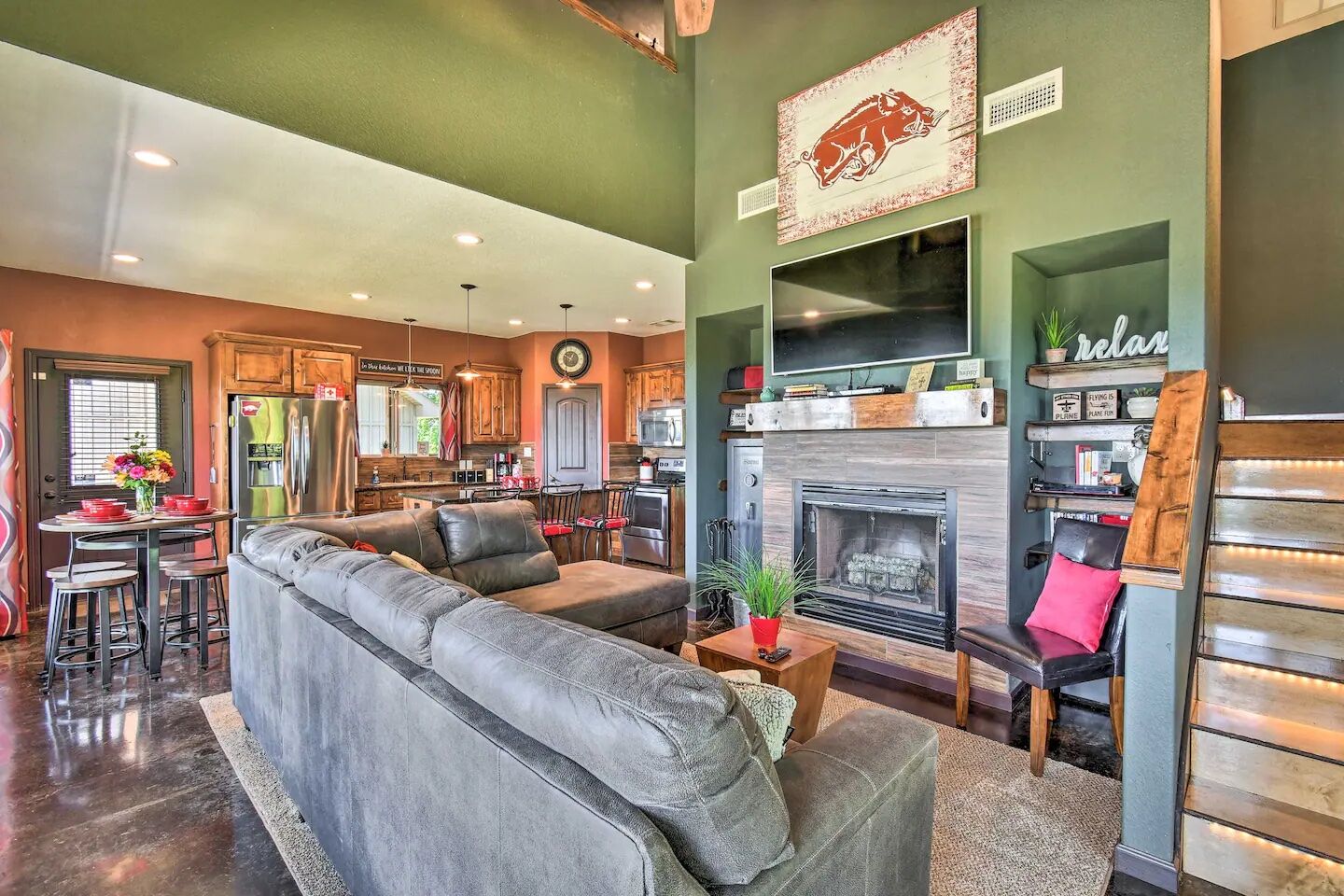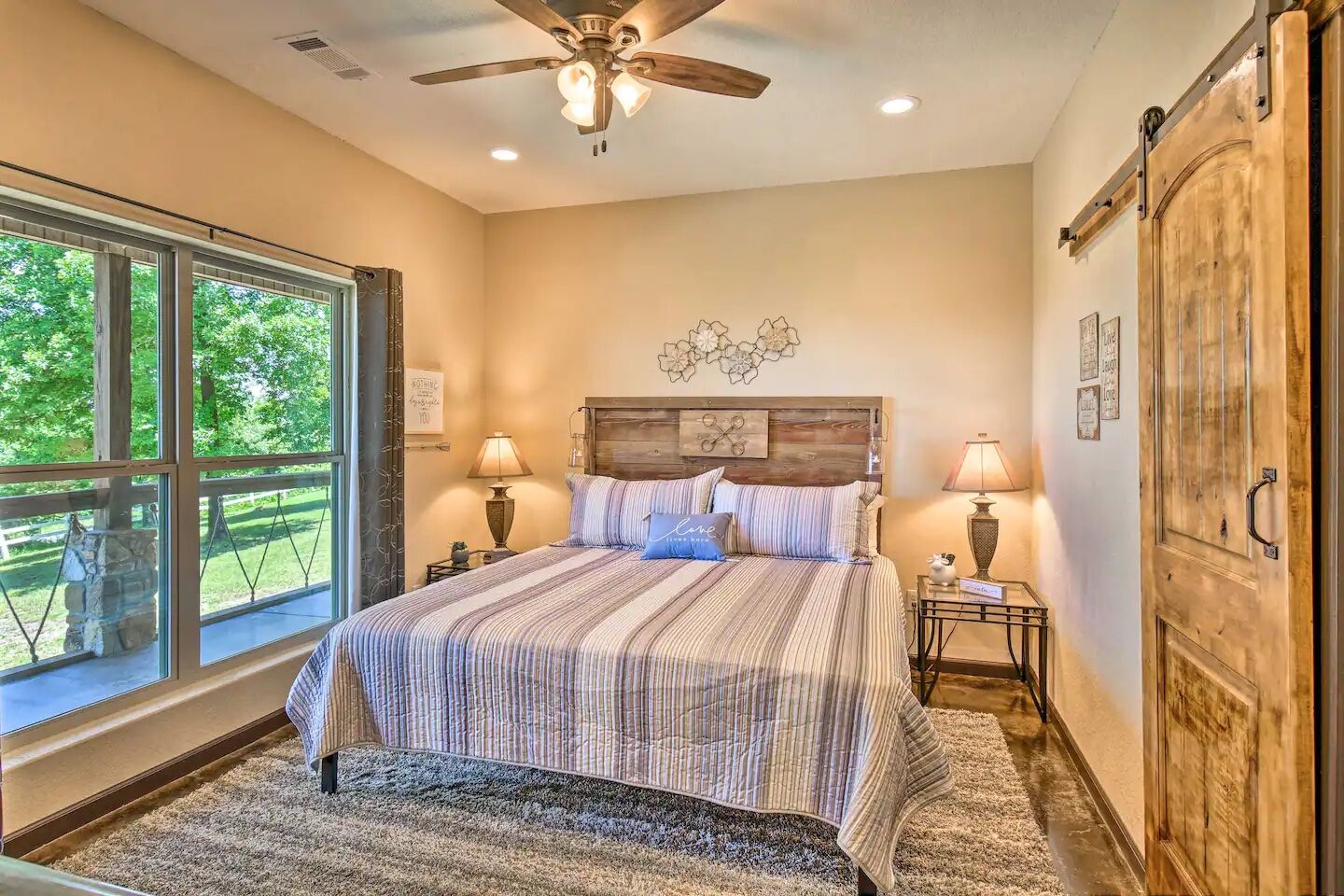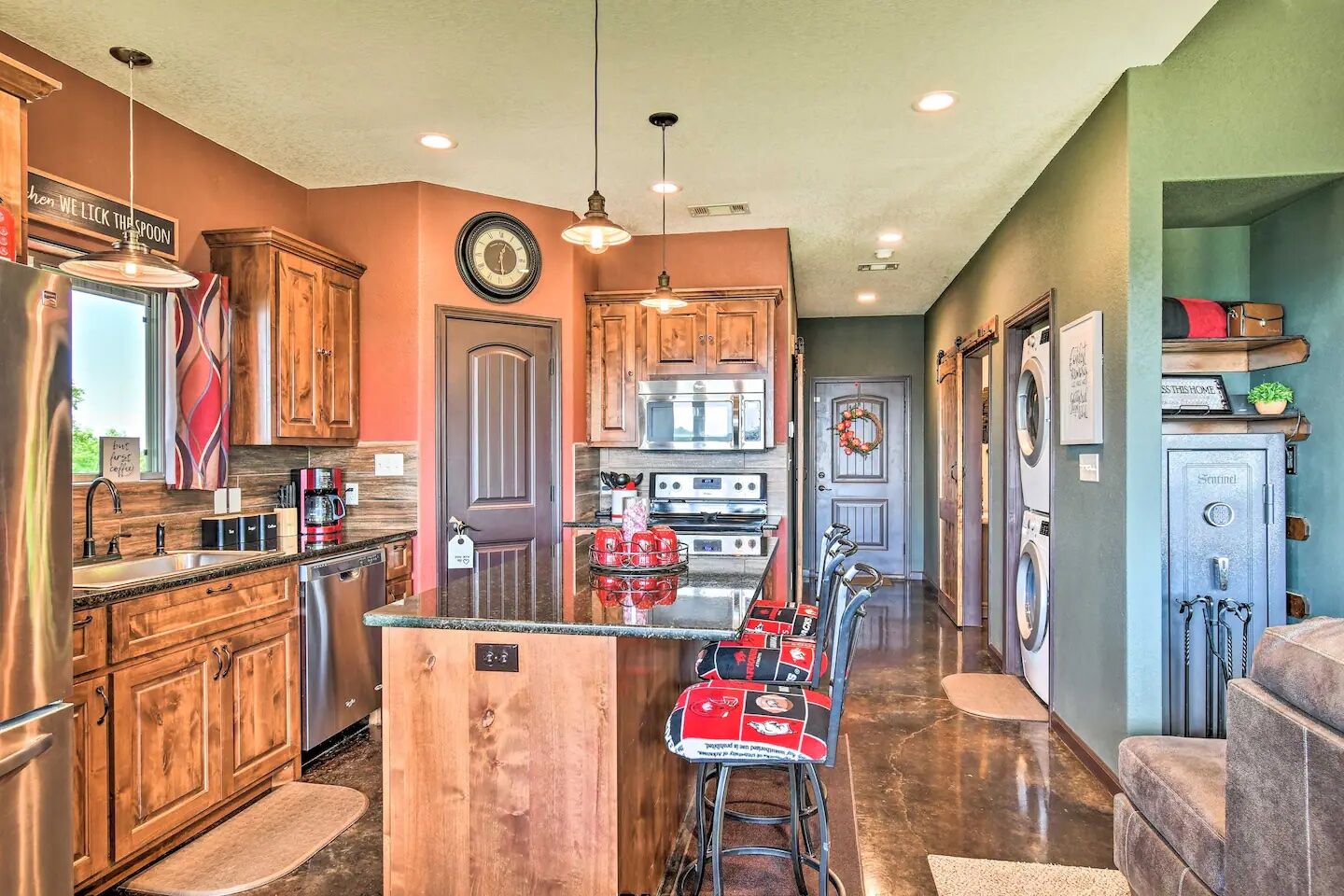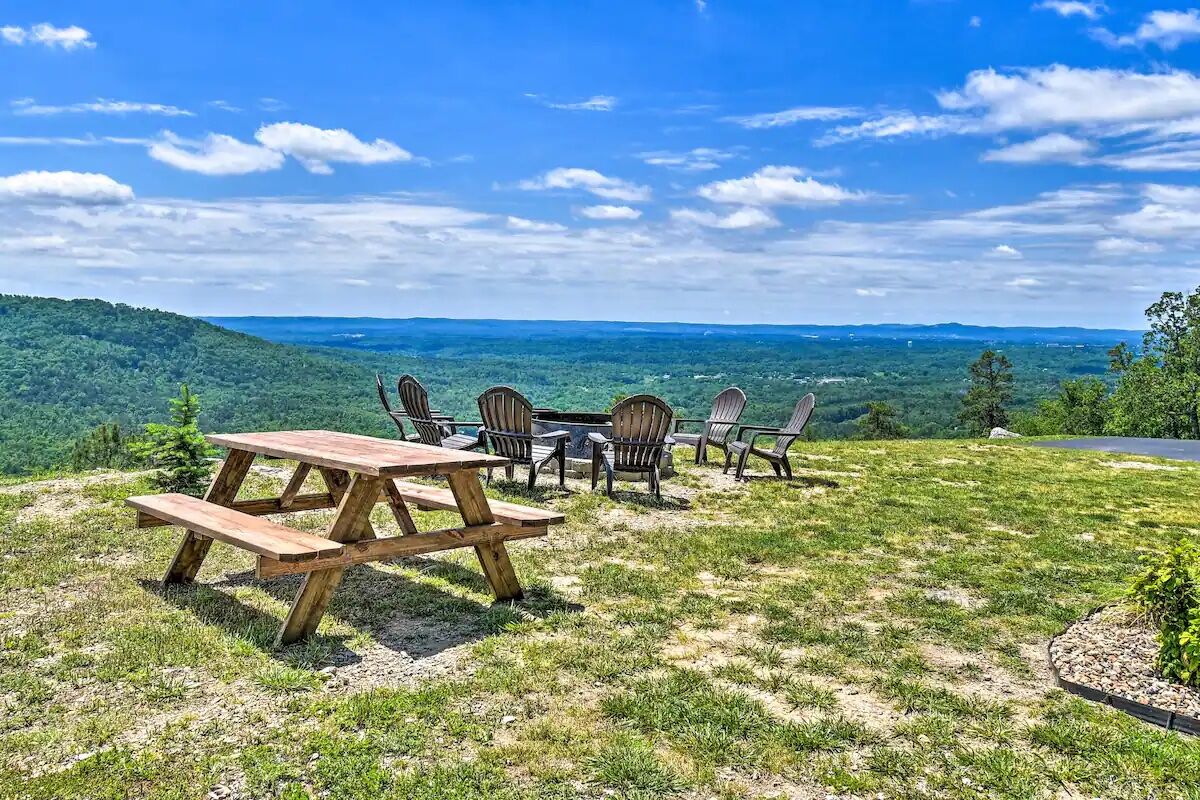 Once you clock the views from this mountainside vacation home, you'll struggle to pull yourself down into town! A generously-sized lounge is eaten up with a plush wraparound couch and a wood-burning fireplace. Congregate at the breakfast bar before stepping out onto the deck for a second mug of coffee fresh from the drip machine. A woody bathroom and loft bedrooms complete the coziness.
Six guests, two bedrooms
Price: $142 per night
Airbnbs in Hot Springs, Arkansas, on Lake Hamilton
Lion House on Hamilton – free boat rental with a seven-night stay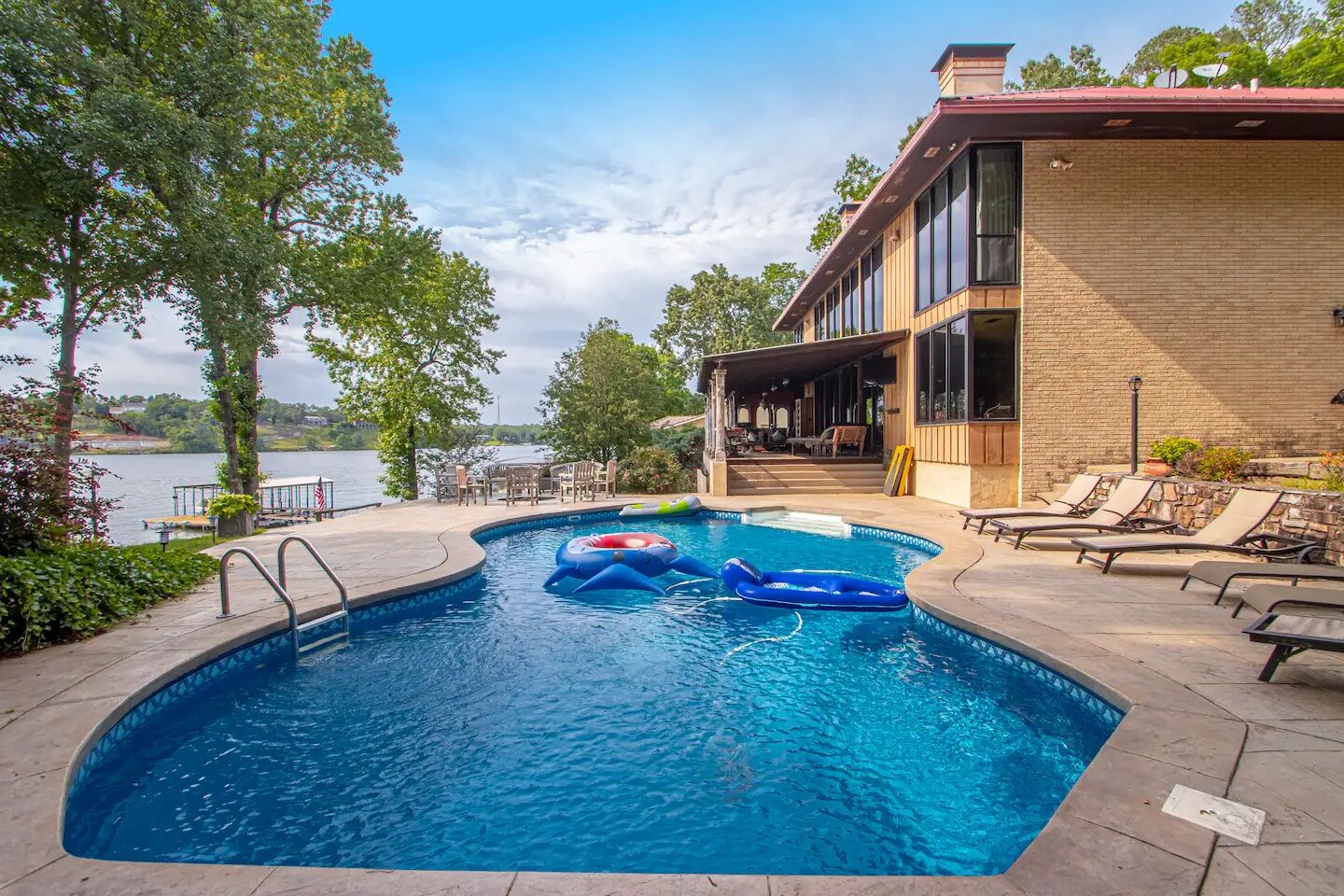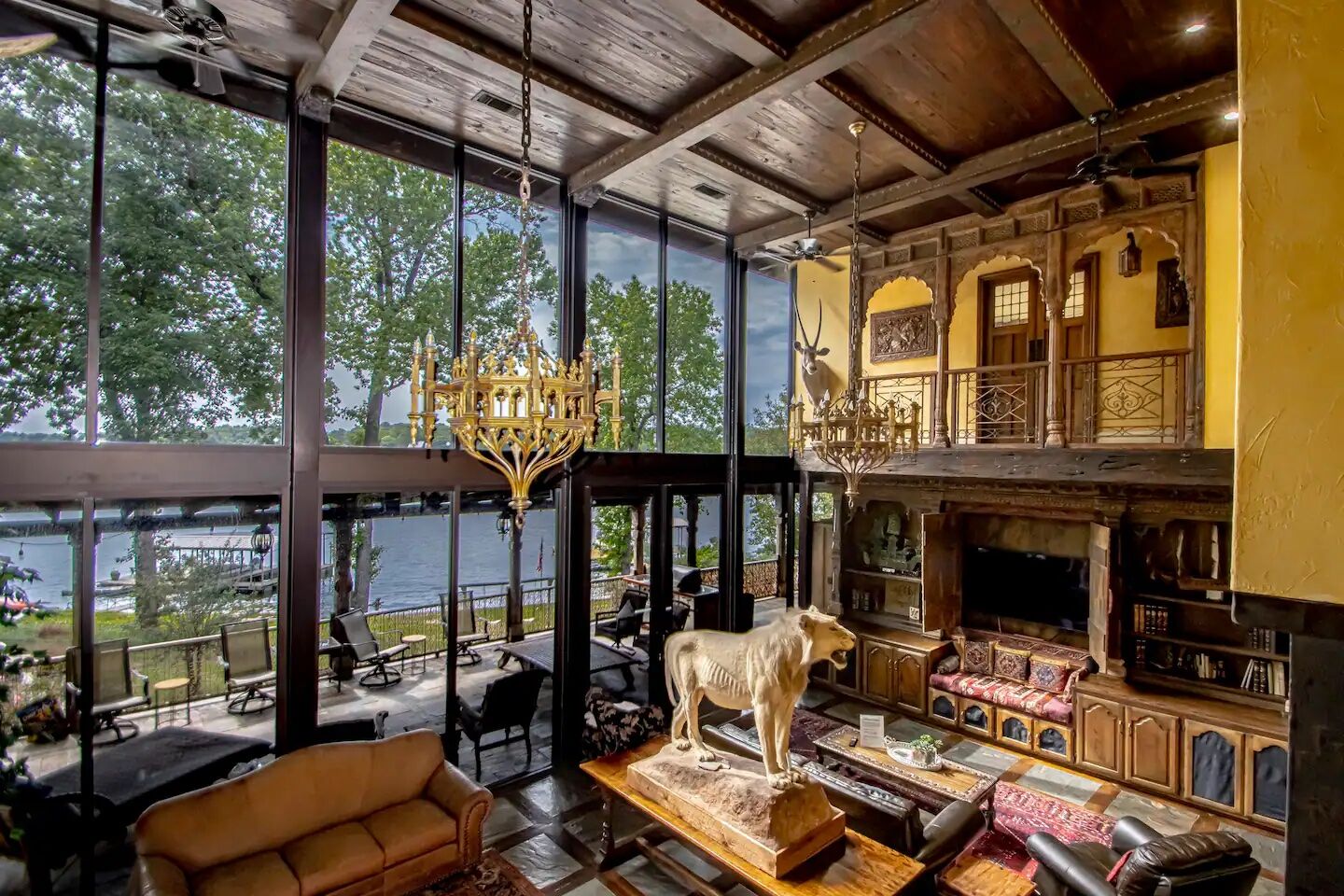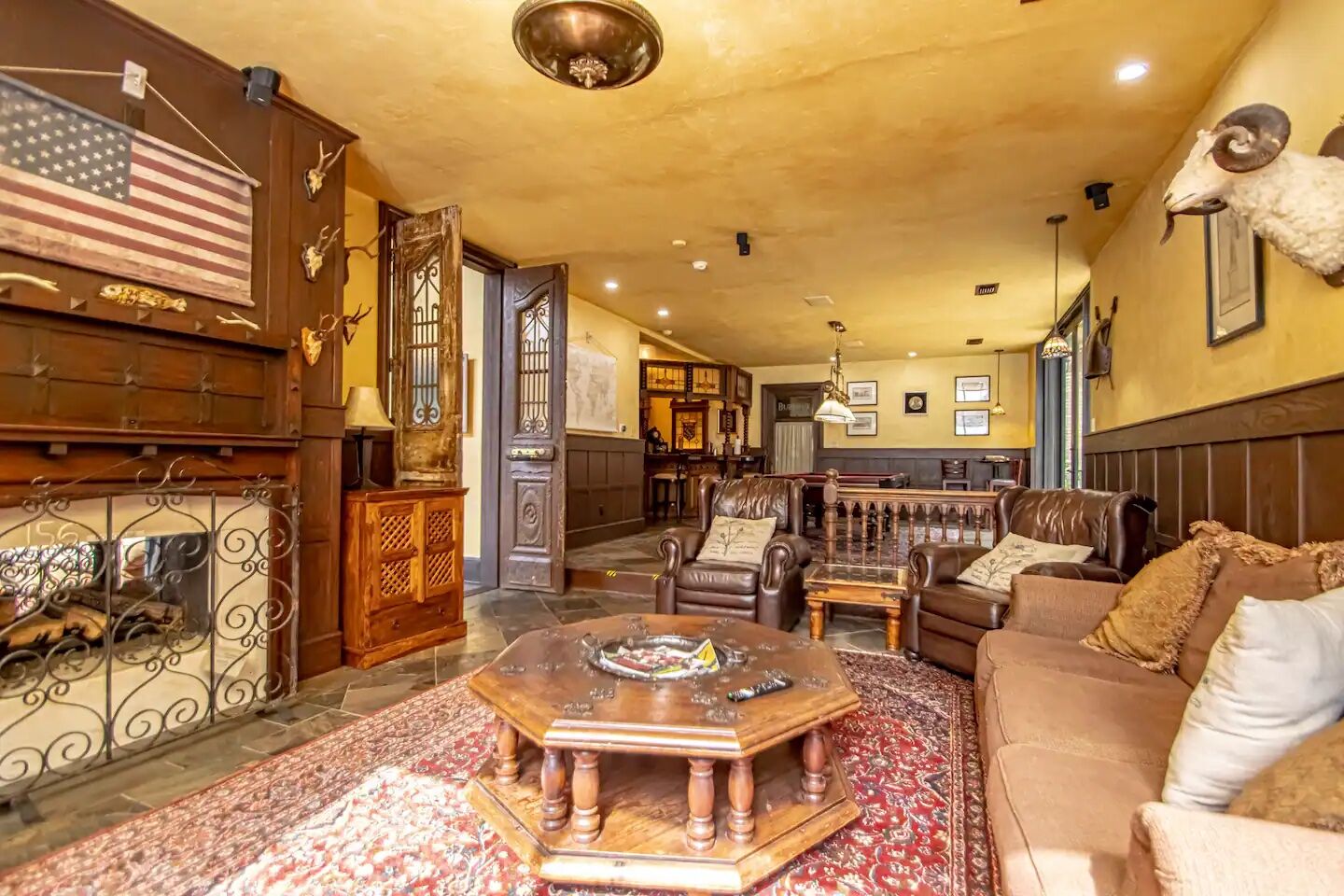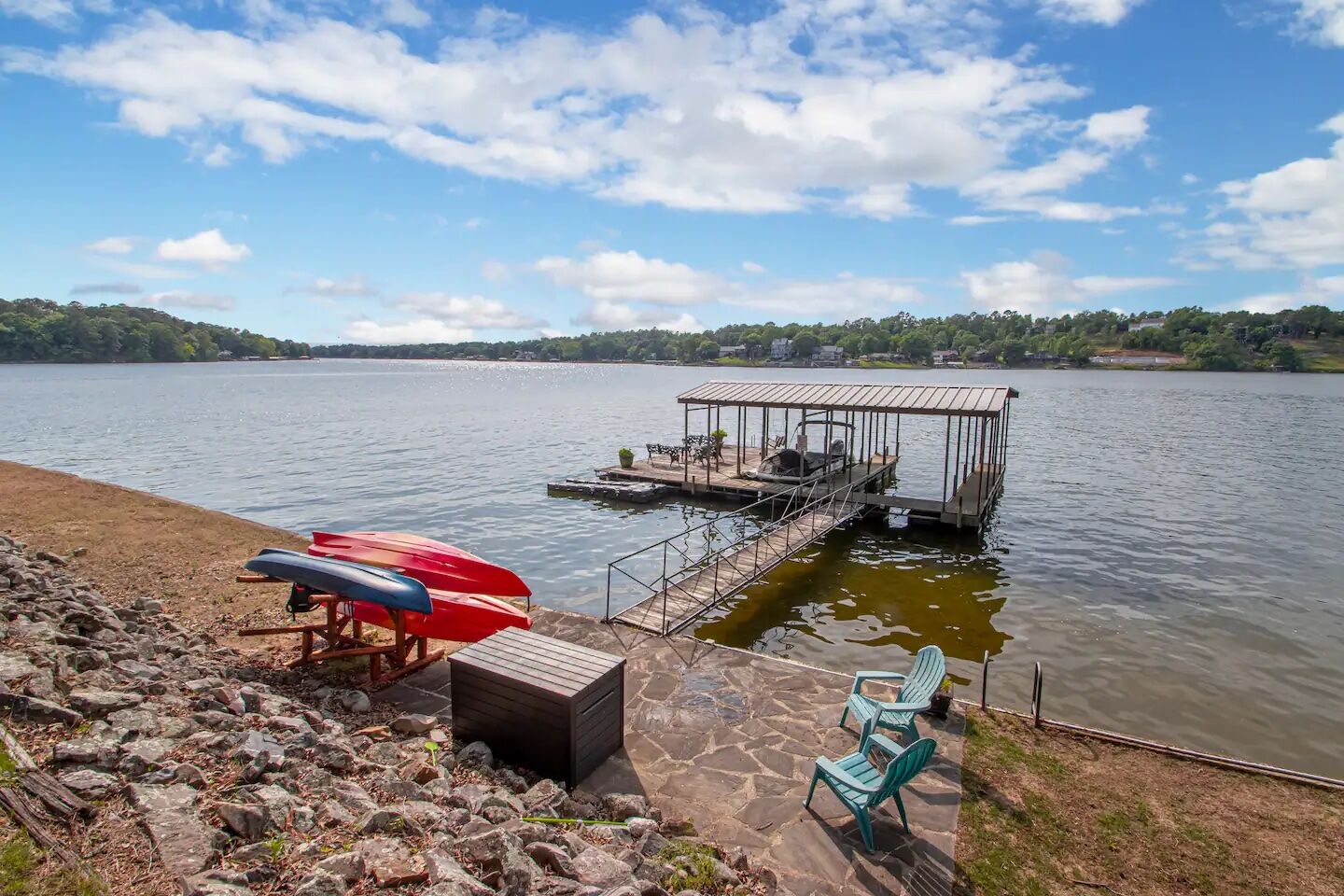 Bursting with collectibles and antiques, this waterfront Hot Springs Airbnb with a pool will charm whimsical explorers who love a mix of old and new. The old-worldly primary bathroom comes with a jetted tub while the TV tucks discreetly behind the library cabinet when you're in the mood to disconnect. Fix a drink at the tavern-style bar over a game of snooker, and, after a dip in the pool, light up the fire pit and dig out the s'mores.
Sixteen guests, six bedrooms
Price: $1,220 per night
The Outlook shipping container lake house – amazing views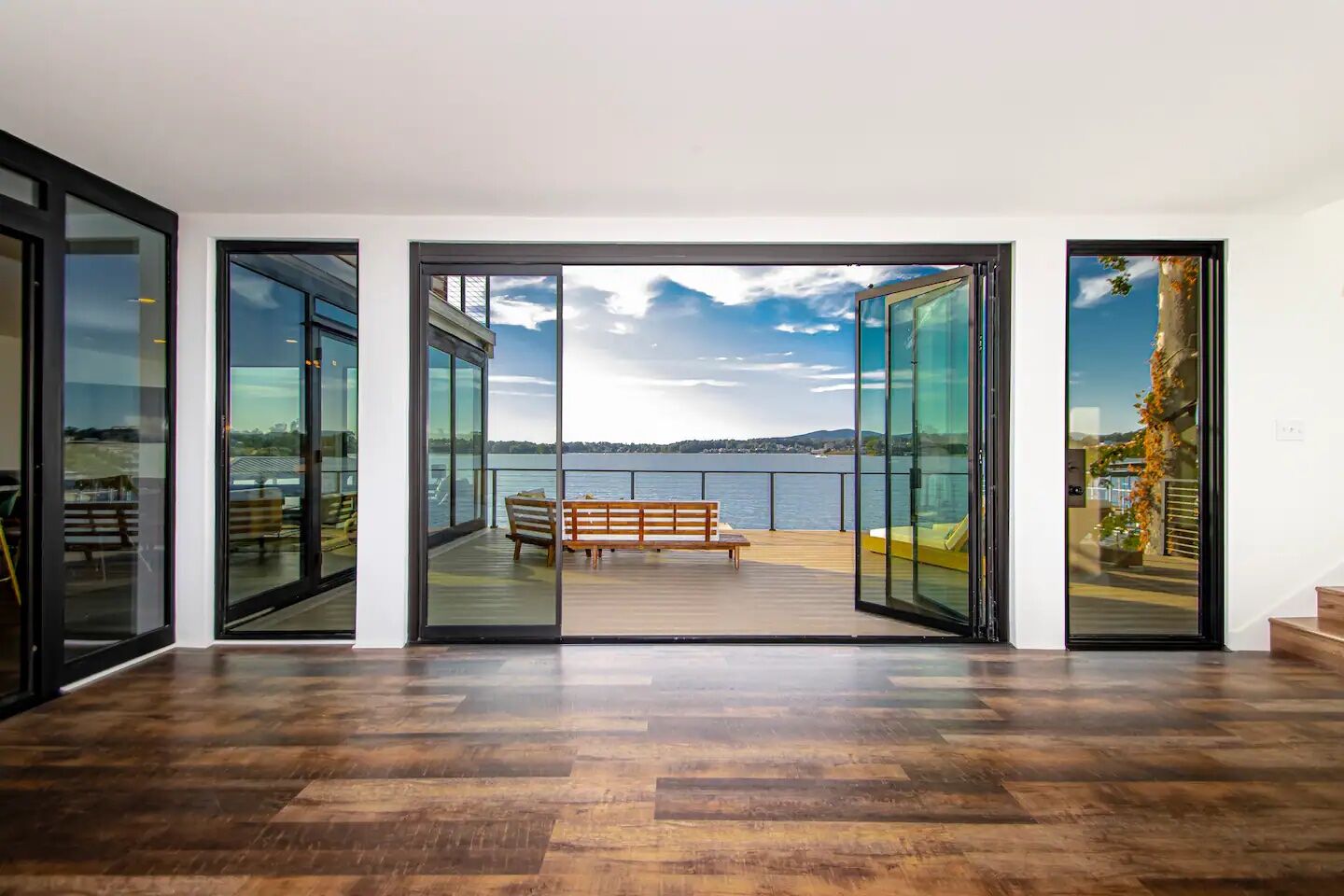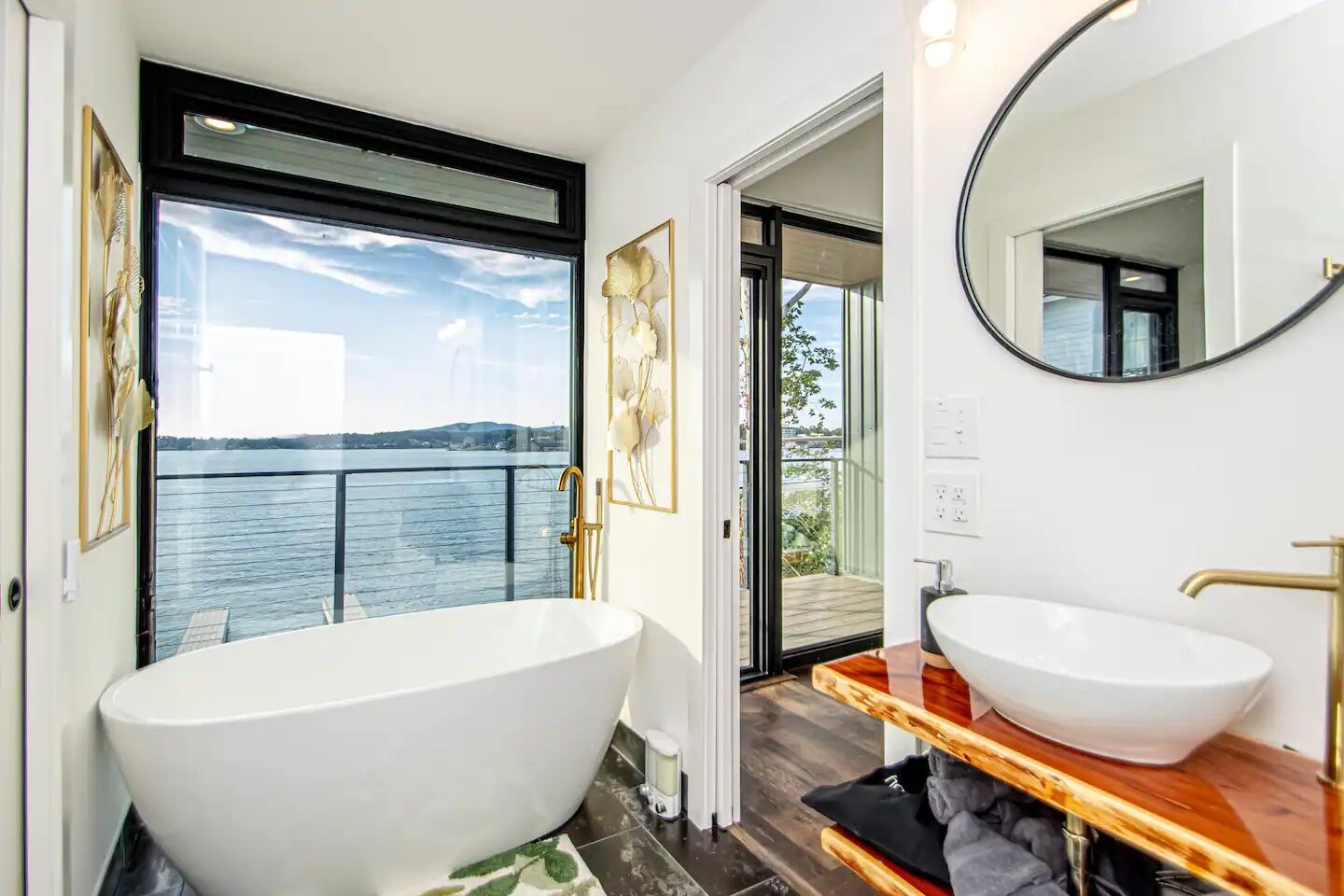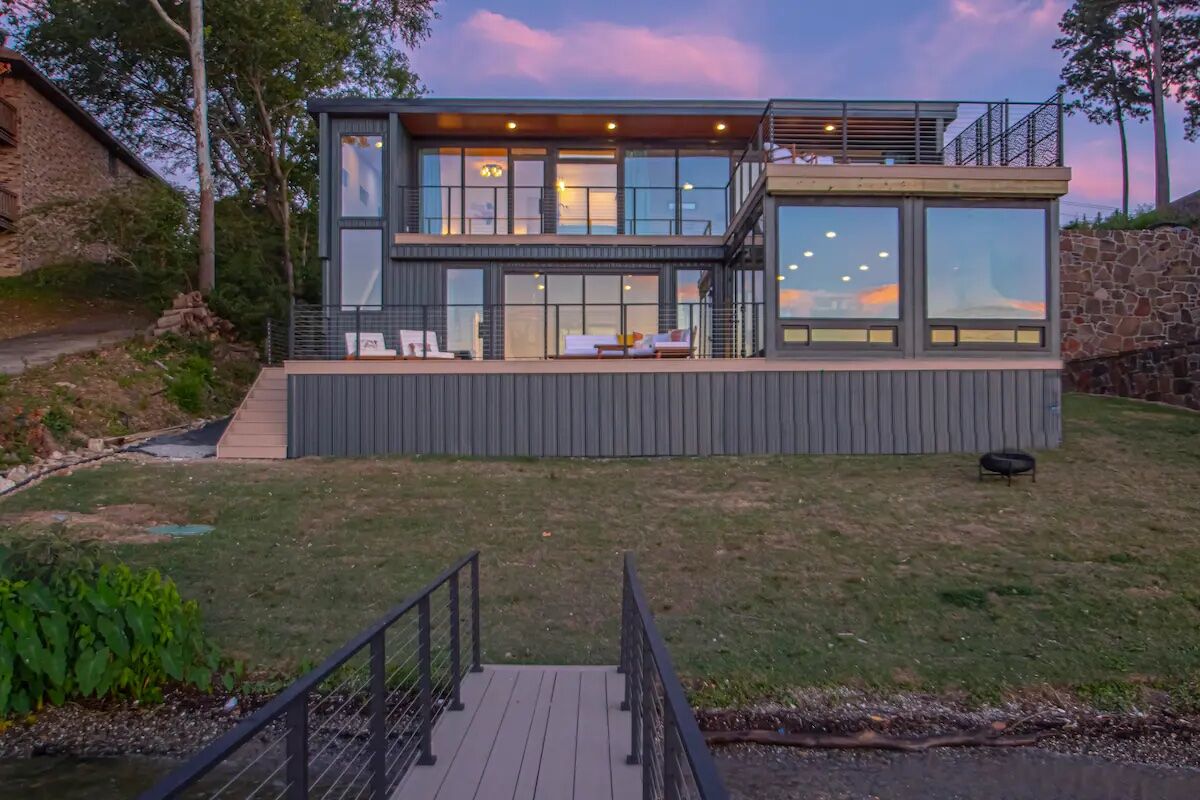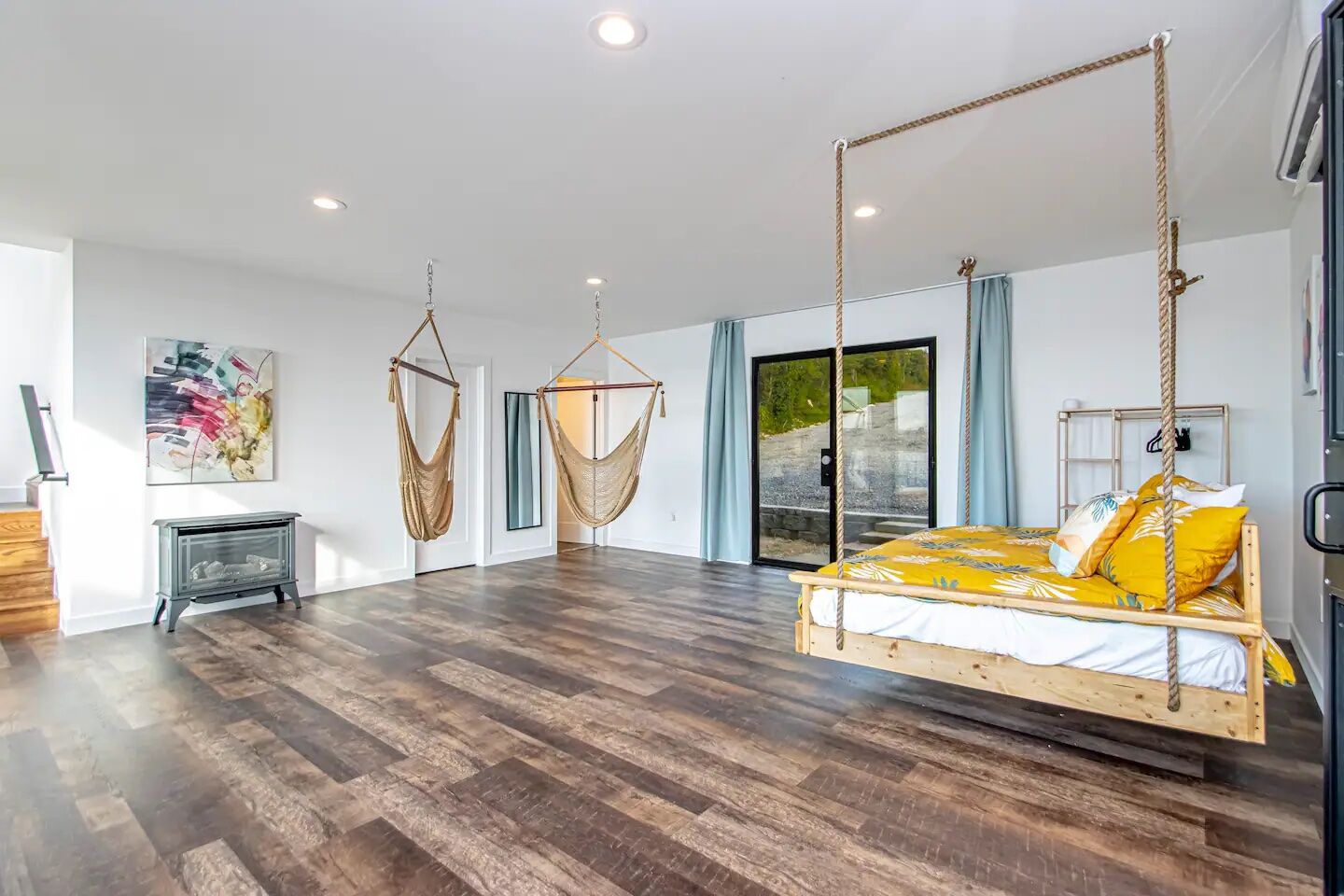 Fifteen minutes from downtown, this Airbnb in Hot Springs is on Lake Hamilton and is split equally across indoor and outdoor living. Interiors of the two-story converted shipping container are flooded with light courtesy of panoramic windows while a swinging daybed and pair of hammocks will lull you into an afternoon siesta. The decks are suitable for dining, sunbathing, and practicing sports.
Ten guests, three bedrooms
Price: $458 per night
Heatherwood Lodge with hot tub, private dock, and game room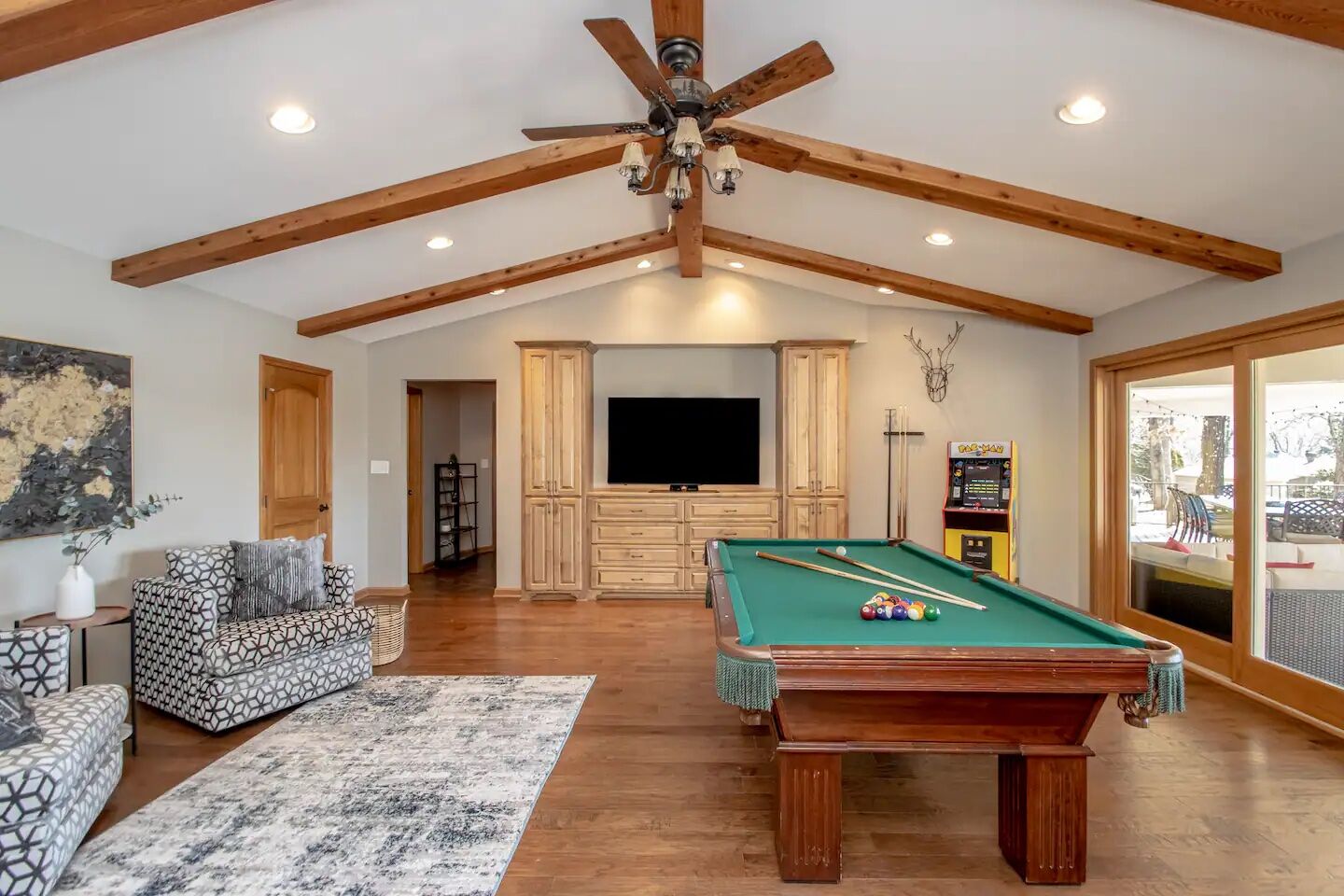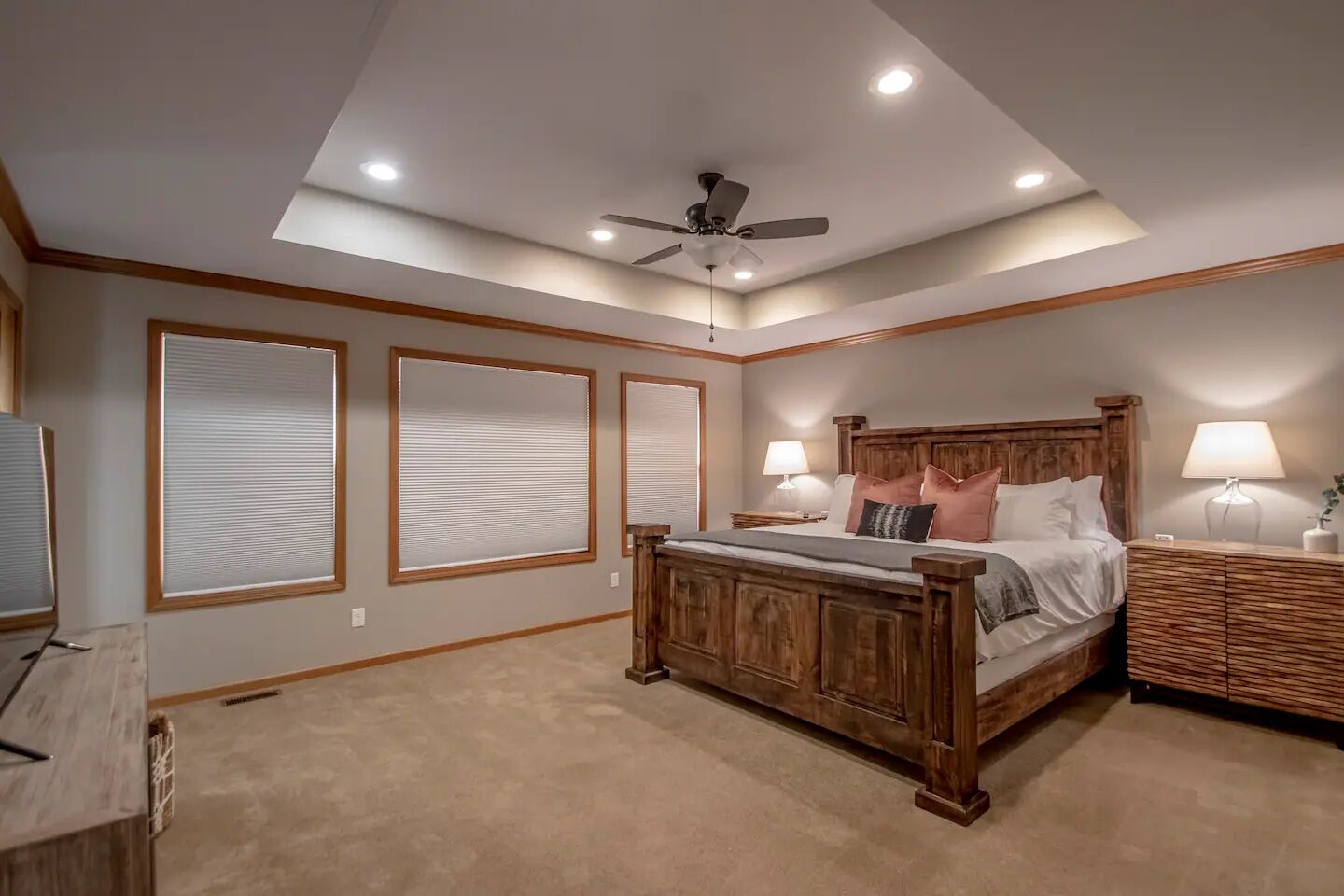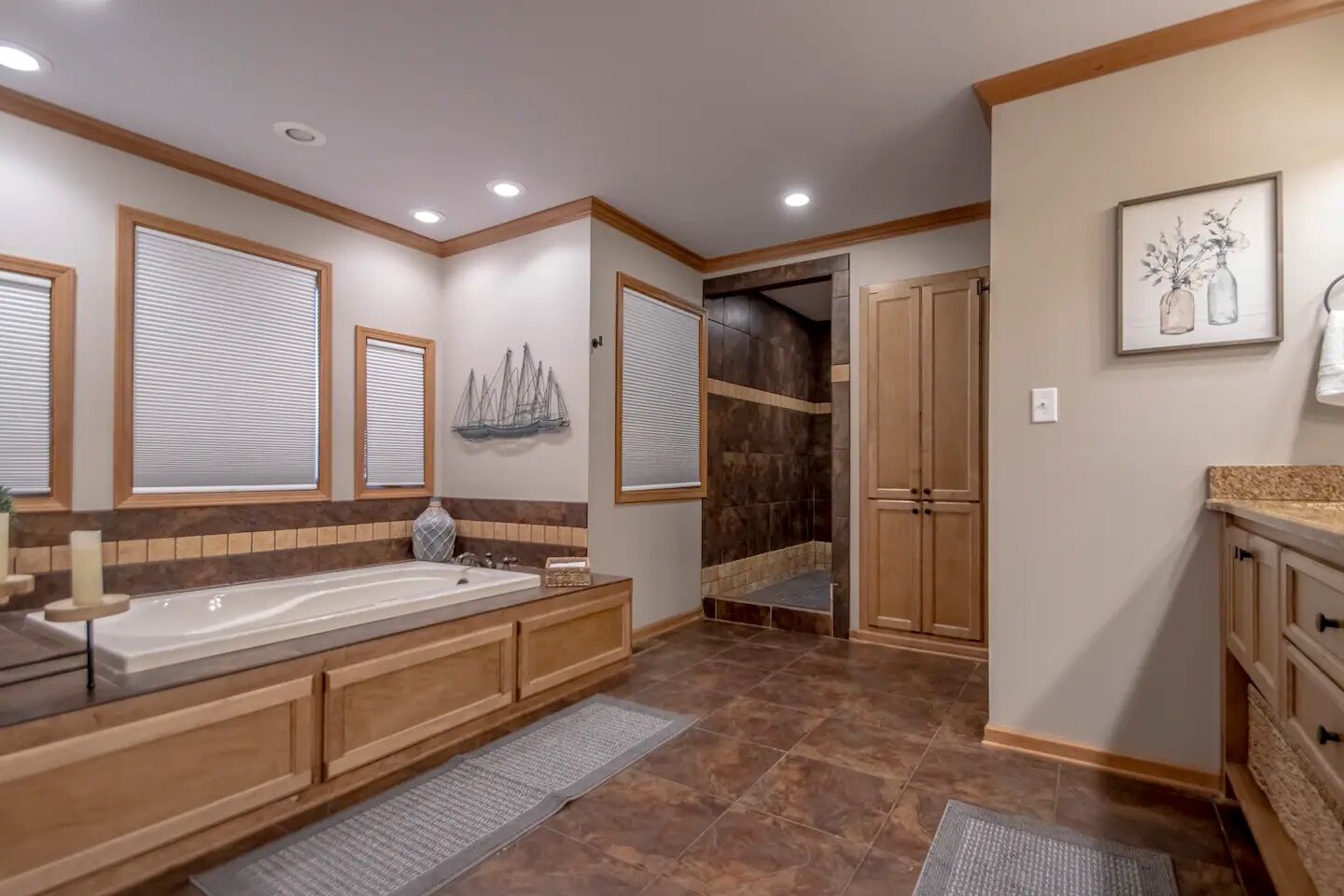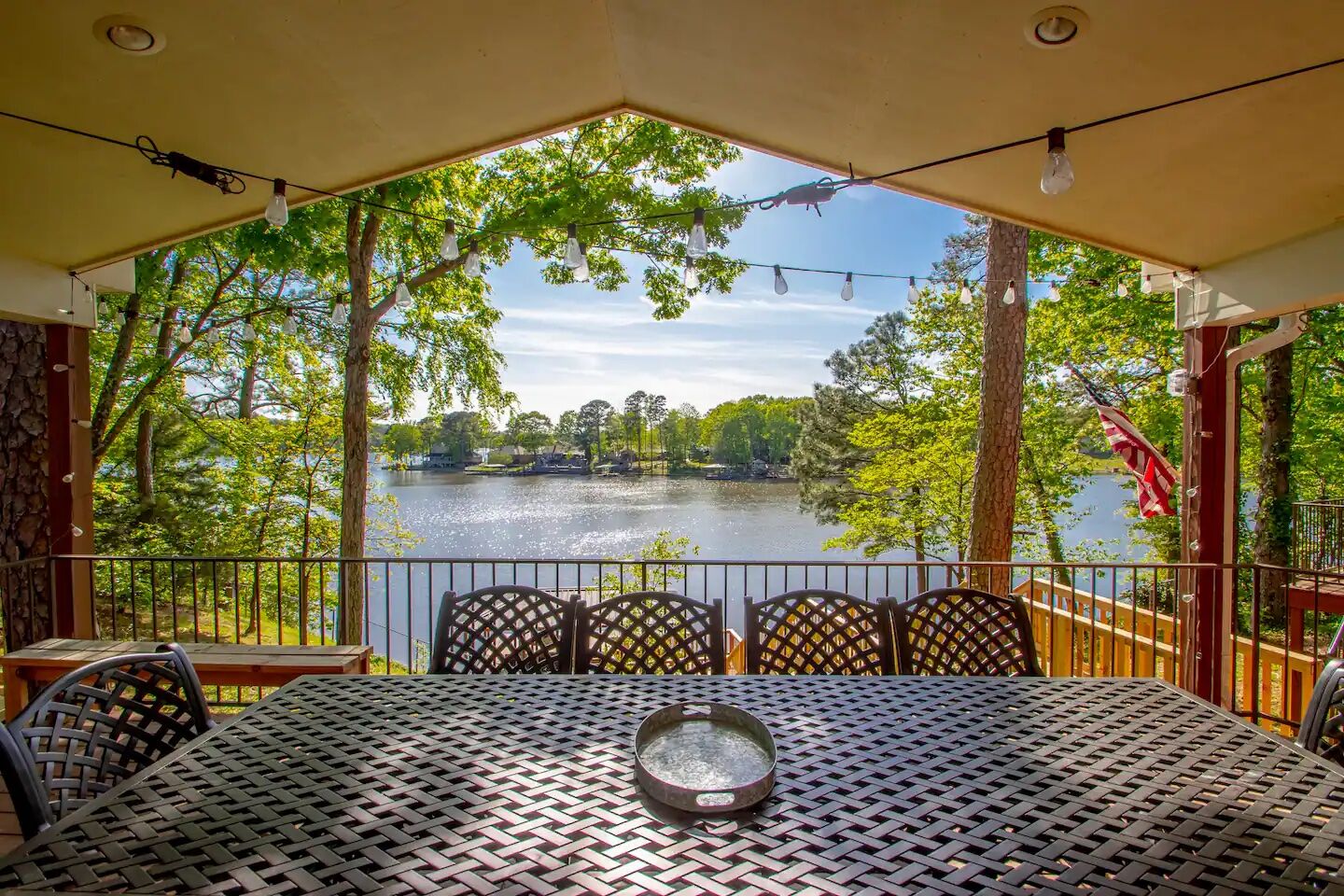 This lakefront Airbnb in Hot Springs, Arkansas, with a hot tub and games room comes ready with all the entertainment you could possibly need. In addition to four double bedrooms, you'll find a bunk room where the kids can have a slumber party. A covered patio overlooks the tranquil western half of Lake Hamilton where you can launch your own boat or borrow the provided kayaks and paddle boards.
Fourteen guests, five bedrooms
Price: $760 per night
New luxury gem with game room and Oaklawn track box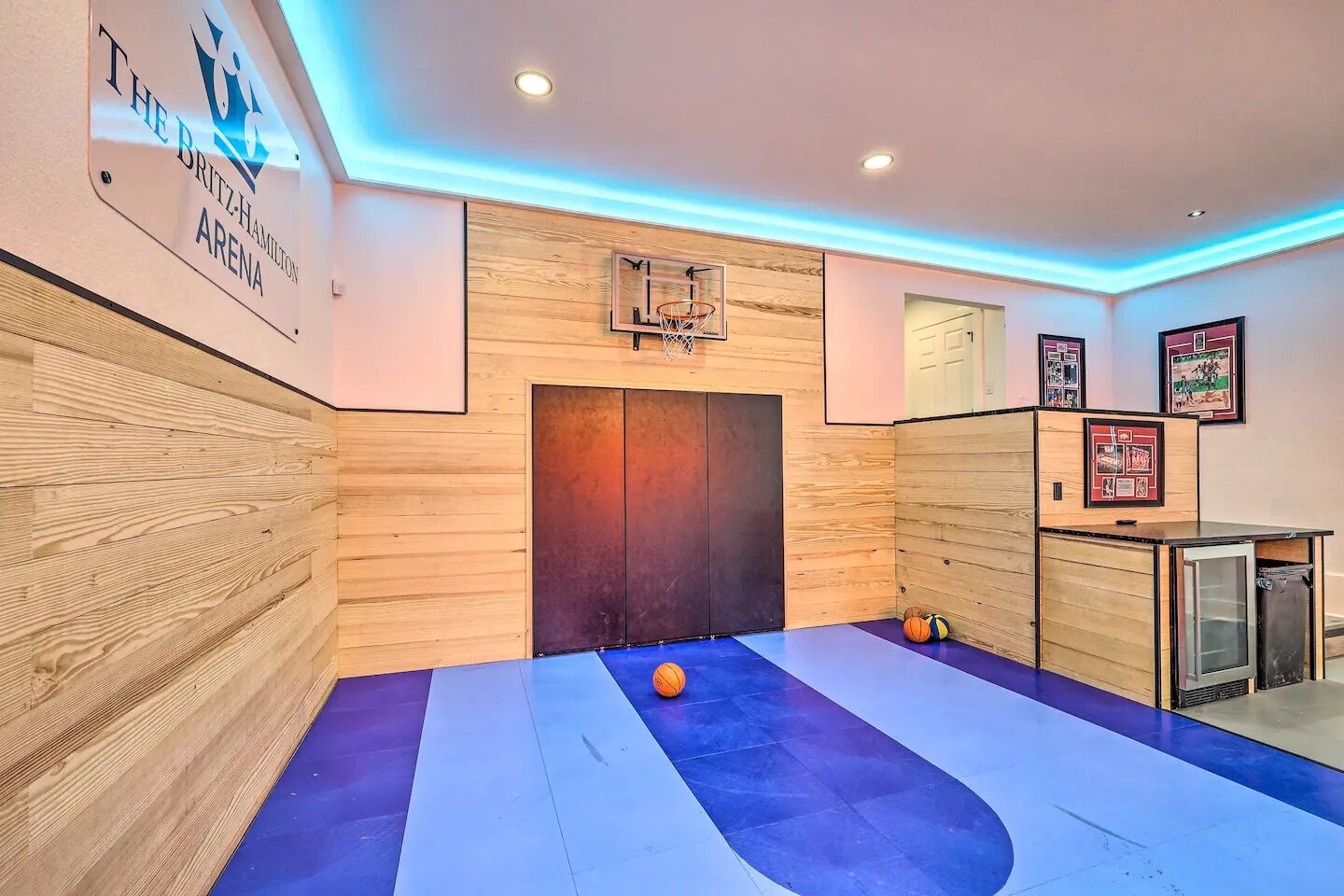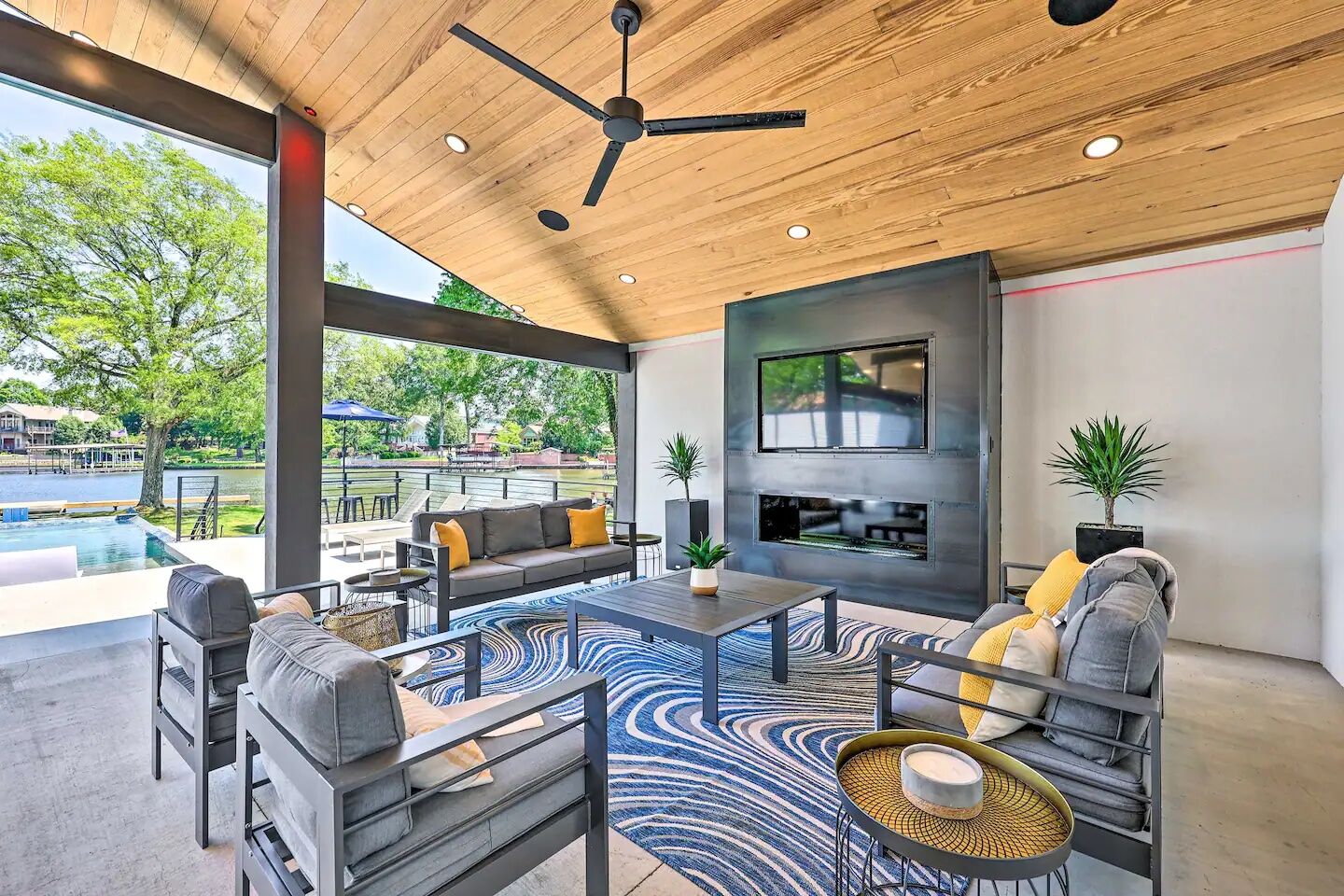 This brand new Hot Springs Airbnb with a pool is a contemporary paradise complete with oversized bedrooms, a games room, and an outdoor movie den. In addition to the pool, the yard is rigged with a hot tub, splash pad, and mini golf course. Plus, you can dock up to three boats in the property slip. After whipping up a meal in either kitchen – the home has a traditional and an external unit – spend an evening around the fire pit beneath the stars.

Sixteen guests, six bedrooms
Price: $1,052 per night
More like this