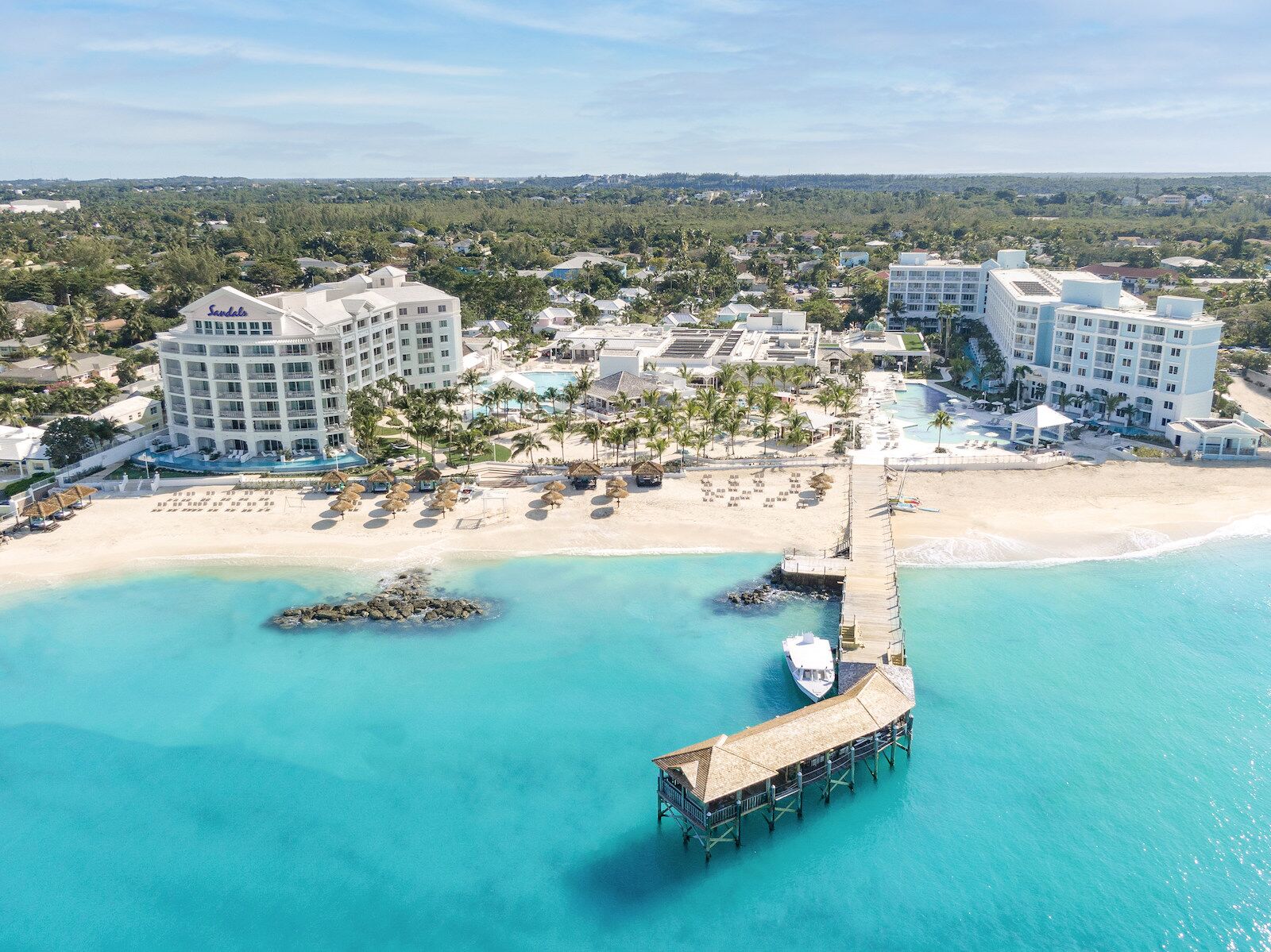 If you're based in the United States, the Bahamas is just about the most accessible Caribbean destination you can escape to. You can even get there by ferry from Florida. And it's just as easy to get around once you arrive — whether you choose to stay in Nassau, Paradise Island, or any one of the 20-plus inhabited islands that make the 700-island archipelago, pretty much everything a traveler could ask for on a tropical vacation is accessible.
Nassau and Paradise Island are about a three hour or less flight from any city on the East Coast of the United States, and a short 40 minute flight from Fort Lauderdale and Miami airports. Fun fact: Flying from Fort Lauderdale International Airport to Nassau is literally quicker than driving to Miami. As an added bonus, Nassau is one of the few airports that has US preclearance and Global Entry kiosks, meaning you go through immigration before getting on the plane on your trip back home.
Whether you're looking to have the ultimate relaxation or get out for some fun in the sun, two resorts make it easy depending on the type of trip you're looking to take: Sandals Royal Bahamian and Margaritaville Beach Resort.
Margaritaville Beach Resort, Nassau
With sweeping views of the cruise port, harbor, and downtown Nassau, Margaritaville is where to stay if you want to be in the middle of the action. The One Particular Harbor room includes a large bathtub and balcony. While the resort is definitely kid-friendly, there are amenities reserved just for adults.
If one thing is for certain, it's that there's no shortage of food and drink options at Margaritaville. Grab a quick snack of nachos, fish tacos, or wraps at Feeding Frenzy. For drinks (especially delicious frozen options), 12 Volts Bar has a beautiful bar-side view of the beach and cruise ships as they enter and leave the cruise port. JWB Steak House is a hit at dinner surf and turf or lobster ravioli. And if you love oysters, the oyster Rockefeller is divine. Try dining out at sunset to catch the absolutely gorgeous views of the Margaritaville pier.
It's easy to end the night on a high note here thanks to the rooftop bar Graycliff Sky Lounge. The spot overlooks the resort and downtown Nassau, and you can order specialty cocktails or take it easy with a gin and lemonade, which Bahamians call switcha. Cigar rolling and a DJ who plays an eclectic musical selection sets a vibesy mood.
Even if you're not staying at the resort, a day pass is available so you can enjoy the Fins Up Water Park (great for family and kids) as well as the adults-only infinity pool and spa that comes complete with resort, beach, and cruise port views. You can also opt for a spa day pass at St. Somewhere Spa and have access to the sauna and relaxation facilities, as well as massage and other spa treatments.
Sandals Royal Bahamian
One major perk of staying at the Sandals Royal Bahamian is the property's private island. A five minute ferry transports you from the pristine Sandals Royal Bahamian resort to Barefoot Cay, which is a lot more secluded and quieter than the main resort grounds. You can stay there for most of the day, fall asleep in a hammock, snorkel in the small crystal clear bays of the cay, or just bask poolside in the island chic lounge chairs, pools and jacuzzi.
Staying on the main property has it's upsides, too. The resort has a number of food options, including French cuisine at La Plume. For a quick pick me up, head to the food trucks conveniently located in the middle of the resort for Bahamian conch dishes and a Caribbean coffee made with rum, cream, coffee, and whipped cream (served hot or cold).
If you can spring for it, the Butler Villa Suite with an outdoor soaking tub is worth the extra cost. It's secluded away from the busier parts of the resort and gives a taste of peaceful island life — perfect for a romantic getaway.
Restaurants to try off the resorts
Getting around is typically not an issue especially if you're staying in downtown Nassau. Taxis are readily available and can be booked via phone or online (try Majestic Tours). Depending on your hotel, transportation can be arranged for you in advance as well — Sandals includes complimentary transportation to the airport if you book a Butler Suite Villa.
Margaritaville is in the perfect location in downtown Nassau to walk to shops, restaurants, the Straw Market, and more along West Bay Street. Venture toward Junkanoo Beach for vendors, volleyball, tiki bars, and entertainment.
A little farther out is the famous Arawak Cay, where you can find authentic Bahamian food. There are so many restaurants to choose from at the Fish Fry, most of which sell various takes on conch. Goldie's Restaurant is a classic spot that sits on the water where fishing boats come in to dock. Be sure to try the conch and the seafood with peas and rice. While you wait for your food, sea turtles will keep you entertained. Other restaurants to try include Drifter's (order the conch salad), Twin Brothers (don't miss out on the daiquiris), and Oh Andros (traditional peas and rice, fish or meat, coleslaw plantains, and baked macaroni are the way to go here).