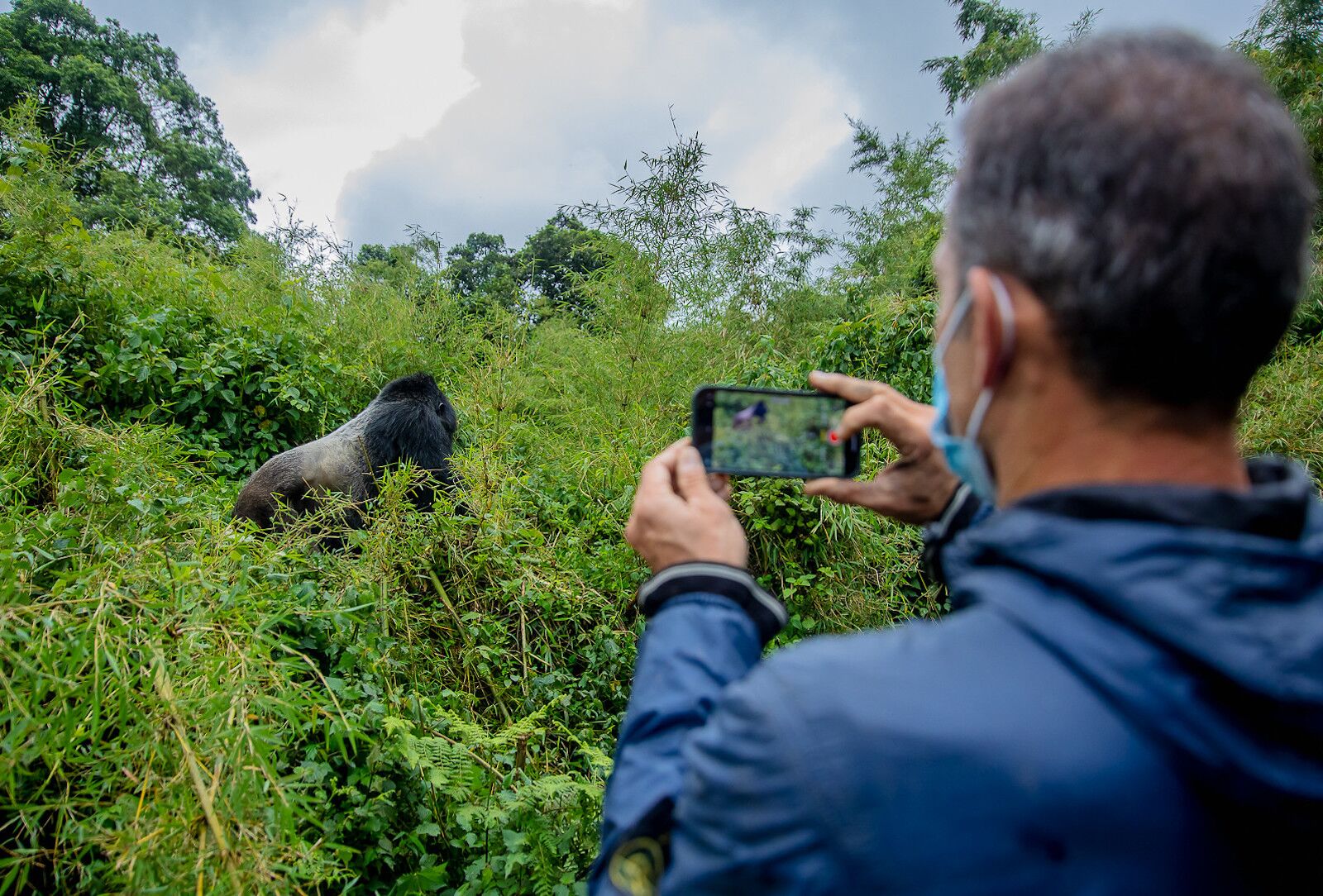 Seeing mountain gorillas in the wild in Rwanda is a bucket-list experience. Not only is it a bit expensive, but it requires quite a long trip, followed by potentially hours of hiking through the jungle to find one of the 12 gorilla families living in Volcanoes National Park.
So when someone finds them, it nearly goes without saving that they'll be taking photos and likely sharing them on Instagram. But thanks to a new program from Visit Rwanda, the Rwanda Development Board, and the country's Volcanoes National Park, those posts can do more than just garner a few new followers: they can help keep gorillas alive.
Introduced in October 2022, GorillaGram is a new platform available to researchers and scientists. GorillaGram is an Instagram aggregator, pulling photos from Instagram based on tags used under each photo or video. Each gorilla family in the park has a hashtag so visitors can become citizen scientists, capturing photos of the gorillas' "recorded behavior, changes to the group, interactions of interest, and even alerts to any injuries or concerns," says Michaella Rugwizangoga, Chief Tourism Officer of the Rwanda Development Board.
It also allows guests to check up on the families they meet after their visits, creating an ongoing connection between travelers and the world's largest primates. Users can even follow the families, called troupes, on Instagram.
Because the tags are not geotags, but simple hashtags specific to each family, no location data is recorded. That, combined with the fact that the park only issues 80 ranger-guided tracking permits per day, ensures that the increased data won't lead to overtourism or threaten the gorillas. No one is allowed to visit the gorillas without a guide.
Once guided visitors find a gorilla family, their guides will let them know what family it is to ensure they use the appropriate tags. But additional personnel from the park will keep an eye on GorillaGram to monitor the tags and ensure they're accurate to ensure user error doesn't skew the research data.