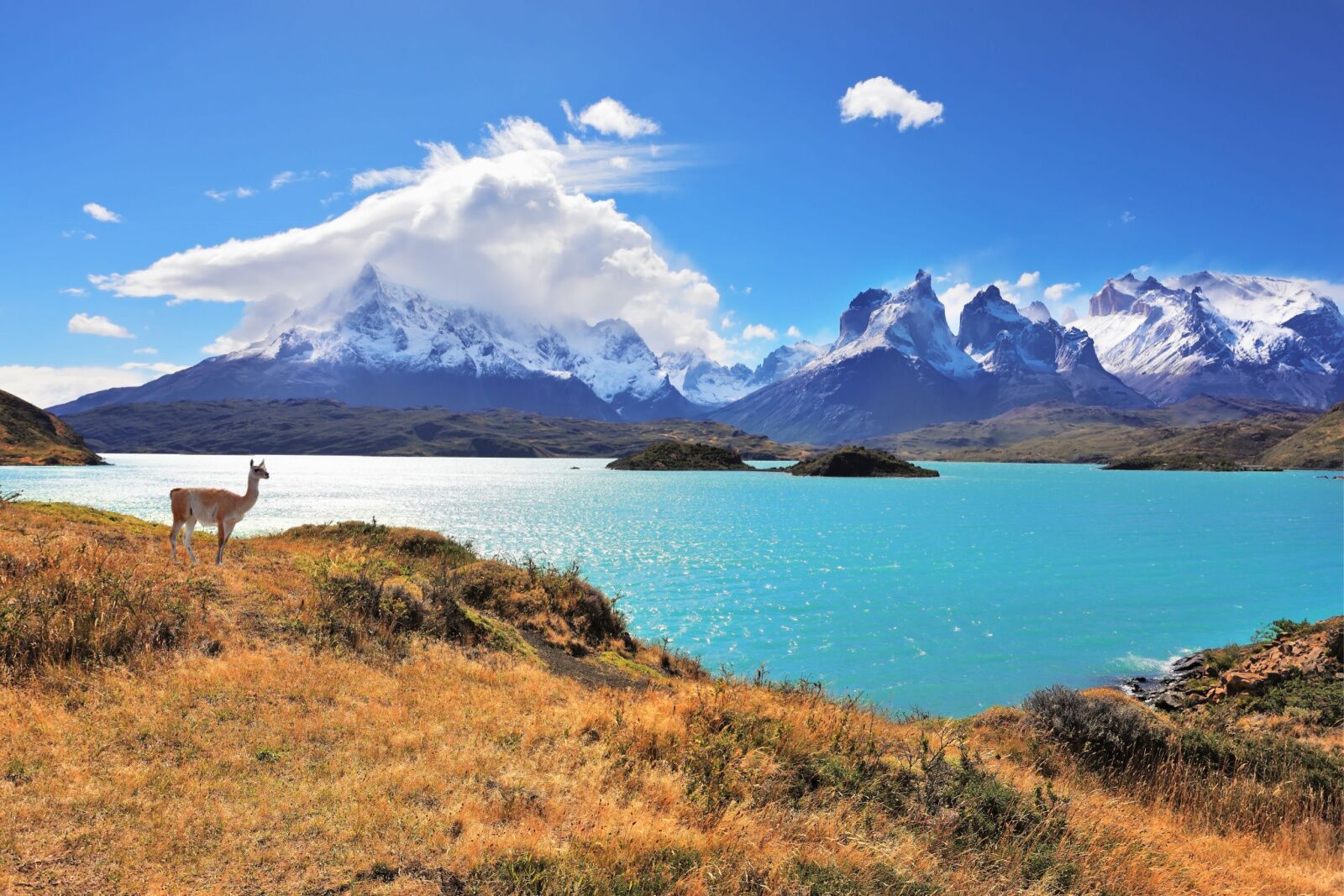 At the southernmost tip of South America is the region of Patagonia, spread between Chile and part of Argentina. The region is one of the most extreme on earth, with huge mountains, rushing rivers, massive glaciers, rare wildlife, and the remnants of volcanos so tall they're often shrouded in weather patterns different from those at the base. It's extremely undeveloped and wild, thanks to federal protections from the two countries.
Most people go to Patagonia to explore Chile national parks and famous regions like Argentina's Tierra del Fuego or the penguin colonies around Punta Arenas. Many go to the most famous Chile national park — Torres del Paine — for everything from backpacking the famous O and W treks to staying at an  estancia to ride horses through the park. Chile's park system is one of the largest national parks systems in the world, covering more than 18 million acres and home to more than 800 species of birds and mammals.
Fortunately, Chile has a pre-built route for anyone who wants to see these amazing landscapes for themselves: the Route of the Parks, or La Ruta de los Parques, completed in 2018 (and with possibly the world's coolest logo; you'll definitely want a t-shirt). The route covers 1,700 miles and passes 17 Chile national parks. Here's your complete guide to driving the route and all the information you need to start planing.
---
---
Where is the Route of the Parks?
If you do the entire route, you'll start at Cape Horn and need to travel via ferry to Navarino Island near Puerto Williams, the southernmost town in the world. The multi-day hikes on the island are world-class, though they're quite hard to reach and have no facilities, so consider visiting with a guide unless you're an expert routefinder and have plenty of experience camping in rough weather.
Otherwise, starting in the south, your first park is Yendegaia, before you start climbing up toward Chile's side of Tierra del Fuego. You'll then cross to the cute town of Puerto Arenas before driving north on the mainland to Porto Natales, the gateway town for Torres del Paine. You'll then move toward the western coast, reaching the Chile national parks known for fjords, whales, and massive glaciers. Parks in this region include Parque Cerro Castillo and Queulat National Park, known for amazing waterfalls.
You'll then keep going north and eventually end in Puerto Montt, from which you can fly back to Santiago. During the drive, you'll have take take several ferries and some of the roads are windy, two-lane drives. Don't count on a quick trip — but you wouldn't want to drive it quickly, anyway.
What parks are on the route?
The Route of the Parks was opened at the end of 2018. It loops through 1,700 miles and 17 national parks, passing some of the best hiking trails in the world and opening new regions to areas tourists used to be unable to reach. It also opens smaller communities to tourism, bringing economic growth to some of the 50-plus small towns along the route. Until recently, many of these places were accessible only to the most die-hard of explorers who would hike or take ATVs deep into the wilderness. But now, anyone with a general interest in adventure travel can  reach these formerly inaccessible places.
Some of the best Chile national parks on the route include Los Alerces National Park and its 3,000-year-old forests, and more recent parks like Pumalin Park and Patagonia Park, which reaches into Argentina. Accessibility to the parks varies, though. Some parks have roads in good condition, while others are accessible only by boat (or require you to travel with an approved tour operator). Nearly everyone has heard of Torres del Paine, while others like Kawéskar, famous for its fjords and healthy humpback whale populations, are more off-the-beaten-path.
Here's the full list of parks, though not all of them are open to the public (yet).
When to visit the national parks in Chile
When to go is a bit tricky as Patagonia's weather varies greatly, especially given how far south some of the parks are. Summer (which is November through February in South America) is the best time to go to ensure all the parks will be open and available. But if you only want to do a section of the route or see some of the parks, you can probably go outside of the summer, which will mean lower prices and smaller crowds.
The Route of the Parks website offers advice on which parks to visit during which season, but the long and short of it is that there are a few parks you really can't reach in the winter: Cerro Castillo, Bernardo O'Higgins, Pali Aike, Kawésqar, and Cabo de Hornos national parks are only open October through April.
Remember that weather in Patagonia is extreme, especially in the south, and snow is possible even in the middle of summer. Weather also changes on a dime, and you can experience heavy rainy and snow as well as blazing sun within the same hour while hiking almost any trail in Chile's national parks.
How much time do you need?
You'll want at least a month to make the drive, though that only leaves you a day or two in each park. You really can't go for too long, but you can go too short. If you have only a week or less, consider visiting just one Chile national park, or perhaps two very close to each other, instead of trying to connect them as a full road trip.
Route of the Parks road conditions
Chile created this route specifically to increase tourism, so most of the roads are in good conditions. You'll still probably want a 4WD car (And ideally a car with high clearance), however, as some of the road in the parks are dirt. But nearly all the roads on the route are paved, so with careful driving, most cars should be able to make it.
Note that some parks are not accessible via roads to the public. Corcovado National Park, Yendegaia National Park, and Melimoyu National Park are closed to the public and Isla Magadalena National Park and Kawesqar National Park are only reachable with a tour guide. Alberto Agostini National Park is water-access only.
The three sections of the route
The full route is made up of three parts: the South, Middle and North sections.
The south section of the Route of the Parks is the most popular section as most of the Chile national parks and attractions most well-known to international travelers are there, like Los Glaciares National Park, Perito Moreno Glacier, the towers of Torres del Paine, and El Chaltén. It's a great place to go if you want to see some of the most dramatic landscapes in Patagonia. It is also ideal for hiking and biking, and offers access to the southernmost islands of Patagonia, making it the best basecamp for visiting penguin colonies, whale watching, and potentially the wildest weather. It's also the easiest to reach as the airport in Punta Arenas is the second-largest in the country. It's usually called the Magallanes Region.
The middle section provides an excellent choice for exploring the less popular parts of Patagonia. Visitors can choose from a variety of activities such as trekking, fishing, and horseback riding. This section is generally considered to be between Puerto Natales (near Torres del Paine) and Puerto Yungay. It's called the Aysén Region and is where the bulk of the communities and parks are — but it's harder to reach, with no major airports in the area (though you can fly to Puerto Natales). A lot of travel is by boat in this region. It's a little less popular than the south section, but still quite popular among tourists.
The northern section offers visitors an opportunity to see both coastal and mountainous landscapes, with unique wildlife and vegetation. This is also where most of the deserts and dryer regions are, and these parks tend to be more accessible in the winter. It's called the Los Lagos Region and is also known for hundreds of hot springs, as the country is geologically active.
Shorter itineraries for Chile national park roadtrips
If you have at least a week, you can do shorter itineraries recommended by the Route of the Parks organizers.
Los Lagos: one week
In the north section, you can connect Pumalín Douglas Tompkins National Park, Corcovado National Park, and Queulat National Park in one week, covering 262 miles in the process. It's only about 10 hours of total driving time, so it leaves you plenty of free time to explore the Chile national parks in this area. Don't miss the thermal baths near Pumalín Park or the hanging glaciers at Queulat. Corcovado National Park is closed to the public, but you'll want to stop as you drive past it to see if you can get a view of the massive Corcovado Volcano.
Aysén: 11 days
If you have more than a week, consider this wildlife-heavy trip through Parque Nacional Cerro Castillo, Laguna San Rafael National Park, Patagonia National Park, and Bernardo O'Higgins National Park. It covers nearly 900 miles and offers opportunities for multi-day hikes, glacier trekking, and whitewater rafting, among others. Plan to spend the most time in Patagonia National Park, and don't forget to leave a day on either end for travel as the major airport nearby (Balmaceda Airport) is a small, domestic-only airport, so you'll have to stop in another city before connecting. Much of the travel is by ferry and gas stations are sometimes few and far between.
Magallanes: one week
See Chile's southernmost national parks on a one-week trip near the Tierra del Fuego region, hitting Pali Aike National Park and Parque Nacional Yendegaia. This is a trip you'll want to do in the summer as winter weather is unimaginably intense. It covers 700 miles and starts and ends in Puerto Arenas, which makes it the easiest section to reach. It also crosses the famous Strait of Magellan and offers the chance to spot penguins at Pingüino Rey Park (which requires advanced reservations).
Lodging and towns
The route passes not just 17 national parks and dozens more reserves and local parks, but also nearly two dozen towns, so you have no end of hotel options. You can also camp in many of the parks, and some of the more popular parks (like Torres del Paine and Queulat National Park) have glamping and cabin rentals.  There are so many options that it's best to dial in your hotels after you've looked at the route and figured out what communities you'll be passing through, rather than trying to plan the trip around certain hotels.
The exceptions are around Puerto Mott and Puerto Natales, both of which have some of the best eco-lodges in the world. In Puerto Natales, look at Remota Lodge and Awasi Patagonia, both of which offer sustainable, architecturally stunning accommodations and full menus of adventure activities around the region. In Puerto Mott, consider ending your trip at Hotel Mari Mari, a luxe eco-resort on the coast about 50 miles from the town.
Do you need to rent a car?
If you're roadtripping between Chile national parks on your own, then yes, you need a car. Fortunately, renting a car in Patagonia is easy and most of the major towns along the route have car-rental facilities. You can rent cars in Puerto Montt (the northernmost point), Punta Arenas (the southernmost point), or in larger towns along the route like Coyhaique, Balmaceda, and Puerto Natales. You can also rent cars at most airports.
But the good news is that you don't need to rent a car if you don't want to. There are dozens of professional tour companies that offer everything from self-guided tours where the company handles the logistics to luxury private trips to multi-week birding trips to quick overnight trips to photograph pumas and stay at a luxe eco-camp. Tourism is huge for this region and you can do as little planning as you'd like.